Summer is the perfect time for popsicles! These easy berry and Greek yogurt popsicles are delicious and healthy. They're a great snack or dessert, and they're perfect for a hot day. You can customize them with your favorite berries, and they're sure to beat plain old ice cream cones any day. So grab some fruit and get started on these tasty treats!
These Greek yogurt popsicles are made with fresh berries and capture all the flavors of the summer. We love to make them after a day of berry picking - fresh picked berries are really amazing in them!
But we make these a lot and use store bought or farm stand berries too. If not using fresh picked juicy berries, we do recommend tasting the puree to see if you need more sugar. Quite often store bought berries are not as sweet and you may want a little more sugar.
Jump to:
Ingredients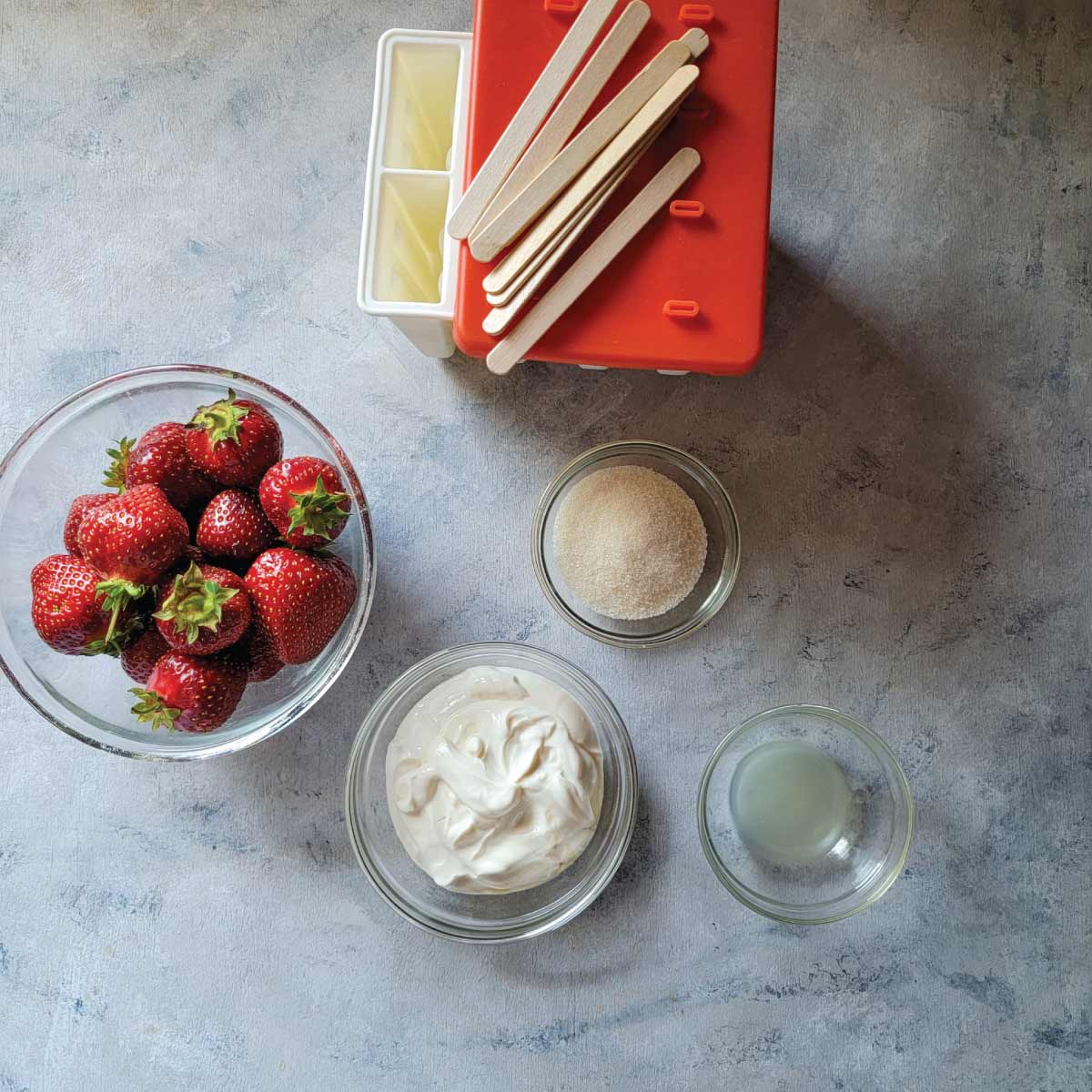 We keep the ingredients simple here, they don't need to be complicated to be delicious yogurt popsicles.
Berries - This works perfect with strawberries, raspberries and blackberries with these measurements.
Yogurt - Vanilla Greek yogurt is best, but you can make your own if you only have plain. See "making your own vanilla yogurt" below.
Sugar - Adjust to taste, some berries are sweeter then others.
Lemon juice - We use bottled lemon juice for these but you can use fresh squeezed. If you do not have any lemons or juice, you can leave this out. It adds a nice flavor but is not required.
Making your own vanilla Greek yogurt
We make our own vanilla Greek yogurt often when we make Greek yogurt popsicles. Mainly because we use plain Greek yogurt for a lot of recipes from our chocolate chip cookies to our apple pancakes. It is always in our fridge here.
This is how we make it, it tastes slightly different then buying it in the store but it is delicious! All you need is plain yogurt, honey and vanilla extract.
Add 1 Tablespoon honey and a quarter teaspoon of vanilla extract to the yogurt. Stir well and use as a Greek vanilla yogurt! We prefer honey over sugar when making it, but you can add sugar in place of the honey. The honey blends smoother into the yogurt.
Making the berry and Greek yogurt popsicles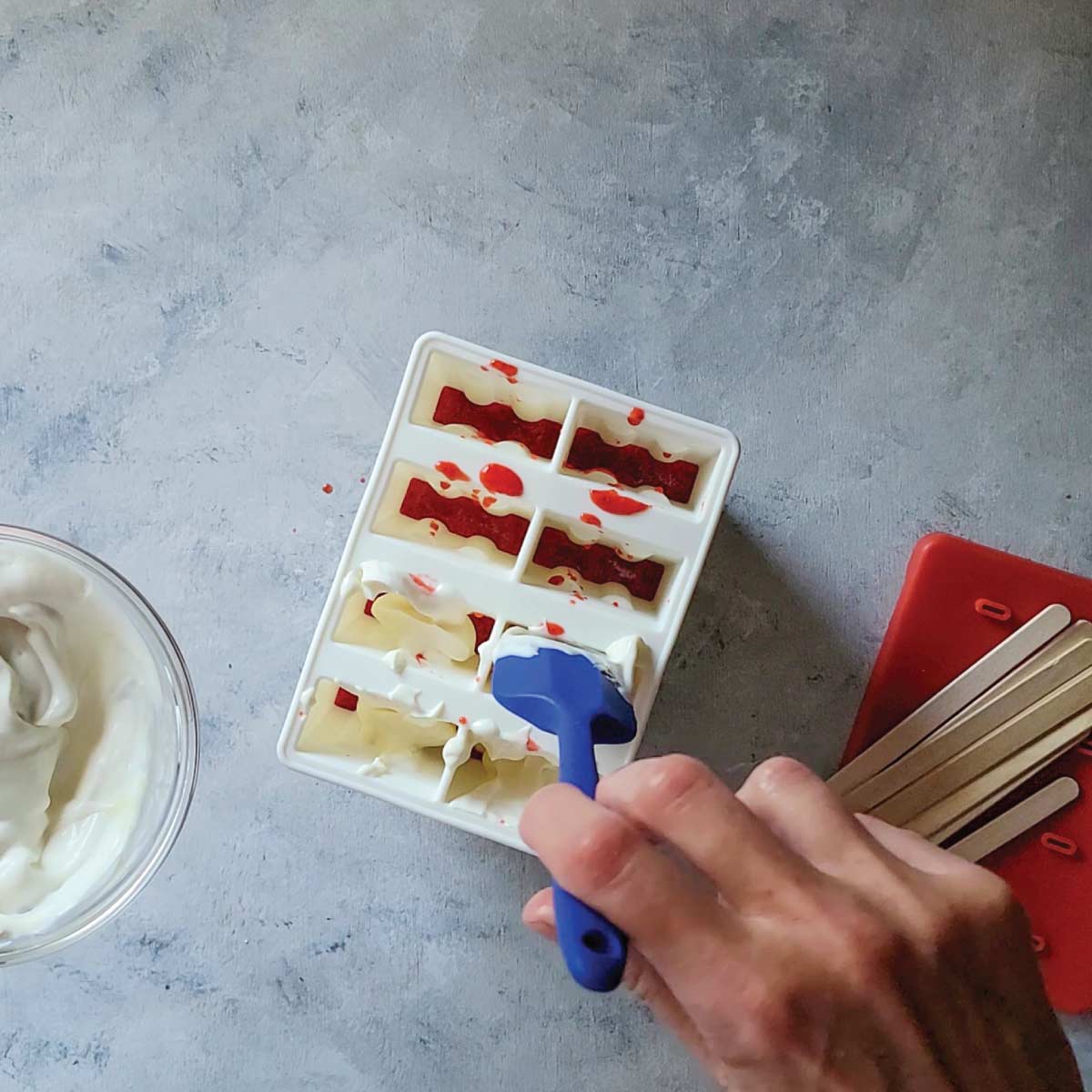 This is an easy recipe for popsicles with yogurt and berries, there is no cooking involved. Please note that this is enough to make 8 popsicles but you can easily make 10 by using a full cup of yogurt and a full pound of strawberries. We add an extra tablespoon of sugar when making 10, but adjust to taste!
We like to use a chopper for mashing the berries, but you can use a small food processor or even a hand blender.
Add the berries, sugar and lemon juice to the chopper bowl. Mix with the chopper, hand blender or processor until there are no large chunks of berries. We usually only need to do this for about 20 seconds.
In a silicone mold (or your favorite popsicle mold), spoon out a layer of the berry mixture. You can layer them how you like, we usually put about 3 spoons in each first.
Add a layer of the vanilla Greek yogurt - you can put all the yogurt evenly across all of the popsicles or you can create 2 layers of yogurt. Layer it how you would like - 1 layer of each, 2 layers of each or even 1 layer of yogurt and 2 layers of berries.
Cover with the top and place the popsicle sticks into the mold. I try to put them in so the tip is about an inch from the bottom of the mold, but doesn't have to be exact.
Freeze the berry and Greek yogurt popsicles for at least 4 hours (hardest part is waiting, I know!)
Frequently asked questions
Can I use regular yogurt?
You can use regular vanilla or even regular plain yogurt. Greek yogurt is a little thicker, but they will both be good. You can even use plain in place of vanilla, but we personally prefer a little sweetness to the yogurt in these popsicles.
How come I cannot get my yogurt popsicles out of the mold?
I absolutely love silicone molds but they are flexible and sometimes it makes it harder for popsicles to come out. Run some warm (not hot) water over the outside of the popsicles in the mold or place the mold in a bowl of lukewarm to warm (not hot) water for about 10 seconds.

Gently wiggle them out of the holder. If your mold came with instructions for removing popsicles, follow those instructions. Our mold recommended using the water as described above.
Can I use a potato masher to mash the berries?
Yes you can! They will likely be more chunky then if you use a chopper, food processor or hand blender but it will work. Just be sure you do not have huge pieces of berries left in the mix, they may be harder to eat once they are frozen.
Equipment
As an Amazon affiliate we may earn a commission on qualifying purchases made through our links at no extra cost to you. Thank you for your support! These are products we have and use for this recipe.
Ninja chopper - We have had ours for years so this is a slightly updated model from ours but we love the one we have!
Popsicle mold - Please note that we used an 8 popsicle mold in the pictures and videos that we purchased at Target. It is no longer available (trust me I tried multiple stores and online.) This 10 popsicle mold is the one we got from Amazon and absolutely love. Instructions are included in the recipe notes for making 10 popsicles if you do not have mold that makes 8.
Popsicle bags - perfect for making extras when you have kids (teens and young adults eat a lot of these Greek yogurt popsicles as a heads up!) These bags are simple plastic bags and the popsicles will last a couple weeks in them, but they are not for long term storage.
Recipe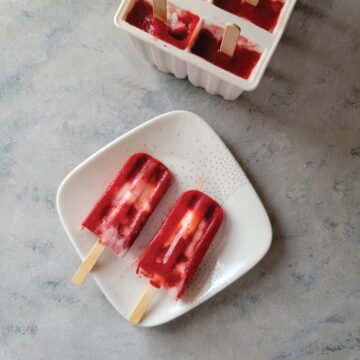 Berry and Greek Yogurt Popsicles
Summertime is the perfect time for popsicles! And these easy berry and Greek yogurt popsicles will be your new favorite treat. They're simple to make and so delicious. You can use strawberries, raspberries and blackberries for them.
Ingredients  
¾

pound

fresh berries

strawberry, blackberry or raspberry

¾

cup

Greek vanilla yogurt

see notes if you have plain

3

Tablespoons

sugar

1

teaspoon

lemon juice

bottled or fresh
Instructions 
Use a chopper, hand blender or small food processor to mix the berries. You can use a potato masher, but be sure to mash all bigger chunks.

Wash the berries and cut any stems off. For strawberries you can cut them in half but raspberries and blackberries are fine without cutting. Place them in the chopper bowl with the sugar and lemon juice.

Chop/mix for about 20-30 seconds, until there are no large berry chunks.

¾ pound fresh berries,

3 Tablespoons sugar,

1 teaspoon lemon juice

You can layer these popsicles how you like, this is how we do it:

Add about 3 spoons of berry mix to the bottom of each popsicle in a silicone mold. Follow with an even layer of yogurt and then an even layer of the remaining berry mixture.

¾ cup Greek vanilla yogurt

Freeze for at least 4 hours before serving.

When removing from the mold, you may need to run a little bit of warm/lukewarm water over the mold to get the popsicles out easily. Follow instructions that come with your mold.
Notes
Nutritional values are estimated and will vary depending on the ingredients you use (berries and yogurt.)
This makes 8 popsicles but you can adjust it to make 10 - Use a full pound of berries, a full cup of yogurt and a quarter cup sugar (adjust to taste.)  Lemon juice can stay at 1 teaspoon.
Homemade vanilla Greek yogurt - This will taste slightly different then store bought vanilla but we actually prefer it.  Add 1 tablespoon honey and a quarter teaspoon vanilla extract to your plain Greek yogurt.  Stir well and your vanilla yogurt is ready.
Adjust the sugar to taste - Some berries are sweeter then others so I do recommend you taste the berry mixture to see if you need more sugar before making the popsicles.
Nutrition
Calories:
48
kcal
Carbohydrates:
10
g
Protein:
2
g
Fat:
1
g
Saturated Fat:
1
g
Polyunsaturated Fat:
1
g
Monounsaturated Fat:
1
g
Cholesterol:
1
mg
Sodium:
7
mg
Potassium:
85
mg
Fiber:
1
g
Sugar:
9
g
Vitamin A:
5
IU
Vitamin C:
25
mg
Calcium:
7
mg
Iron:
1
mg