Spiralized vegetables are fun to make, easy to cook and taste great too! These veggie noodles are cooked in a buttery garlic sauce and can be the perfect side dish or even replace pasta for the main meal!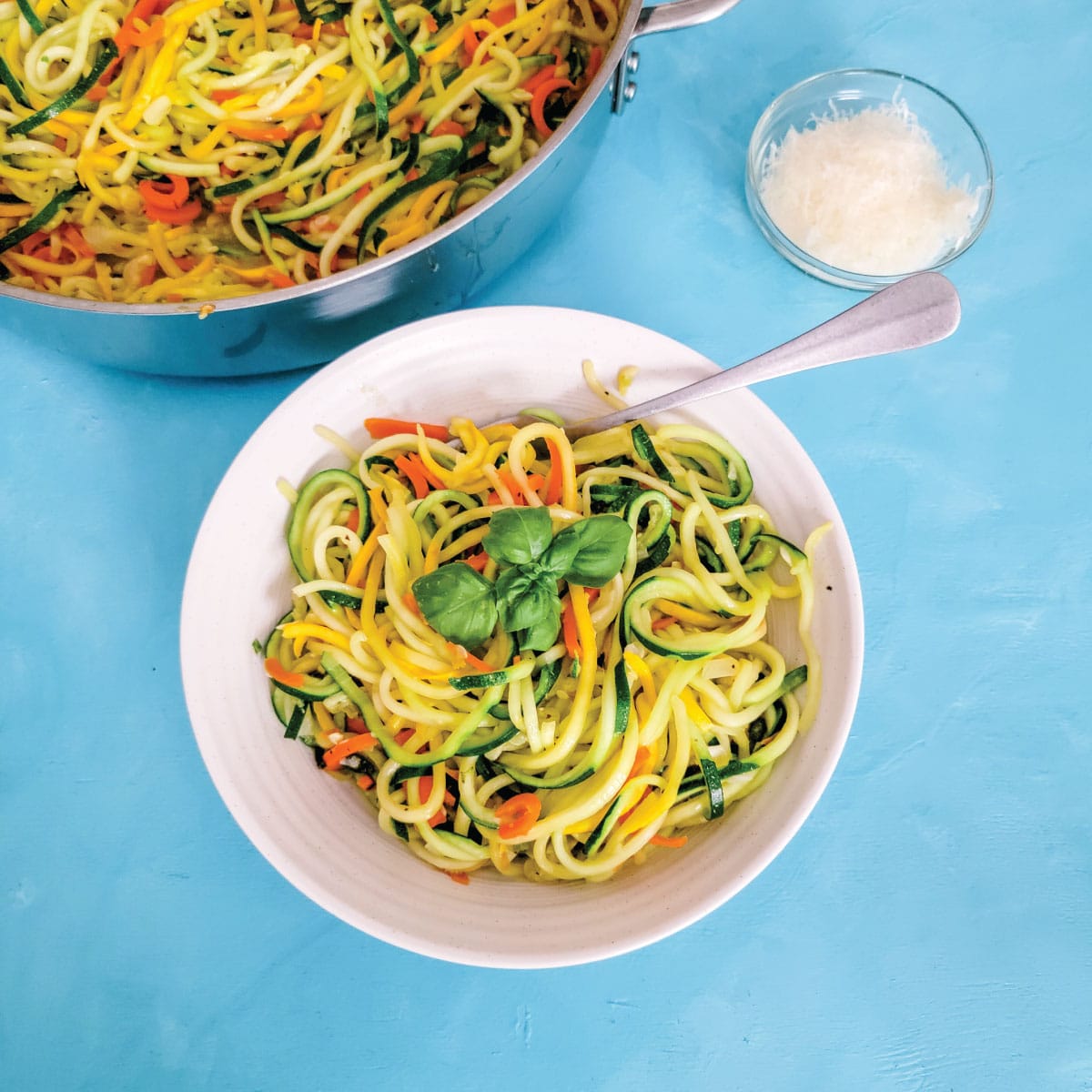 These are a great alternative to pasta for those looking to add more vegetables in your meals. Now I still love pasta so they don't completely replace noodles, but they definitely replace it with some meals.
What are veggie noodles?
We call them noodles because they have a similar shape to spaghetti and they can be used in place of it, but they are not pasta. They are not really noodles in the sense of flour made pasta, but they can be a replacement for it.
These are simply just vegetables sliced with a special kitchen gadget. They are made by using a spiralizer to cut the vegetables into long noodle shaped pieces. A lot of times I use my attachment for the Kitchenaid mixer, but sometimes we use the tabletop one. There are a lot of choices and some are cheaper then others, but the two affiliate links in this paragraph are the only ones I have personally used.
What are the best vegetable noodles?
This is going to come down to personal preference here because you can make many vegetables into noodles! We have spiralized vegetables for many different dishes and even made curly fries with potatoes.
You can use potatoes, beets, sweet potatoes, some squash, carrots and more! Almost any vegetable can be made into them, but some don't go well on a spiralizer - they need to have a little thickness to it.
We made spiralized beets in foil packs to put on the grill and I have even added them to this recipe before (not often due to somebody not liking beets.)
For this recipe we use zucchini, yellow squash and carrots. They have a flavor that blends well together and all go well with the garlic sauce.
You can add beets like I sometimes do but you cannot hide the beets in the dish - most of the dish turns reddish purple from the beets.
Prepping the veggies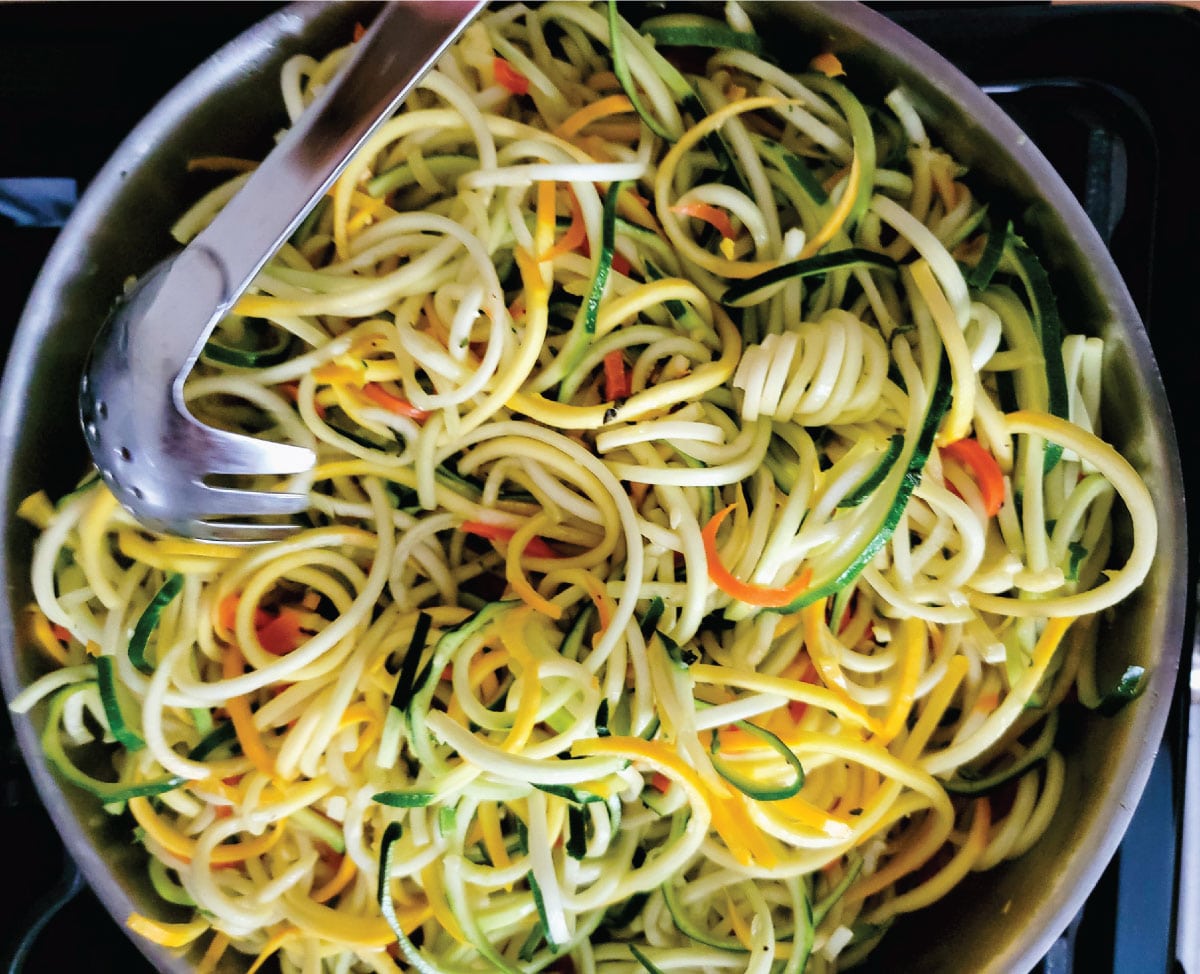 This is a pretty easy dish to make and I just want to share a few tips with you to make it go smooth. As a note, they will shrink up slightly as they cook so it will look like more then it is when you first put them in the pan.
The carrot noodles
When picking out the carrots, they are naturally thinner then most other vegetables. You want to be sure to pick out ones that are thick enough to put on a spiralizer!
Try to find ones that are around 1 and a half inches thick at the top. Thicker is better but harder to find.
Carrot noodles take longer to cook. They take longer then squash so be sure to spiralize these first and set aside in a separate dish.
Zucchini Noodles
Zucchini is fun to make noodles out of. Or maybe it is just me that finds them fun, but they are easy! Try to find a zucchini is around 2 and a half inches thick. I find the this size tastes better then the larger sized ones.
You will likely have to cut it in half (depending on your spiralizer) and do half at a time. Many times they are too long to do in one shot.
Take note that these will be very long noodles - trust me when I say too long! If using the Kitchenaid attachment, grab your scissors and cut every 6 inches or desired length as they are coming through the spiralizer. If using a tabletop one, stop and cut them to desired length.
Be sure not to mix these with the carrots before cooking.
Squash noodles
Squash is another fun one to make into a noodle. They are just like a zucchini (they have the same texture and everything.)
When picking out the squash, it depends on which one you are getting. The one that looks like zucchini only yellow - try to get a size around 2 and a half inches thick. If you get the crooked neck yellow squash, try to keep the bottom no bigger then 3 and a half inches. Too big and it won't fit on your spiralizer properly.
These noodles will also be way too long so keep your scissors ready for these as well to keep cutting them to a length of around 6 inches - or desire length.
Squash noodles take the same amount of time as zucchini noodles so you can put them in the same bowl until cook time.
Frequently asked questions
Can you buy veggie noodles?
Yes you can buy them instead of making them if you prefer. Many supermarkets offer squash, carrots and zucchini as noodles in a section of their produce department. They may not have other vegetables, but will likely have what you need for this recipe!
Are veggie noodles gluten free?
The vegetables here in this recipe are gluten free and most vegetables are if you are planning on adding different ones. As long as the vegetable itself is gluten free, the noodle will be. It is just the vegetable and not really pasta.

Do be sure to check if you buy already spiralized vegetables to make sure that there is no cross contamination with things that have gluten.
Can I cook the vegetables noodles ahead of time?
I wouldn't recommend cooking them ahead of time for this dish. You can reheat leftovers, but precooking the noodles before making this recipe will result in overcooked vegetables. They don't take long to cook and will get soggy if you cook them ahead of time.
How long will the leftovers last in the fridge?
They will last for 3-4 days if store in the fridge as prepared. Reheat in microwave or gently on the stove, just until heated so they do not become over cooked.
As a note:
It is going to look like a lot in the sauce pan, but not to worry it will shrink down as it cooks. You do not need water for this, these veggie pasta noodles have enough water in them to cook properly.
This is a base recipe that you can adjust to your taste. I like to sprinkle hot pepper and parmesan cheese on mine, but you might want to add other seasonings.
I like to make these with stuffed meatloaf and baked chicken breasts, but you might want to add protein and make this a main dish. Garlic shrimp makes a great topping!
Recipe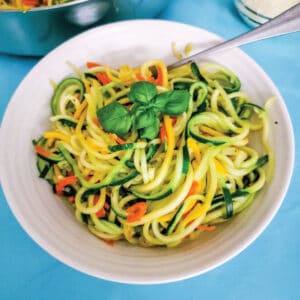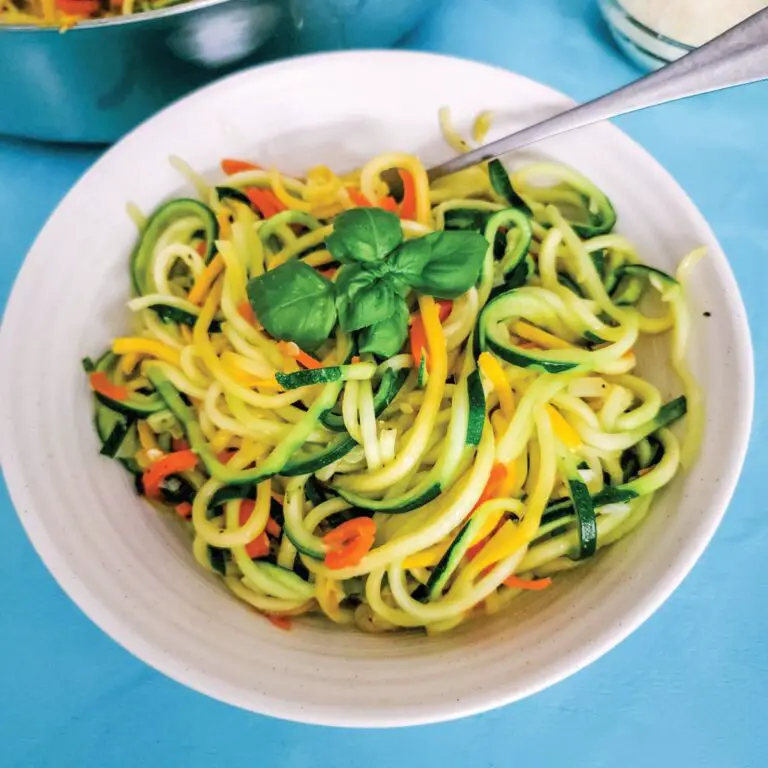 Veggie Noodles with Garlic Sauce
These veggie noodles are the perfect combination of zucchini, squash and carrot noodles along with a flavorful buttery garlic sauce.
Ingredients  
2

tablespoons

olive oil

see notes

2

tablespoons

butter

unsalted, see notes

1

small onion

chopped, yellow or white recommended

3

cloves garlic

minced

2

carrots

see notes

2

zucchini

1

yellow squash

½

teaspoon

salt

¼

teaspoon

pepper

½

teaspoon

basil

dried, see notes

¼

teaspoon

oregano

dried
Instructions 
Please follow the instructions of your spiralizer when spiralizing the vegetables. Zucchini and squash noodles will be long, we recommend cutting with scissors every 6 inches as they are spiralized.

First make the carrot noodles and set aside in a separate dish (they take longer to cook then squash.)

Now make your zucchini noodles and squash noodles. They can be in the same bowl, they get added together.

Heat a saucepan over medium heat and add in the butter and olive oil. Once the butter is melted (or oil is heated if not using butter), add in the onion and carrots.

Cook for about 3-5 minutes, until the onions start to become translucent.

Add in the garlic, salt, pepper basil and oregano. Stir to mix well.

Add in the zucchini and squash and cook for about 5 minutes or until the noodles are at the desired consistency, stirring frequently so it gets heated and cooked evenly.

They are ready to enjoy!
Notes
Nutritional values are estimated and the servings here are as a side dish.
Please note that you can use all butter but if you do, butter does burn easier and it is one of the reasons I add the oil.  Just keep add the onions and carrots as soon as the butter is most of the way melted.
The carrots need to be thick spiralizers.  Too thin and you won't really get any noodles from them.  I use the thickest ones I can find and try for at least 1 and a half inches thick at the top.
Squash shouldn't be more then 3 to 3 and a half inches thick.
This was edited to add basil and oregano, the original recipe did not.
I like to sprinkle hot pepper and parmesan cheese, but serve it up how you would enjoy it.
Nutrition
Calories:
164
kcal
Carbohydrates:
11
g
Protein:
3
g
Fat:
13
g
Saturated Fat:
5
g
Cholesterol:
15
mg
Sodium:
372
mg
Potassium:
531
mg
Fiber:
3
g
Sugar:
6
g
Vitamin A:
5564
IU
Vitamin C:
30
mg
Calcium:
43
mg
Iron:
1
mg