These potato flake chicken breasts are so easy to make and are delicious! They are coated with mayo mixed with seasoning and then breaded with a mixture of instant mashed potatoes and cheese.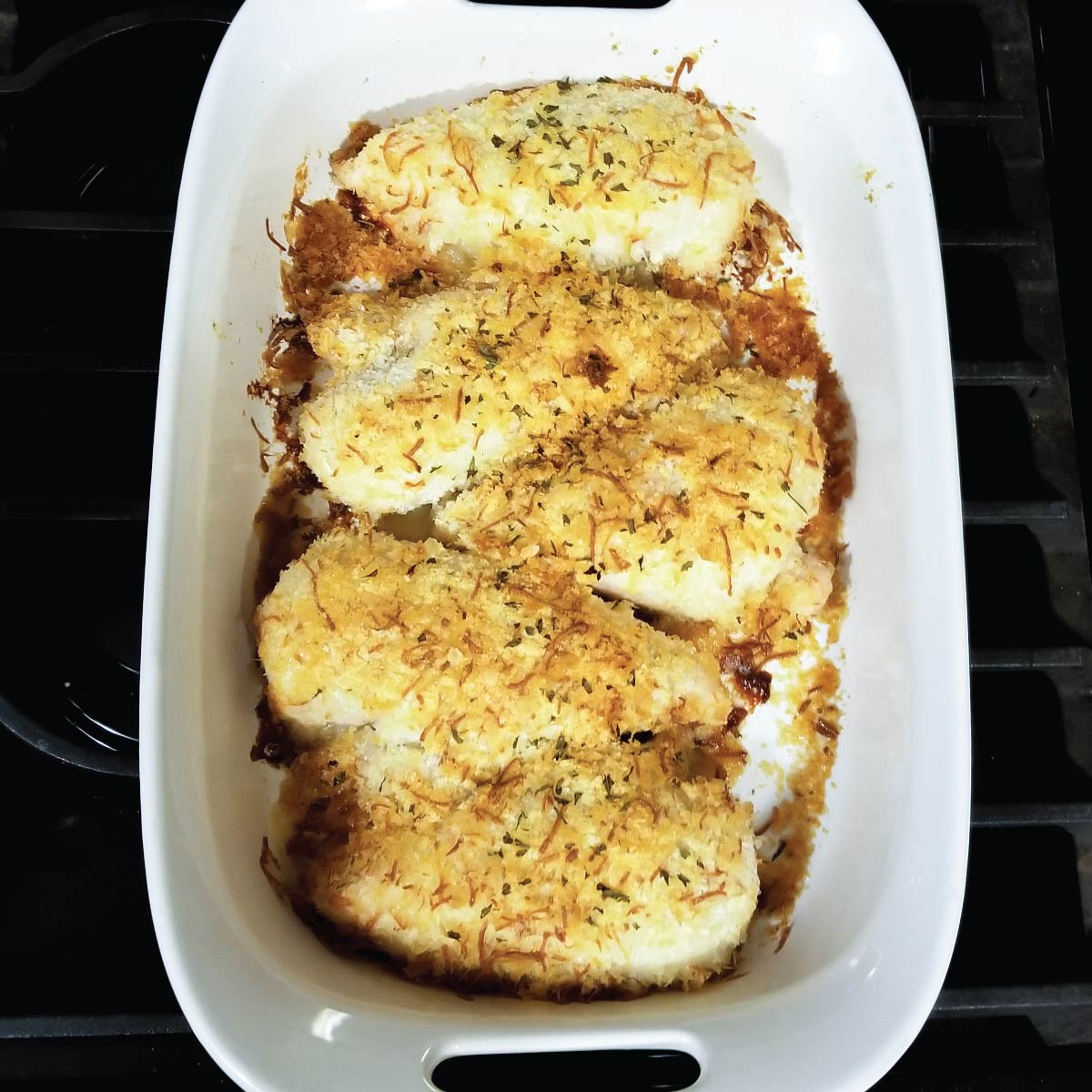 These potato crusted chicken breasts are always a treat here in our house. They are a quick dinner recipe and the family loves them!
The mayo coating keeps the chicken juicy and tender while the potatoes and cheese give the perfect topping. There isn't much prep to them which is why we love these and our parmesan crusted chicken for busy nights.
We don't use instant mashed potatoes a lot, but this is one of our favorite recipes with potato flakes. Quick, easy and delicious!
This is usually for times when we want quick and decide to bake the chicken breasts instead of making pan fried chicken.
Jump to:
Ingredients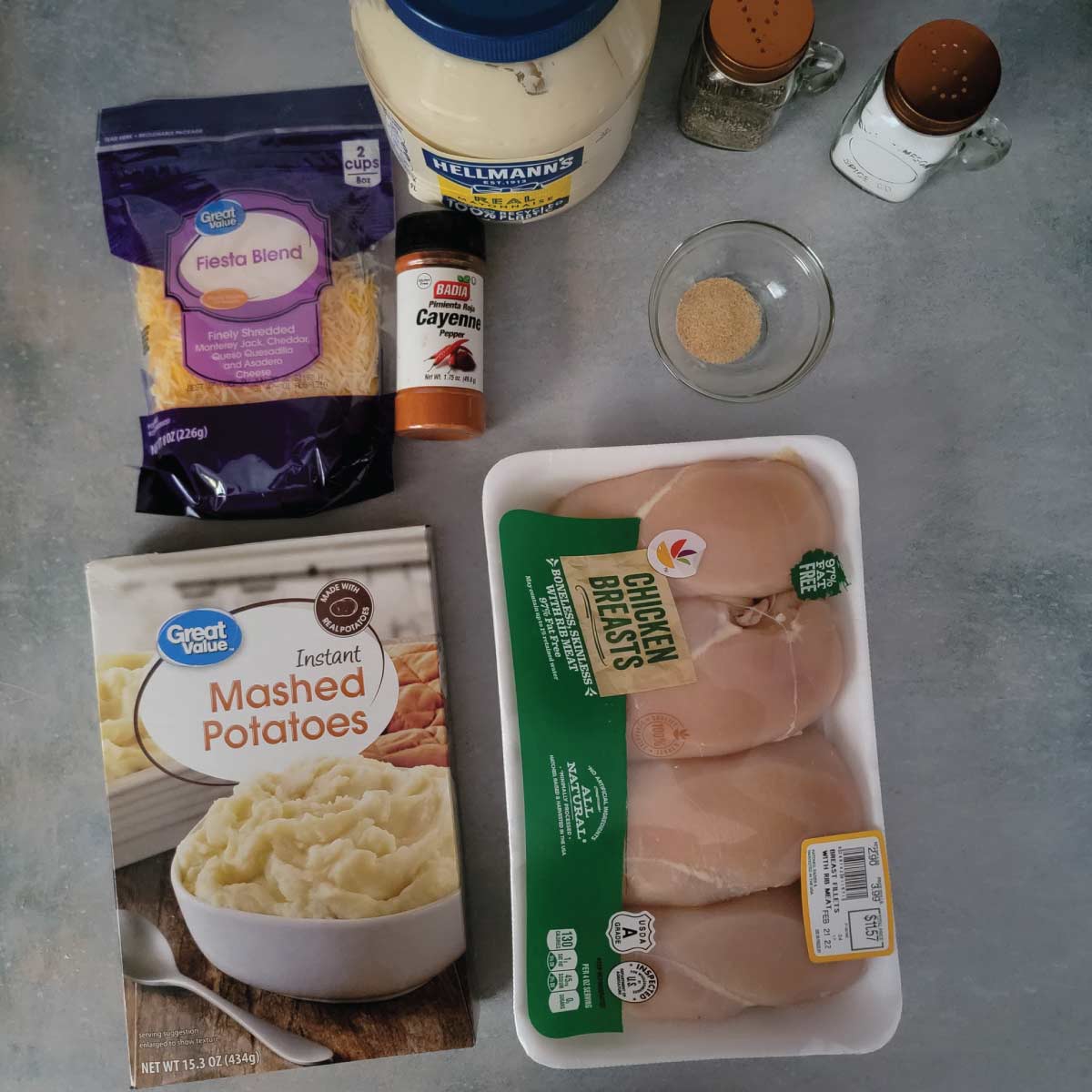 Chicken breasts - Our favorite is Perdue or an all natural (no hormones added) store brand. You can use your favorite. If buying store brand, make sure your chicken breasts do not have grainy white lines in it, they will likely have a tougher texture.
Potato flakes - You can use your favorite brand. We usually buy store brand but sometimes we get Hungry Jack.
Cheese - You can use your favorite here, but we recommend a cheddar based mix like fiesta or 4 cheese Mexican.
Mayo - Use your favorite, we like Hellmann's.
Garlic - Garlic powder, no substitutions. I don't recommend using chopped cloves for these potato flake chicken breasts.
Cayenne - Optional but recommended for a little flavor. Use more if you like it spicy, your chicken will not be spicy with the amount in the recipe.
Salt - No substitutions recommended. It is to enhance flavors and can be left out if you limit salt intake.
Making the potato flake chicken
This is an easy way to prepare chicken breasts and will only take about 35-40 minutes to have them on the table.
Prepping the chicken
Take the chicken breasts out of the fridge and see if they are all about the same thickness. If any are a lot thicker then the rest, pound them down to be about the same thickness as the others. This is an important step to ensure your potato crusted chicken cooks evenly.
You can use a wood cutting board and the bottom of a heavy sauce pot if you do not have a meat mallet. If using a meat mallet, do not use the tenderizing side (the side with the spikes), use the flat side.
For the cutting board and pot (do not use a glass cutting board) you want to set the chicken down on the cutting board. Take the heavy sauce pot and pound down on the chicken - you don't have to pound down too hard. You just want to flatten it a little, it doesn't take a lot of force.
Coating the chicken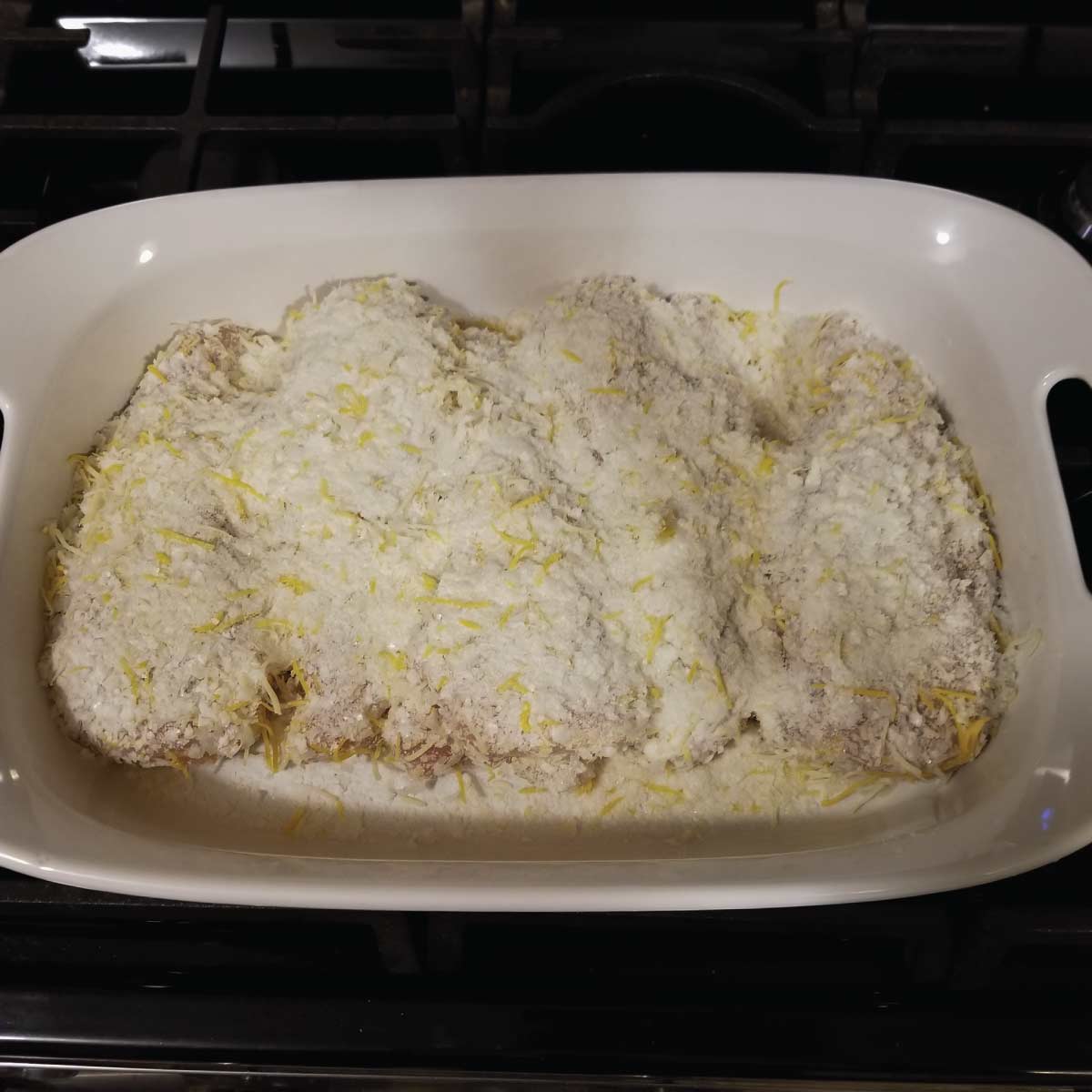 After pounding down the chicken, start to mix your mayo coating in a small bowl. Mix your potato flakes and cheese in a bowl large enough to coat the chicken breasts in.
We add the spices to the mayo so it spreads the flavor of the spices evenly over the chicken. They blend into the mayo better then the potato flakes.
The potato topping is just instant mashed potato flakes and shredded cheese. A nice and simple topping!
Using a butter knife or spatula, coat each chicken breast generously with the mayo mix. After each one, roll it around in the potato flake mix.
Place in the baking dish. We use our 13x9 but you can use any baking dish you would normally bake your chicken in.
After coating each piece and they are all in the dish, I take the rest of the potato mix and evenly pour it on top of the chicken.
Baking the chicken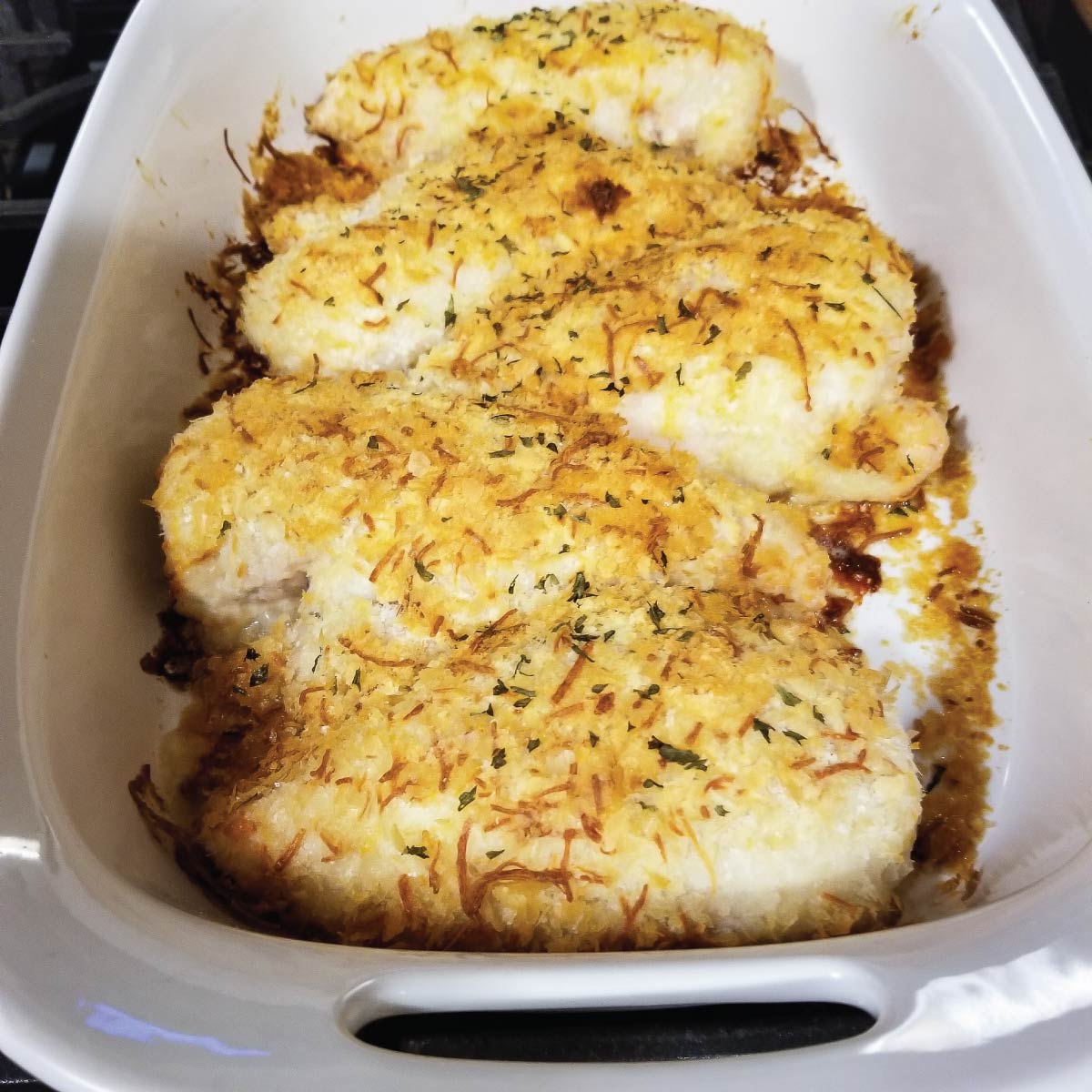 Once you have it in the baking dish and ready to go, place it in the oven that is preheated to 400 degrees F. Bake the potato flake chicken breasts for about 20-25 minutes, until it reaches an internal temperature of 165 or the juices run clear.
Remove from the oven and allow to rest for at least 5 minutes before serving.
Please note there are many factors that can affect cook times including the size of the chicken breasts. Ovens often vary slightly too. Be sure to test with a meat thermometer and do not rely on cook times to tell if it is cooked.
Frequently asked questions
Can I use chicken thighs instead of chicken breasts?
You can, but I think this is best to use boneless chicken breasts. Thighs cook a little differently and cook time would need to be adjusted.
How long does potato flake chicken last?
If properly stored in the fridge, it should last 3-4 days after cooking. Be sure that you refrigerate them promptly after dinner.
What can I do with the leftover chicken?
My favorite thing to do is cut it into slices and make a cold chicken sandwich with a little mayo and a slice of cheese. But you can cut it up and put it in any dish you would add cooked chicken to.
Sometimes I use it to make a quick chicken soup too if I already have broth.
What to serve with the chicken
Potato flake chicken goes well with so many different side dishes.
Sweet coleslaw - I feel like coleslaw goes with almost anything and it is a side that can be made ahead of time for easy dinner prep.
Veggie noodles with garlic sauce - They are easy to make and can be prepared while the chicken is in the oven.
Mac and cheese - Always a classic side dish that goes with any main course! This can be baked along side the chicken in the oven.
Equipment
As an Amazon affiliate we may earn a commission if you make a purchase through any of our links. This is at no extra cost to you, thank you for your support!
13x9 baking dish - These are the classic glass baking dishes. There expensive fancy dishes too, but a classic glass dish is always good to have. The white dish we use in many pictures here has been discontinued so it is no longer available.
Meat thermometer - This is my favorite thermometer! It is instant read for checking dishes like this potato flake chicken and it has a probe that can be used to keep an eye on the temperature of roasts.
Meat mallet - It comes in handy for pounding down chicken to the same thickness. It isn't required, but they are a handy and inexpensive kitchen tool to have.
Recipe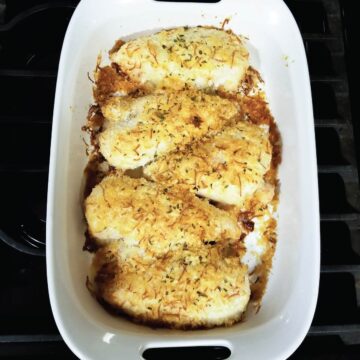 Potato Flake Chicken Breasts
These potato flake chicken breasts are quick and easy to make. They have a simple coating of mayo with spices and a topping of instant potato flakes and cheese.
Ingredients  
4

chicken breasts

boneless, skinless

1

cup

instant mashed potato flakes

½

cup

shredded cheese

we use 4 cheese Mexican

¼

cup

mayo

¼

teaspoon

garlic powder

see notes

¼

teaspoon

salt

⅛

teaspoon

cayenne pepper
Instructions 
Remove chicken from the fridge. If any pieces are thicker then the others, pound it down so they are all close to the same thickness.

In a small bowl mix together the mayo, salt, garlic and cayenne pepper.

¼ cup mayo,

¼ teaspoon garlic powder,

¼ teaspoon salt,

⅛ teaspoon cayenne pepper

In a bowl large enough for coating the chicken in, mix together the potato flakes and cheese.

1 cup instant mashed potato flakes,

½ cup shredded cheese

Using a spatula or even a butter knife, generously coat the chicken with the mayo mix. Then put into the potato mix and coat well.

Place in a baking dish and dump the rest of the potato mix on top.

Bake at 400°F for 20-25 minutes, until juices run clear. The internal temperature of chicken should be 165. The potato mix on top will be a golden brown.

Remove from oven and allow it to rest at least 5 minutes before serving.
Notes
Nutritional values are estimated.  
You can use more cheese if you like it extra cheesy.  
I sprinkled some parsley on top for a garnish, it is optional.
Cook times for your chicken may vary based on many factors including the thickness of the chicken and the fact that ovens can vary.  Always use a thermometer to check for it to be 165 degrees, do not rely only on cook times for how done the chicken is.
Nutrition
Calories:
449
kcal
Carbohydrates:
13
g
Protein:
53
g
Fat:
20
g
Saturated Fat:
5
g
Cholesterol:
162
mg
Sodium:
600
mg
Potassium:
1012
mg
Fiber:
1
g
Sugar:
1
g
Vitamin A:
188
IU
Vitamin C:
15
mg
Calcium:
86
mg
Iron:
1
mg