Sweet potatoes and butternut squash come together in the Instant Pot for a great dish that is easy to make! This is a 5 ingredient side dish that you can have on the table in about 30 minutes.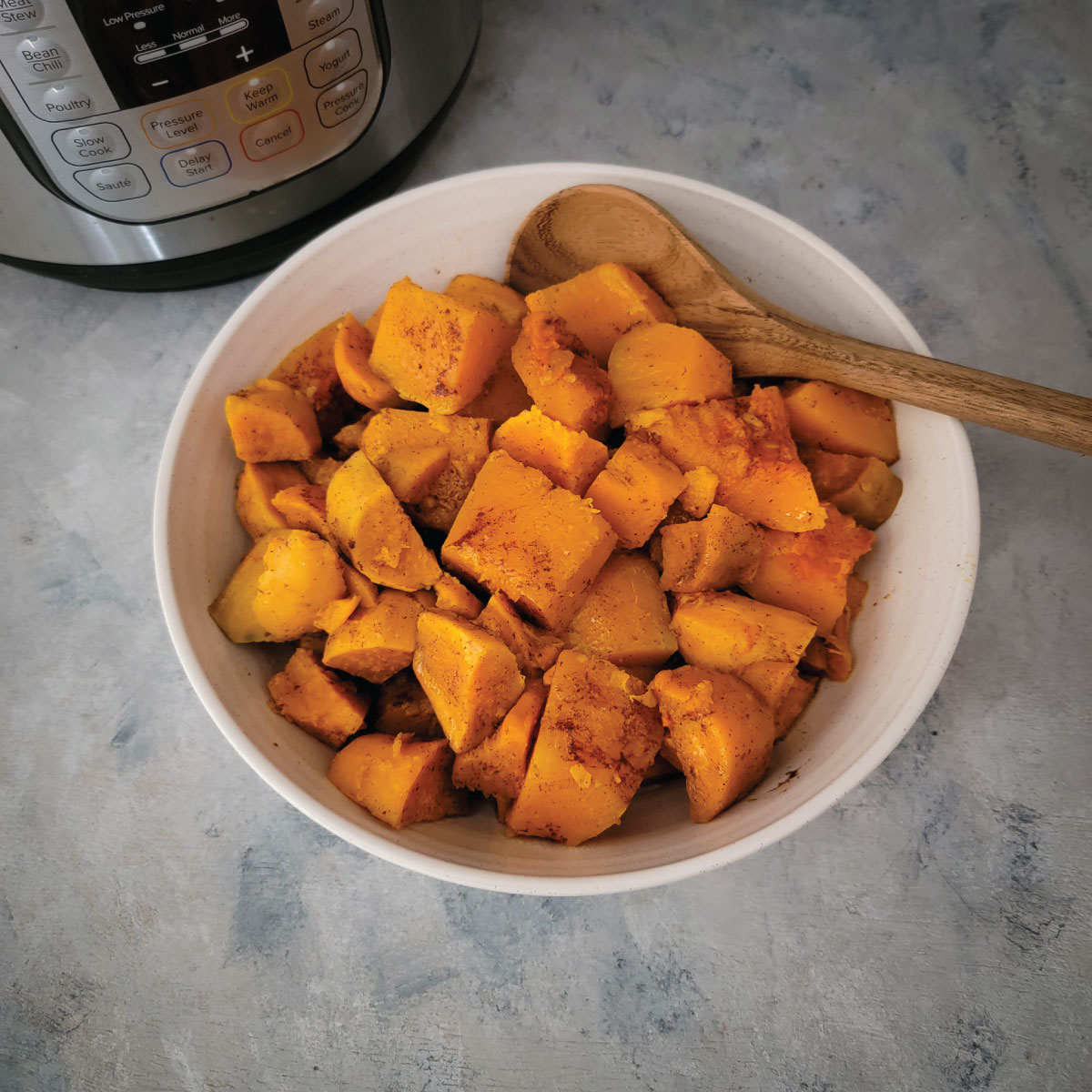 One of our favorite vegetables here is sweet potatoes. We always made them baked, mashed, grilled or of course our favorite candied sweet potato casserole.
But then I wanted to see what butternut squash and sweet potatoes would taste like together. Butternut squash is a delicious squash and they make a perfect pair!
This is a quick and easy side dish to throw together making it perfect for a busy night when you want something simple! You can cut the both the potatoes and the squash ahead of time and put them in the fridge for up to 2 days before cooking so it's perfect for an easy meal prep.
Jump to:
Ingredients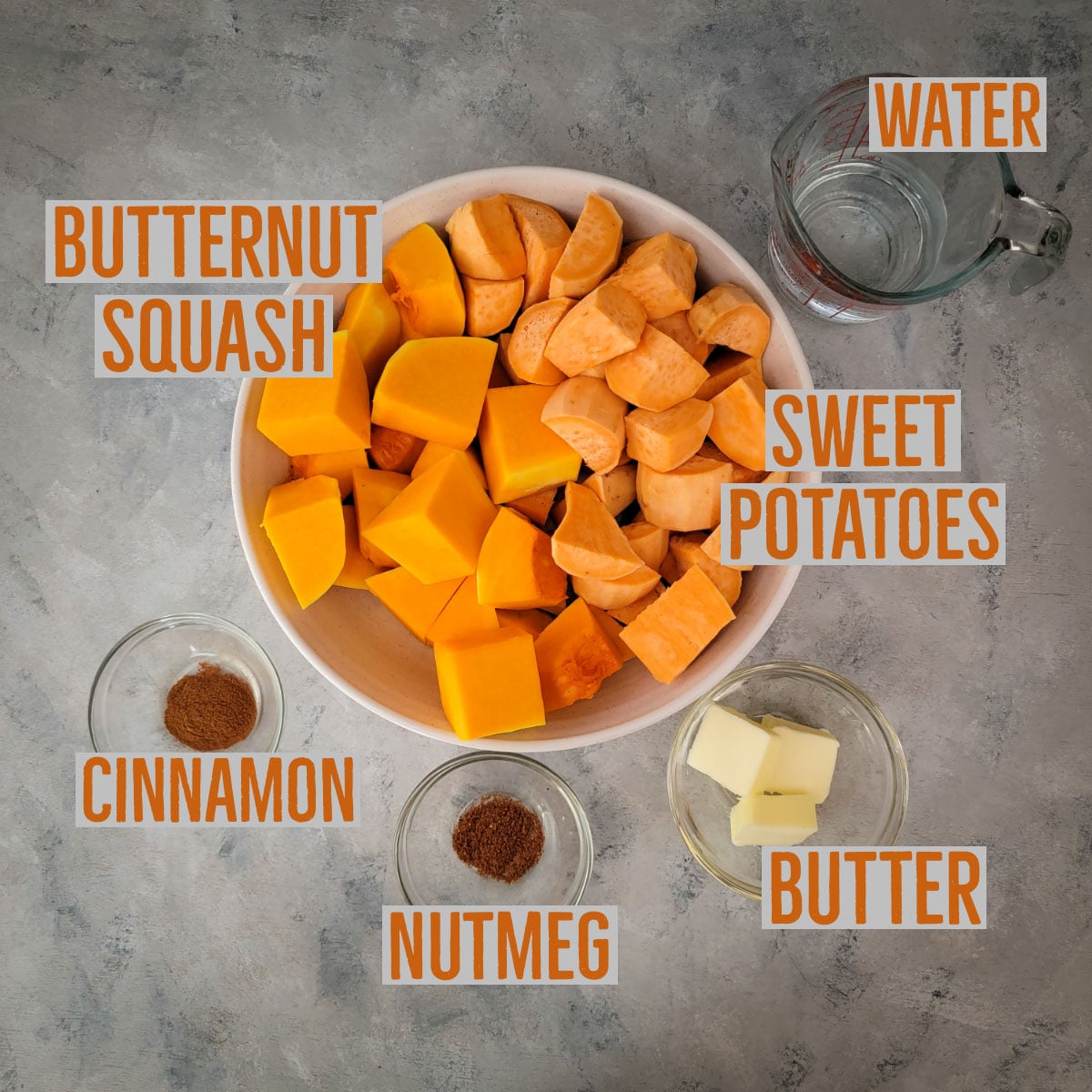 The ingredient list for the Instant Pot sweet potatoes and butternut squash is a simple list. We kept it to only 5 ingredients, but you can always add other spices if you choose.
Sweet Potatoes - You are cutting them up so it's not a problem if they are all different sizes. It's often hard to get them all the same size, so don't worry about that!
Butternut squash - You do not need a huge butternut squash, you will not be using the whole squash. The remaining squash can be cooked and frozen or kept in the fridge for up to 4 days for another meal.
Butter - I love salted butter here to give it a little bit of salt, but you can substitute the butter. It is used for flavor.
Nutmeg - If you do not have plain nutmeg, you can substitute the cinnamon and nutmeg with pumpkin pie spice. Use between 1 half and 3 quarters teaspoon pumpkin pie spice. Doesn't have to be exact. You can leave the nutmeg out if you prefer to use just cinnamon.
Cinnamon - See nutmeg, can substitute with pumpkin pie spice.
Salt and pepper - Optional and add to taste. We add it at the table here.
Making Instant Pot sweet potatoes and butternut squash
The Instant Pot makes this side dish so much easier just like our Instant Pot mashed potatoes because it is so much easier then boiling them.
Prepping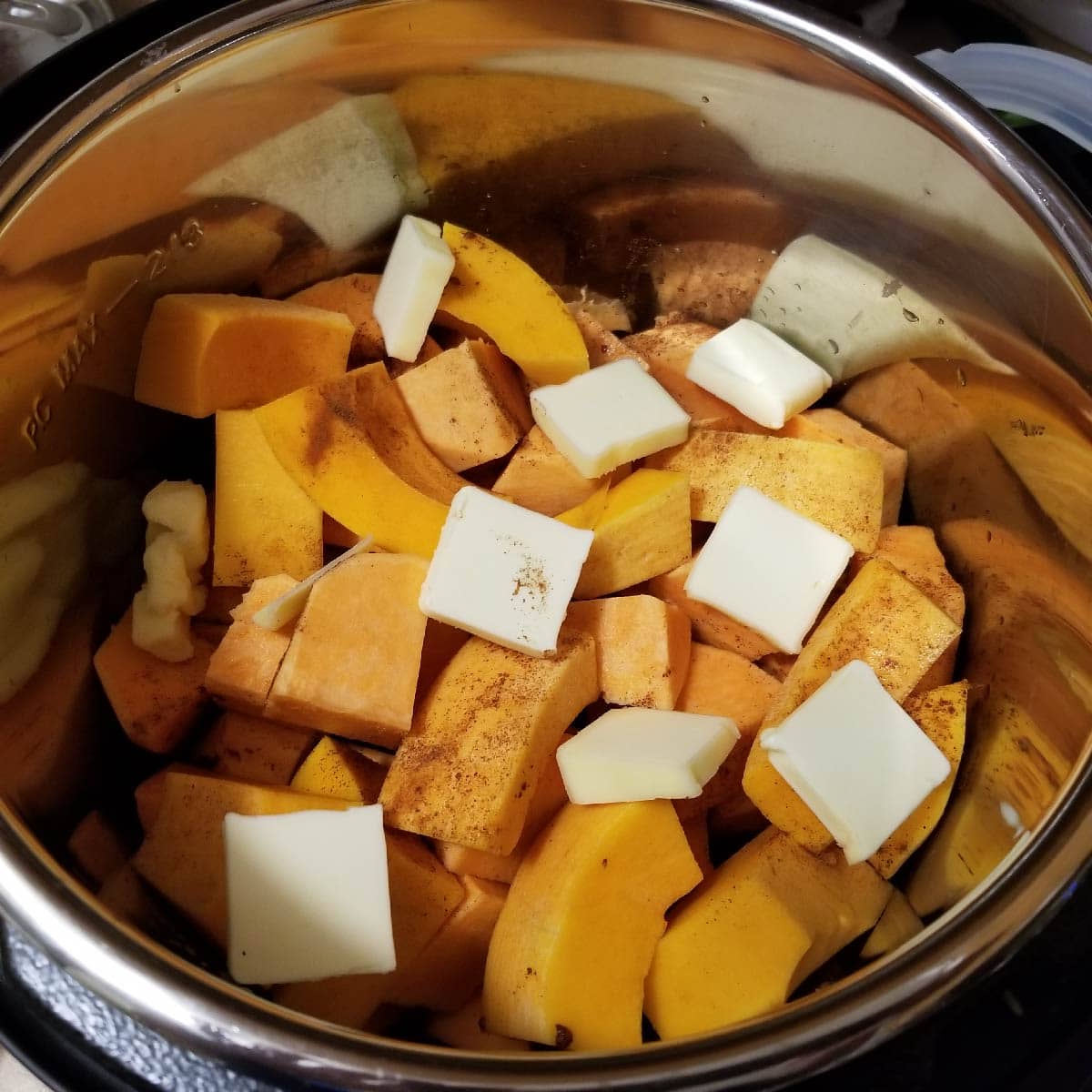 Peel and cut up your sweet potatoes and squash. Butternut squash can usually be purchased whole or even cut in half and peeled for you at the supermarket. Some supermarkets sell it cut in half already.
They should be cut to close to the same size, large bite sized pieces - about 1 and a half to 2 inches. They both cook pretty quick when they are cut to this size.
Cooking
Place the sweet potato and the butternut squash chunks into the inner pot. We mix them up and put them in, they don't have to be layered separately.
Pour the water over the veggies and then add the cinnamon and nutmeg. Butter goes on top in thin slices to evenly place it around.
Place the lid on and put the vent into the sealing position. Cook on high pressure for 3 minutes and carefully do a manual release.
Once the pressure is released, remove the lid and stir gently. The squash will be a little softer so be careful stirring. Remove and put into a serving bowl - enjoy!
Making mashed sweet potatoes and butternut squash
This is one of the most flexible sweet potato and butternut squash recipes. You can even make these mashed sweet potatoes and butternut squash, but you might need to drain them or mash them in a mixing bowl. The squash has a bit of moisture and creates more liquid then you would want when mashing them.
I have tried to reduce the amount of water, but you are likely to get a burn warning with less water. It is best to mash in a separate bowl if mashing!
You also want to increase the cook time to 4 minutes to be sure that everything is soft enough to mash easily.
Remove from the inner pot and place into a mixing bowl. You can add more butter if you like (we do but it's optional) and use either 1-2 tablespoons of milk or 1-2 tablespoons of the water left in the inner pot to mash them.
A potato masher works great or you can use a mixer to get it perfectly smooth.
Frequently asked questions
Can I prep the sweet potatoes and butternut squash ahead of time?
Yes you can! You can peel and cut the potatoes and squash up to 2 days ahead of time. Place them in a storage bag and close it most of the way to keep moisture in, but leave a small opening to let some moisture out if you are storing them for 2 days cut. If you are prepping them for later that day, you can close the container they are in.
Are there other spices that go good on this side dish?
You can change up the spices. Garlic, salt, pepper, cayenne, turmeric and ginger also go great with sweet potatoes and squash. We keep it simple with ours.
How long do leftovers last?
You want to store the leftovers in the fridge for up to 4 days. I have stored these in the freezer too, but they might be a little more mushy when you reheat them. I use them in smoothies out of the freezer.
Some useful items
As an Amazon affiliate we may earn a commission if you purchase through one of our links. This is at not extra cost to you. Thank you for helping us keep the recipes free!
6 quart or 8 quart Instant Pot - We use these two sizes quite often. You would need to reduce the amount made if using a 3 quart.
Mixing bowls - This is perfect for if you are mashing the potatoes and squash.
Slotted serving spoon - This makes it easier to remove the potatoes and squash from the inner pot after cooking. There will be a bit of liquid on the bottom from the cooked squash.
Recipe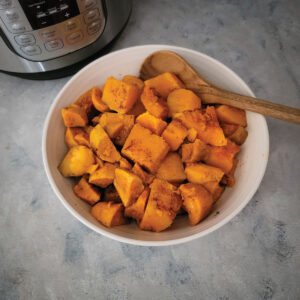 Instant Pot Sweet Potatoes and Butternut Squash
Easy to make, Instant Pot sweet potatoes and butternut squash only has 5 ingredients! It only takes about 30 minutes making it the perfect side dish for a busy night.
Ingredients  
2

pounds

sweet potatoes

peeled and cut, see notes

1

pound

butternut squash

peeled and cut

½

cup

water

3

Tablespoons

butter

salted preferred

½

teaspoon

cinnamon

ground

¼

teaspoon

nutmeg

ground
Instructions 
Peel and cut the sweet potatoes and squash. The chunks should be between 1½ to 2 inches in size.

Put the potatoes and squash into the Instant Pot.

Pour water over the potato and squash mix

Sprinkle with cinnamon and nutmeg, then top with butter sliced thinly to evenly place around.

Place the lid on and set the vent to sealing.

Press the high pressure/manual button (depending on your model IP on which button you have.) Adjust the time to 3 minutes.

Once it is finished, carefully do a manual release.

Gently stir and place in a serving dish. Enjoy!
Notes
Nutrition values are estimated and so is the serving size.   
The amount of squash and sweet potatoes does not have to be exact.  Customize it to the amounts you need.  If using a bit more, you will want to add a little more spices.  If using a lot less, use less of the spices.
We add salt and pepper to taste at the table, but you can add salt and pepper before cooking with the other spices.
It should take about 10 minutes to build up pressure.
Mashing the sweet potatoes and squash - You can mash these instead of serving in chunks.  Increase the cook time to 4 minutes and still do a manual release.  Remove the squash and potatoes from the inner pot when cooked and put them into a mixing bowl.  
Add extra butter if you like (we do) and either 1-2 tablespoons milk or 1-2 tablespoons of the liquid left from cooking.  Mash with a potato masher or you can use a mixer as well!
Nutrition
Calories:
264
kcal
Carbohydrates:
50
g
Protein:
4
g
Fat:
6
g
Saturated Fat:
4
g
Cholesterol:
15
mg
Sodium:
178
mg
Potassium:
897
mg
Fiber:
8
g
Sugar:
10
g
Vitamin A:
36371
IU
Vitamin C:
13
mg
Calcium:
90
mg
Iron:
2
mg