Easy to make, candied sweet potato casserole with marshmallows only has 5 ingredients! It is the perfect side dish to serve with your holiday dinner.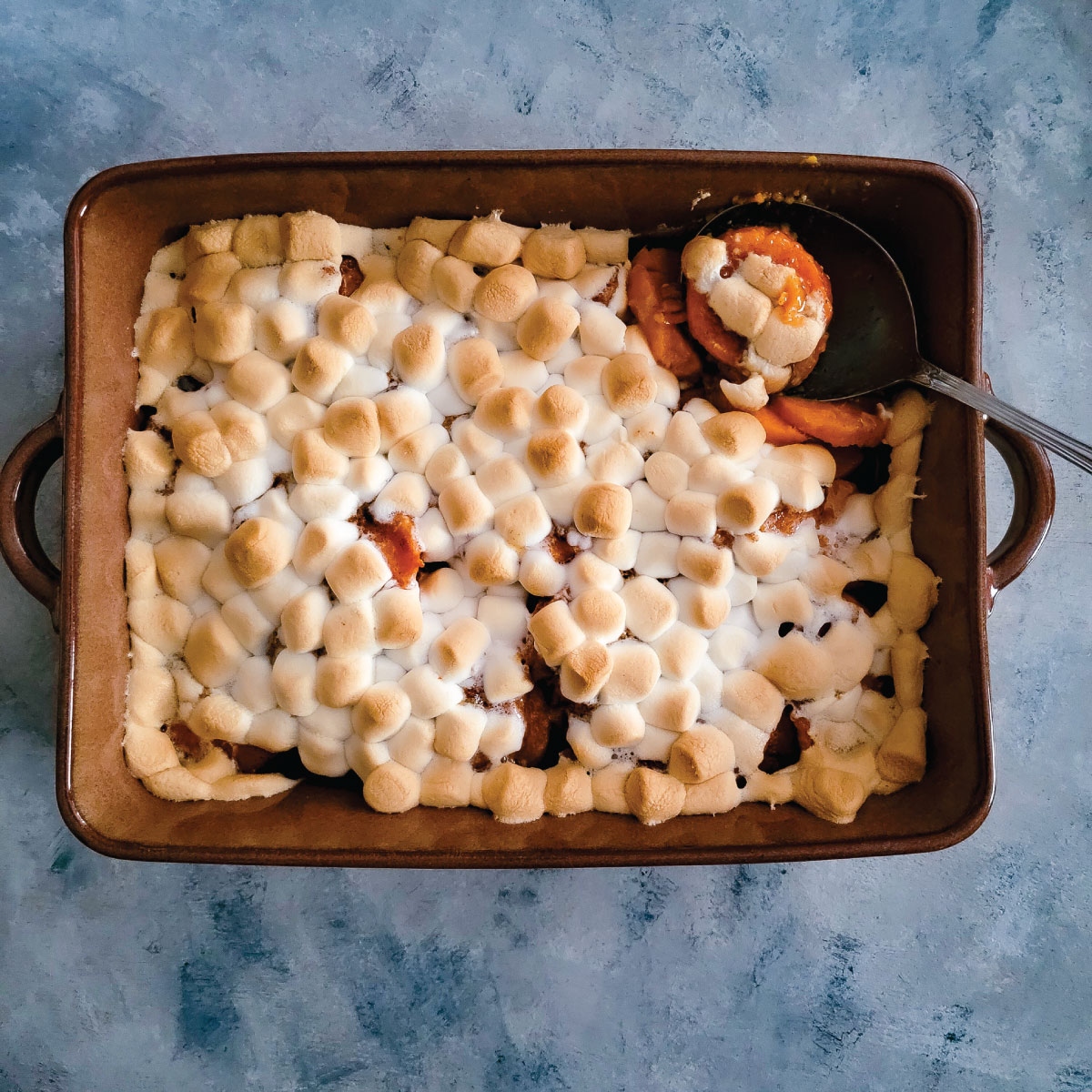 We love simple on the holidays here which is why we keep this at 5 ingredients. Even our classic stuffing and mashed potatoes (made in the Instant Pot) on Thanksgiving are kept simple. When you cook for others on a holiday it's usually best to be simple. Besides, it's easier on you!
We make our sweet potato casserole without pecans, but you can add them if you choose. Not everybody likes pecans here so we don't add them.
Jump to:
Ingredients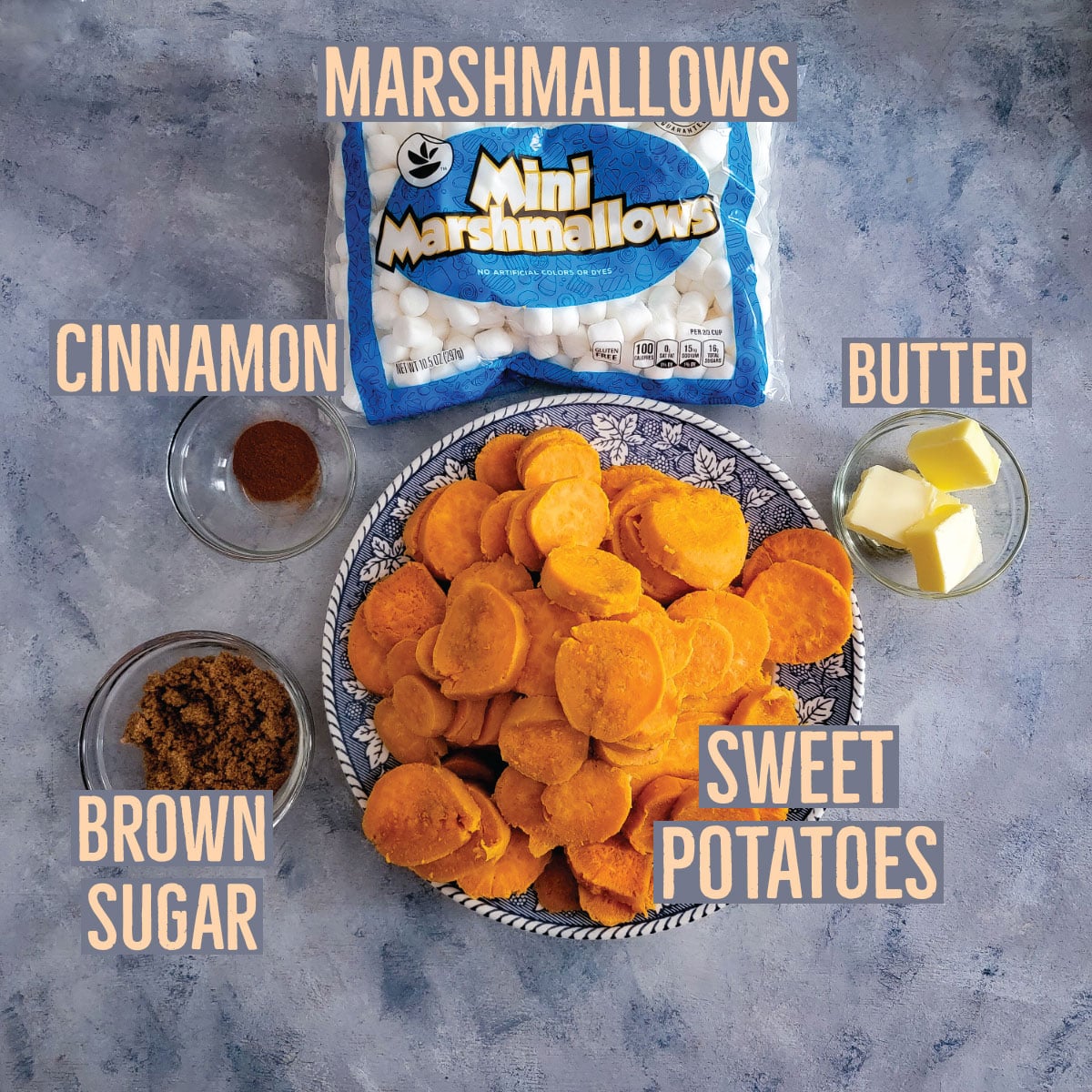 Sweet potatoes - If you can find sweet potatoes that are close in size that is great, but I know that isn't always easy. You are precooking them so don't worry if they are not all the same size.
Brown sugar - Dark brown sugar is best for flavor here, but you can use light brown sugar in it's place.
Cinnamon - Optional but recommended. We used to make it without but it is much better with it!
Marshmallows - Miniature marshmallows are best to make sure they are spread evenly and get toasty.
Butter - We love salted butter here to give a little bit of a salty flavor but not a lot. To make it a dairy free sweet potato casserole, you can substitute the butter with your favorite substitute.
Tips for making the casserole
This is a simple recipe to make but here are a few tips that will help you make sure it is perfect!
The sweet potatoes
It is best to precook the sweet potatoes. In the casserole they would take longer to cook and would be likely to dry out without extra liquid in the dish.
The best way to precook them is by boiling them. I have done them in the Instant Pot, but for this I prefer to boil them. If your sweet potatoes are all different sizes (it's hard to get them all the same size), you can give them more or less time in the boiling water as needed.
Add the largest sweet potatoes to a large pot of water and bring to a boil for a couple minutes. You then want to add in the smaller ones. Cook them until you can stick a fork into them.
Allow to cool until they are cool enough to handle. Peel them and slice them into slices around one quarter inch thick.
The brown sugar and butter sauce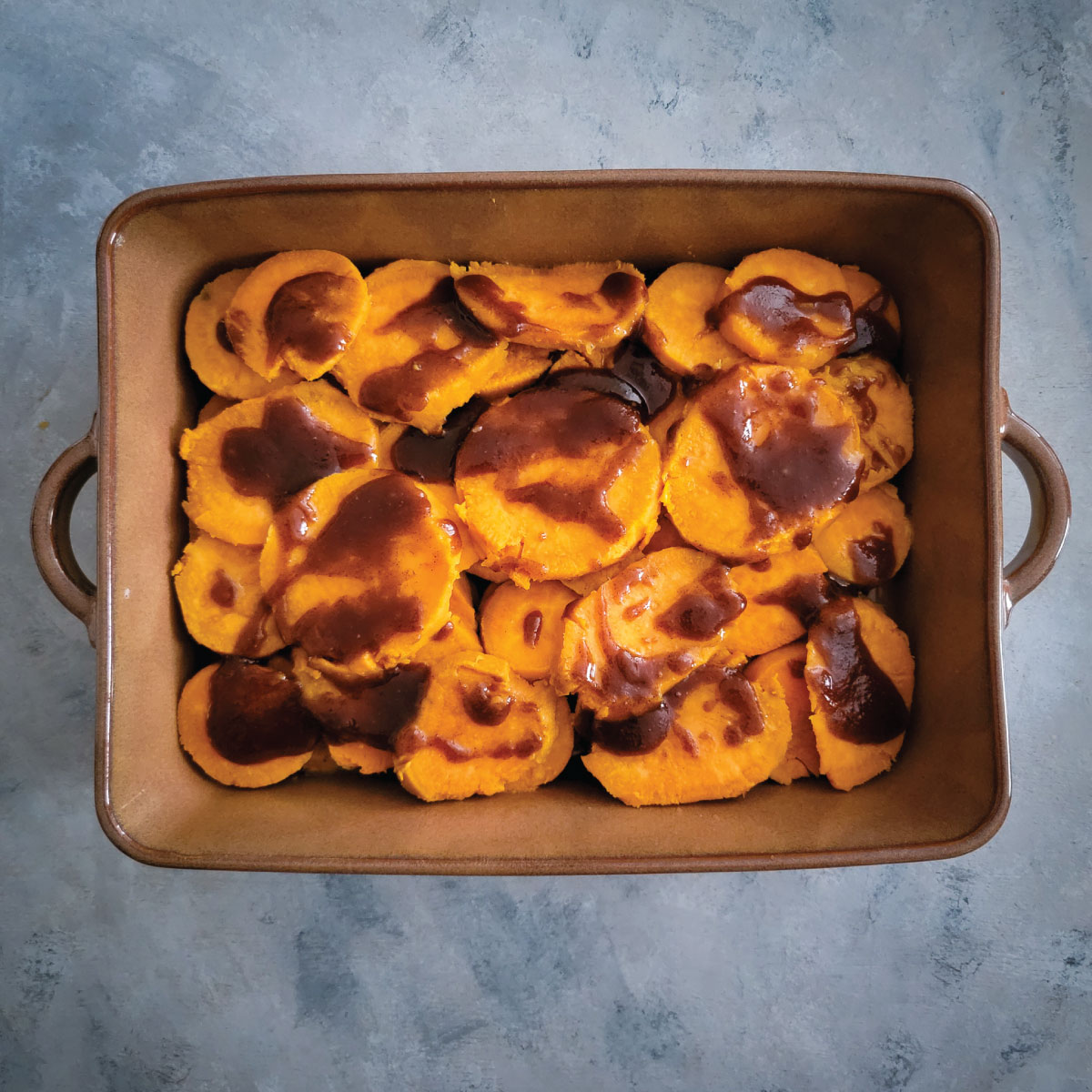 The butter, brown sugar and cinnamon get heated together in a small saucepan. As soon as the butter is melted you want to add the brown sugar and cinnamon. Stirring often, heat over medium heat until it is combined well. This is about a minute, you want the butter to mix and not appear separated from the sugar.
Place half of the sweet potato slices in a casserole dish (2 and a half quart is best but can use 3 quart) and drizzle half of the brown sugar mix over the top of the slices. Repeat layers. The drizzle doesn't have to be perfect, it will spread out a bit during baking.
The Marshmallows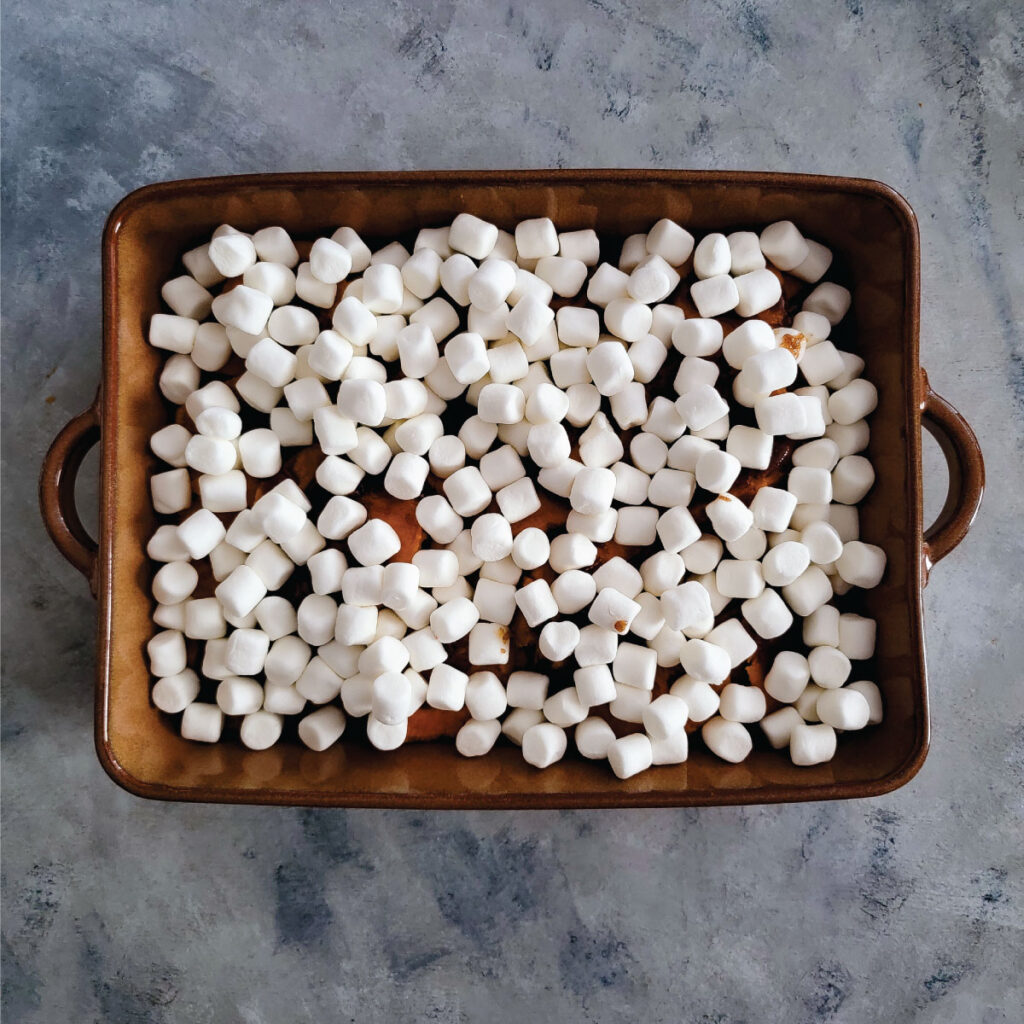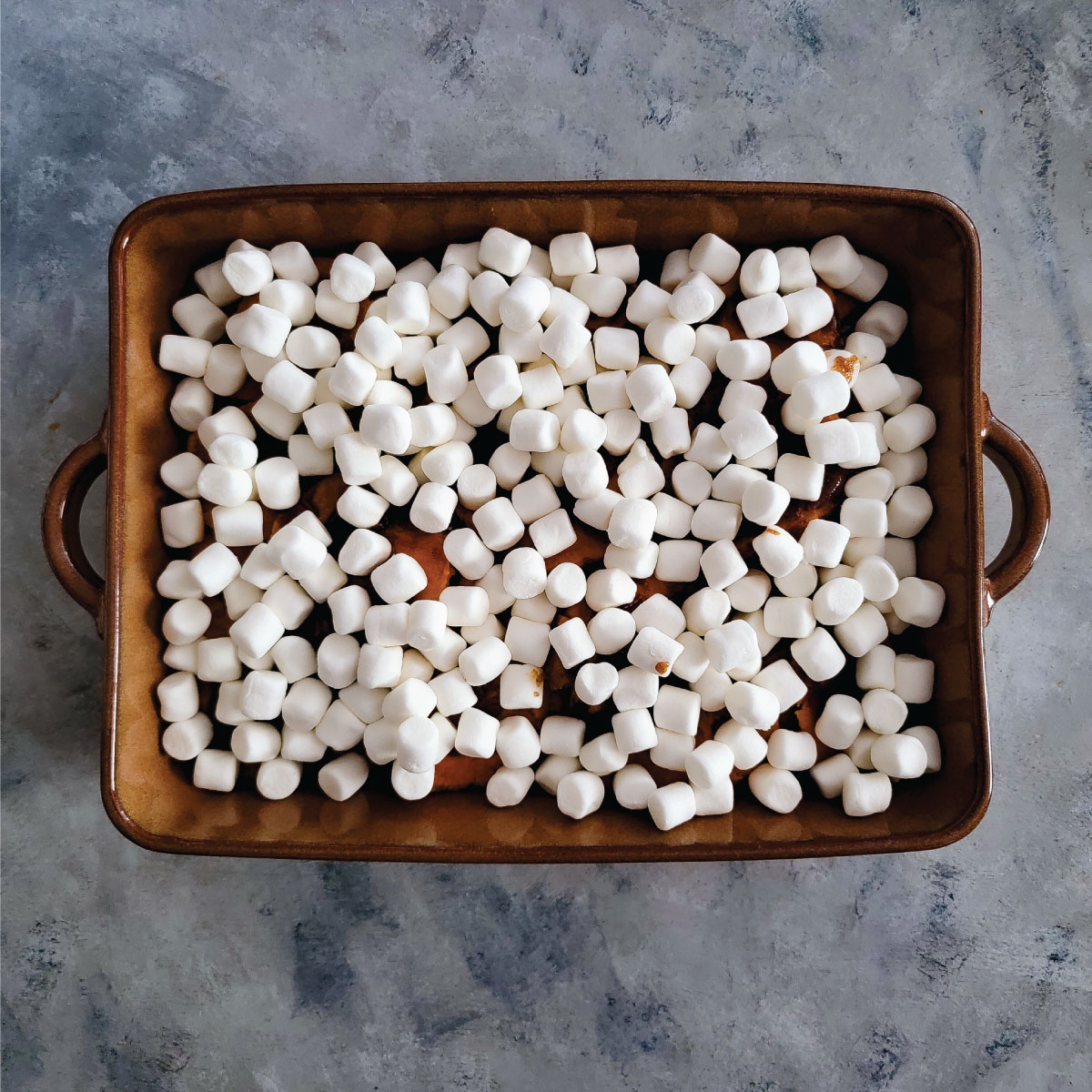 You can use more then 2 cups here if you like a lot of marshmallows! It is an estimated amount because the amount needed to top the casserole depends on the shape of your dish.
You want to put at least enough marshmallows on it to cover the top of the sweet potato casserole. If you see above how perfectly the miniature marshmallows cover the sweet potatoes? The large or regular sized marshmallows don't cover it the same and they don't melt or brown the same either.
What if I only have larger marshmallows? You can still make this work! I recommend using kitchen scissors and cutting them up a little bit if you can. They are not the easiest to cut with a knife because they squish, but you can cut them with a sharp knife too.
You can also melt the marshmallows a little bit in a sauce pan with a fat like butter or coconut oil, but I think I would use them whole before melting them.
Full instructions in the recipe card or step by step pictures are here at easy sweet potato casserole.
Other great holiday side dishes
Frequently asked questions
Can I use canned yams in place of sweet potatoes?
Yes you can use canned yams instead. We have not made them that way, but you precook the sweet potatoes and there is nothing about canned yams that won't work.
Is this gluten free?
Yes this is a gluten free sweet potato casserole! Just be sure to check your labels to make sure there is no gluten. Sweet potatoes, butter and cinnamon are naturally gluten free. Sugar (including brown sugar) is too. Marshmallows are the one thing to double check. Most marshmallows made in the US are gluten free, but double check the labels first or use a brand you know is safe.
Can I prepare this ahead of time?
Yes and I do every Thanksgiving! You can either cook the sweet potatoes the day before or get the whole casserole ready - all but the marshmallows, they go on before baking.

If you are using a glass dish for your casserole, take it out about 20 minutes before baking to prevent the extreme temperature difference on your glass cookware.
Useful items for the sweet potato casserole
As an Amazon affiliate, we may earn a commission if you make a purchase through one of our links. This is at no extra cost to you. Thank you for helping to keep the recipes free!
Recipe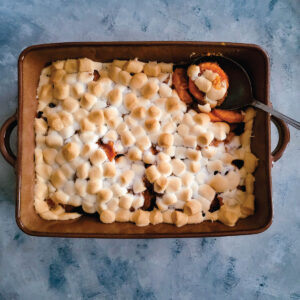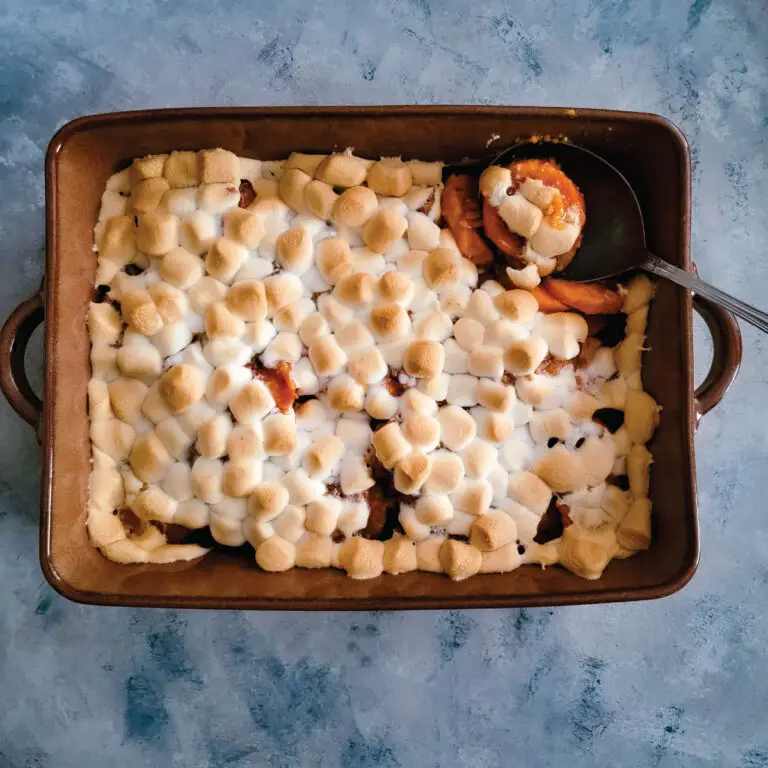 Candied Sweet Potato Casserole
Easy to make, sweet potato casserole has just 5 ingredients but is full of flavor! It is the perfect side dish for your holiday dinner.
Equipment
2½ quart casserole dish or

3 quart casserole dish
Ingredients  
3

pounds

sweet potatoes

about

4

Tablespoons

butter

salted

¼

cup

dark brown sugar

packed

½

teaspoon

cinnamon

ground

2

cups

miniature marshmallows

can use more or less
Instructions 
Cook the sweet potatoes in boiling water until you can stick a fork in them - times will vary depending on sizes of potatoes. Set aside until they are cool enough to handle.

Preheat oven to 350° Fahrenheit unless you are baking them with a roast, they can be baked at any temperature to bake with a roast.

Once the sweet potatoes are cool enough to handle, peel them and cut into ¼ inch slices.

In a small saucepan heat melt butter until it is most of the way melted. Add in brown sugar and cinnamon. Stirring often, heat over medium heat for about 1 minute or until the mixture is mixed well.

Place about half of the sweet potato slices on the bottom of a casserole dish - either 2½ or 3 quart is best. It's ok if it is slightly more then a single layer.

Drizzle about half of the butter mixture over the slices. Repeat layers once.

Spread the miniature marshmallows over the top of the casserole. Use at least enough to cover evenly but you can add more if you like.

Place in oven at 350° Fahrenheit and bake for about 25-30 minutes, until the potatoes are heated through and marshmallows have the desired amount of browning.

If baking at 325° Fahrenheit, add an extra 5-10 minutes.
Notes
Nutritional values are estimated and so are serving sizes.  
If your sweet potatoes are different sizes, boil the larger ones for a couple minutes before adding the smaller ones.  You may need to carefully remove the smaller ones sooner as well.
For the marshmallows - miniature are best but if using regular or large, you can cut them into pieces with kitchen scissors.  2 cups is estimated and the amount varies depending on the shape of your casserole dish.  Use enough to cover the casserole and more if desired.
If using unsalted butter, I recommend adding about a quarter teaspoon of salt to enhance the flavor.
This can be made the day before.  If using a glass dish, remove from fridge about 20 minutes before baking to prevent a drastic temperature change on glass.  Add about 5-10 minutes to cook time.
Nutrition
Calories:
350
kcal
Carbohydrates:
68
g
Protein:
4
g
Fat:
8
g
Saturated Fat:
5
g
Polyunsaturated Fat:
1
g
Monounsaturated Fat:
2
g
Trans Fat:
1
g
Cholesterol:
20
mg
Sodium:
207
mg
Potassium:
780
mg
Fiber:
7
g
Sugar:
28
g
Vitamin A:
32409
IU
Vitamin C:
5
mg
Calcium:
80
mg
Iron:
2
mg