If you are looking for a classic bread stuffing without extra fancy ingredients, this is perfect! It comes together quickly and can be made with homemade bread cubes or store bought bread cubes.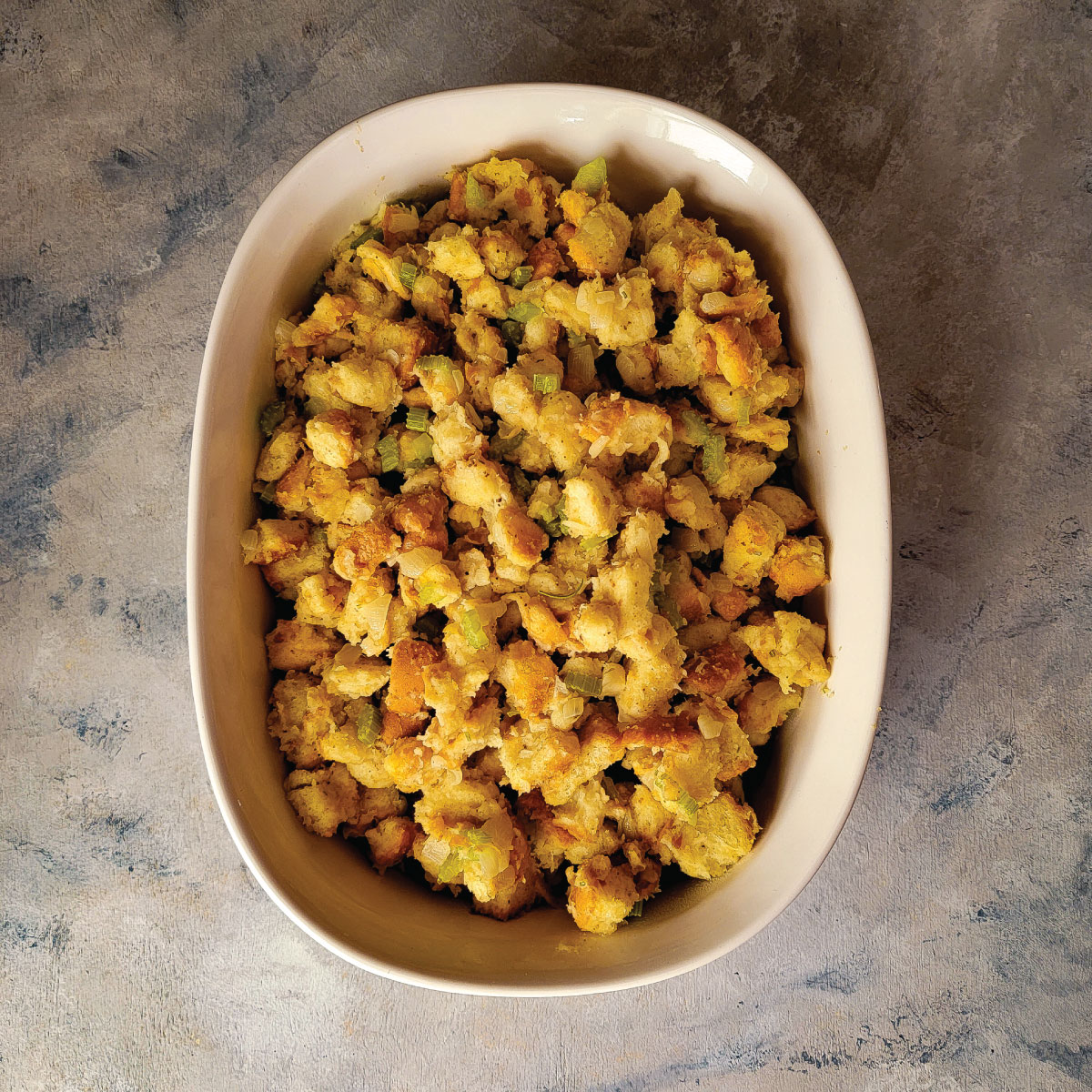 This is our favorite way to make stuffing, simple and nothing fancy. It's perfect to serve with roast chicken or with roast turkey and it's the one we serve on Thanksgiving every year.
Jump to:
Ingredients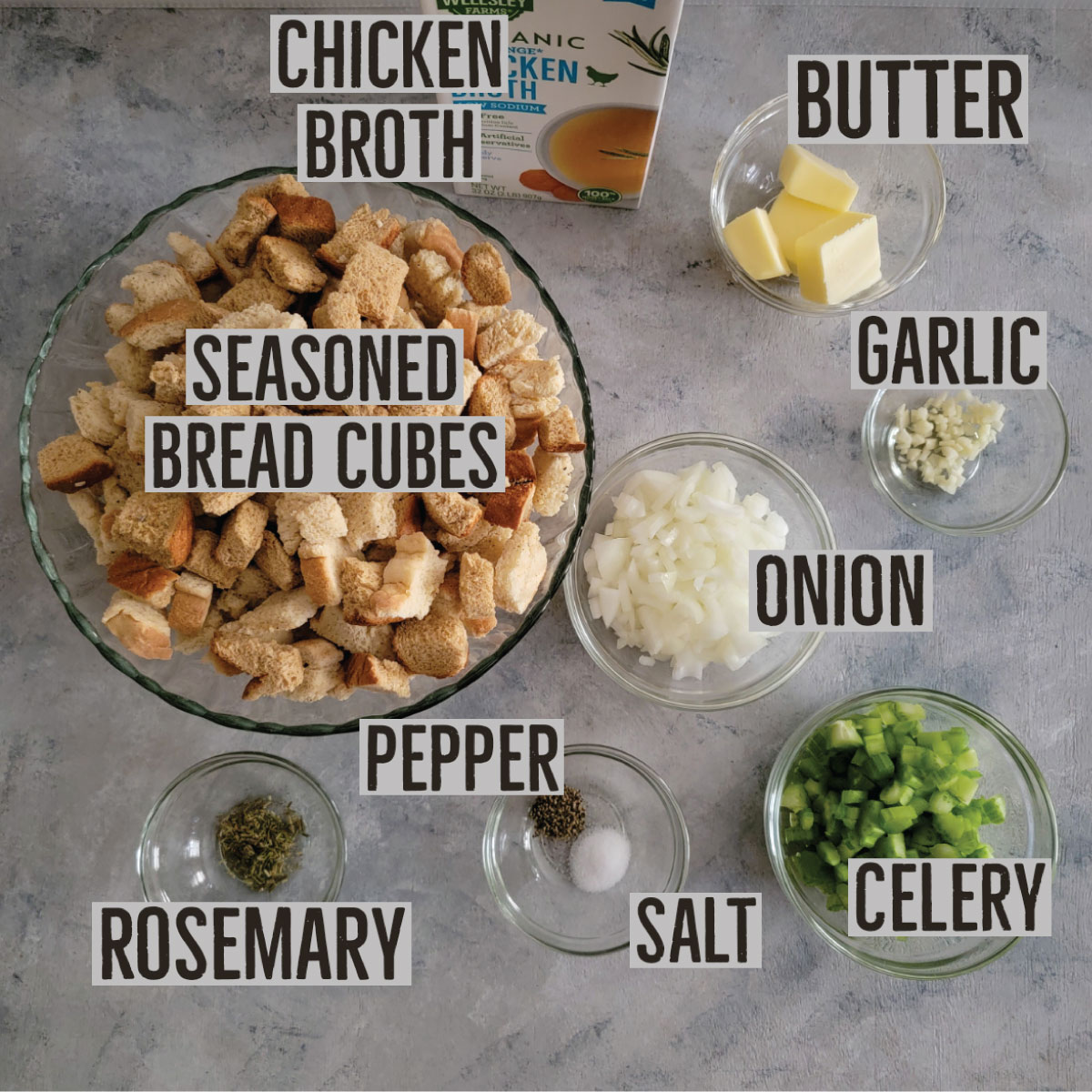 You can add some of your own spices in as well, but we find these to be our favorite.
Bread cubes - We use homemade bread stuffing cubes, but you can also use a package of store bought cubes - probably cheaper in a local store but link shared to give you an idea of store bought cubes. There are other brands as well.
Chicken broth - Either unsalted or low sodium is best here, but you can use regular. You may want to reduce the amount of salt if using regular broth.
Butter - Salted or unsalted, whichever you prefer. We use unsalted.
Garlic - Fresh chopped cloves is best for flavor, but you can use a quarter teaspoon garlic powder if needed.
Onion - Yellow or white onion is best, we prefer yellow.
Celery - No substitutions recommended.
Salt - Either table salt or sea salt is recommended. Salt is optional to bring out the flavors.
Pepper - Ground black pepper, optional but adds a bit of flavor.
Rosemary - Dried rosemary or you can substitute for fresh. Use 1 teaspoon if using fresh.
Sage - Not pictured here but I recommend adding about one quarter to one half teaspoon if you are not using our homemade bread cubes. We put sage on the cubes.
What else can I add into stuffing?
There are many things that people add to a classic bread stuffing! It is something that you can customize in your own way - it's one of the most flexible recipes you can make. But here are a few things that we sometimes add, but more often then now we make it as written.
Chestnuts - Chestnuts are always good! The problem quite often is finding them fresh. You would roast them first to a slightly firm texture before peeling and cutting them. Add the cut pieces into the mix with the bread cubes. Or you can sprinkle the cut pieces on top as well, but we prefer them mixed in.
Red Kuri squash - This is squash with a flavor similar to chestnuts. It is a fairly big squash so you don't need much of it, but you can cook it and cut some up to add in. How to cook squash in the Instant Pot shows you the easiest way to cook it, if you have an Instant Pot.
Butternut squash - You can add some pieces of butternut squash to it, I would cook the pieces you are adding first. Either cook the whole squash and cut up, or you can cut up what you are using and slightly cook them. You would add this with the bread cubes so it is best to have it pre-cooked.
Mushrooms - They are a favorite in many dishes here and they are also great in a classic chicken stuffing! I would only add 1-2 mushrooms here. Chop them and add them to the celery and onion mixing while sautéing.
Water from the giblets - We have dogs so we boil down the giblets and neck in a little bit of water. Then we add about half a cup with the broth. If you do this, reduce the amount of broth to 1 and a half cups.
Can I bake the stuffing in the chicken or turkey?
We do not recommend baking any stuffing in the bird and we never do ourselves. It increases the cook time and often dries out the breast meat. The internal temperature of the stuffing is hard to check all the way through and does need to be at least 165 degrees Fahrenheit inside the bird. It is inside poultry that started out raw. If you do bake it in the bird, be sure to check the temperature of the meat and the stuffing.
You run a risk of salmonella when stuffing the cavity. Many people check the temperature of chicken and turkey by checking the thickest part of the thigh. That might be up to temperature but the meat towards the inside cavity might not be if it is stuffed.
We always bake ours in a baking dish to give it a somewhat crispy texture to the top. This is optional.
You can use a baster and add drippings from the turkey or chicken to the top of the stuffing just before baking it in place of cooking it in the bird. If you do use drippings before the bird is fully cooked, be sure your stuffing reaches at least 165 degrees Fahrenheit when you bake it in a pan!
Frequently asked questions
Can I make the classic bread stuffing ahead of time?
Yes you can! We do every year for Thanksgiving because it is so easy to prepare ahead. You can make it the day before and place it in the fridge. You would want to place it in the oven until it is heated through. Time depends on your oven temperature, but usually when cooking a turkey we cook the stuffing on the top rack for about 30 minutes at 325 degrees Fahrenheit. You can cook until your desired level of crisp on top!

A note about using a glass dish - if you are using a glass dish, take it out of the fridge and allow to sit out for about 20 minutes to take the chill off the glass before placing in the oven. You can use a foil pan as well.
How long with the stuffing last?
It should last up to 4 days after cooking if store properly in the fridge. This is also assuming you did not bake it in the turkey or chicken.
Do you put egg in the stuffing?
No, we do not use egg in our stuffing. I know some recipes do, ours does not.
Recipe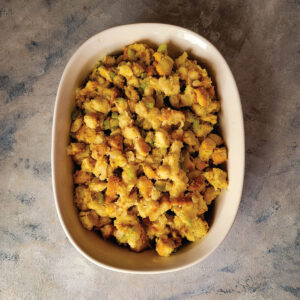 Classic Chicken Bread Stuffing
This is an easy recipe for a simple yet delicious bread stuffing! The flavor is amazing and can be made with turkey or chicken.
Ingredients  
14

ounces

homemade stuffing bread cubes

or store bought cubes, see notes

4

Tablespoons

butter

salted or unsalted is ok

1

celery stalk

chopped into small pieces

1

medium yellow onion

chopped, about 1 cup

2

garlic cloves

chopped, about 2 teaspoons

½

teaspoon

dried rosemary

¼

teaspoon

sage

only if using store bought cubes without sage

¼

teaspoon

salt

¼

teaspoon

pepper

2

cups

chicken broth

low sodium recommended
Instructions 
Melt the butter over medium heat in a large pot - at least 5 quart for easy stirring.

Add in the onion and celery. Stirring occasionally, cook until the onion and celery start to soften, about 5 minutes.

Add in the rosemary, garlic and sage (if adding sage.) Cook for about 1 minute stirring often.

Add in the salt, pepper and broth. Simmer for 2-3 minutes before removing from heat.

Gently stir in the bread cubes and mix to coat all the bread cubes with the broth mix. Allow it to sit for about 5 minutes.

If baking place in a baking dish. Optional but recommended - pour a couple tablespoons of drippings from turkey or chicken over the top.

Bake until the top bread cubes become slightly browned and a desired level of crisp. Time depends on oven temperature and this stuffing can be heated/baked at any temperature needed for your roast. Usually about 20-25 minutes at 350° Fahrenheit.
Notes
Nutritional values are estimated along with serving sizes.  If serving with several other dishes, you will likely get more then 6 servings.
14 ounces of homemade bread cubes is about 12 cups.  It is also the equivalent to about 1 pound of store bought bread if using store bought bread.  Alternately you can use a 12-14 ounce package of store bought seasoned cubes.  Add about 1 quarter to 1 half teaspoon of dried sage with the rosemary if using store bought cubes.
This stuffing can be made ahead of time and placed in the fridge until ready to bake.  To heat, add an extra 10-15 minutes to cook time.  If using a glass dish, remove from fridge and allow to sit out for about 15 minutes before baking to reduce the risk of shattering glass with the temperature difference.
Nutrition
Calories:
267
kcal
Carbohydrates:
36
g
Protein:
9
g
Fat:
10
g
Saturated Fat:
5
g
Polyunsaturated Fat:
1
g
Monounsaturated Fat:
3
g
Trans Fat:
1
g
Cholesterol:
20
mg
Sodium:
532
mg
Potassium:
224
mg
Fiber:
3
g
Sugar:
5
g
Vitamin A:
239
IU
Vitamin C:
2
mg
Calcium:
104
mg
Iron:
3
mg