Making bread cubes for stuffing is very easy and homemade stuffing is better for you then the boxed stuff! Homemade is really easy to make too. This is a basic guide and you can use the bread you enjoy most.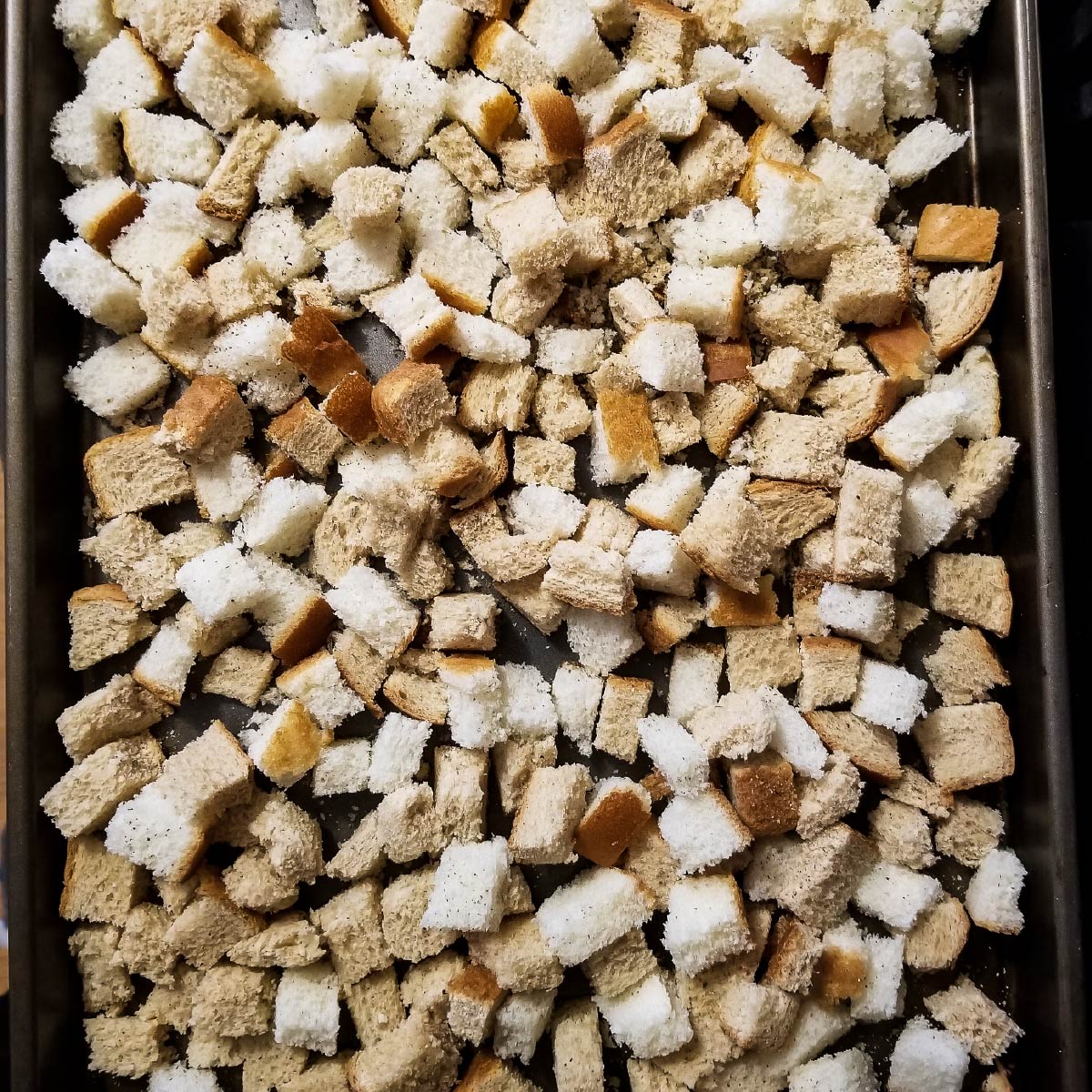 Why make homemade stuffing? Well for one, it doesn't have all the added stuff that is in boxed stuffing mixes. They are meant to have a long shelf life which means there is a lot of added stuff in them.
What bread do I use for stuffing?
That is the beauty of it all! When you make it homemade, you can use any bread you like. We usually use any bread that we have around that will likely go bad soon. Why waste it, right?
But the bread that goes best are sourdough and any kind of a hard bread (tho you can use store brand sandwich bread as well.) Baguettes are great for stuffing and we have even used homemade Italian bread.
We like to mix ours up and use some wheat bread and some kind of a white bread (like sourdough or a baguette.) Not only does it add a little bit of a nice color difference, it adds a nice flavor variety too.
How long do the bread cubes last?
If properly dried and cooled down, they will last around 2 weeks at room temperature. When I say properly dried, I mean that there should be no moisture left to them after baking and cooling. If you do not dry them all the way in the oven, you will likely get mold on them.
Remember that homemade they don't have preservatives (besides what might be in the bread you used) so they won't last for years like the store bought ones.
You can freeze them for up to 6 months, but we choose to use them withing 2 weeks and we don't usually freeze bread.
How do I store the bread cubes?
In an air tight container. We actually use storage gallon bags for ours and we haven't had any problems with them if used in 2 weeks. You can also use other storage containers, as long as they are air tight.
If you are storing them in the freezer, be sure to either use containers or freezer bags. Storage bags do not work as well in the freezer.
How to make the bread cubes
I did mention they were easy, right? Ok great because they are!
Take any bread that you want to use. This can be bread that is already getting stale (no mold tho) or your favorite bread that you just made or purchased.
Cut the bread into cube shapes. If using a soft bread, you will want to let the slices sit out for a few minutes first to make it easier to cut into cubes. Use a serrated knife to cut the bread neater. Doesn't have to be perfect, but you don't want it all squished.
Place the cubes on a baking tray. You can use parchment paper, but you don't have to. We did a couple times but usually we do not.
Sprinkle the cubes with some seasoning. For every baking tray of cubes we use about:
one half a teaspoon salt
one quarter teaspoon pepper
one quarter teaspoon garlic powder
one and a half teaspoon dried sage
You can use your own seasonings, this is just how we like ours. I do recommend that you at least use salt and pepper to give it some flavor.
We add rosemary but we add it when adding the broth and actually making the stuffing.
Bake the cubes at 200 degrees Fahrenheit for about an hour. Take them out of the oven and flip them around a little bit. If they still have any moisture to them, bake for another 30 minutes. You might need to bake a total of 2 hours depending on the bread and how thick the cubes are.
After the hour mark keep checking every half hour. Cool completely and store in an air tight container until you are ready to use!
Be sure to use them all within 2 weeks or place them in the freezer to store up to 6 months.