The perfect pumpkin pie crust has to be easy and compliment the flavor of the pie. This is an all butter crust with a hint of pumpkin spice in it.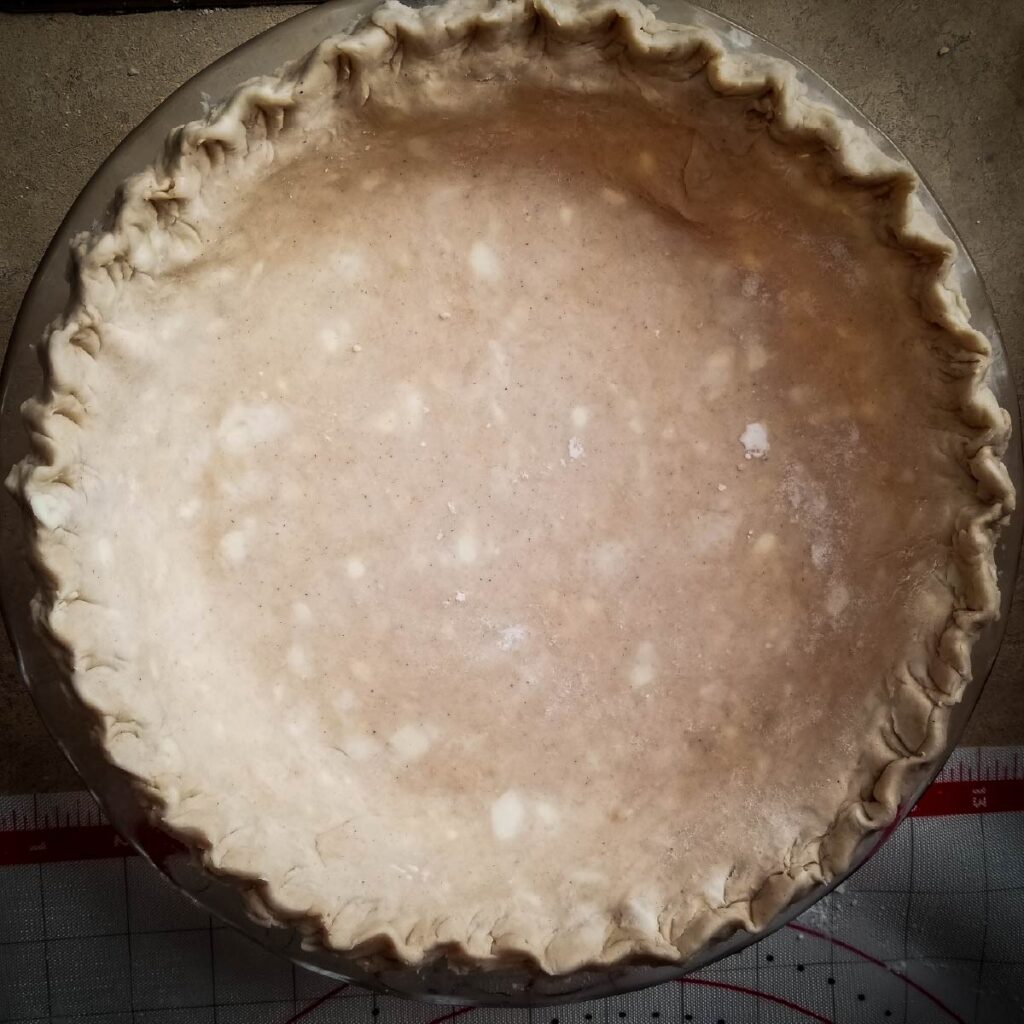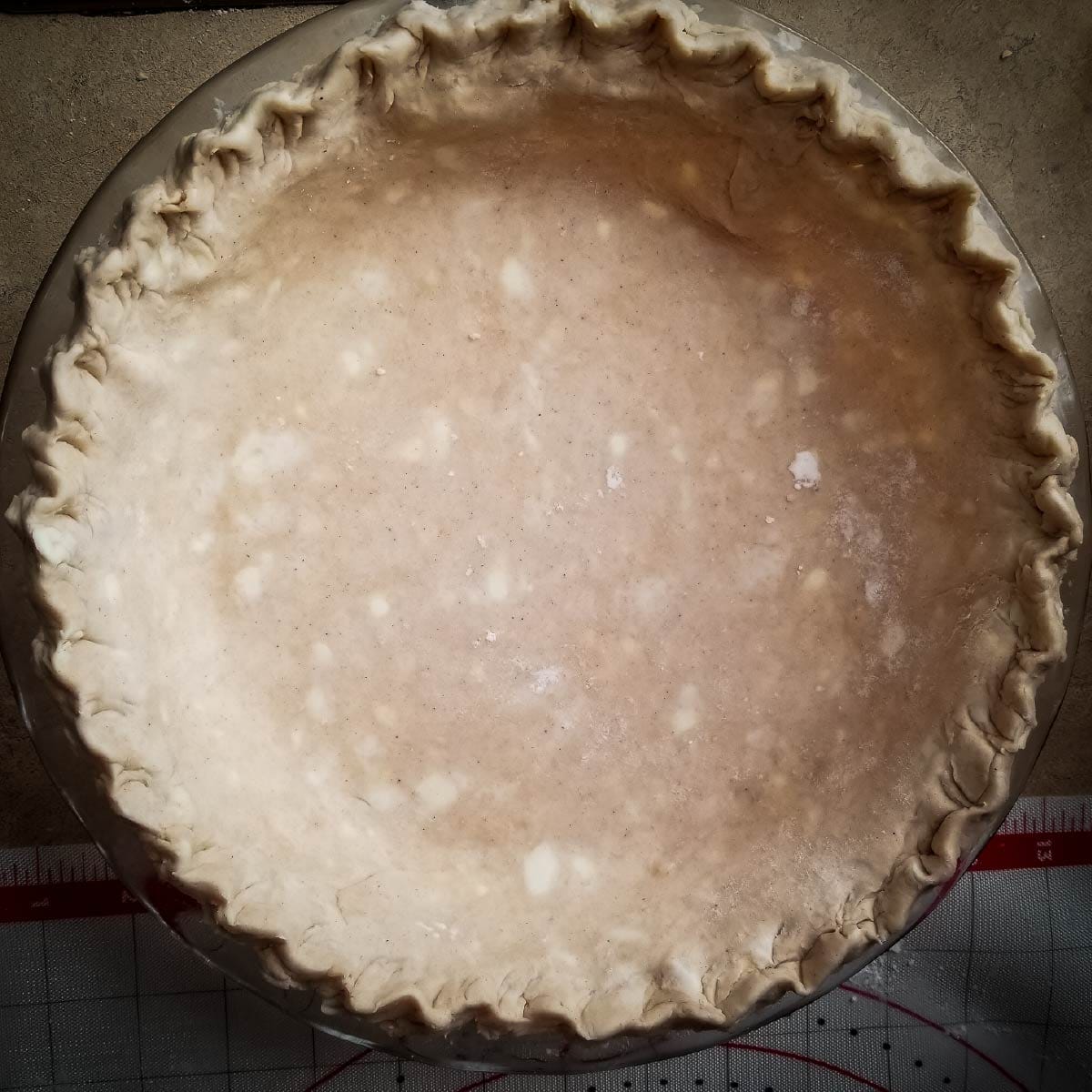 I like simple for my crusts! We also do not use shortening or margarine here in our house, so butter it is.
What makes a perfect pie crust?
I don't like to fuss with complicated crusts so easy is the first thing! I have tried some crusts that yeah they tasted good, but they were so hard to roll out that I almost threw them out. Can't have that! Now everybody's idea of a perfect crust is different but here are some deciding factors.
Taste is another deciding factor. Yeah it is just the crust and not the main show, but if it doesn't compliment your pie then it is no good. This crust has a hint of pumpkin pie spice to compliment the flavor of a pumpkin pie.
The right size for your pie. This one makes a single pie crust for a 9 and a half inch pie dish. For our pumpkin pie with fresh pumpkin, you need a 9 and a half inch pie dish.
The texture of the crust. This is something that is a personal preference. You might want a graham cracker crust or you might want a nice buttery flakey crust. This one is a nice and flaky crust made with all butter.
The ingredients match your lifestyle and choices. If you don't eat dairy you would want to try a crust without butter. If you are like us and don't like shortening or margarine, you want a butter crust. There is something for all of us 🙂
What is pumpkin pie crust made of?
There are several kinds of pie crusts but many of them are made with flour, salt, sugar, some kind of fat and ice water. This is for rolled out crusts. You can use crushed cookies or even crackers to make a different kind of crust.
Usually the fat is either shortening or butter, but sometimes people use margarine or even vegetable oil. There are several options so there is something for everybody here.
We also added the pumpkin pie spice to compliment the flavor of the pie.
What can I use in place of pie crust?
Don't want to roll out a pumpkin pie crust? Oh I hear you there! I have my moments of wanting to not break out the rolling pin. Tho my family tends to prefer the rolled out crust.
One great alternative to a traditional flour crust is a graham cracker crust which is:
14 whole graham crackers
6 tablespoons unsalted butter (you can use margarine in place of if preferred)
1 tablespoon brown sugar
couple dashes of pumpkin pie spice (optional)
Crush the graham crackers into crumbs and melt the butter. Mix the brown sugar and pumpkin pie spice into the graham cracker crumbs. Mix the crumb mix and the butter together until mixed well.
Press the mix into the bottom of the pie dish as firmly as you can. I use the bottom of my measuring cup to squish it down. Bake the pie as directed.
Tips for making this pie crust
You must use ice cold water. I put a few ice cubes in the water a couple minutes before using. Be sure not to get ice cubes in the dough.
Butter must be very cold and it is easier if it is cut into small chunks. I cut it into 1 inch cubes and place them in a small dish. Then I place it back in the fridge while I mix the other ingredients and make the ice water.
Understand that it is ok to see small chunks of butter in your dough. You want to mix it with a dough blender or 2 forks, tho the blender (sometimes people call it a dough cutter) makes it a lot easier. But you will have some small chunks and it's good to have them. They will help make your crust flaky.
Mix the water in a tablespoon at a time. You want it to just barely come together. It will be clumpy but you will be able to mash it together in a ball with your hands when it has enough water.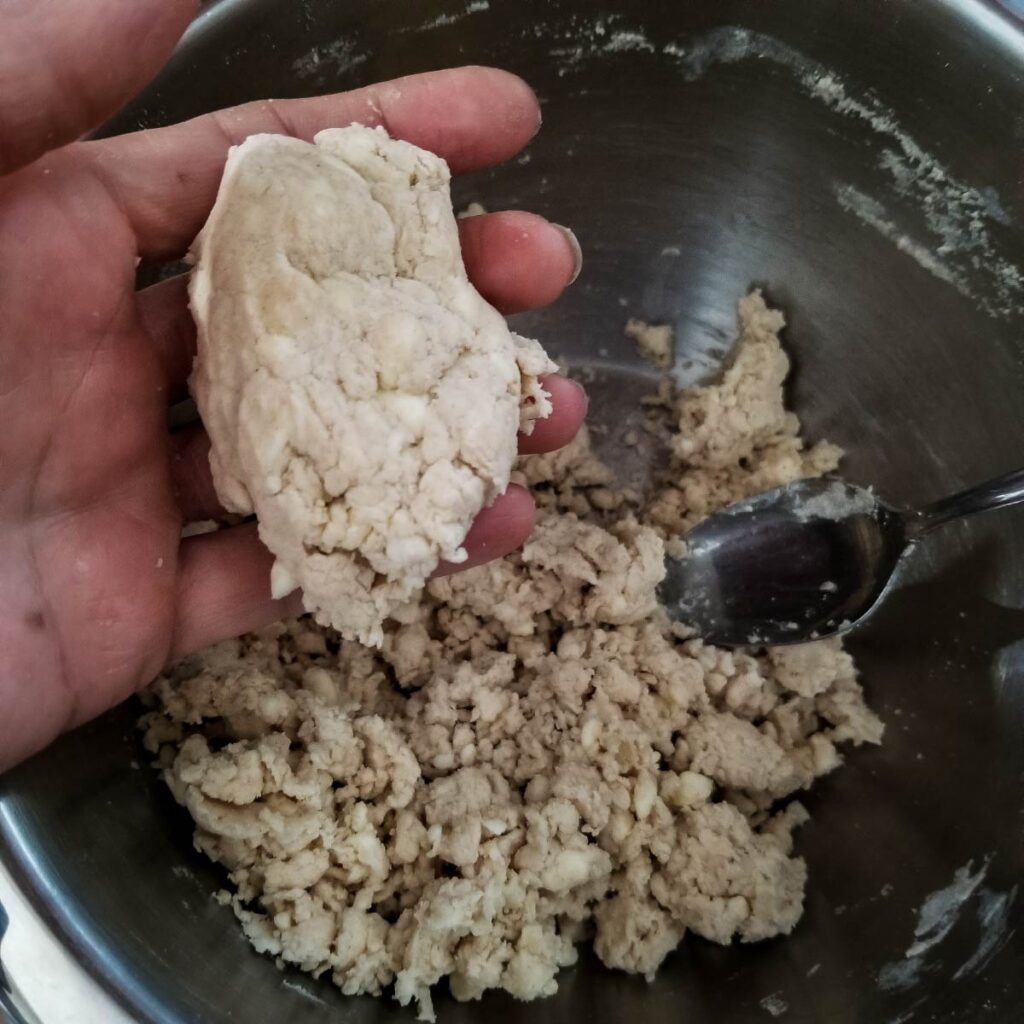 Refrigerate the dough for at least 2 hours before rolling out. Once you are ready to roll it out, bring it out of the fridge and let it sit for about 5 minutes before rolling. It will make it easier to roll out.
Always use flour on the surface you will be rolling it out on, even the non stick silicone mats need a little flour. Sprinkle flour under the crust and a little on top of the crust before you roll it out. Flip it over a few times during rolling and reapply flour to the rolling surface every time you flip. You will find it stuck to your surface if you do not do this.
I have prepared the crust dough up to 2 days before and rolled it out just before using. You can freeze this pumpkin pie crust dough as long as it is wrapped in plastic that is best for the freezer or wrapped in plastic and then placed in a freezer bag. It should last for up to 6 months if wrapped properly.
Recipe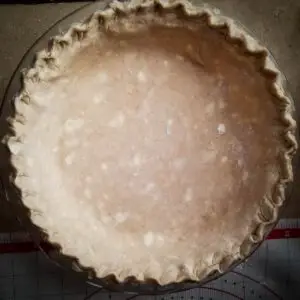 Perfect Pumpkin Pie Crust
An easy crust to make with a hint of pumpkin spice to compliment your pumpkin pie.
Ingredients  
1⅓

cup

flour

spooned and leveled

8

tbsp

butter

unsalted and very cold

1

tsp

sugar

¼

tsp

salt

¼

tsp

pumpkin pie spice

2-4

tbsp

ice water
Instructions 
Cut the butter into small cubes, about an inch big. Place in a dish and put back in the fridge while mixing other ingredients.

Mix flour, sugar, salt and pumpkin pie spice in a bowl.

Add the butter cubes to the flour mix and mix well with a dough blender or 2 forks. You will have small chunks of butter and that is good, they will make the crust flaky.

Add 2 tablespoons of ice water and mix with a fork. If needed add more 1 tablespoon at a time. It should be clumps but you can pinch it into a ball with your hands.

Wrap in plastic wrap and place in the fridge for at least 2 hours before rolling out or up to 2 days before.

When ready to roll out, remove from the fridge and allow it to sit for 5 minutes.

Lightly flour the surface you are rolling it on. Also sprinkle a little flour on top of the dough and spread it around with you hand.

As you are rolling out, you want to flip it over a couple times and lightly flour the rolling surface again to prevent it from sticking.

Press down into the pie dish, add the pie filling and bake according to the directions for the pie.
Notes
Nutritional values are estimated.
It is recommended you keep the pie crust in the fridge for no longer then 2 days, but you can freeze it.  Wrap it well in freezer plastic (it is thicker) or in plastic wrap and place in a freezer bag.  It should last up to 6 months if wrapped properly.
Nutrition
Calories:
180
kcal
Carbohydrates:
16
g
Protein:
2
g
Fat:
12
g
Saturated Fat:
7
g
Cholesterol:
31
mg
Sodium:
175
mg
Potassium:
22
mg
Fiber:
1
g
Sugar:
1
g
Vitamin A:
355
IU
Calcium:
7
mg
Iron:
1
mg