Roast turkey is a classic dish that many people enjoy, especially around the holidays. Here is an easy way to roast your turkey. We like to keep it simple with just 3 spices you probably already have and some butter or olive oil. And if you don't have all 3 spices, it's ok it will still turn out great!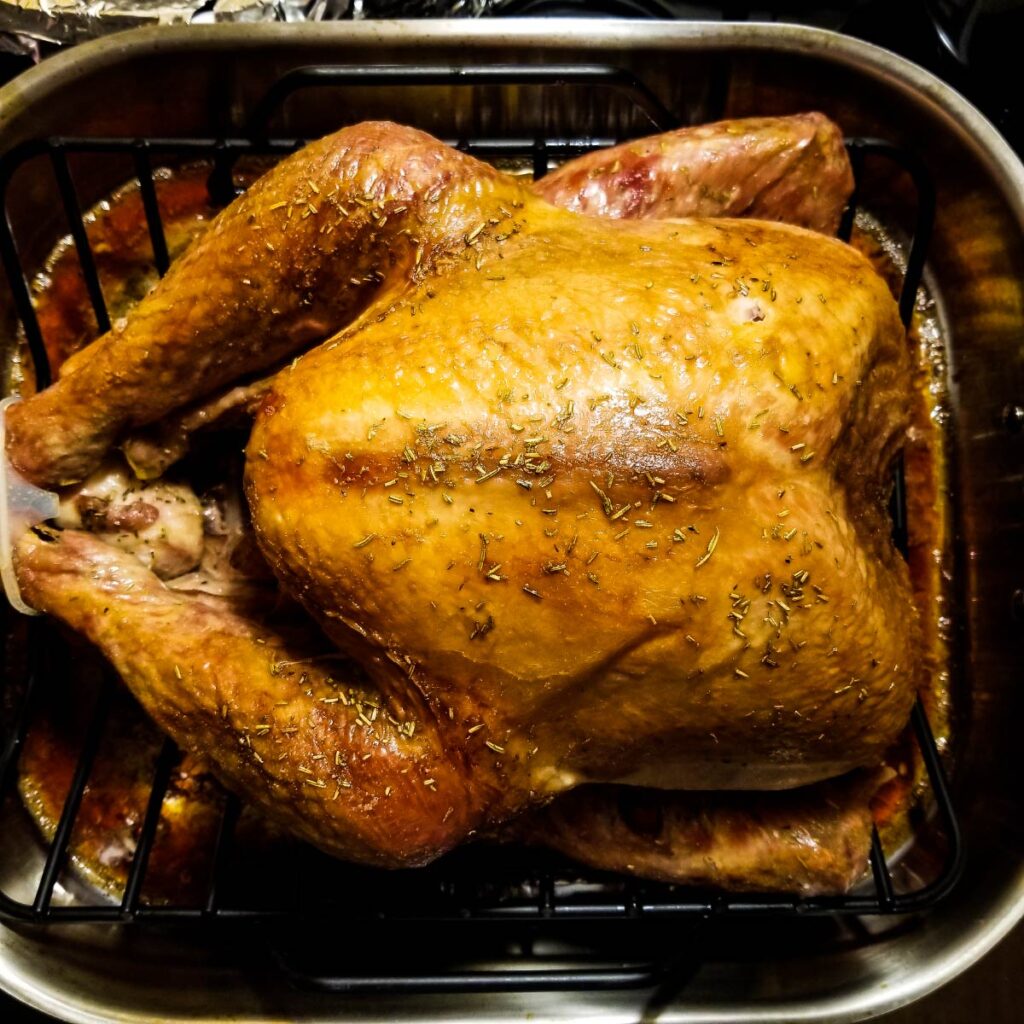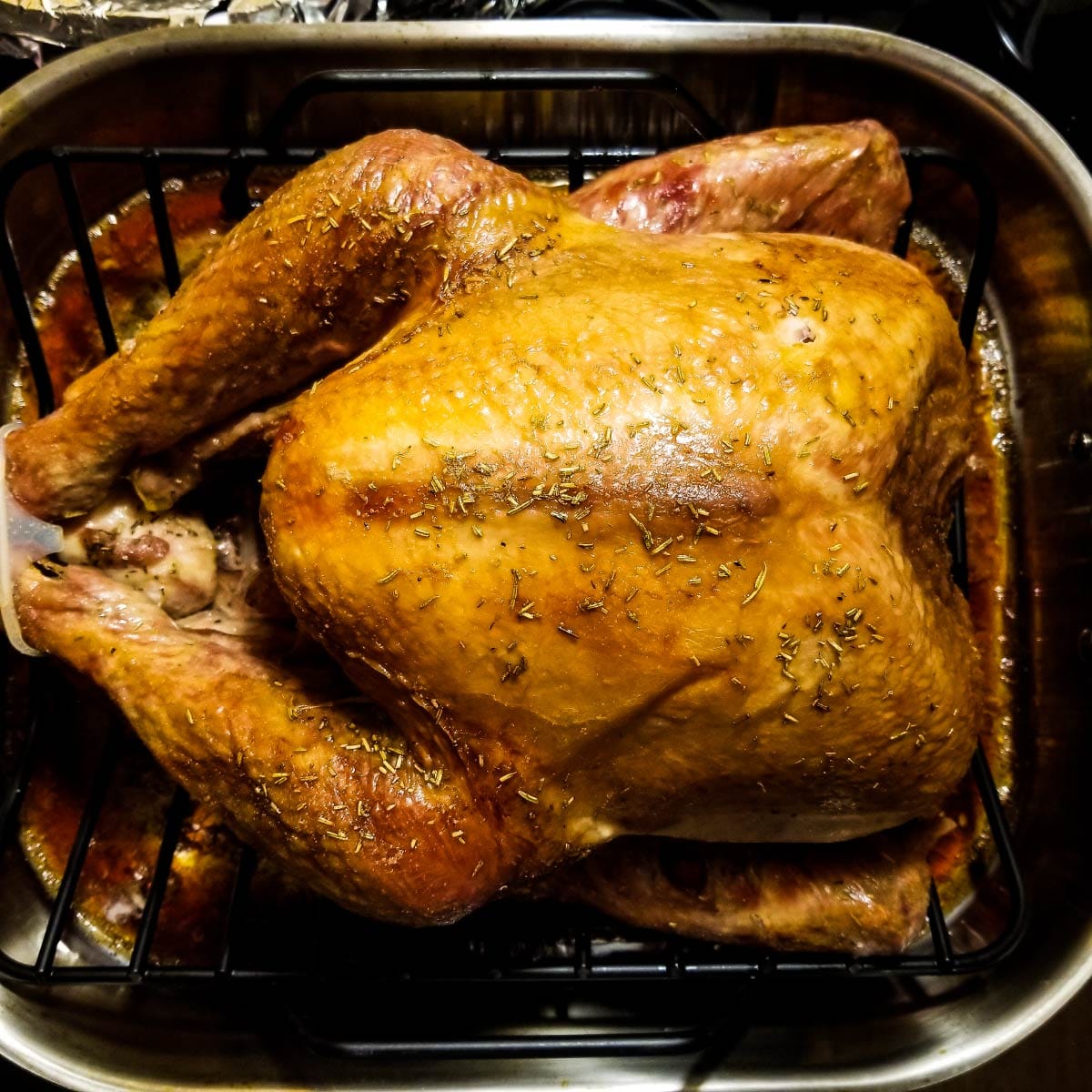 I know there are a million and 1 (maybe more) recipes for roasting a turkey and I am sure that a lot of them are delicious. But for us, we like to keep it simple with meats. No brine (we don't like that much salt to begin with), no marinating for hours and turkey can be delicious with minimal amount of seasoning.
Now you can add more seasoning if you like, this is a basic guide for roasting it with simple spices. There are many combinations that go well together!
What goes great with roast turkey?
Many foods go well with turkey, but there are some foods that are most often served with it.
And let's not forget the dessert!
Onto cooking the meal! We will answer a few common questions before getting into the recipe.
What is the best pan for a turkey?
We always use a roasting pan with a rack when we roast a turkey or even meats like prime rib. It helps to keep the turkey out of the grease in the bottom of the pan and it helps it cook more evenly as well.
For us, we use All Clad but at the moment we haven't been able to find the one we use online to show you. This roasting pan is another good choice and made by a decent brand. You can probably find one in your local stores as well.
Another thing that makes it much easier and you can buy these on Amazon or even often you will find them in stores are turkey forks. They make it a lot easier to get the turkey out of the roasting pan.
Do you roast turkey covered or uncovered?
We do both here. We leave it loosely covered for about 3 hours before removing the foil. You will want it on for more then half of the cooking time so adjust the time based on the size of your turkey.
Be sure to allow time for your turkey to cook without a cover too. You will want to cook it for at least an hour uncovered in order to get the nicely browned skin that is a little crispy.
Do you have to cover it? No, but we recommend it. This helps it cook a little more evenly while keeping the breast meat tender.
I don't use a lid of any kind, just loosely covered with foil.
Is it better to cook a turkey at 325 or 350?
This is a great question as you see it differently everywhere. I recommend 325 whether it is a conventional or convection oven. Convection is a great oven when you roast a turkey, but not required if you don't have one.
You can do your turkey at 350 as well and reduce the cook time slightly to about 10 minutes a pound, but the higher the temperature the more likely you are to dry out. I don't recommend going over 350 and I keep it at 325 here.
What's the difference between convection and conventional ovens?
A conventional oven is an oven that usually is without a fan. It is the oven that your stovetop comes with. Many newer stoves are coming with the option for both convection and conventional, but a lot of them still are only conventional.
A convection oven has a fan in it and quite often they are a stand alone. The fan helps to circulate the heat throughout the oven so there are no spots inside the oven with different temperatures.
What is cool about them is that you can place it on your counter to use and put it away when done. If you are purchasing a convection oven, be sure it is big enough for everything you want to cook in it - especially the turkey!
We don't have an electric stand alone convection oven yet, but our gas oven has the roast feature with a fan that turns on and off during bake time. I always roast a turkey with the fan feature on, but no worries if you don't have it.
How long does it take to roast a turkey?
I start at around 10-15 minutes a pound. It is hard to say for sure exactly how long each turkey will take to cook, but that is a great starting point. At 325 in a conventional oven it will be closer to 15 minutes per pound and in convection it will be closer to 10 minutes a pound.
There are various factors that can affect how long it takes. The oven might not be at the right temperature (using an oven thermometer is great to verify temperature), different roasting pans, or even just different sizes of the turkey.
This is for an unstuffed bird. I do not recommend stuffing the turkey for safety reasons tho many people do it. The chances of the turkey not cooking evenly or even having stuffing that has undercooked turkey in it are far too great. But if you do end up stuffing it, the stuffing needs to be at least 165 inside the turkey.
Be sure your turkey is fully thawed and please NEVER rely on the pop up timer that comes in most turkeys. I have had them pop up and yet there was blood in the cavity still and the thighs were not close to temperature.
You will need to use a meat thermometer (or even and instant read thermometer will do in a pinch.) You can use the pop up timer to judge when to check the temperature, but do not judge that for doneness please.
The temperature should be at least 165 in the thigh - try to get it close to where it connects to the leg and be sure you are not on a bone.
Prepping the turkey for roasting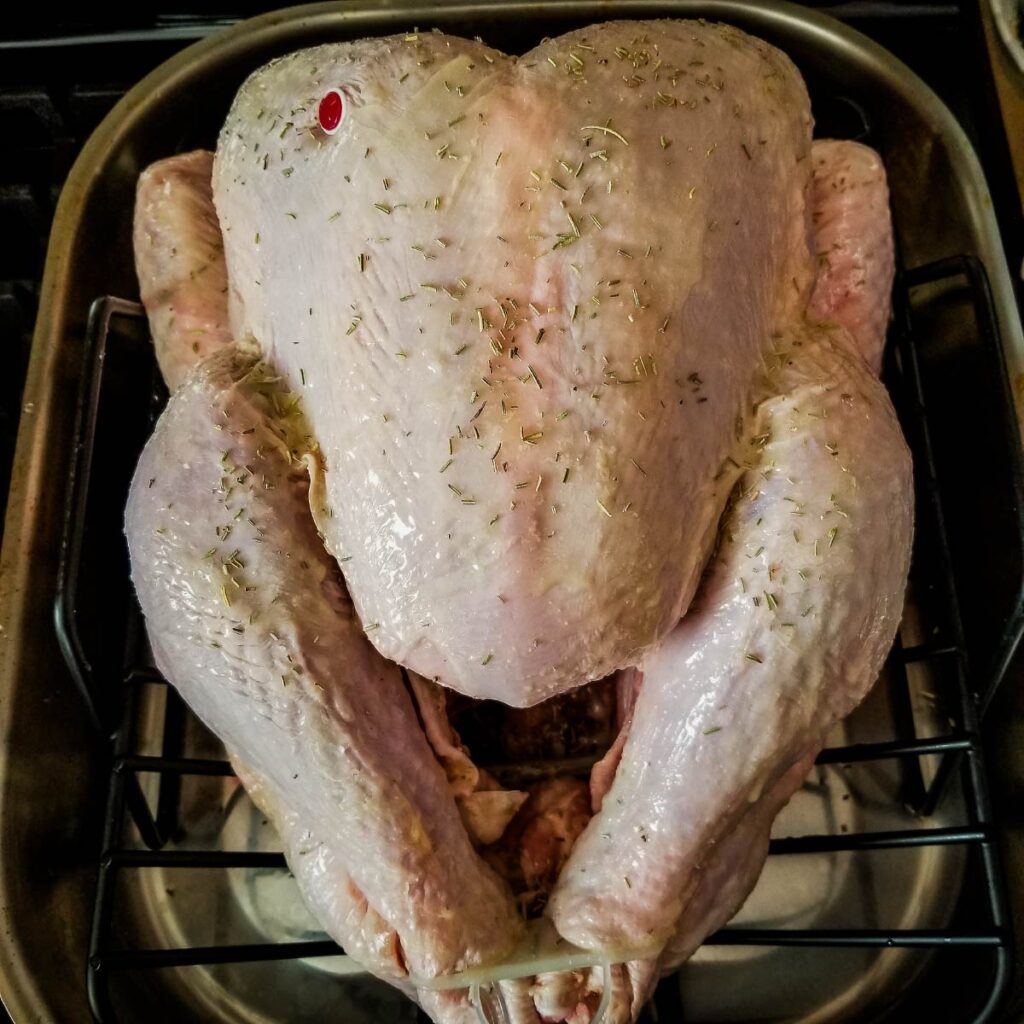 When you roast a turkey the first thing you want to do is defrost the turkey. For safety reasons it is best to only roast a fully defrosted turkey.
How long does it take to thaw a turkey?
It should take about 24 hours for every 5 pounds in the refrigerator. This is the best method but you can also defrost it in cold water if need be. I get fresh turkeys that have never been frozen now but we used to get frozen ones. The only time I used the water defrost is to finish defrosting if it wasn't ready soon enough.
The water should be checked and changed often to be sure that it is not too warm - every half hour you should check and replace water.
If using the water method it will take about 30 minutes per pound to thaw. You can do this in a sink or a large pot that is big enough to fit the turkey. Just make sure the water is changed every half hour to 45 minutes.
You can judge if it is thawed by feeling the turkey and seeing if it is still feels hard. If it is, it isn't thawed all the way.
Getting the turkey ready and in the oven
Take it out of the refrigerator and remove the packaging. There will most likely be the giblets in a little sack inside the turkey. Check the neck cavity too because sometimes there is something in there as well. Remove all of the giblets before cooking - at least out of the sack they came in.
Place the turkey in the roasting pan and allow it to sit out for about 30 minutes to 1 hour before cooking. Setting it out will help it to cook more evenly then putting it in right from the fridge.
When I roast a turkey or even a chicken, I like to gently bend the top of the wings back and tuck them under the breast meat without breaking the wings. It keeps them a bit neater but it's a personal preference and I don't see where it affects the cooking.
I melt butter with salt and garlic powder. Tho I love minced garlic, the powder is often best here. Minced garlic burns easy and it will give it a different taste. Rosemary is best to be sprinkled on after rubbing the butter on it.
Add the water to the bottom, cover and bake. Don't forget to remove the foil at least a half hour - 1 hour before estimated cooking time is up so the skin browns and gets crispy!
When the turkey is done (165 in the thickest part of thigh), remove from oven. We let it sit for about 5-10 minutes in roasting pan and then transfer carefully to a cutting board for another 20-25 minutes.
When you roast a turkey, you should allow it to rest for about 30 minutes before carving.
Carve, serve and enjoy!
Recipe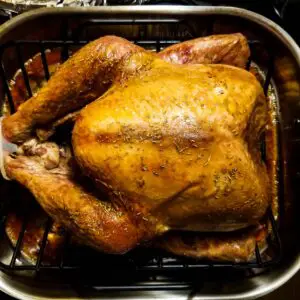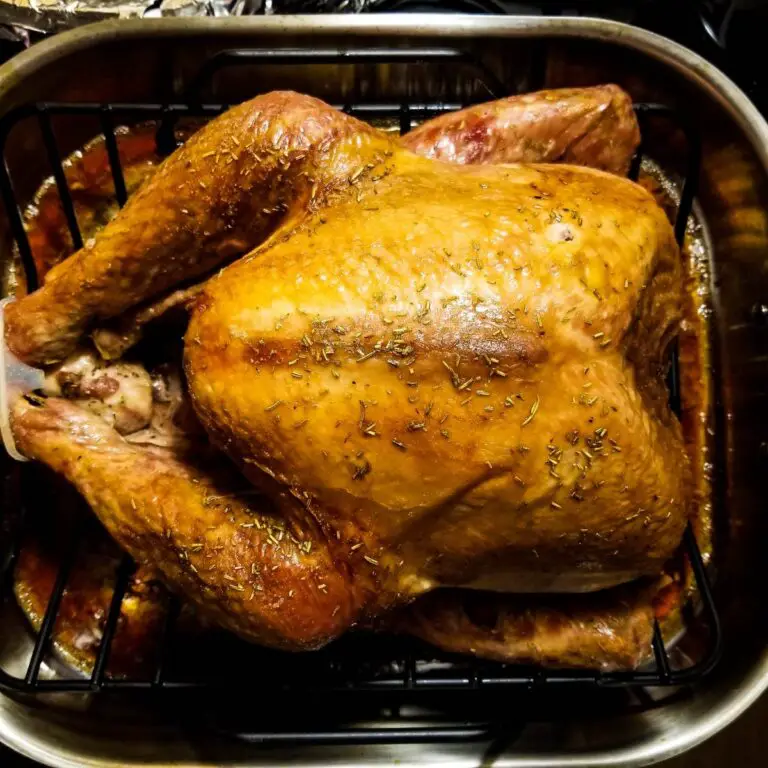 Roast Turkey
How to roast a turkey the easy way! Easy prep and simple spices make this a family favorite every year.
Ingredients  
12-22

lb

turkey

fresh or frozen but thawed

3

TBSP

butter

see notes

¼

tsp

garlic powder

¼

tsp

salt

½

tsp

rosemary
Instructions 
Be sure your turkey is fully defrosted before cooking. Preheat oven to 325° F.

Remove the turkey from the fridge and remove the packaging. Take out any giblets that were stored inside the turkey.

Rinse the inside and outside of the turkey then pat dry. Place on the roasting rack of the pan and set aside for 30 minutes to 1 hour.

Just before putting it in the oven:

Melt the butter with garlic powder and salt. Using a basting brush, brush the butter mix all over the turkey.

Sprinkle the rosemary all over the turkey.

Add a cup of water to the bottom of the pan. Cover the turkey loosely with foil and place it in the oven. Be sure to put it in the center of the oven.

Cook until about an hour before you estimated cook time

Remove the foil and continue cooking until the thickest part of the thigh (make sure you are not on the bone) reaches 165.

Your cook times:

In conventional oven - it will be about 15 minutes per pound.

In convection oven - it will be about 10 minutes per pound.

Once it is up to temperature, remove from oven and allow it to sit for about 30 minutes before carving.
Notes
Nutritional values and serving sizes are estimated.  For the values it was based on an 18 pound turkey with 12 servings.
We use unsalted butter but if you use salted you may want to reduce the amount of salt you use to one eighth.
You can substitute oil for butter if you choose.  
I do not baste my turkey but some people recommend it.  If you are going to baste it, I would do it when you have the door open to check if it is done.
I don't recommend stuffing a turkey for safety reasons and this recipe is for roasting an unstuffed turkey.
Cook times are estimated, be sure it is up to 165 in the thickest part of the thigh.
Nutrition
Calories:
707
kcal
Carbohydrates:
1
g
Protein:
105
g
Fat:
30
g
Saturated Fat:
9
g
Cholesterol:
355
mg
Sodium:
615
mg
Potassium:
1082
mg
Fiber:
1
g
Sugar:
1
g
Vitamin A:
359
IU
Calcium:
54
mg
Iron:
4
mg