One of my favorite things on the table on Thanksgiving Day is homemade cranberry sauce. Sure it is good out of the can too, but homemade is easy and we think it tastes better! It takes about 15 minutes to make and you can keep a bag of cranberries in your freezer for up to a year - just to be prepared. No more forgetting the sauce 🙂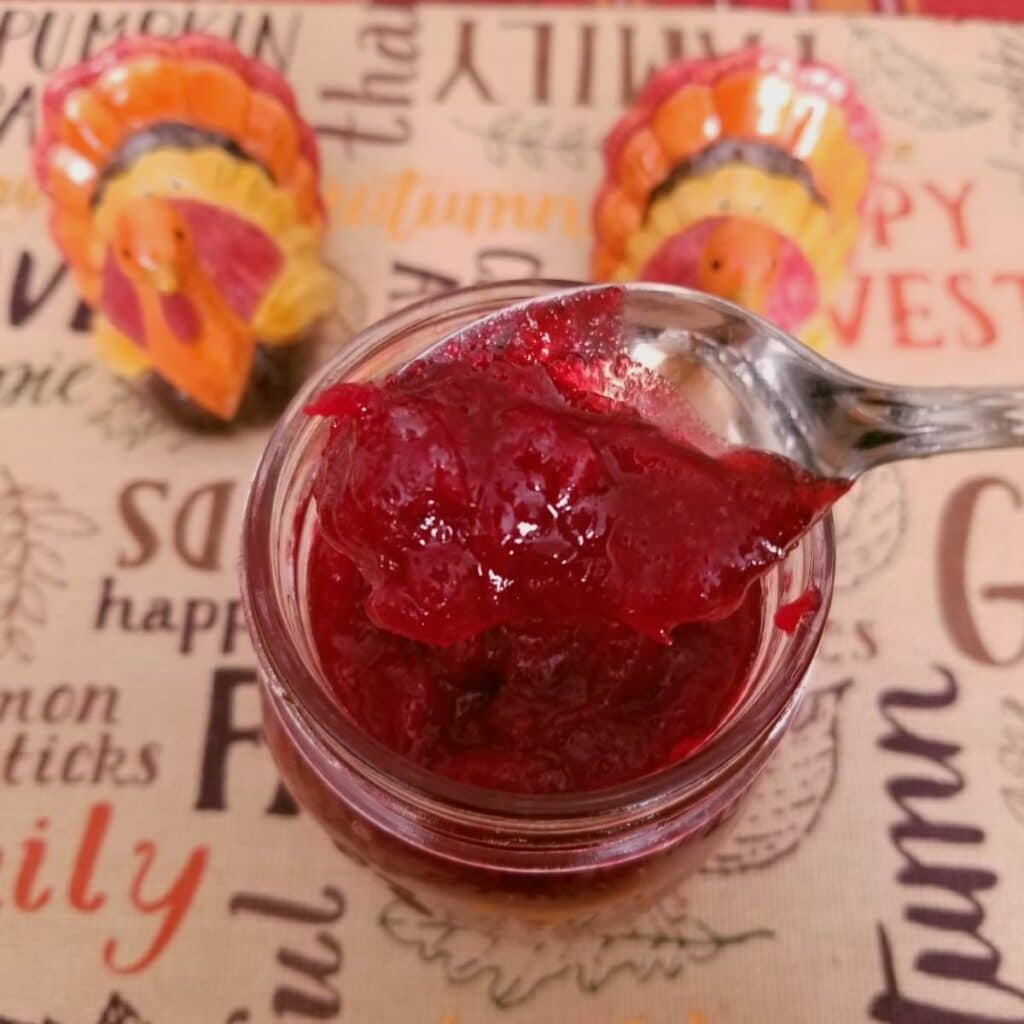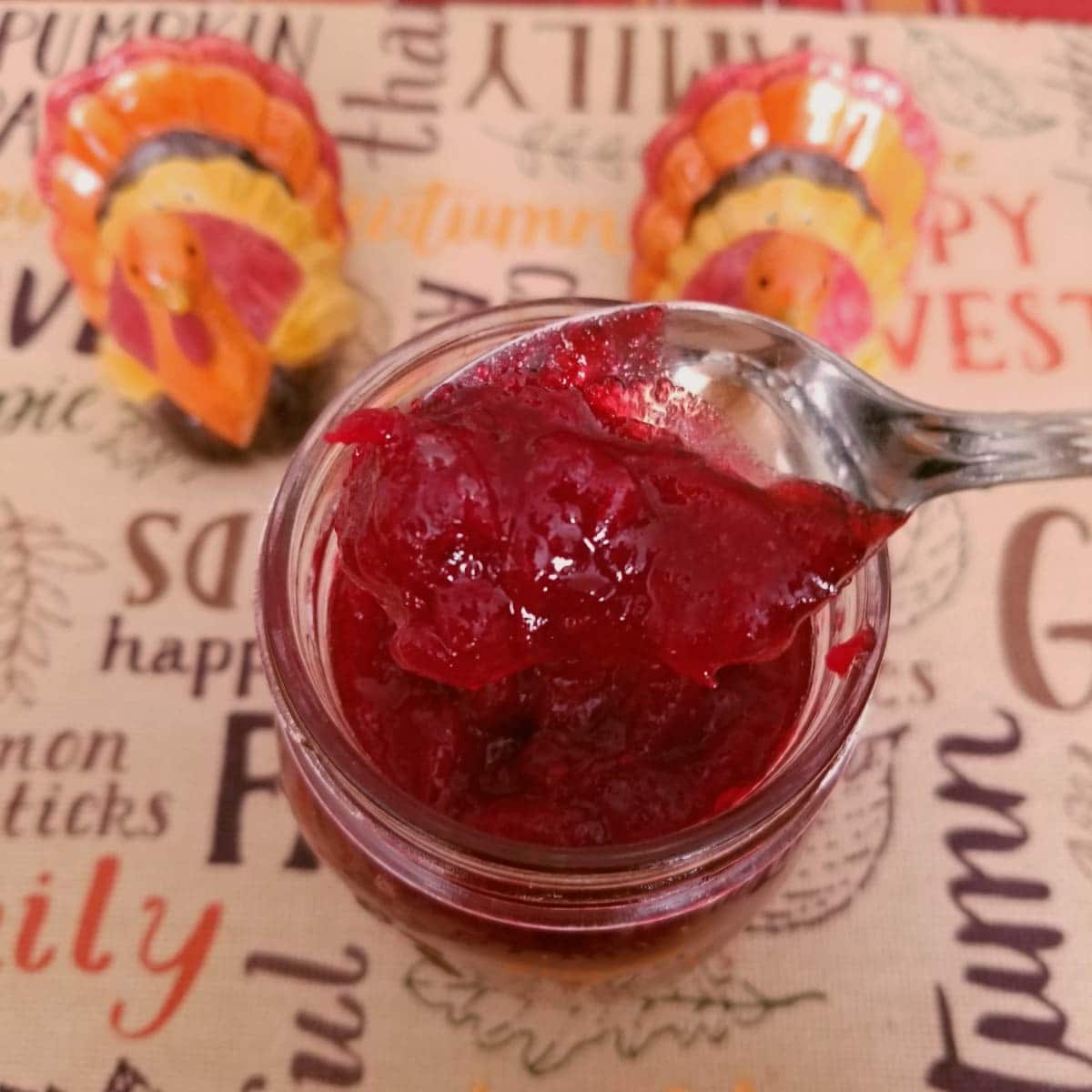 You can cool it before serving, or you can serve it warm. Cooling it will help it thicken a bit. As you can see here in the picture, it is thick but not as thick as after the fridge. I set this bowl aside for me because I like it warm too.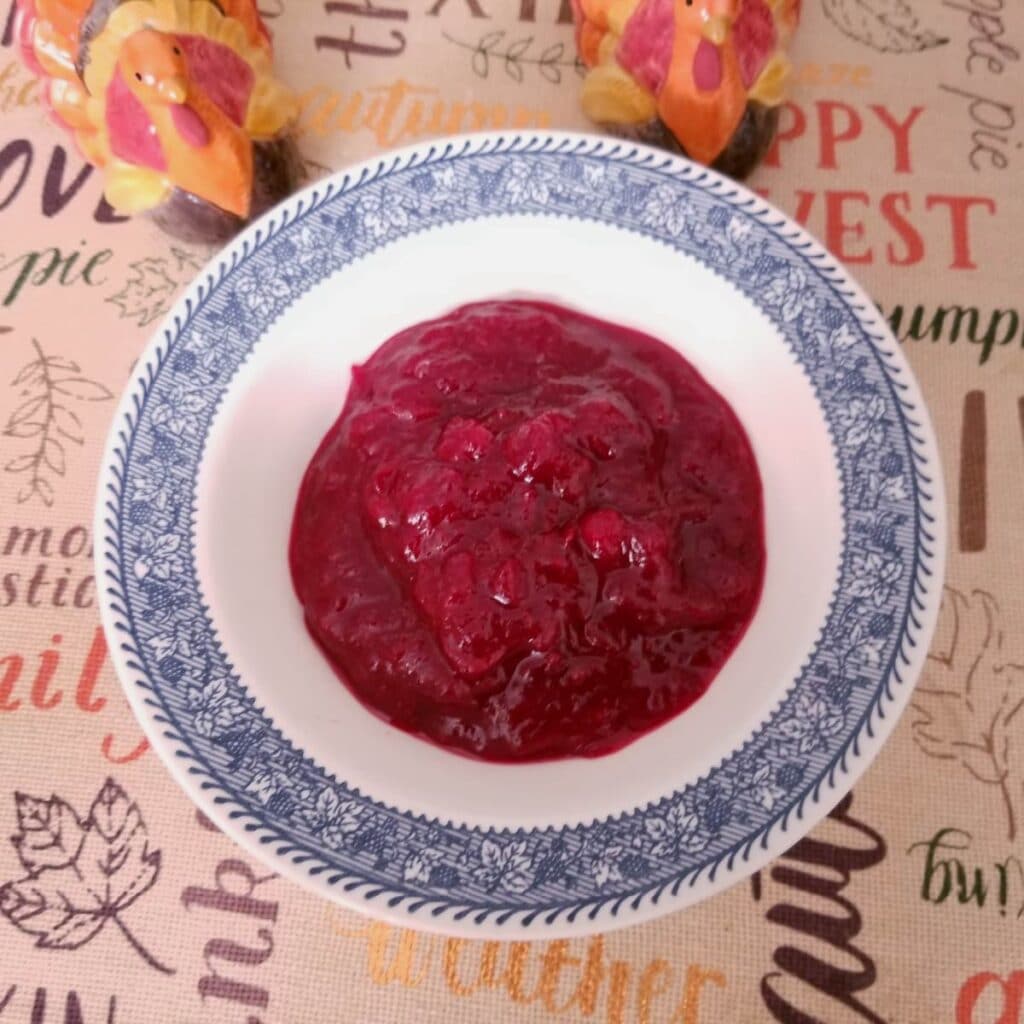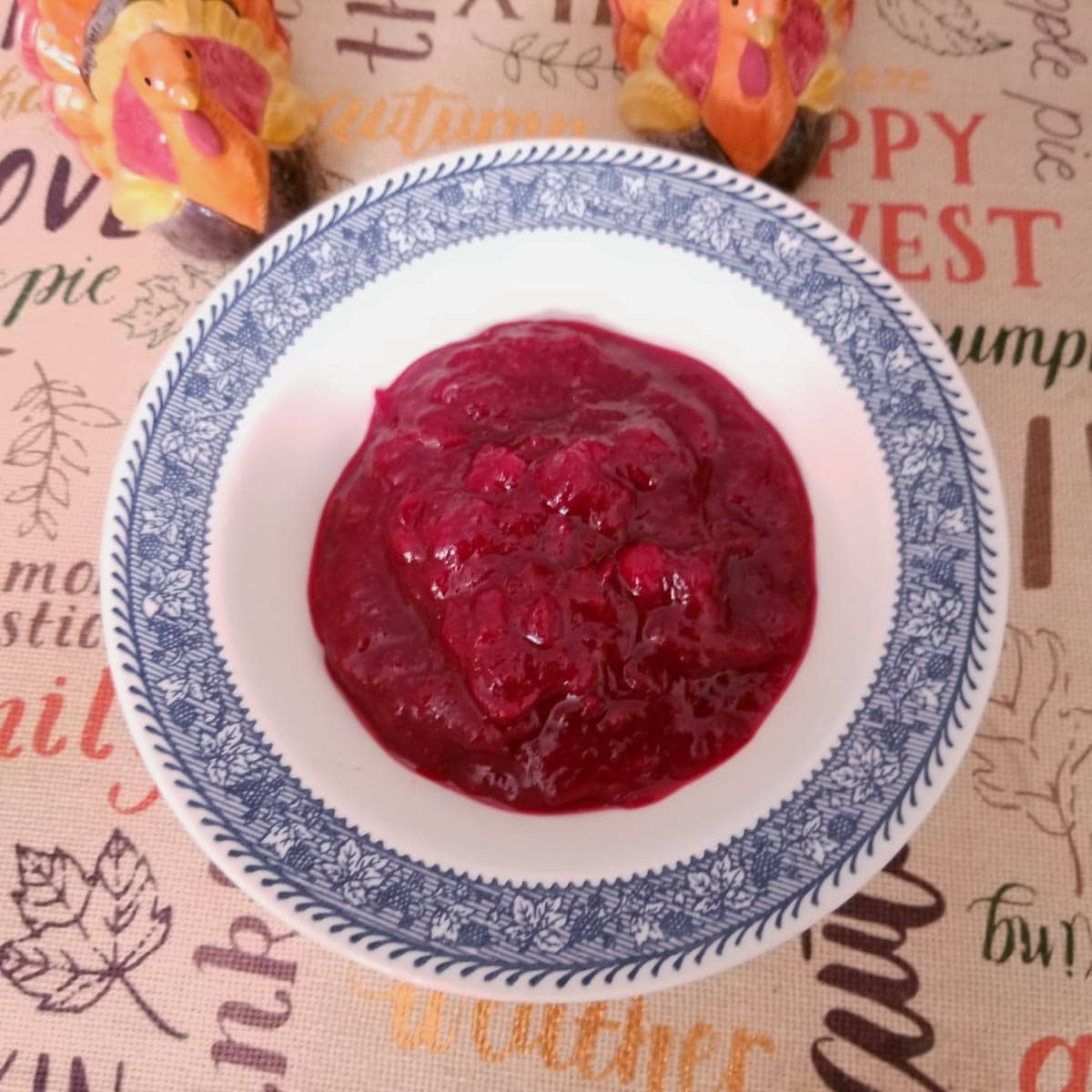 This one here is the whole berry so the skins and everything stay on (easiest way to make it), but you can make it jellied from this recipe as well. You will just need to take an extra step to push the sauce through a strainer to keep the skins out.
Making homemade cranberry sauce
There is no big science to this and once you see how easy it is, you will be making it this way every year! Even my kids like it better.
If the cranberries are frozen, take them out of the freezer and put them in a strainer in the sink and rinse them with some cold water. You will need to rinse fresh cranberries with cold water as well. There is no need to thaw frozen ones.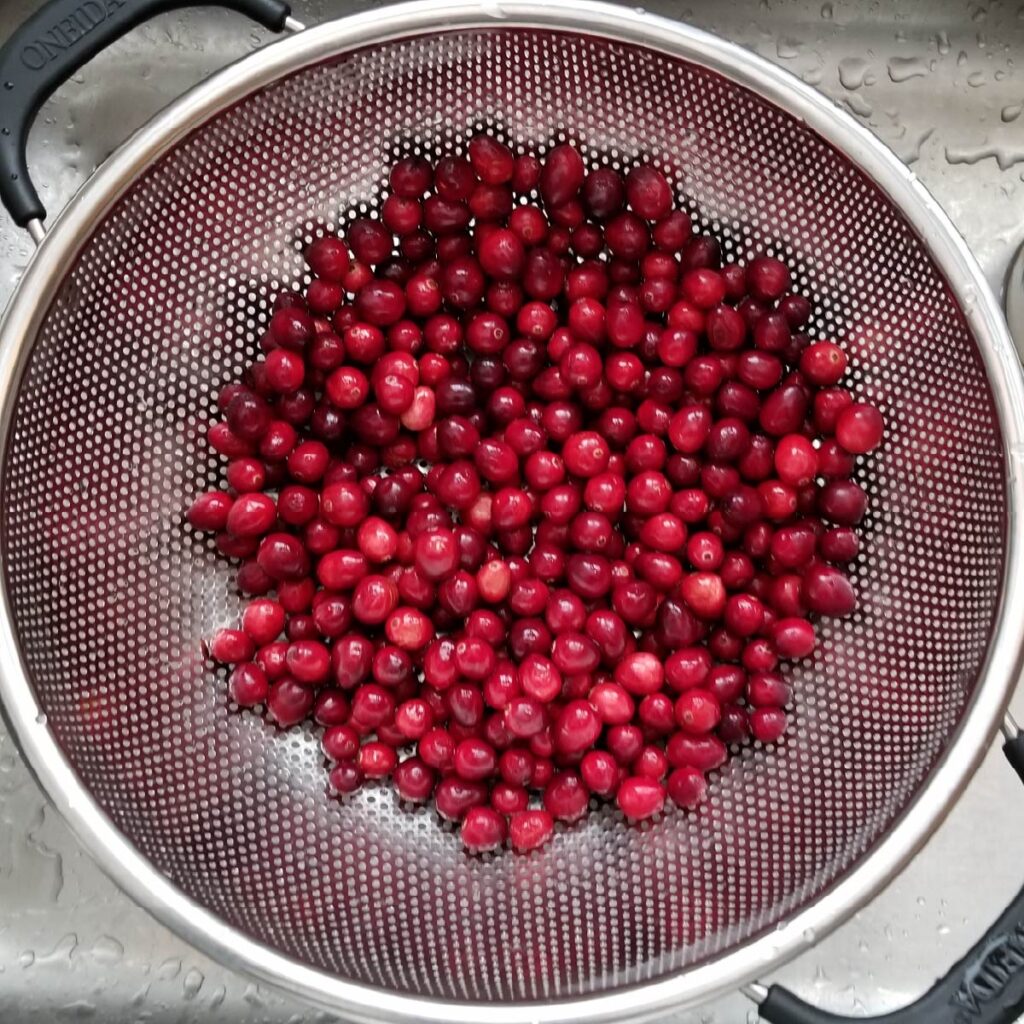 In a medium saucepan dissolve the sugar in the water over medium high heat. Once it is dissolved, add in the cranberries and lemon juice. You can even add orange juice if you would like, but I would substitute some of the water for orange juice. You can put 3/4 cup water and 1/4 cup orange juice. It is a very flexible dish and you will find the perfect way you like it. We like it both ways.
Once this starts to boil, bring the temperature to medium and continue boiling over medium while stirring often. Cook it for about 8-10 minutes. At this point, carefully try a taste to see if you want more sugar. We make ours with less sugar then some and we find it to be a great flavor, but some prefer a little more sugar. You can add it now before removing from heat.
It will start to thicken as it cooks and it will thicken more as it cools. But you do want it to be a bit thick before removing it from the stove: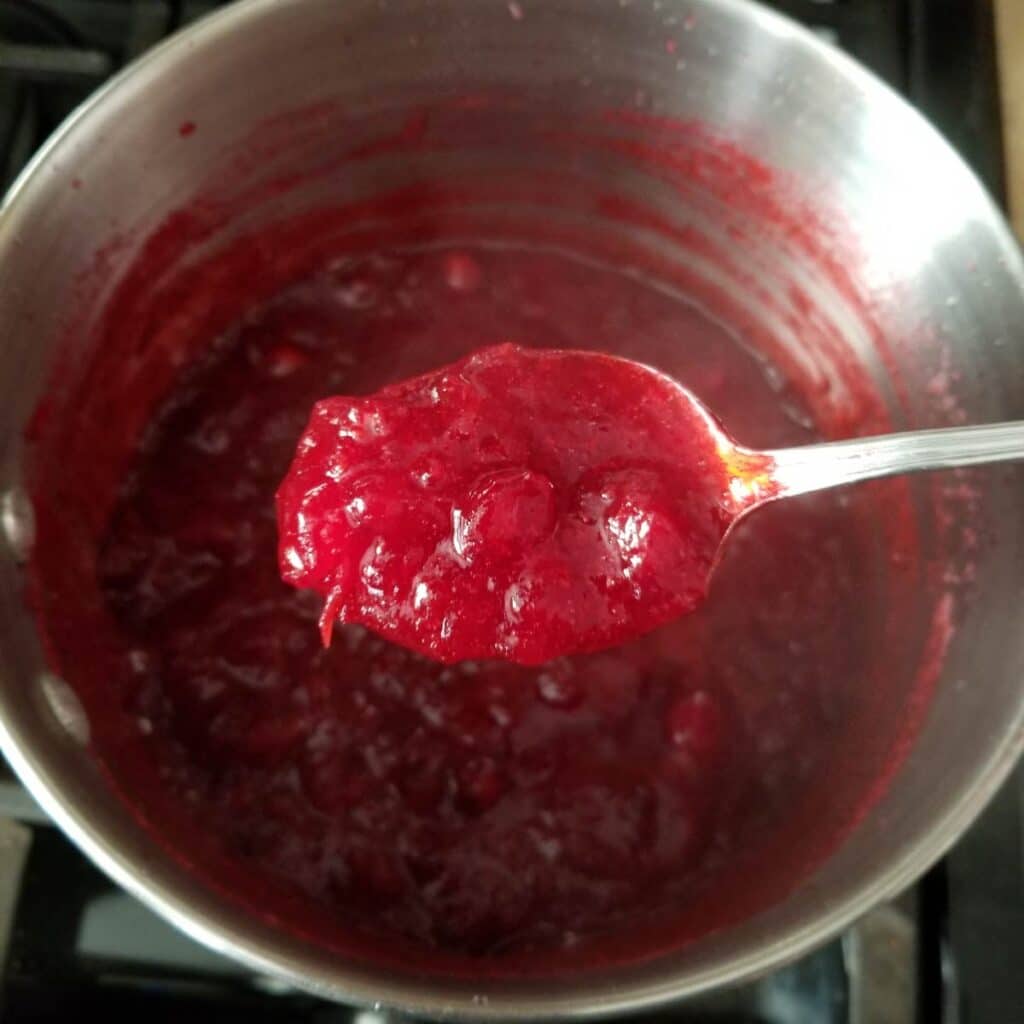 I put mine directly into a jar with a tight fitting lid, but you can put it in a bowl to cool. It is best to let it cool on the counter until close to room temperature. After it has cooled down, place in the fridge covered until ready to serve.
As a note:
Our homemade cranberry sauce uses less sugar then other recipes. You might want to carefully taste it at around 8 minutes in to see if it needs a touch more. A lot of recipes do call for 1 cup of sugar.
If you use less sugar then in the recipe, cook your cranberries just a little longer to boil a little more liquid out. It will be a bit thin if you do not.
Other holiday recipes:
Recipe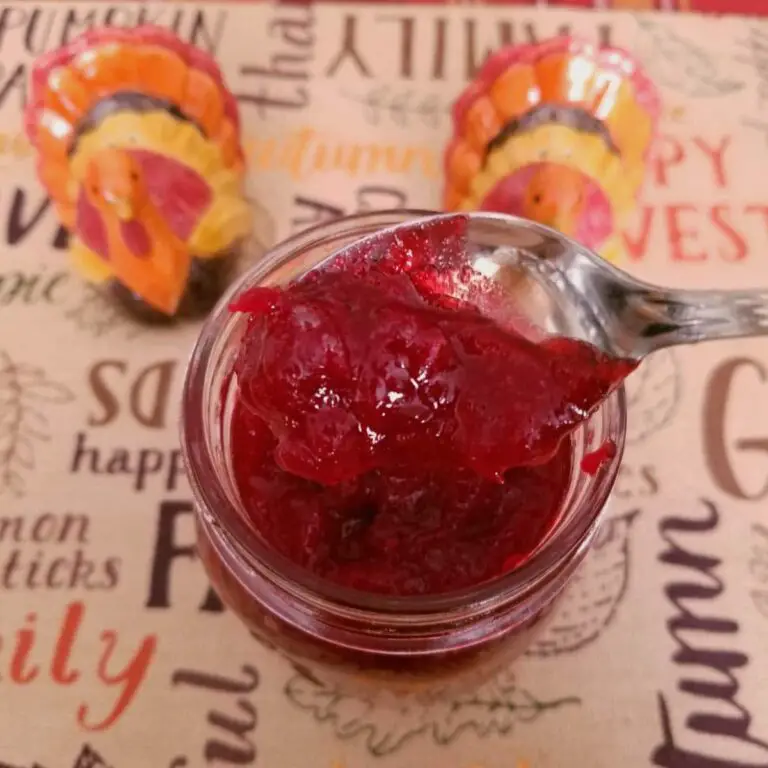 Homemade Cranberry Sauce
Cranberry sauce is so easy to make and it will compliment your holiday dinner. It only takes a few ingredients and you will love how it tastes.
Ingredients  
12

oz

cranberries

fresh or frozen

⅔

cup

sugar

see notes

1

cup

water

½

tsp

lemon juice

see notes
Instructions 
Rinse cranberries in a strainer and let them drain. If you are using frozen whole cranberries there is no need to thaw - just rinse with cold water.

In a medium saucepan mix water and sugar. Turn burner onto medium high and heat until the sugar is dissolved.

Add in the cranberries and lemon juice. Once they start to boil, reduce heat to medium and continue to boil stirring often for 8-10 minutes.

Once it is thickened and all of the cranberries have popped, remove from heat and place in a container or a bowl. see notes

Allow it to sit on the counter until it reaches close to room temperature before placing in the fridge covered until time to serve.
Notes
Nutrition and servings are estimated.  It will make close to 2 and a half cups so it depends on what else you are serving with it.
This has less sugar then other recipes.  We prefer it with less but recommend you taste it very carefully (will be very hot) after 8 minutes to see if you need to add a couple tablespoons more sugar.  It needs to be added before the cooking is done.
Instead of lemon juice, you can use some orange juice.  Or you can leave it out, we just think it turns out better with a little citrus in it.  If you do orange juice, I would substitute some instead of the water.  We do 1/4 cup orange juice and 3/4 cup water when we use orange juice.  We make it both ways - with orange juice or with lemon juice.  Both are great.
Cranberry sauce needs to thicken most of the way in the pan during cooking, but it will thicken as it cools.  If it isn't too thick at the 10 minute mark, cook a little longer to boil so more of the liquid evaporates.
Nutrition
Calories:
84.13
kcal
Carbohydrates:
21.87
g
Protein:
0.17
g
Fat:
0.06
g
Saturated Fat:
0.01
g
Sodium:
2.58
mg
Potassium:
36.15
mg
Fiber:
1.96
g
Sugar:
18.36
g
Vitamin A:
25.52
IU
Vitamin C:
5.78
mg
Calcium:
3.4
mg
Iron:
0.11
mg