Loaded mashed potato casserole is the perfect side dish! It is easy to make, full of flavor and has a great creamy texture. Make it for the holidays to impress your guests or make it for a great family dinner, it goes well with many main dishes!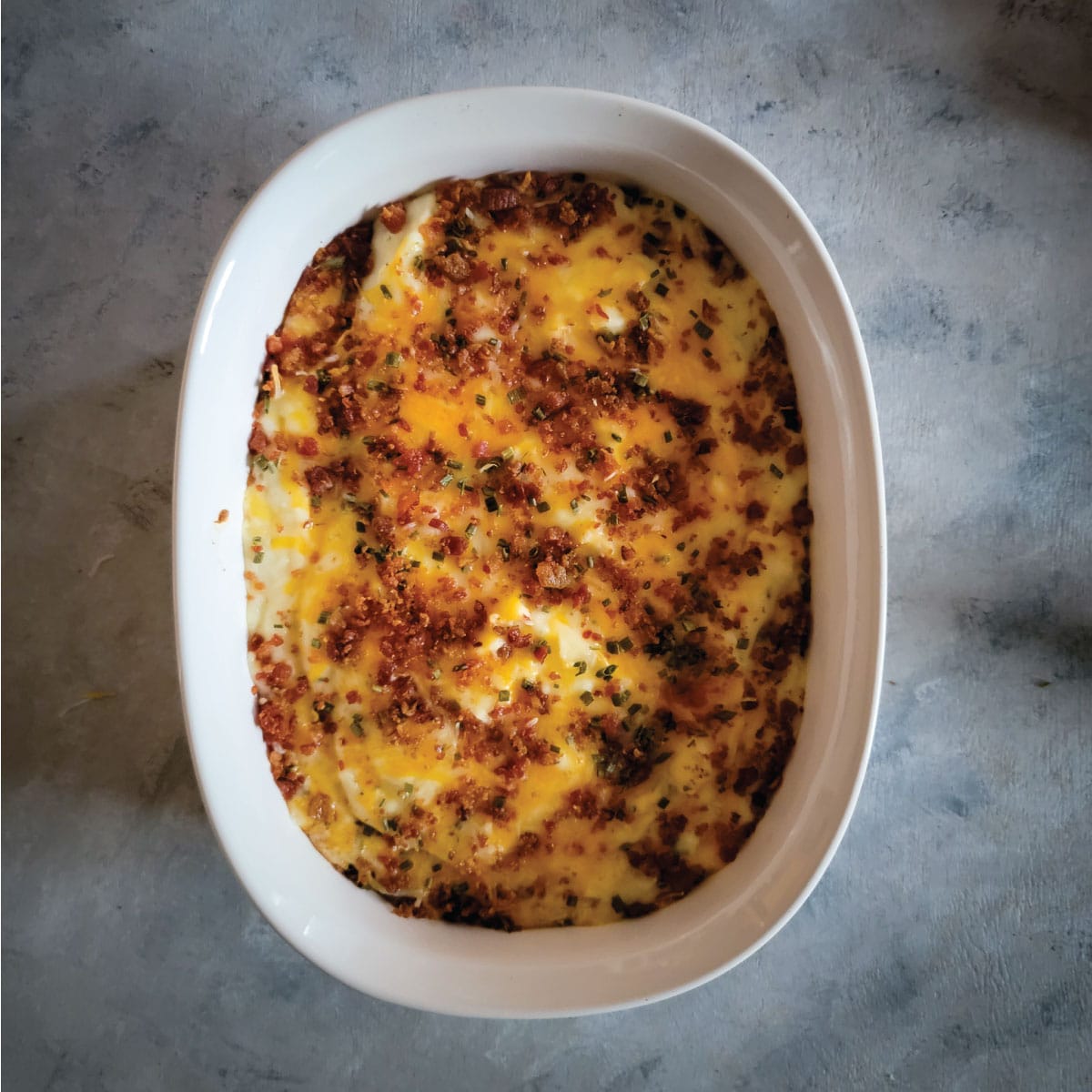 This casserole is a combination of so many great things - bacon, cheese, sour cream and potatoes! And what is even better? You can make this ahead of time and bake it the next day, making it perfect for a busy holiday or even a busy weeknight!
It is the perfect side dish to go with prime rib or NY strip roast. You can serve it with ham as well! It goes great with just about anything.
We make this or even sometimes our loaded grilled potatoes which are slices of potatoes and can be done in foil packs or a casserole dish.
Jump to:
Ingredients and substitutions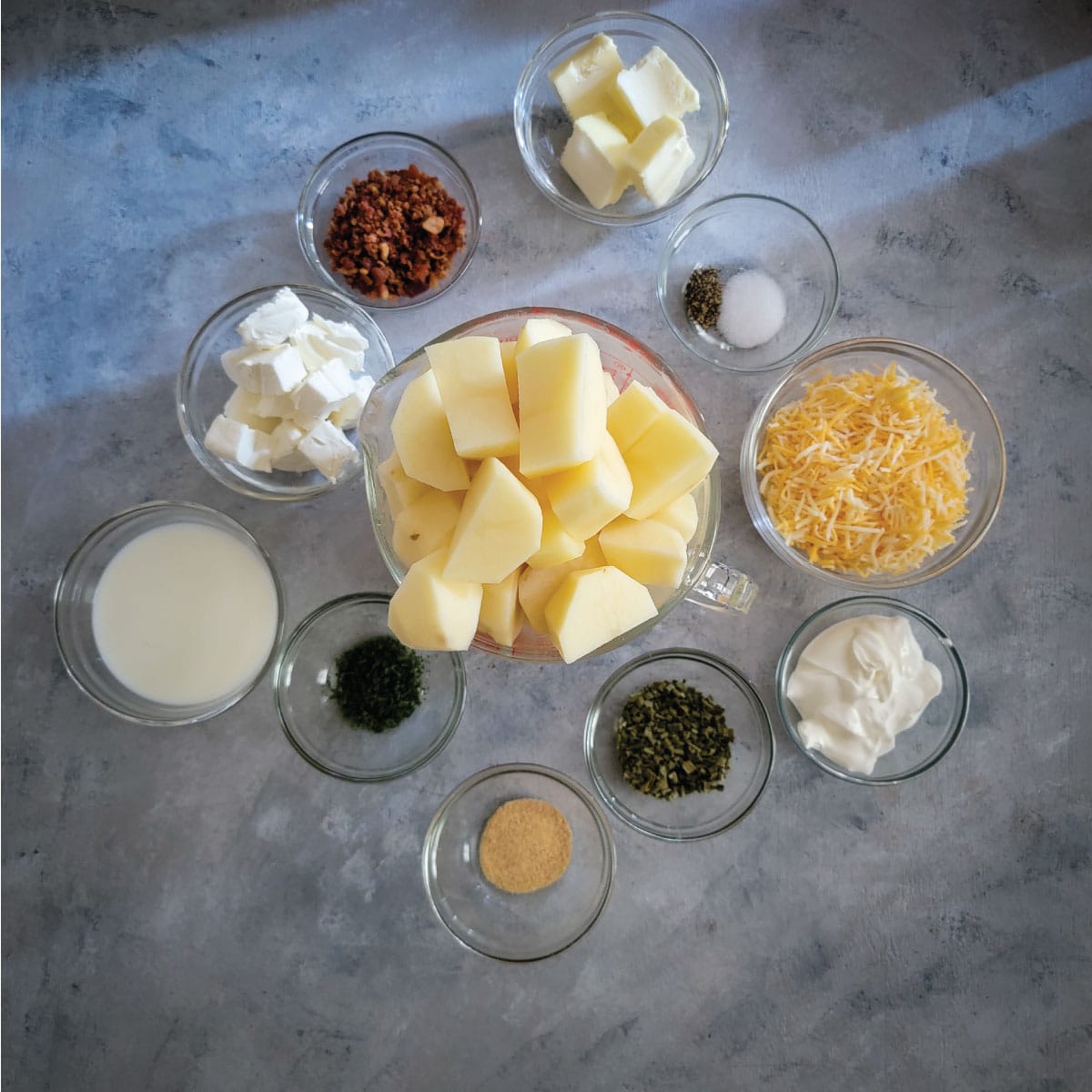 Potatoes - Our favorites for the loaded mashed potato casserole are russets. We use them for regular mashed potatoes as well because they are not waxy like the others. You can use your favorite potato, but russets are the best texture.
Butter - We use unsalted and recommend it. If you use salted, you may want to reduce the amount of salt you add.
Milk - We use whole milk, but you can use whichever milk you would use for mashed potatoes.
Sour cream - Regular sour cream or light works, whichever you prefer. We use regular here.
Bacon pieces - We like to buy real bacon pieces (these are likely cheaper locally but link added for you to see what we get.) Usually you can find them in store brand too. You can use imitation in this mashed potato casserole, but we do not here. Fresh cooked and crumbled bacon is another great option!
Cheese - 4 cheese Mexican shredded is one of our favorites and we use it in this casserole, but you can use your favorite. Cheddar is great in it too!
Cream cheese - We use cream cheese that comes in an 8 ounce block.
Chives - Fresh or dried is great. We use dried because it lasts longer and we don't often have fresh on hand - they don't always look great at the store. I have tried to grow them and they just don't like to grow for me!
Parsley - Dried parsley is what we use but you can substitute for fresh, you will just want to use 2 teaspoons if using fresh.
Salt - Optional to help bring flavors together. You can adjust as needed.
Garlic - Garlic powder is best here for an even flavor distribution.
Pepper - Black ground pepper, preferably fresh ground peppercorns but can use regular ground black pepper.
Important tips for making the casserole
This loaded mashed potato casserole is really easy to make but here are a couple tips to help!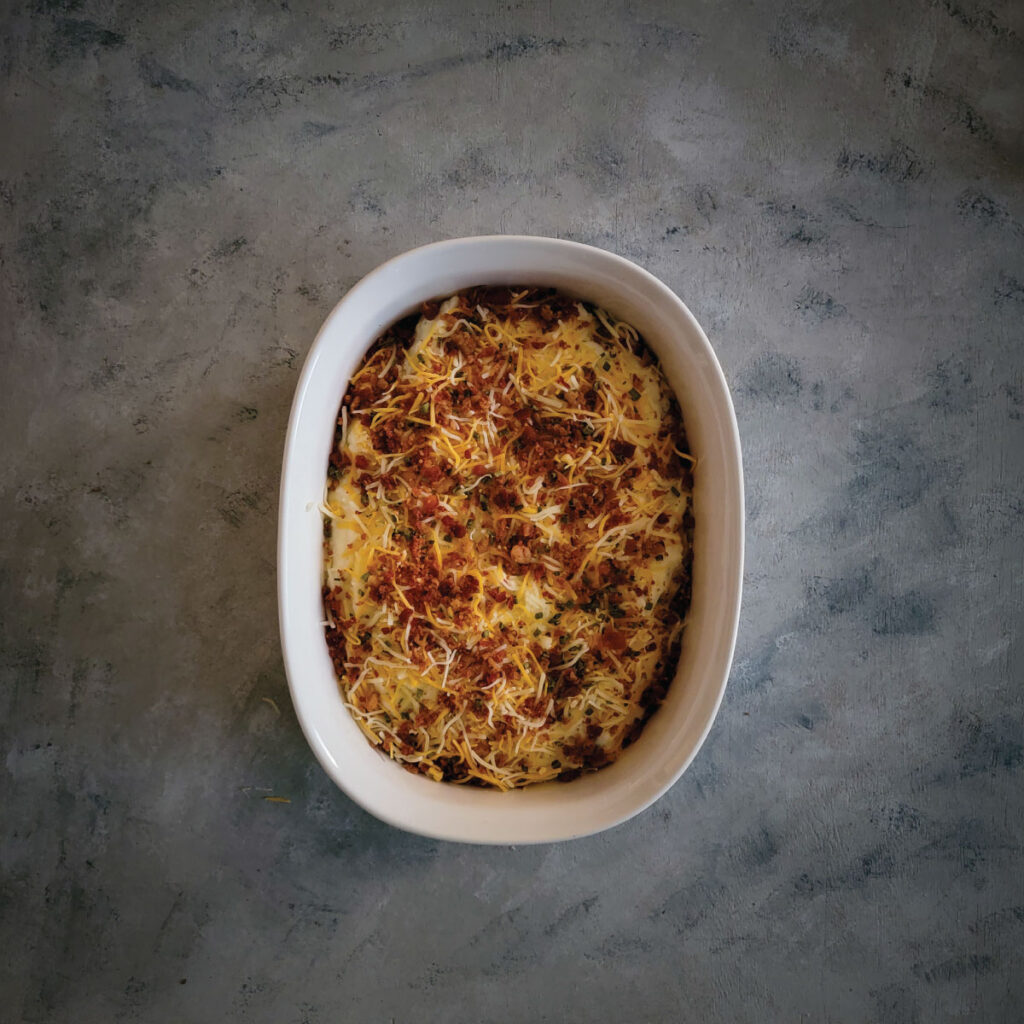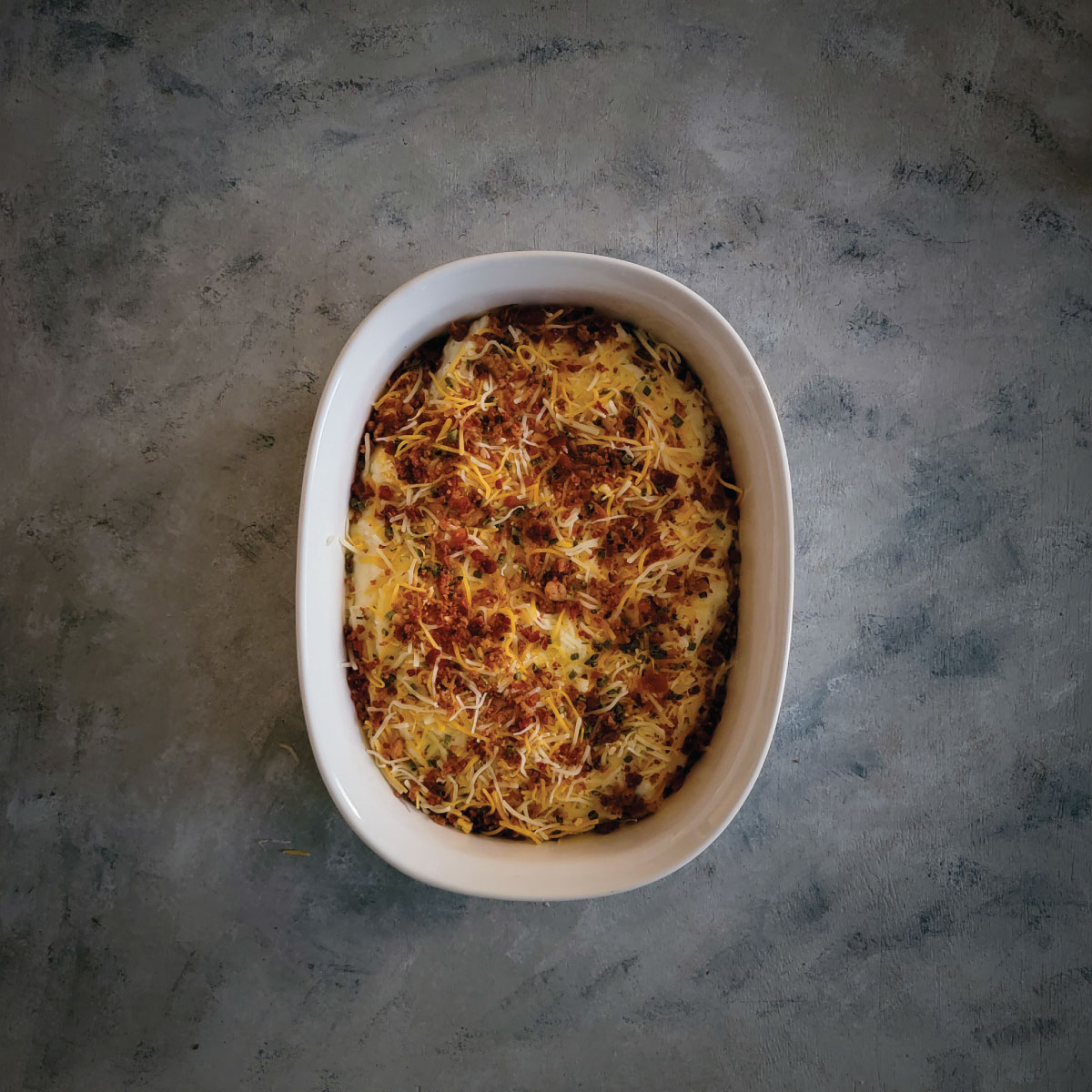 The potatoes need to be cooked first. Boil them in water or broth for extra flavor. You want them to be fork tender and close to falling apart so they blend smoothly and no big lumps. Don't worry if your mashed potatoes have some lumps, it proves they are not instant! That's what I tell people when they say I have lumps in my potatoes.
A hand mixer is best here but not required. Potatoes that are made with a mixer are usually called whipped potatoes, but I still refer to them as mashed here. I quite often mash potatoes with a masher when making them regularly, but for the casserole it blends them better with a mixer. You can still use a masher tho! You will be mashing most of the ingredients together - the bacon goes on top.
Adjust salt to taste. This is something that has many ingredients that has sodium in them - cheese, milk, bacon, and sour cream. You can taste the potato mix before adding salt if you think it may be too much.
Baking the loaded mashed potato casserole can be done at different temperatures if needed. This can be baked along with meats at various temperatures. If making it stand alone in the oven, you want to bake it at 375 degrees Fahrenheit. But you can adjust to the temperature the oven is set to already. You will need to add or decrease time based on the temperature.
All temperatures are Fahrenheit and are estimated, bake until heated through and cheese is melted nicely.
325 - about 35-40 minutes
350 - about 30-35 minutes
375 - about 25-30 minutes
400 - about 20-25 minutes
Serve with toppings! It is amazing the way it is, but I like to bring a couple prep bowls to the table with some extra toppings. Having some extra bacon pieces, shredded cheese, sour cream and chives is what I usually have at the table.
Using leftover mashed potatoes
You can use leftover mashed potatoes in this loaded mashed potato casserole! This is perfect for using your leftover Thanksgiving potatoes.
If you are using leftovers, you won't need to add extra milk or butter. If you add butter to your mashed potatoes you will not need extra butter. The butter and milk are the amounts I would use in making regular mashed potatoes. You can leave them out when using leftovers.
The cream cheese needs to be softened to room temperature if using leftover mashed potatoes. The reason is because your potatoes are cold and not just boiled. Cold cream cheese will not blend as well with cold potatoes with lumps.
Cream the softened cream cheese first. This is important because you are mixing cold potatoes into the cream cheese. Cream it with a hand mixer for about 30 seconds to a minute. You can then add the sour cream, chives, half of the cheese (other half goes on top), salt, pepper, chives, garlic and parsley. Mix well with mixer until it is combined.
Place potato mix into the casserole dish. Top with the bacon and remaining cheese. Cover with foil and bake for about 10 minutes before removing foil and baking another 20-30 minutes.
You are covering it for a few minutes first because the potatoes started out cold and need a few minutes extra to heat through.
Frequently asked questions
Can I make this ahead of time?
Yes you can! Place in the fridge for up to 2 days before baking. When ready to bake, cover with foil and bake for about 10 minutes. Remove foil and continue to bake for about 20-30 minutes.
Can I freeze mashed potato casserole?
You can freeze it! If fully baked, allow it to cool all the way before freezing in a freezer safe container. If you are baking it as a whole casserole, you can leave it whole. Do not freeze it in glass due to the safety concerns of extreme temperature changes. You can also freeze it in individual portions to reheat as needed. It should last 3-4 months if frozen properly.

You can freeze it before baking as well. Just be sure that it is cooled completely before freezing.
How do I reheat the mashed potato casserole from frozen?
The best is to thaw it completely in the fridge before baking. Once completely thawed, cover and bake at 375 for about 10 minutes. Remove foil and continue baking until it is heated through and the cheese is melted. About 20-30 minutes.

I have not tested baking times or texture going right from the freezer to the oven. There should not be a reason why you cannot, but I always allow it to thaw first.
Can I use my stand mixer instead of a hand mixer?
Yes you can use a stand mixer in place of a hand mixer for this. They can often be used interchangeably.
Useful items for this recipe
As an Amazon affiliate we may earn a commission if you purchase something through one of our links. This is at no extra cost to you and helps to keep the recipes free!
2.5 quart casserole dish - This is the one we have (as seen in the pictures), but there are many others you can use.
Hand mixer - There are so many to choose from, but what is great is that this one comes with dough hooks and a whisk attachment.
Mixing bowls - There are a lot of mixing bowls to choose from! These are a little more then some, but they are a good quality stainless steel. They also have a non skid bottom along with some protection on the outside from the temperatures so you are not so likely to get burned. Many steel mixing bowls do not protect your hands from getting burned like these do.
Recipe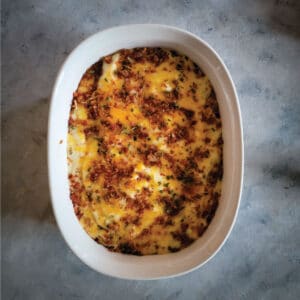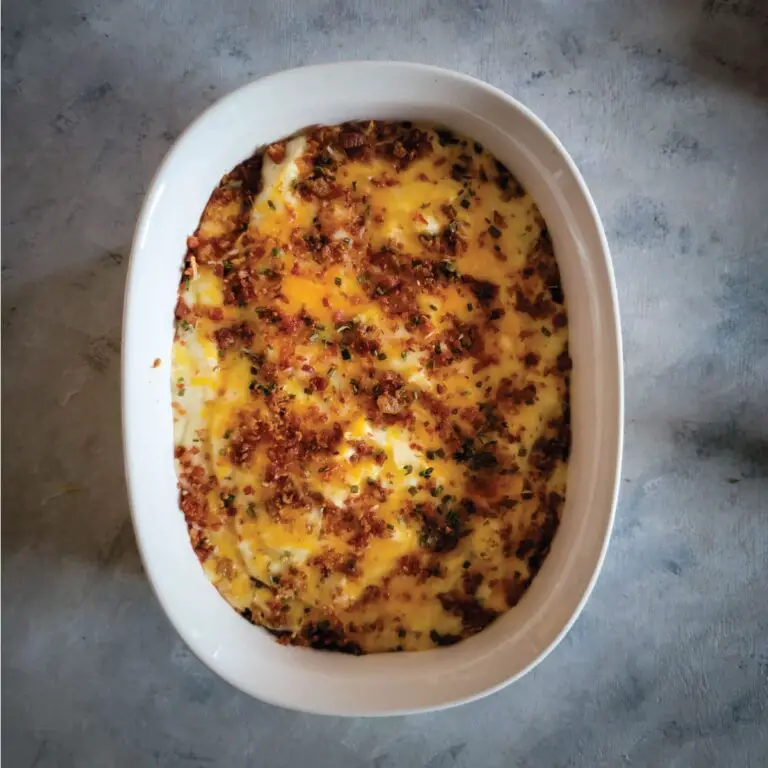 Loaded Mashed Potato Casserole
Easy to make and full of flavor, this mashed potato casserole has all the flavors of a loaded baked potato! It can be made ahead of time, making it perfect for a holiday side dish or even a busy weeknight.
Ingredients  
2½

pounds

potatoes

see notes if using already mashed potatoes

5

Tablespoons

butter

unsalted recommended

⅓

cup

milk

whole, 2%, 1% or skim is ok

¼

cup

sour cream

regular or light is ok

4

ounces

cream cheese

cut into cubes

1

cup

shredded cheese

divided in half, see notes

4

teaspoons

chives

dried or 2 Tablespoons fresh

1

teaspoon

parsley

dried or 2 teaspoons fresh

½

teaspoon

garlic powder

½

teaspoon

salt

see notes

¼

teaspoon

black pepper

¼

cup

bacon pieces

can use store bought real bacon pieces
Instructions 
Preheat oven to 375° Fahrenheit.

Peel and cut the potatoes into even sized chunks. The smaller, the faster they will boil. Place into a pot of water and bring to a boil. Cook until they are fork tender. Drain.

Pour the drained potatoes, butter, milk, sour cream, cream cheese, half of the shredded cheese, chives, parsley, garlic, salt and pepper into a mixing bowl.

Using a mixer (hand or stand mixer), mix until it completely mixed and a creamy texture.

Evenly spread the potato mix into a casserole dish - 2.5 or 3 quart is best. Top with remaining shredded cheese and bacon pieces.

Bake for about 25-30 minutes, until it is heated through and the cheese is melted nicely.

Enjoy!
Notes
Nutritional values are estimated and so are serving sizes.
For the potatoes - I recommend russet potatoes for anytime you are making mashed potatoes, including in this casserole.  They are less waxy.  But you can use your favorite if you prefer.
For leftover mashed potatoes - If using leftover mashed potatoes, be sure to remove the cream cheese and soften at room temperature.  You will want to use about 4-5 cups of mashed potatoes or you can adjust the amount of other ingredients as needed.  Cream the cream cheese first and then add the potatoes, sour cream, cheese and spices.  Also you can leave the milk and butter out if your potatoes are already mashed.  You will cover the casserole and bake for about 10 minutes before removing foil and continue baking for about 20-30 minutes.  Be sure it is heated through and the cheese is melted.
For the cheese - We use 4 cheese Mexican shredded cheese, but you can use your favorite.  I do recommend using cheddar or a cheddar mix, but you can use whichever one you like best.
For the salt - Adjust salt to taste.  If using salted butter, use less salt or even leave out.  Many ingredients have sodium in the casserole so you may want to add less.
Nutrition
Calories:
249
kcal
Carbohydrates:
2
g
Protein:
8
g
Fat:
23
g
Saturated Fat:
14
g
Polyunsaturated Fat:
1
g
Monounsaturated Fat:
6
g
Trans Fat:
1
g
Cholesterol:
74
mg
Sodium:
610
mg
Potassium:
81
mg
Fiber:
1
g
Sugar:
2
g
Vitamin A:
784
IU
Vitamin C:
1
mg
Calcium:
143
mg
Iron:
1
mg
Easy loaded mashed potato casserole has step by step pictures for making this easy casserole!