The ultimate side dish to go along with your meal, grilled potatoes in foil are easy to make and delicious! These loaded potatoes have butter, cheese, bacon, chives and a couple spices on them giving them an amazing flavor. We love to top them with sour cream, but that is optional.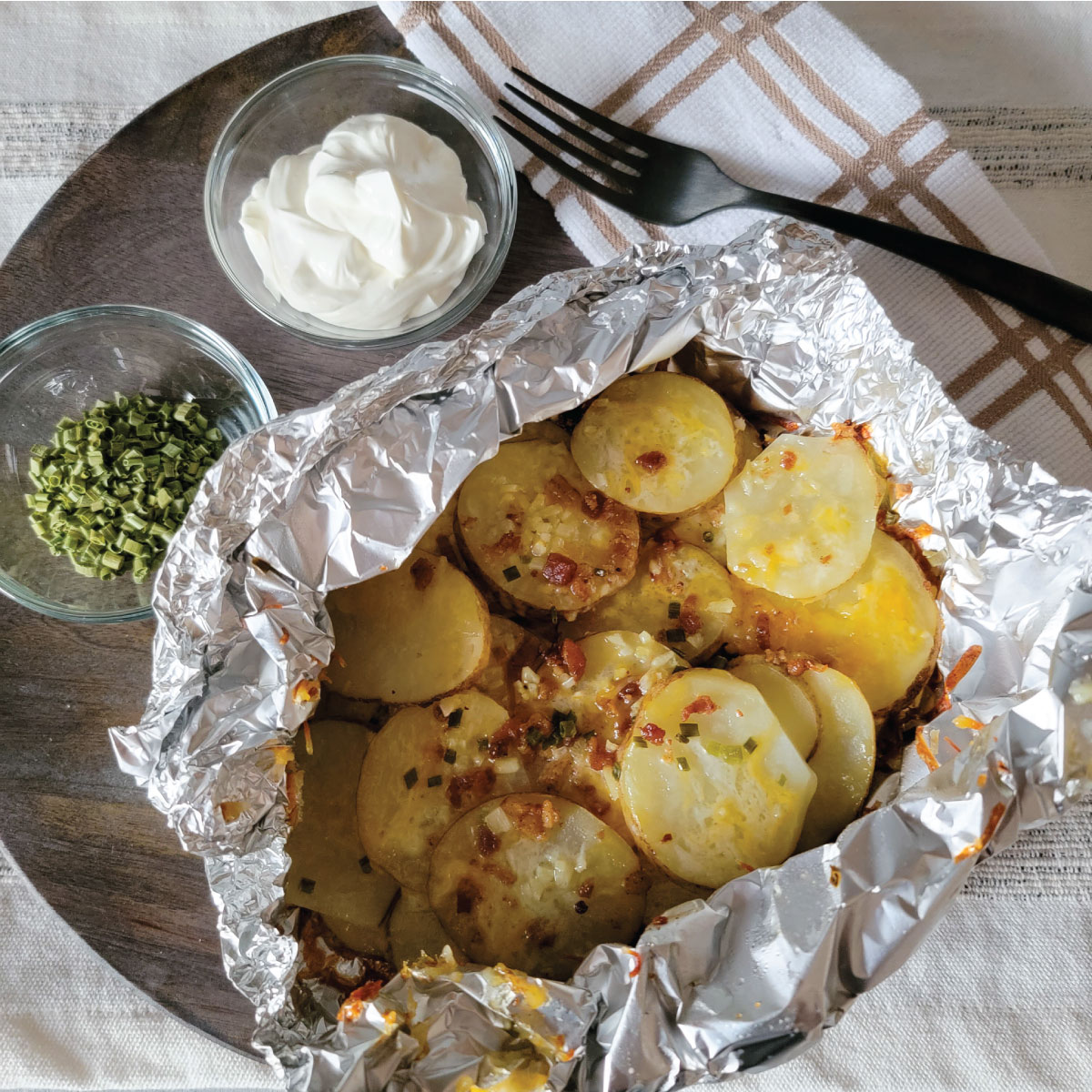 One thing I love is potatoes, just about any kind too! They go great with everything and are easy to prepare, especially potatoes for the grill where the cleanup is easy. It is nice to just throw the foil away when dinner is done!
I also enjoy spiralized beets in the foil pack, but most of my family doesn't enjoy beets as much as me.
These go great with T-bone steaks on the grill or even grilled chicken legs because these can be cooked on a higher burner temperature.
Do I have to wrap the potatoes in foil?
You can instead use a cast iron pan or a good stainless steel pan that is oven safe, but you will need to cover them. When you wrap them in foil, it keeps the heat and steam inside.
I recommend foil so that it cooks evenly, but no you do not have to wrap them in foil. We have also made these into a casserole in a disposable foil pan to put on the grill. They turn out great this way too.
Please note that cook times may vary if you use something other then foil - different metals take longer to heat through then aluminum foil does.
As much as I love glass, never put a glass dish on the grill. Not even on indirect heat, you chance the glass breaking.
Prepping the foil packs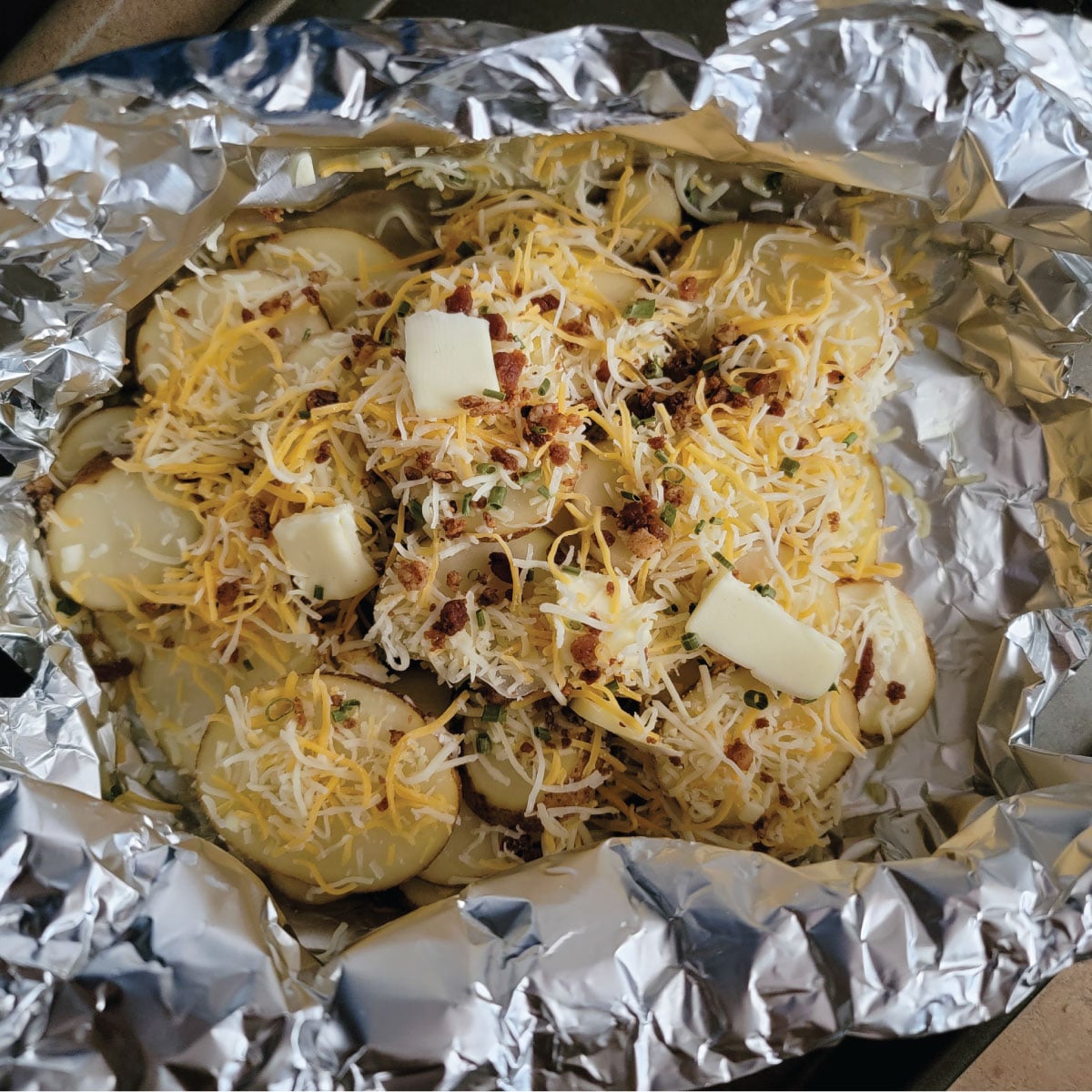 I slice the potatoes using my trusty kitchen knife (very sharp) but if you struggle getting even slices or have knives that are not quite as sharp (dull knives make uneven slices), a mandoline slicer is best here. Do be careful here, they are sharp!
Potato slices should be about 1 quarter inch thick. If you make them thicker or thinner, you will need to adjust the cook times.
I let the slices soak in cold water for about 15-20 minutes before cooking. Drain them and they are ready. Do you have to soak them? No but I like to get some of the excess starch off of them. Usually I soak my potatoes tho, not just potatoes for the grill.
Coating the foil
I have never used non stick foil so I am not sure how well it works, but if you have experience with it I would love to hear about it in the comments! We use olive oil to coat the foil where the potatoes will be, but cooking spray works as well. I am not a fan of cooking spray and oil works just as great.
Be generous with the amount of oil or cooking spray used on each foil piece.
We make 3 foil packs with about 2 and a half pounds of potatoes slices. The pieces of foil should be about 12 inches by 15 inches to fit it all.
Layering the potatoes
For grilled potatoes in foil, we like to do layers. Especially for these loaded potatoes where you want the flavor throughout the whole dish. They also cook better in layers.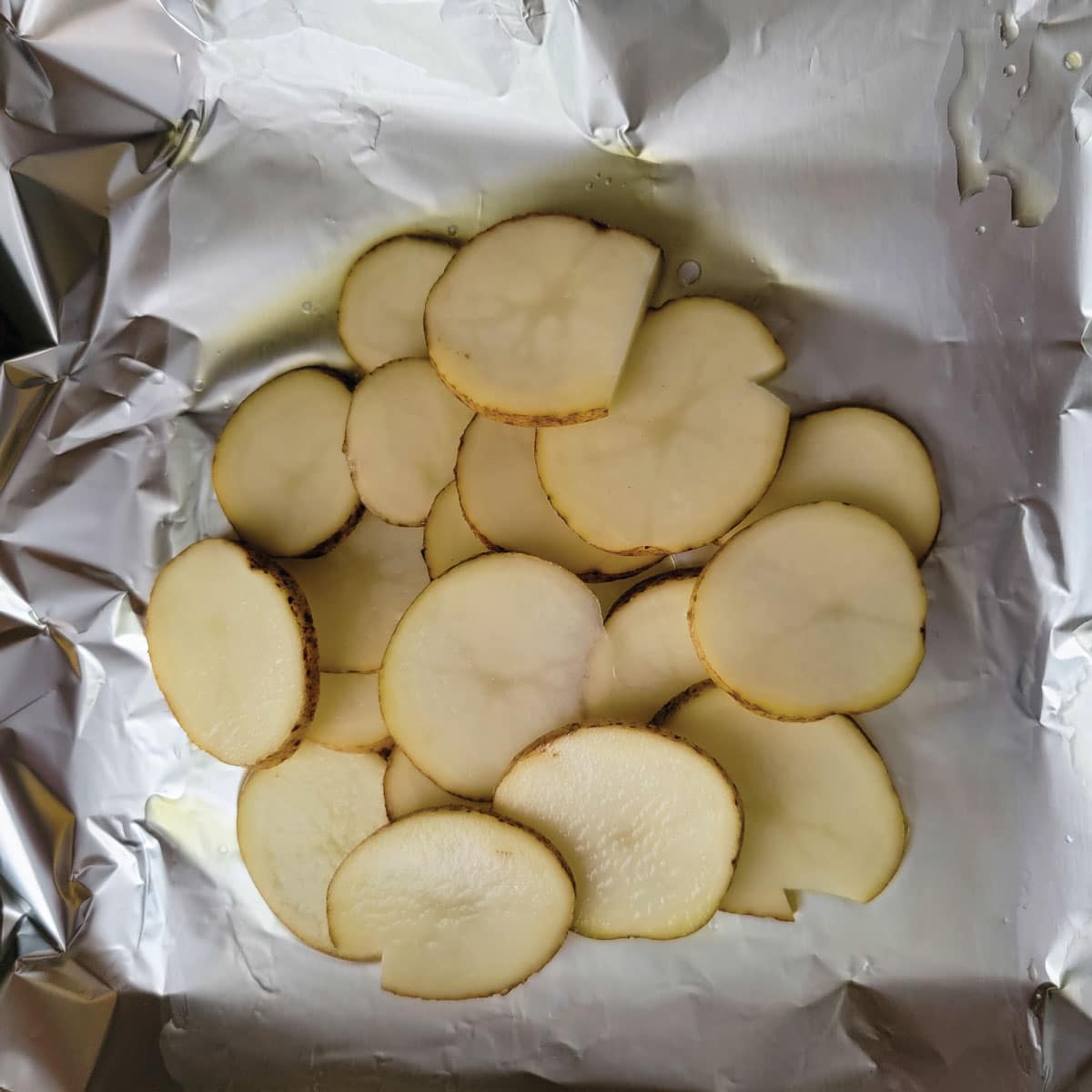 You want to stack the potatoes a bit higher then a single layer. We pile them so in the middle they are about 3 slices high. This does not have to be exact.
You will be making 2 layers for each foil packet.
Add some cheese, bacon pieces, garlic, salt, pepper and chives to the top of the first layer of potatoes.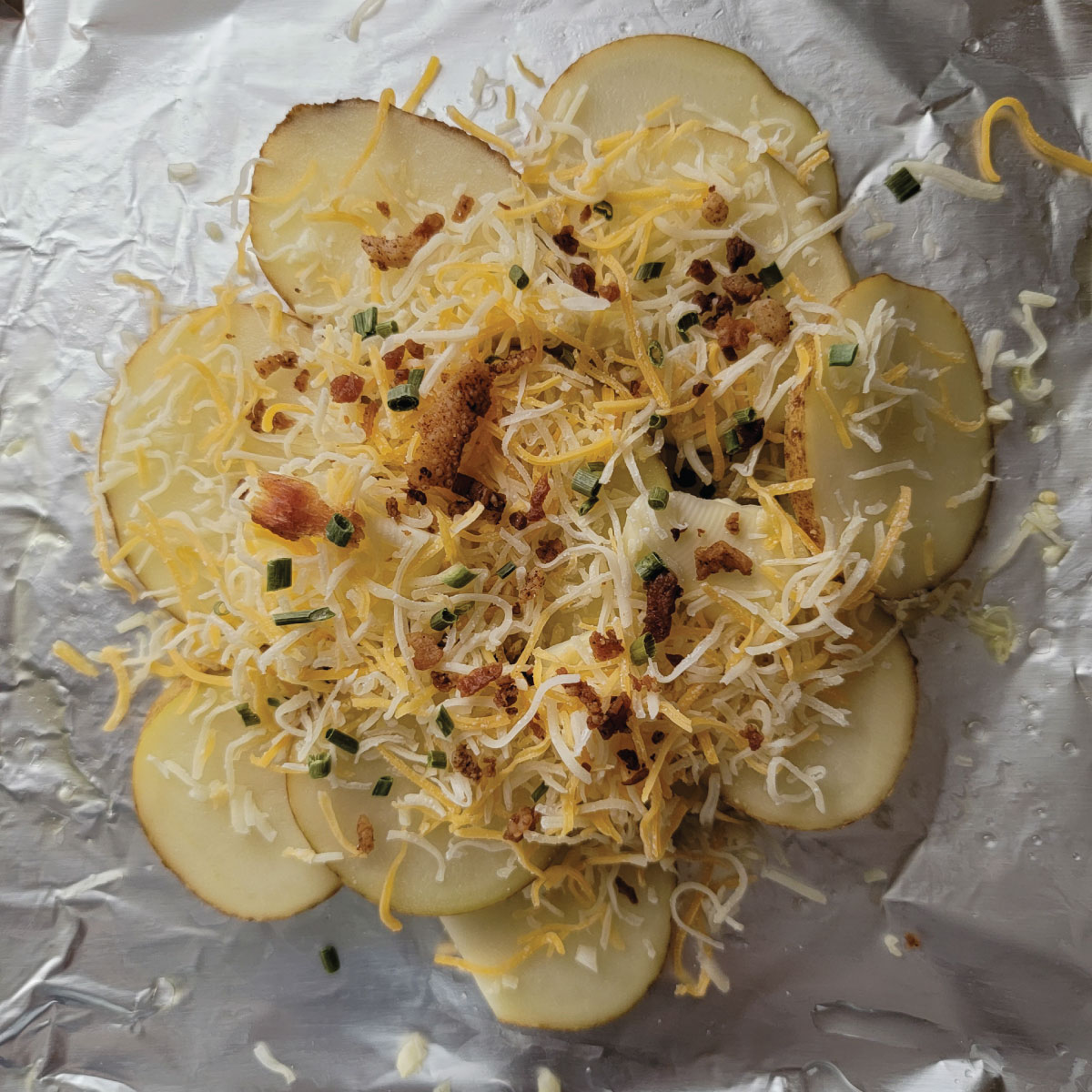 For the amounts you technically want to use a sixth of each topping, but I just grab a bit and place it on each layer. Anything left at the end gets evenly divided between the packets and placed on top.
The measurements added for the toppings are for estimated amounts, you can add more or less of anything to your liking! These grilled potatoes in foil can be changed to add more or less of any topping here.
Close up the foil packets and you are ready to grill!
How long to grill potatoes in foil?
These are perfect for cooking along side other dishes. We cook them on a gas grill and we get our temperature up to about 375 -400 degrees Fahrenheit inside the grill.
I keep the burner they will be on set to low but the other burners high enough so that the temperature inside is correct. They take about 30 minutes with this setting. They will be fork tender when they are done.
If you need to lower or raise the temperature for other grilled foods, keep the burner they will be on set to low. If the grill temperature needs to be higher, they will cook faster so you will carefully check them around 20 minutes. If the grill temperature needs to be lower, they will take a little longer. Check them around 35 minutes.
Be careful when you check the potatoes! There will be steam escaping when you try to open a foil pack and you can risk getting burned if you are not careful.
If you would like to have these potatoes with baby back ribs, it is best to cook them for about 5-10 extra minutes on the indirect heat by the ribs. Do not place it directly on a burner on a higher setting.
Frequently asked questions
What potatoes should I use?
My favorite potatoes for the grill are russet or baking potatoes. They get a nice texture and are often best for baking or mashing. You can use your favorite potatoes tho.
Should I use the shiny side or non shiny side of the foil?
It honestly does not make a difference which side you use. I use the non shiny side so I could take pictures of the steps for you without a harsh glare, but there is no difference. I have used both sides to cook on before.
Do you poke holes in foil when grilling?
No you do not. The purpose of wrapping them in foil is to keep the heat and steam trapped inside to help them cook faster and turn out softer.
How long do leftovers last?
If you have any leftover grilled potatoes, remove them from the foil and put in a dish in the fridge. They will last about 3-4 days and can be reheated in the microwave. The bacon might get a soggy texture in the fridge.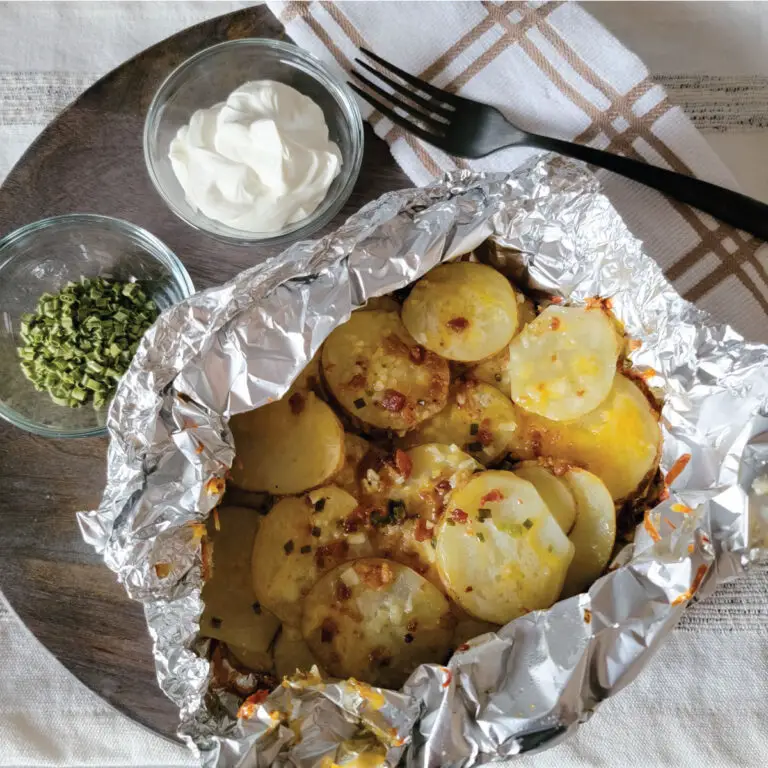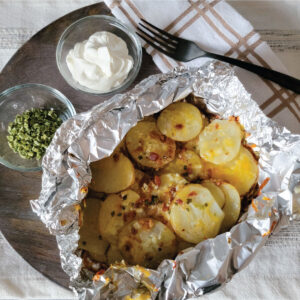 Grilled Loaded Potatoes in Foil
Grilled potatoes in foil are easy to make, delicious and are the ultimate side dish! These foil pack potatoes have all the flavors of a loaded baked potato.
Ingredients
2½

pounds

potatoes

see notes

2

tablespoon

olive oil

estimated for coating foil, can use cooking spray

6

tablespoons

butter

cut into thin slices

1½

cups

shredded cheese

Colby Jack is recommended

6

tablespoons

bacon pieces

2

garlic cloves

minced

1

tablespoon

dried chives

or 2 tablespoons fresh chopped

salt

couple dashes at a time

pepper

couple dashes at a time

½

cup

sour cream

for topping, optional
Instructions
Wash and thinly slice potatoes into about ¼ inch slices and soak in cold water for 15 minutes (optional but recommended)

Cut 3 pieces of foil to about 12 inch x 15 inch. Pour a little olive oil on each piece of foil and cover most of the side the potatoes will be on - be generous in coating it. You can use cooking spray in place of oil.

Place a layer of potatoes in the center of each piece of foil - try for about ⅙ of the amount of slices on each, doesn't have to be exact - you are making 2 layers.

Topping measurements do not have to be exact:

Place about 1 tablespoon of butter slices (sliced thin) on top of the potatoes - spread out across the potatoes.

Sprinkle about 2 tablespoons cheese, 1 tablespoon bacon pieces, about ⅙ of the minced garlic, and a couple pinches of chives on top of the potatoes.

Add 1-2 dashes of salt and pepper.

repeat the layers one more time so you have 2 layers.

Seal up the foil packs by folding over ends.

Place on a burner set to low but the grill temperature around 375° Fahrenheit and cook for about 30 minutes until potatoes are fork tender.

Carefully remove from grill and carefully open the foil (there will be a lot of steam.)

Optional - serve with sour cream to top them
Notes
Nutritional values are estimated and so are serving sizes.  You can make these in 4 foil packs as well, it will feed between 3-4 people as a side dish.
We recommend russet or a good baking potato for these but you can use your favorite potato.  I soak potato slices in cold water to remove a little bit of excess starch.  It is optional but recommended for russets and other baking potatoes
The toppings here can be more or less depending on your preference.  It will not alter cook time if you add more cheese, bacon or chives.  You can sprinkle each on to the desired amount.
Salt and pepper is a couple dashes in each foil pack and you can add more if desired.
Nutrition
Calories:
578
kcal
Carbohydrates:
3
g
Protein:
20
g
Fat:
55
g
Saturated Fat:
29
g
Polyunsaturated Fat:
3
g
Monounsaturated Fat:
18
g
Trans Fat:
1
g
Cholesterol:
144
mg
Sodium:
1002
mg
Potassium:
113
mg
Fiber:
1
g
Sugar:
2
g
Vitamin A:
1363
IU
Vitamin C:
1
mg
Calcium:
336
mg
Iron:
1
mg