Full of flavor and grilled to perfection, these baby back ribs are tender and juicy! They are made using a simple homemade dry rub and are done in about an hour and a half total on a gas grill. BBQ sauce is added at the end of cooking for the best flavor and texture!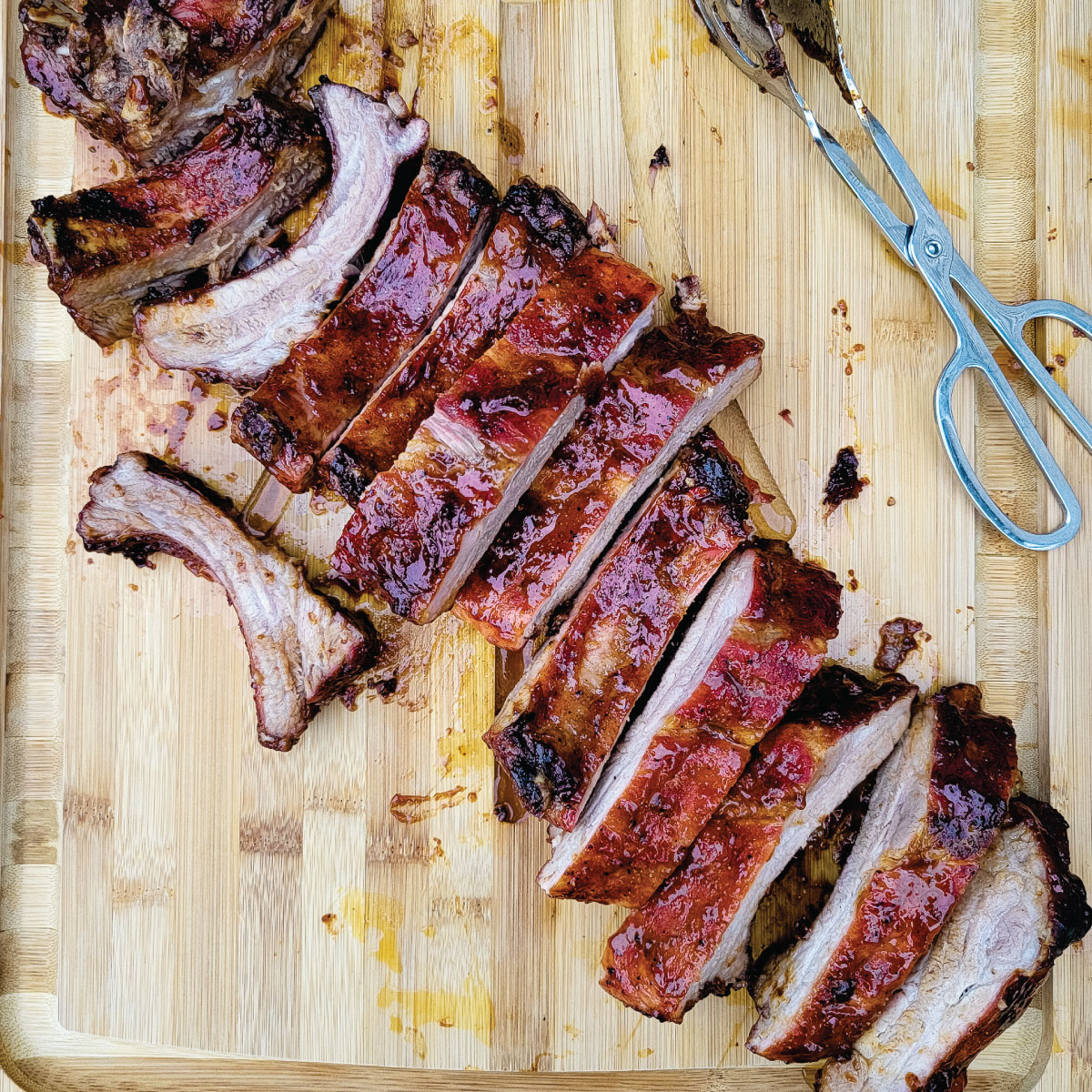 We love ribs here! Of course they are messy, but messy food can be fun once and a while (and delicious.)
We use BBQ sauce on these but you can leave it off. We don't put sauce on our quick and easy St Louis ribs and they are amazing too, but they use a different dry rub.
This recipe for cooking baby back ribs on the grill is for a gas grill and has not been tested on other grills. Cooking times will vary if you use a smoker or charcoal grill.
Jump to:
Ingredients
Baby back rack of ribs - We usually make a rack that is about 4 pounds but use the size you need.
BBQ sauce - Use your favorite here, we love Sweet Baby Ray's or sometimes homemade sauce.
For the dry rub
Brown sugar - We prefer dark brown sugar for the ribs, but you can use light brown.
Paprika - Smoked or regular is good. Smoked adds a nice flavor, but they are both good.
Garlic - Garlic powder is recommended.
Salt - Table salt or finely ground sea salt.
Black pepper - Fresh ground peppercorns are always best, but you can use regular ground pepper.
Cayenne pepper - Optional and you can add more if you prefer spicy! The amount in this dry rub as written does not make the ribs spicy.
Which is better baby back or St Louis ribs?
They both have their similarities but in the end, they do differ greatly.
Baby back ribs are smaller and tender. They have less meat on them and tend to cost more per pound at the store. Usually the St Louis ribs are sold as a bigger rack.
They are very tender but given the size and price of them, we find them best if you have them when it is a small gathering or just the family dinner. Depending on the size, 1 rack will feed 2 adults and 1-2 children if they children do not eat much.
They have more meat on top of the rack and not a lot in between the bones. When you cut them you will see how close the bones are.
St Louis style ribs are a larger rack of ribs. They have more meat between the bones, more bone and generally tend to have more flavor on their own. There is not as much meat on top of the bones here as it is mostly between the bones.
The meat in between the bones makes it a nice and flavorful rack. Depending on the size of the rack, you will likely be able to feed 3 adults or 2 adults and 2 children. Since they are cheaper, we prefer these for bigger gatherings.
Both racks of ribs can usually be used interchangeably in recipes, but if slow cooking you will cook the St Louis ribs a little longer. Here we use a similar cook style for both on a gas grill so cook time is similar.
For which one is better? This is definitely a personal choice, but we recommend you trying both! St Louis ribs are cheaper with more flavorful meat while baby back are more tender and also delicious.
Do I have to remove the membrane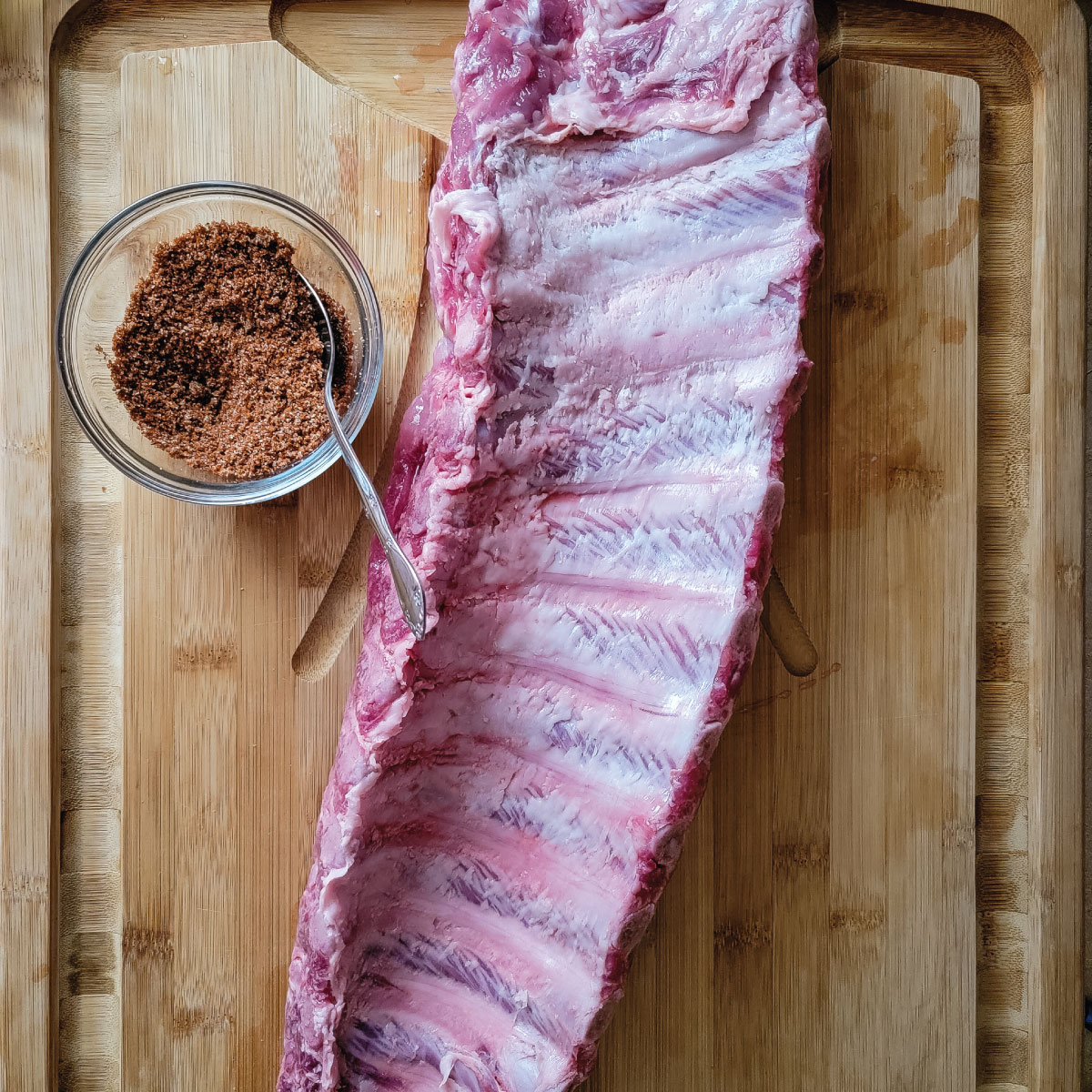 This is the most intense debate between people in the grilling world. It is honestly more involved then the "which came first - the chicken or the egg" debate. Not even kidding here. People take their answer here very seriously!
You do not have to remove the membrane, it can be cooked on the ribs.
I am not controversial on the topic so I say it is up to you and we do on baby back but do not on St Louis style ribs. Here is why for us:
St Louis are not as tender as baby back so we keep the membrane on as we cook them with the bones down for most of the cook time. It helps to keep juices in to help keep them tender - remember the meat is in between the bones.
Baby back are more tender and the meat is more on top of the bones then between the bones. We remove the membrane on them so the dry rub can get through the whole rack of ribs.
Being most of the meat is on top of the bones, you do not need to help hold the juices in. The bones will do this.
Why do people insist on removing it? Mainly to get the flavor of the dry rub through the whole rack of ribs. It also is a chewy and tough thing to have on your ribs, but you eat around it like you do the bones. It doesn't hurt anything.
Can I add smoke flavor to my ribs?
Yes you can make them smoked baby back ribs by using something called a smoke box and some decent wood chips. We like to use apple wood here but you can try a variety of different wood chips to see which ones you like.
A smoke box is easy to use on a gas grill. We soak the wood for about 20 minutes before adding it to the box. Place the box in a spot on the grill where it will have low or indirect heat once the meat is added.
You want to heat the box up to get it to start smoking, but then you want the burner low or off so it doesn't burn out too quickly. Weber has a great post about how to use the smoke box.
It is easier then it sounds to use one of the boxes, but another alternative you can do is use liquid smoke. As a note, we don't use it but know of many people who do like it.
Adding the BBQ sauce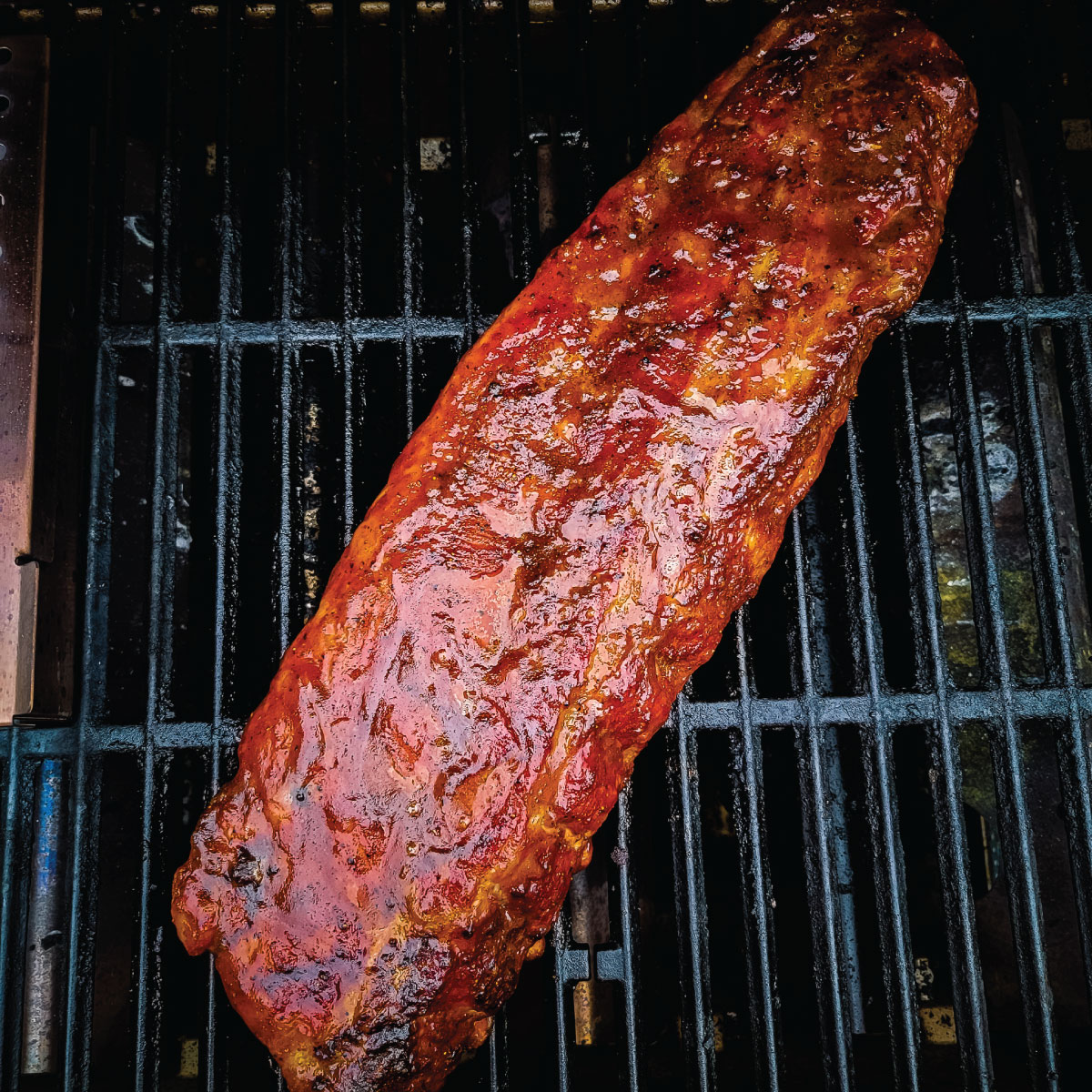 This is important because we don't believe you should be cooking it the whole time with the sauce on it. Vinegar can dry meat out and BBQ sauce has vinegar in it. For the best grilled ribs you ever had, you don't want to cook it the whole time with sauce on it.
I never cook any meat with the BBQ on it the whole time. Sometimes we bring different sauces to the table for people to dip the meat in, but with these baby back ribs we cook the sauce on it for a few minutes at the end.
First you want to cook the ribs for 40 minutes on indirect heat (can use direct for crispy outside.) Then flip and cook for 10 minutes before adding BBQ sauce to your baby back ribs. When you add the sauce, you should have the sauce poured out into a small prep bowl to make it easier.
Also note in the picture that we are using a silicone basting brush. It is the only kind of brush I recommend. The bristles do not fall out like the old school hair bristle brushes do. They also can handle the heat of basting hot things so no worries.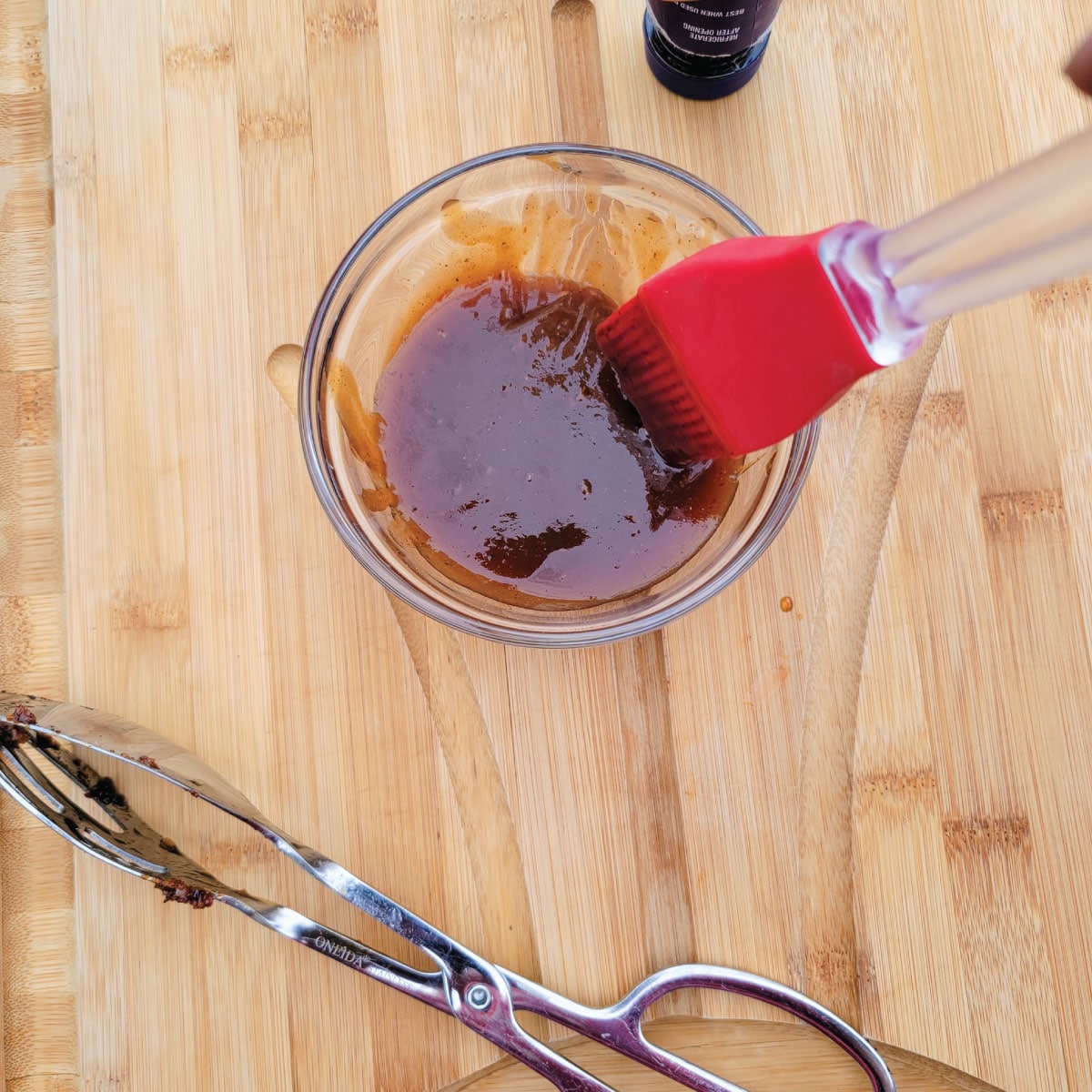 Once you add the BBQ sauce to the bones side you will continue to cook for another 10 minutes before flipping. Add the BBQ sauce to the meat side and cook for another 10 minutes. You can flip again to get a crispier top with the sauce, but we do not do this. We remove it after the last 10 minutes.
Frequently asked questions
Do you cook ribs meat side down?
The majority of the cooking will be bone side down, not meat side down. The bones will help keep the juices in the meat. Only at the end do I flip to the meat side down to finish cooking.
Do you have a favorite BBQ sauce you recommend?
Yes I do! We have a couple, but one of our personal favorites that you can find in just about any store is Sweet Baby Ray's. Quite often we just use the honey barbeque but the hickory and brown sugar is amazing too!
Should I wrap my ribs in foil when grilling?
No we do not wrap them in foil on the grill. They will cook nicely without wrapping them and you do not need to speed up cooking time.
Will they turn out dry?
No when cooking baby back ribs on the grill using this recipe, they will not be dry. You will be cooking them to the point of being done, not to the point of being over done and dried out.

Ribs that are cooked faster and to the point of 145-150 (the temperature pork needs to be) are usually more tender and juicy. Slow cooked ribs go beyond this temperature and tend to dry out a little bit more.
You may also like
If you are like us and love food cooked on the grill!
Recipe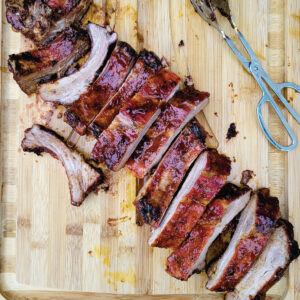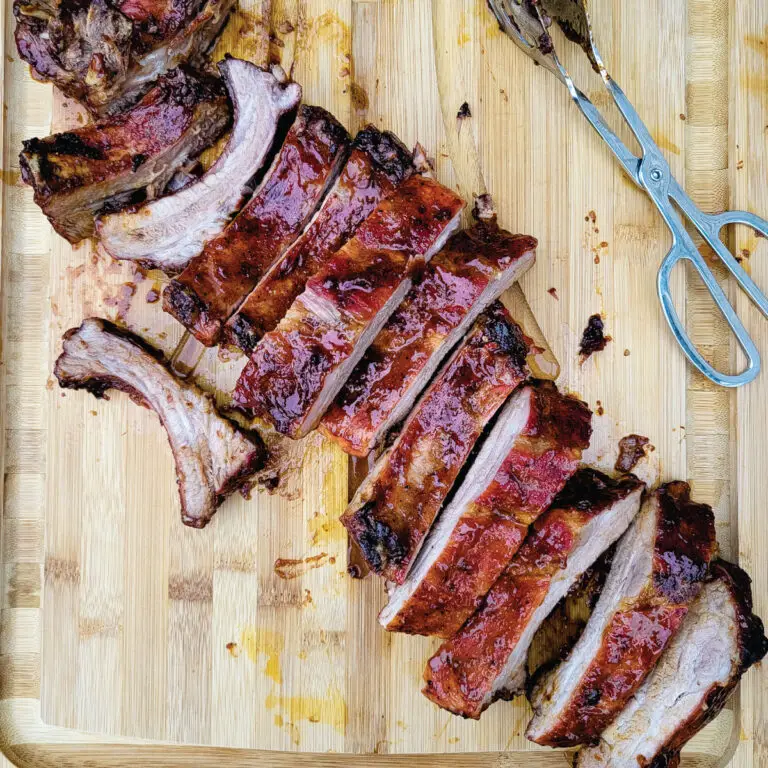 The Best Baby Back Ribs on a Grill
Baby back ribs are a tender rack of ribs and with a simple dry rub they are cooked to perfection! BBQ sauce is added at the end for the best flavor and texture.
Ingredients  
4

pounds

baby back rib

approximate

1

cup

barbeque sauce
Dry Rub
2

Tablespoons

brown sugar

packed

2

teaspoons

paprika

1

teaspoon

garlic powder

1

teaspoon

salt

½

teaspoon

black pepper

¼

teaspoon

cayenne

add more if you want spicy
Instructions 
In a prep bowl mix together the dry rub ingredients and set aside.

2 Tablespoons brown sugar,

2 teaspoons paprika,

1 teaspoon garlic powder,

1 teaspoon salt,

½ teaspoon black pepper,

¼ teaspoon cayenne

Remove ribs from package and do a quick rinse. Pat them dry and remove membrane if you are going to remove it (optional.)

Evenly and generously coat the ribs with the dry rub - both sides all over. Set aside for about 15 minutes.

Heat your grill to 350° Fahrenheit leaving the middle burner off for indirect cooking.

Place the ribs bone side down over the middle burner that is off and close the lid to the grill. Cook for 40 minutes without lifting lid.

Flip the ribs, close the lid and cook for 10 minutes.

Brush BBQ sauce over the bone side (should be facing up) and cook 10 minutes.

Flip and brush BBQ sauce all over the meat side (should be facing up now) and cook for another 10 minutes.

Remove the ribs from the grill when the temperature is reading between 145° and 150° Fahrenheit in the meat - be sure not to touch the bones.

Allow to rest for about 10 minutes before slicing in between the bones and serving.
Notes
Nutritional values are estimated and so are the serving amounts.  
You can adjust the size of the rib rack depending on how much you need.
Nutrition
Calories:
792
kcal
Carbohydrates:
36
g
Protein:
55
g
Fat:
47
g
Saturated Fat:
17
g
Polyunsaturated Fat:
8
g
Monounsaturated Fat:
20
g
Trans Fat:
1
g
Cholesterol:
197
mg
Sodium:
1567
mg
Potassium:
917
mg
Fiber:
1
g
Sugar:
30
g
Vitamin A:
769
IU
Vitamin C:
1
mg
Calcium:
122
mg
Iron:
3
mg