This stuffed chicken breast with spinach also has tomatoes, cream cheese and mozzarella cheese in it. They are easy to make with just a few ingredients and we recommend the easy balsamic glaze drizzled on top.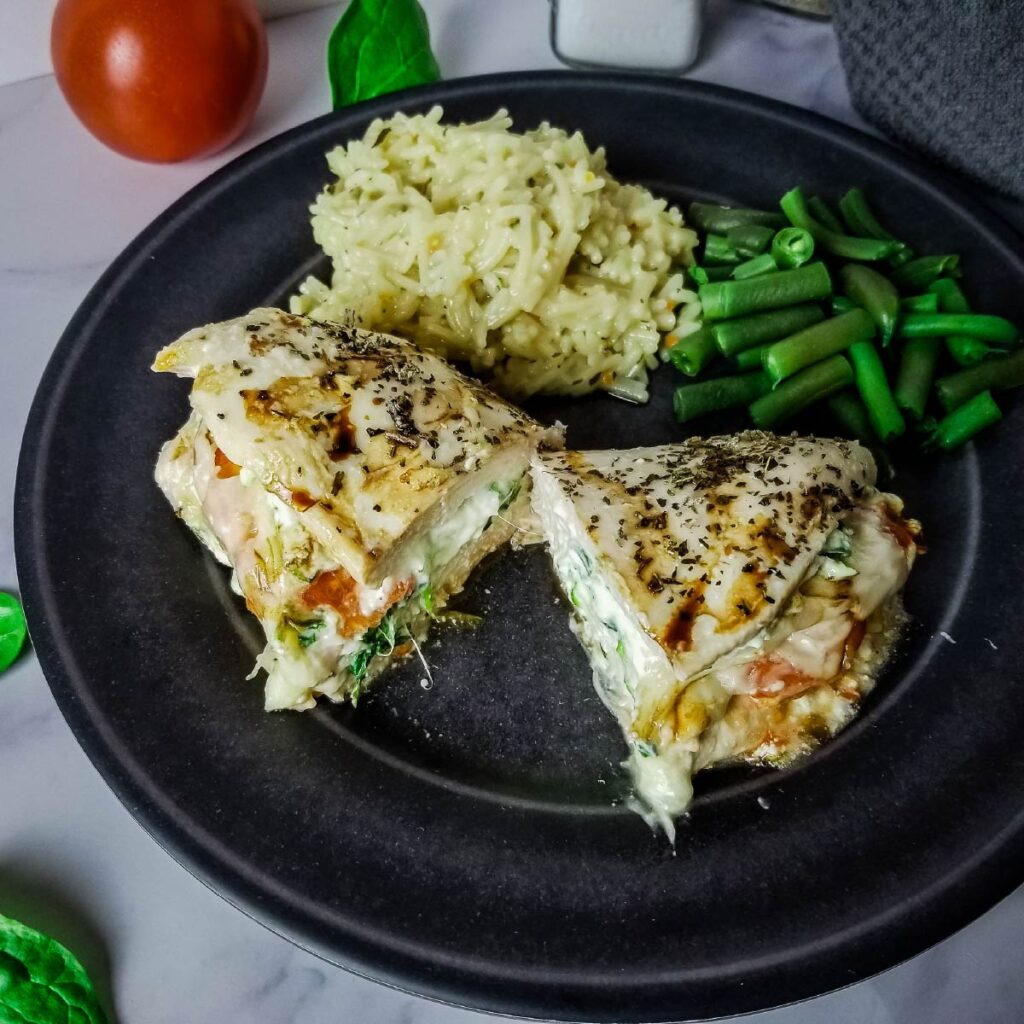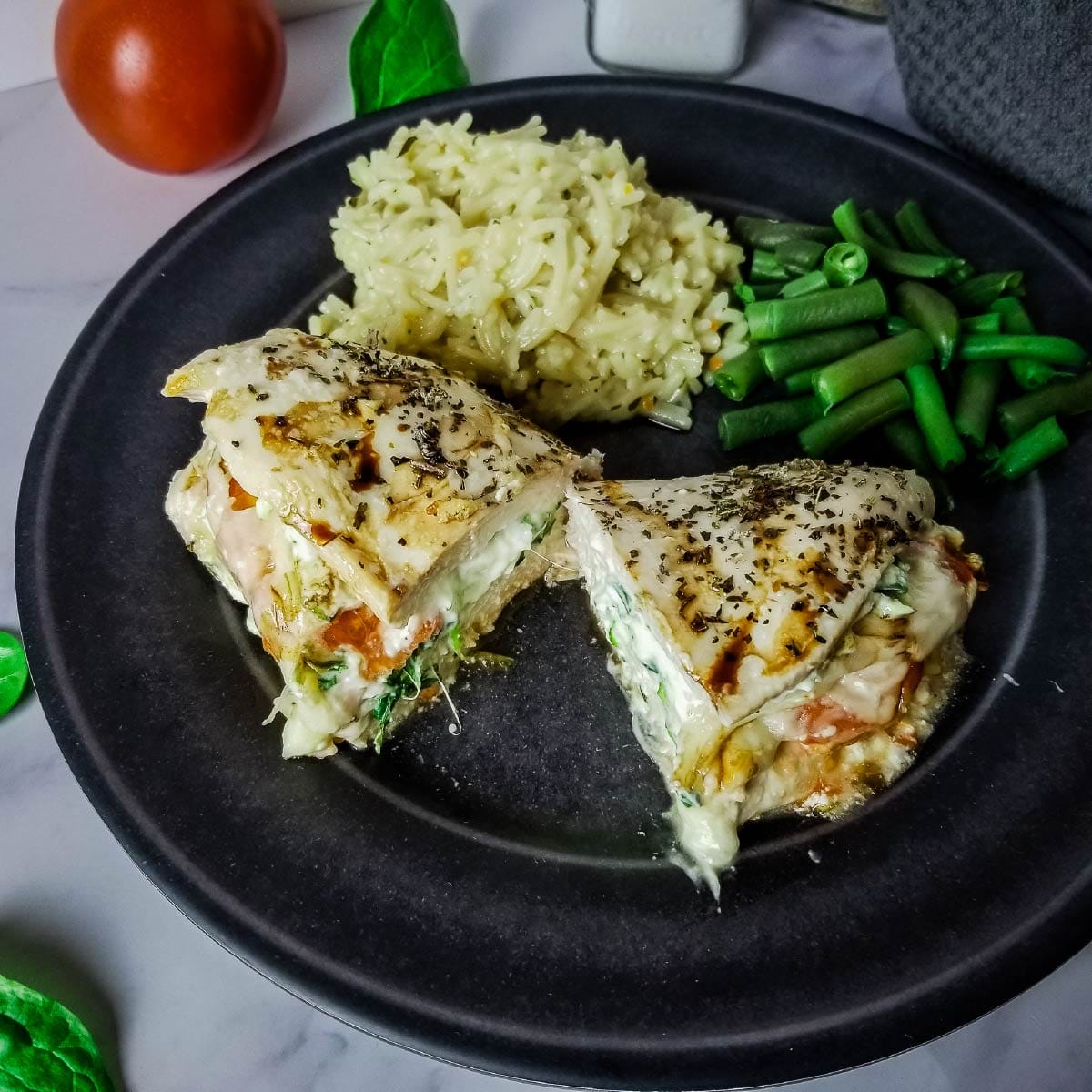 There are many ways to cook chicken and enjoy it! This is one of them. They really are easy to make, I promise and you will love them.
They are not hard to prep and they cook in about 30 minutes. I do recommend having a nice and sharp filet knife tho. They are easier to handle then a butcher knife when cutting a slice in the chicken.
How do you stuff chicken breast?
I try to get chicken breasts that are about the same size for this, but I know it's not always easy. As long as they are close in size. Try to get a package where each breast is about one quarter to one third of a pound each.
Store brand chicken is good for some meals (we are not against using it), but we don't recommend it for stuffed chicken breast with spinach and cheese. Quite often they have packages where they weigh closer to a pound each. They will not cook as evenly as the smaller sized ones.
Cream cheese will need to be taken out about 20 minutes before working with it. It will be softer and you don't want it to be very cold. If it is too cold the chicken will cook unevenly.
The chicken will need to sit out for about 15-20 minutes before cooking as well. This is to bring it closer to room temperature so it cooks evenly. You should follow this anytime you cook meat, but with stuffed chicken breasts they will
Cut a slice longways in each chicken breast using a sharp filet knife. Do be careful, but I find that a filet knife works the best here for this. Make it between 2 thirds to 3 quarters of the way across, it doesn't have to be perfect. The filling won't notice if it's not cut perfectly.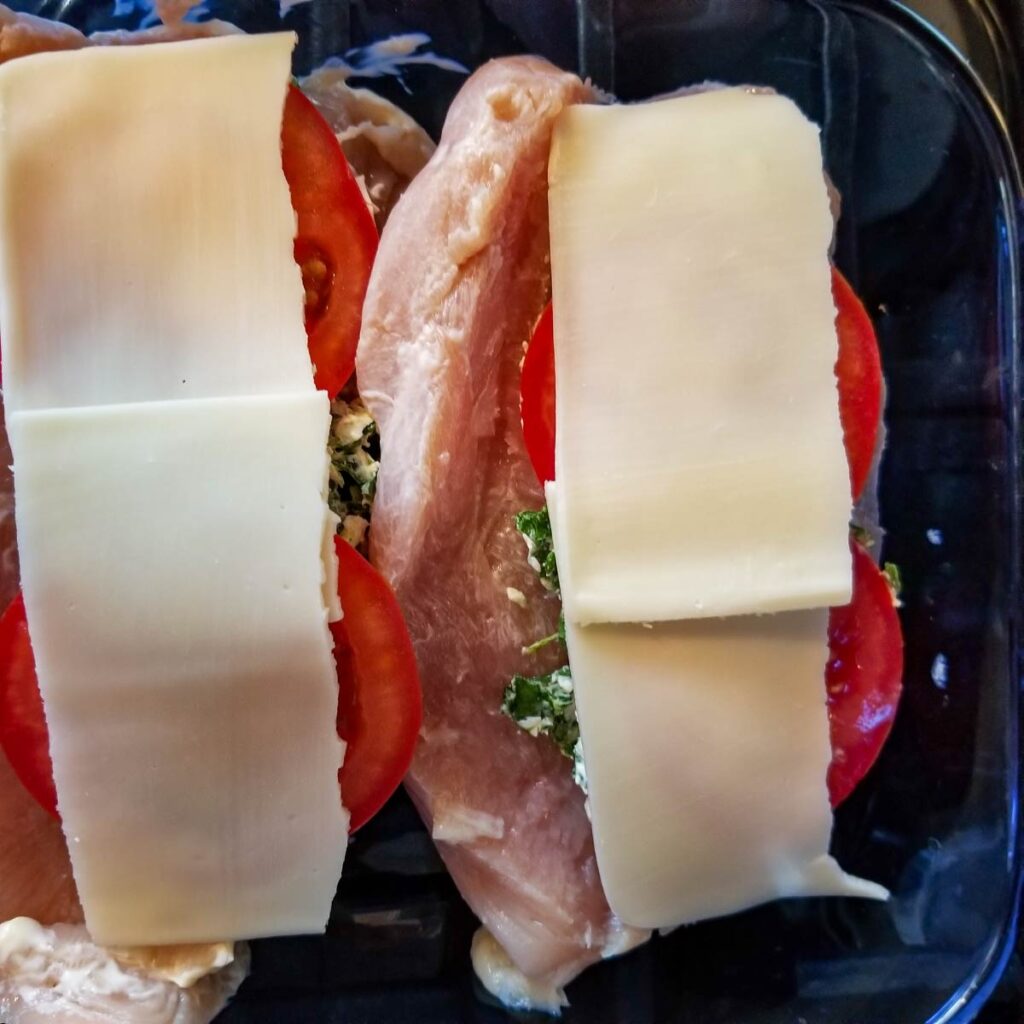 Evenly spread the cream cheese/spinach mix into the center of each chicken breast. Lay 2 slices of tomato on top of the cream cheese mix, followed by sliced mozzarella.
After you fold the to part of the chicken over the filling, sprinkle with seasoning and it is ready to bake. Nice and easy!
Cooking stuffed chicken breasts
It is best cooked at 400 degrees Fahrenheit for about 25-30 minutes, depending on the size of the chicken breasts. Always allow your oven to heat up for at least 20 minutes before baking.
Our oven is pretty new and tells us the temperature it is at while warming up - it's not often accurate. It takes at least 5-10 minutes longer to get the real temperature in the whole oven. We like to use an oven thermometer often to verify the temperature to be sure that it is correct. You can keep the thermometer in the oven all the time if you are having inconsistent cook times.
Make sure that your cream cheese and chicken was able to sit out for about 15-20 minutes before cooking. Stuffed chicken breast with spinach and cheese doesn't take a lot longer to cook, but if you start out with cold cream cheese it won't cook evenly. I know this was mentioned earlier, but it is super important and worth the second mention!
Chicken should be 165 degrees when fully cooked. Ovens vary and cook times are estimated. Be sure to cook until the chicken is cooked all the way. Allow to rest for at least 5 minutes before serving.
What do you eat with stuffed chicken?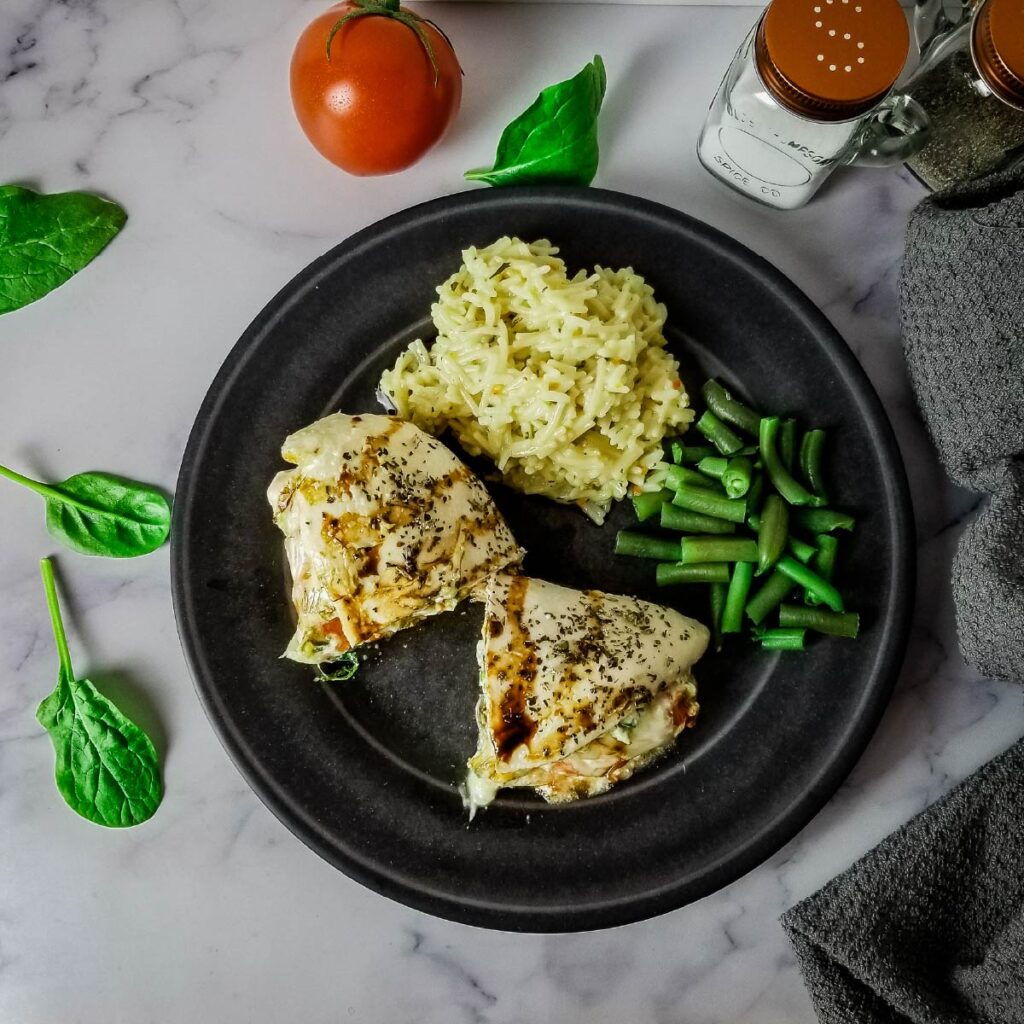 There are many side dishes that go well with it! In the picture here we had a creamy chicken rice and green beans. Baked potatoes and even twice baked potatoes are always a great side dish. Sauteed brussels sprouts are another great vegetable to pair with chicken.
Many times I make homemade mac and cheese when I make chicken stuffed with spinach, cheese and tomatoes. They both bake at 400 degrees making them go well together in the oven!
If you want to keep the carbs down (I know I should but I love my carbs), you can even have a nice salad with the chicken. A big garden salad is always a great side dish to keep a meal a little lighter on the carbs.
What is your favorite side to go along with chicken?
Which cheese goes with chicken?
Most cheese goes great with chicken, but not all go well with this recipe. We make our stuffed chicken breast with cream cheese and mozzarella. The flavors of the spinach, tomatoes, sage and basil go best with mozzarella.
Cream cheese is one of the best for a filling no matter what other cheese you use. It has a nice texture when heated and has a flavor that matches many other flavors. It is very versatile - I mean it can go from dessert to a chicken dish!
Some other cheeses that go great with chicken (even tho they are not all a good fit for this recipe):
Colby Jack
Cheddar
Provolone - this is a great substitute for this exact recipe if you don't have mozzarella
Blue cheese
Pepper Jack
Other great chicken recipes:
As a note
We place our baking dish in the center of the oven. As verified with an oven thermometer, our baking temperature is at 400 degrees Fahrenheit. Be sure the juices are clear in your chicken before serving. We are also at a very low altitude so you may need to adjust if you are on a high altitude.
Ovens vary and so do the size of the chicken breasts. Cook until the chicken is fully cooked, using the times as a guideline.
Recipe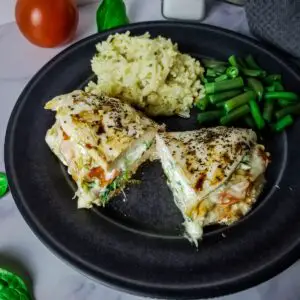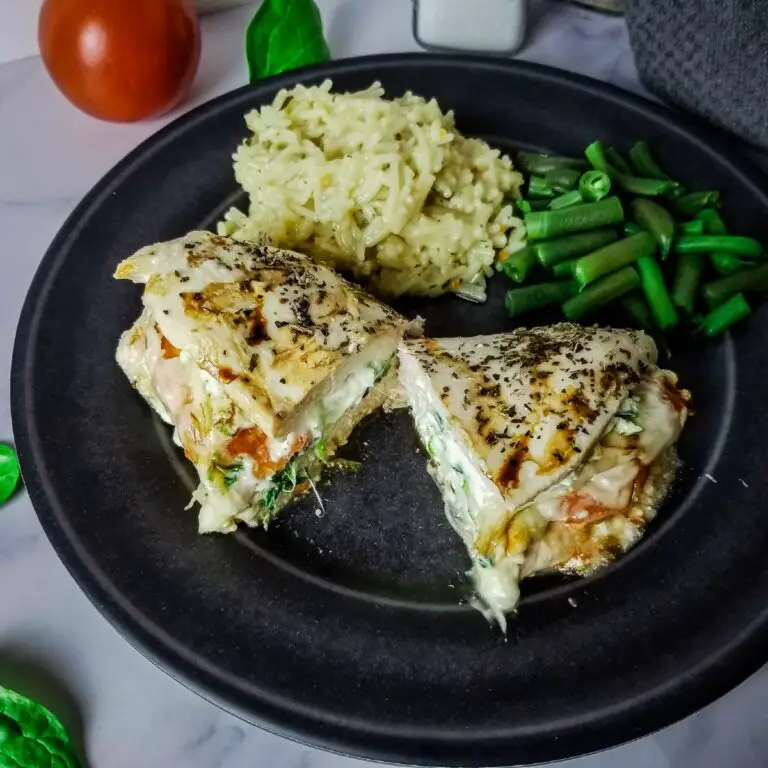 Stuffed Chicken with Spinach, Cheese and Tomato
Stuffed chicken breasts are easy to make with just a few simple ingredients. We top them with a balsamic glaze that is just 2 ingredients!
Ingredients  
4

chicken breasts

about 2-2½ pounds total weight

2

tbsp

mayo

4

oz

cream cheese

softened

1

cup

baby spinach

fresh, packed into measuring cup

½

tsp

garlic powder

¼

tsp

salt

2

tomatoes

medium sized - 8 slices needed

4

mozzarella slices

1

tsp

sage

dried, whole

½

tsp

basil

dried

salt and pepper to taste

see notes
Balsamic Glaze (optional)
2

TPSP

balsamic vinegar

2

tsp

brown sugar

packed
Instructions 
Preheat oven to 400°F for at least 20 minutes.

Take the cream cheese out of the fridge and place in a bowl. It should sit out about 20 minutes before baking in the chicken.

Take the chicken out of the fridge and set on a plate. It should sit out for about 15-20 minutes before baking.

Taking a sharp knife (we like a filet knife), carefully slice the chicken lengthwise until you are between ⅔ and ¾ through the chicken.

Try to center your cut into the center of the chicken as best as you can.

Coat the whole outside of each chicken breast with mayo and set aside opened up.

Be sure to cut chicken first before coating with mayo - it will be slippery after coating.

Mix the cream cheese, garlic powder, salt and spinach in a bowl.

You can put the spinach in as whole leaves, it will break up as you stir using a fork.

Open up the chicken and spread the cream cheese mix evenly on the inside of each piece of chicken.

Top the cream cheese mix with two tomato slices for each breast.

Break the mozzarella slices in half to fit better. Add the 2 halves across the tomatoes on each breast.

Fold the top half of the chicken over the filling.

Sprinkle the sage and basil on top of each piece of chicken.

Place in a baking dish.

Bake for 25-30 minutes at 400° F, until chicken is done.

Allow chicken to sit out of oven for at least 5 minutes before serving. Make the glaze if you are making it while chicken is resting.
Balsamic Glaze
Pour the vinegar into a small saucepan and add the brown sugar. Stir well and heat for about 2 minutes on medium. Cook until the sugar is dissolved into the vinegar.

Drizzle over the chicken or bring glaze to the table to serve with chicken.
Notes
Nutritional values are estimated.
Be sure to cut the chicken before coating with mayonnaise, it will be slippery after you coat it.  
Salt and pepper to taste.  We do not add a lot of salt and you may want to add more at the table if you feel it needs more.
Add the balsamic vinegar to the chicken just before serving.  Vinegar can change the texture of the chicken as it is cooking so do not add before cooking.
Nutrition
Calories:
489
kcal
Carbohydrates:
7
g
Protein:
55
g
Fat:
26
g
Saturated Fat:
10
g
Trans Fat:
1
g
Cholesterol:
196
mg
Sodium:
686
mg
Potassium:
1091
mg
Fiber:
1
g
Sugar:
5
g
Vitamin A:
1826
IU
Vitamin C:
13
mg
Calcium:
166
mg
Iron:
2
mg