Stuffed chicken breasts are something that the whole house loves and these are similar to chicken Caprese. They are the perfect combination of cheese along with fresh tomatoes and spinach. We top them with a couple of our favorite spices and drizzle a balsamic glaze on top for an easy but delicious dinner. The glaze is easy to make with the instructions included below.
It took me a long time to actually make stuffed chicken breasts. I always felt like they would be complicated and I was afraid I would undercook them. Nothing worse then getting ready to serve a nice dinner and cutting into raw chicken - gross!
Once I finally committed to trying it, I was hooked. They are really easy, I promise.
Other great chicken recipes:
On to the good stuff, let's talk about the dish 🙂
Making stuffed chicken breasts
I try to get chicken breasts that are about the same size for this, but I know it's not always easy. This is one time that I do not pound down chicken before cooking it. You will be making a slice in the middle and pounding down won't help with anything.
Take out the chicken and the cream cheese. The chicken needs to sit out for about 20 minutes total time before cooking and the cream cheese can be mixed with the spinach now before setting aside.
Cut a slice longways in each chicken breast. Make it about 2/3 of the way across, doesn't have to be perfect. Now coat the entire outside of each piece of chicken with the mayonnaise. It's best to cut before coating or the mayonnaise makes them hard to hold onto. Set the the pieces aside in the baking dish opened up so they are ready to fill.
Evenly spread the cream cheese/spinach mix into the center of each chicken breast. Lay 2 slices of tomato on top of the cream cheese mix.
Now you want to take sliced mozzarella and place it on top of the tomatoes. We use pre-sliced for this, but you can slice it off of a brick or even use shredded. This is your creation and you can be change it up a bit.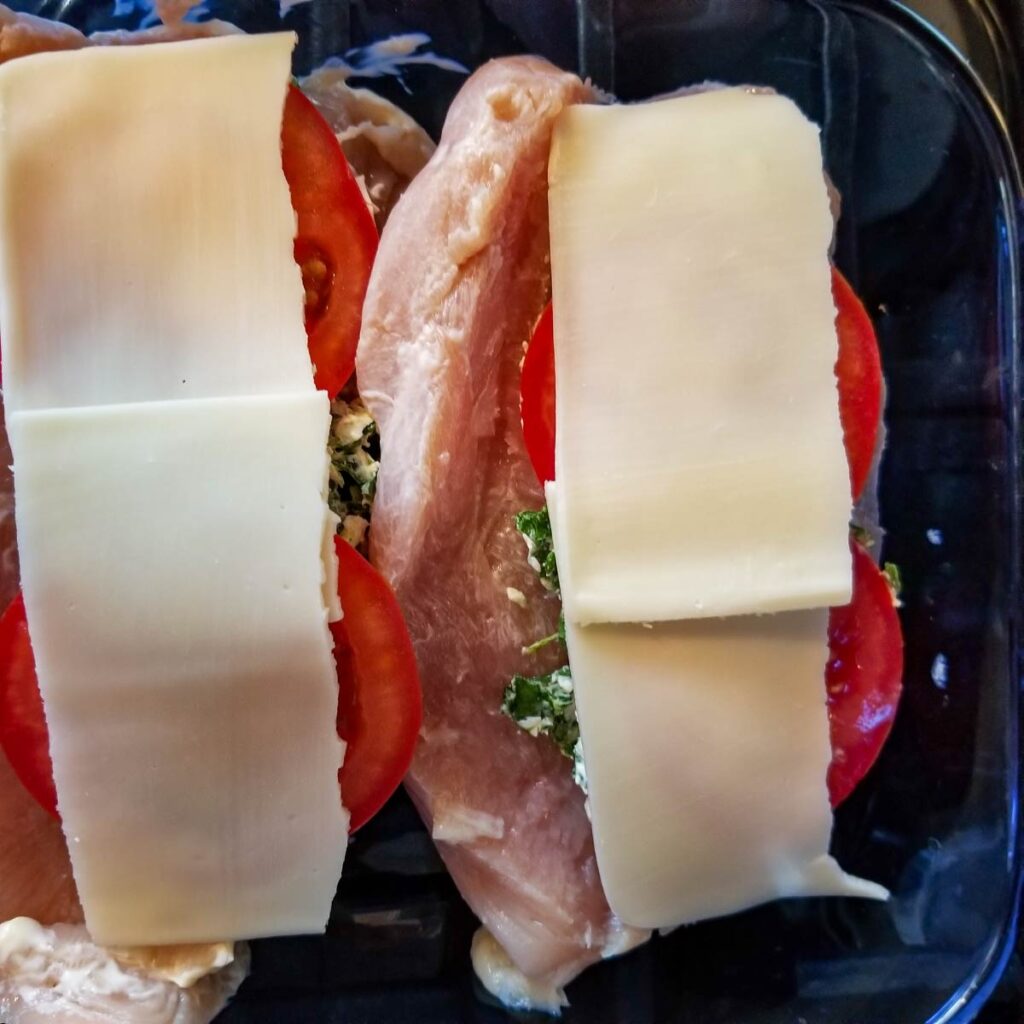 Fold the tops over as best as you can and sprinkle with some seasoning. We use about a teaspoon of whole dried sage and a couple dashes of dried basil here. Salt and pepper is to taste on our plates.
Once you have your chicken ready to bake, bake it for about 25-30 minutes at 400. Remember ovens vary so your chicken needs juices to be clear and internal temperatures of 165. Be sure to allow the chicken to rest about 5-10 minutes before eating.
Balsamic Glaze
This is optional but recommended! It goes on after the chicken comes out of the oven and has been resting for about 5 minutes.
The glaze is just 1/8 of a cup balsamic vinegar and 2 teaspoons packed brown sugar. Heat together for about 2 minutes and drizzle over the stuffed chicken breasts.
Frequently asked questions
How long will leftovers last?
They will safely last up to 4 days in the refrigerator, as long as it was refrigerated promptly.
Does it have to be sliced cheese?
No. You can use shredded cheese mixed in with the cream cheese or you can cut it off a block of cheese as well.
Can I prepare these ahead of time?
I would advise you not to, but if needed you can. The tomatoes will get funky in the fridge and the ingredients won't keep the same flavor and texture. It really is a combination that is best prepared just before baking.
Can I add the balsamic glaze before baking?
No, I wouldn't. Vinegar can add a different texture to your chicken if it is cooked with it. It is best to drizzle it after it is cooked.
Can these be frozen?
This is something I have not tried, I am sorry. If you have and have any tips about freezing stuffed chicken breasts, we would love to hear about it in the comments!
As a note
We place our baking dish in the center of the oven. As verified with an oven thermometer, our baking temperature is at 400. Be sure the juices are clear in your chicken before serving.
Ovens vary and so do the sizes of chicken breasts. If you have a roast feature on your oven, you should be able to reduce cook time by about 5 minutes.
Also these are bigger chicken pieces we used, they are about 10 ounces each.
Tomato and Spinach Stuffed Chicken Breasts
Stuffed chicken breasts make a great dinner that is easy to make. They are like chicken caprese with the fresh tomato, spinach and cheese.
Ingredients
2

lbs

chicken breasts

about 3-4

2

tbsp

mayo

see notes

3

oz

cream cheese

softened

1

cup

spinach

fresh

1

tomato

cut in slices

½

tsp

garlic powder

1

tsp

sage

dried, whole - see notes

½

tsp

basil

see notes
Balsamic Glaze (optional)
⅛

cup

balsamic vinegar

2

tsp

brown sugar

packed
Instructions
Slice the chicken longways about 2/3 of the way through the chicken - try to slice it in the middle as best you can. You want to almost cut the chicken breast in half, but stop about 2/3 through.

Coat the whole outside of each chicken breast with mayo and set into the baking dish.

Mix the cream cheese, garlic powder and spinach in a bowl.

Open up the chicken and spread the cream cheese mix evenly on the inside of each piece of chicken.

Top with two tomato slices each.

Add a slice of cheese to the top of the tomatoes and fold the top over as best as you can.

Sprinkle the sage and basil on top of each piece of chicken.

Bake for 25-30 minutes, depending on the size of the chicken breasts. Juices should be clear and the chicken should be at 165.

Allow to rest while making the glaze if you are making it.
Balsamic Glaze
Pour the vinegar into a small saucepan and add the brown sugar. Stir well and heat for about 2 minutes on medium.

While hot, drizzle this over the chicken breasts evenly and serve.
Notes
Nutritional values are estimated.
For mayo, you could substitute it with oil but we highly recommend mayo.  It keeps the moisture in the chicken best.  You should be ok with 2 tablespoons, but really you just want to use enough to coat the chicken tops and bottoms.  You do not need to coat the inside, but we recommend cutting it before coating it or it gets slippery after coating.
Basil and sage are our favorites, but you can surely substitute you favorite spices on top.  We use whole dried sage, not powdered.  
Salt and pepper to taste.
Nutrition
Calories:
403
kcal
Carbohydrates:
6
g
Protein:
50
g
Fat:
19
g
Saturated Fat:
6
g
Cholesterol:
171
mg
Sodium:
386
mg
Potassium:
992
mg
Fiber:
1
g
Sugar:
5
g
Vitamin A:
1326
IU
Vitamin C:
9
mg
Calcium:
46
mg
Iron:
1
mg