A delicious twist on blueberry pancakes, strawberry and blueberry come together in a perfect combination! These are easy to make and use fresh berries, but you can use frozen in place of fresh.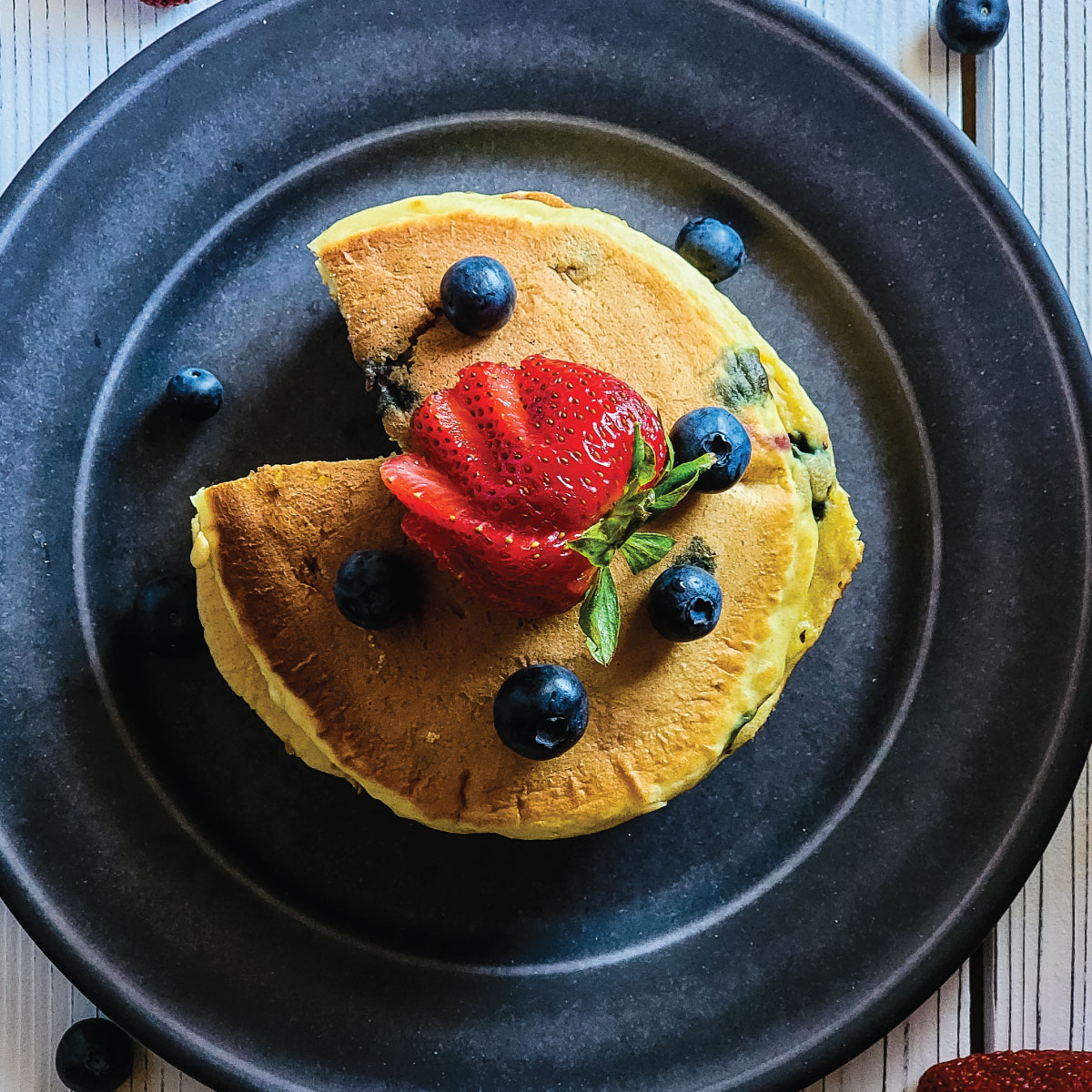 When we all sit down for breakfast here it is usually either pancakes, eggs and potatoes (like our easy breakfast bake) or crepes. We do make other things, but these are our favorite breakfast foods.
I like to experiment when making breakfast and this was something I honestly wasn't sure I would like, but tried it anyway. We had strawberries and blueberries that needed to be used up so I gave it a try. Turns out they are delicious together!!
The ingredients
These are a little bit different from our yogurt pancakes and apple pancakes because we don't use yogurt in them. Here is some tips and possible substitutions for the ingredients we use.
The dry ingredients
Flour - All purpose is best here, but you can use other flours as well like oat flour (the measuring might be different for other flour so adjust using a standard substitution measurement for desired flour.) When measuring the all purpose flour in this recipe we gently scoop it out of the flour bin and level it with a knife. It is a slightly heavier cup. You can adjust the liquid as needed if you use less or more.
Baking powder and baking soda - I do not recommend leaving baking powder out, but if you are leaving baking soda out you can use 3 teaspoons of baking powder. As a note - I am only about 200 feet above sea level so please adjust accordingly if you are at a high altitude.
Salt - The salt here is added just to enhance all the flavors, you can leave it out without hurting the recipe if needed. I recommend it for flavor, but not required for making them.
Sugar - The sugar is added for flavor to add a little sweetness to the pancakes. They are not super sweet with it but you can leave the sugar out if you should not have sugar. Leaving it out will not affect anything more then the sweetness of the pancakes.
The wet ingredients
Sour cream - The sour cream is the fat of the recipe, along with milk. You can substitute it with plain yogurt, but you do need to use one or the other. Greek yogurt is thicker, but you can use plain regular yogurt as well. Try not to use low or non fat if using yogurt. The blueberry strawberry pancakes have not been tested with a different fat.
Milk - We use whole milk here, but you can use a lower fat.
Eggs - The eggs help to add air into the pancakes and make them fluffy. I recommend using the eggs and not leaving them out.
Vanilla extract - This is for flavor and I recommend you add it for flavor, but if you have to leave it out you can.
Strawberry and blueberry
These are the main flavor and they wouldn't be blueberry and strawberry pancakes with them!
Strawberries - We use fresh berries and chopped them into smaller chunks. You can use frozen berries instead of fresh. Try for the frozen slices (easier to chop) but in a pinch you can use whole frozen and thaw them enough to chop them.
Blueberries - These berries are easy! Just wash them and leave them whole. We use fresh berries here, but frozen works great too.
What goes good on them?
There are many things that taste great on these pancakes!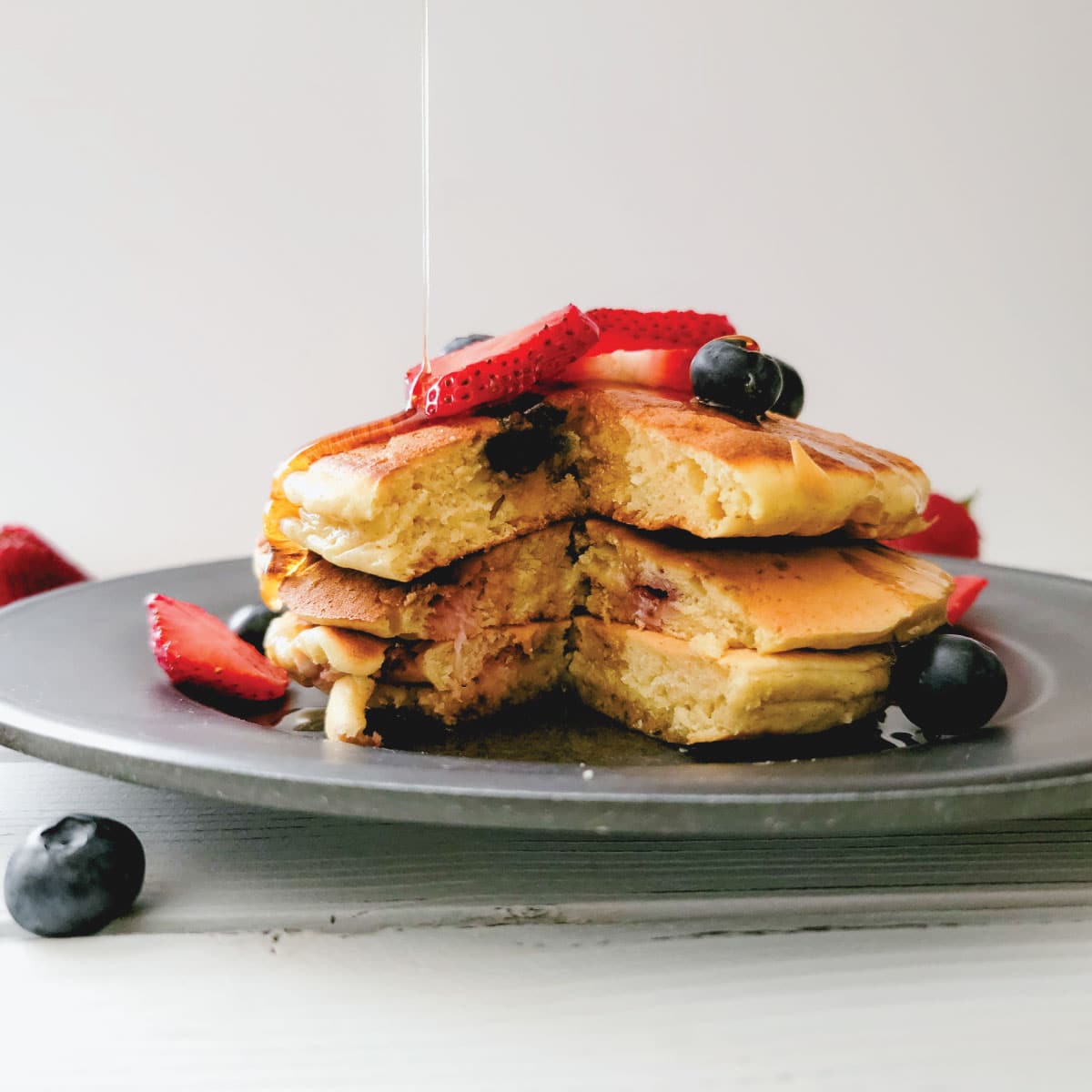 We love real maple syrup and butter on ours, but a strawberry or blueberry syrup (probably can get it locally, this is our favorite brand) would be great too!
You can top with extra strawberries and blueberries for a fancy looking breakfast. And even add some whipped cream - because whipped cream is good on almost everything!
Frequently asked questions
Can I freeze blueberry and strawberry pancakes?
Yes you can! Let them cool all the way before placing in a freezer bag. I recommend putting wax paper in between the pancakes so they do not freeze together. Try to get most of the air out of the bag before freezing. They should last about 4-6 months in the freezer.

Reheating in the toaster or toaster oven is the best way to reheat them, but you can also use the microwave. In the microwave you may get a more soggy pancake so do it for short periods of time until warmed up.
How do I know if my griddle/pan is ready for pancake batter?
My favorite way to tell is by splashing a few drops of water onto the pan. If the water "dances", the pan is ready for the pancakes. You can also tell by adding butter, if it sizzles it is hot.
Why is my first pancake light and doesn't look cooked?
This happens when the pan or griddle isn't heated all the way before adding the pancake batter. Be sure it is up to temperature before adding the batter and you will prevent this! Also the pancake is still edible if it is lighter, but they are better when they get a bit more brown.
Recipe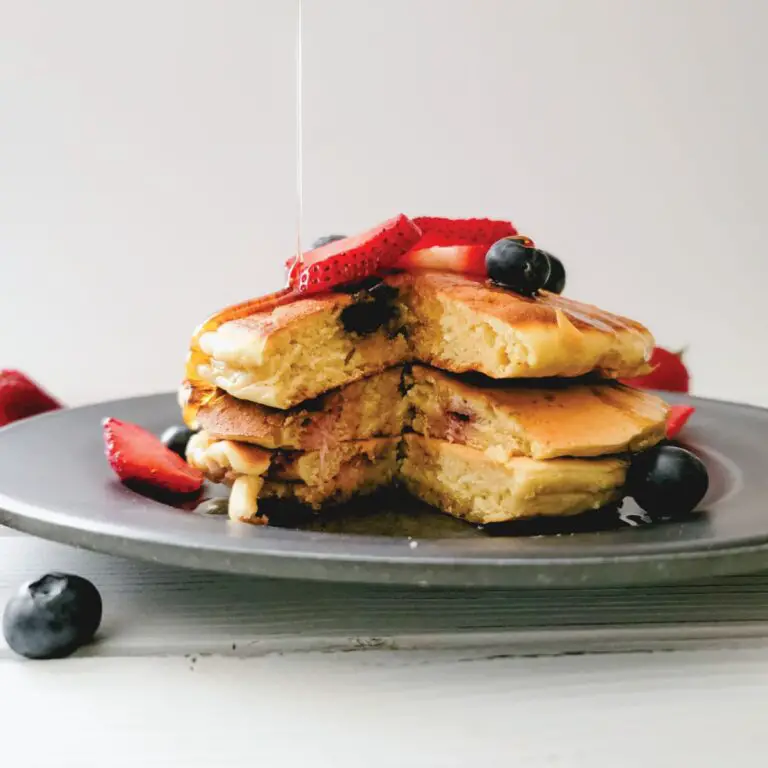 Blueberry and Strawberry Pancakes
A delicious twist on blueberry pancakes! Blueberries and strawberries are the perfect combination in this classic breakfast dish.
Ingredients  
2

cups

flour

see notes

2

teaspoons

baking powder

1

teaspoon

baking soda

¼

teaspoon

salt

2

tablespoon

sugar

1¼

cups

sour cream

full fat

1

cup

milk

2

eggs

1

teaspoon

vanilla extract

½

cup

blueberries

½

cup

strawberries

chopped into bite sized pieces
Instructions 
In a medium sized bowl mix together the flour, baking powder, baking soda, salt and sugar. Set aside.

In a large mixing bowl whisk together the sour cream, milk, eggs and vanilla. Whisk together until everything is combined well.

Pour the dry ingredients into the wet ingredients and mix with a whisk until it is just incorporated. It is ok to have lumps, do not over stir pancake batter.

Gently stir in the blueberries and strawberries with a spoon.

Heat a griddle to around 350 or a flat pan over a burner on medium heat. Be sure the pan is heated to temperature before adding batter.

If using non stick, add enough batter directly on the pan to reach the desired size pancake. If not using non stick, melt a little butter on the griddle before adding the pancake batter.

Once the tops have small air bubbles forming, flip the pancake. Usually this is about 1-2 minutes but griddles and stoves vary so look for air bubbles.

Cook for another 1-2 minutes, until the bottoms are nicely browned.

Remove from heat and serve!
Notes
Nutritional values are estimated and so are serving sizes.  
For flour, I scoop it out of the flour bin and level it for pancakes so it is a slightly heavier cup then spooning it into the measuring cup.  If you use too much flour, add a little more milk to it and it will be fine.  If you find it to be a bit too watery, add just a little more flour.
Nutrition
Calories:
383
kcal
Carbohydrates:
51
g
Protein:
10
g
Fat:
15
g
Saturated Fat:
8
g
Polyunsaturated Fat:
1
g
Monounsaturated Fat:
4
g
Trans Fat:
1
g
Cholesterol:
100
mg
Sodium:
430
mg
Potassium:
420
mg
Fiber:
2
g
Sugar:
11
g
Vitamin A:
542
IU
Vitamin C:
10
mg
Calcium:
208
mg
Iron:
3
mg