Easy to make and full of flavor, banana oatmeal pancakes are the perfect family breakfast recipe! They are pancakes made without flour and are gluten free.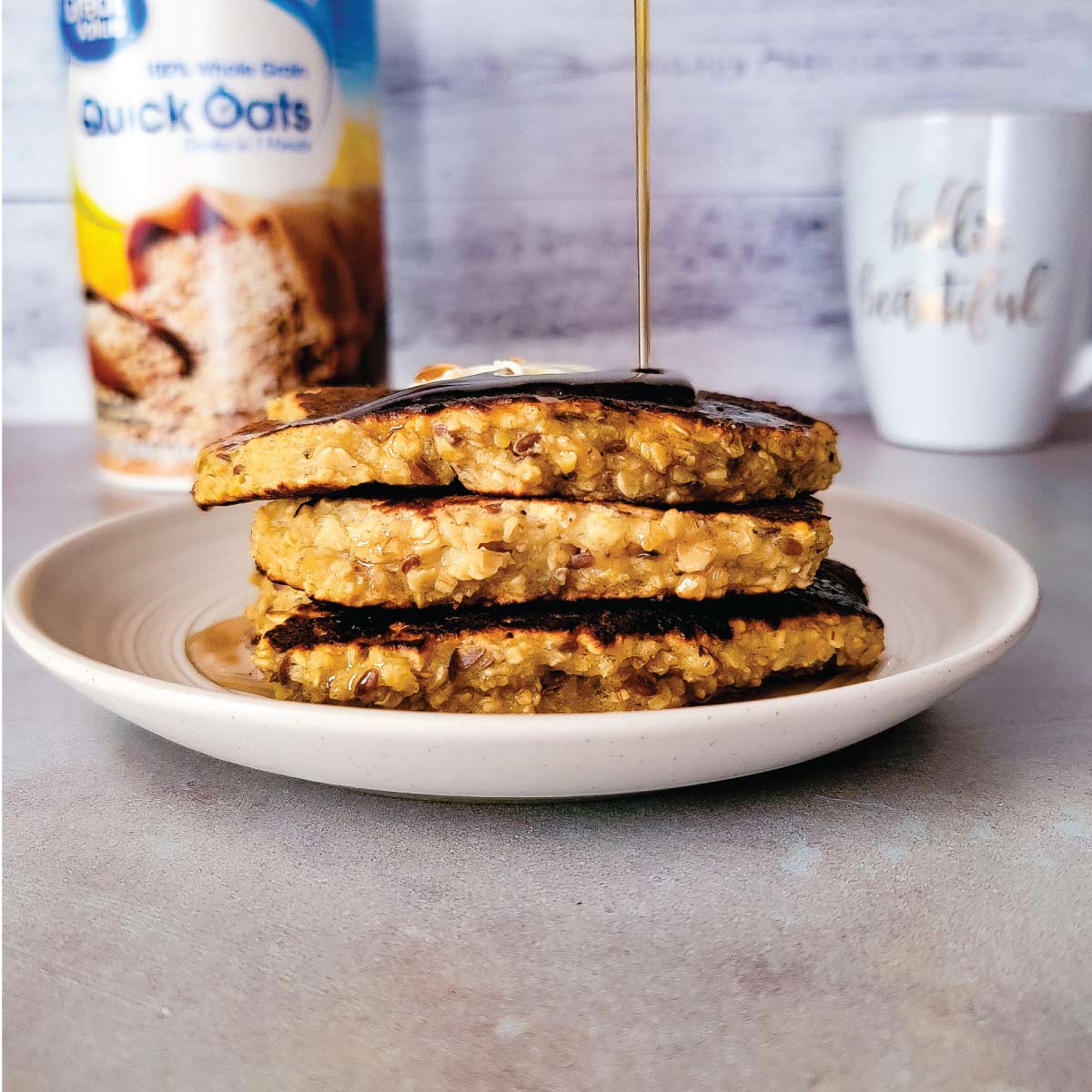 Please note that we do not follow a gluten free diet usually so not all of our recipes are gluten free, but these amazing pancakes are. You may want to be sure to check labels to be sure there is no possible cross contamination if you are gluten free.
We have friends who are gluten intolerant and love to cook things they can eat as well. I noticed that many recipes called for flour so it kind of defeats the purpose of using oatmeal, right? So I set out to try making oatmeal pancakes without flour.
Turns out they taste great and really don't need the flour. The oats have a great flavor and all the other ingredients come together perfectly. These are a delicious breakfast!
We decided that you can have flour or oats, you really don't need both for them to turn out amazing.
Jump to:
Ingredients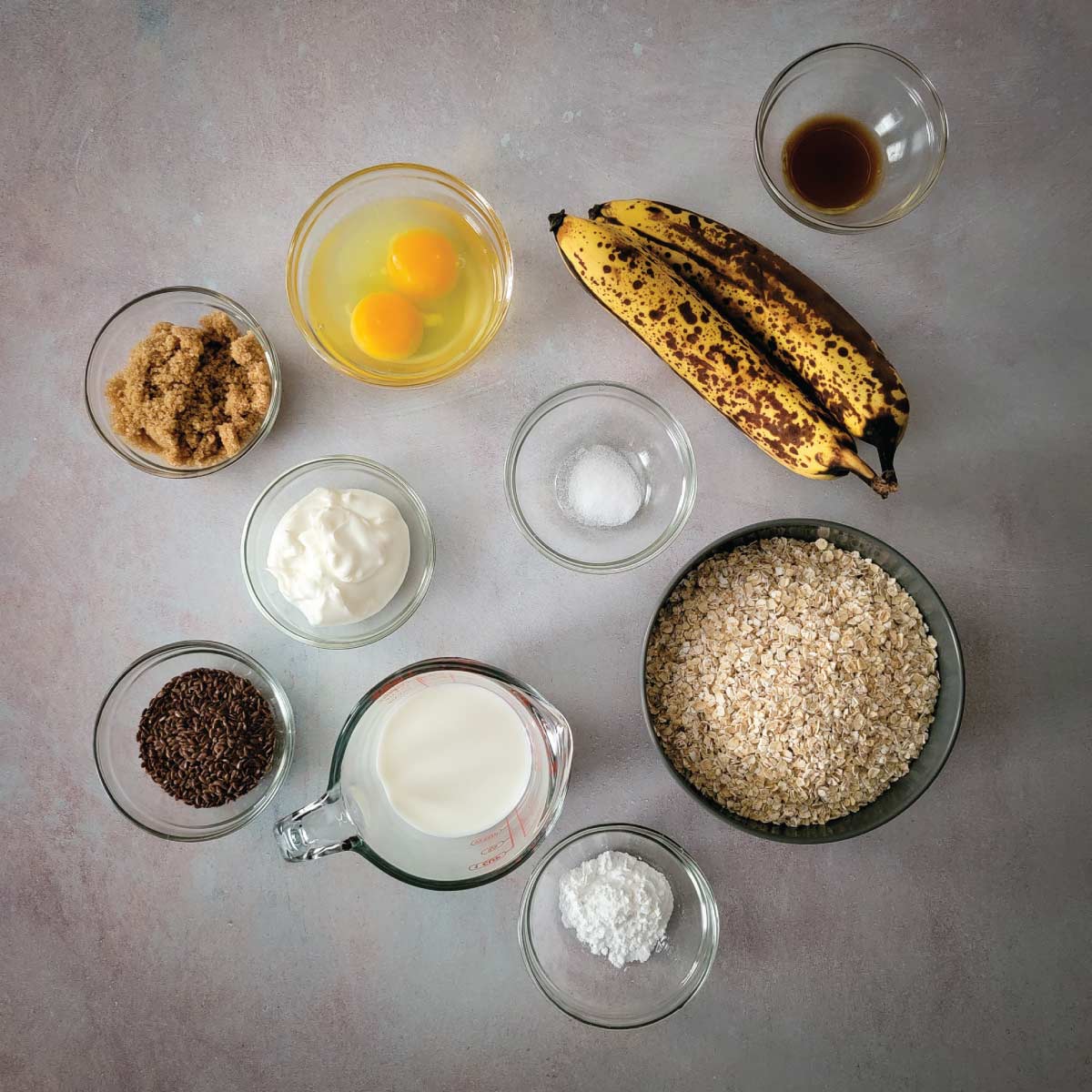 Bananas - I like to use over ripe bananas. Things like bread and pancakes are my way to use up bananas before going bad.
Vanilla extract - No substitution recommended.
Eggs - We have only tested these with eggs.
Brown sugar - Light or dark is good, we used light.
Yogurt - Greek whole milk yogurt is best, but you can use regular plain yogurt. You can also use sour cream in place of the yogurt.
Salt - Used to enhance all the flavors.
Oats - Quick oats are best but you can use old fashioned as well. I do not recommend steel cut oats.
Baking powder - No substitutions recommended, we have not tested these banana oatmeal pancakes with baking soda.
Milk - We use whole milk, but you can use a lower fat milk instead if you prefer.
Flax seeds - Optional, we add them for texture and flavor but you can leave them out.
Other great pancake recipes
Please note that all of these below are made with flour and not oats.
Can I grind the flax seeds or oats?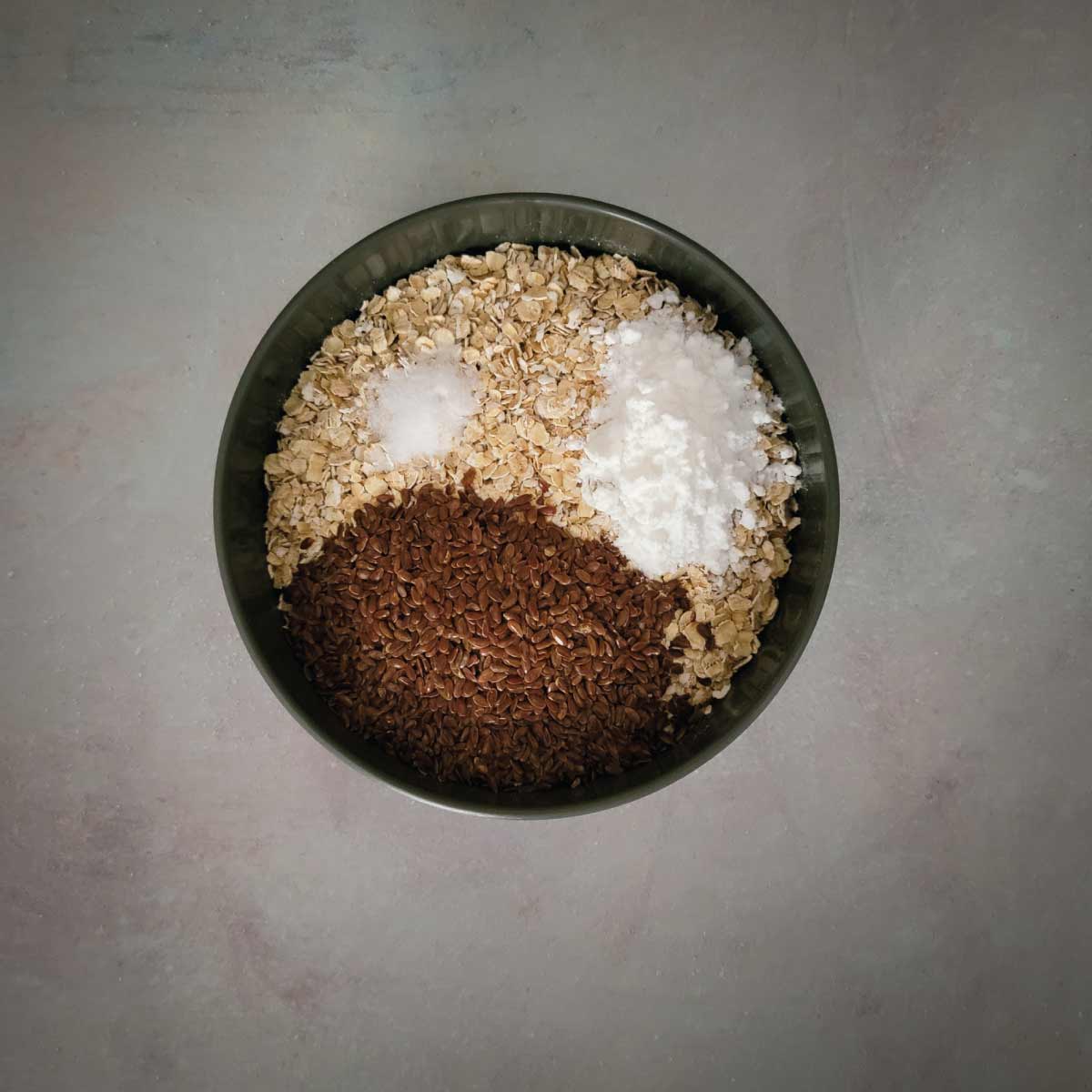 We add the flax seeds whole for a little bit of flavor and texture. If you are looking to add them just for the nutrients, you may want to grind them. Either way works out in the recipe, we have made them with whole and ground flax seeds.
A lot of what I read is that you should grind them for the maximum benefits so your body can absorb all the nutrients. I am not a nutritionist so I only know what I have read online about them.
We do not use a lot of them in this banana oat pancake recipe and there is no harm in eating a small amount whole seeds in cooked foods.
The oats can be ground but do not have to be. We prefer the banana oat pancakes without grinding the oats, but we have made them with grinding them as well. The texture is slightly different.
If you are going to grind the oats, you may want to grind the flax seeds too. They can be ground together.
Making the banana oatmeal pancakes
They are an easy to make breakfast, here are some tips to help you make them perfectly.
The batter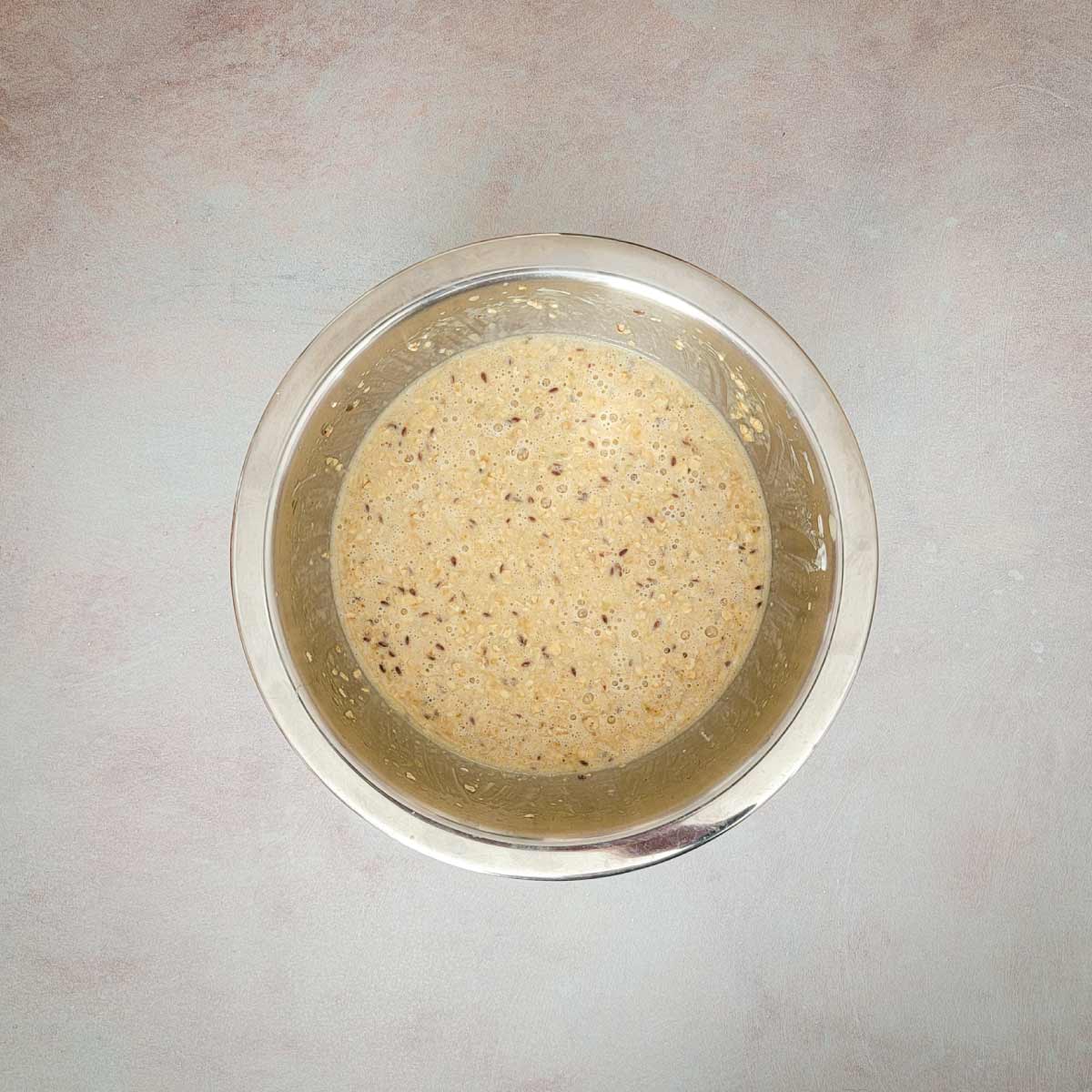 The batter will look too runny at first, but needs to sit for 10-15 minutes before cooking. It will thicken up slightly upon sitting.
Start by mixing the bananas and brown sugar in a mixing bowl with a hand or stand mixer. Mix them for 30 seconds to a minute, until it appears to be mostly a thick liquid with a few small banana lumps.
Add in the eggs, milk, yogurt (or sour cream) and vanilla extract. Mix until thoroughly combined, about 20-30 seconds with the mixer.
In a separate bowl mix together the flax seed (optional), oats, salt and baking powder. If you are grinding the oats and flax seed, do that first before adding the salt and baking powder.
Pour the dry ingredients into the wet ingredients and mix for about 20-30 seconds, until it is combined well. Set the batter aside for 10-15 minutes before cooking.
Cooking
You will cook these banana oatmeal pancakes similar to cooking regular pancakes, but I cook them at a slightly lower temperature. We cook them on a flat pan on the stove over medium low heat instead of medium heat. We have not made them on an electric griddle, but I would set it about 350 if you normally set it to 375 for regular pancakes.
Batter will be thicker so you will need to spoon it out onto the pan. Carefully spread it out with the spoon to an even layer. It won't spread out the same as regular pancake batter, so I like to spread it out as I am spooning it only the pan.
Don't make huge pancakes, they will not cook the same as regular ones. These are delicious and easy, but you are using oats instead of flour so they do cook a little different. I keep them at no bigger then 5 inches.
Cook on the first side for 2-3 minutes, they should be easy to pick up with a spatula and browned on the bottom. Flip and cook for another 1-2 minutes. We do 2 minutes on each side here, but stoves and griddles can vary.
Note that these banana oat pancakes will not bubble like regular pancakes do when cooking so do not wait for bubbles to flip them!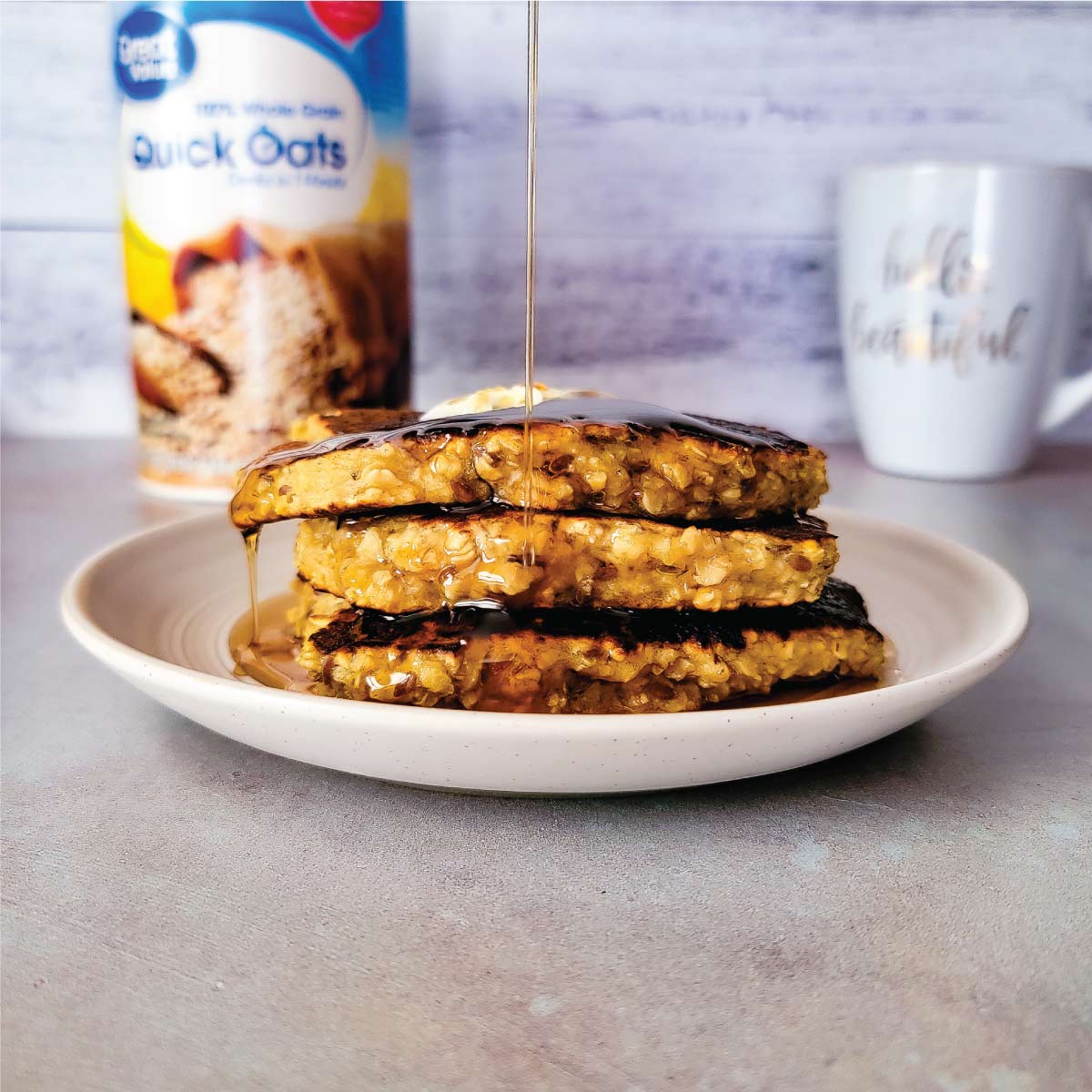 Serve with your favorite toppings and enjoy!
Frequently asked questions
How long do the banana oatmeal pancakes last?
You can place any leftovers in the fridge for up to 2 days. Reheat in the toaster, oven or toaster oven. Be sure to leave them out at room temperature until they have cooled before wrapping and placing in the fridge or they will have a lot of moisture on them.
Can I freeze the pancakes?
Yes you can freeze them! Be sure to cool them all the way and freeze them separately first before placing in a container together. If you place them in a bag together before freezing, they will all stick together.

You can place them in a single layer on a baking sheet lined with parchment paper or waxed paper long enough to freeze them. Then place in a container together. Reheat in a toaster or toaster oven when ready to eat.
Can I use store bought oat flour instead of oats?
Sure you can use oat flour in place. Use about 1 and 3 quarters of a cup of oat flour in place of the oats.
Equipment
As an Amazon affiliate we may earn a commission on purchases made through links on our site. This is at no extra cost to you and helps to keep the recipes free, thank you!
Cast iron griddle - Not everybody loves cast iron as much as we do, but if you do enjoy cooking with it this griddle is perfect!
Electric griddle - This is a stand alone griddle that you can take anywhere with you, even camping as long as there is an outlet. It is non stick.
Non stick griddle - This is a simple one that is non stick and goes across 2 burners on the stove.
You can also use a regular flat frying pan to make pancakes, we just find griddles to be more convenient.
Recipe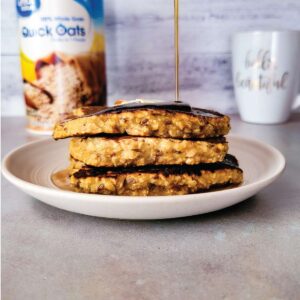 Banana Oatmeal Pancakes
Easy to make, these banana oatmeal pancakes are the perfect family breakfast. They are made without flour and are gluten free.
Ingredients  
Dry ingredients
2

cups

quick oats

2

Tablespoons

Flax seeds

optional, see notes

2

teaspoons

baking powder

¼

teaspoon

salt
Wet ingredients
2

bananas

overripe is best

¼

cup

brown sugar

packed

2

eggs

⅓

cup

milk

¼

cup

Greek plain yogurt

or sour cream

½

teaspoon

vanilla extract
Instructions 
In a small bowl mix together the dry ingredients.

2 cups quick oats,

2 Tablespoons Flax seeds,

2 teaspoons baking powder,

¼ teaspoon salt

Mix the bananas and brown sugar with a hand or stand mixer in a mixing bowl until a thick liquid forms with only small banana lumps, about 30 seconds to 1 minute.

2 bananas,

¼ cup brown sugar

Add in the remaining wet ingredients and mix with the mixer for about 30 seconds.

2 eggs,

⅓ cup milk,

¼ cup Greek plain yogurt,

½ teaspoon vanilla extract

Pour the mixed dry ingredients in and mix with the mixer for about 30 seconds, until fully incorporated.

Set batter aside and allow to sit 10-15 minutes before cooking - Important, do not skip.

Heat the griddle over medium low heat - or 350 if using electric. You want the heat just a little lower then you do for regular pancakes.

If you need to add a fat to the griddle, non stick does not need any.

Once heated, spoon the batter out onto the griddle and carefully spread it out so it is even in thickness. The batter will not be a normal pancake batter consistency and it will be thick.

Keep the pancakes to about 5 inches in size for best results.

Cook for 2-3 minutes, until they are easy to lift with a spatula and are browning on the bottom.

Flip and cook another 1-2 minutes, until they lift easy and are browning on the bottom.

To keep warm, place the finished pancakes on a plate and loosely cover with foil or you can place the pancakes on a dish in the oven with it set to keep warm. We just cover them with foil here.
Notes
Nutritional values and serving sizes are estimated.  
For the oats - You can use old fashioned oats in place of the quick oats, but we do not recommend using steel oats.  You can grind the oats into flour, but we really like them the way they are in these pancakes.
Flax seeds - These are optional and we add them for a little texture and flavor.  We put them in whole, but for the best nutrient absorption you can grind them and put them in.
Brown sugar - You can use either light or dark here.  We used light brown sugar.
We cook eggs while the batter is sitting which sometimes takes up to 25 minutes, so you can let the batter sit that long with no problems.  It only has to sit at least 10 minutes, but can go to 25 if needed.
We cook the pancakes for 2 minutes on each side, but stoves and griddles vary.
Nutrition
Calories:
334
kcal
Carbohydrates:
58
g
Protein:
12
g
Fat:
8
g
Saturated Fat:
2
g
Polyunsaturated Fat:
3
g
Monounsaturated Fat:
2
g
Trans Fat:
1
g
Cholesterol:
84
mg
Sodium:
199
mg
Potassium:
691
mg
Fiber:
7
g
Sugar:
23
g
Vitamin A:
190
IU
Vitamin C:
5
mg
Calcium:
182
mg
Iron:
3
mg