A classic holiday dinner, the New York strip loin roast is always tender and full of flavor whether you like it medium rare or medium well! It is very easy to prepare with a mix of spices and a little oil rubbed on it just before baking. No marinating and nothing complicated.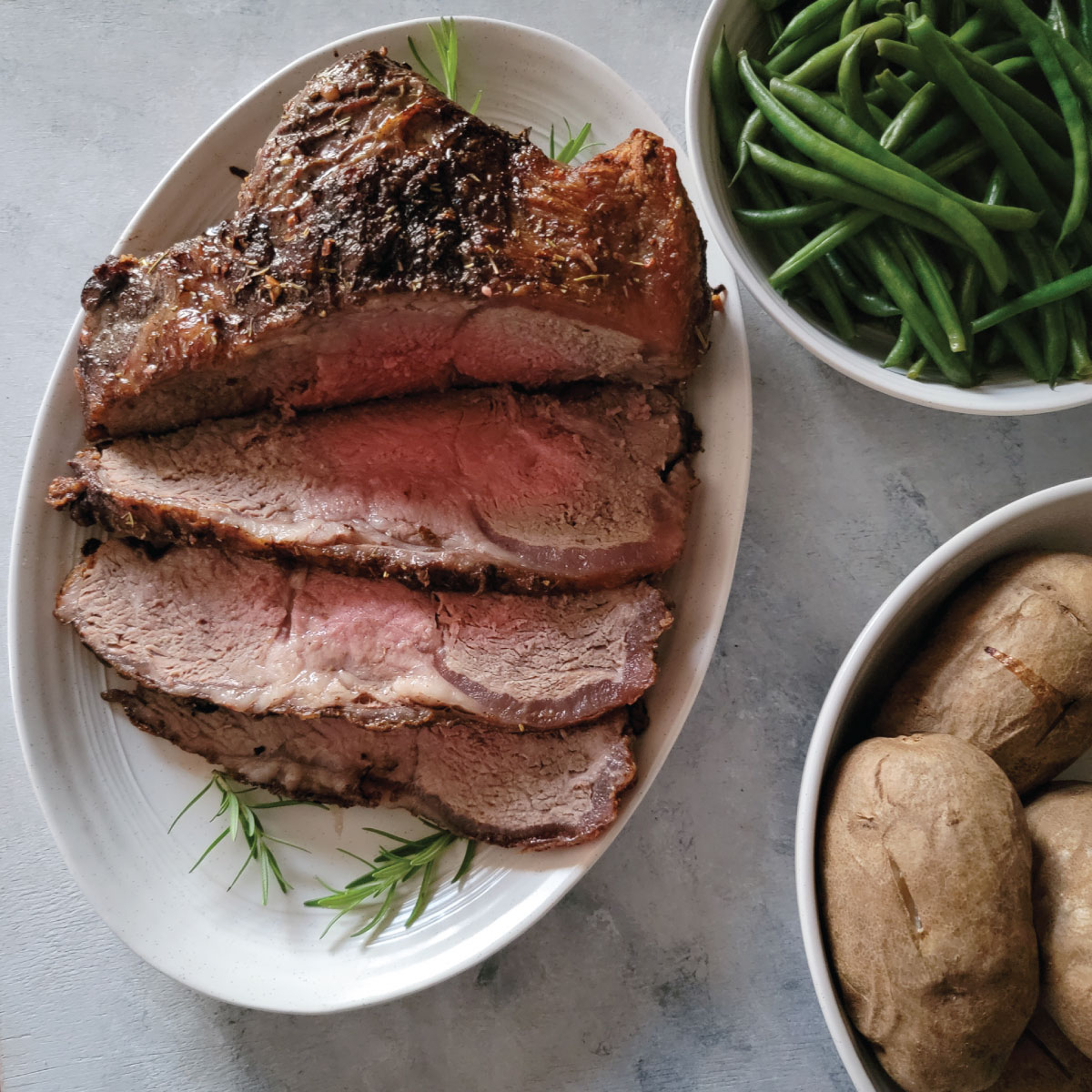 Do you enjoy a good roast beef for the holidays? We have two favorites here, this roast and the other is well none other then prime rib. This is even great for Thanksgiving dinner, but we still enjoy our lemon rosemary roast turkey.
They are both amazing cuts of meat, but have minor differences.
Jump to:
Which is better strip loin roast or prime rib?
The strip loin roast, also goes by NY strip roast, is a boneless roast that is very popular due to it's flavor and how tender it is. It is a part of the short loin section of the cow.
We do make this one more often due to how tender it is and how much flavor it has. You can cook it to medium well and still be tender. It is also quite often a little bit cheaper due to being boneless. Still an expensive roast, but weighs less.
Around the holidays stores usually put them both on sale for the same price per pound - the prime rib will cost more as it weighs more.
Prime rib has a lot of flavor but it is not quite as tender as the strip loin. We make it every year for Christmas so it isn't a tough cut of meat, just not quite as melt in your mouth tender.
It is from the rib section of the cow and it tends to have more marbling in it then other cuts.
Ingredients
We keep the ingredients simple here and do not use a marinade. The spices are simple and create the perfect flavor!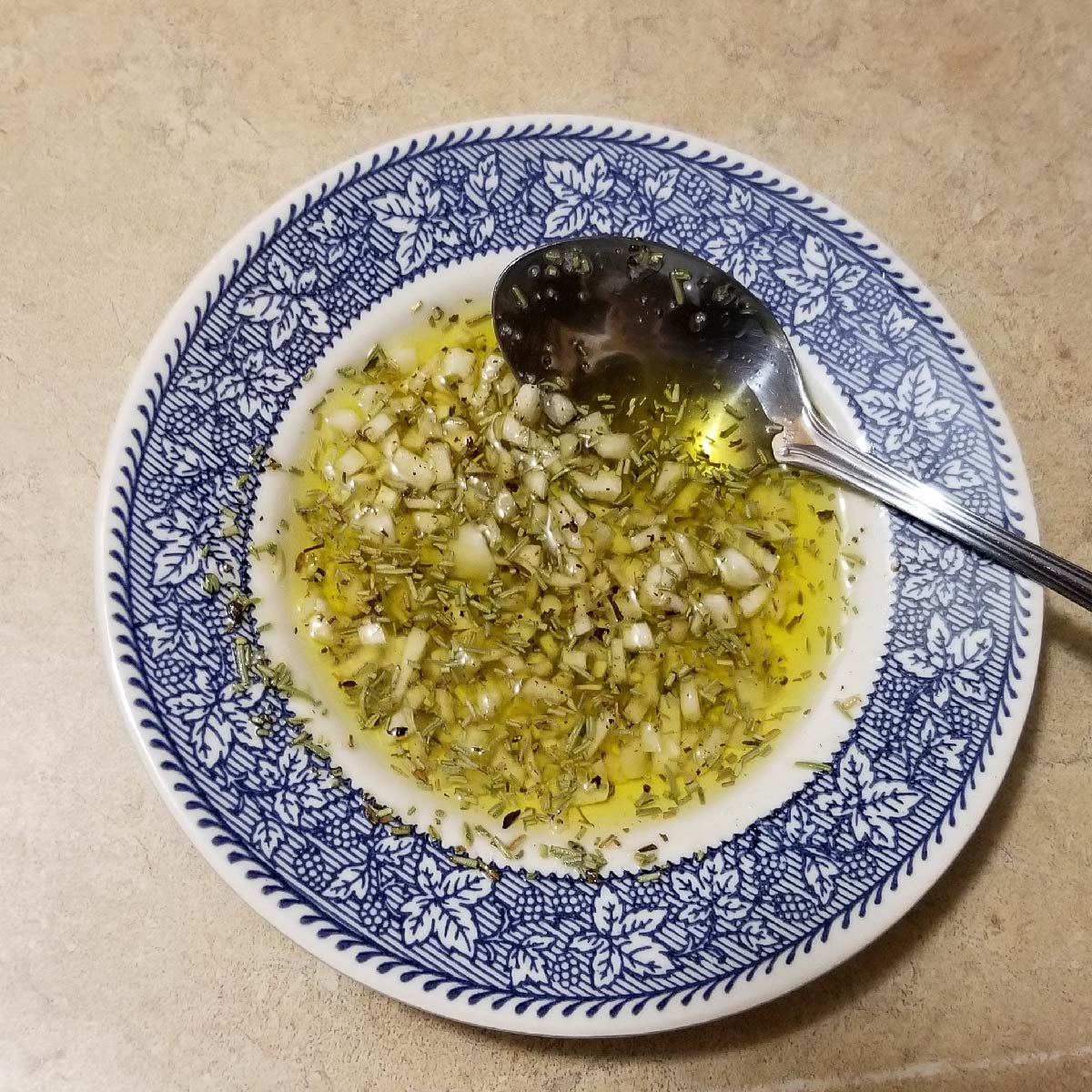 New York strip roast - Size will vary but if you go up to or over 5 pounds, you will need to add a little extra seasoning and oil to coat it.
Olive oil - You can change the oil to your favorite, but we do recommend olive oil for it doesn't have an overwhelming taste on foods.
Garlic - Chopped fresh garlic is best. You can use garlic powder if needed, but fresh will give you the best flavor.
Salt - The salt is needed to bring the flavors of the spices together as well as bring the flavor of the roast beef out. I do not recommend leaving it out.
Pepper - You can leave this out, but it does give it a nice flavor. You can also add more then the recipe calls for!
Rosemary - We use dried for this but you can use fresh. If using fresh, chop up the leaves to about one quarter inch size and use 2 teaspoons. We used fresh rosemary for the garnish, but dried for cooking.
Some important tips for cooking
It is easy to cook but these are some tips to help you cook the perfect roast beef every time.
Prepping the NY strip roast - Take your roast out of the fridge. Set on a plate or a dish on the counter for at least 30-60 minutes before cooking, depending on the size. 3 pound roast is 30-40 minutes. Over 5 pounds would be 60 minutes.
Combine your spices with the olive oil and let the combination sit in a prep bowl while the roast is sitting out.
After the roast has sat out for 30-45 minutes, rub the spice/oil mixture all over the meat just before putting in the oven.
Place it on a roasting pan fat side up. We use the rack to the pan, but you can place it directly in the pan. I love this roasting pan and use it for everything, including a 22 pound turkey. I like to use a thermometer with a probe inserted into the center of the meat so I can keep an eye on the temperature of the roast without opening the oven.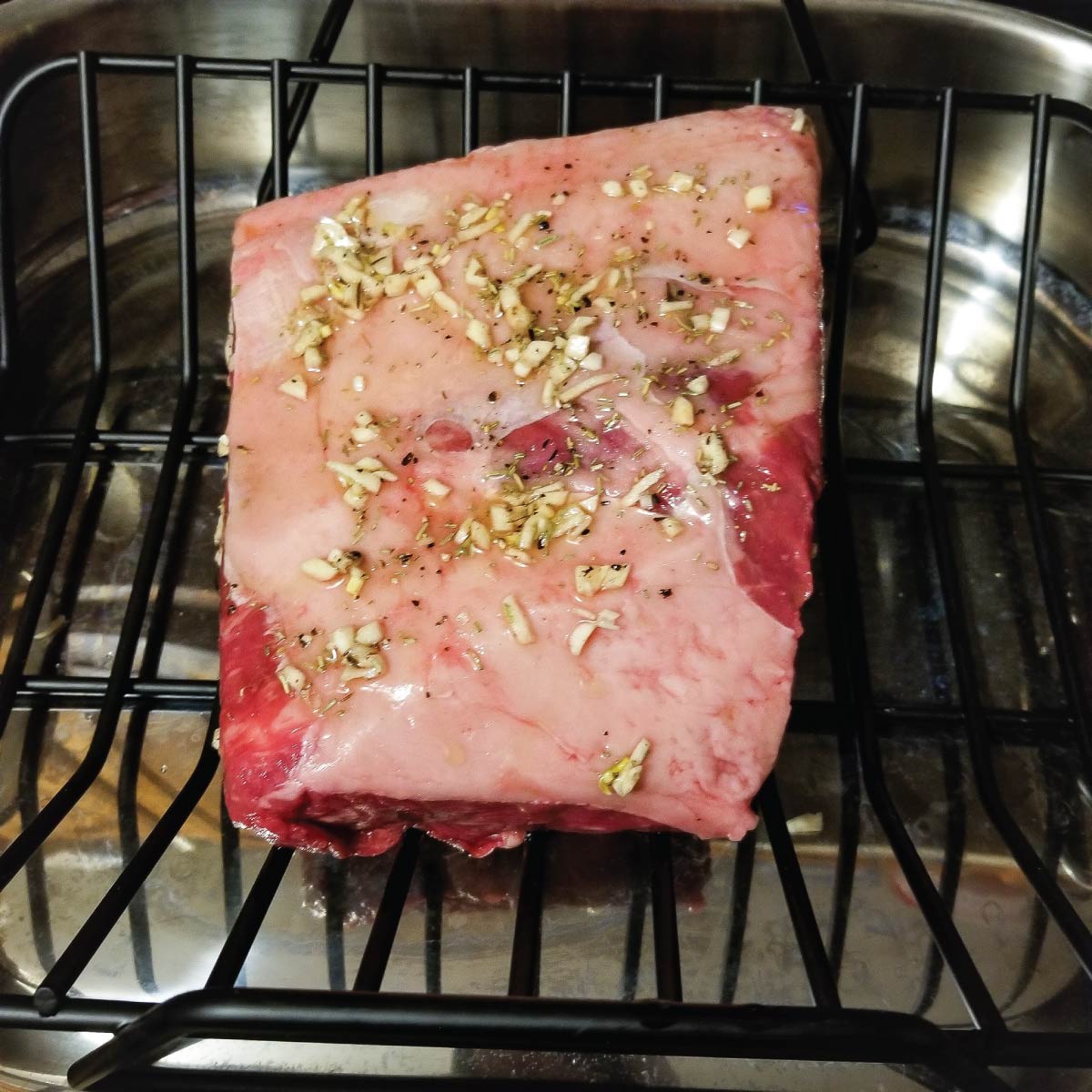 Cooking - Preheat your oven for at least 20 minutes to be sure it is up to temperature. It needs to be at 425 degrees Fahrenheit to sear the outside of the meat before reducing the temperature.
If you have a roast feature with a fan on your oven, use that feature! You will need to lower the temperature to 325 instead of 350 when you drop the temperature, but it is a great feature for cooking roast beef.
Be sure to use a meat thermometer to test the temperature and remember that it will raise about 5-10 degrees upon resting.
Allow to rest - Allow meat to rest after removing from oven. Cover loosely with foil. Allow it to sit for about 20 minutes before cutting. Always cut against the grain.
Can I cook a strip loin roast on the grill?
Yes you can and it is perfect when you want roast beef in the middle of summer! It turns out just as amazing as in the oven too. I do recommend getting a thermometer that you can leave in the meat while it is cooking like this meat thermometer. You leave the probes in and can look at the temperature without opening the grill. They have bluetooth and others that you can check from your smart phone, but they are a bit more expensive.
Heat your grill up to about 425 degrees Fahrenheit with all burners on. Place fat side down in the middle of the grill for about 5 minutes with the lid closed. Flip and close the lid. Turn the middle burner off so you finish cooking on indirect heat. Try to get your grill to about 350 degrees Fahrenheit. It should take about 10-15 minutes a pound, but grills do vary slightly.
Cook until about 5 degrees from desired temperature and allow to rest loosely covered with foil before cutting.
What goes well with a roast?
Easy thin gravy
Want to make a simple thin gravy to compliment your New York strip roast? It is easy and delicious! I don't serve it with regular gravy and quite often we don't even make any gravy, but I do make this when serving it with mashed potatoes. Love gravy on the mashed potatoes!
This is a simple base thin gravy. You can add seasonings if you would like! If you are looking to make a thicker gravy, Platter Talk has a great post to help you with how to make a roux for your gravy.
Add any drippings from the NY strip roast left in the roasting pan (not the juice from cutting it) to a pan along with beef broth. Bring to a boil over medium/medium high heat. Stir cornstarch and water together in a cup. Slowly pour it into the pot while stirring constantly until combined well - this prevents lumps. Continue to cook over medium heat for about 5 minutes stirring often. If you prefer to have a thicker gravy, add more cornstarch and water. Your gravy should be ready to serve at this point.
Frequently asked questions
How many pounds of strip loin roast should I make?
I would recommend between half a pound and three quarters of a pound per person.
What are the temperatures my NY strip roast should be cooked to?
Temperatures will rise about 5-10 degrees after removing from oven so take it out about 5 degrees before reaching desired temperatures. The USDA recommends roast beef and steaks to be cooked to 145 degrees. All temperatures are in Fahrenheit.
Medium rare - 135 degrees
Medium - 145 degrees
Medium well - 150 degrees
Well done - 160 degrees
Should I trim the fat off?
I do not trim the fat off as I like the flavor it adds. If your roast has more then a quarter inch of fat on top, you may want to consider trimming it down a little bit. This is up to you but I recommend leaving at least some of the fat on top.
Useful items for making this recipe
As an Amazon affiliate, we may earn a commission if you purchase through one of our links. This is at no extra cost to you.
Roasting pan - Doesn't have to be this big but it comes in handy to have a large one. It's the only one I use. I prefer to have one roasting pan that I can use for large turkeys or smaller roast beef instead of multiple pans. This isn't the cheapest roasting pan, but it has lasted me longer then any other and is still in great shape!
Digital thermometer - This is the thermometer I bought a few months ago and absolutely love it. You can use it as a quick read or use the probe so you can keep an eye on the temperature of the roast as it cooks without taking it out of the oven.
Oven thermometer - To be sure your oven is at the right temperature.
Recipe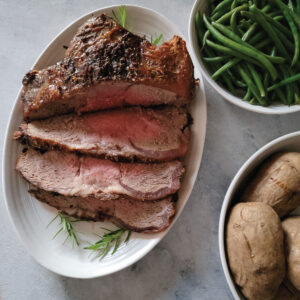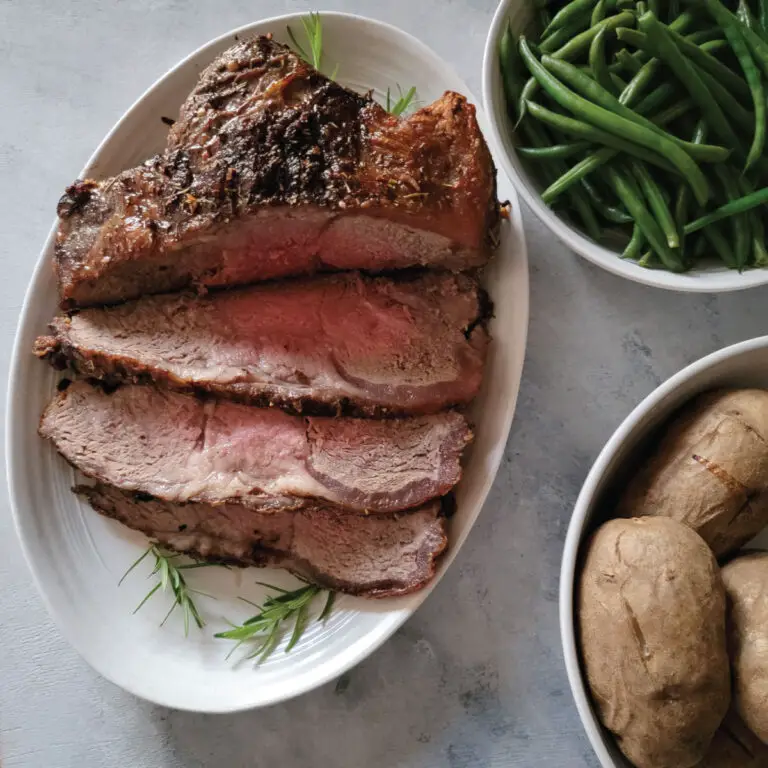 New York Strip Roast
New York strip roast is an amazing cut of meat that is tender and very flavorful. It is easy to prepare and this roast will be the perfect part of your holiday dinner.
Ingredients  
3½

pounds

New York strip roast

or size of choice

2

Tablespoons

olive oil

3

garlic cloves

chopped

1

teaspoon

salt

¼

teaspoon

pepper

ground peppercorns recommended

1

teaspoon

rosemary

dried recommended
For a Thin Simple Gravy (optional)
2

Tablespoons

drippings from roast

2

cups

beef broth

1

Tablespoon

cornstarch

1½

Tablespoons

water
Instructions 
Prepare about an hour before cooking - In a small bowl mix the olive oil, chopped garlic, salt, pepper and dried rosemary together. Allow it to sit in a prep bowl until just before going in the oven - do not add to roast right away.

Bring the roast out of the fridge and allow it to sit out for about 30-60 minutes before cooking (depending on size.) 3½ pounds would be about 30-40 minutes. Over 5 pounds would be 60 minutes.

Preheat oven to 425° Fahrenheit. Turn oven at least 20 minutes before baking to be sure it is at the right temperature.

Once the roast has sat out for long enough, evenly spread all of the oil/seasoning mix over your strip roast - cover all sides.

Place the roast in a roasting pan on a rack with the fat side up.

Place on a rack in the middle of the preheated oven. Set the timer for 15 minutes. If you are using convection, set it for 10 minutes.

After the timer goes off:

Set the temperature to 325° Fahrenheit (but do not open the oven door) and continue to bake for about 15-20 minutes a pound. For convection 10-15 minutes per pound.

Use a thermometer to check the temperature.

For medium, a thermometer should read about 135-140 when removing from oven and for well done (tho I have never cooked mine to well done) should read 150-155. The temperature will continue to rise while resting.

When the roast is ready, remove from oven. Cover loosely with foil and allow to rest for about 20 minutes before cutting.

Cut it against the grain.
Optional Thin Gravy
Add any of the drippings that were left in the roasting pan to a sauce pot. Pour in the beef broth and bring to a boil over medium high heat.

Mix together the cornstarch and water in a cup. Slowly stir into the pot while stirring constantly to prevent clumps. Cook for about 5 minutes stirring often, almost continuously. Your gravy will be ready to serve.
Notes
The nutritional values and serving sizes are estimated.  A 3 and a half pound roast here feeds about 5 people but typically you want about half a pound per person.
Please note that we make this at a very low altitude, please adjust accordingly.
The gravy here is a very basic thin gravy.  It is easy to prepare and compliments the meat perfectly.  You might want to add other seasonings to your gravy or you may choose not to make any.  We don't often make gravy for the meat but like it on potatoes.  Strip loin roast does not need gravy to be good.
You can remove some of the fat on the top of the roast before cooking, but I recommend leaving it on unless it is over one quarter of an inch thick.
If your oven has a roast feature with the fan, use that for this roast and follow the convection cook times.
Nutrition
Calories:
377
kcal
Carbohydrates:
2
g
Protein:
58
g
Fat:
14
g
Saturated Fat:
4
g
Cholesterol:
146
mg
Sodium:
697
mg
Potassium:
1068
mg
Sugar:
1
g
Vitamin C:
1
mg
Calcium:
56
mg
Iron:
5
mg
For step by step slide instructions - New York strip loin roast.