New York strip roast is a very popular cut of meat for how tender it is and the flavor is amazing. It is very easy to prepare with a mix of spices and a little oil rubbed on it just before baking. No marinating and nothing complicated.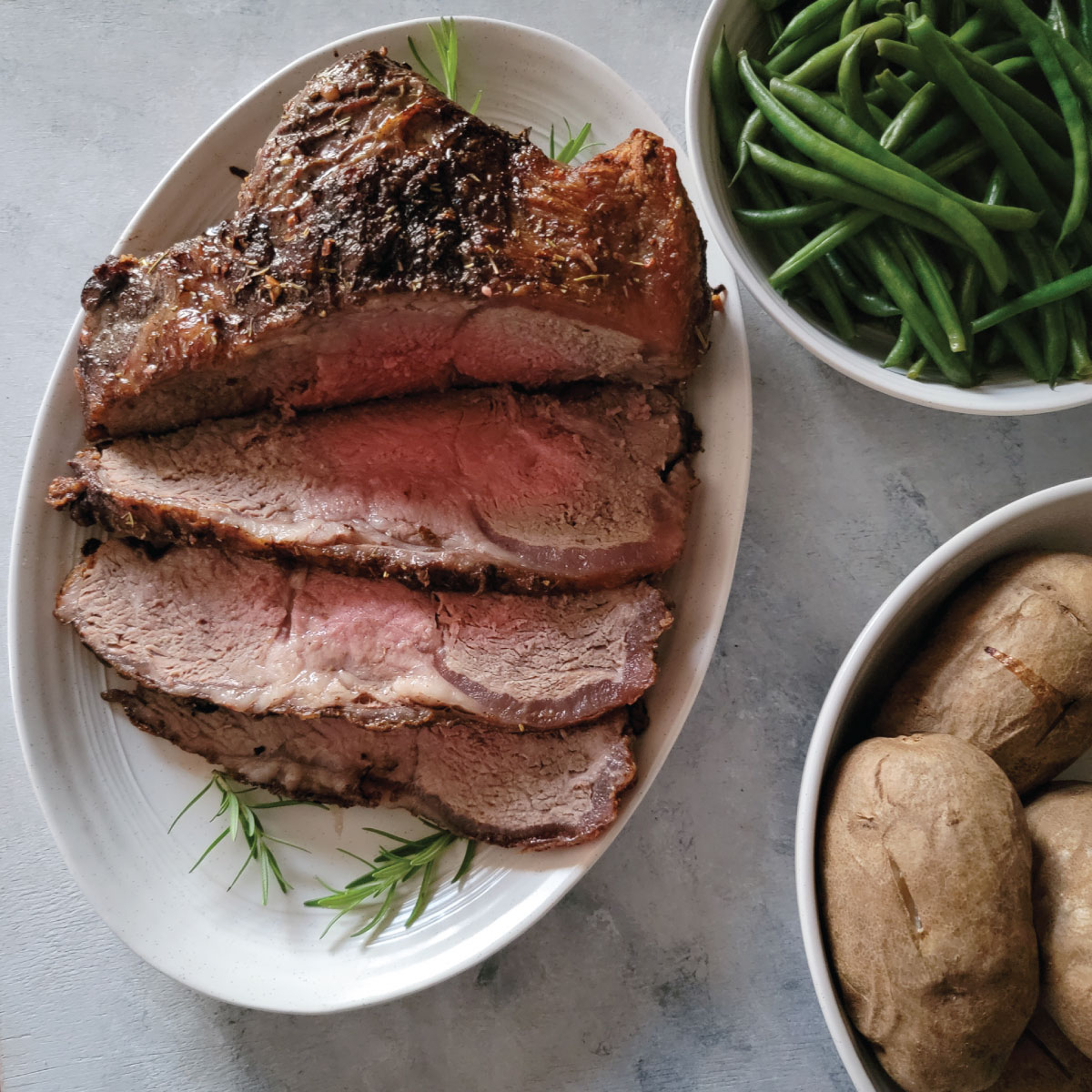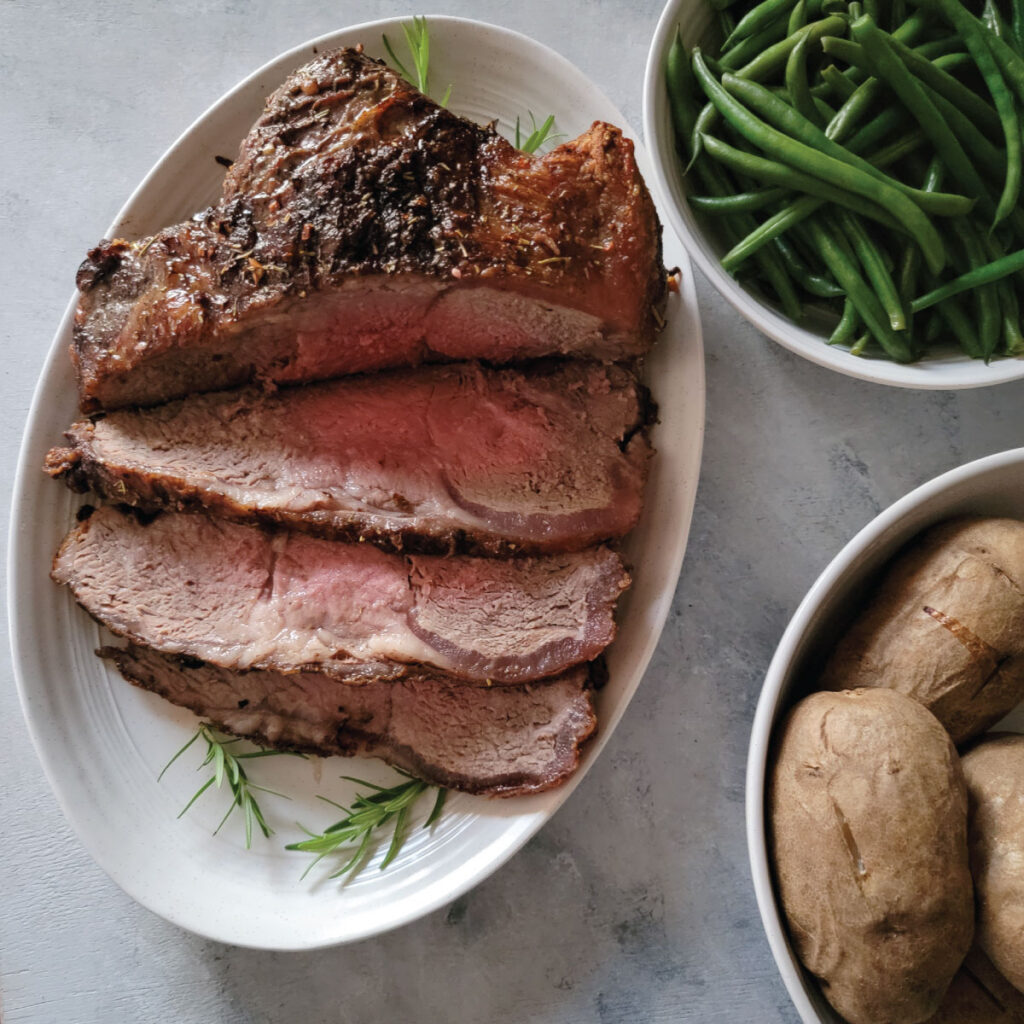 Do you enjoy a good roast for the holidays? We have two favorites here with one of them being the New York strip roast and the other is well none other then prime rib.
They are both amazing cuts of meats and there are minor differences with them. The strip roast, also goes by NY strip roast, is a boneless roast that is very popular due to it's flavor and how tender it is. It is a loin roast so it is in the most tender section of the cow.
What goes well with a roast?
How to cook a strip roast
It really is one of the easiest things to make. Being it is naturally a tender cut of meat, there isn't a big science and no marinade to make it tender.
Prepping the roast
This is a simple step but it is an important one. Depending on the size, you will want it to sit out for at least 30 minutes before cooking. This is so it cooks evenly and isn't cooked on the outside but cold on the inside. Some people preseason the meat and let it sit in the fridge, I do not do that and I advise against it with this cut.
Take the meat out of the fridge and let it sit out for at least 30 minutes to no longer then an hour. If your roast is 5 pounds, 45 minutes to an hour. If it is 3-4 pounds, then about 30-40 minutes. In a small dish combine your garlic, salt, pepper, rosemary and olive oil (or oil of your choice but we recommend olive oil.) Preheat oven to 425 F.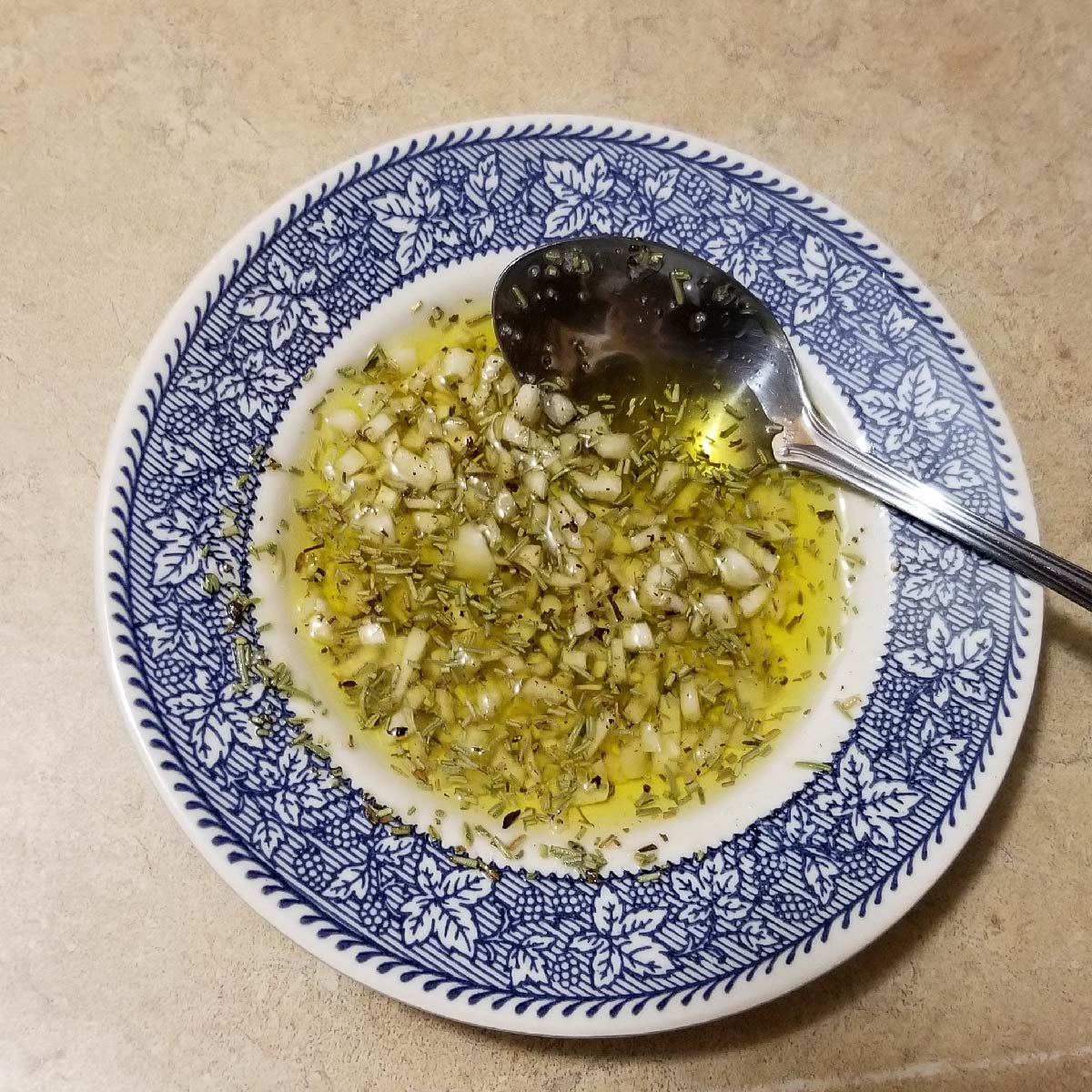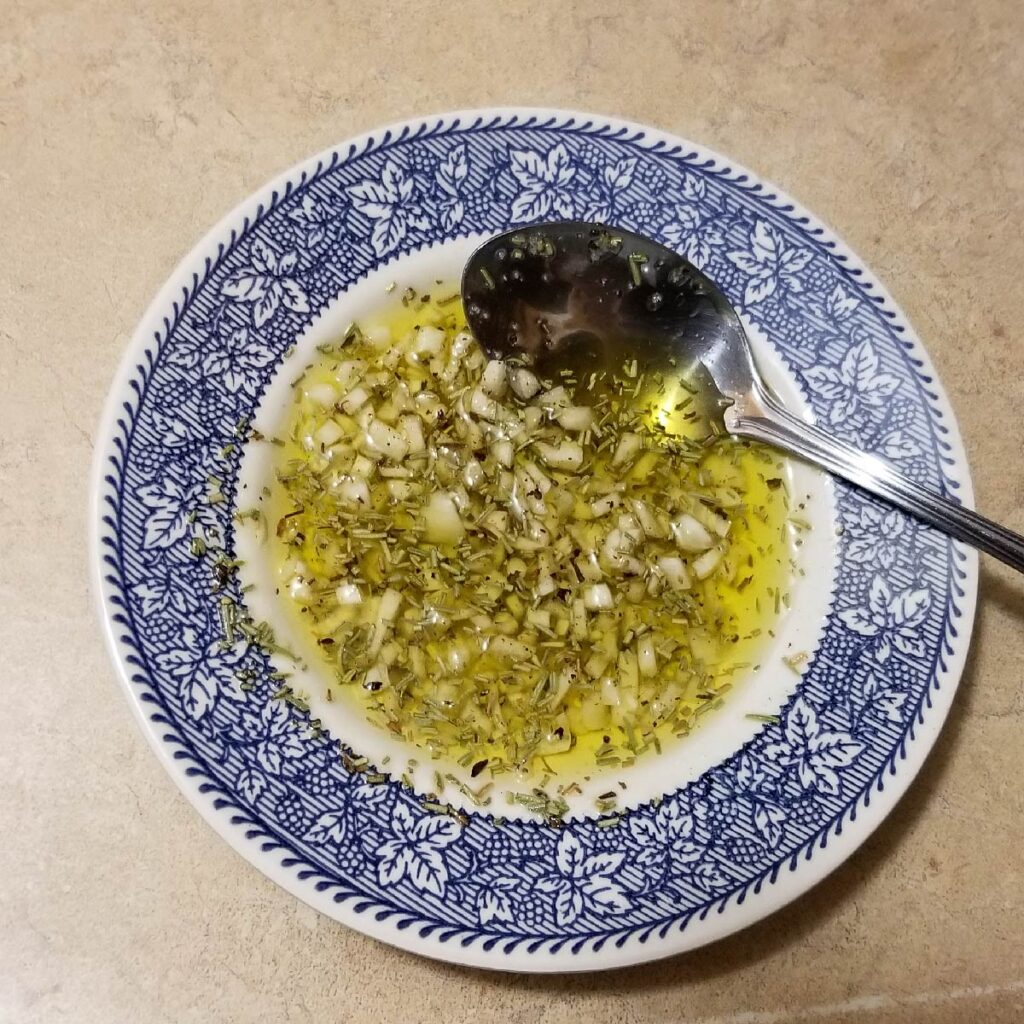 Let the seasoning mix sit just like that until just before you are putting it into the oven. I have tried preparing this many ways and I have found this to be the most flavorful while remaining tender. You could also rub the oil all over the roast and then add the other ingredients as a dry rub, but this way is so much better! Your oil will pick up the flavor of the garlic so it helps to distribute it evenly across the meat.
Before placing in the oven, spread the oil and spice mix all over the roast. Be generous with it and use it all evenly over it. Place it fat side up on a rack in a roasting pan. Never mind the size difference between my pan and strip roast - I love this roasting pan and use it for everything, including a 22 pound turkey.
Ready for the good part? Well the next best part besides eating it because it smells so good when it is cooking 🙂
Into the oven
You want to sear your New York strip roast in the oven before the longer baking. Place the roast in the oven preheated to 425 F. This gets baked uncovered. Set your timer for 15 minutes and then reduce temperature to 325. Continue cooking for about 20 minutes per pound for medium. Ovens vary so you need to check the temperature before removing.
Using a meat thermometer, test the temperature and remember that it will raise a few more degrees upon resting. For medium you will want it to read 140-145 in the middle of the roast just before serving. You will take it out between 130-135 so it rises to the desired temperature before serving for medium. I have never eaten mine well done, but the temperature would be around 155-160.
For this post, it was removed around 125 for a medium rare so you have an idea of the level of done you would like.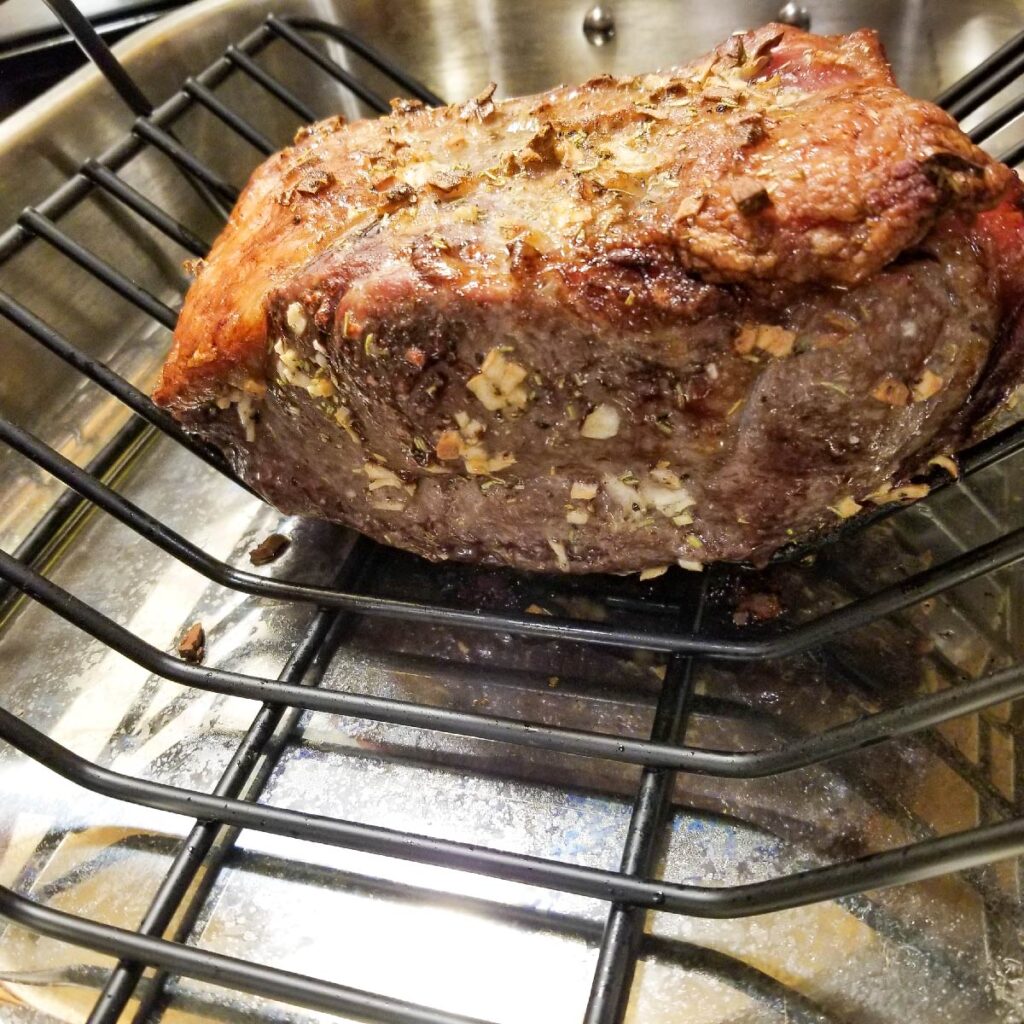 See how browned the outside got here? That was just from the searing. It is really cooked to medium on the inside with an amazing crusted flavor on the outside.
Once removing from the oven, it needs to rest for 20-30 minutes before cutting. This allows the juices to evenly distribute back into the roast so you will have a tender meal. I remove it from the pan and place it on either a cutting board or serving plate - we cut ours on the serving plate so we keep it in the juices. Cover it loosely and allow it to rest. After resting you will cut across the grain, not with it.
The perfect gravy
Want to make a simple gravy similar to au just to compliment your New York strip roast? It is easy and delicious! I don't serve it with regular gravy, but this version of au jus is the perfect one to bring to the table. Au jus is usually just the drippings and many times it has other stuff added like garlic or wine (I have seen many ways.) This one is simple yet elegant. This is a base gravy, add any seasoning you like to it. If you are looking to make a thicker gravy, Platter Talk has a great post to help you with how to make a roux for your gravy.
Do you see the purple stuff on the plate? I was at the store buying the stuff for this meal and in the potato isle I saw purple sweet potatoes on sale. Yes, purple sweet potatoes! We had to try them and they were delicious as a mashed potato.
Making this version of au jus is very simple. You will need beef broth as you will not have enough drippings to make it. Do not dispose of the drippings tho, you will use what you have. Mine was only about 2 tablespoons or so.
Add any drippings from the NY strip roast left in the roasting pan (not the juice from cutting it) to a pan along with the broth. Bring to a boil over medium/medium high heat. Stir cornstarch and water together in a cup. Slowly pour it into the pot while stirring constantly until combined well - this prevents lumps. Continue to cook over medium heat for about 5 minutes stirring often. If you prefer to have a thicker gravy, add more cornstarch and water. Your gravy should be ready to serve at this point. Enjoy!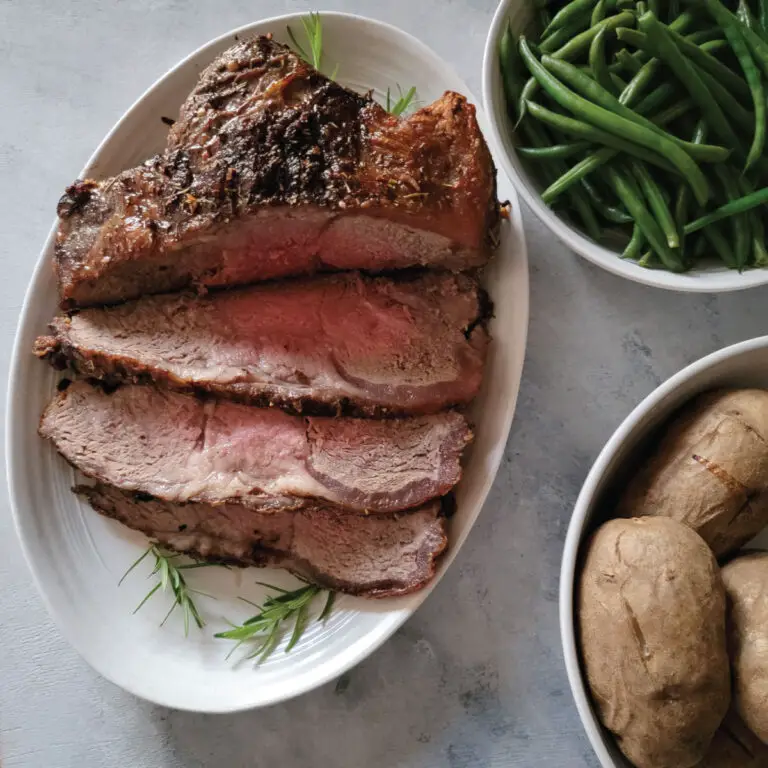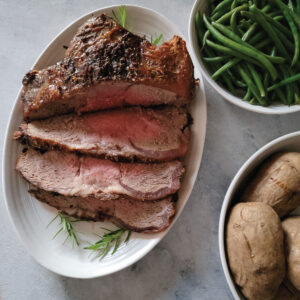 New York Strip Roast
New York strip roast is an amazing cut of meat that is tender and very flavorful. It is easy to prepare and this roast will be the perfect part of your holiday dinner.
Ingredients
3½

lb

New York strip roast

or size of choice

2

tbsp

olive oil

3

garlic cloves

chopped

1

tsp

salt

¼

tsp

pepper

ground peppercorns recommended

1

tsp

rosemary

dried
For a Thin Au Jus Like Gravy (optional)
2

tbsp

drippings from roast

2

cups

beef broth

1

tbsp

cornstarch

1½

tbsp

water
Instructions
Bring the roast out and allow it to sit out for about 30-60 minutes before cooking (depending on size.) 3½ pounds would be about 30-40 minutes.

Preheat oven to 425°F. In a small bowl mix the olive oil, chopped garlic, salt, pepper and dried rosemary together. Allow it to sit on the counter until just before the roast is going in the oven.

Once the roast has sat out for long enough, evenly and generously spread the oil/seasoning mix all over your strip roast. Use it all.

Place the roast in a roasting pan on a rack with the fat side up.

Place into preheated oven and set the timer for 15 minutes. If you are using convection, you can do 10 minutes. Without opening the oven, turn the temperature down to 325 and continue to bake for about 20 minutes a pound.

For medium, a thermometer should read about 130 when removing from oven and for well done (tho I have never cooked mine to well done) should read 150-155. The temperature will continue to rise while resting.

When the roast is ready, remove from oven. Remove the roast from the pan and place it where you will be cutting it (cutting board or serving platter.) Cover loosely with foil and allow to rest for about 20-30 minutes before cutting.

Cut it against the grain and you will have an amazing dinner!
Optional Thin Gravy
Add any of the drippings that were left in the roasting pan to a sauce pot. Pour in the beef broth and bring to a boil over medium high heat.

Mix together the cornstarch and water in a cup. Slowly stir into the pot while stirring constantly to prevent clumps. Cook for about 5 minutes stirring often, almost continuously. Your gravy will be ready to serve.
Notes
The nutritional values and serving sizes are estimated.  A 3 and a half pound roast here feeds about 5 people.
The gravy here is similar to a quick and easy au jus but more basic then that.  It is easy to prepare and compliments the meat perfectly.  You might want to add other seasonings to your gravy, but we like it just like this.  I use all of the drippings in the gravy.
You can remove some of the fat on the top of the roast before cooking, some people prefer to.  We choose to leave it on top as we feel it gives it more flavor and tenderness.
Nutrition
Calories:
377
kcal
Carbohydrates:
2
g
Protein:
58
g
Fat:
14
g
Saturated Fat:
4
g
Cholesterol:
146
mg
Sodium:
697
mg
Potassium:
1068
mg
Sugar:
1
g
Vitamin C:
1
mg
Calcium:
56
mg
Iron:
5
mg