Prime rib is a flavorful and tender cut of meat making it the ultimate holiday roast beef! It's easy to make with just a few common spices and a little bit of oil. No marinating and your guests will love it.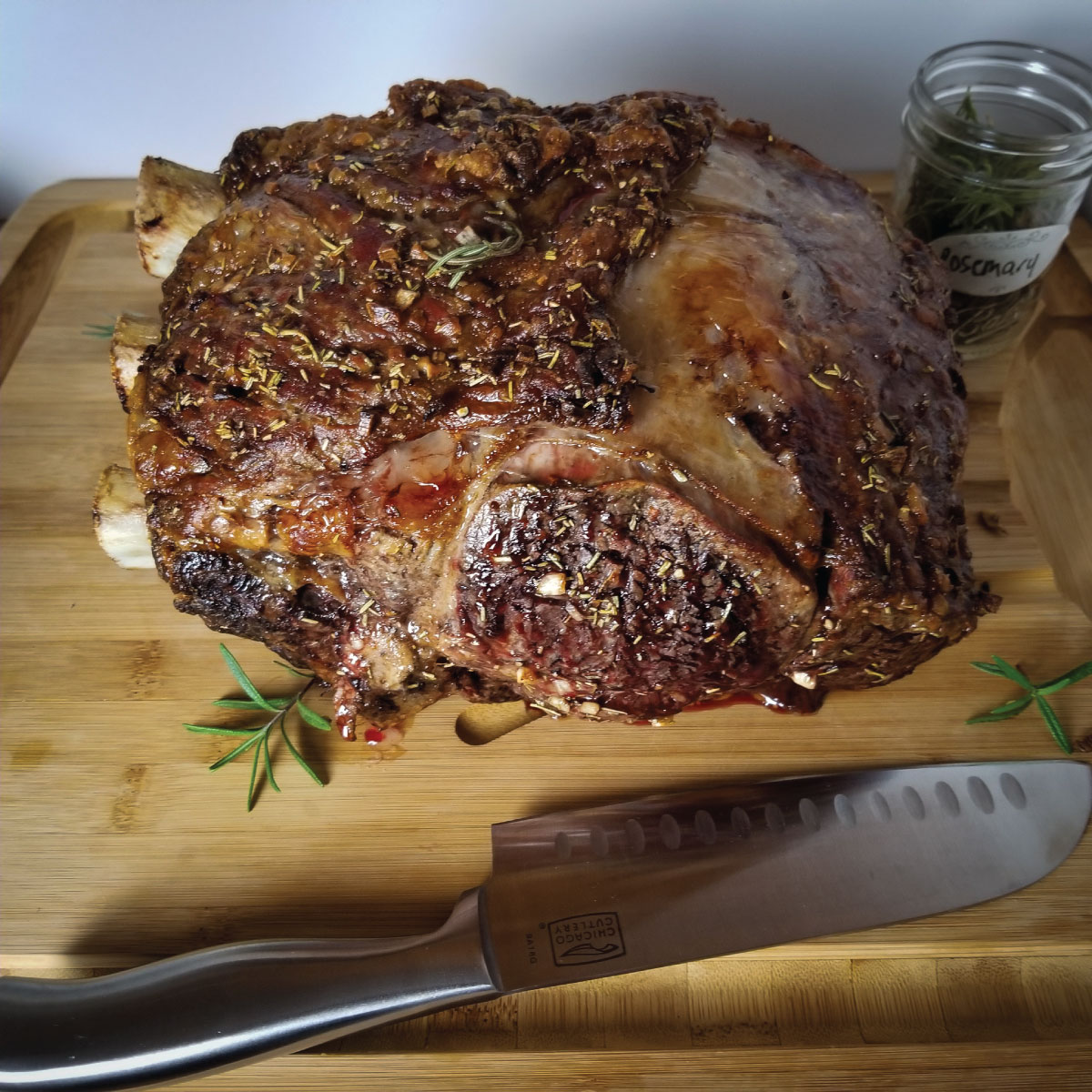 For years I was afraid of making prime rib because I was always afraid of messing up a very expensive cut of meat. The first time I made one was in 2013 and it has since been a tradition for Christmas Day every year!
Now don't let this amazing cut of meat intimidate you like I used to. It really is so easy to cook to perfection!
Prefer a super tender and great flavor roast without bones? We have a delicious New York strip roast recipe that you will love.
Jump to:
Ingredients
We keep this simple with the seasoning. The meat is a flavorful cut and you don't want to take away the taste of the meat by drowning it out with seasonings.
Prime rib - We get around a 6 pound roast but you can get the size you need, the times here are per pound. If you get bigger then 8 pounds you will want to use a little more seasoning to cover it. Note that it is often referred to by the number of ribs, especially if you are ordering one ahead of time. 6 pounds is 3-4 bones.
Olive oil - This is the preferred oil here, it adds very little flavor without overpowering any flavors. You can use your favorite oil, but olive oil is the one we recommend.
Garlic - You want to use fresh chopped cloves. I do not recommend the minced garlic from a jar. It has a different taste and it won't brown the way fresh garlic does.
Rosemary - Dried is recommended. You can use fresh if you prefer - it will be about 3 teaspoons of fresh.
Salt - Either table salt of sea salt is good. I don't recommend leaving out the salt. It brings all the flavors together.
Pepper - Fresh cracked peppercorns really add a nice flavor but if you have ground black pepper, that is good too.
Should I cook prime rib with the bones?
Yes definitely! The bones keep some of the juices in while it cooks, you don't need a roasting pan with a rack because the roast has it's own rack and the bones help add to the flavor.
If you are worried about cutting it off the bones, you can ask your butcher to cut it off the bones and then tie them on. They usually will do this for you, even when you buy it from the supermarket.
They use a kitchen twine to tie the roast back onto the bones. You would cook the roast with the twine on and cut it off when you are about to cut roast (after resting.) The roast will then be easy to lift off the bones.
I prefer to cut the bones off myself. You would cut in a slight curve along the bones - they stick out a little after cooking and they are ribs so they have a slight but easy to follow curve to them.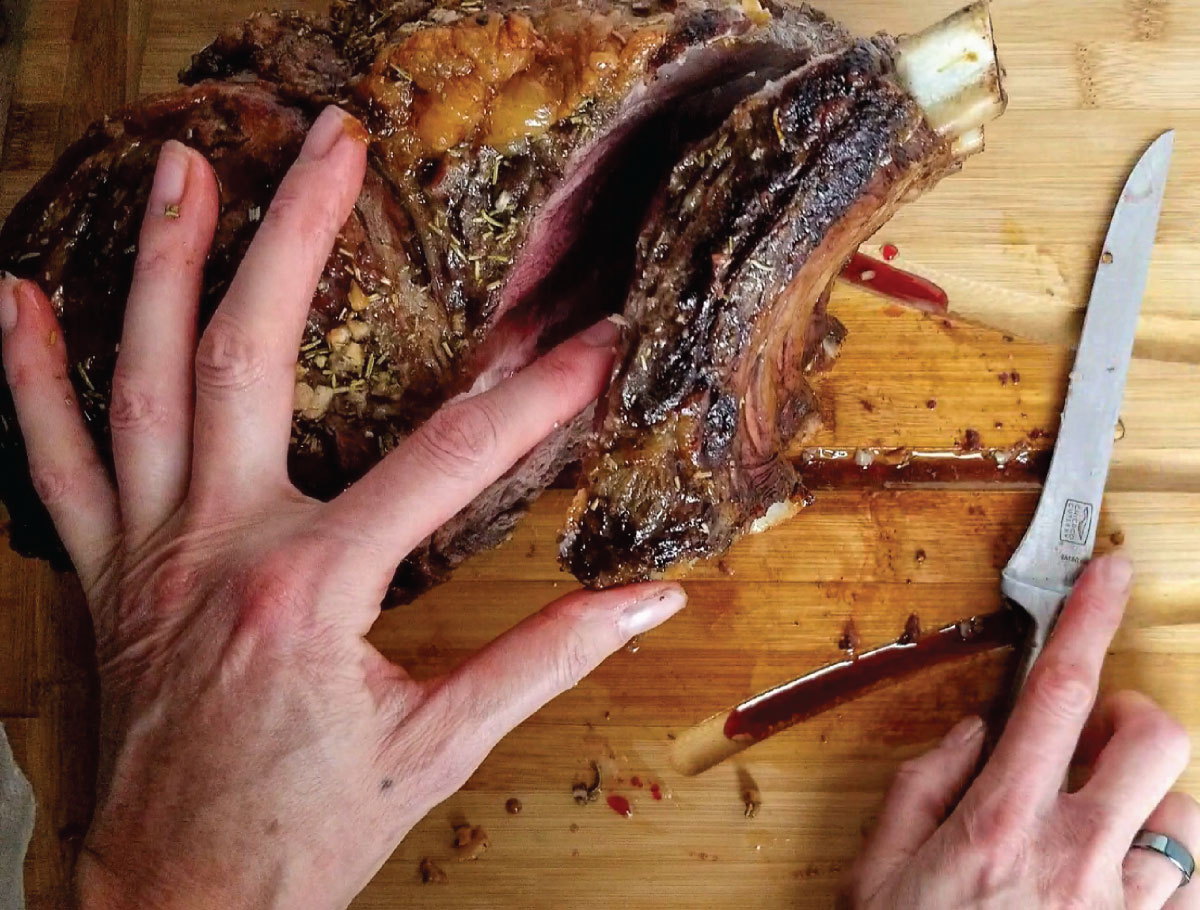 Usually the bones stick out a little bit on both ends after cooking. That makes it incredibly easy to cut, just remember there is a slight curve. If you look at the bones in the picture above you will see the curve. While some roasts have different ribs, you can tell the curve by looking at the bones you can see.
Use a sharp knife and carefully cut slowly along the curve when removing the bones.
Cook time chart for prime rib
We made this image for you with the cook times that you can use for prime rib and strip roast! You are welcome to download this chart and keep it on your device, print it out so you have it or even share it with friends and family.
You can download it from OneDrive here - cook times for roast beef. It is free for my readers and no subscribing to download it!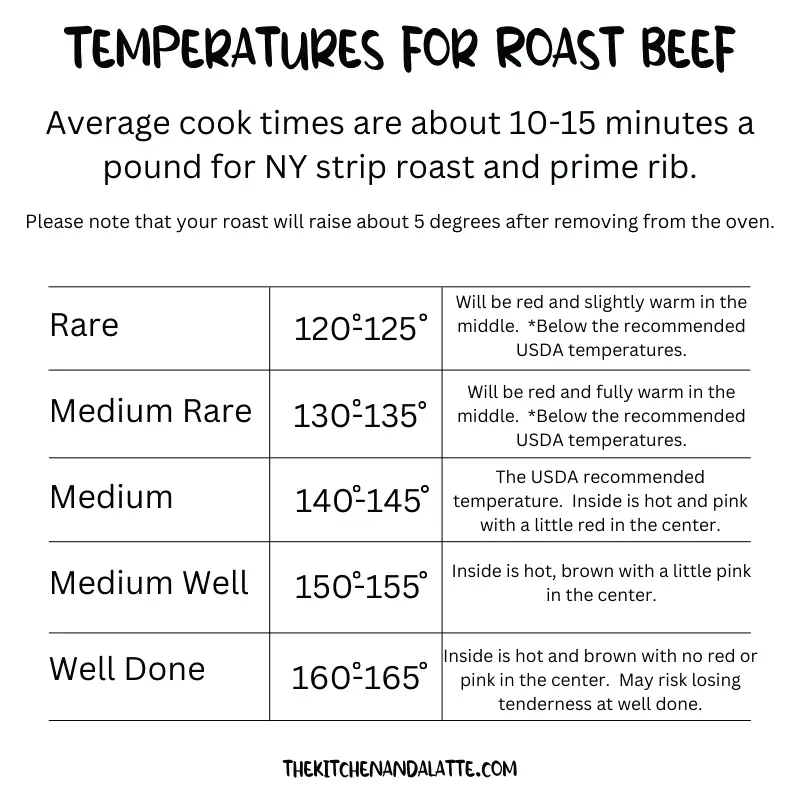 Tips for cooking the roast
This is very easy but there are a few tips I want to share with you to help you create the perfect roast beef dinner!
Prepping the meat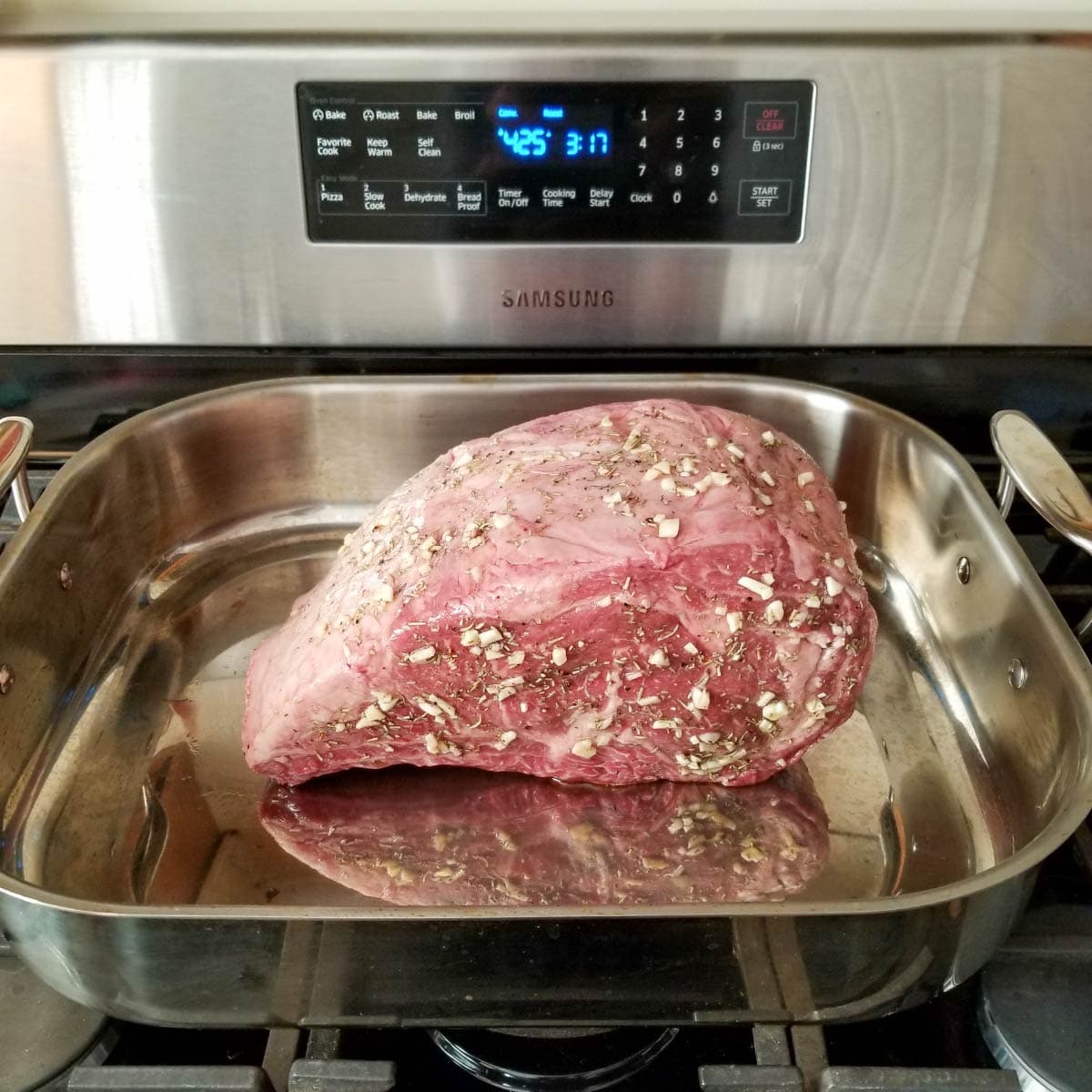 The roast should sit out of the fridge for about an hour before getting ready to go in the oven.
Why does it sit out for so long you ask? To bring it closer to room temperature. The problem is that if you bring a meat (any meat really) from refrigerator to oven you will have a cooked outside with a less cooked inside. It cooks more evenly if you let it sit out first.
Seasoning
Mix olive oil, fresh chopped garlic, salt, pepper and rosemary into a small bowl and let sit while the roast is sitting out. This gives it time for the oil to soak up flavors of your seasonings. Rub it all over the roast just before cooking.
The seasonings are best put on right before cooking for flavors and also texture.
Getting ready for the oven
One your prime rib has sat out for about an hour, it is time to coat it with the oil/seasoning mix. Do not use any rack that came with the pan, use the bones for a rack. Place it in the roasting pan bones down. It is ok if some of the roast is touching the pan.
Do NOT cover it during baking and never add water to your roasting pan. With chicken people often use a little water, but do not here. You do not want to steam the roast.
If you are using a thermometer with a probe (we usually do but it's not required), insert the probe into the center of the roast after putting the seasoning on the roast. If you do not have a probe, you will want use a regular meat/food thermometer to check the temperature after cooking.
Baking
First you want to sear the prime rib. This gets done in the oven so no worries. The oven gets turned up to 425 for 10-15 minutes. 10 minutes for convection, 15 minutes for conventional. Then the temperature gets reduced for the rest of the cook time.
You will hear sizzling during the searing time at high temps, this is perfect. It is what you want to hear! The garlic will get slightly roasted and give an amazing flavor. This also keeps the juices in the meat as it cooks the rest of the way. The result is an incredibly tender roast.
Resting and cutting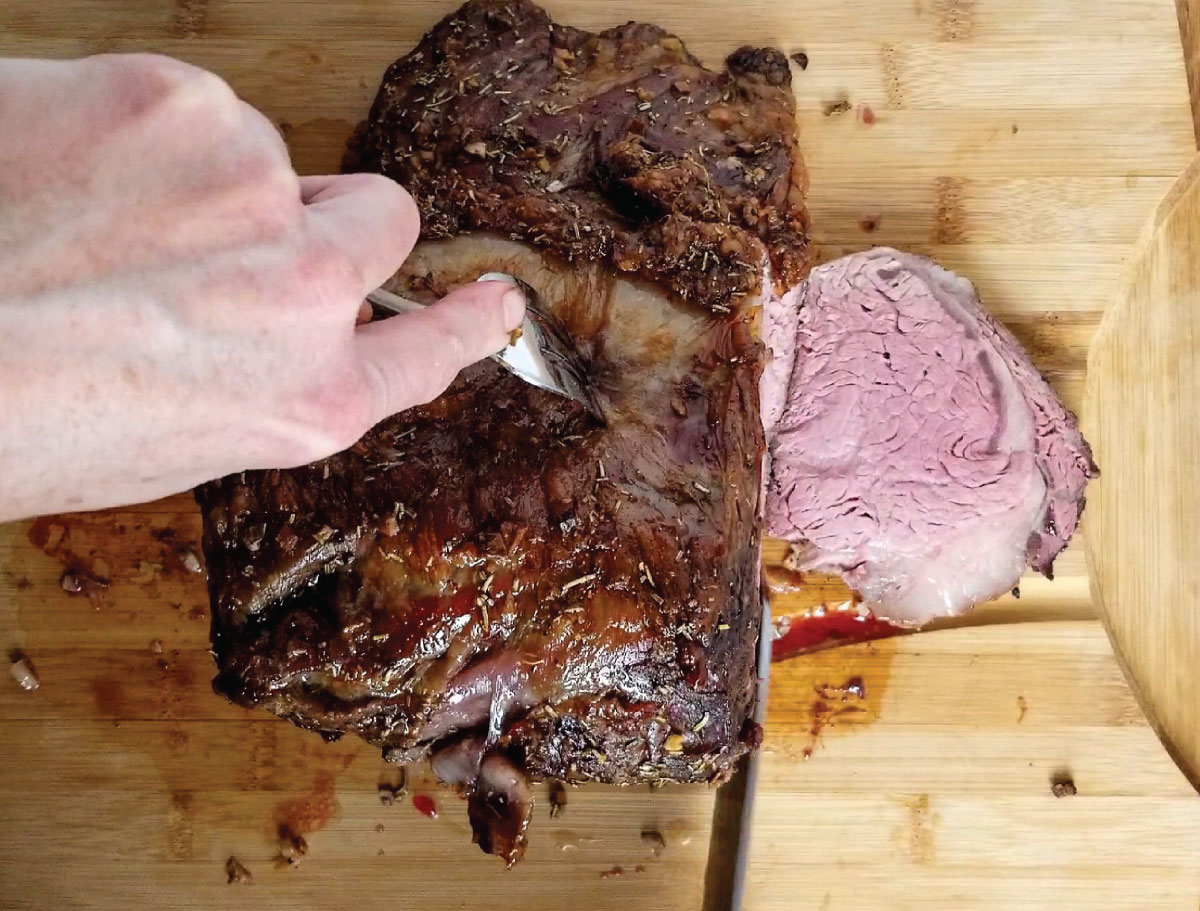 Just like other meats, this roast beef should rest before cutting. Once it comes out of the oven, it should sit for at least 20 minutes lightly covered with foil before cutting. I just place a piece of foil on top like a loose tent so some steam can escape.
If you had it cut and tied, remove the ties after sitting and just before cutting. Carefully remove the roast off the rack and place it on the cutting board. Always cut across the grain, not with it.
If you are cutting your roast off the rack, do it after resting and just before cutting.
Frequently asked questions
What does convection roast mean?
Convection roast is a great feature if you have it! It runs a fan on and off in the back of the oven to help circulate the air in the oven better. It is best for roasting meats.
Can I marinate it?
I do not recommend marinating prime rib. It is a tender cut of beef and it is also very flavorful. Marinating it will over power the flavor of the meat with seasonings.
What should the temperature be for prime rib?
Please note that the temperature will rise about 5 degrees after removing from oven. See above for a chart you can download for reference!
Rare - 120-125
Medium - 140-145
Well done - 155 and up.
The USDA recommends beef be cooked to at least 145 degrees.
As a note:
My oven has convection feature along with being a conventional oven. I use the roast setting (which has a fan) to cook my prime rib, but if you do not have a convection oven you are still going to have a great roast. First time I made it was in a conventional oven.
For conventional ovens you want to sear your roast at 425 for about 15 minutes before dropping down to 350. Continue to cook as instructed. Also take note that ovens vary and it might require a little bit longer in your conventional oven.
Check the temperature of the meat after the 10 minutes per pound time frame. It should take 10-15 minutes per pound. A meat thermometer inserted in the center of the roast (without touching bones.)
What goes well with prime rib?
Well most things do really! Classic side dishes to serve with roast beef for the holidays are sweet coleslaw, rolls, a vegetable (your favorites) and some mashed potatoes. But we also enjoy scalloped potatoes and asparagus!
Smoked Gouda Scalloped Potatoes by Pam over at Sidewalk Shoes is perfect if you like scalloped potatoes. After you sear your prime rib and drop the temperature down, place the potatoes in the oven over the roast on a top shelf. They should finish up nicely shortly after you take the roast out and so they will be done close together.
We like asparagus here, well a couple of us do haha! Asiago Bruschetta Roasted Asparagus by Michele at Flavor Mosaic and The Perfect 5 Minute Asparagus by Natalya over at Momsdish are great for anybody who loves asparagus too. Both of these would work out perfectly as you can put them in the oven at a high temp after you remove your roast. They don't take long to cook!
And don't forget the deviled eggs for the appetizer!
Recipe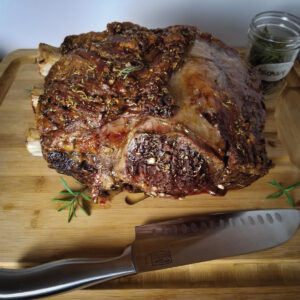 The Perfect Prime Rib
Prime rib is the perfect cut of beef for the holiday roast beef! It is tender and full of flavor making it a favorite for holidays. This is an easy prime rib recipe that will turn out perfectly tender every time!
Ingredients  
6

pound

Prime rib roast

or 1 lb per person

2.5

Tablepsoons

olive oil

4

garlic cloves

chopped

1½

teaspoons

rosemary

dried

1

teaspoon

salt

¼

teaspoon

black pepper

ground peppercorns recommended
Instructions 
Remove roast from the refrigerator and place it on the counter in the roasting pan.

Mix together the olive oil, garlic, rosemary, salt and pepper in a small dish. Allow it to sit in a bowl until just before roast is going into oven.

Allow roast to sit out on counter in the pan for at least 1 hour.

Preheat oven to 425° (convection or conventional) for a half hour to be sure it is up to temperature before placing roast in oven.

Just before going in the oven, stir your oil mix again and rub all over the roast. If you are using a thermometer with a probe, insert the probe now into the thickest part of the roast.

Place roast in the center of the oven uncovered for 10 minutes if using convection (fan) and 15 minutes if using conventional (no fan.)

Drop the temperature to 325° for convection and 350° for conventional.

Bake roast for about 10 - 15 minutes per pound.

Check temperature after the 10 minutes per pound mark. Insert the thermometer in the center without touching any bones. Remove the roast about 5° before it reaches temperature, it will continue to rise once removed from oven.

Rare 120°-125°

Medium 140°-145°

Well done 155° and up

*USDA recommends cooking roast beef to a temperature of at least 140°-145° Fahrenheit.

After removing from oven, cover loosely with foil and allow it to sit for about 20-30 minutes before cutting against the grain and serving.
Notes
These nutrition facts are estimated and will depend on many factors.  
This size of a roast is based on what we were told by the butcher - about 1 pound per person.  We get a bigger roast since we eat a lot here on holidays, but I wouldn't go any smaller then 1 pound per person.  Don't forget some of that weight is bones.  
If using a bigger roast then about 7 pounds, add a little more of the seasoning ingredients.  
We prefer to use a meat thermometer with a probe to monitor temperature as it is cooking, but this is not required.  Temperature can be checked with a regular meat/food thermometer.
Nutrition
Calories:
1377
kcal
Carbohydrates:
1
g
Protein:
62
g
Fat:
123
g
Saturated Fat:
51
g
Cholesterol:
274
mg
Sodium:
396
mg
Potassium:
1010
mg
Fiber:
1
g
Sugar:
1
g
Vitamin A:
10
IU
Vitamin C:
0.8
mg
Calcium:
42
mg
Iron:
6.6
mg