Years ago I used to buy a regular cut of beef for Christmas dinner and any other time I wanted to have a roast beef. We have enjoyed prime rib before but I was afraid to make it here up until 2013. This is mainly because it was an expensive cut of meat and every body expects it to be perfect when it is on the table. I kind of did too! But now that I know exactly how to cook prime rib, I get it every time it is on sale. And I mean every single time - darn the super market for putting it on sale more often then once a year 🙂
Don't let this amazing cut of meat intimidate you. It is so easy to cook. There are a couple simple tricks to make it perfect. Trust me, you will have an amazing roast on your table! These instructions are for bone in prime rib. This goes great with Instant Pot mashed potatoes, they are an easy way to make potatoes and you can use broth so they get the beef flavor!
Prefer a super tender and great flavor roast without bones? New York strip roast is often on sale at the same time and I have a great way to prepare that too.
The secrets of how to cook prime rib
Shh don't let this get out, but there are a couple of secrets to a perfect prime rib roast. Ok, I think I spilled the beans so you can feel free to share this post with your friends so they too know my secrets.
Secret number 1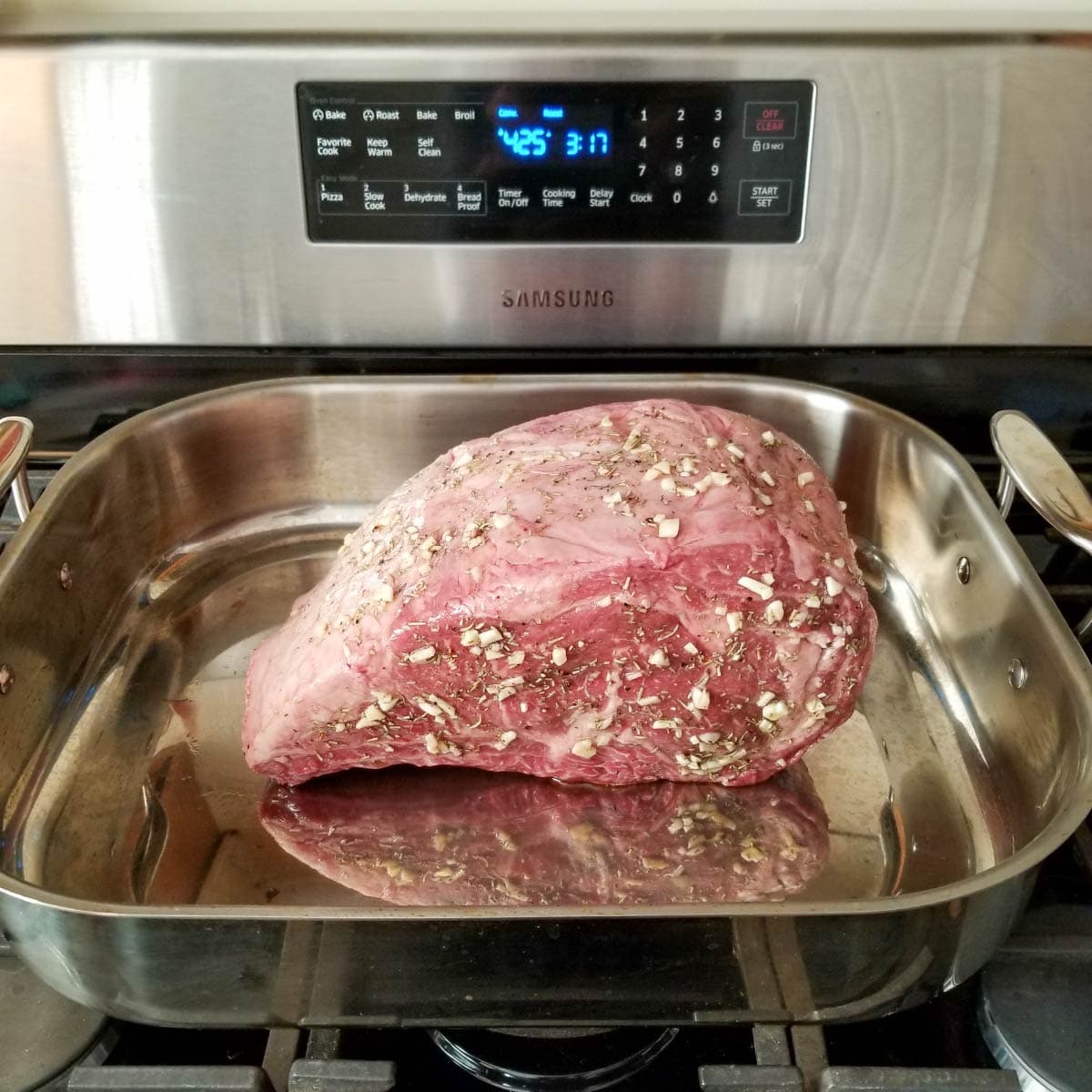 First is sitting out. Now this one freaks people out the first time they hear it, but trust me you have to do this and it is safe. And if you have a pooch, be sure to keep an eye on them - not that they would want to steal a piece of beef off the counter or anything.
I let this sit out for a little over an hour, but an hour is a good time. If you have a huge roast, you can let it sit a little longer then an hour. This was a four rib roast.
Why does it sit out for so long you ask? To bring it closer to room temperature. The problem is that if you bring a meat (any meat really) from refrigerator to oven you will have a cooked outside with a less cooked inside. You are also likely to have a tougher cut of meat by the time you get the inside cooked to the right temp.
There are two ways to season it:
Oil it down with a tablespoon of oil and a dry rub before letting it sit out - but be careful of adding too much salt too soon as it can draw moisture out of beef. I honestly haven't had it happen with prime rib, but I try not to let the salt sit for too long on it. Sprinkle the salt before cooking.
My preferred method - mix olive oil, fresh chopped garlic, salt, pepper and rosemary into a small bowl and let sit while the roast is sitting out. This gives it time for the oil to soak up flavors of your seasonings. Rub it all over the roast just before cooking.
I have cooked this amazing cut of beef both ways, but preparing an oil/seasoning mix is our favorite way.
Secret number 2
This secret is a very important one when learning how to cook prime rib. Always, and I mean always, cook your roast on it's own rack and place the roast rack down in the baking dish. Also never cover it during baking and never add water to your roasting pan.
I prefer to cut the meat off the bones myself after it is cooked, it is easier then you think. The first couple times I cooked prime rib, I asked the butcher to cut it off the bones and tie the roast back onto the rack. This is going to get you the same results so go for it if you want them to cut it! You would roast it with the ties on and cut the ties when you are ready to cut it. It will lift right off the rack.
First time you make it, it might be easier for you to have the butcher cut and tie so you know how the bones run. Then next time be daring and cut it yourself!
Secret number 3
Third secret when learning how to cook prime rib is to sear it first before cooking the rest of the way. Now this step gets done in the oven so no worries here. I turn my oven onto 425 and let it get nice and hot. My roast goes in at 425 for about 10 minutes (see notes about this) and then I drop it to 325 (do not open oven door) to continue baking for about 11 minutes a pound. We like ours medium, if you like it more well done then start with 15 minutes per pound.
You will hear sizzling during the searing time at high temps, this is perfect. It is what you want to hear! This keeps the juices in the meat as it cooks the rest of the way. The result is an incredibly tender roast.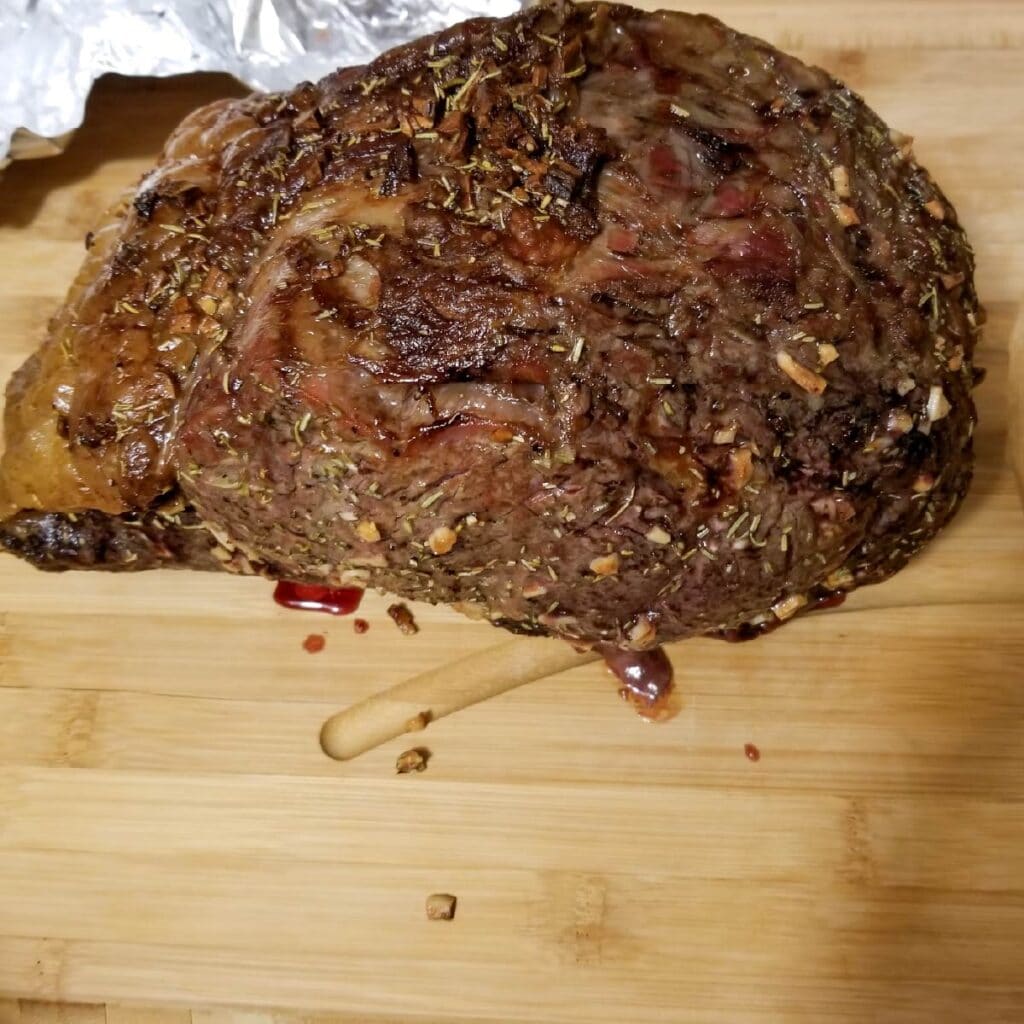 Secret number 4
This one is pretty straight forward because it goes with any meat you cook. Let it sit before cutting. Once it comes out of the oven, it should sit for at least 20 minutes lightly covered with foil before cutting. I just place a piece of foil on top like a loose tent so steam can escape.
If you had it cut and tied, remove the ties after sitting and just before cutting. Carefully remove the roast off the rack and place it on the cutting board. Cut it like you would a boneless roast at the thickness you desire. We cut ours to about inch thick slices. If you are cutting your roast off the rack, do it after resting and just before cutting.
You are now ready to enjoy an amazing dinner!
As a note:
My oven has convection feature along with being a conventional oven. My roast setting is convection so it uses the fan. I use the fan to cook my prime rib, but if you do not have a convection oven you are still going to have a great roast. First time I made it was in a conventional oven.
For conventional ovens you want to sear your roast at 425 for about 15 minutes before dropping down to 350. Continue to cook as instructed. Also take note that ovens vary and it might require a little bit longer in your conventional oven.
Check the temperature of the meat after the 10 minutes per pound time frame. It should take 10-15 minutes per pound. A meat thermometer inserted in the center of the roast (without touching bones) should read 120-125 for medium/medium rare. I have done 130 and it was still amazing there. I wouldn't go above 130-135 unless you want it well done - not recommended.
These are the take out of oven temperatures. The temperature will rise about 5-10 degrees upon standing once taken out of oven. I wouldn't serve prime rib well done unless guests have clearly stated they only like it well done. It is often served medium.
I also want to note I prefer to leave any juices that come out while cutting on the serving dish with the meat. We do not make gravy for prime rib here and I am not sure that there would be enough juices to make a little bit. You could mix a little cornstarch/water mix into some beef broth to make a thin gravy for it, that is something that goes well.
What goes well with prime rib?
Well most things do really! You can even serve sweet coleslaw with it as a vegetable. I have added a couple of my favorites to share with you as well for ideas to go along with your next holiday meal.
Smoked Gouda Scalloped Potatoes by Pam over at Sidewalk Shoes is perfect if you like scalloped potatoes. After you sear your prime rib and drop the temperature down, place the potatoes in the oven over the roast on a top shelf. They should finish up nicely shortly after you take the roast out and so they will be done close together.
We like asparagus here, well a couple of us do haha! Asiago Bruschetta Roasted Asparagus by Michele at Flavor Mosaic and The Perfect 5 Minute Asparagus by Natalya over at Momsdish are great for anybody who loves asparagus too. Both of these would work out perfectly as you can put them in the oven at a high temp after you remove your roast. They don't take long to cook!
And don't forget the deviled eggs for the appetizer!
Prime Rib
Prime rib is an amazing cut of meat. It is easy to cook and will please an entire crowd of people who like beef. This will fall apart in your mouth with tenderness.
Ingredients
6

pound

Prime rib roast

or 1 lb per person

2.5

tbsp

olive oil

see notes if using other oil

4

garlic cloves

chopped

1½

tsp

rosemary

dried

1

tsp

salt

¼

tsp

black pepper

ground peppercorns recommended
Instructions
Remove roast from the refrigerator and place it on the counter in the roasting pan.

Mix together the olive oil, garlic, rosemary, salt and pepper in a small dish. Allow it to sit in a bowl until just before roast is going into oven.

Allow roast to sit out on counter in the pan for at least 1 hour.

Preheat oven to 425° for a half hour to be sure it is up to temperature before placing roast in oven.

Just before going in the oven, stir your oil mix again and rub all over the roast.

Place roast in the center of the oven uncovered for 10 minutes if using convection (fan) and 15 minutes if using conventional (no fan.)

Drop the temperature to 325° for convection and 350° for conventional.

Bake roast for about 10 - 15 minutes per pound.

Check temperature after the 10 minutes per pound mark. Insert the thermometer in the center without touching any bones. The best temperature to remove the roast would be between 120°-130°. This will give you medium rare - medium and is suggested when serving a crowd.

Once the roast is at your temperature (it will rise about 5°-10° after removing from oven), take your prime rib out of the oven. Cover loosely with foil and allow it to sit for about 30 minutes before cutting and serving.
Notes
These nutrition facts are estimated and will depend on many factors.  
Notes about the oil:  You will be searing the meat at 425 so I prefer to pick oils that are a little higher with their smoke point.  As much as I love coconut oil, I prefer to keep that to oven temps at or less then 375.
This size of a roast is based on what we were told by the butcher - about 1 pound per person.  We get a bigger roast since we eat a lot here on holidays, but I wouldn't go any smaller then 1 pound per person.  Don't forget some of that weight is bones.  
If using a bigger roast, add more of the seasoning ingredients.  This won't be enough oil mix for a bigger roast.
This was updated on 12/29/2019 - changed from a dry rub to the oil/seasoning mix.  Instructions are still in the post above for dry rub, but the oil mix is recommended for better flavor.
Nutrition
Calories:
1377
kcal
Carbohydrates:
1
g
Protein:
62
g
Fat:
123
g
Saturated Fat:
51
g
Cholesterol:
274
mg
Sodium:
396
mg
Potassium:
1010
mg
Fiber:
1
g
Sugar:
1
g
Vitamin A:
10
IU
Vitamin C:
0.8
mg
Calcium:
42
mg
Iron:
6.6
mg