This year we decided to get grow boxes for our garden. I saw the reviews and heard a lot about, so I decided why not try them! What this means now is that before the season officially started we had a ton of cucumbers. I might be exaggerating just a little, but we had a lot. What better way to use them then to make refrigerator pickles, right? We also make cucumber and tomato salad with all of them too.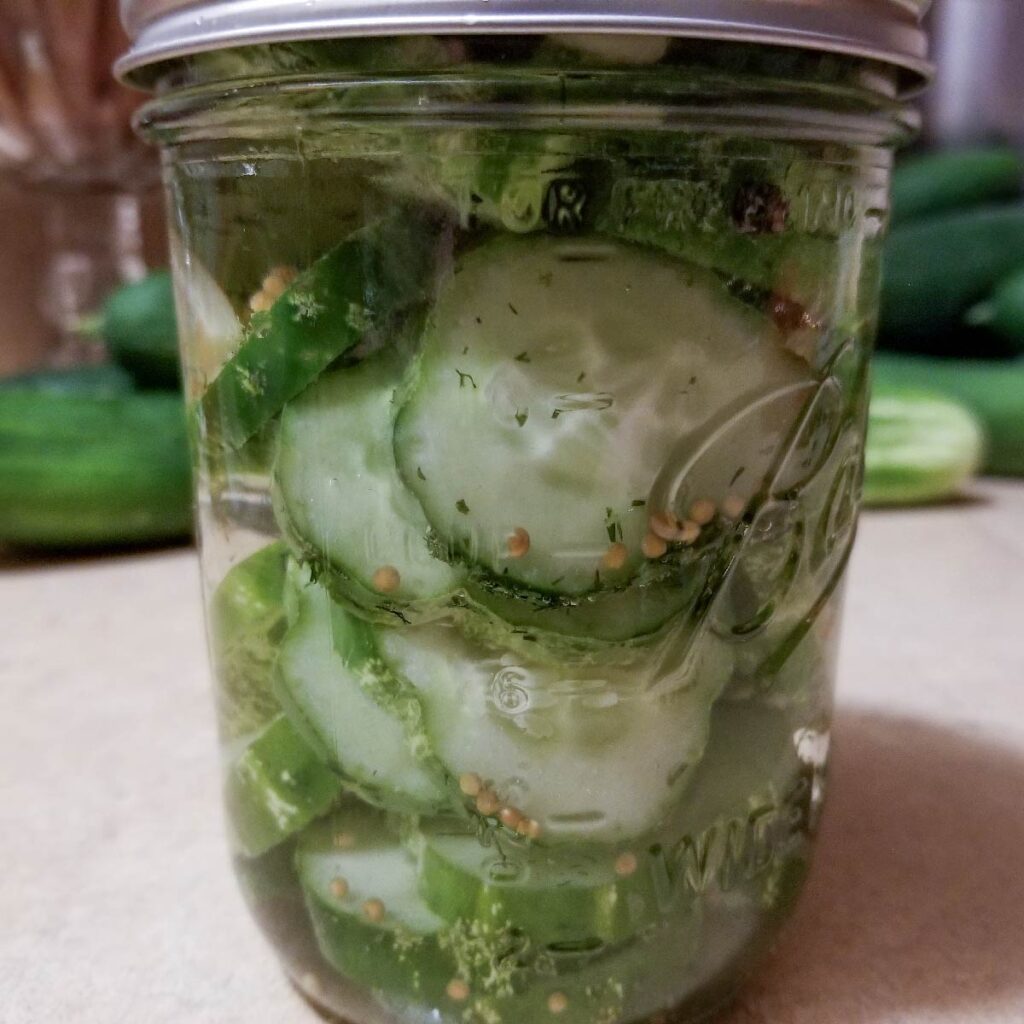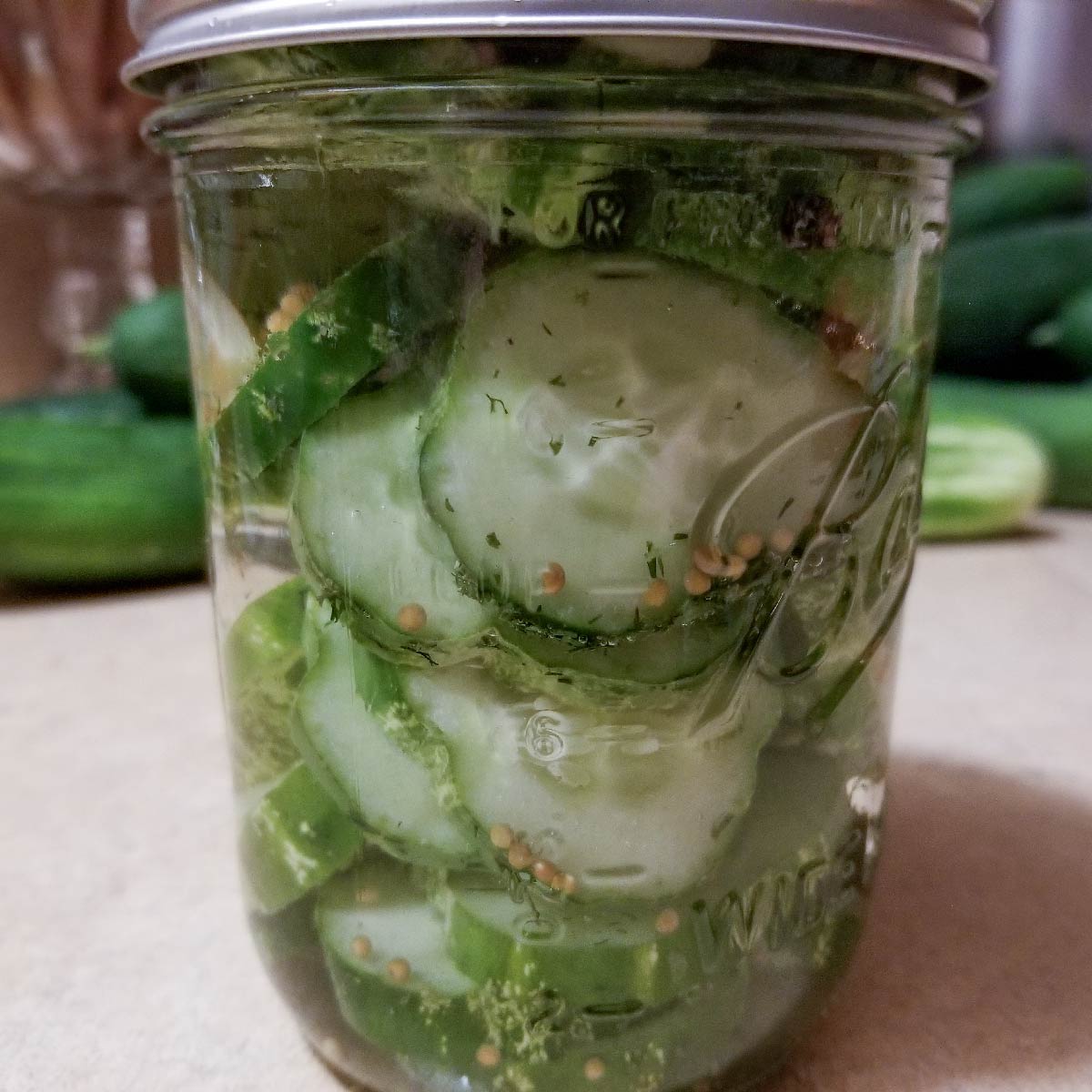 What is the difference in the pickles?
Now if you are not sure the big difference, refrigerated pickles have never been heated. I prefer these in taste over the other ones. Examples in the store are most pickles that you get in the refrigerator case but our favorite store bought one is Claussen's pickles - they are never heated. Examples of other pickles that have been heated are any you buy on the shelf that does not require refrigeration.
These pickles do not get canned and they are really easy to make. They last about 4-6 weeks in the fridge - probably longer but ours don't last long enough to find out beyond that time. They take about a week before the flavor is really good, but you can eat them within a few days if you are in a hurry. I was when making these - I couldn't leave them sitting in the fridge that long without eating them 🙂
What you will need to make refrigerator pickles
It's nice because you do not need the extra canning equipment out for this. You do need to heat the brine and allow it to cool down, but you are not processing them. Take note I made these in pint jars but you can very easily make extra brine and make them in quart jars as well.
Pint canning jars or jars with tight fitting lids
pickling cucumbers or regular will work too
pickling salt
vinegar
sugar
mustard seed
fresh garlic
peppercorns
dill
water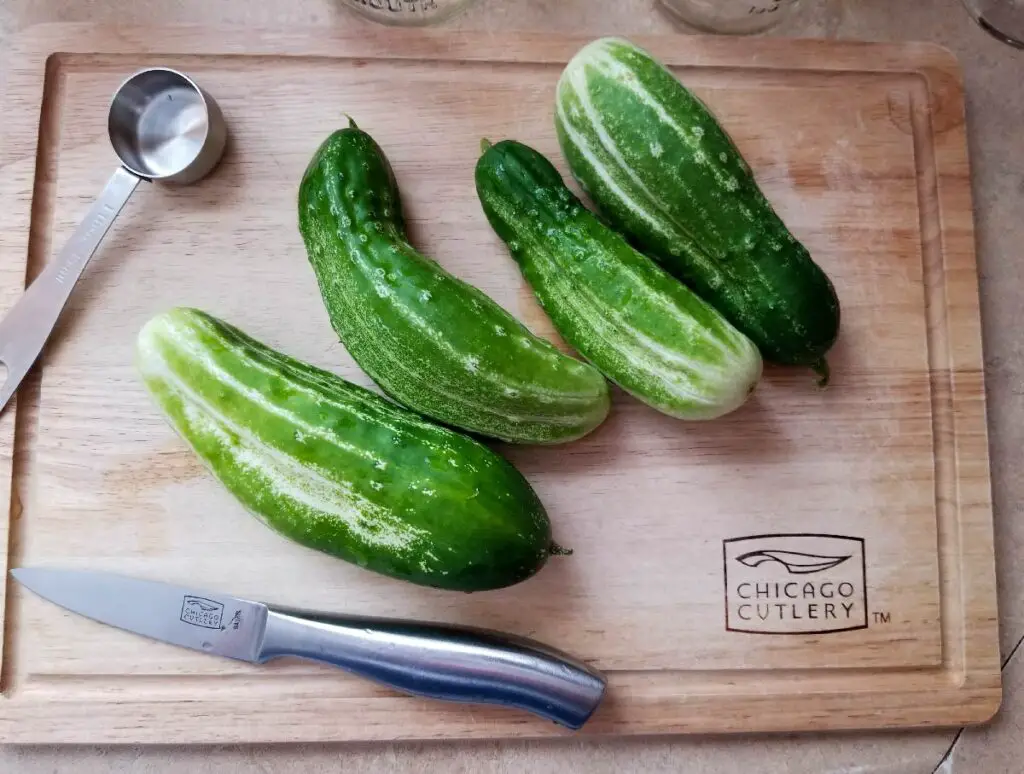 I have used both pint size jars to make pickles. This time we used the wide mouth.
Making your pickles
First you want to start with making the brine. The brine is the water, vinegar, sugar and salt. You need to heat it to a boiling and once the sugar is dissolved, turn it off to allow it to cool down. It needs to cool down to about room temperature before pouring over the cucumbers.
While the brine is cooling down, slice your cucumbers and garlic. Garlic gets cut into big chunks. I put the cucumbers in the jar first followed by the garlic. Then I add the dill, mustard seed and peppercorns. If you have fresh dill, that would probably be even more amazing but I was unable to get any fresh dill that was not wilted here. Our own plant would be perfect too, but there were none to be found. This must be there year for everybody to want dill plants haha! I used a freeze dried dill as it was the next best thing. It is very fresh when you open it, not like some other spices.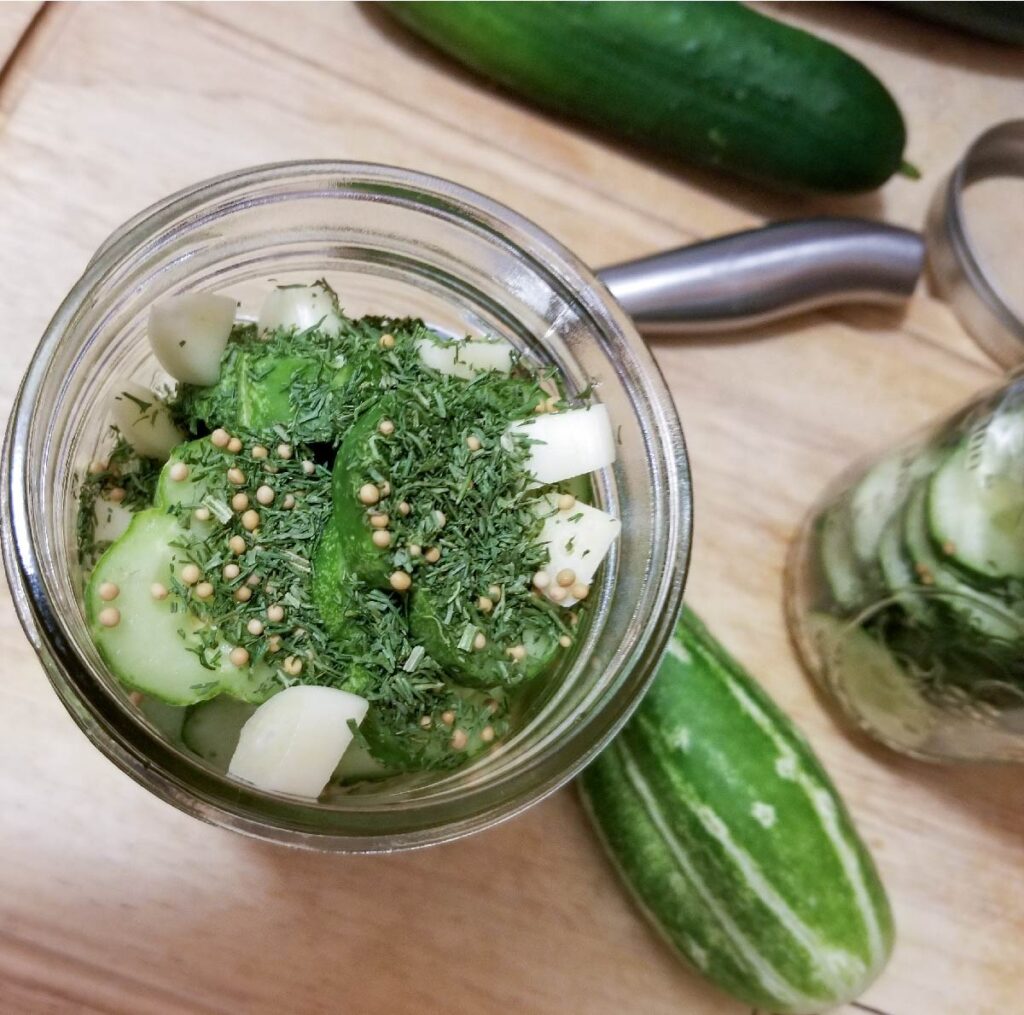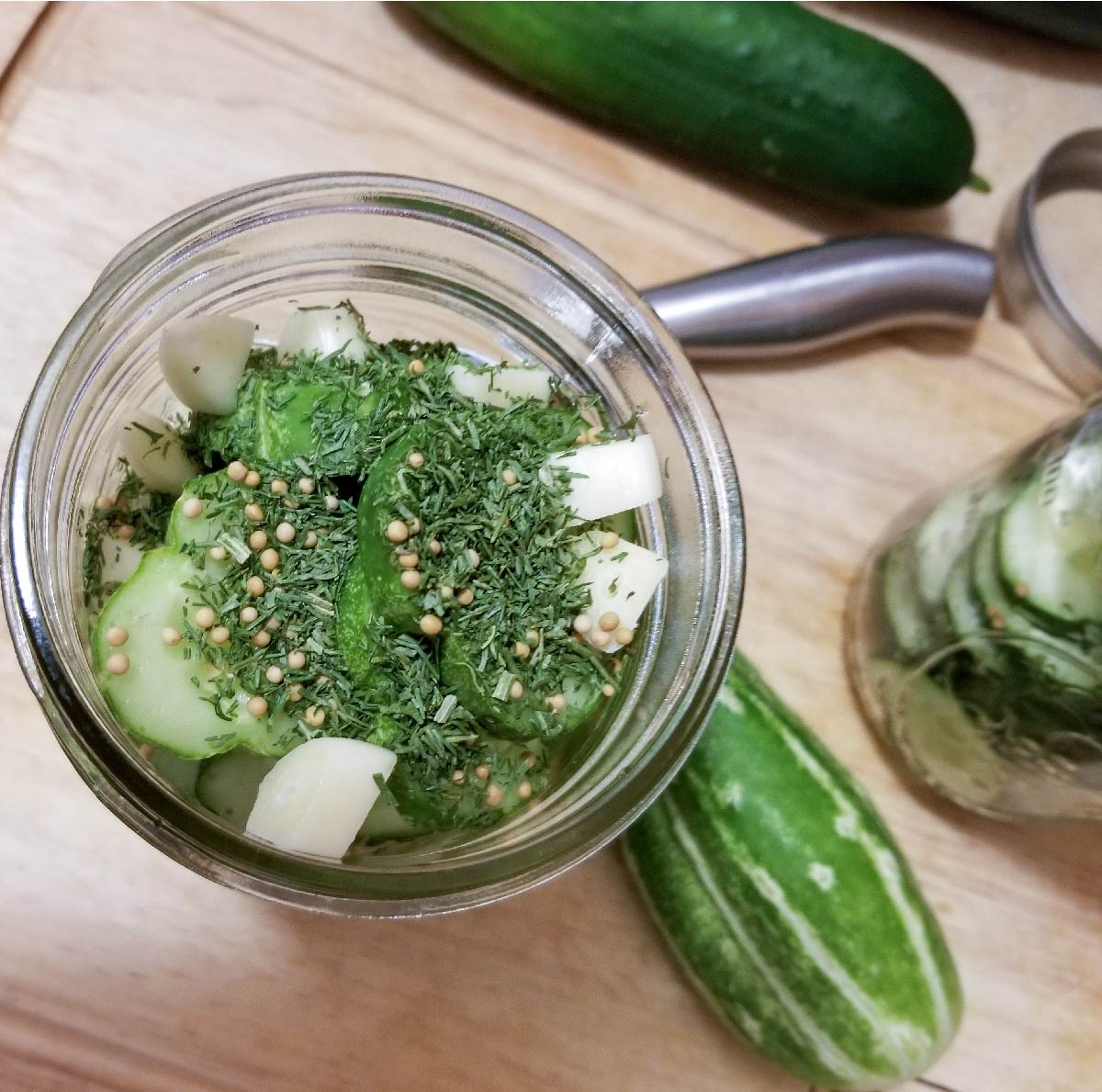 Once your brine is cooled down you will pour it over the cucumbers and spices. Make sure that your cucumbers are fully covered with the brine.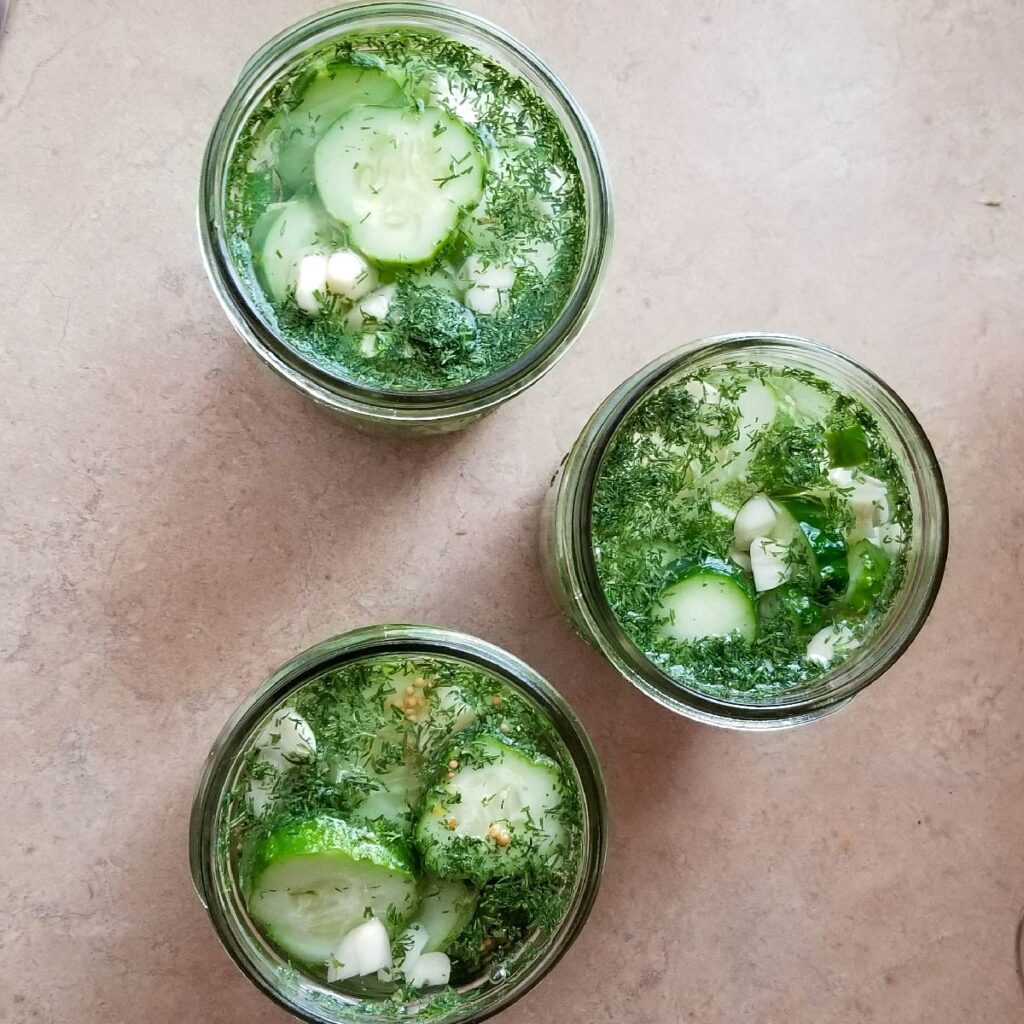 Place the lids on and put the dates on the top (or on a label on the jar.) Wait about a week to eat them and enjoy! We enjoy pickles with our grilled food like grilled t-bone steaks.
You can experiment with these too. I made some with cayenne slices in it but I have to wait a couple more days before they are ready. I am anxiously waiting!
Recipe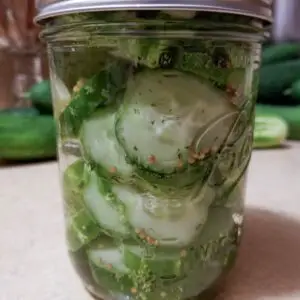 Refrigerator Pickles
These refrigerator pickles are so easy to make and have a great flavor. There is no canning involved making them even easier! You can use pickling cucumbers or even regular cucumbers for them.
Ingredients  
5-6

pickling cucumbers

depending on size

6

cloves garlic

3

tsp

freeze dried dill

divided among 3 jars but can use fresh as well

¾

tsp

mustard seed

divided among 3 jars

15

peppercorns

divided among 3 jars
Pickle Brine
2½

cup

water

1¼

cup

white vinegar

1

tbsp

pickling salt

¼

tsp

sugar
Instructions 
In a small saucepan mix together water, vinegar, salt and sugar. Bring to a boil stirring occasionally and turn off heat. Be sure the sugar is dissolved. Let sit and cool down to room temperature

While the brine is cooling down, slice your cucumbers and chop garlic into large chunks. Place the cucumbers and garlic (2 cloves per jar) into the pint size jars. Add in the dill (1 tsp in each jar), mustard seed (¼ tsp in each jar) and 5 peppercorns in each jar.

Once the brine is cooled to room temperature, pour it over the cucumbers and make sure the cucumbers are fully covered. Put lids on and place in the fridge for about week before eating. They will last for about 4-6 weeks in the fridge.
Notes
I did not calculate the nutrition facts as it depends on the amount of pickles you are eating.  It also depends on how long they are in the brine before eating.
You can use raw apple cider vinegar instead of white vinegar if you prefer.  It will add a slight sweetness to it tho - we made them both ways.