Full of flavor and easy to make, this grilled zucchini makes the perfect side dish! It is quick to prepare with some oil, vinegar, parmesan cheese and a couple spices.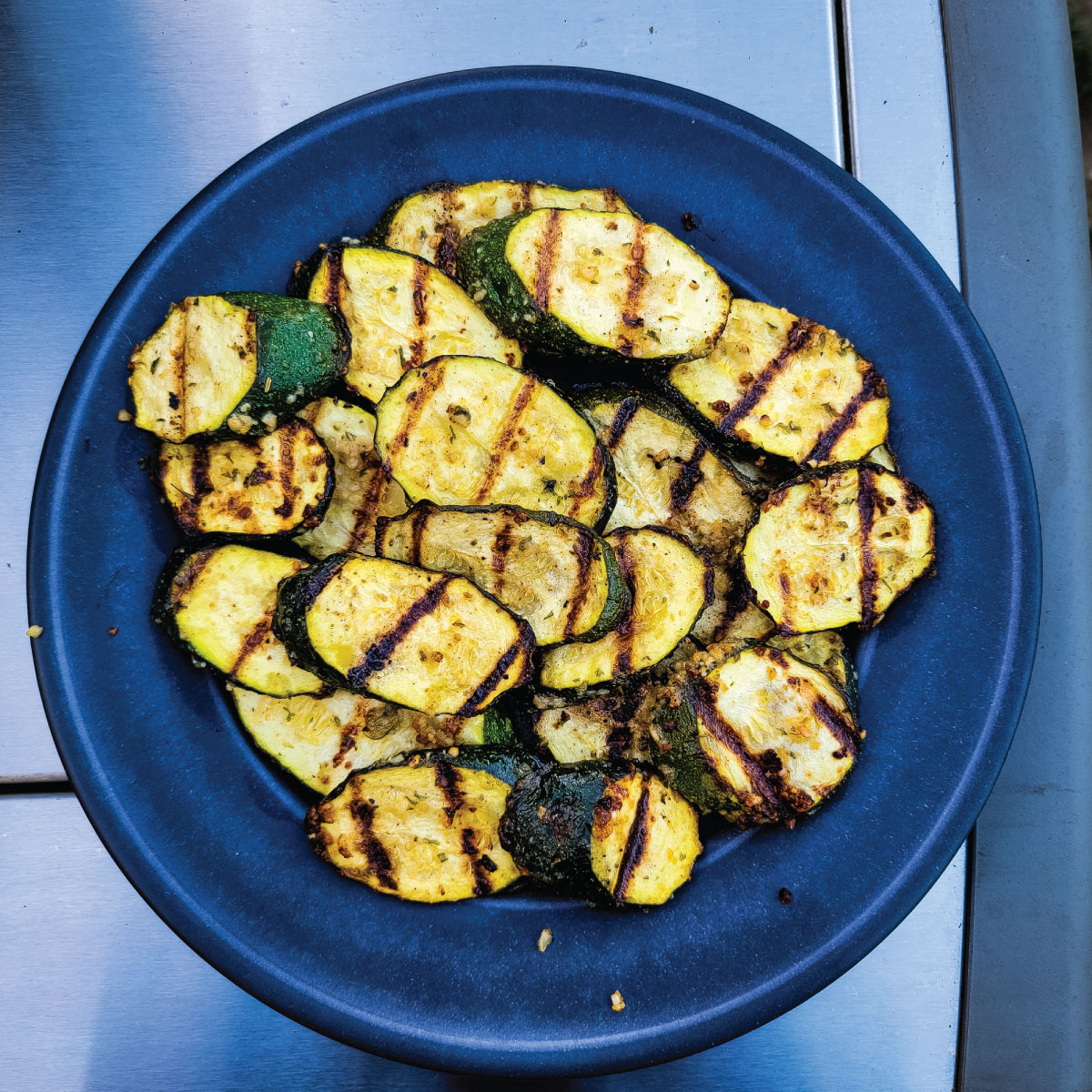 This is an easy side dish to go along with anything you make for dinner! It can be cooked along side other foods on the grill and only takes a few minutes to cook.
One of my favorite things about summer is all the fresh produce! There are so many things we can do with fresh veggies. And fresh vegetables are usually a quick side dish like our cucumber tomato salad with fresh herbs. And honestly, sometimes just slicing tomatoes and cucumbers are good too!
You don't have to stop at zucchini here. Many times we make grilled zucchini and squash together using this recipe. Yellow squash is very similar in texture and the cook times are the same.
We have even done this with cucumbers as well and it turned out great too. When you grow cucumbers, you end up with lots of them!
This is one of the only ways we will eat the squash here. The other way is breaded and fried (not quite as healthy there but delicious!) Even picky eaters will usually eat this.
Tips for making grilled zucchini
Remember how I said it was easy to make? Yeah it really is, I promise. You can adjust grill temps based on what ever else you are grilling. It adapts well and there is no need to worry about an internal temperature.
Grill basket or no basket
A grill basket for vegetables makes this even easier, but it isn't required. Sometimes I use mine and sometimes I put them right on the grill grates. The one thing to note is that zucchini slices do fall through the grates easier then bigger vegetables so do be careful if not using a basket. I have lost a few more then I would like to admit to the grill before.
There are 2 different types of baskets here that work great:
First is the grill basket that is completely closed - This one is great because it closes so instead of flipping your zucchini or stirring it, you just flip the basket over and cook the remaining time.
I do love this kind of basket but don't use it as often due to limited space for other stuff on the grill while using it.
Second is the grill pan, they have baskets like this too but the pan fits more. This is great if you are doing something small next to your grilled zucchini, but not if you need a lot of grill space. The baskets similar to this pan are easy and smaller, but don't fit as much either.
How often do I use the basket? It depends on what I am cooking with it. If I am making a grilled t-bone steak, I let them rest for about 10 minutes so I use the basket and let the zucchini cook while the steaks are resting.
If I am making something that doesn't need to rest for that long but takes up space, I put them directly on the grates of the grill. It is all about what is easiest for you at the time. The baskets are a great tool to have on hand tho!
Prepping the zucchini
Slice your zucchini on a diagonal so that the pieces are a little bigger. They are less likely to fall into the grill this way if you choose to use your grates. I know this from experience!
Use a gallon storage bag to coat your vegetables! You will need to swoosh around the seasonings with the oil and vinegar to get them to mix well, but it is easy cleanup to use a bag to coat them!
After adding in your zucchini, close the bag leaving a little bit of air in it. Shake the bag to coat all of the zucchini well.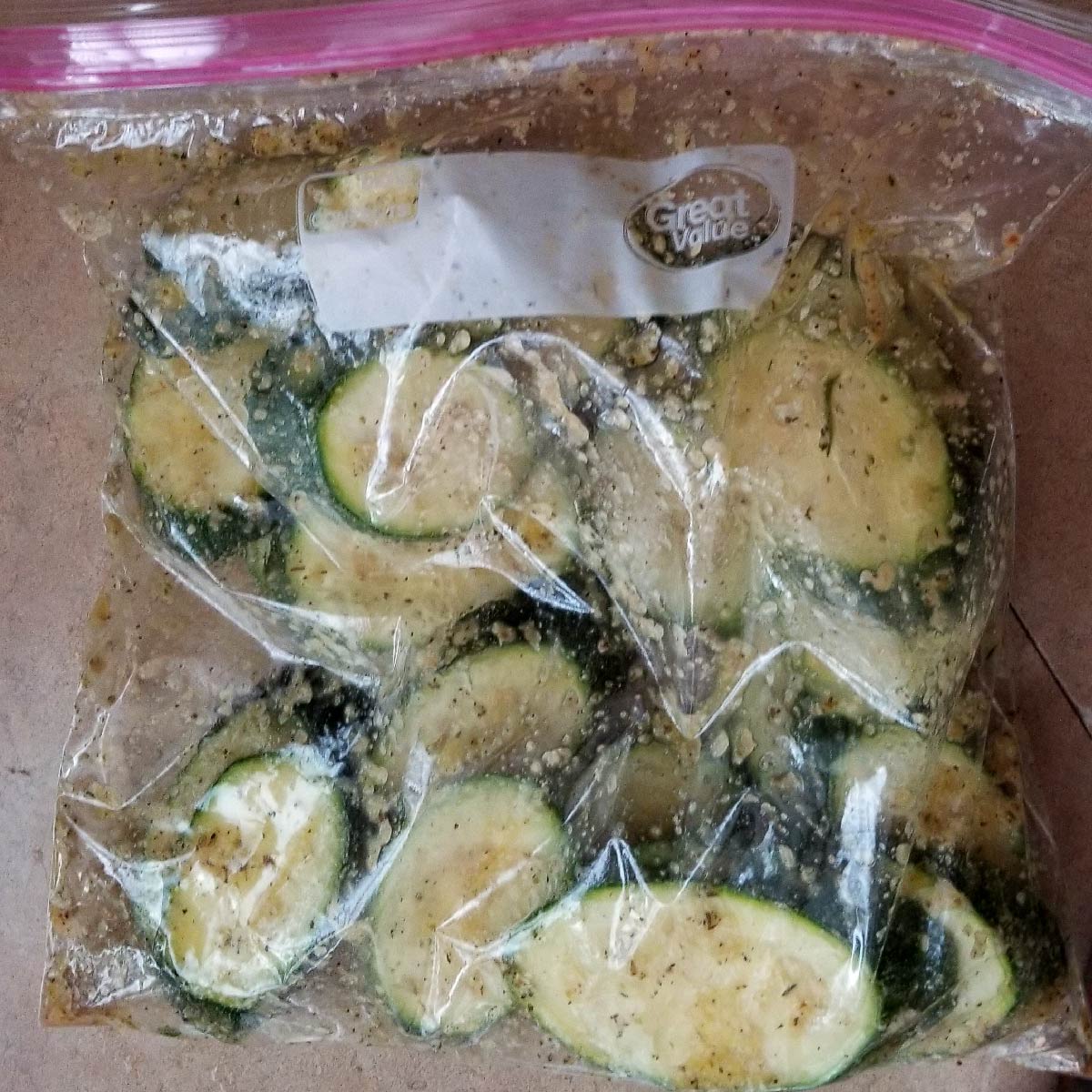 Keep it in the bag until ready to grill. I usually prep it about 15 minutes to half hour before going on the grill. Then I let it sit on the counter in the bag.
Grilling times and temperatures
The temperature and times will vary based on what else you are grilling. It will adapt to any temperature since it is not thick and it is not getting cooked to an exact temperature internally. But 400-450 degrees Fahrenheit is best for a solid inside with a softer outside and perfect sear marks
For 400 degrees Fahrenheit, it will be about 3-5 minutes before flipping. You would then cook another 3-5 minutes before it has nice sear marks. If you are cooking something at a lower temperature, you will want to cook it a little longer.
Lower temperatures may not produce the same charred marks you get at 400 degrees.
For the times, I judge by the sear marks on each side. Grilled zucchini does not have to reach a certain internal temperature to be safe. It is done at the consistency you like it at.
Frequently asked questions
How do you cut zucchini for grilling?
There are a couple ways to cut it. I prefer to cut it into diagonal slices but you can also cut it in long slices. I find it is easier to serve to kids if it is cut into smaller slices and not the length of the zucchini.

Cutting it either way will still work here!
Do you peel zucchini?
No I do not and I do not recommend it. There is no need to remove the skin. It has plenty of nutrients in the skin and it does not taste bad either. The skin also helps keep thin slices together more as it cooks.
How do I know when my zucchini is done?
Grilled zucchini is best when it is softer on the outside with nice sear marks but not too soft on the inside. It is still good if it gets soft inside, but it is better if it is not too soft.

The best way to judge is based on how you prefer it to taste. The nice sear marks are a strong indicator that it is done.
How do you grill zucchini without getting soggy?
The best way to grill it is on a grill heated to 400-450 degrees Fahrenheit. You want to sear the outside without over cooking the inside. When you cook it at a higher temperature, you get the sear marks with a softer outside but inside is not soggy.
You may also like:
Here are some other great foods cooked on the grill: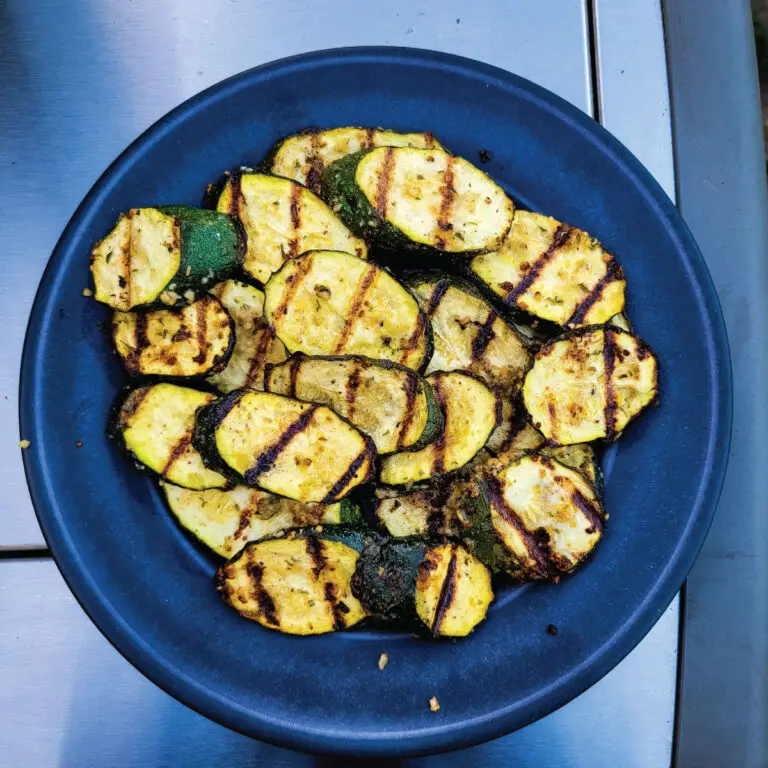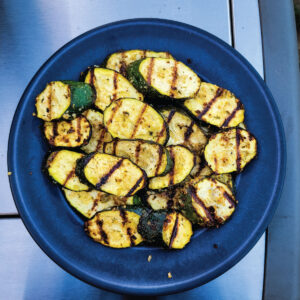 Grilled Zucchini with Parmesan Cheese
Grilled zucchini is a great summertime side dish. It pairs with just about any meal, and it is easy to make. The flavor is amazing, even the kids will like it.
Ingredients
2

zucchini

or more if needed

1½

tbsp

red wine vinegar

1½

tbsp

olive oil

extra virgin

½

tbsp

dried minced onion

1½

tsp

Italian seasoning

1

tsp

garlic powder

¼

tsp

salt

¼

tsp

black pepper

ground

3

tbsp

parmesan cheese

grated
Instructions
Slice zucchini into diagonal slices.

In a storage or gallon bag combine vinegar, oil, minced onion, Italian seasoning, garlic powder, salt, and pepper.

Shake bag around to combine well. Add in the parmesan cheese and massage the bag a little to mix it completely.

Add the zucchini to the bag and close the seal leaving a little bit of air in the bag. Shake the bag gently to coat all of the zucchini and set aside until ready to go on the grill.

If using a grill basket, line the zucchini on the grill basket and place on the grill. Close lid.

If using grill grates, place the zucchini directly onto the grill. Close lid

Cook for about 3-5 minutes. Flip and cook for another 3-5 minutes.

Remove from grill and enjoy!
Notes
Nutritional values are estimated along with serving sizes.
You can adjust the temperature a bit depending on what else you are grilling, but you will get the best sear marks and texture at 400-450.
Nutrition
Calories:
86
kcal
Carbohydrates:
5
g
Protein:
3
g
Fat:
7
g
Saturated Fat:
1
g
Cholesterol:
3
mg
Sodium:
215
mg
Potassium:
292
mg
Fiber:
1
g
Sugar:
3
g
Vitamin A:
239
IU
Vitamin C:
18
mg
Calcium:
75
mg
Iron:
1
mg