Grilled zucchini is an easy side dish to go along with anything! It can be cooked along side other foods on the grill and only takes a few minutes to cook. This is quick to prepare with just some oil, vinegar, parmesan cheese and a couple common spices!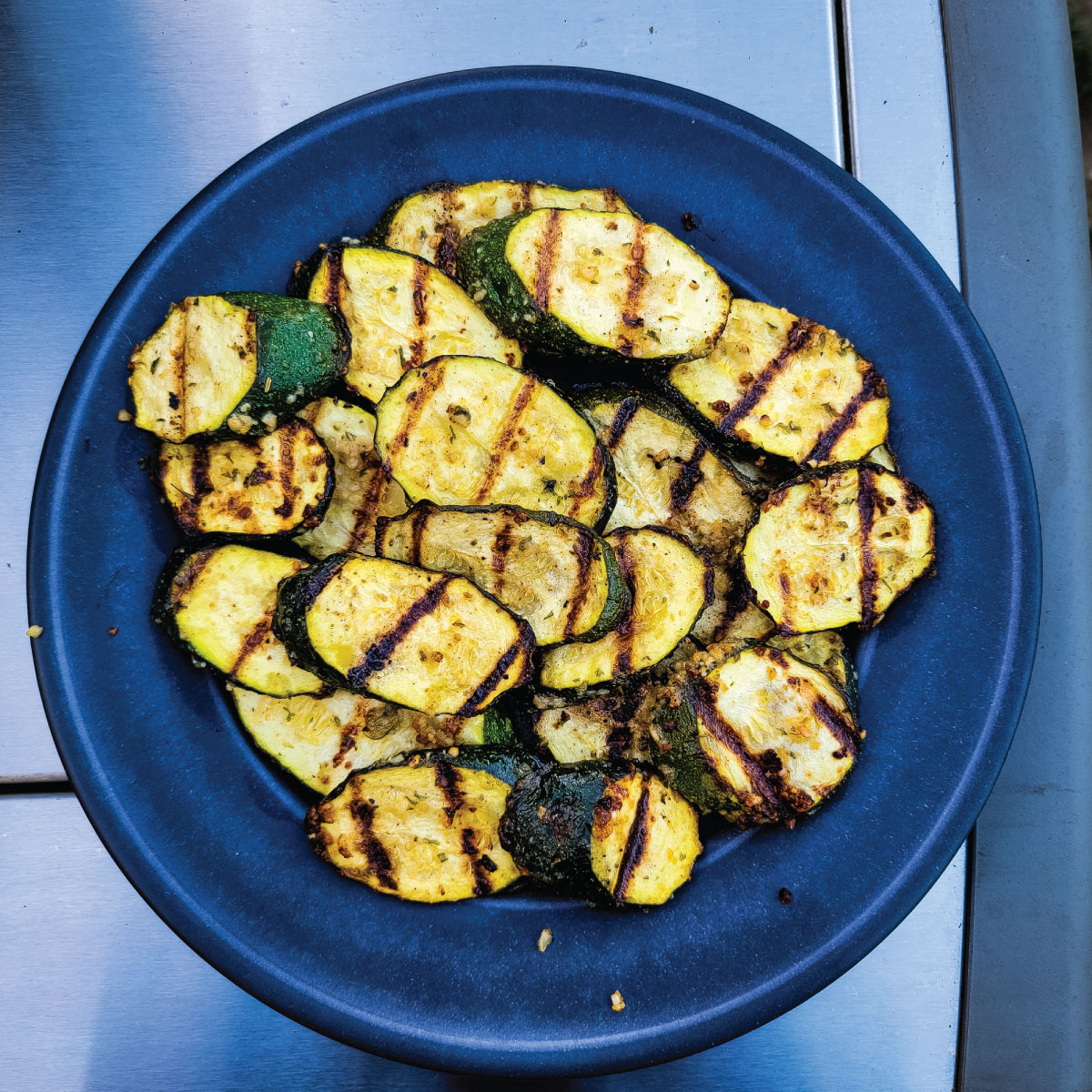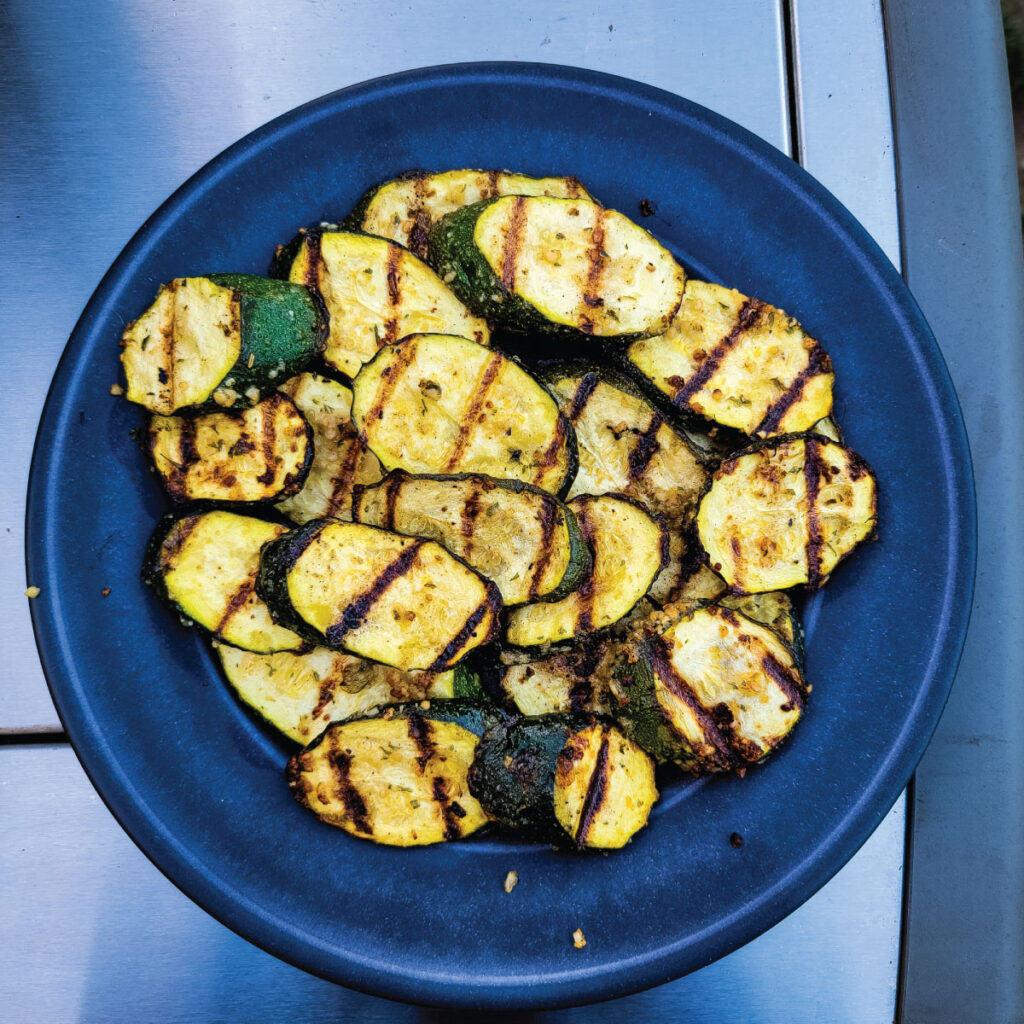 One of my favorite things about summer is all the fresh produce! There are so many things we can do with fresh veggies. Grilled zucchini is one of the easiest side dishes you can serve when grilling - well except sliced cucumbers and tomatoes. There is nothing wrong with serving sliced cucumbers and tomatoes by the way, I do that all the time too in the summer. Or sometimes I make my cucumber tomato salad with fresh herbs.
I struggled to find a way that half of my family would eat zucchini and squash. You can do this with yellow squash too. Sometimes I mix it up and do one of each. It is funny because they had this before and loved it but still last night one said "I can't believe I am eating this stuff." And they continued to eat a good portion of it 🙂
Yes grilled zucchini is the only way (besides the occasional fried zucchini) that everybody will eat it. Major win here!
They go well with many things like grilled pork chops and chicken thighs.
We have even done this with cucumbers as well and it turned out great too. When you grow cucumbers, you end up with lots of them!
Making grilled zucchini
Remember how I said it was easy to make? Yeah it really is. You can adjust grill temps based on what ever else you are grilling. It adapts well and you can eat it raw if you wanted so there is not need to worry about an internal temp.
Basket or no basket
A grill basket for vegetables makes this even easier, but it isn't required. Sometimes I use mine and sometimes I put them right on the grill grates.
It depends on what I am cooking with it. If you are making a grilled t-bone steak you will want them to rest for about 10 minutes. Then you use your basket with the zucchini lined up in it to cook after taking the steaks off the grill. If you are making hot dogs, it is up to you if you want to use the basket or not. Hot dogs don't need to rest before eating. One thing to note is that if you are going with the on the grill grates option, the zucchini is more likely to fall through when you flip it. I have lost a few more then I would like to admit to the grill before.
Prepping the zucchini
Two zucchini should be enough for 3-4 people but it depends on how much everybody will eat and how much other food there is. This is usually our vegetable side that goes with a meat and a carb side dish.
Slice your zucchini on a diagonal so that the pieces are a little bigger. They are less likely to fall into the grill this way if you choose to use your grates.
In a gallon storage bag (or freezer bag) add in the vinegar and oil. Next add in your spices and swoosh it around a little bit. You will need to "massage" the bag with your fingers a little bit to mix it up since it will be thick. You can play around with seasonings on these. We have found this to be our favorite and we sometimes add fresh lavender to it as well.
Add in your zucchini and close the bag leaving a little bit of air in it. Shake the bag to coat all of the zucchini well.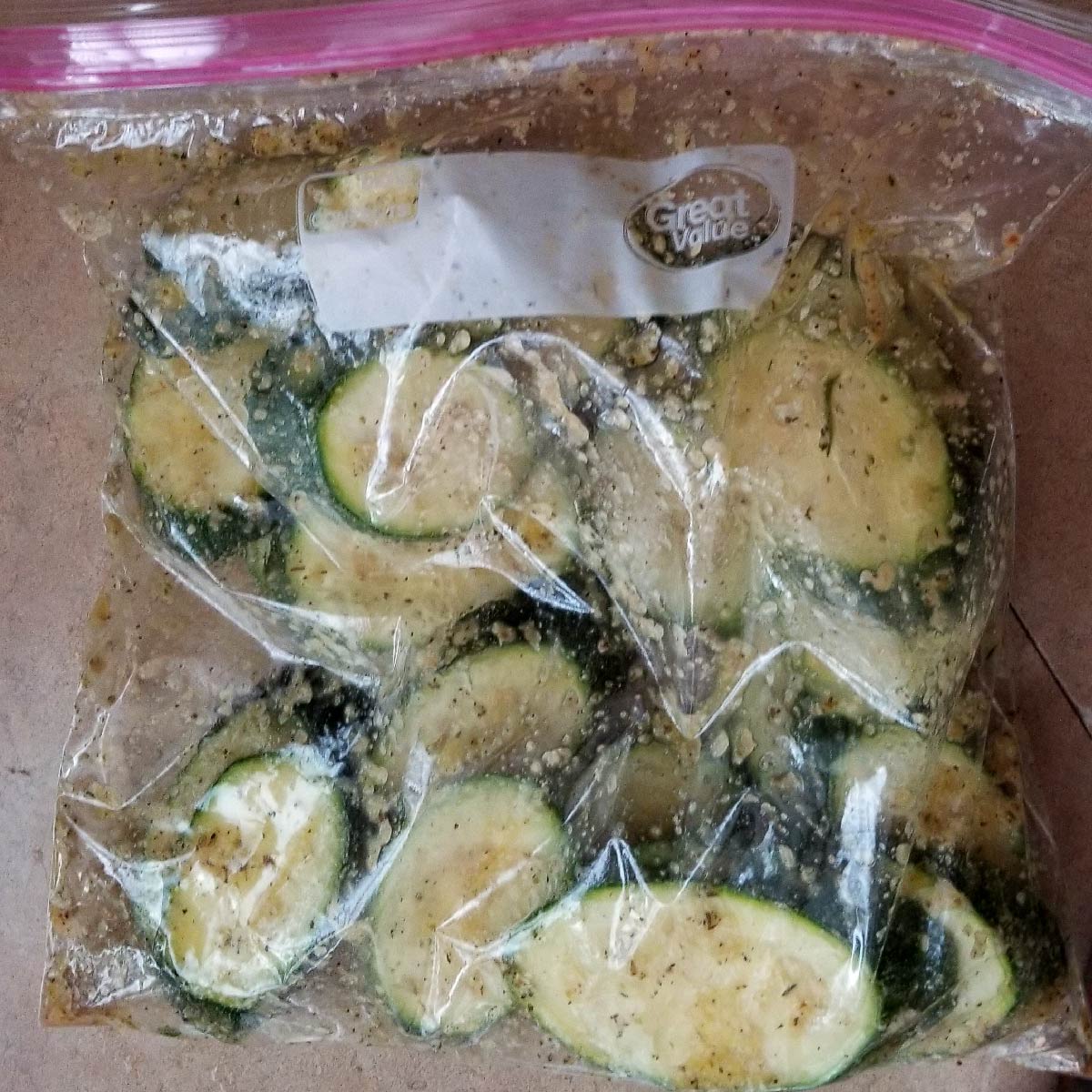 Keep it in the bag until ready to grill. I usually prep it about 15 minutes to half hour before going on the grill. Then I let it sit on the counter in the bag.
Grilling the zucchini
The temperature and times will vary based on what else you are grilling. It will adapt to any temperature since it is not thick and it is not getting cooked to an exact temperature internally.
Place the zucchini on the grates of a heated grill or place the basket on the grill. Cook until it starts to look a little softer on the top. You will see the change in texture. This usually takes about 3-5 minutes depending on the grill temp. Flip over and cook another 3-5 minutes. This is where the basket is easier, you flip them all with a turn of a handle!
Remove from grill and your grilled zucchini with parmesan cheese is ready - enjoy.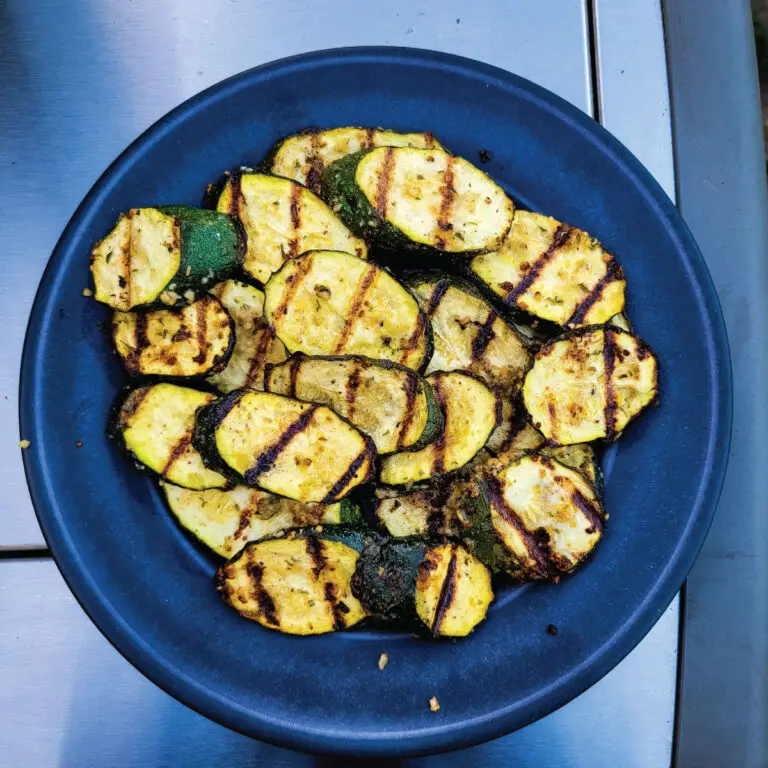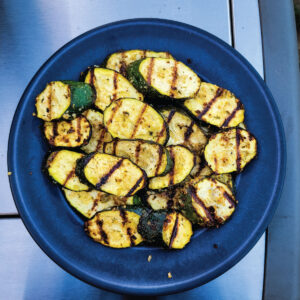 Grilled Zucchini with Parmesan Cheese
Grilled zucchini is a great summertime side dish. It pairs with just about any meal, and it is easy to make. The flavor is amazing, even the kids will like it.
Ingredients
1½

tbsp

red wine vinegar

1½

tbsp

olive oil

extra virgin

½

tbsp

dried minced onion

1½

tsp

Italian seasoning

1

tsp

garlic powder

¼

tsp

salt

¼

tsp

black pepper

ground

3

tbsp

parmesan cheese

grated
Instructions
Slice zucchini into diagonal slices.

In a storage or gallon bag combine vinegar, oil, minced onion, Italian seasoning, garlic powder, salt, and pepper.

Shake bag around to combine well. Add in the parmesan cheese.

Massage the outside of the bag to combine all ingredients well - it will be thick and won't fully combine otherwise.

Add the zucchini to the bag and close the seal leaving a little bit of air in the bag. Shake the bag gently to coat all of the zucchini and set aside until ready to go on the grill.

If using a grill basket, line the zucchini on the grill basket and place on the grill. Close lid.

If using grill grates, place the zucchini directly onto the grill. Close lid

Cook for about 3-5 minutes. Flip and cook for another 3-5 minutes.

Remove from grill and enjoy!
Notes
I use a gas grill for these.  You can use a charcoal grill, but the times will vary slightly.  I am not as familiar with charcoal grills and the cooking time differences.
If nothing else is on the grill, you can cook over medium heat.  If there is other stuff cooking, use the temperature for the other item.  These are very flexible with temperature.  You will know to flip them when they start to look a little softer on the top.
Nutrition
Calories:
69
kcal
Carbohydrates:
2
g
Protein:
2
g
Fat:
6
g
Saturated Fat:
1
g
Cholesterol:
3
mg
Sodium:
207
mg
Potassium:
19
mg
Fiber:
1
g
Sugar:
1
g
Vitamin A:
30
IU
Vitamin C:
0.5
mg
Calcium:
55
mg
Iron:
0.3
mg