With grilling season here I have another one of our favorite BBQ salads here. Yes I am one that will put the jacket on to go out to the grill - it is worth it! The Ranch pasta salad is cool because it is very flexible. Seriously, you can add most vegetables in it and it will be a success.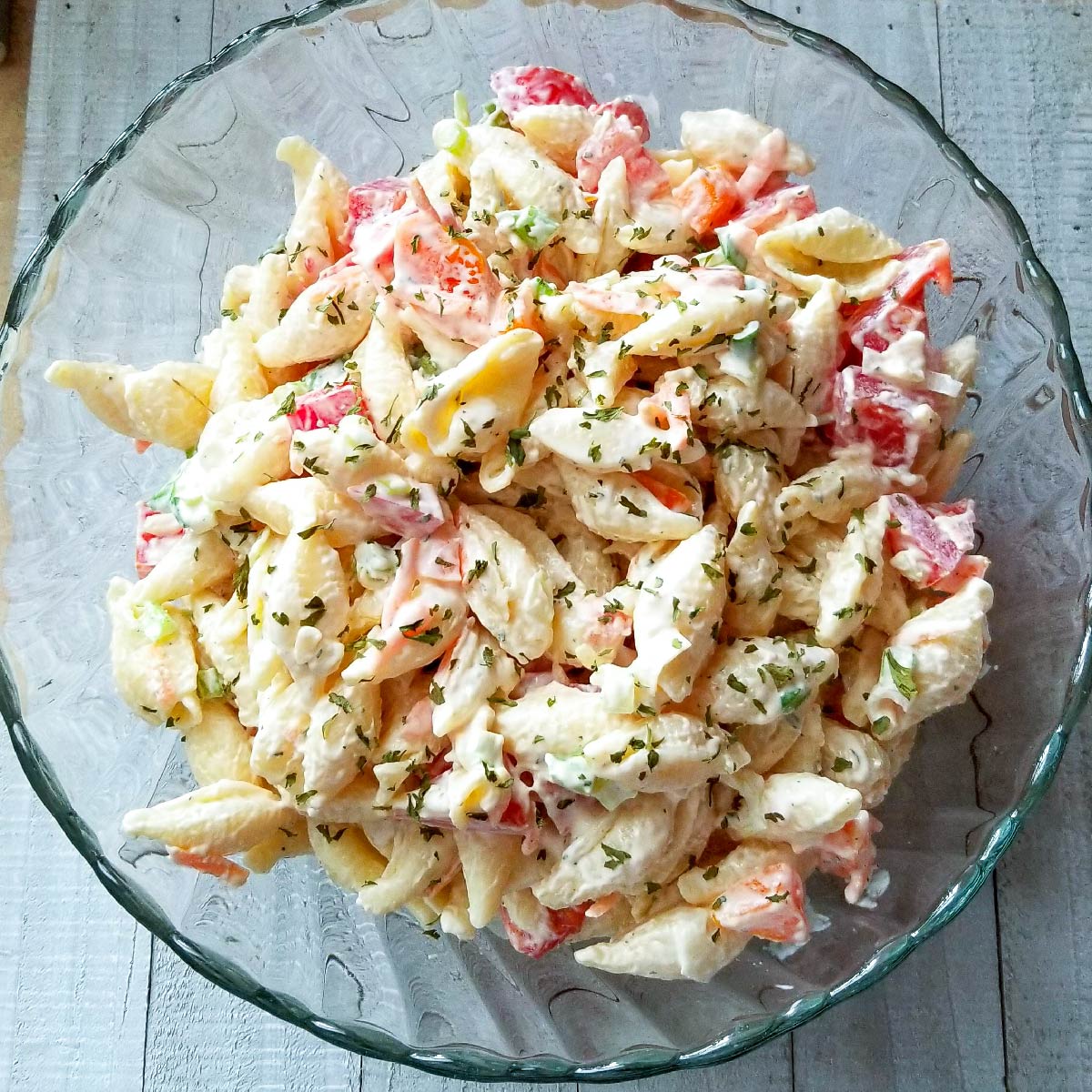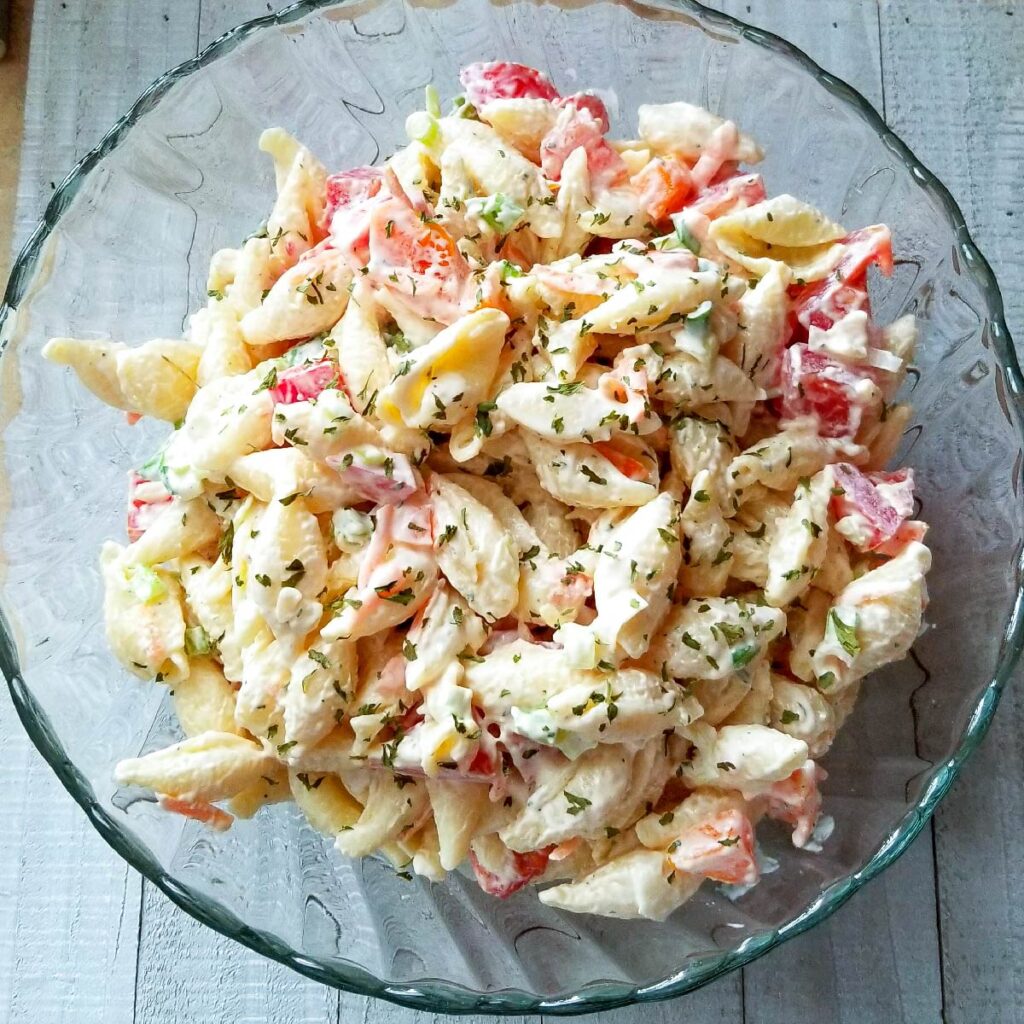 This is an easier version of our bacon ranch salad, which has bacon and cheese in it. You can put cheese in this one too if you would like, see it is very easy to adapt!
Sometimes we want simple, who doesn't right? So this one is a bit easier and less ingredients but still rather flavorful. I like to make this one with the Picnic Perfect Potato Salad or sweet coleslaw. They go well together and your sides are done so you can focus on the main show - the grilled food!
We used to just use Ranch seasoning packets from the store, which definitely works, but we found a recipe for homemade Ranch seasoning with simple ingredients. There are no added extras that you find in the store bought ones - you know the ingredients you cannot even pronounce 🙂
We recently started to make our own ranch seasoning mix which we absolutely love in the salad. It's great to have on hand to cook with too!
This was just recently updated to include our own seasoning. The original seasoning mix we recommended is by Missy over at Graceful Little Honey Bee. You would use 3 tablespoons in place of a store bought packet.
Making the Ranch pasta salad
Now we are ready to start making some salad! Boil your pasta following the instructions on the package. We use shells usually for this, but use your favorite salad pasta. Once it is done, drain your pasta and rinse with cold water to cool down. This is important as it stops the noodles from cooking and it removes some of the starch from the outside of the pasta - I don't rinse hot pasta for spaghetti but I do for salads.
Chop up your scallions and add them to the cooled pasta in a container. Place in the refrigerator to completely cool the pasta down. About 1/2 to 1 hour should be long enough. This gives it time to cool so the mayo doesn't get added to the warm pasta and it also preps the pasta for a dressing. If it is still warm, it soaks the dressing up.
Chop your peppers and cucumber while the pasta is cooling down. Do not add tomatoes until right before serving. The tomatoes taste better when they are added later. Tomatoes get a weird flavor and texture when they sit in the fridge for too long. If bringing to a get together, you can add them just before you leave.
Once the pasta is cool enough, add your peppers and shred a carrot into the mix. In a medium bowl mix together mayo, garlic, milk and your Ranch seasoning. Stir well to combine and add to the pasta mix. I like to have the salad sit in the refrigerator for at least an hour to get the flavor into the whole salad, but it isn't required.
Just before serving, add your chopped tomatoes and sprinkle with parsley for garnish.
As a Note:
If the salad looks a little dry when you take it out of the fridge, add just a little bit of milk to it and stir. If the dressing goes on too soon (before the noodles cool completely), the noodles soak it up. Same with any salad that has pasta.
I do not add celery to this salad, but you certainly can. It won't hurt the taste of it. We just don't with the other vegetables. You can play around with the vegetables here, it is a base to a salad that you can customize!
What to Serve it With
Looking for something to serve the ranch pasta salad with? Here are a couple of great grilled ideas: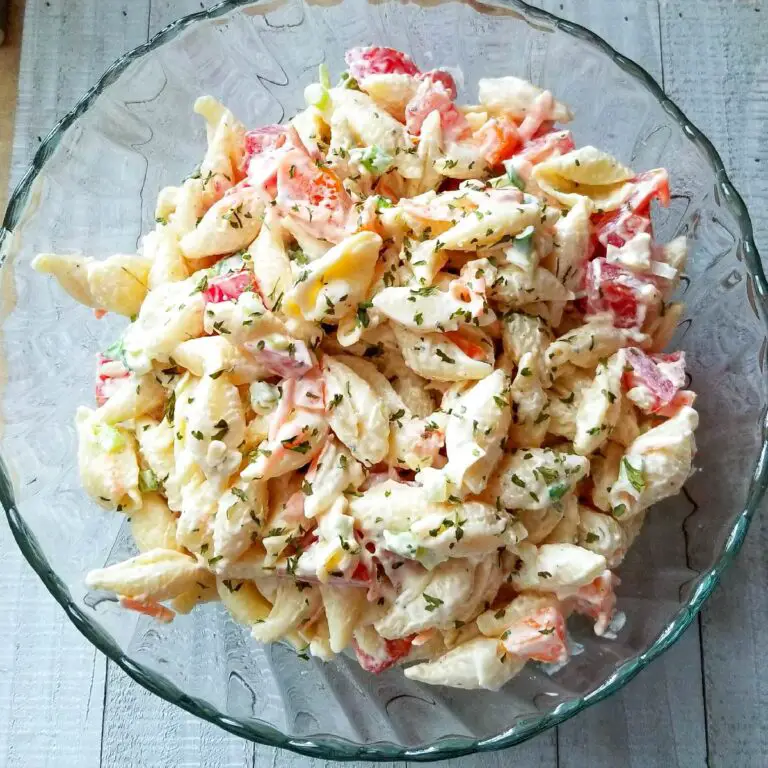 Ranch Pasta Salad
This easy to make Ranch Pasta Salad will have you the star of your next cookout.   It is flavorful and colorful all while keeping it simple.
Ingredients
16

ounces

pasta

3

scallions

chopped greens and all

1/2

red pepper

chopped

1/2

yellow pepper

chopped

1

cucumber

quartered and sliced

1

carrot

shredded

2

tomatoes

medium sized - chopped

3

tbsp

Homemade Ranch Seasoning

or 1 oz package from store

1 1/2

cups

mayo

⅓

cup

milk

1

tsp

garlic powder

1

tsp

parsley

for garnish - more if needed
Instructions
Cook pasta according to instructions.  Drain and rinse with cold water to cool down.  

Put into a container and add the scallions, place in the refrigerator until the pasta is cold - about 1/2 hour to 1 hour.

Once pasta and scallions are cold, add in the chopped pepper, cucumber and shredded carrot.  Stir well to combine.

In a medium bowl mix the mayo, milk, garlic, and Homemade Ranch Seasoning (or seasoning packet.)  Add into the the pasta mix and stir well.

Place back in the fridge until ready to serve.

Just before serving add in the chopped tomatoes and stir to combine.  Sprinkle parsley on top for garnish.

Enjoy!
Notes
This salad will get a better flavor if it sits in the fridge for at least a half hour before serving - but do not add tomatoes until ready to serve.  It is not required tho and you can mix and serve once the pasta is cooled down enough.
The nutrition facts are an estimate and calculated using store bought seasoning so using the homemade will change these values slightly.
A good alternative to scallions is red onion when it comes to cold salads.  Red onion will bring out the flavor of the onion more as scallions are mild, but kids tend to like the scallions better since they are very mild.
Tomatoes should not go in the salad too soon.  They get a weird texture when refrigerated.  To keep it a fresh salad, they are best added before serving. 
Nutrition
Calories:
426
kcal
Carbohydrates:
40
g
Protein:
7
g
Fat:
26
g
Saturated Fat:
4
g
Cholesterol:
15
mg
Sodium:
452
mg
Potassium:
276
mg
Fiber:
2
g
Sugar:
4
g
Vitamin A:
1515
IU
Vitamin C:
24
mg
Calcium:
33
mg
Iron:
1
mg