Creamy ranch pasta salad is a delicious side dish that combines the classic flavors of creamy ranch dressing with al dente pasta and a medley of colorful vegetables.  This salad is easy to make and sure to please even the pickiest of eaters!
It is the perfect side dish for a backyard cookout, potluck or even the family dinner.  Your guests and family will love it.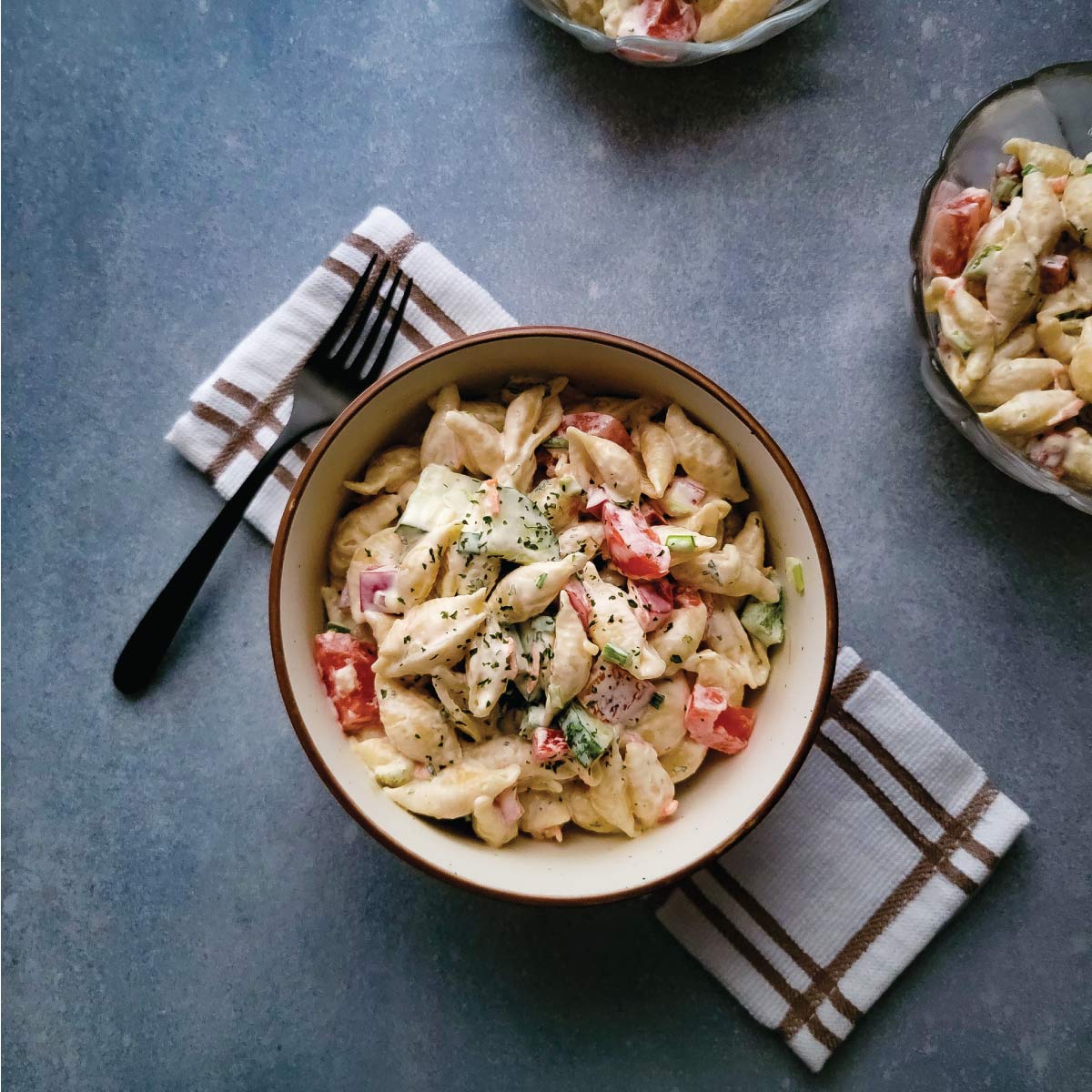 With grilling season here I have another one of our favorite BBQ side dishes here. One of the things we love to have with grilled food is an easy side dish like a cold salad. This salad is also delicious in the winter at potlucks or the holiday meals, not just when grilling.
This creamy ranch pasta salad is perfect because it is easy to make and even picky eaters love it. We make this a lot in the summer and even sometimes in the winter if we are making pulled pork sandwiches or slow cooker cheesesteaks.
Another favorite we make a lot is our bacon ranch pasta salad. It is similar to this one but has bacon and cheese in it.
We use a homemade a ranch seasoning mix that is easy to make and we like to keep it on hand for many things. It is good on salads, chicken and even mixed into a thick sauce with cayenne to make homemade sriracha ranch! You can use store bought in it's place if you prefer.
Jump to:
Ingredients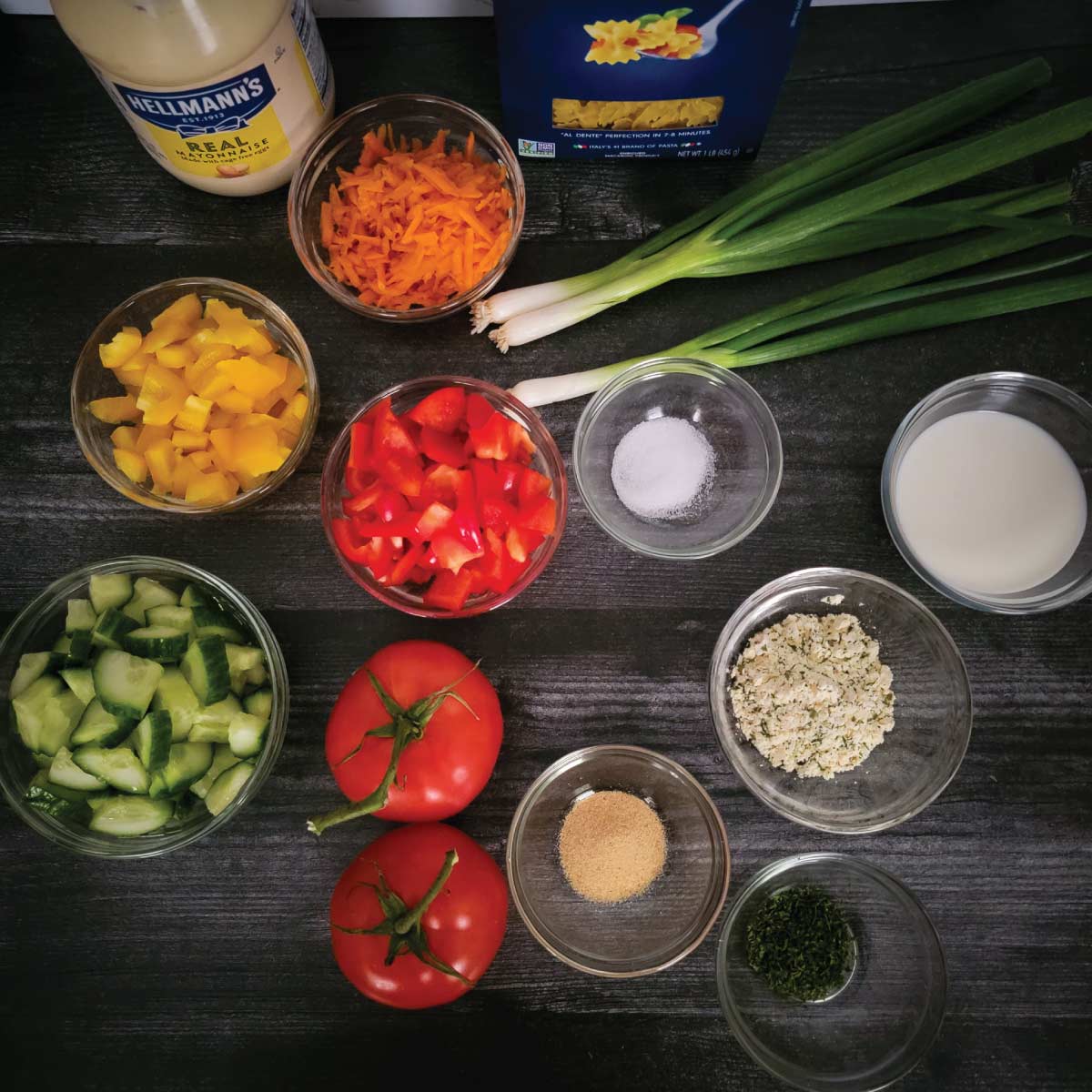 This creamy ranch pasta salad is a flexible salad when it comes to ingredients. You can change the vegetables up a bit to your liking. You can add more or less of each one as well. This is how we like it and I am sure you will too!
Pasta - We use either bow tie or medium shells usually here, but you can use your favorite. Elbows, small shells and rotini pasta work great too.
Mayonnaise - Use your favorite, we usually use Hellmann's here but it is a personal preference.
Carrot - Optional but recommended. You can mix different vegetables in if you like.
Peppers - I like to use red and yellow peppers here. They are a little bit sweeter then green peppers. Use your favorite pepper. We have used green peppers before and they are delicious in the ranch pasta salad too.
Scallions - Scallions will give you the best flavor without being overpowering.
Cucumber - We use 1 whole regular cucumber or if we are using English cucumbers, we use half of 1 as they are a bit bigger then regular. Use your favorite cucumber.
Tomatoes - We usually use a medium sized tomato like tomatoes on the vine when purchased from the store. In the summer we use our own tomatoes. If you use a large tomato, you may find you only need 1. Medium sized tomatoes we use 2.
Homemade ranch seasoning - You can substitute with a 1 ounce packet of store bought seasoning.
Salt - Added to enhance all the flavors. You may need to adjust if you use a store bought seasoning pack.
Garlic powder - No substitutions recommended.
Parsley - Optional as a garnish.
Making the creamy ranch pasta salad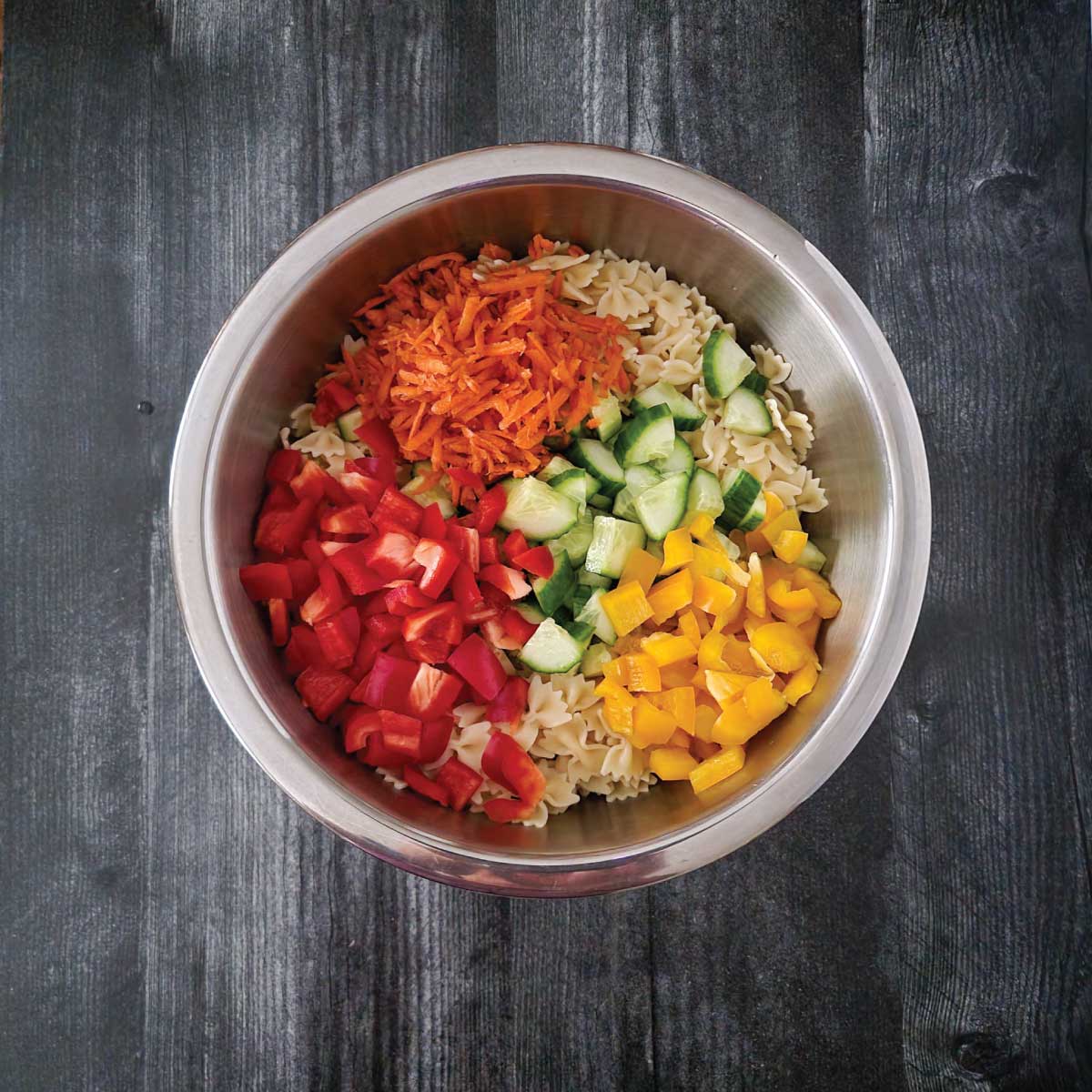 This pasta salad is very easy to make but these are some tips to creating the perfect salad!
Pasta and veggies
Pasta - Boil your pasta following the instructions on the package. We use medium shells or bow ties (farfalle) usually for this, but use your favorite pasta. Rotini, elbows and small shells work great too.
Once it is done, drain your pasta and rinse with cold water to cool down. This is important as it stops the noodles from cooking and it removes some of the starch from the outside of the pasta - I don't rinse hot pasta for spaghetti but it is a must for salads.
You need to be sure your pasta is fully cooled down before adding dressing.
The vegetables - Chop your peppers and cucumber while the pasta is cooling down. Shred the carrot now as well. For the cucumber, I slice it lengthwise in quarters and then slice it. You will have small bite sized triangle pieces.
Do not add tomatoes until right before serving. The tomatoes taste better when they are added to the creamy ranch pasta salad later. I do not even cut the tomatoes until right before serving. They get a weird flavor and texture if in the fridge for too long.
The dressing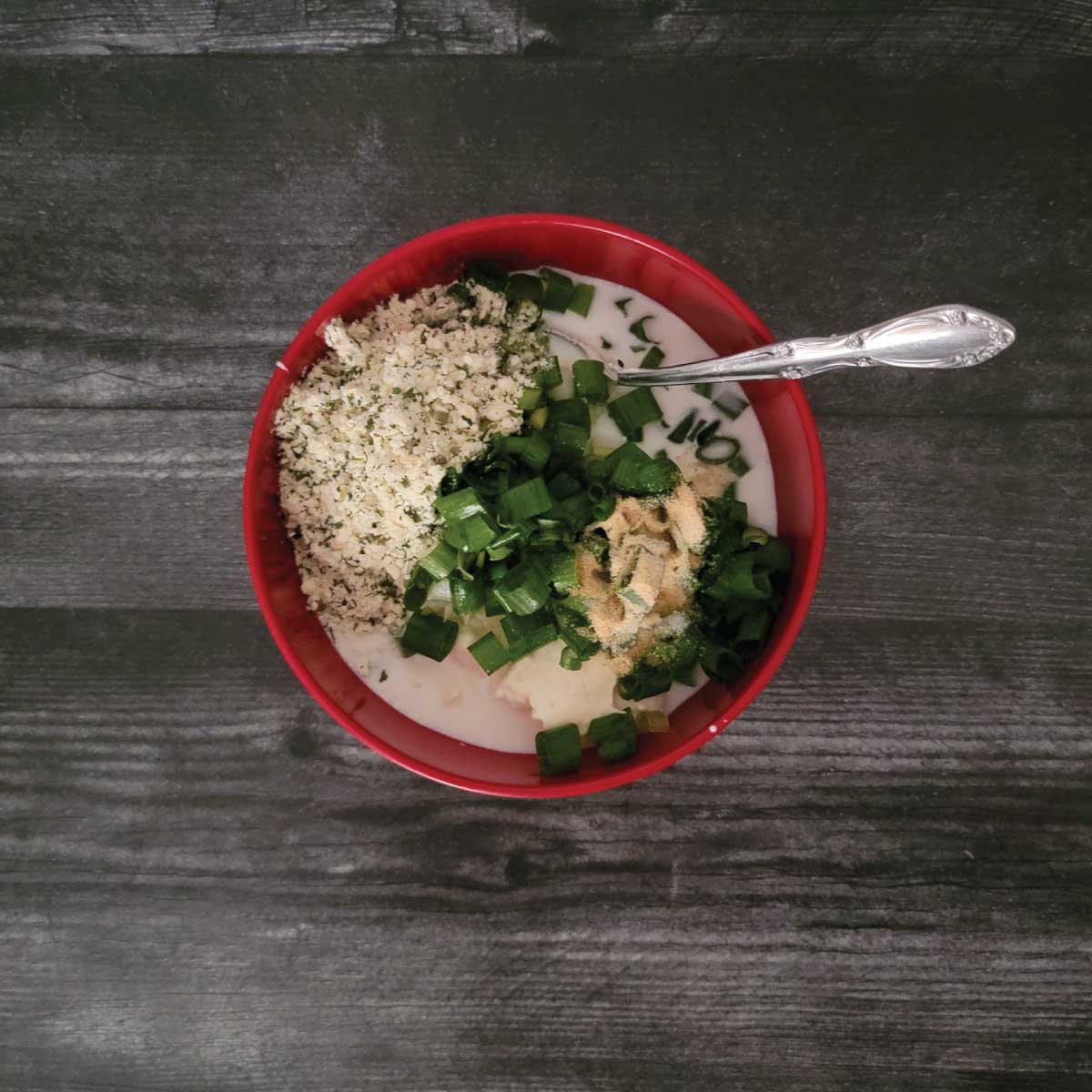 Chop up your scallions. In a small bowl mix together the mayo, milk, scallions, ranch seasoning, garlic powder and salt.
Stir it well and place in the fridge until ready to pour over the salad. I like to make the dressing first and then let it sit while the pasta is cooking. This gives it time for the flavors to combine together.
It doesn't have to sit in the fridge long, only while you are preparing the rest of the salad. You can add the dressing right away, but ranch pasta salad does taste better if the dressing sits for a few minutes.
The dressing can sit in the fridge prepared overnight if you are prepping it for the next day, but you don't have to let it sit that long for flavor.
Assembly
Be sure your pasta is completely cooled down. Add the cucumbers, peppers and carrots to the pasta. Stir well to combine.
Pour the dressing over the pasta veggie mix and stir well. You can refrigerate or serve immediately. I prefer to add the dressing shortly before eating the salad, but you can add it ahead of time to be ready later.
If you add the dressing shortly before eating, it will be creamier. You may notice that your creamy ranch pasta salad may not be as creamy after sitting in the fridge assembled for a bit. No worries, just add a 1-2 tablespoons of milk and stir.
Tomatoes and garnish - Just before serving, add your chopped tomatoes and sprinkle with parsley for garnish.
Frequently asked questions
Can I use ranch dressing instead of a packet?
I don't recommend it. Ranch dressing in a bottle is thinner prepared then in the ranch pasta salad. I have not tried it with the bottled dressing, but I think the consistency would be too thin.
Should you put dressing on pasta salad the night before?
You can, but we don't recommend it here with this salad. Pasta soaks up dressing when the salad is in the fridge so you will need more dressing or to add more milk so it isn't dry.
How long is pasta salad with ranch good for in the fridge?
It is best to be eaten in 3-4 days. The flavor will change slightly by the 4th day.
Why is my salad dry?
Pasta soaks up the dressing when it sits in the fridge. If you add the dressing ahead of time, it will likely get a little bit dry. Just add a tablespoon or 2 of milk to add some more moisture to the salad. You can also add a tablespoon of mayo, but we recommend milk.
Recent updates to recipe
This is still the same ranch pasta salad you love (same ingredients), but we made a couple updates. I am sure you will love it with the new updates but I am listing them here so you know the differences in case you want to make it the way you know.
Changed how to add the scallions - We originally had it written to add the scallions to the pasta and allow them to cool together in the fridge. Now we have them added to the dressing and refrigerating the dressing while prepping the salad. It gives the whole dressing a mild flavor of the scallions.
Cooling the pasta - We removed the cooling the pasta for 1 hour in the fridge with the scallions. The pasta still has to be cooled, but cold water will cool it down. Since the scallions are added to the dressing now, you don't need to let the pasta sit in the fridge with them.
Seasoning mix - This was recently updated to include our own seasoning. The original seasoning mix we recommended is by Missy over at Graceful Little Honey Bee.
Other great salads
If you like our ranch pasta salad, you might also like these great cookout salads!
Recipe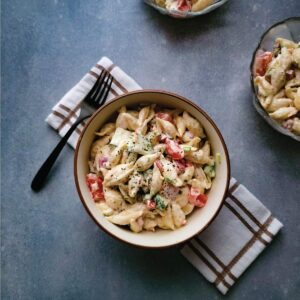 Ranch Pasta Salad
This easy to make ranch pasta salad is flavorful and colorful all while keeping it simple. It has the perfect combination of vegetables and ranch along with the pasta.
Ingredients  
16

ounces

pasta

1/2

red pepper

chopped

1/2

yellow pepper

chopped

1

cucumber

quartered and sliced

1

carrot

shredded

2

tomatoes

medium sized - chopped

1

teaspoon

parsley

for garnish
Dressing
1 1/2

cups

mayo

⅓

cup

milk

3

scallions

chopped

3

Tablespoons

Homemade Ranch Seasoning

or 1 oz package from store

1

teaspoon

garlic powder

½

teaspoon

salt
Instructions 
In a small bowl mix the mayo, milk, scallions, ranch seasoning, garlic powder and salt. Place in fridge until the salad is ready to be assembled.

1 1/2 cups mayo,

⅓ cup milk,

3 scallions,

3 Tablespoons Homemade Ranch Seasoning,

1 teaspoon garlic powder,

½ teaspoon salt

Cook pasta according to instructions.  Drain and rinse with cold water to cool down.   Pour into a large mixing bowl.

Add in the chopped pepper, cucumber and shredded carrot to the cooled pasta.  Stir well to combine.

For the cucumber, I slice in half lengthwise and then in half again lengthwise. You have 4 long slivers. Now slice them so you have bite sized triangles.

1/2 red pepper,

1/2 yellow pepper,

1 cucumber,

1 carrot

Pour the dressing into the pasta mix and stir well.

Just before serving add in the chopped tomatoes and stir to combine.  Sprinkle parsley on top for garnish.

Enjoy!

2 tomatoes,

1 teaspoon parsley
Notes
The nutrition facts are an estimate and calculated using store bought seasoning so using the homemade will change these values slightly.  Serving sizes are estimated.
For the pasta - We use medium shells or bow ties usually.  Small shells, elbows and rotini are all great too.
For the peppers - you can use 1 whole bell pepper or mix them up.  Use your favorite.
For the cucumber - 1 cucumber was based on an average sized regular cucumber.  When we use an English cucumber, we use half as they are much bigger.
For the salt - Adjust as needed, you may want to add more or less depending on the ranch seasoning and personal taste.
Tomatoes should not go in the salad too soon.  They get a weird texture when refrigerated.  To keep it a fresh salad, they are best added before serving. 
Nutrition
Calories:
430
kcal
Carbohydrates:
40
g
Protein:
7
g
Fat:
26
g
Saturated Fat:
4
g
Polyunsaturated Fat:
15
g
Monounsaturated Fat:
6
g
Trans Fat:
1
g
Cholesterol:
15
mg
Sodium:
681
mg
Potassium:
276
mg
Fiber:
2
g
Sugar:
4
g
Vitamin A:
1516
IU
Vitamin C:
24
mg
Calcium:
34
mg
Iron:
1
mg