We have recently started to make our own Instant Pot yogurt and I am glad we did! It tastes amazing and you know exactly what is in it. Along with making it came flavoring it. With a few experiments, I created the perfect fruit flavors for yogurt that the family loves. This felt like a major win to me since most of my family didn't eat much yogurt before and now they all eat it.
Most of these are fruit on the bottom, but a couple we stir before putting in the fridge. I am going to share with you how we make these flavors and you might find that you want to adjust them a bit to fit your needs. You will probably love them the way they are tho!
The yogurt I make is Instant Pot Yogurt by Simply Recipes. I don't have my own recipe for yogurt, I followed theirs and make it this way every week. They do a great job explaining the process - no worries, it is very simple!
I make the fruit flavorings just before the yogurt is done (or as it is cooling down.) All of the flavorings get heated so they need to cool down before adding yogurt to them.
We always save some plain yogurt set aside so we can make yogurt pancakes and even Instant Pot cheesecake.
Making fruit flavors for Instant Pot yogurt
These are all easy and add a great flavor to yogurt, especially for people that don't like plain - that is me, I don't like plain yogurt. As noted above, you may find you want to adjust these a little bit. I make mine in half pint canning jars so if you use smaller containers, you definitely want to adjust the amount you put in each jar.
Apple pie yogurt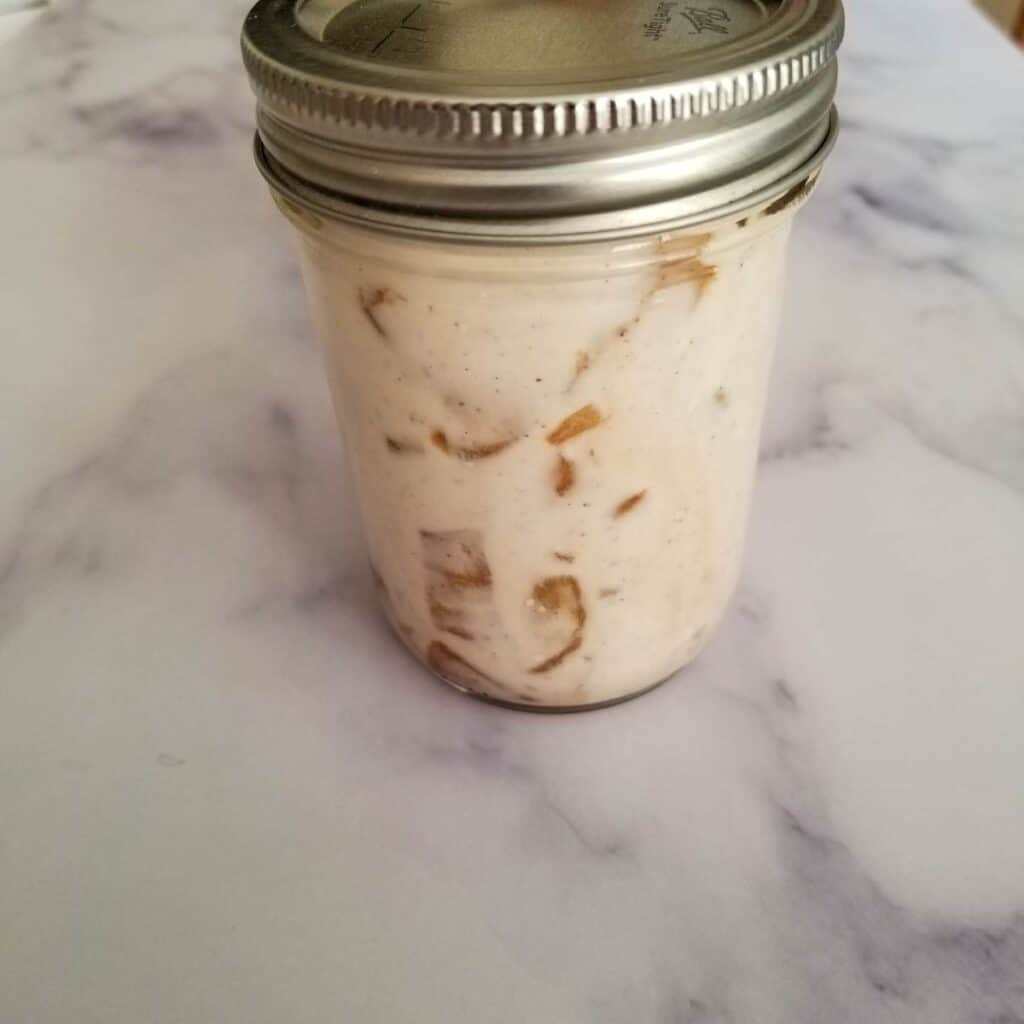 Yes this is as good as it sounds! This was a challenge that I accepted here. Somebody wanted apple yogurt and I was thinking of a way to make it great but yet keep the apples from getting funky. You may also think of this as a caramel apple as it is similar.
What you need for 3 half pint jars:
1 large apple - we used macintosh but use your favorite
2.5 TBSP packed brown sugar
1 TBSP water
1 TBSP heavy cream (preferred but can use half and half or milk)
1/2 tsp cinnamon
In a small saucepan mix the water and brown sugar together. Heat over medium/low to medium heat (depending on your stove) to bring to a simmer. Once it is at a simmer, cook for about 1 minute stirring constantly. It will be bubbling. Add in the cinnamon and carefully add in the heavy cream. Stir together and add the apples. Cook stirring often for about 5 minutes or until the apples are desired consistency.
Evenly distribute across the 3 jars: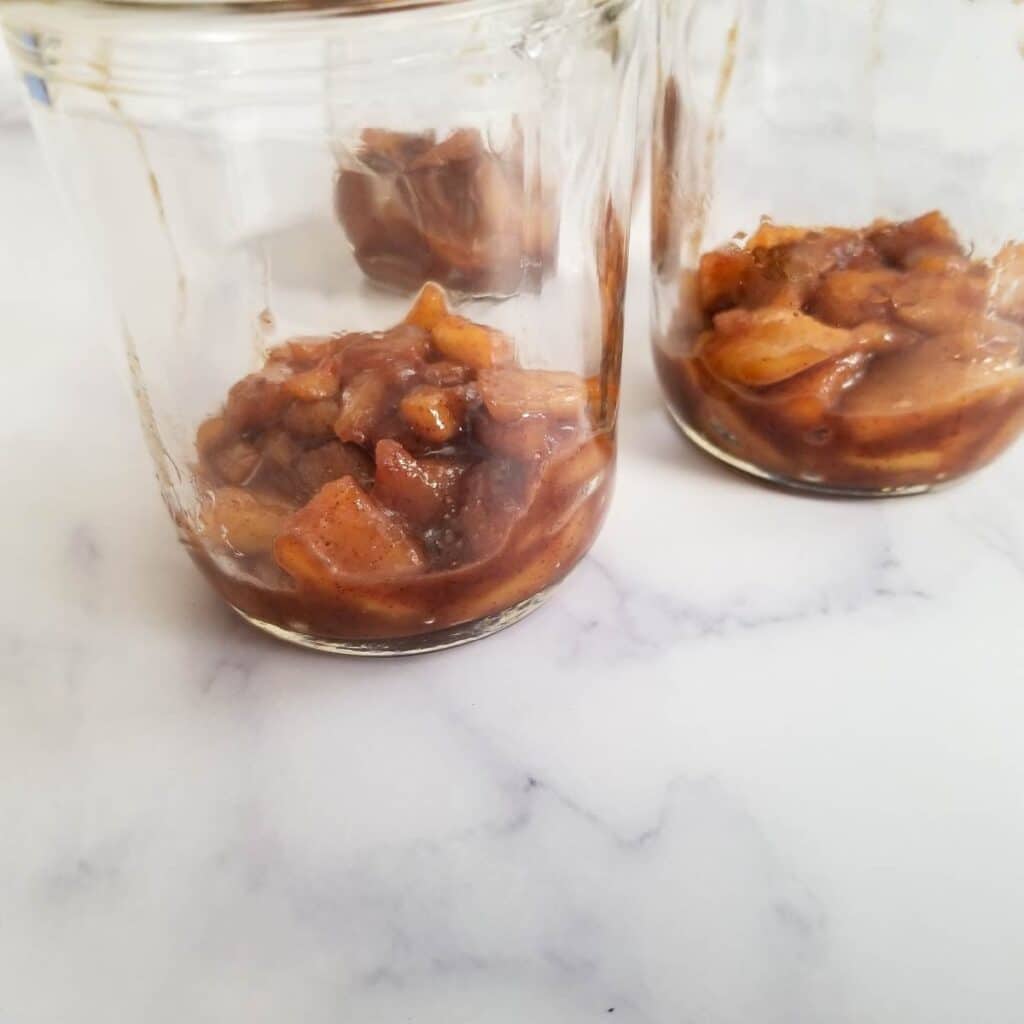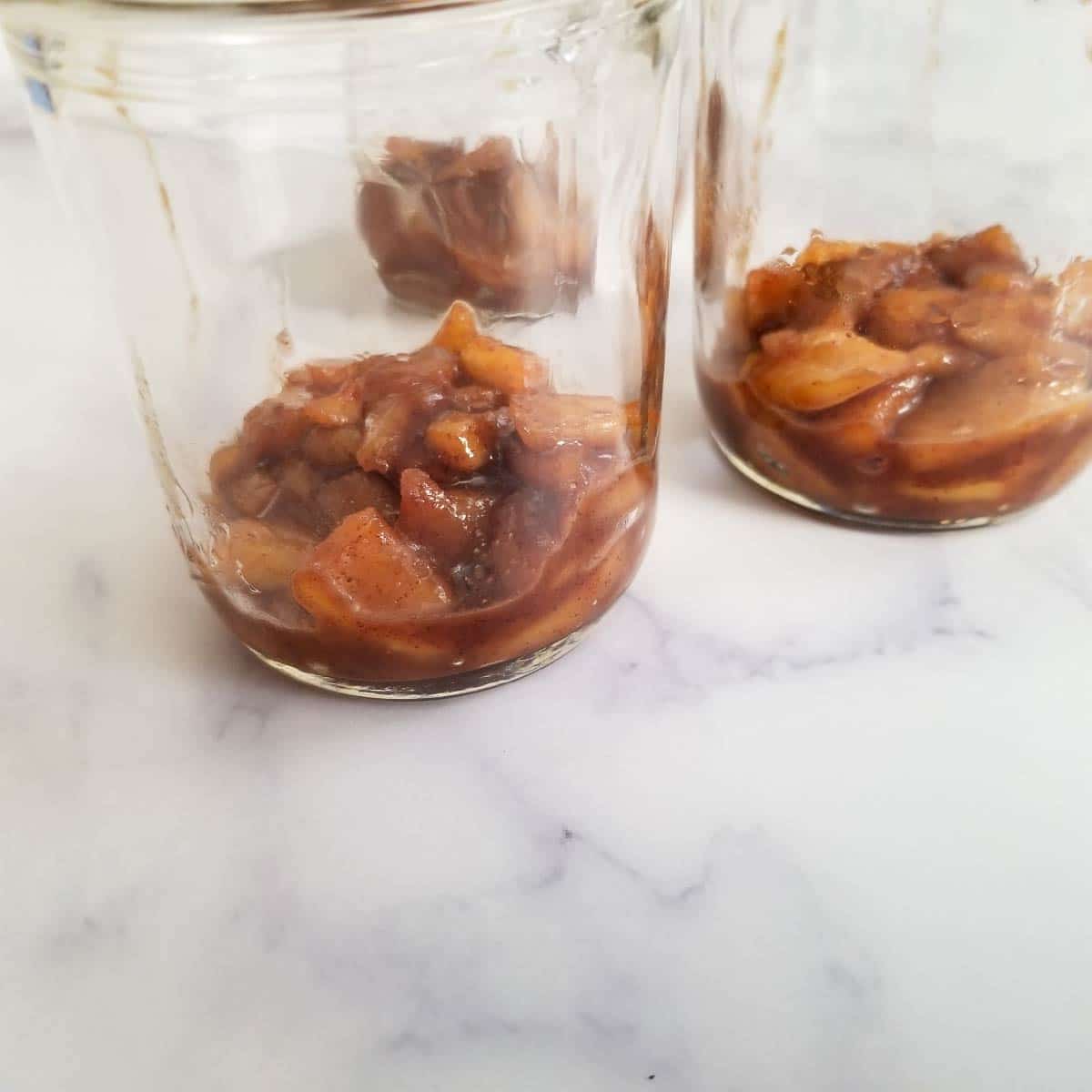 Cool all the way before adding yogurt. This is one of the flavors we stir before putting in the fridge.
Fruit on the bottom yogurt
This works with a lot of fruits and we use frozen for this. It adds just a little bit of moisture to make it a syrup. I have used peaches, strawberries, mixed berries and blueberries. You can get creative here! You can even use homemade strawberry jam to the bottom.
What you need for 3 jars:
We have put this across 2 jars but it makes it sweeter and thinner then many people like. 3 jars is probably ideal for most, but adjust as you like!
1 heaping cup of frozen fruit
1 TBSP sugar
Put the fruit in a small saucepan and sprinkle the sugar over it. Heat on medium low until the fruit softens a little and use a potato masher to mash the fruit down.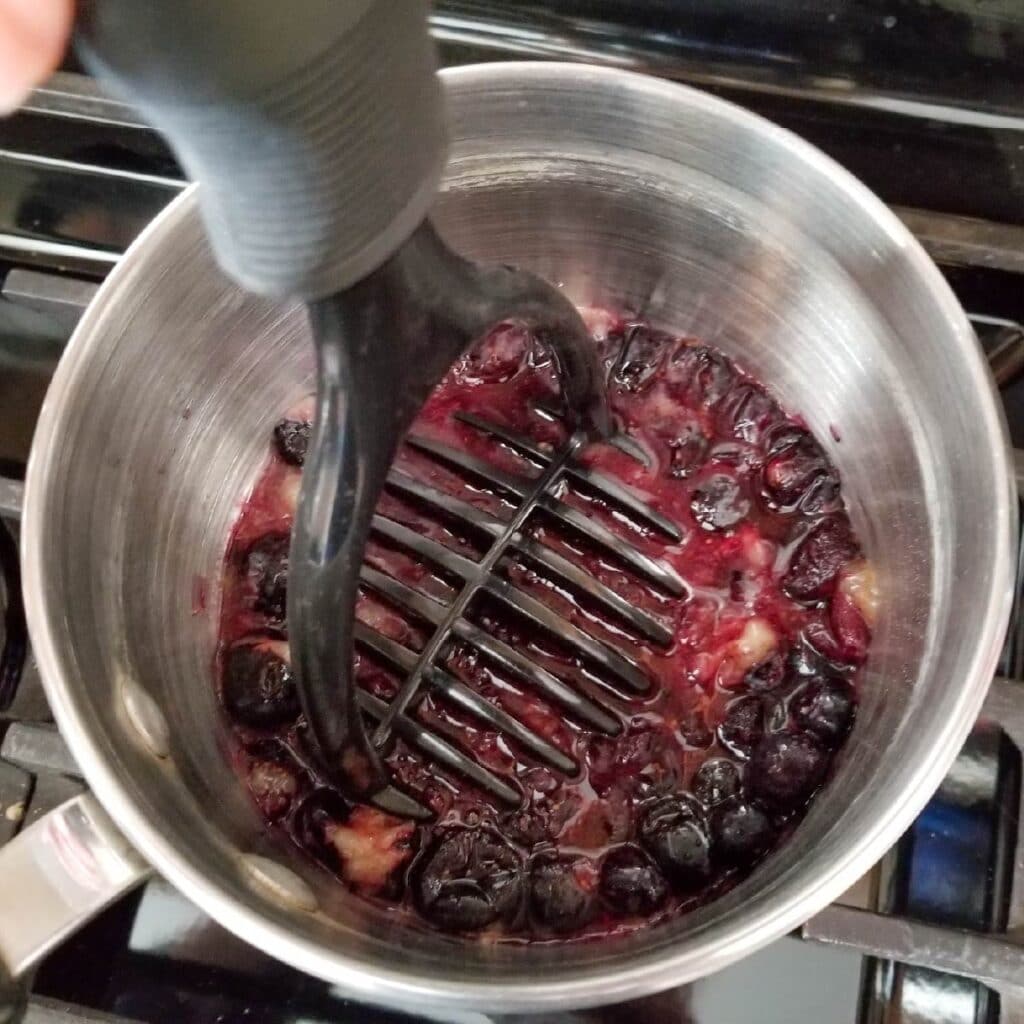 Continue to cook on medium low stirring often for about 5 minutes. Cool down slightly and divide into jars. Allow to cool to at least room temperature before adding yogurt.
To stir or not to stir is your choice. We prefer to leave these as fruit on the bottom yogurt and stir it when we eat it.
Banana cream yogurt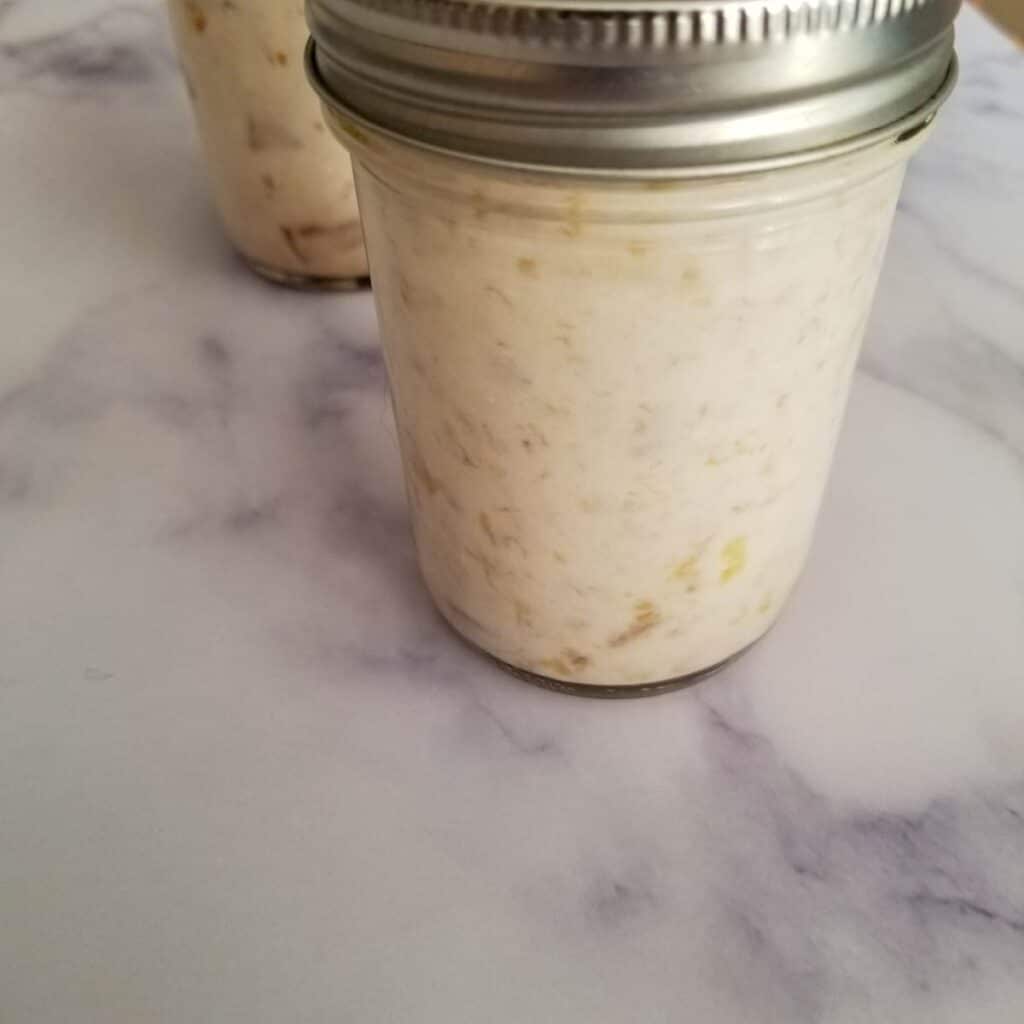 I love bananas and I tried a few ways with this. To me, it is better as a mixed yogurt instead of fruit on the bottom. The banana mix isn't as thin as the others so it is best to stir before putting in the fridge or it will be thick on the bottom.
What you will need for 3 jars
2 bananas (they don't have to be overripe)
2 TBSP brown sugar packed
2 TBSP heavy cream
Break the bananas up into a small saucepan and mash them using a potato masher. Add in the brown sugar and heat over medium/low heat stirring very often. Cook for about 2 minutes and carefully add in the heavy cream. Stir and cook for another minute stirring constantly. Allow it to cool a little before dividing among 3 jars. It needs to cool to at least room temperature before adding the yogurt. Stir once the yogurt is added and put in the fridge.
It is ok that it is a little lumpy, it adds some nice texture to it.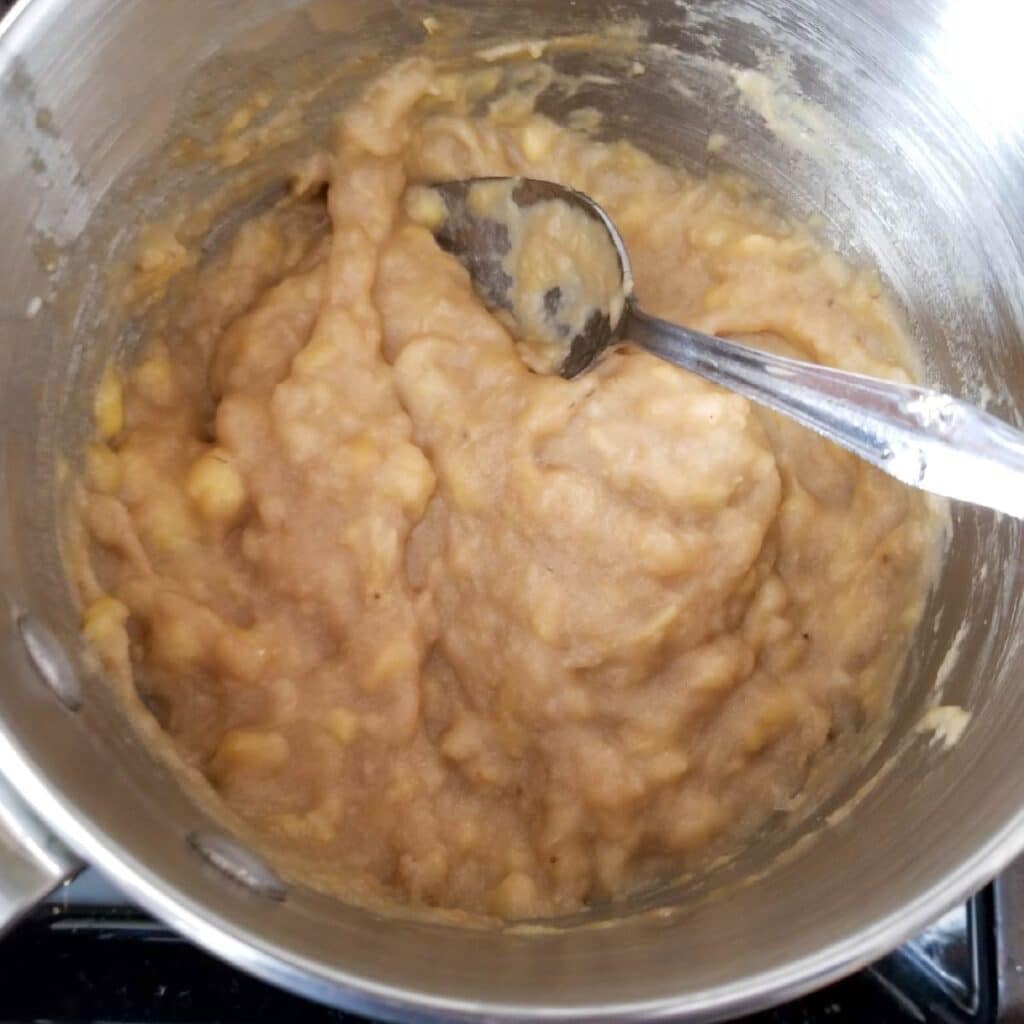 As you can see, there are many ways to add fruit flavors to your Instant Pot yogurt! We have messed around with adding chocolate and even tried making chocolate banana.
Have some fun with it and enjoy!
As a note:
These are just a base for you to use and you may want to adjust the ingredients a little. If you want more fruit in your yogurt on the fruit on the bottom ones, divide it among 2 jars.
If using glass jars, be sure to place the jars on a kitchen towel or a pot holder before putting the fruit mix in it. The temperature change can crack the glass if the fruit is too hot and the counter is cool.
Also be sure to allow to cool all the way before adding yogurt. And as one last note, we do not add anything else to sweeten our yogurt when we do this. We don't use creamer or sweetened condensed milk. If you do, you might want to decrease the amount of sugar you use.