Baked ham is a classic main dish that's popular for holidays, family gatherings, and special occasions. But no meal is complete without a variety of tasty side dishes to complement the savory flavors of the ham.
Whether you're looking for something sweet, savory, or a bit of both, there are plenty of delicious baked ham side dishes to choose from. In this post, we are sharing some of the best side dishes that will make your baked ham dinner even more delicious and satisfying. From creamy potatoes to flavorful vegetables, there's something for everyone on this list. So let's dive in and discover the perfect accompaniments to your next baked ham feast!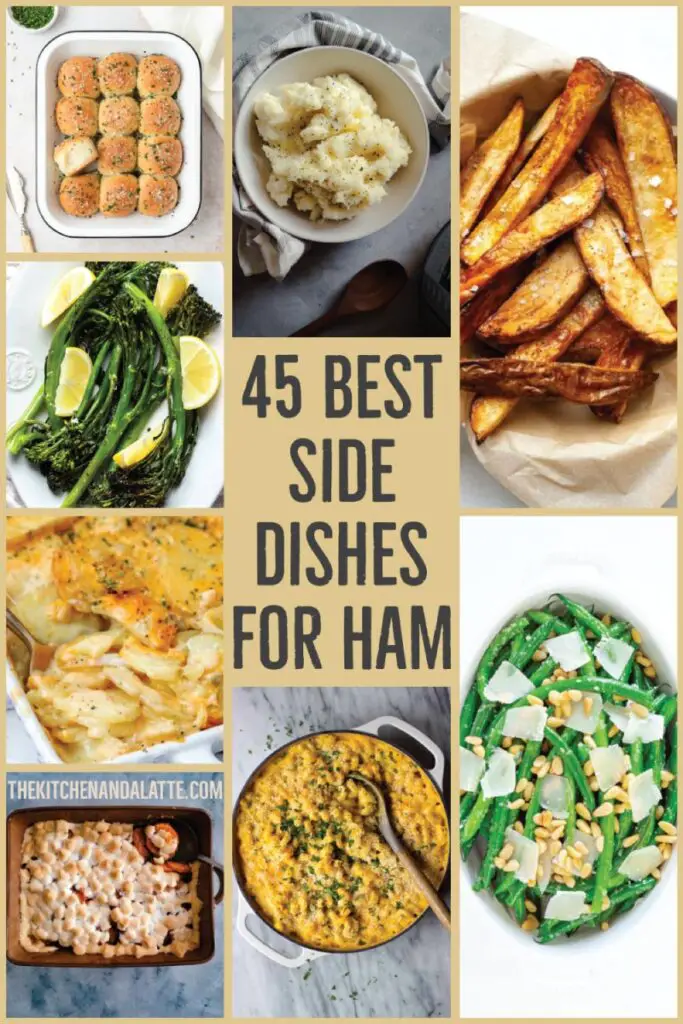 Pin it now to save for later!
We like to make a variety of dishes with ham and usually we like to try different things each year. These 45 recipes are the best side dishes to go with your baked ham! They are ones we have tried and absolutely love.
Some of them are our recipes that we have been making for years and some are from other amazing food bloggers. They are all delicious!
We included a variety of sides to choose from potatoes and vegetable to salads and rolls.
Jump to:
Potatoes
Potatoes are a classic side dish to go with ham. They are definitely a traditional go to and there are many ways to enjoy them! You can make them mashed, scalloped, as a salad or even as French fries. There are a lot of ways to enjoy potatoes with a holiday meal.
Sweet Potatoes
Sweet potatoes are always a delicious side to go with baked ham. While the ham is salty and sweet if you have a glaze, the potatoes are sweet and savory.
Rice, pasta and pasta salads
Rice and pasta are always good and go with just about any meal, including as a side dish to go with ham. They are usually a very easy dish to put together which makes them perfect for holiday meals. We sometimes like to make a pasta salad for an easy meal prep.
Casseroles
Casseroles are often a go to with any holiday meal, including as a side dish to go with baked ham! If you make it a vegetable casserole, they are often the best way for picky kids to eat their vegetables at the table. Potato and sweet potato casseroles are above in their categories to keep this clean and simple.
Vegetables
We cannot forget vegetable side dishes for ham! A ham dinner isn't complete without a vegetable, at least not in our house. We usually make 2 vegetables with big meals so there is something for everybody.
Breads and rolls
What is a holiday ham dinner without bread or rolls? Ok so we have forgotten to make rolls before, but it definitely is one of the best side dishes for ham or any holiday meal. We added some quick recipes like the biscuits and then also some amazing dinner rolls that do require yeast and rising.
Salads
Salads are always a great side dish to go with ham or any meal really. I love a good salad with just about any dinner! What is even better is that they can be made ahead of time and ready to serve when the ham is done.
Conclusion
Baked ham is always a great meal for the holidays. We make it every single year for Easter and everybody looks forward to it, of course with all the other great food too .
These recipes above are some of our favorites and to us they are the best side dishes for ham. We hope you find some that you love and have a wonderful ham dinner!