Baked ham is a classic holiday meal and it is very easy to prepare! It has a simple brown sugar pineapple ham glaze with a little mustard and cherry juice.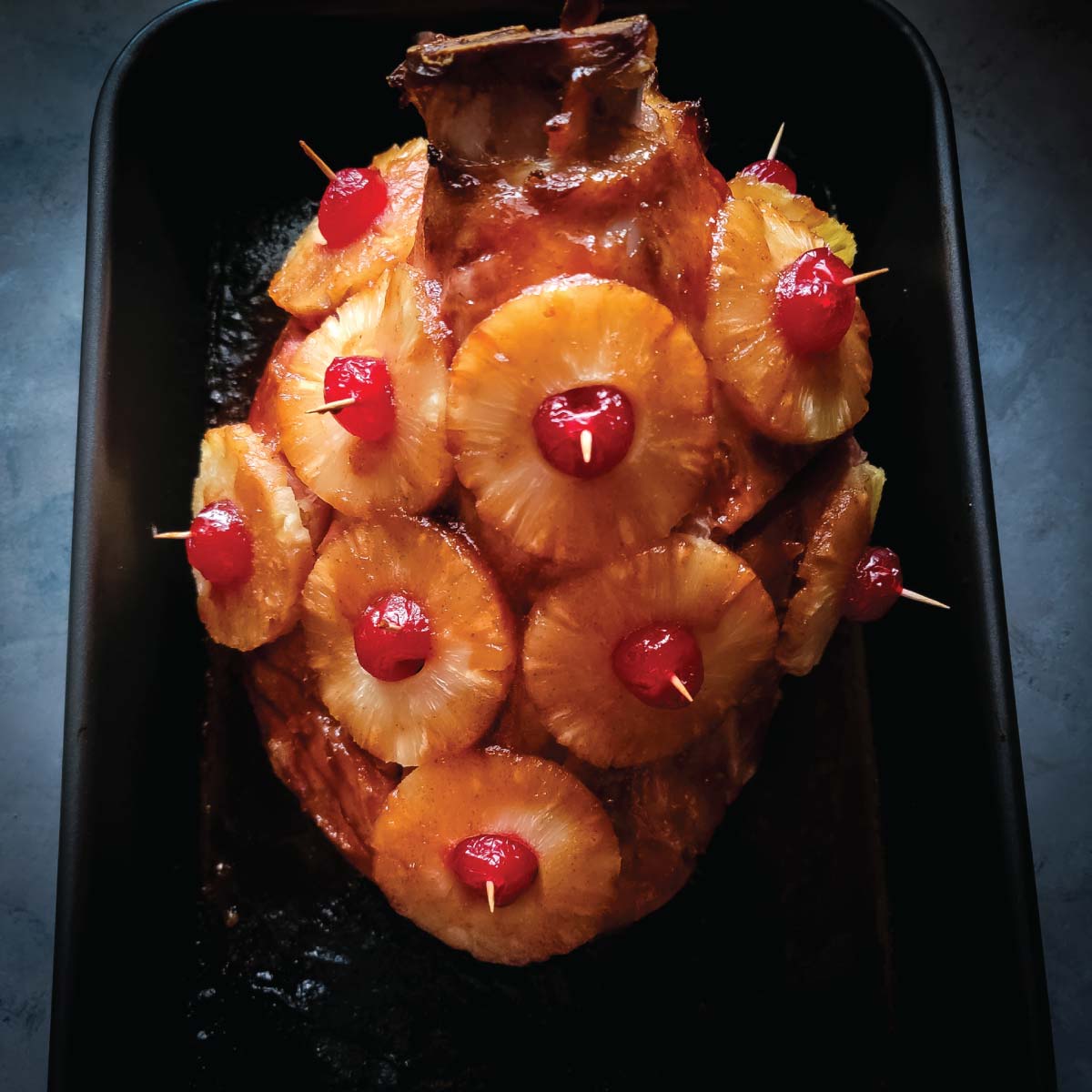 I feel that ham should be a very simple dish to prepare, so we keep it pretty easy with this recipe. Unlike making a turkey, you are cooking a precooked ham that really just needs to be heated through.
The pineapple slices and cherries are baked on the ham. The glaze is put on for the last 20 minutes of cook time. We usually pull the ham out when it reaches 130 degrees and put the glaze on. In needs to be heated to 140 degrees Fahrenheit to be a safe temperature.
Take note this recipe is for a precooked ham, if cooking an uncooked ham the temperature needs to be at least 145 degrees.
Jump to:
Ingredients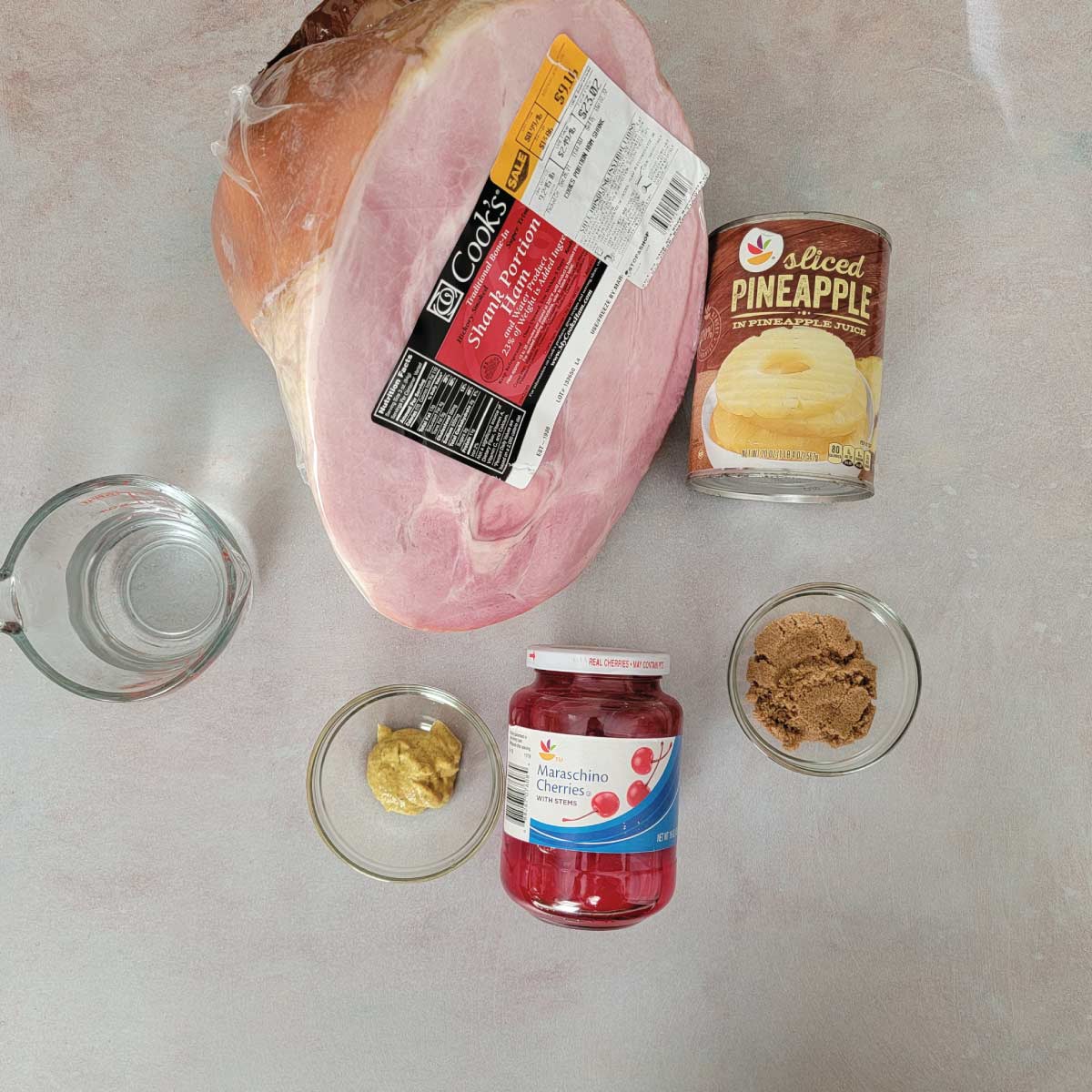 Ham - We use either butt or shank ham. See below for the different hams.
Pineapple - Pineapple slices in 100% juice. Slices are baked on the ham and the juice is used for the glaze.
Maraschino cherries - No substitutes recommended.
Brown sugar - Dark or light brown is good. We used dark brown for our brown sugar pineapple ham glaze.
Mustard - Spicy mustard is what we like, but you can use Dijon mustard in it's place.
Water - To add to the bottom of the baking pan.
Spiral, shank or butt ham - which is best?
We use either shank or butt for our baked ham with pineapple glaze, but do not recommend a spiral ham. Knowing the difference between the cuts will help you make a decision.
Butt - The butt end has a funky bone layout which makes it just a little bit harder to carve. It has the ball and hip joint which creates a different shape through the meat. The butt end does have more flavor and can be more tender tho making it worth carving around a different bone structure.
Shank - The shank end is the one we used here in the pictures. It looks a lot like the butt end from the outside but the bone is more straight forward. Many times we like to get the butt end, but the shank was what was available at the time. We find it to still turn out juicy and delicious, but it might be a little bit more chewy in some spots. It is good but you may find spots where it is chewy. This is because it is the main muscle in the hind legs so they do get a bit more of a workout which can cause a slightly tougher meat.
Spiral - No we never recommend a spiral ham. First thing is that it is always more expensive because it is precut. It sounds nice to have a precut ham, right? Well until you make it to find out that a spiral ham dries out significantly. The slices start to separate while cooking and it tends to dry the meat out on each slice.
The recommendation? Top choice is butt end but shank will be great too. If you want a juicy ham, stay away from spiral.
Making the baked ham
It is easy to prepare, here are some tips to help you put a perfect ham on the table. First you want to preheat the oven to 325 degrees Fahrenheit so it has plenty of time to get to temperature. Adjust your oven rack so that your ham will in the center of the oven.
Prep the ham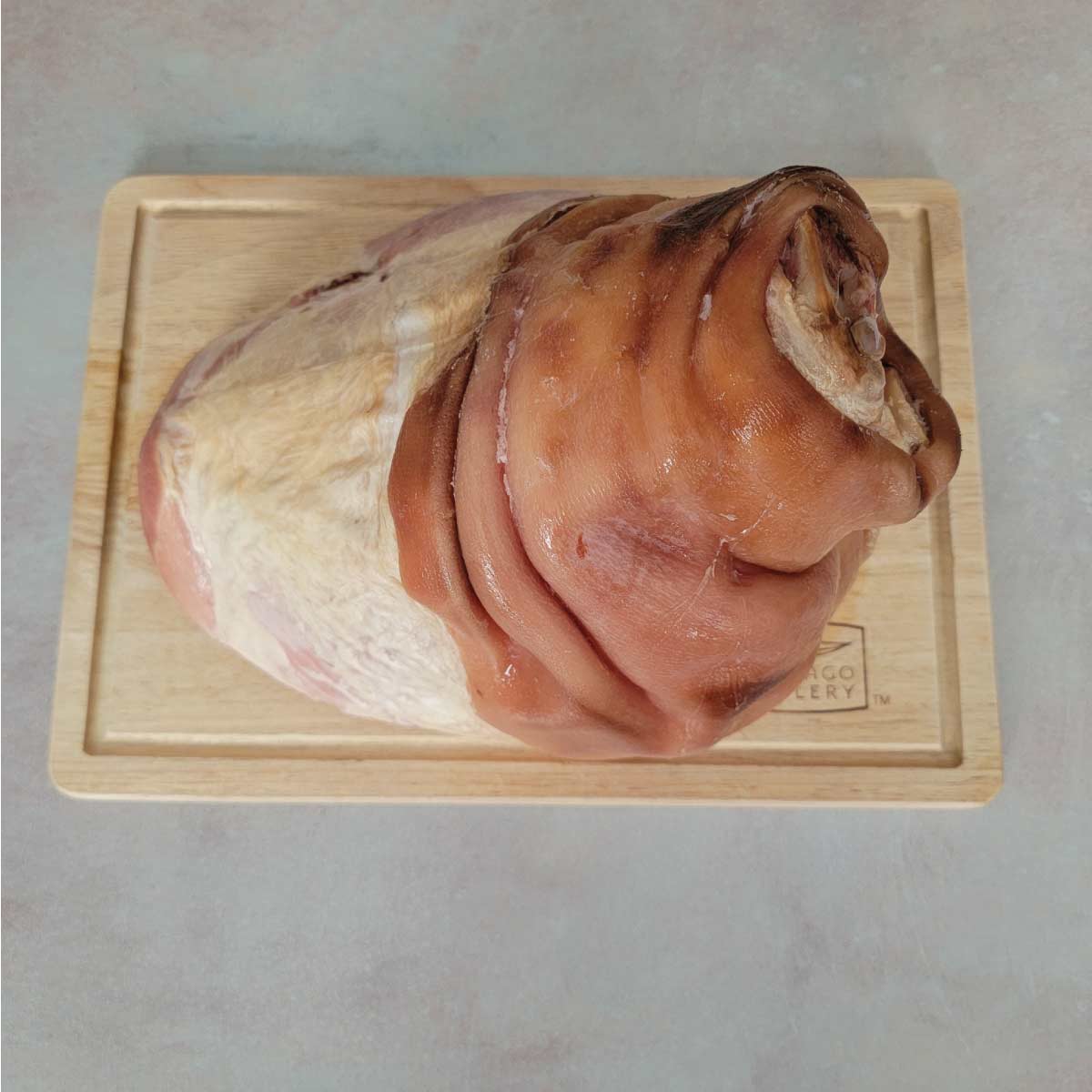 Most of the time your ham will have skin left on. You do not want to keep this on as it will block the flavors of the pineapple, cherries and glaze. There really is no benefit in keeping it on when cooking it with fruit or a glaze on it.
No worries, it comes off pretty easy. I make a vertical cut down through the skin and then peel the whole skin off. It should peel off pretty easy, you may just need to squeeze your fingers under the skin a little to encourage it to come up.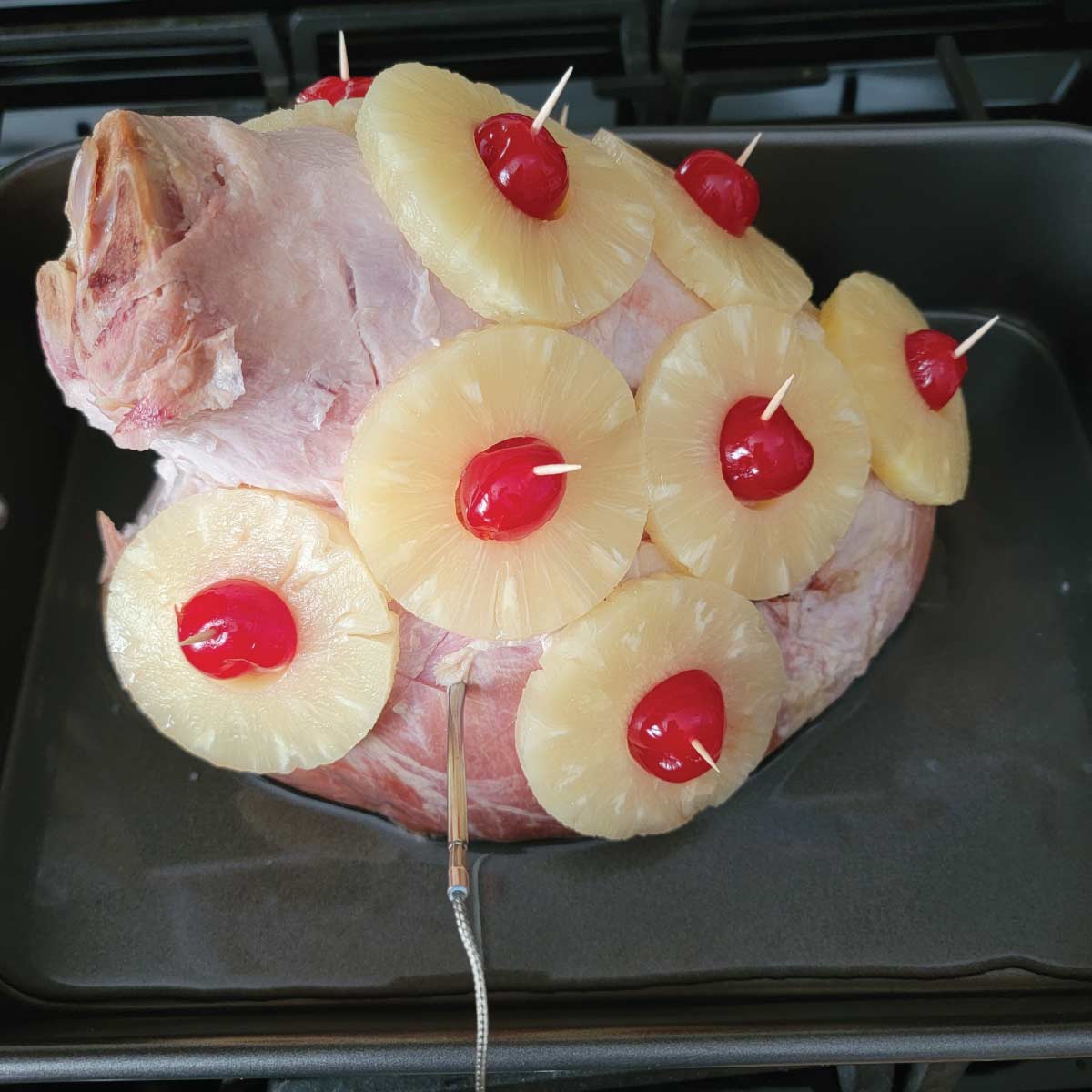 Next I like to put some cuts into the ham in a criss cross pattern, but that is optional. I don't go too deep with the cuts and I do it so the flavors go through the meat a little more. Put it flat side down in a roasting pan. If your ham had a plastic piece over the bone, be sure to remove it before baking.
Place the pineapple slices all over the ham and add a cherry to the middle of each slice. Secure with a toothpick inserted into each cherry. This will keep the fruit on while baking. Set the pineapple juice aside for the glaze.
I love to use a probe to keep an eye on the temperature to make it easy. This way I don't have to keep opening the door and inserting a thermometer in the baked ham. You can easily check the temperature at any point during cooking. You would insert the probe now if you are using one.
Cook the ham
Pour the water into the bottom of the pan. Loosely cover the ham with foil, more like a tent over the top but the sides can be open slightly.
Place in the center of the oven and bake at 325 degrees Fahrenheit for about 15-20 minutes a pound. When there is about 20 minutes left or your ham is around 130 degrees, take out of the oven and spoon the glaze all over the ham.
Put the baked ham back into the oven uncovered. We like to continue baking at 325 degrees until the meat thermometer reads 140 degrees. At this temperature the glaze will not crystalize. We prefer our glaze to not crystalize here.
Alternately you can bump the oven temperature up and cook at 425 for 15-20 minutes, until temperature reaches 140. This will create a more crystalized glaze that is slightly browned. Either way is delicious and this is a personal preference!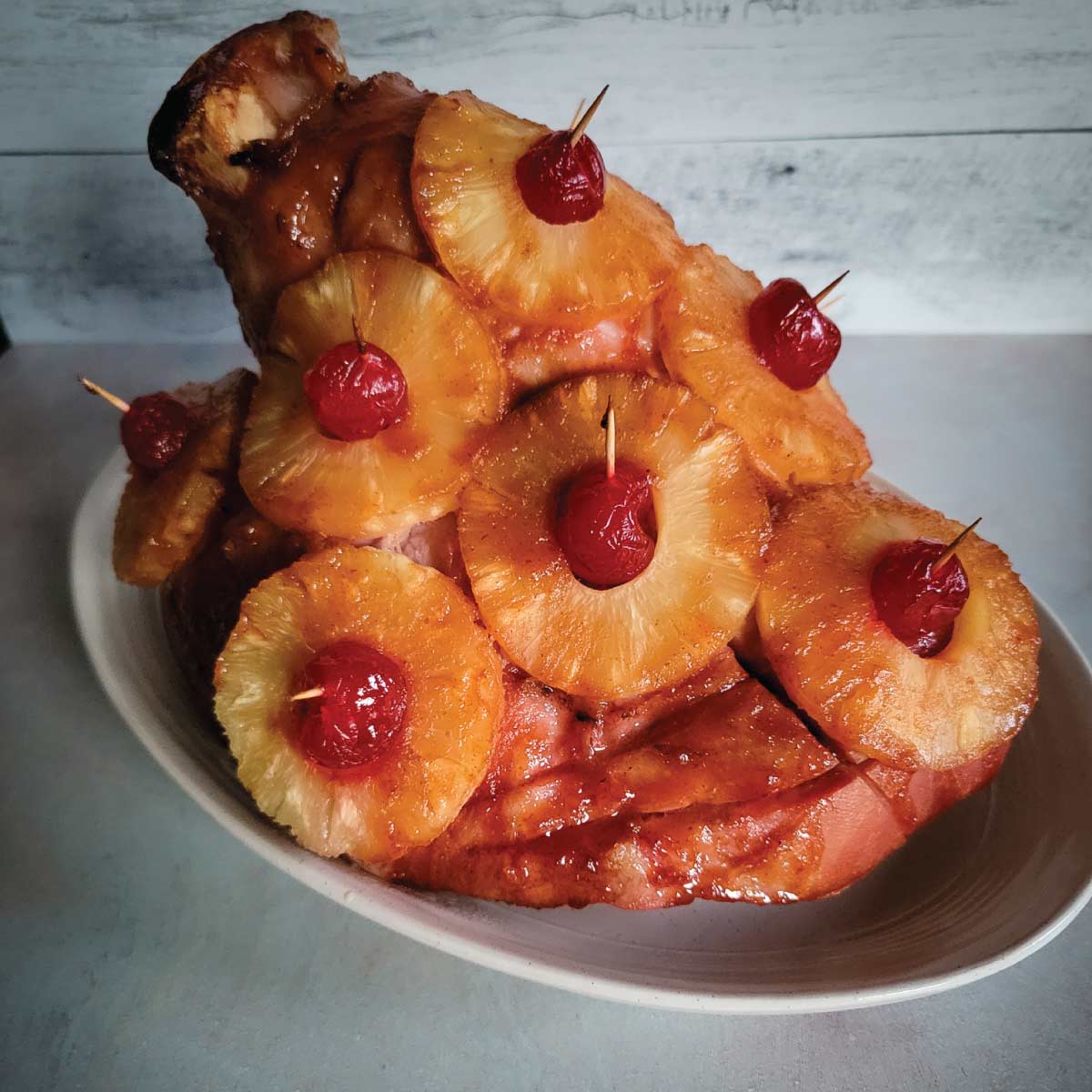 Pictured above it was cooked at 325 after adding the glaze. If you cook it at 425, the glaze will crystalize while your pineapple and cherries will brown a bit too.
Allow the baked ham with brown sugar pineapple glaze to rest out of the oven for at least 15 minutes before cutting.
Making the brown sugar pineapple ham glaze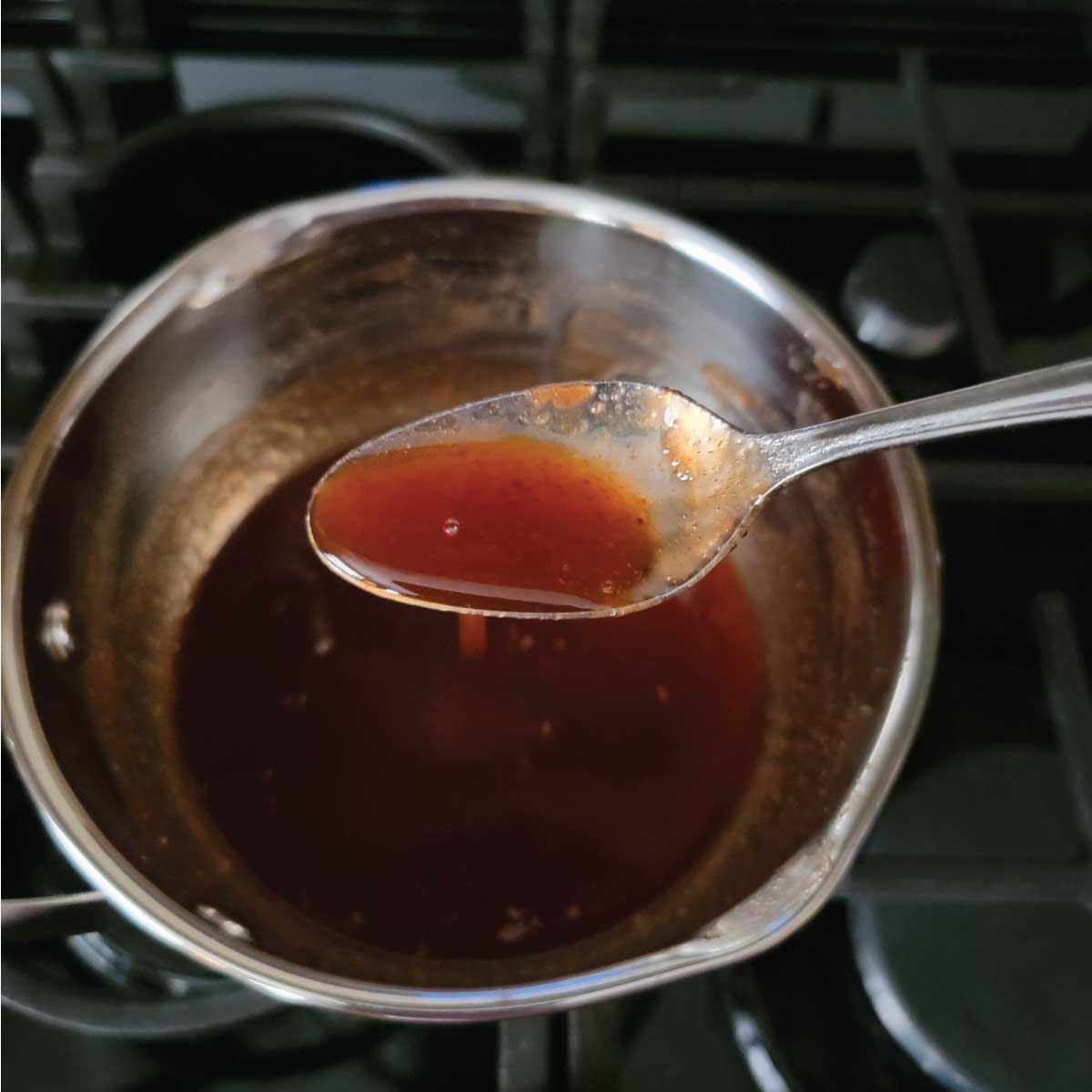 This is a very simple glaze to make, but it does require you to cook it for about 25- 30 minutes. There is no thickening agent in it (no cornstarch or flour) so you are simmering it to a thicker consistency.
I make the glaze about an hour before the ham will be done. This gives time for it to cook and also for it to sit for a couple minutes before spooning over the ham. It can go over the ham hot if needed.
Pour the pineapple juice into a small sauce pot with the mustard, brown sugar and cherry juice. Bring to a gentle simmer and continue cooking while stirring often for 25-30 minutes. You will see it thicken up to it is a pourable glaze but not too thin.
Set the pineapple glaze aside until it is ready to go on the baked ham.
Side dishes for baked ham
There are many dishes that go great with ham! These are some of our favorites.
We have also created a list of 45 best side dishes for baked ham, there are a lot of delicious sides!
What to do with leftover ham?
There are so many things you can do with leftover baked ham! I am one who does not like to waste anything so we use it all, even boiling down the bone. Boiling down the bone doesn't really make a bone broth, but it does make some pretty flavorful broth to make ham and bean soup. The broth also adds an amazing flavor to homemade baked beans.
Ham can be used for simple things like sandwiches, topped on pizza with pineapple (I know some will say it doesn't belong on pizza but it's good) and then we also use it in ham and potato soup.
There are so many dishes to add ham too! Have some fun and get creative.
Frequently asked questions
Do I have to bake the ham covered?
You do not have to, but I do recommend it. Your ham will be more tender and juicy if it bakes loosely covered.
Do I have to add the glaze?
No you do not, but it does add the perfect amount of sweet to a salty meat. We used to make this baked ham without a glaze for years because we were not fond of most glazes. It wasn't until I started making our brown sugar pineapple glaze that we used one.
Can I freeze the ham?
Yes, ham freezes well! Be sure it is completely cooled down before placing in containers to freeze to prevent excess moisture. It is best if you cut the ham you will be using in recipes off of the bone and freeze the bone separately.
Equipment
As an Amazon affiliate we may earn a commission off eligible purchases made through one of our links. This is at no extra cost to you, thank you for your support!
Thermometer with probe - This is the one we use and absolutely love! It has a magnet built into the thermometer so you can stick it to the outside of your oven door while the probe is in the meat in the oven. There are more expensive ones that connect to your wifi too, but I love this for a simple digital thermometer and probe. It also is an instant read thermometer so you can use it for many things.
Roasting pan - As much as I prefer stainless steel or cast iron for most things, I do prefer non stick when making a baked ham. It is the one thing that I use a non stick roasting pan for. Ham juice and the glaze tend to caramelize on the bottom of the pan and can be tough to clean in anything other the non stick.
Carving knife - This is a very sharp and nice looking carving knife. It can be used for many things besides carving as well from cutting bread to slicing vegetables.
Recipe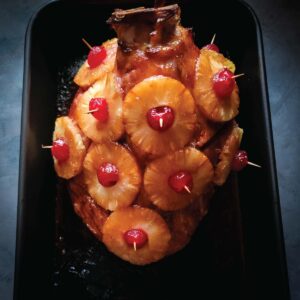 Baked Ham with Pineapple Glaze
Baked ham is easy to make and is perfect for you holiday meal. The brown sugar pineapple glaze adds the perfect amount of sweet to a salty meat.
Ingredients  
6-12

pound

ham

shank or butt end

20

ounces

canned pineapple slices

in juice

8-10

maraschino cherries

1 for each pineapple slice

½

cup

water
The glaze
pineapple juice from the canned slices

¼

cup

brown sugar

3

Tablespoons

cherry juice

from maraschino cherries

1

Tablespoon

spicy mustard
Instructions 
Move oven rack to a position where the ham will bake centered in the oven. Preheat oven to 325° Fahrenheit.

Remove ham from package and cut the thick skin off if it is on the ham. Place flat side down in the roasting pan.

Pour water into the bottom of the pan.

6-12 pound ham,

½ cup water

Place the pineapple slices with a cherry in the center of each slice all over the ham. Use toothpicks through the cherry to secure the fruit in place. Set the pineapple juice aside for glaze.

Insert thermometer probe if you are using it.

20 ounces canned pineapple slices,

8-10 maraschino cherries

Loosely cover the ham with foil, place in the oven and bake for about 15-20 minutes per pound.

About 1 hour before the cook time is up make the glaze. Combine the pineapple juice, brown sugar (light or dark), cherry juice and mustard in a small pot.

Bring to a gentle simmer and cook stirring often for about 25-30 minutes, until it has thickened a bit. It should be a thickened but still pourable liquid. Set aside until putting on the ham.

pineapple juice from the canned slices,

¼ cup brown sugar,

3 Tablespoons cherry juice,

1 Tablespoon spicy mustard

Once the ham reaches about 130° Fahrenheit or about 15-20 minutes left of the cook time, remove from oven and spoon the glaze evenly over the ham and fruit.

Bake uncovered for about 20 minutes, until the ham reaches 140° Fahrenheit. If you want a caramelized glaze, bake the last 20 minutes at 425°. If you prefer it to not caramelize, bake the last 20 minutes at 325°.

Remove from oven once it reaches 140° and allow it to rest at least 15 minutes before cutting.
Notes
Nutritional values and serving sizes are estimated.  
I do not recommend using a spiral ham, they dry out while cooking.  Butt end is best for texture but shank is a good choice too.  We use either one but often prefer the butt end.
You can use Dijon mustard in place of spicy mustard.
This recipe is for preparing a precooked ham.  Most of the hams you buy from the store are precooked but check the package before preparing.  If you have an uncooked ham, it needs to be cooked to at least 145 degrees Fahrenheit.
Nutrition
Calories:
422
kcal
Carbohydrates:
14
g
Protein:
33
g
Fat:
25
g
Saturated Fat:
9
g
Polyunsaturated Fat:
3
g
Monounsaturated Fat:
12
g
Cholesterol:
94
mg
Sodium:
1812
mg
Potassium:
506
mg
Fiber:
1
g
Sugar:
13
g
Vitamin A:
26
IU
Vitamin C:
4
mg
Calcium:
25
mg
Iron:
2
mg