If you're looking for an easy to make but incredibly delicious pasta sauce, look no further. This homemade vodka sauce is guaranteed to wow your friends and family, regardless of their cooking skills. With just a few basic ingredients, you'll be able to whip up this easy version of everyone's favorite tomato-based Italian classic in no time!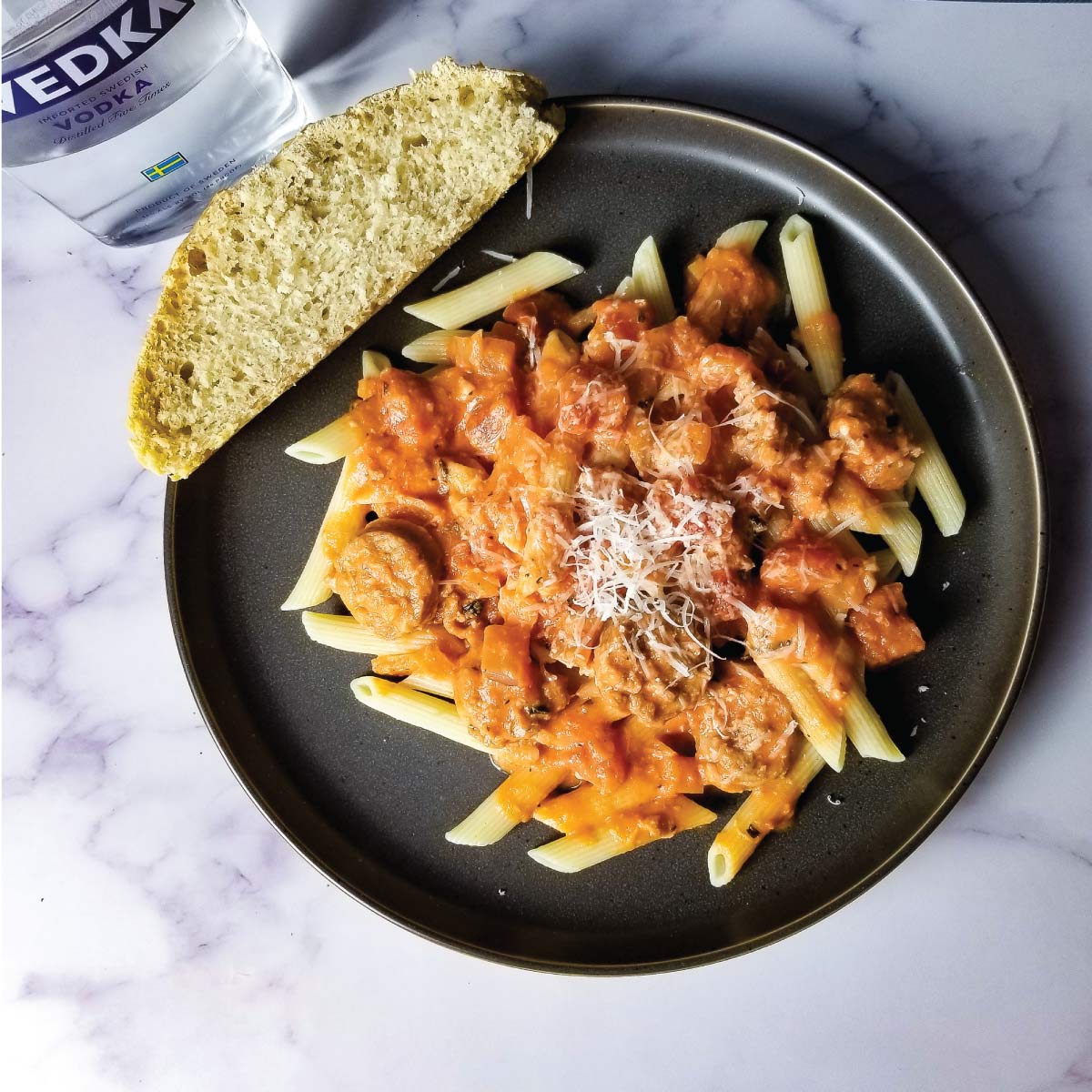 Homemade vodka sauce is something that the whole household asks for frequently. This and baked spaghetti are always a hit here. It is an easy pasta sauce to make with a combination of tomatoes, cream, parmesan and a couple spices that come together perfectly. It is creamy, delicious and quick to put together!
It can be done in less then an hour with not much work, making it perfect for a busy week night dinner.
Penne pasta is usually the pasta we serve it over, but there is no right or wrong here. Use your favorite! It is really good on homemade noodles too.
If you like homemade sauce, you will love our pumpkin pasta sauce and homemade lasagna sauce.
Jump to:
Ingredients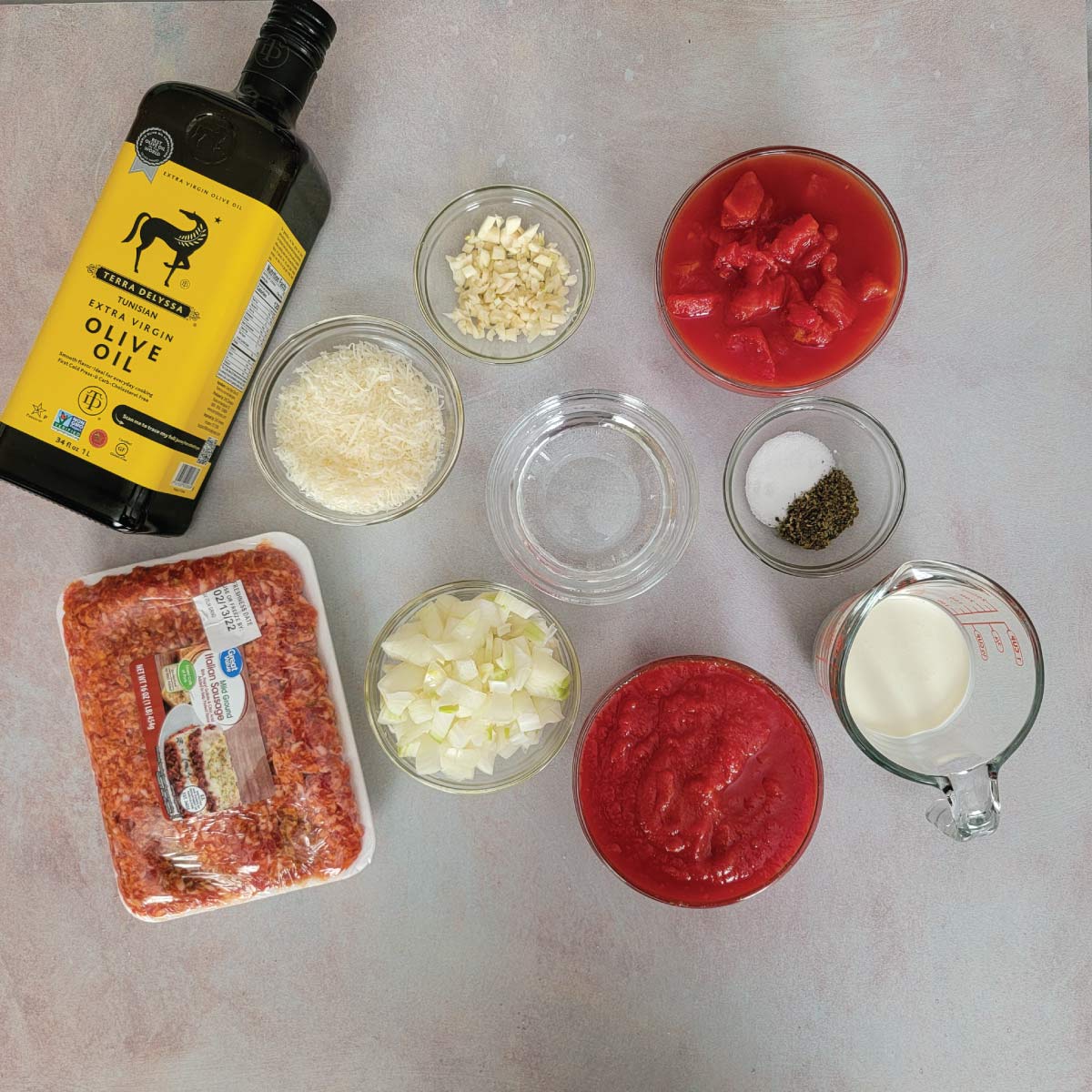 What is creamy vodka sauce made of? It is easy to make with a few simple ingredients, and yes there is vodka in the sauce! But no you won't get drunk.
Olive oil - We recommend olive oil for the flavor it adds to sauces, but you can use a different oil. This is a taste preference.
Onion - Yellow onions are best here as they help to balance out the acid in the tomatoes, but you can also use a sweet onion. We do not recommend red onions in tomato sauces.
Garlic - Fresh chopped cloves are always best, but you can use garlic powder in it's place. It will not affect the taste much, only slightly. You would add 1 teaspoon of garlic powder with the basil and salt, not before adding the vodka.
Vodka - There is not a lot vodka and most of the alcohol will boil out so you will not get drunk off of this sauce. You can make this sauce without it, but the vodka helps to bring out the other flavors in the sauce. It is an important ingredient so if you can, be sure to add it.
Diced tomatoes and tomato sauce - We recommend both for a better texture and flavor. The diced tomatoes help to thin out the vodka sauce while adding small chunks of tomatoes before the cheese and whipping cream thicken it slightly. For tomato sauce you can substitute with puree. You can substitute the diced tomatoes with crushed tomatoes if needed.
Salt - You can add less, but I do recommend adding some. You can adjust to taste.
Basil - Basil adds a sweetness but yet a unique taste. There are no recommended substitutions for it and we do not recommend leaving it out.
Heavy cream - It is best to use whipping cream here for a thicker but creamy vodka sauce, but you could use half and half. It will be slightly thinner but not a big difference.
Parmesan cheese - This is best with freshly shredded (or grated) parmesan cheese. We always have a block in the fridge for cooking. Do not use jarred grated cheese here in this sauce. It does not melt the same and the taste is off.
Sausage - Optional, we use either ground or links.
Making the homemade creamy vodka sauce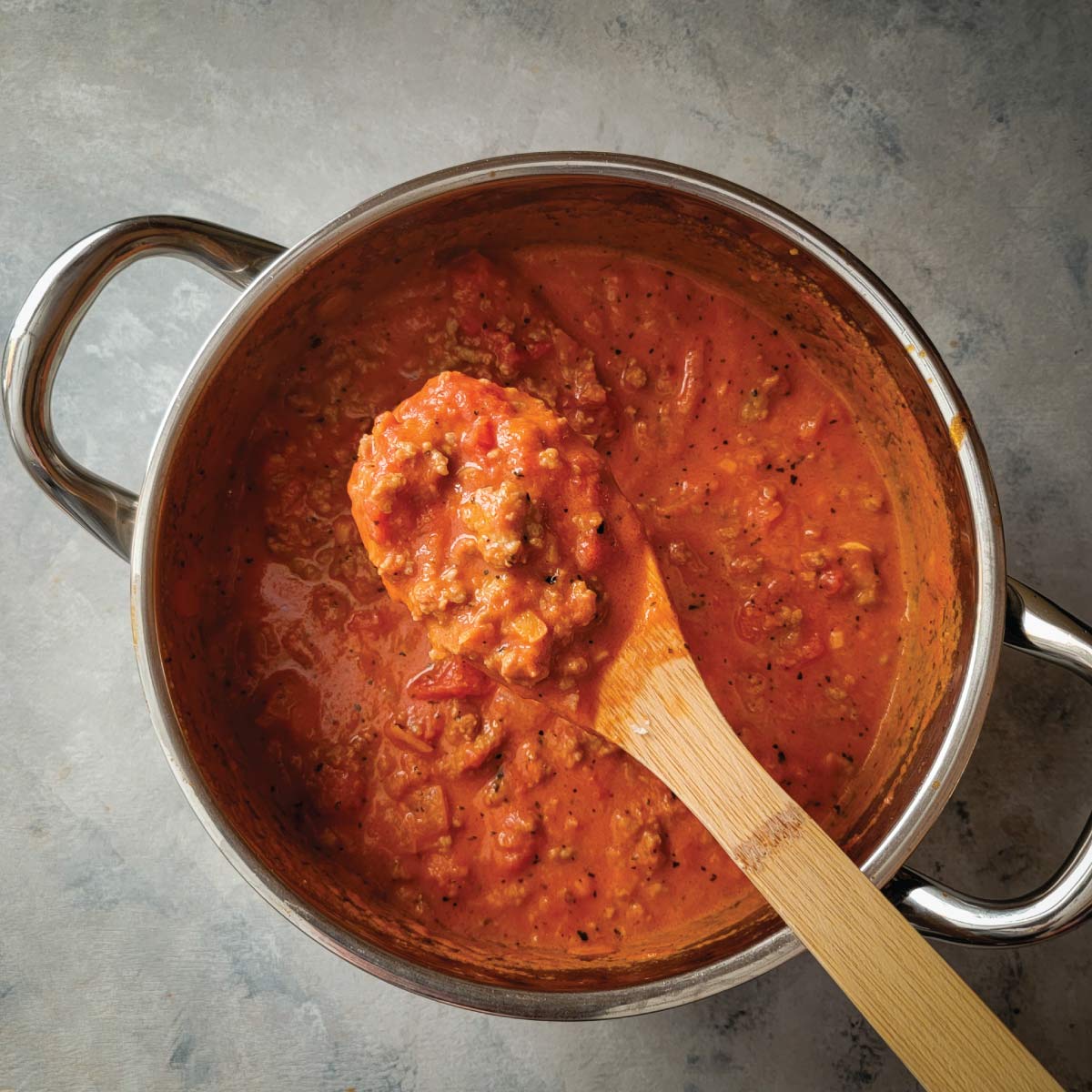 You can put this together with minimal prep. The only things you need to prep are the parmesan cheese (really recommend fresh grated or shredded), the onion and the garlic.
If you are adding sausage to your creamy vodka sauce, you want to cook it separately to keep most of the fat out of the sauce. We cook it first and set it aside to add to the sauce, but you can cook it in a separate pan if you want to make it quicker.
Start by heating your pan over medium heat. Add in the oil and chopped onions, allow to sauté for about 3 minutes stirring occasionally.
Add in the garlic and cook stirring often for about 2 minutes. Now you want to carefully add in the vodka. The first few drops will create a bunch of steam and some sizzling but adding the rest of the vodka will settle the sizzling quickly. It's the temperature difference between the hot oil and the room temperature vodka.
Cook for about 2 minutes stirring occasionally. You will see that the vodka has been reduced by about half. Now add in the tomatoes, tomato sauce, basil, salt and cooked sausage if you are adding sausage. Simmer for about 15-20 minutes stirring occasionally.
Pour in the cream and cook for about 2 minutes before adding the parmesan cheese. Do not allow the vodka sauce to simmer too hot after adding the heavy cream, just a gentle simmer over medium or medium low.
Add in the parmesan cheese and cook for about 1 minute. Your creamy vodka sauce is now ready to put on top of pasta.
Frequently asked questions
What brand of vodka should I use?
We like Svedka here, but this is a personal preference. Use your favorite vodka if you have one. You can always ask your liquor store for recommendations too. Don't get the cheapest, but you do not need to buy the most expensive either.
Do I have to use fresh parmesan?
I highly recommend it. We buy it in a block and keep it in the fridge. It will not turn out the same at all with bottled cheese. You can buy the fresh grated cheese often found in the dairy or deli sections if you don't want the block.
How long does homemade vodka sauce last in the fridge?
If you place it in the refrigerator promptly, it should last about 3-4 days.
Can I freeze vodka sauce?
Yes you can freeze it as long as you store it in a freezer safe container. Be sure to let it cool all the way and do not fill the container all the way as it will expand slightly in the freezer. I like to put it in the fridge to cool without the lid on (or not on all the way) to cool first and place in the freezer after an hour or 2. If properly handled, it should last 6 months in the freezer.
Do I have to add sausage?
No you do not have to add sausage or any meat, this is a personal preference. I do think it is the best choice of meats for the sauce if you plan on adding meat. Chicken and beef just do not complement the flavor of the sauce like sausage does.
Recipe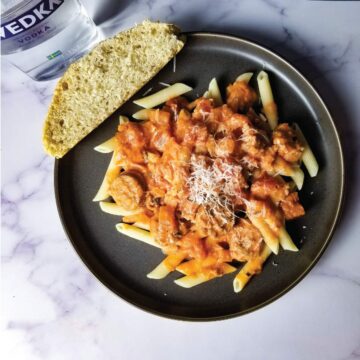 Homemade Creamy Vodka Sauce
Creamy vodka sauce is an easy and delicious sauce to make with the perfect combination of tomatoes, spices, vodka, cream and parmesan. Sausage is optional.
Ingredients  
1

pound

sausage

links or ground (optional)

3

Tablespoons

olive oil

1

yellow onion

chopped

3

garlic cloves

minced

100

milliliters

vodka

about ½ cup

14.5

ounces

diced tomatoes

no salt added, see notes

15

ounces

tomato sauce

1

teaspoon

salt

see notes

1

teaspoon

basil

dried, or 2 tsp fresh basil

⅓

cup

heavy cream

can use half and half

½

cup

parmesan cheese

fresh grated or shredded
Instructions 
If you are adding sausage, cook the sausage and set aside.

Heat your sauce pan over medium heat (see notes.) Add olive oil and onions to your sauce pan. Cook for 3 minutes stirring occasionally.

3 Tablespoons olive oil,

1 yellow onion

Add in the minced garlic and cook about 2 minutes stirring frequently.

Carefully pour in the vodka and stir. Cook for 2 minutes over medium heat.

Add in the diced tomatoes, sauce, basil, salt and cooked sausage. Stir well and simmer for 15-20 minutes.

14.5 ounces diced tomatoes,

15 ounces tomato sauce,

1 teaspoon basil,

1 teaspoon salt

Pour in the cream and cook for about 2 minutes before adding the parmesan cheese. After adding the cheese, cook for 1 minute before removing from heat to serve.

⅓ cup heavy cream,

½ cup parmesan cheese
Notes
Serving size is estimated and so are the nutritional facts.  
For the salt, we use unsalted tomatoes and sauce.  If you are using regular tomatoes, you might need to adjust your salt a bit.  
For the vodka, we don't recommend going with the cheapest but you don't need to get expensive either.  We used Svedka.   It is measured in milliliter here as that is often how it is sold in the stores.  If measuring it in a measuring cup, use half a cup.
We highly recommend fresh grated or shredded parmesan cheese for best flavor. 
You can use half and half instead of heavy cream if needed.
Nutrition
Calories:
530
kcal
Carbohydrates:
10
g
Protein:
19
g
Fat:
41
g
Saturated Fat:
14
g
Cholesterol:
94
mg
Sodium:
1227
mg
Potassium:
600
mg
Fiber:
2
g
Sugar:
5
g
Vitamin A:
575
IU
Vitamin C:
18
mg
Calcium:
197
mg
Iron:
3
mg