Easy to make and full of flavor, these BBQ chicken legs on the grill turn out perfect every time! They always turn out juicy and never dried out. A little bit of lime juice, a simple homemade dry rub and your favorite BBQ sauce are all they need here. Dry rub is made with common spices.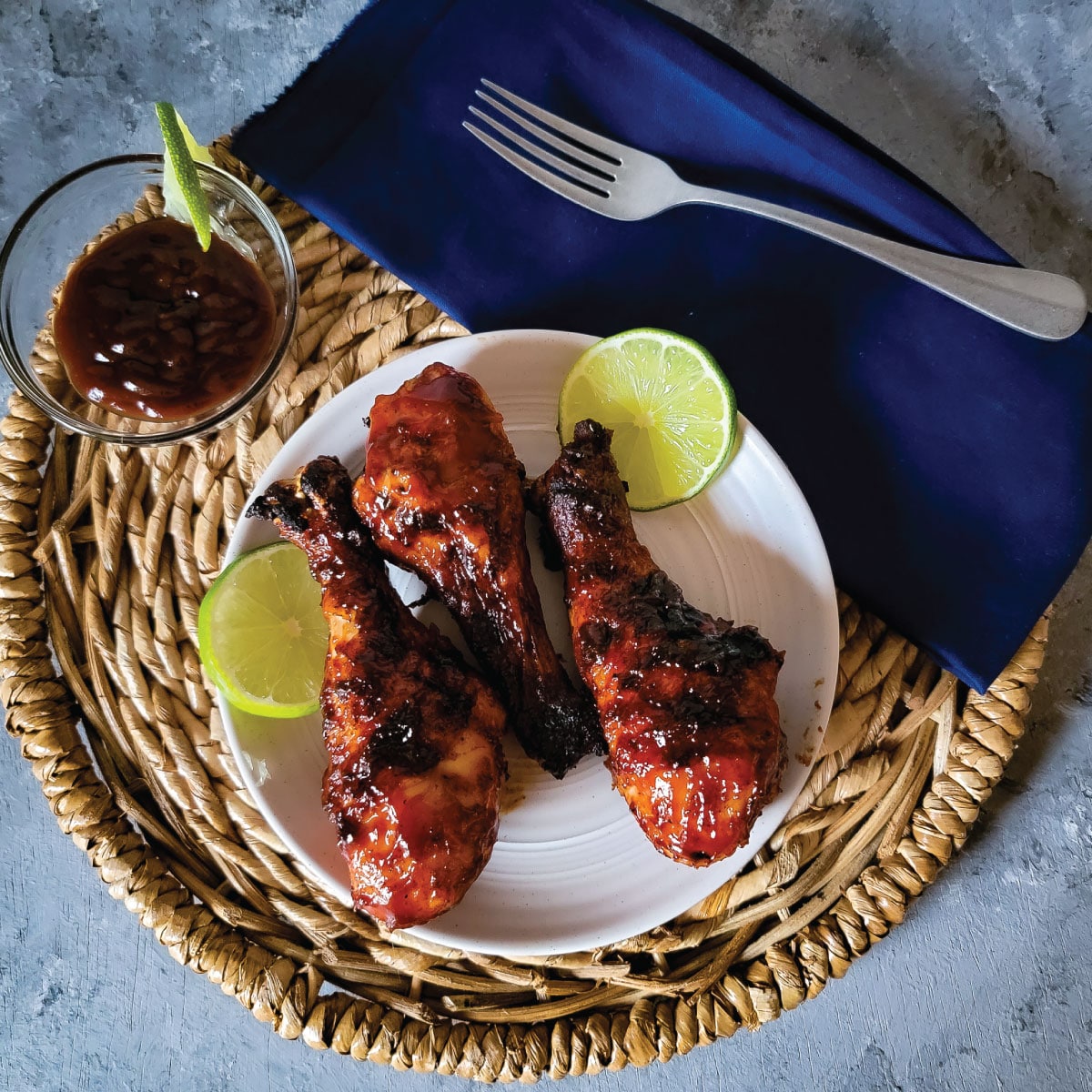 This is one of our favorite ways to make chicken legs! If you prefer not to have BBQ sauce on them, our grilled chicken legs are made with just a dry rub. I have tried making them in the oven and even the air fryer, but the grill wins every time.
In the air fryer they didn't cook as evenly and made a yucky mess inside for me to clean up. In the oven they sit and cook in their grease. They tend to get a little soggy and way too greasy in the oven! As much as I love chicken leg quarters in the oven, chicken legs are not so good that way.
Jump to:
The ingredients
These BBQ chicken legs on the grill have a mix of a dry rub, lime juice and BBQ sauce.
Legs - It is best to get legs that have the skins on them still for the best flavor and texture.
Lime juice - Highly recommended but can be left out if you do not have it. It is not being used as a marinade so it is mainly for some extra flavor. When using lime juice, it helps the other flavors to soak into the meat during cooking. You will not have a strong lime flavor.
BBQ sauce - Use your favorite here! We really like Sweet Baby Ray's, but we all have our favorites! Typically we use a honey BBQ sauce here, but you can use a different flavor.
The dry rub
We add the dry rub to our grilled BBQ chicken legs for an incredible flavor! BBQ sauce should be put on at the end of cook time so the dry rub adds some great flavor to the meat before adding the sauce.
Brown sugar - This can be light or dark brown sugar. We use dark brown for just about everything so we also use it for these legs. Light brown will work great too.
Chili powder - No substitutions here
Garlic - As much as we love fresh garlic, we do recommend garlic powder here. It is easier to mix throughout the dry rub and then easier to evenly coat it on all the legs.
Smoked paprika - We recommended smoked for a slight smoky flavor, but you can use regular paprika if you do not have smoked.
Minced dried onion - You can substitute this with 1 teaspoon of onion powder.
Salt - Optional and we only use a little bit. Can leave it out if preferred, it is used to enhance some of the other flavors.
Cayenne pepper - You can use more or leave it out. Your grilled chicken legs will not be spicy with a couple dashes. It is used for a touch of flavor but not a lot. If you like it spicy, add some more!
Prepping the chicken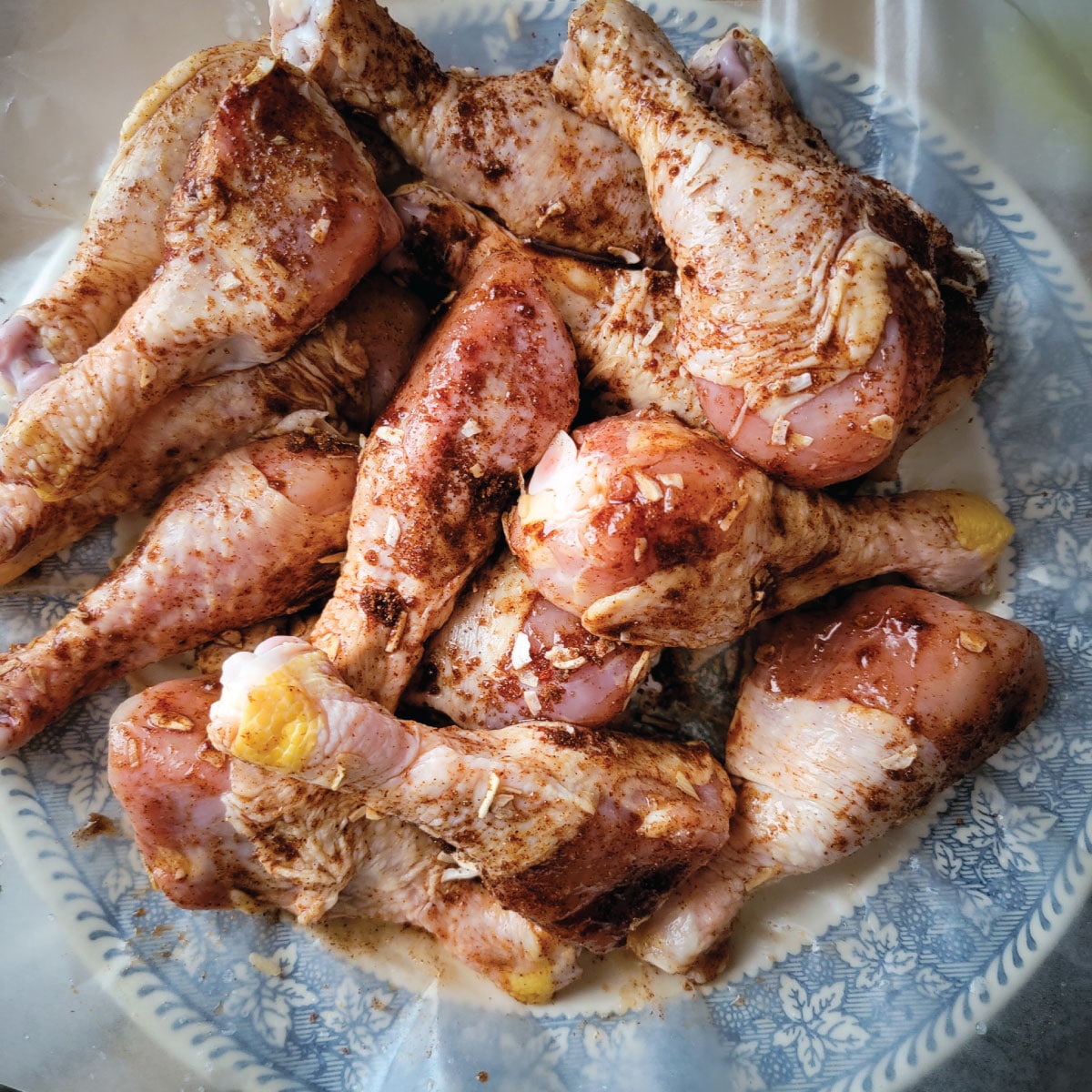 These grilled BBQ chicken legs do not require much prep and it is an easy to get them ready for the grill!
First the lime juice - I like to hand squeeze the lime over all the chicken here, but if you prefer to juice it with a hand juicer you can do that also. This is the easiest because you squeeze the lime juice directly over the legs.
If you have a juicer that you can not squeeze the lime directly over the chicken while using it, you can put the chicken in a large bowl and pour the lime juice over it. Toss the chicken to coat with lime.
The dry rub - Coat the chicken evenly with the dry rub. Use your hands to gently pat it onto the chicken so it sticks and is an even coating.
Allow to sit for about 5-10 minutes before placing on the grill that has been heated to about 400 degrees Fahrenheit.
Adding the BBQ sauce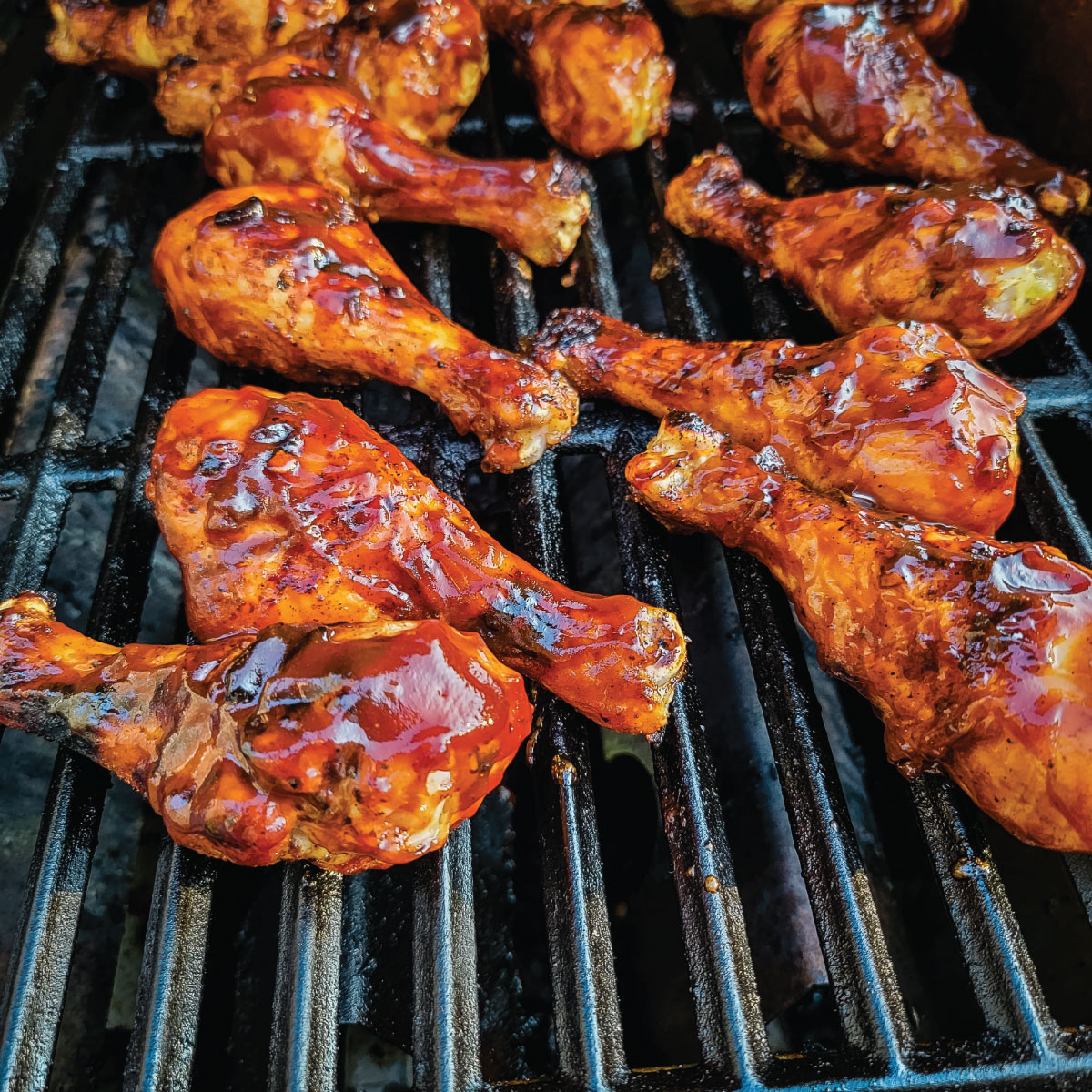 When you add the sauce matters when it comes to flavor and texture of these grilled BBQ chicken legs.
BBQ sauce tends to dry meats out when it cooks on them the whole time. It's ok with a piece of meat that takes a short amount of time to cook, but meats like chicken legs and even grilled baby back ribs take longer to cook. They will dry out easier if you add the sauce right away.
The best way to keep them juicy and not dried out is to cook them most of the way first. Then you can add the BBQ sauce.
We cook them on a grill preheated to about 400 degrees Fahrenheit for about 30-40 minutes flipping every 10 minutes until the chicken reaches 165 degrees Fahrenheit.
Then we add the BBQ sauce with a silicone basting brush to top side of legs, flip and add the sauce to the other side. Cook for about 5 minutes, flip and cook another 5 minutes. You can repeat this if you like a lot of sauce on your chicken, but this is when we take them off and serve them.
Frequently asked questions
Can I make these on a charcoal grill?
Yes you can! The cook times may vary slightly and it depends on the temperature of your grill. We cook over direct heat at about 400 degrees Fahrenheit on a gas grill, adjust accordingly. Chicken needs to be 165 when it is cooked.
Why do I keep flipping chicken legs during cooking?
It helps to cook them evenly when both sides are getting heat every 10 minutes. If you keep them on one side for too long you will likely have burned the side that is on the grill. The fat in them sometimes flares up and sometimes the skin burns.
Do you boil drumsticks before grilling?
No we do not. Boiling takes away some of the flavor of the chicken and really isn't needed. Cooking them on direct heat and flipping them every 10 minutes is the best way to keep the flavor of the chicken and ensuring that the legs are fully cooked through.
Do you grill chicken legs with the lid open or closed?
Closed is best for even cooking of these BBQ chicken legs on the grill. You will be opening the lid every 10 minutes to flip, but otherwise keep the lid closed to keep the heat inside the grill.
Equipment
As an Amazon affiliate we may earn a commission at no extra cost to you if you purchase from one of our links. Here are a few things that we use when making this recipe.
Other great grill dishes
If you love our BBQ chicken legs on the grill, you will love some of these great recipes!
Recipe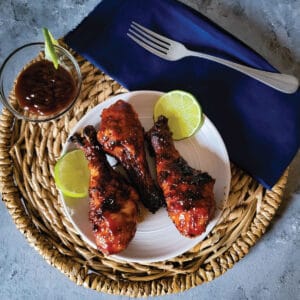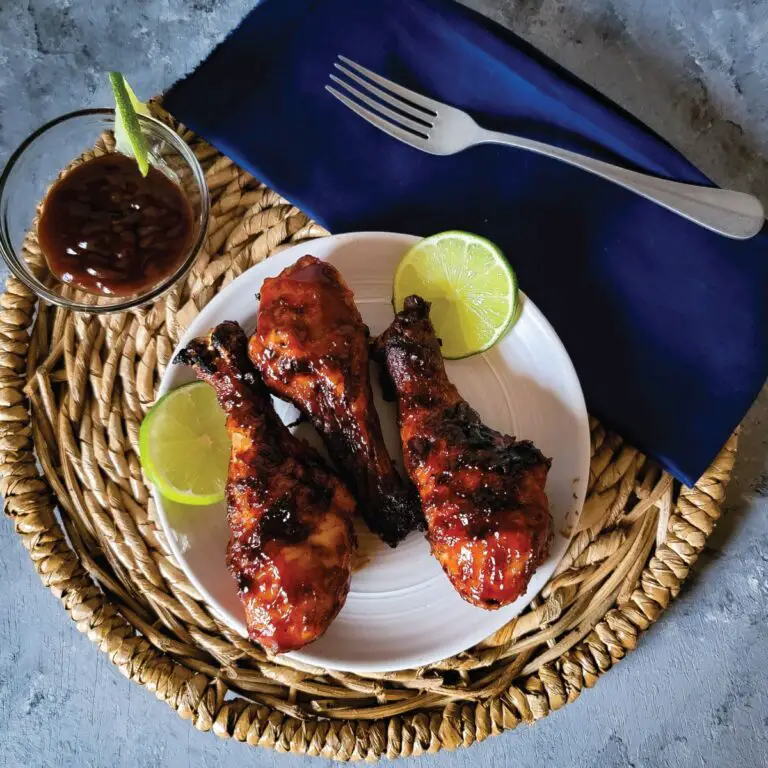 Grilled BBQ Chicken Legs
Full of flavor and always juicy, these BBQ chicken legs are easy to make! They have a simple dry rub, some lime juice and your favorite BBQ sauce.
Ingredients  
4

pounds

chicken legs

approximate

1

lime

1

cup

BBQ sauce

your favorite
Dry Rub
2

tablespoons

brown sugar

light or dark, we prefer dark

1

tablespoon

dried minced onion

1

teaspoon

chili powder

½

teaspoon

garlic powder

½

teaspoon

smoked paprika

¼

teaspoon

salt

2

dashes

cayenne pepper

optional, can use more if spicy is desired
Instructions 
Preheat grill to about 400° Fahrenheit.

In a small prep bowl mix together all the dry rub ingredients.

Cut the lime in half and hand squeeze the juice over the legs. See notes for a juicer if you prefer not to hand squeeze.

Evenly coat the chicken legs with the dry rub using it all and allow them to sit for about 5-10 minutes before grilling.

Place on direct heat on your grill that is heated to 400° Fahrenheit.

Cook for 30-40 minutes flipping every 10 minutes. Chicken should be at 165° Fahrenheit.

Add the BBQ sauce with a silicone basting brush to the top of the legs, flip and coat the other side.

Cook for about 5 minutes, flip and cook another 5 minutes. Can repeat if more sauce is desired.

Remove from grill and rest about 5 minutes before serving.
Notes
Nutritional values are estimated and so are serving sizes.  Legs are mostly bones and people often eat more then one.
For BBQ sauce, we love Sweet Baby Ray's and we use the honey BBQ sauce.  Use your favorite tho! It is recommended you follow the instructions for adding sauce.  If added before cooking the chicken, it will likely dry your chicken out.
You can substitute 1 teaspoon onion powder for the minced dried onion.
If you prefer to use a juicer for your lime, you can either juice it over the chicken (if using a hand juicer) or place the chicken legs in a bowl and pour the lime juice over.  Toss in the bowl to coat.
Nutrition
Calories:
713
kcal
Carbohydrates:
39
g
Protein:
43
g
Fat:
42
g
Saturated Fat:
11
g
Polyunsaturated Fat:
9
g
Monounsaturated Fat:
17
g
Trans Fat:
1
g
Cholesterol:
240
mg
Sodium:
1108
mg
Potassium:
766
mg
Fiber:
2
g
Sugar:
30
g
Vitamin A:
886
IU
Vitamin C:
7
mg
Calcium:
64
mg
Iron:
3
mg