This chicken marinade is easy to make and has just 6 ingredients but it is full of flavor! It comes together quickly and you only have to marinate the chicken for 30-45 minutes before grilling. This is also great on pork chops.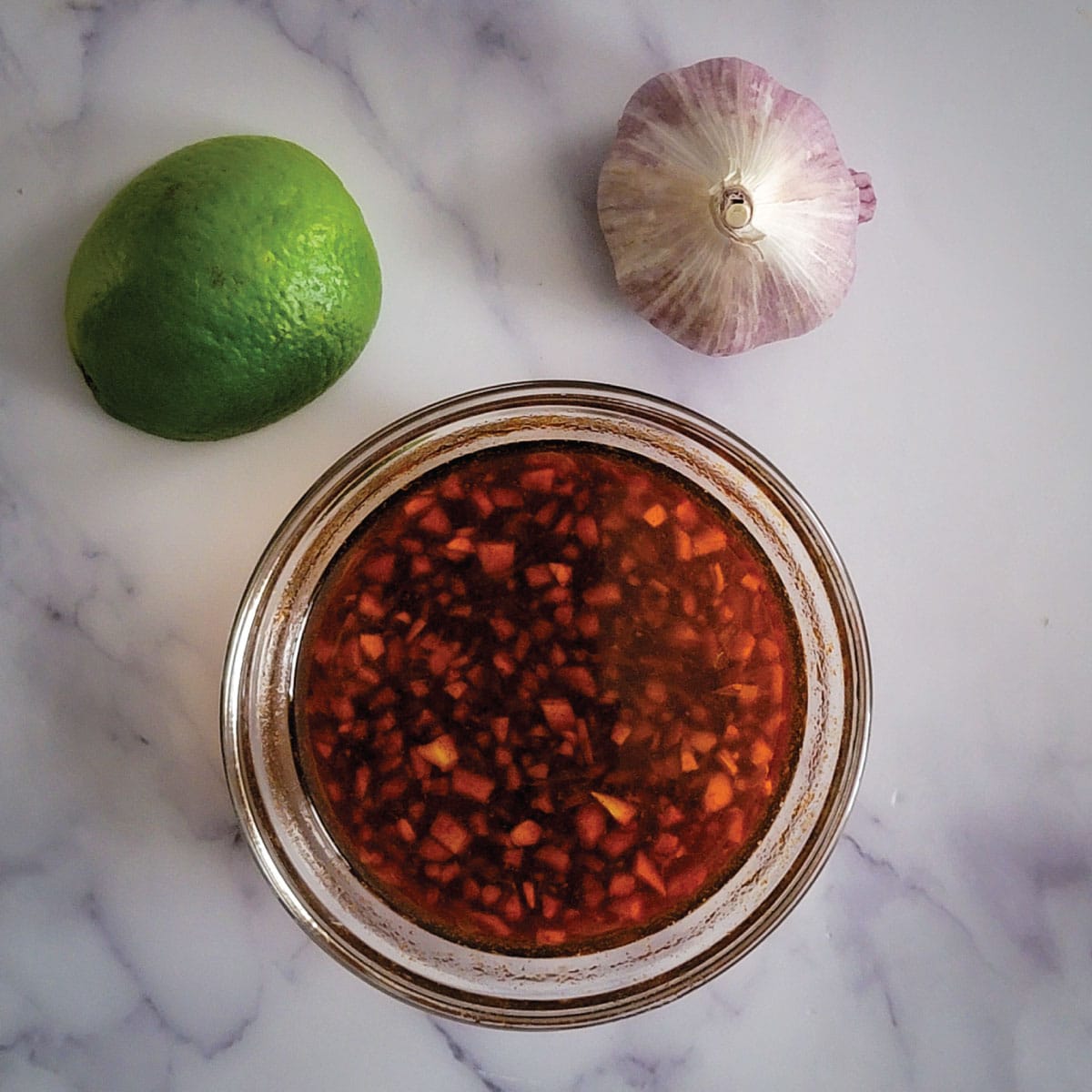 It is not often that we marinate any meats here, but when we do it is usually either our honey garlic chicken breasts or we use this chicken marinade. I am a big dry rub fan, but sometimes chicken breasts turn out best with a little marinade to keep them from drying out.
You can use this on pork chops as well for a flavorful and tender meat! If you prefer a dry rub with your pork, you would love our juicy grilled pork chops.
I have not tried this on beef because we do not usually marinate cuts of beef. At some point we may experiment with a London broil. If you try it on beef, let us know how it turned out!
IF you use liquid aminos, this marinade is gluten free. Just be sure to check your paprika to be sure there is nothing added to prevent caking.
Jump to:
The ingredients
We like to keep ingredients simple here. There are just 6 ingredients and if you would like some spice, you can add cayenne pepper as well!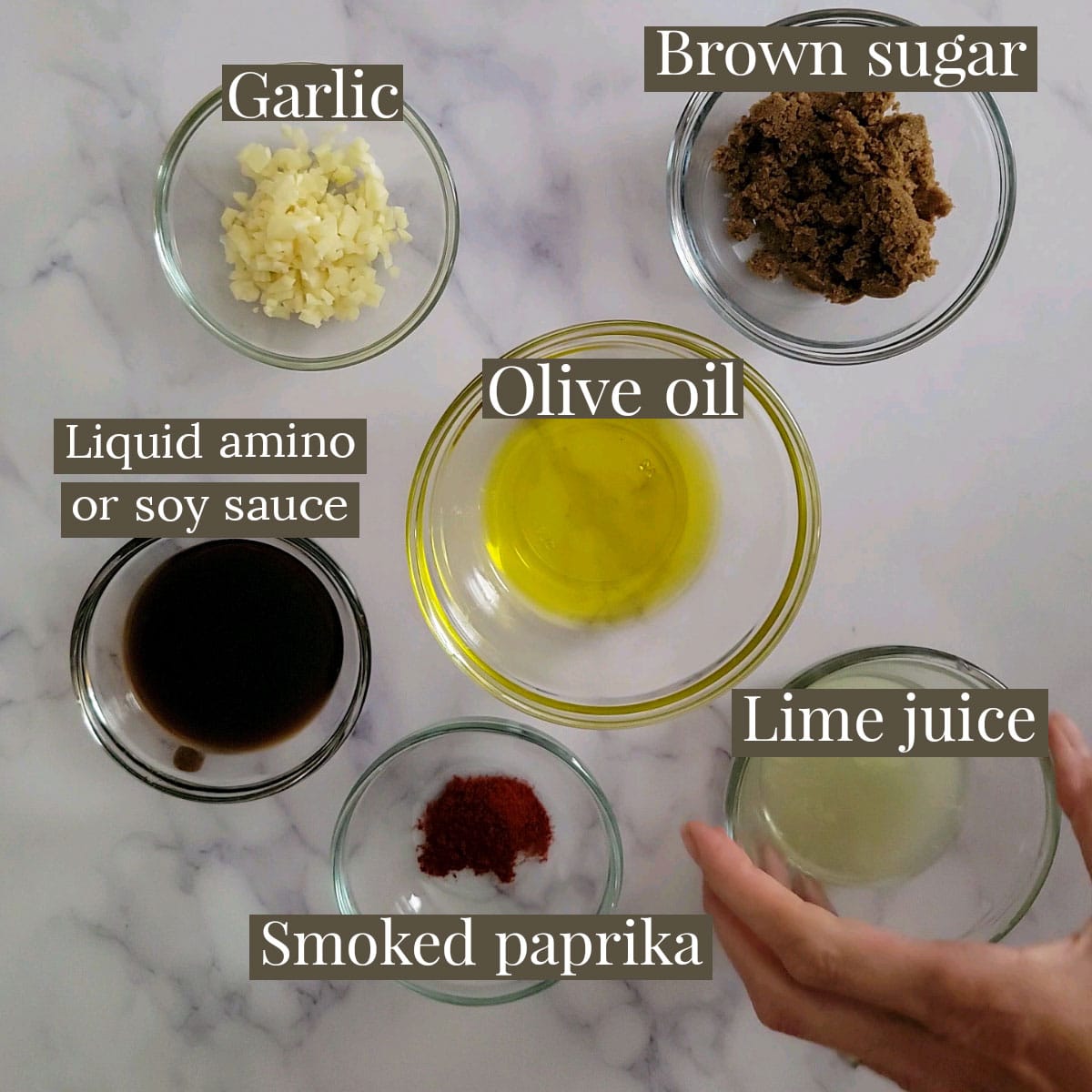 Garlic - We prefer the taste that fresh chopped garlic gives, it also helps to tenderize the meat. You can use garlic powder for the flavor, but we recommend using fresh chopped garlic if you can.
Brown sugar - You can use either light or dark brown sugar, we always use dark brown sugar for this grilled chicken marinade. It adds a nice amount of sweetness without getting too sweet.
Liquid aminos - These are similar to soy sauce in taste and saltiness. Liquid aminos are gluten free so this is the best option if you cannot have gluten. We prefer the liquid aminos, but you can use soy sauce in their place in this easy chicken marinade. Just note that soy sauce is not gluten free.
Olive oil - You can use a vegetable or canola oil in place of the olive oil. We prefer olive oil here, but you can use your favorite!
Smoked paprika - Smoked paprika is highly recommended to give it a slight smoke flavor, where regular paprika will not give that flavor.
Lime - This is best with the juice from 1 lime, but you can substitute for lemon as well. The flavor will be slightly different with lemon and we like it better with lime. You do need to have the citrus for the acid. It helps to tenderize the meat. This marinade is not sour from the lime.
What chicken is the marinade best on?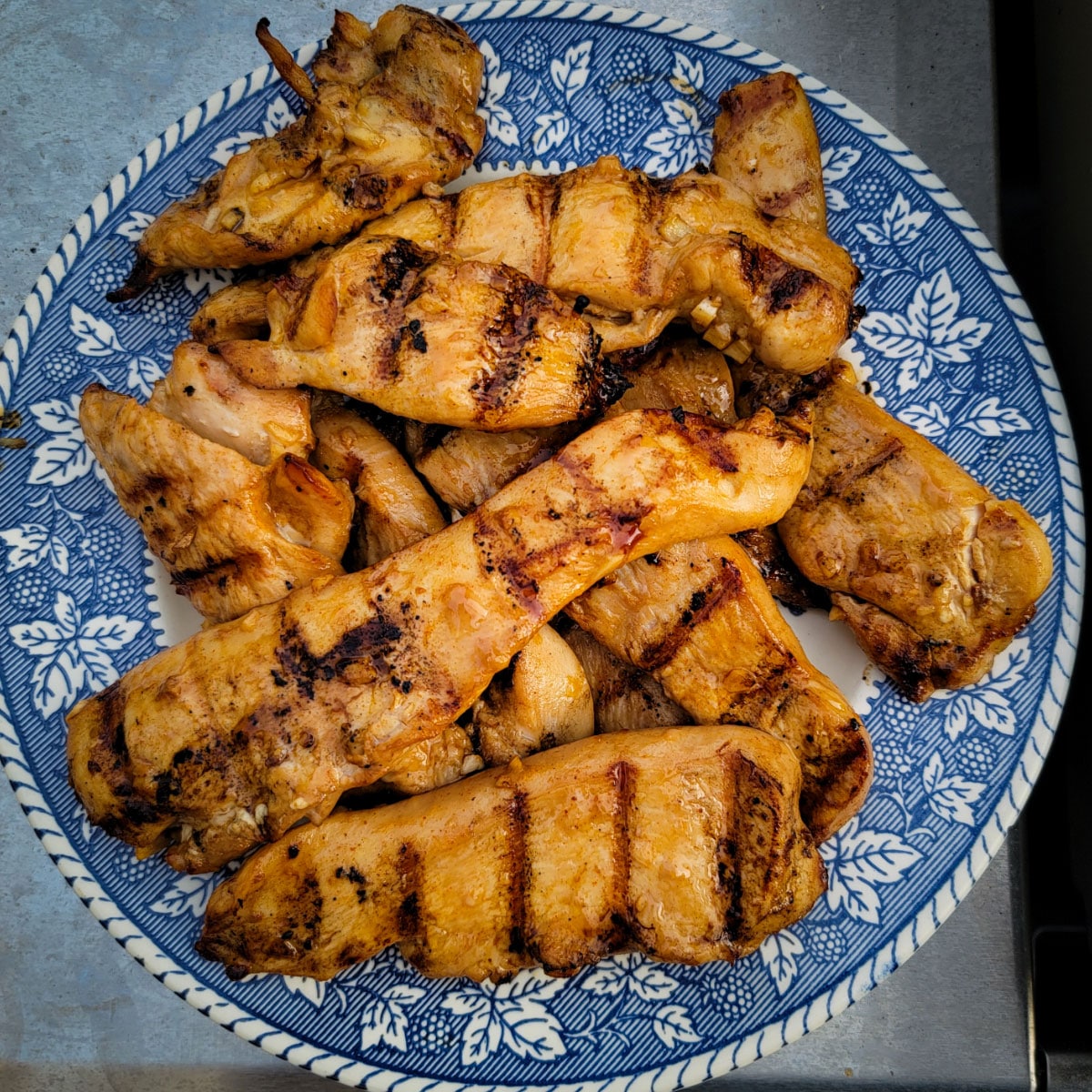 The best chicken would be chicken breasts. They are more likely to dry out then grilled chicken legs, grilled boneless thighs or leg quarters. The leg and thigh recipes have a dry rub on them.
Pictured above we cut chicken breasts into strips to make them chicken tenders, but we have also used this chicken marinade on breasts without cutting them.
When it is best to cut the breast meat into strips? When they are different sizes. Depending on the brand, quite often packages have different sized chicken breasts. If they are all different weights, they will not all cook in the same amount of time.
You can also cut them if you prefer to have tenders! Personal choice here. But we cut them usually when the package has different sized pieces.
Can I use this on thighs? Sure you can! We do not usually here because we prefer a simple dry rub on them for flavor. For thighs, we like the flavor of the meat with some added seasoning.
Helpful items for this garlic lime chicken marinade
These are Amazon affiliate links and if you purchase anything through them, we may earn a small commission at no extra cost to you.
Frequently asked questions
How long should I marinate chicken?
You can use this chicken marinade on chicken up to 8 hours before grilling. I do not recommend marinating for longer then that and we only marinate the chicken for about 45 minutes here. Turns out great each time!
Can I use this on pork or other meats?
This has been tested on pork chops and it tastes great on the as well! We have not tested it on beef, but pork is definitely good.
Should you wipe off the marinade before grilling?
No we do not. We lift them right out of the bag (or bowl if using a bowl) and put them right on the grill. Any garlic pieces left on the chicken will enhance the flavor.
Do I have to grill the chicken?
No you do not have to grill it. You can bake or pan fry it, but grilling will turn out best with this chicken marinade from our experience.
Recipe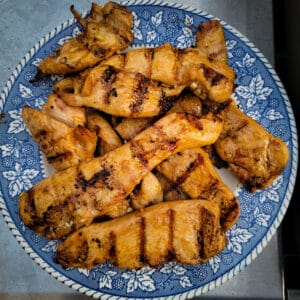 The Best Chicken Marinade
Quick and easy to put together, this chicken marinade has a great flavor and makes the meat very juicy! The chicken only needs 30 minutes in the marinade before grilling.
Ingredients  
1

lime

juice from 1 lime

2

tablespoons

garlic

chopped - about 2-3 cloves

½

teaspoon

smoked paprika

2

tablespoons

brown sugar

packed - dark or light, we use dark

2

tablespoons

olive oil

2

tablespoons

liquid aminos

or soy sauce

2½

pounds

chicken breasts
Instructions 
Squeeze the juice from the lime out into a small prep bowl.

Add in the garlic, smoked paprika, brown sugar, oil, liquid aminos (or soy sauce) and mix together.

2 tablespoons garlic,

½ teaspoon smoked paprika,

2 tablespoons brown sugar,

2 tablespoons olive oil,

2 tablespoons liquid aminos

Allow to sit for about 5 minutes before adding to meat.

Poke a couple holes into chicken breasts with a fork or cut the breasts into strips to make tenders.

2½ pounds chicken breasts

Place chicken in a storage bag and pour the marinade over it. Remove most of the air and seal the bag. Put in the fridge while marinating.

Marinate meat for at least 30 minutes but no longer then 8 hours before grilling. We marinate for 30-45 minutes.
To grill the chicken
Heat the grill to about 400° F.

Place chicken on the grill and cook for about 5-6 minutes

about 3-4 minutes if cut into tenders

Flip and cook for another 5-6 minutes or 3-4 minutes for tenders.

The chicken should be an internal temperature of 165°F before removing from heat.

Allow to rest 5 minutes before serving.
Notes
Nutritional values are estimated.  You are not actually eating the marinade and most of it will be thrown away once chicken goes on the grill.
Liquid aminos are similar to soy sauce, but they are gluten free.
This marinade can be used on pork chops as well.
Nutrition
Calories:
68
kcal
Carbohydrates:
6
g
Protein:
1
g
Fat:
5
g
Saturated Fat:
1
g
Polyunsaturated Fat:
1
g
Monounsaturated Fat:
3
g
Sodium:
322
mg
Potassium:
31
mg
Fiber:
1
g
Sugar:
4
g
Vitamin A:
88
IU
Vitamin C:
4
mg
Calcium:
12
mg
Iron:
1
mg