This chocolate hazelnut latte is very easy to make with the Ninja Coffee Bar, but you don't need one to make it. It is always a nice treat and even better topped with whipped cream - tho that is optional.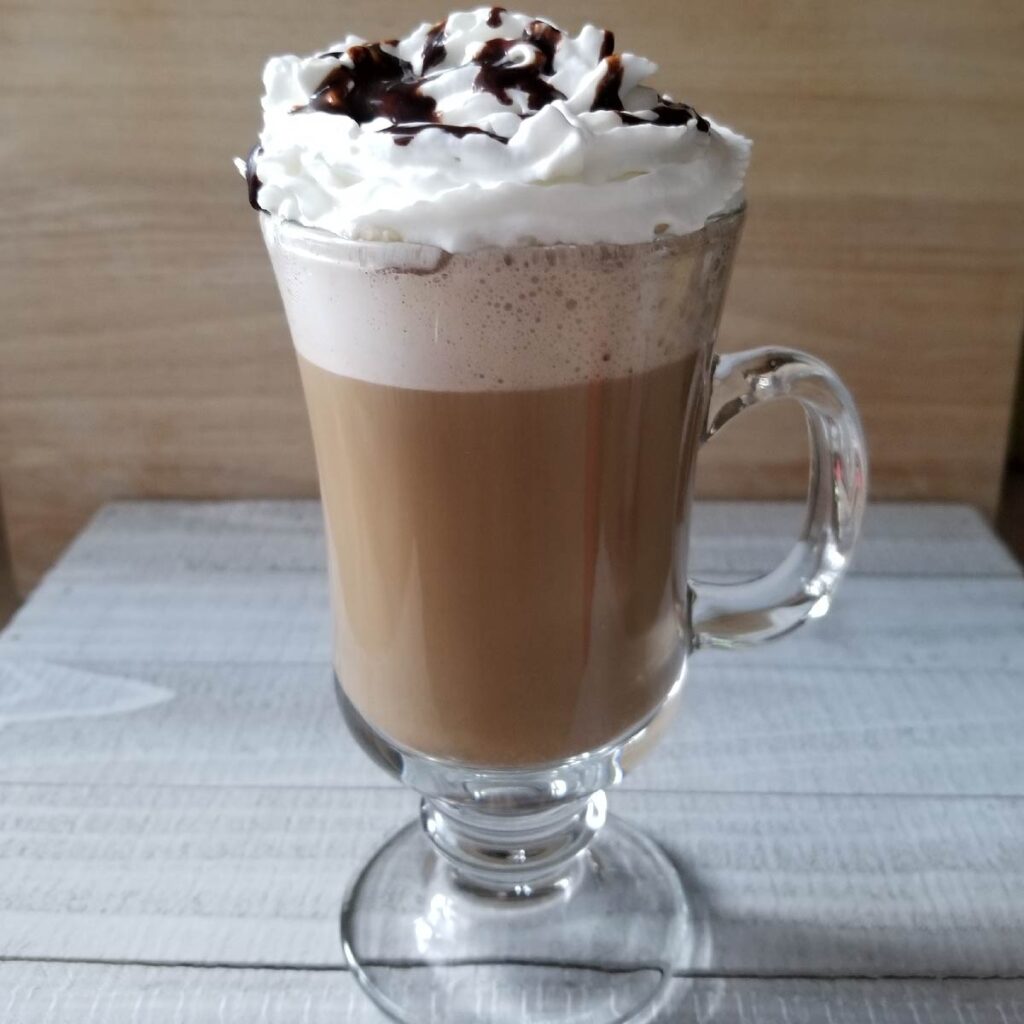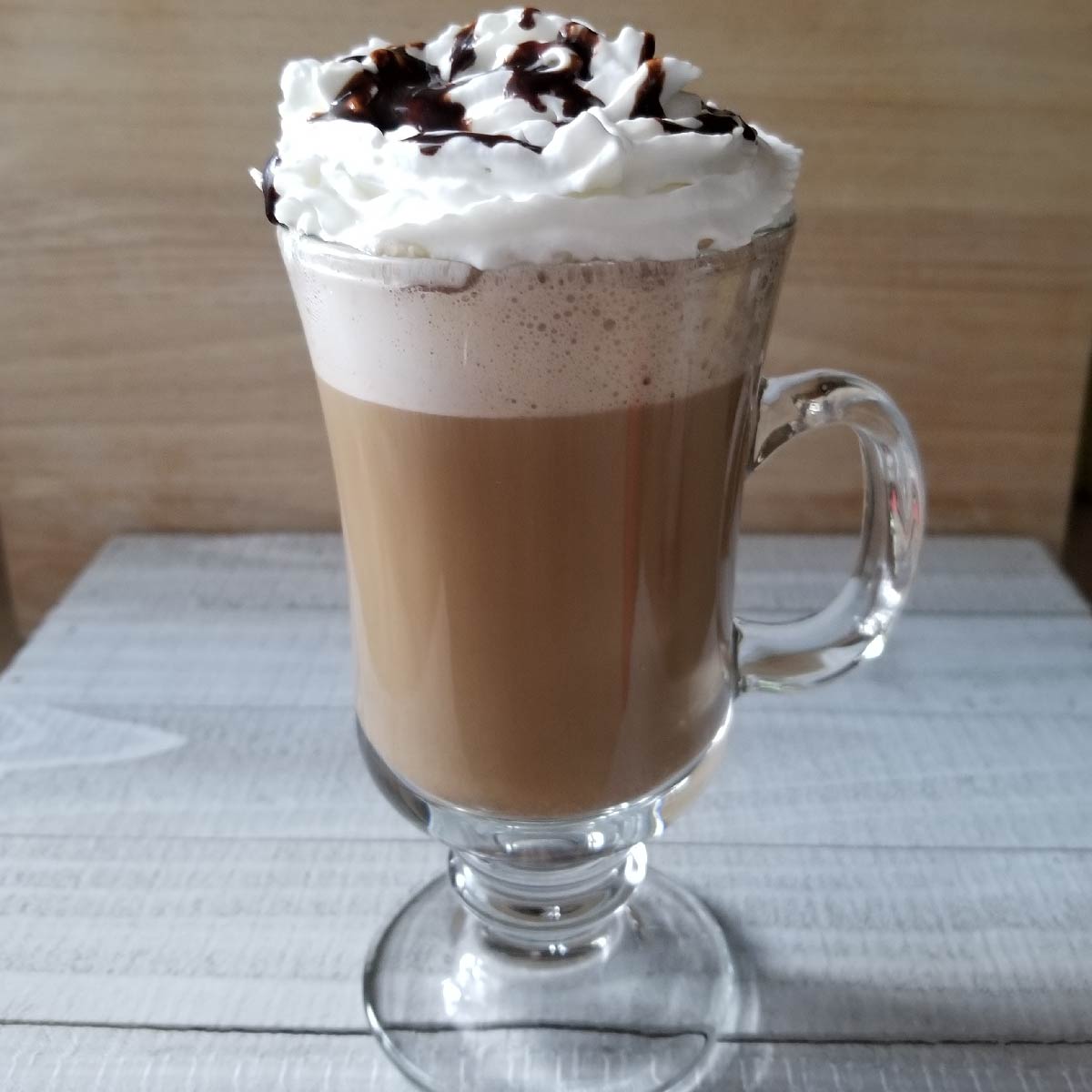 My love of lattes and all things coffee related has taken me to another great recipe! The chocolate hazelnut latte is super easy to make at home. It does require you to make espresso (or brew very strong coffee) and froth the milk tho, but it is worth it and goes really well with homemade fudge brownies. If you have never made a latte, the froth is the foamy looking substance on the top of the latte (milk and whatever you add to it.) No worries, I have a solution if you do not have a frother or a coffee bar.
I did some searching and found The Pioneer Woman has an article about frothing milk without having a coffee bar - 8 Ways to Froth Milk. It should be noted tho that I have never tried these methods but thought it might help my readers who want to try the chocolate hazelnut latte but do not have a coffee bar. She has some great ways to froth it and you probably have at least one of the gadgets in your house now.
To make this latte, it is easier to have something with a frother and espresso making capabilities but not required if you follow the instructions for frothing from the article above.
This is our amazing creator of all things good, I mean our coffee bar and we love it in case you want a recommendation for one to get: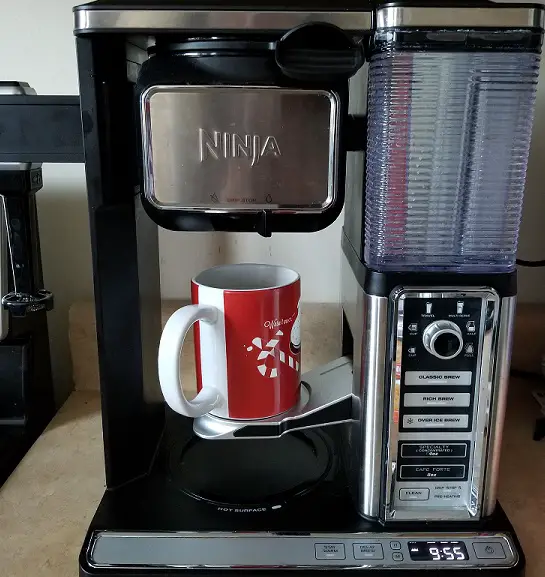 Making the chocolate hazelnut latte
I am sure you can use the syrup, but I prefer the hazelnut flavored coffee. Honestly, I buy Walmart brand for this and they do have some good flavored coffee for a decent price. If you do not have a coffee bar or espresso machine, you can use very strongly brewed coffee - pretty much all that espresso is.
If using the Ninja Coffee Bar, put 2 big scoops of hazelnut coffee into the basket. Brew it on specialty which will brew 4 ounces. If using another gadget, follow instructions to brew espresso using the hazelnut coffee. If you are using the hazelnut syrup instead of coffee, I would put some in your cup before brewing the espresso. You definitely want the coffee to have the hazelnut flavor.
While that is brewing, pour 1/2 cup of milk into a microwave safe mug. Add a tablespoon (or a little more if desired) of chocolate syrup to the milk and stir well. Microwave for 45 seconds.
When the microwave is done, froth your milk and chocolate mix for about 30 seconds. Pour immediately onto your espresso. Top with whipped cream and drip some more syrup on top. Our chocolate whipped cream is delicious on it too, but in the picture is regular whipped cream.
Another great hot winter time beverage is homemade hot chocolate - amazing flavor and is topped with a marshmallow froth.
Recipe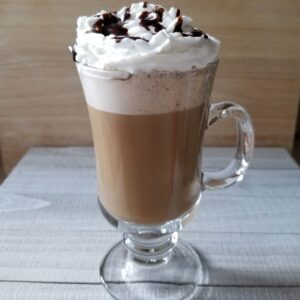 Chocolate Hazelnut Latte
This is an easy to make and delicious latte with 4 simple ingredients.  
Ingredients  
4

ounces

hazelnut espresso

or just strong brewed hazelnut coffee

1

tbsp

chocolate syrup

plus more for drizzling

1/2

cup

milk

whipped cream
Instructions 
If using the Ninja coffee bar, add 2 big scoops of hazelnut ground coffee to the basket.  Brew on specialty (4 ounces.)

If using another espresso machine, follow instructions of your machine to brew 4 ounces of espresso using hazelnut ground coffee.

If not using any of the above, brew VERY strong coffee using the hazelnut ground coffee.  You will need 4 ounces.

Froth the milk mix for about 30 seconds.  Immediately add to your espresso.  

Top with whipped cream and drizzle some chocolate on top.  Enjoy 🙂