Easy Classic Chili Recipe
This post may contain affiliate links which means that I may earn a small commission at no extra charge to you if you purchase something from one of my links. For more information please see our
affiliate disclosure.
There are many hearty meals to enjoy in the fall, or anytime it is cool (or cold) outside. This easy chili recipe is just one of them! I have been making chili for many years and this is how we enjoy it here. There has been changes over the years to get it perfect, and we are there now 🙂
We are proud to have a regular and gluten free option now for our chili! This is an easy to change up recipe too. You can add corn but you don't have to add corn. We do sometimes but it depends on who all is eating it (some people are not able to eat corn.)
Making it Gluten Free
I always add flour to my chili and wanted to change things up a bit to give options for people who are gluten free. We have a friend who cannot have gluten or corn and I wanted to make sure this was something he can eat too! There is also another friend who has to be peanut free (they are friends of my children so it is likely they will both be here at the same time) so we were unsure about almond flour. He can have almonds, but is there cross contamination? Hard to say for sure in my mind since the package will say it contains nuts. I always prefer to be cautious.
Phew we got it and safe for both! I purchased some gluten free old fashioned oats. I have only tried this with my smoothie cups, tho I am sure you can use a food processor too. I have the Ninja Auto IQ but whichever smoothie maker you have will work.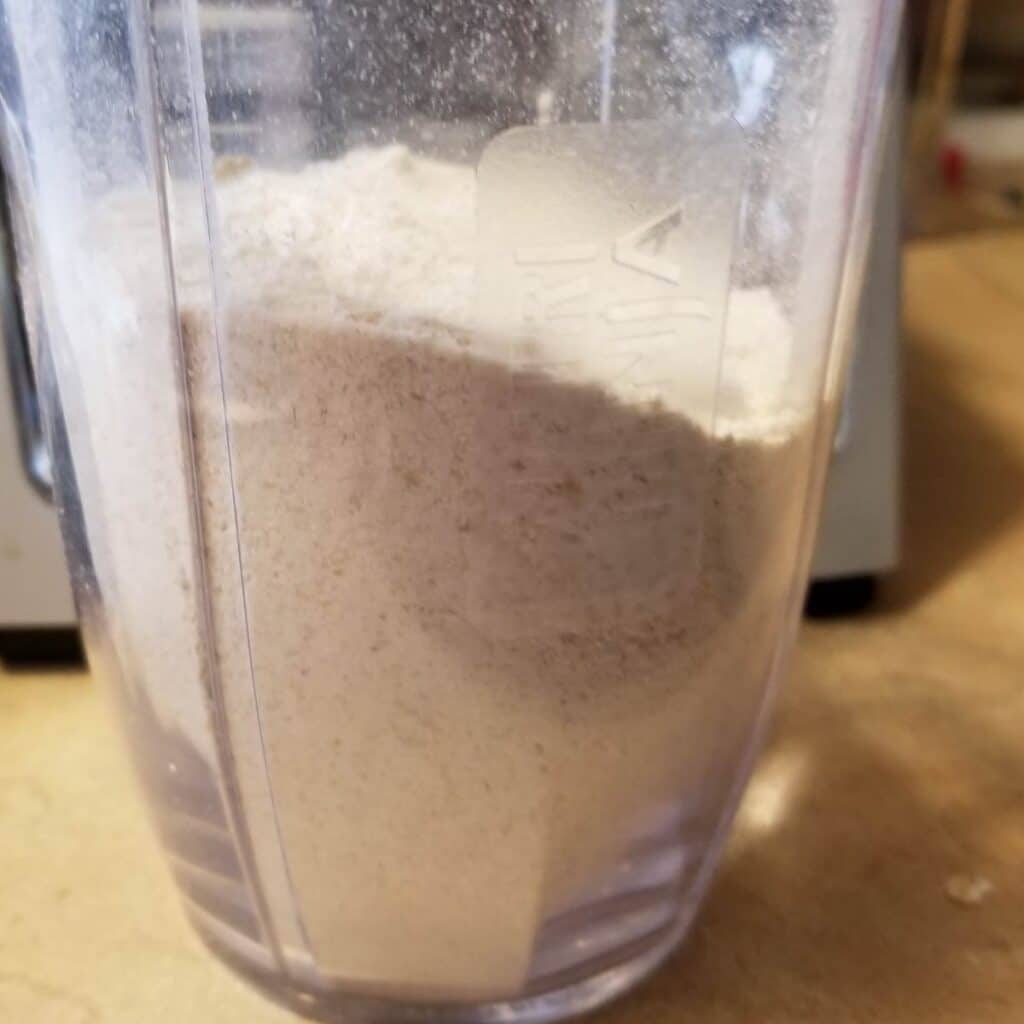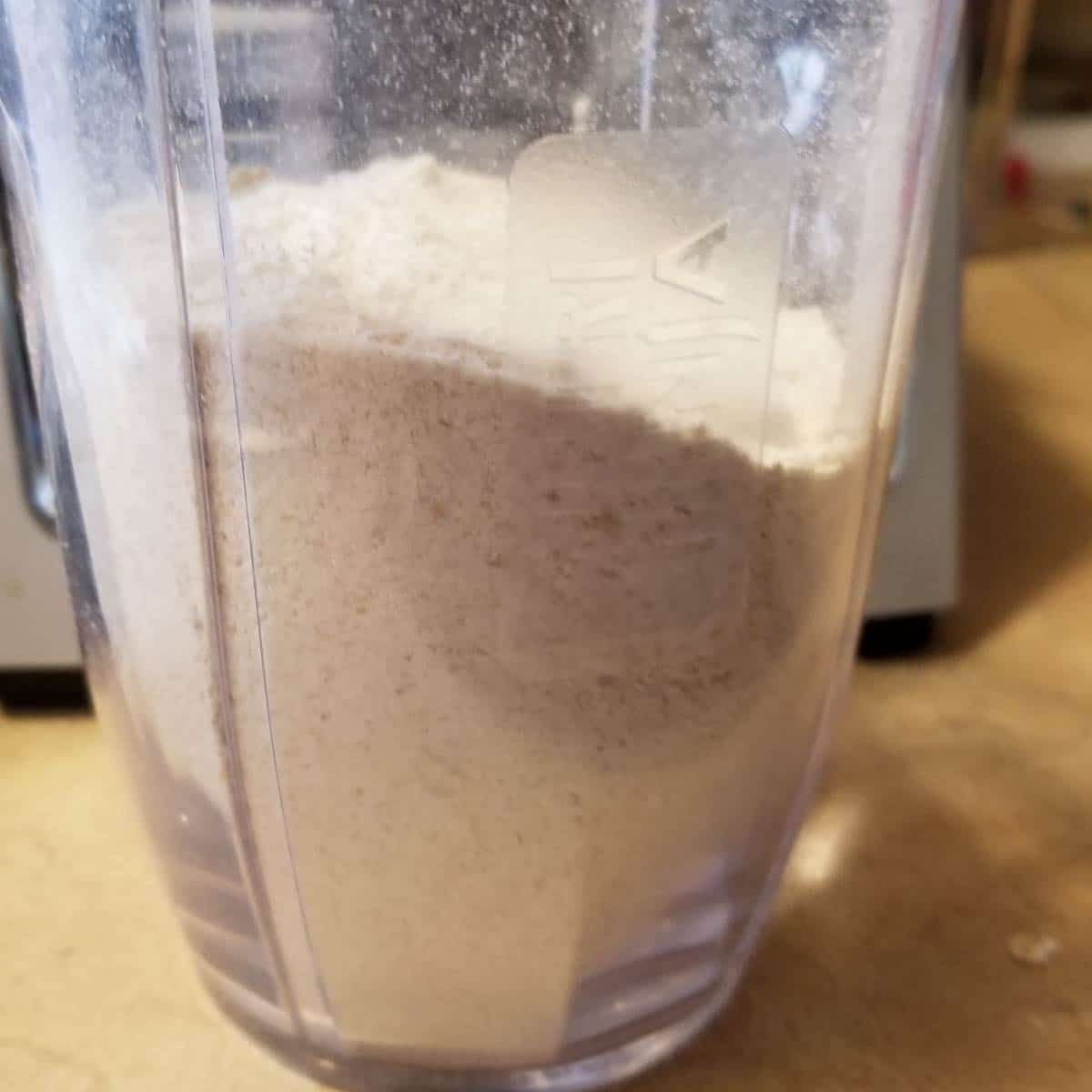 Add oats into the smoothie cup. I use my 24 ounce cup for this because I make at least a cup at a time usually (I use it for several things and it stores well in glass jars.) Blend at medium-high speed until a fine powder. I stop at about 30 seconds, take the cup off the base and shake it a little bit before continuing on for about 30 more seconds. If you feel the base of your machine getting warm, give it a break for a minute or so. I have not experienced this with my Ninja but I have heard others say they did with a different gadget.
You now have oat flour at a reasonable price!
As a Note:
Be sure to watch the spices you buy if you are gluten free. The spices used here should naturally be gluten free, but it depends on the companies packaging them. Also be sure to be careful when selecting your kidney beans as they are naturally gluten free but I would try to get ones labeled gluten free. If not possible to find them in a can, you can prepare dried beans before making the chili.
Making the Easy Chili Recipe
There is nothing complicated about this at all, I promise. Take a large pot – I prefer stainless steel myself. Start off by cooking to meats until they are almost fully cooked. I use lean meat here so no draining. Add in the onions and peppers cooking for about 2-3 minutes before adding the jalapeno, tomatoes and tomato sauce.
Mix all the spices together with the flour you choose to use. We like both regular flour and the oat flour was good for a very slightly different flavor too. If preparing gluten free be sure to use your oat flour.
Pour the spices into the pot and stir well to combine. It will thicken up quickly when added.
Cook over medium heat until it is starting to bubble a bit. Cover and reduce heat to medium low to allow it to simmer. You want it to cook for at least 30 minutes stirring occasionally, we do closer to an hour but 30 minutes also works if you are in a hurry.
After simmering, add in the kidney beans (drained) and heat through. I usually cook them for about 5 minutes. They are soft out of the can so you are just heating them up really.
We serve this easy chili recipe with rice, but you can have it plain or over anything you would like. I also like to make 30 minute dinner rolls by Holly at Spend With Pennies. Easiest rolls I have ever made!
Have you tried our chicken chili?
Easy Classic Chili
This easy classic chili recipe has been perfected over the years. We included a way to make it gluten free as well. Both are great tasting and perfect comfort food on a cool day!
Print
Pin
Rate
Ingredients
1

lb

ground beef

lean

1

lb

ground turkey

recommended but can use 2 lbs beef

1

yellow onion

large

1

jalapeno

chopped, seeds removed – see notes

1

green bell pepper

chopped

1

red bell pepper

chopped

29

oz

tomato sauce

no salt added

28

oz

crushed tomatoes

no salt added – see notes

31

oz

kidney beans

2 cans drained
The Seasoning mix
¼

cup

flour

oat flour for gluten free

3

tbsp

chili powder

1

tbsp

cumin

½

tbsp

paprika

½

tbsp

garlic powder

1

tsp

salt

see notes

1

tsp

turmeric

powder

½

tsp

black pepper
Instructions
In the stockpot or large sauce pot, cook the meats until they are almost all the way cooked.

Add in the chopped peppers and onions, continue cooking for about 2-3 minutes.

Add in the jalapeno, tomato sauce and crushed tomatoes. Stir well and cook over medium heat while mixing the spices.

Mix the spices and flour in a small bowl. Add into the pot and stir well.

Cook over medium heat until it is bubbling often. Cover and reduce heat to low or medium-low to simmer. Stoves vary and mine needs to be on low for this. Cook for at least 30 minutes, but closer to an hour is better for full flavor.

Add in the drained kidney beans. I rinse them, but you don't have to. Stir well and cook for about 5 minutes until the beans are heated through.

Serve plain, with rice or anything else you would like to have it with.
Notes
Nutrition facts and serving sizes are estimated.  We based them on eating it plain.  We serve it over rice and always have leftovers to put on hot dogs or have it again for another meal. 
We prefer to make it with beef and turkey (can use pork too) because it adds a nice flavor, but the meat choices are up to you.
We prefer to use salt on the table if needed instead of adding too much.  Chili powder has salt in it and your kidney beans from a can will too.  Adjust the salt as you feel you need it but remember you can't take it out if there is too much.
1 jalapeno does not make this spicy.  I add spice to mine on my plate because nobody else likes heat.  If cooking for a crowd that likes heat, get creative with some hotter peppers!
Nutrition
Calories:
596
kcal
|
Carbohydrates:
62
g
|
Protein:
50
g
|
Fat:
19
g
|
Saturated Fat:
7
g
|
Cholesterol:
95
mg
|
Sodium:
1443
mg
|
Potassium:
2090
mg
|
Fiber:
19
g
|
Sugar:
15
g
|
Vitamin A:
3094
IU
|
Vitamin C:
69
mg
|
Calcium:
148
mg
|
Iron:
12
mg