This easy chili recipe is the ultimate comfort food for when the weather gets cool! It has the perfect combination of beef, vegetables, beans and spices.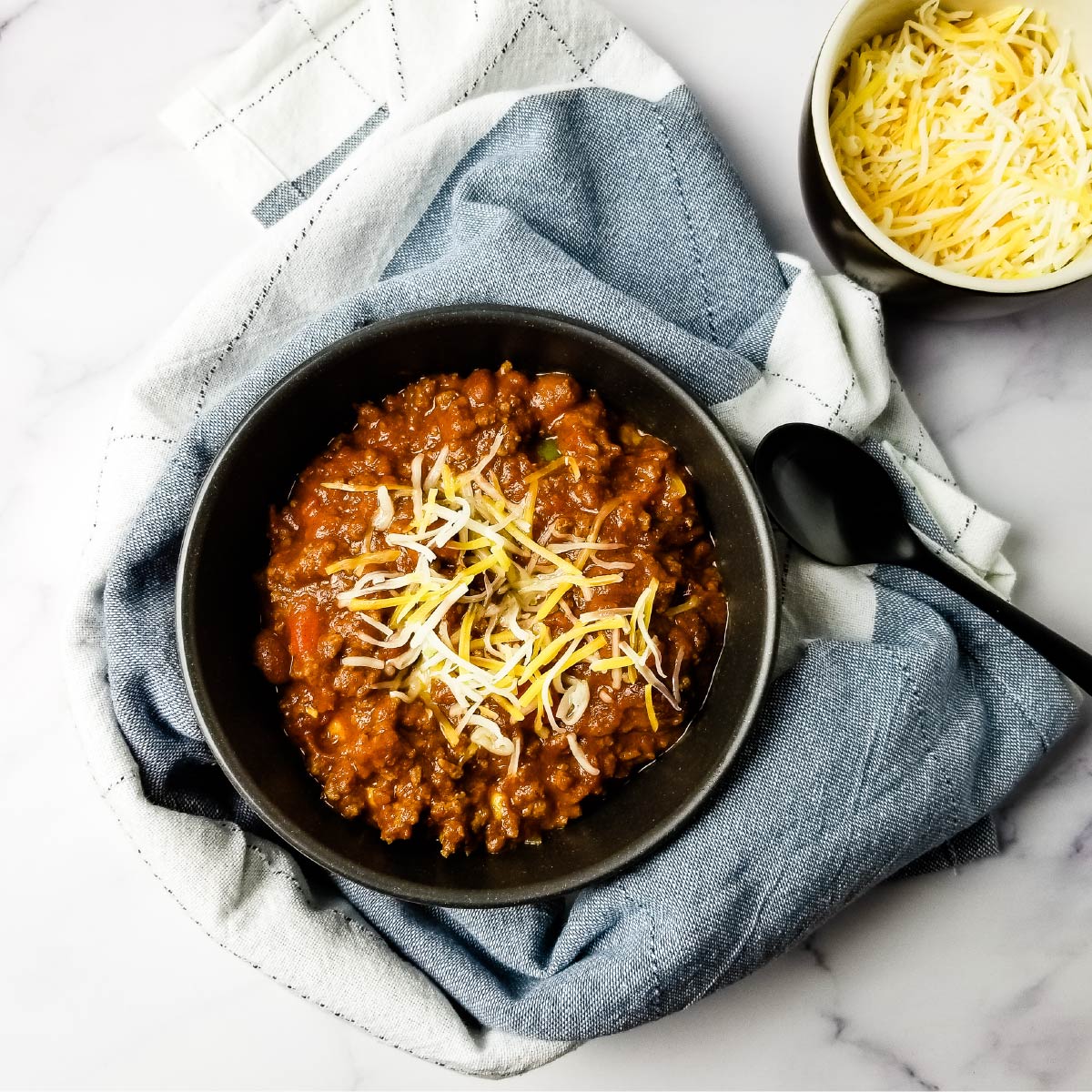 As soon as the weather gets cool we start to make comfort foods like easy chili. This is a recipe that I have made for many years (we won't get into how many years.)
Throughout the years I have changed this up a bit to add more of this or less of that, but right here is where we like it best. It is easy to make and doesn't have to cook all day!
You can add corn as well, sometimes we do and sometimes we don't. It is really good with it, just sometimes we don't have corn when I make it.
Jump to:
Ingredients and substitutions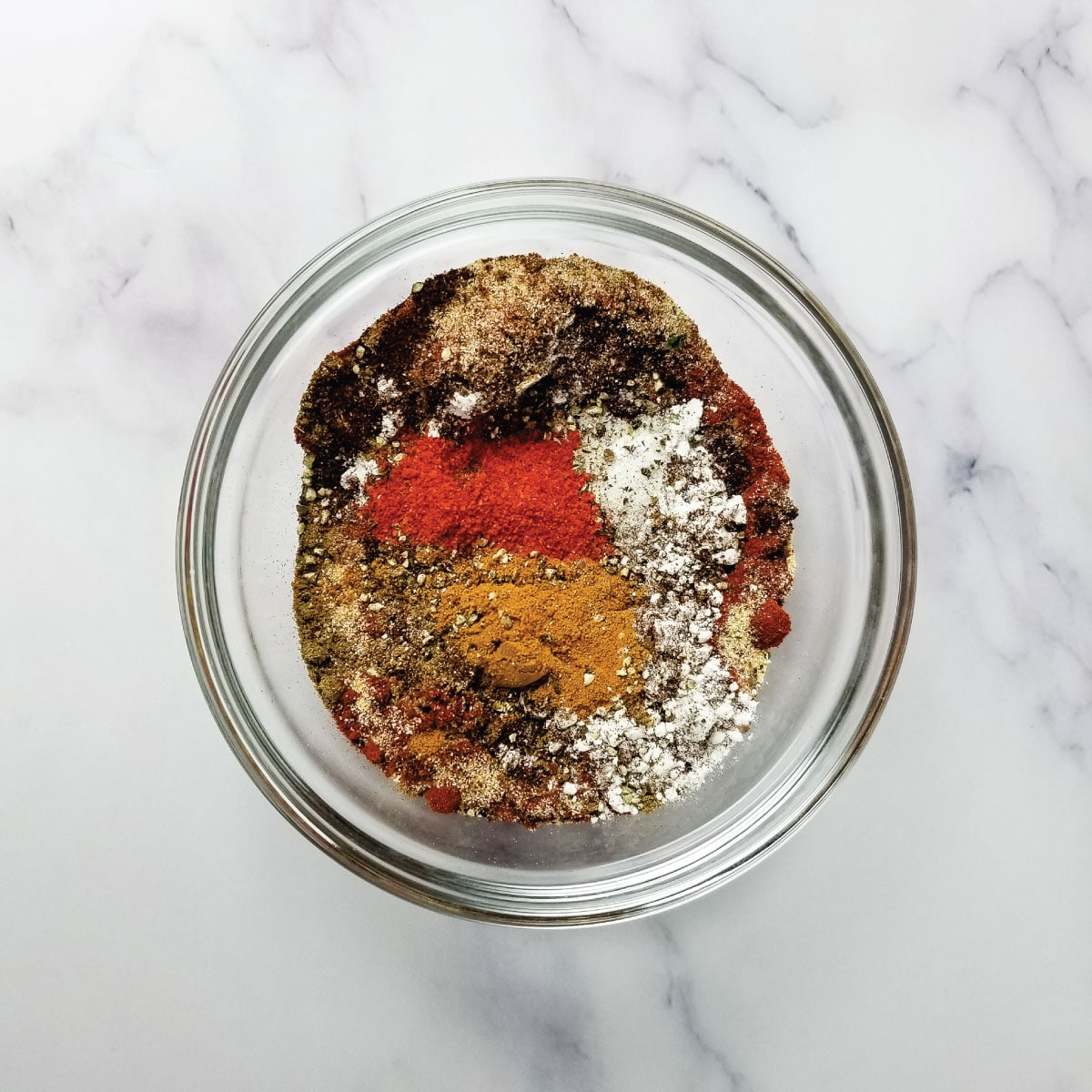 Ground beef - We use lean beef, but you can substitute turkey or pork. You can even use a mix of the meats!
Onion - Yellow onions are best here, but you can use a sweet or white onion. I do not recommend a red onion.
Peppers - We use red and green bell peppers. You can use a different color in place of the red, but I do recommend using at least one green pepper for flavor.
Tomato sauce - No salt added is recommended so you can add your own salt. You can use puree instead of sauce. We have when we thought we had tomato sauce but didn't.
Crushed tomatoes - No salt added is recommended, can use diced tomatoes in place if needed.
Kidney beans - You can use dark or light kidney beans, sometimes we use both!
The seasoning
This easy chili recipe uses a homemade seasoning that is made with some common spices.
Flour - We use all purpose flour here but you can substitute with oat flour for gluten free - more information below. Flour is used to thicken, you can keep it out if you want to have a thinner chili.
Chili powder - No substitutes recommended.
Cumin - No substitutions recommended.
Paprika - Can use smoked or regular. We usually use regular paprika here, but smoked tastes good too.
Garlic powder - We prefer to use garlic powder in the easy chili instead of fresh garlic, but you can use fresh garlic in it's place.
Salt - Either table or sea salt is good. You can adjust the amount as needed.
Turmeric - Optional but recommended for flavor.
Black pepper - Fresh ground peppers is always best, but any ground black pepper can be used.
Cayenne pepper - The amount used here will not make it spicy but you can add more to spice it up a bit! We use cayenne powder, but you can use a fresh pepper in it's place. You can also use red pepper flakes in it's place.
Tips for making chili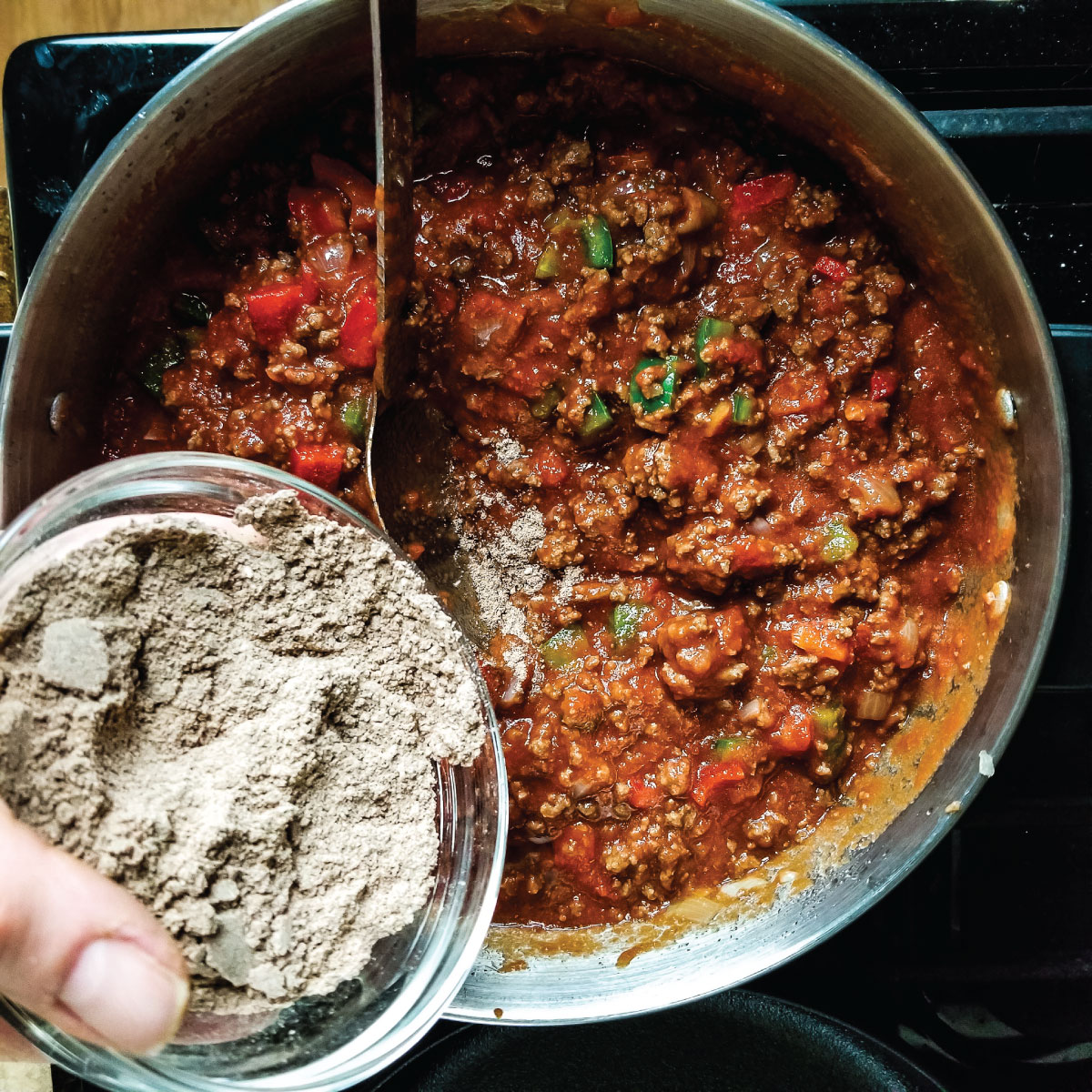 There isn't a lot of steps here in the easy homemade chili recipe, but a couple tips to make it perfect!
Brown the beef before adding tomatoes and sauce. You don't want all the extra fat in the chili. Also browning the beef with the onions and peppers gives it a better flavor.
Mix the seasoning with the flour. We have tried to add the spices separately but find it to sometimes have small clumps if the flour isn't blended with the spices. It blends with the tomatoes better. You also want to add it with the tomatoes before they heat up for an even mix.
Add beans last! When adding canned beans, they are already cooked. You just need to heat them through. If you add them too early, they may get quite mushy and even break apart.
Taste it often. The best way to tell if you need to add more salt or any seasoning to the easy chili is to taste it! I would wait until it at least cooked for 15 minutes before tasting. This gives it enough time to start to get the flavors throughout the chili.
For step by step slides check out easy homemade chili.
Chili with beans or without beans?
Beans or no beans? This is always a big debate when it comes to chili. The answer is that is really is up to you! You don't have to add beans to this easy chili recipe, but we do and love them.
They add a good flavor and texture. They are very good for you so I always recommend adding them. Sometimes it is an easy way to get kids to eat them!
But not everybody likes beans in their chili and this recipe adapts well with or without beans.
Can I make the chili gluten free?
Yes you can! I always add flour to my easy chili recipe, but it doesn't have to be all purpose flour. It is used to thicken it so you can leave it out or you can use a different flour.
There are plenty of options for flours here and if you have been cooking gluten free, I am sure you know better then I do. But for us we make homemade oat flour when cooking for somebody who is gluten free. It adds a nice flavor and is a great substitute.
Oat flour is easy to make homemade. Be sure the oats are gluten free (they naturally are but if labeled gluten free there is no cross contamination.) We use one of our smoothie cups from our Ninja Auto IQ here for this, but you can use a food processor or blender as well.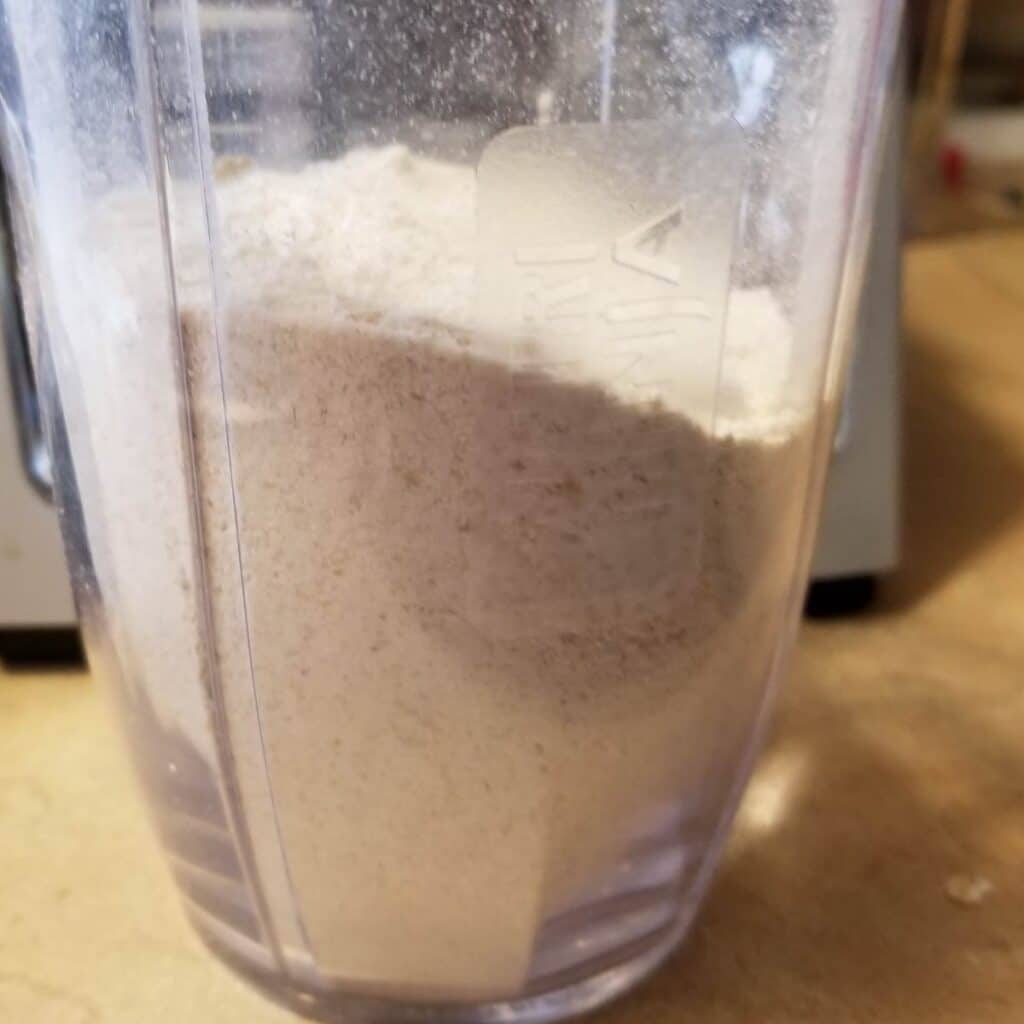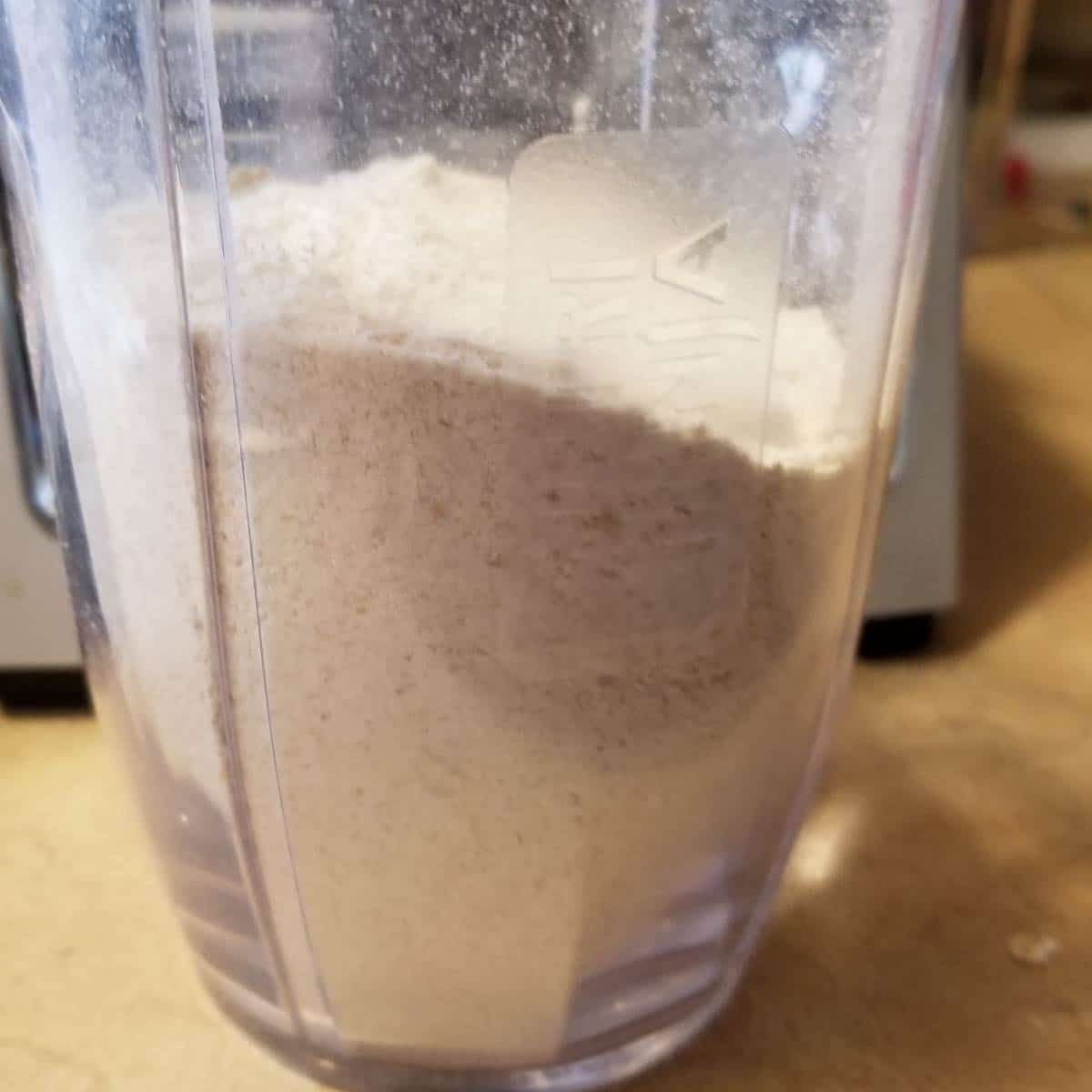 Blend the oats on medium speed for about 30 seconds. Check to see if it is a fine flour yet and if not, blend again for about 20-30 seconds. Repeat until it is a fine flour. Extra oat flour can be stored in an air tight container for about 3 months.
You now have oat flour at a reasonable price!
Be sure to watch the spices you buy if you are gluten free. The spices used here should naturally be gluten free, but it depends on the companies packaging them.
Frequently asked questions
Can I freeze this easy chili?
Yes you can! This is a big batch of chili and we usually freeze some to have another day. Be sure to fully cool it down first to prevent excess moisture in the container when freezing.
Do I have to add flour?
No you do not if you want to have a thinner chili. The flour isn't for flavor, it just thickens it.
How should I serve the chili?
We serve it over rice, but this is also great on hot dogs! You can serve this by itself as well.

For toppings we like to keep it simple with sour cream, cheese and even hot pepper slices. But use your favorite toppings!

Cornbread, rolls or cheesy garlic biscuits are always good as a side.
Other great soups and stews:
Recipe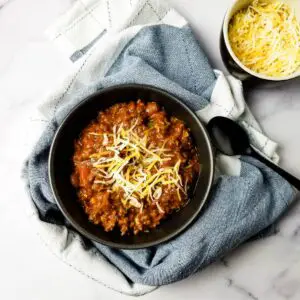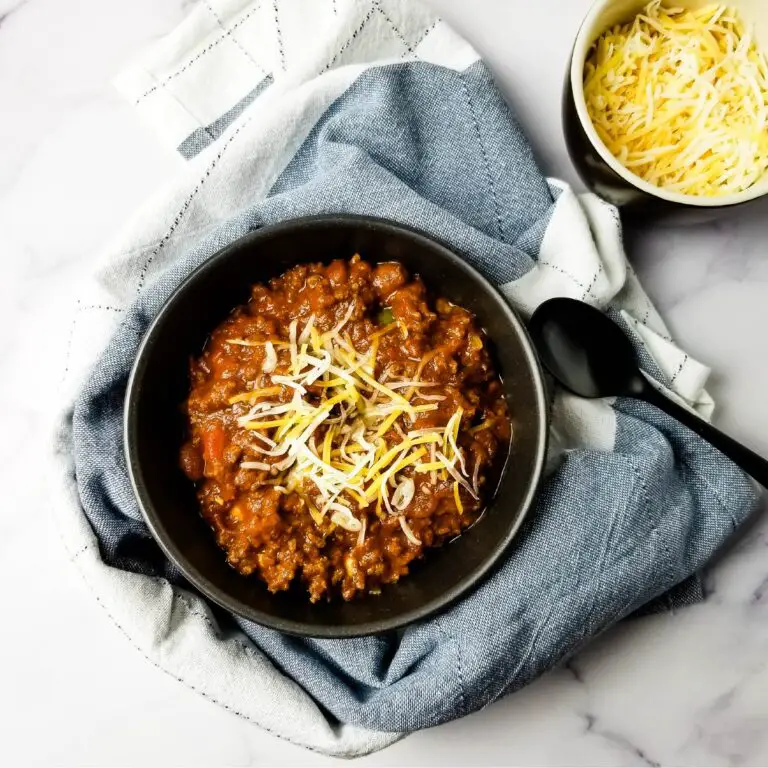 The Best Chili Recipe
This easy classic chili recipe has been perfected over the years. This is a perfect hearty meal for a cool night! Easy to make with simple ingredients.
Ingredients  
2

pounds

ground beef

lean, can substitute turkey or pork

1

yellow onion

large, chopped

1

green bell pepper

chopped

1

red bell pepper

chopped

29

ounces

tomato sauce

no salt added - can use puree instead

28

ounces

crushed tomatoes

no salt added - see notes

31

ounces

kidney beans

drained (2 - 15.5 oz cans)
The Seasoning mix
¼

cup

flour

can substitute with oat flour for gluten free

3

Tablespoons

chili powder

1

Tablespoon

cumin

½

Tablespoon

paprika

½

Tablespoon

garlic powder

1

teaspoon

salt

see notes

1

teaspoon

turmeric

½

teaspoon

black pepper

¼

teaspoon

cayenne pepper

see notes
Instructions 
In the stockpot or large sauce pot, cook the meat until it is almost all the way cooked. Drain excess fat.

Add in the chopped peppers and onions, continue cooking for about 2-3 minutes.

Mix together in a small bowl the seasoning mix

Add the crushed tomatoes and the tomato sauce, stir well.

Add in the seasoning mix and stir well to combine.

Bring to a simmer over medium heat and reduce heat to low - medium low. Allow to gently simmer stirring occasionally for about 30 minutes.

Add in the kidney beans and stir to combine. Cook for about 5 minutes before serving.

We serve it over rice, but you can serve it plain as well. We also top it with cheese and sometimes sour cream.
Notes
Nutrition facts and serving sizes are estimated.  
You may need to adjust the amount of salt to taste.  Chili powder has salt in it and so does the kidney beans if canned.  Tomatoes also have salt in the can if you are not using no salt added.  Adjust the salt as you feel you need it.
The small amount of cayenne here will not make it spicy.  If you want it spicy, you will want to add more to taste or even add some fresh hot peppers.  It is written here for a mild version.
Nutrition
Calories:
596
kcal
Carbohydrates:
62
g
Protein:
50
g
Fat:
19
g
Saturated Fat:
7
g
Cholesterol:
95
mg
Sodium:
1443
mg
Potassium:
2090
mg
Fiber:
19
g
Sugar:
15
g
Vitamin A:
3094
IU
Vitamin C:
69
mg
Calcium:
148
mg
Iron:
12
mg