What is something to look forward to when you come in on a cold winter day? Homemade hot chocolate will warm you up after being outside and playing in the snow. It is easy to make too!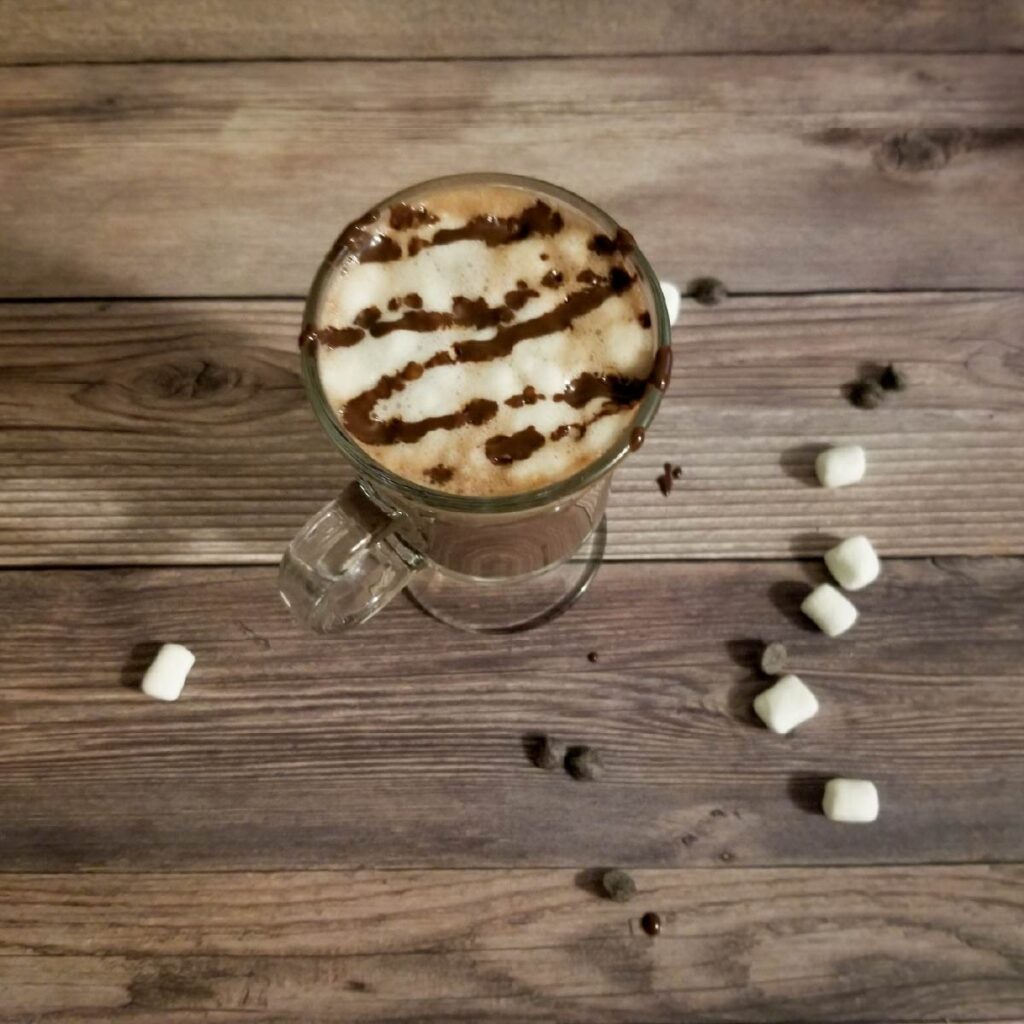 We like to get creative here and have made it a few different ways, but this recipe here is a rich and flavorful way to bring you a classic drink. What are some other great add ons? Our own peppermint whipped cream or even our chocolate whipped cream - both very easy to make.
I melted some chocolate chips with coconut oil for the drizzle on top here - it isn't from a plastic jug of chocolate syrup. I make as much homemade as possible.
Looking for a great dessert to go with it? You can try our Instant Pot cheesecake with chocolate swirl or the ultimate fudge brownies!
Making homemade hot chocolate
This really is easy and you won't want to buy the packets again! There are some add ons here that are recommended but not required if you do not have them.
What you need:
cocoa powder unsweetened
espresso powder (recommended but optional)
sugar
chocolate chips
vanilla extract
salt
marshmallows (recommended but optional)
milk
Now the amount of sugar you use depends on how sweet you like it. You can add more if you desire after tasting it, some like sweet and some not so sweet. The espresso powder really brings out a flavor but is not required if you do not already have it or able to get it. We keep it on hand for baking and for hot chocolate! The marshmallows are going to be melted before adding to the top, it adds a nice froth to the top.
Putting it together
You will need a small to medium saucepan for this depending on the amount you are making. This recipe is for one cup but it doubles, triples or even quadruples nicely.
In the saucepan, combine all dry ingredients except marshmallows. They are for later. Add in 1 tablespoon of milk and stir to bring it to a creamy texture. Add in the vanilla extract and chocolate chips.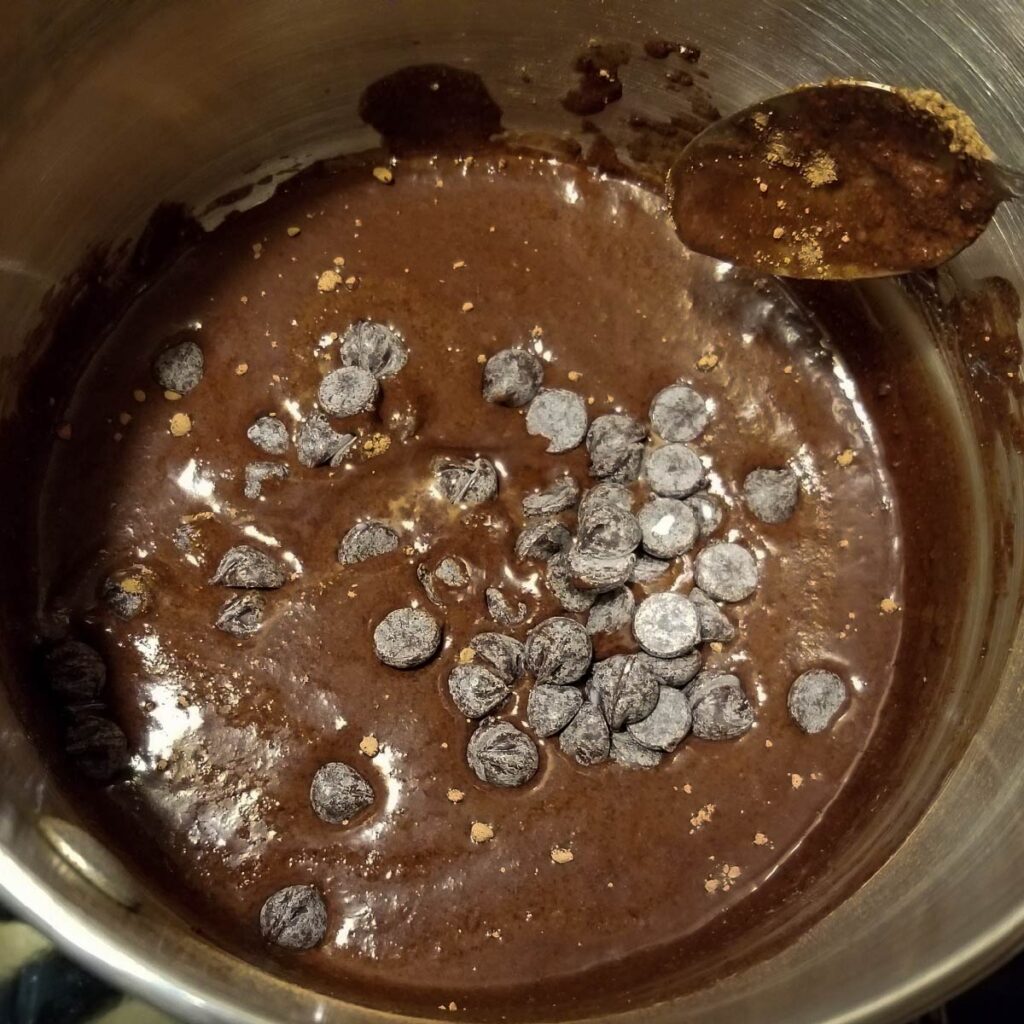 Turn the burner on to medium heat and carefully melt the chocolate chips in your mix. Stir often so they do not burn.
Once melted and smooth, add in the rest of the milk (all but the milk for the topping.) Stir well and heat until it is smooth and heated through. While this is heating up, add marshmallows and the remaining milk to a microwave safe mug.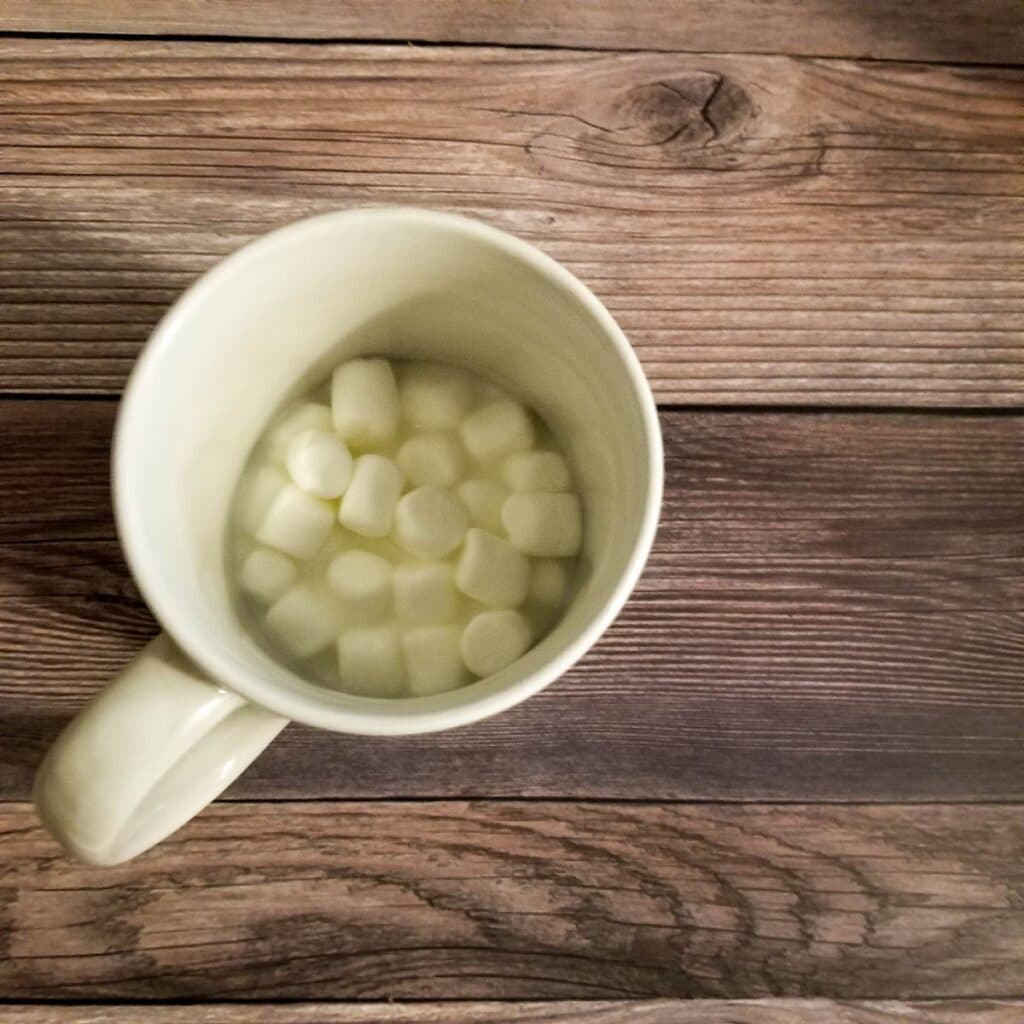 Microwave for 25-35 seconds, depending on the wattage of your microwave. Ours is 1000 watts and we do it for 30 seconds.
We use a frother on the marshmallow mix, but you can use a fork and stir quickly until it is frothy. Once the hot chocolate is heated through, pour into a cup and pour the marshmallow froth on top. If desired, top with whipped cream or chocolate and enjoy!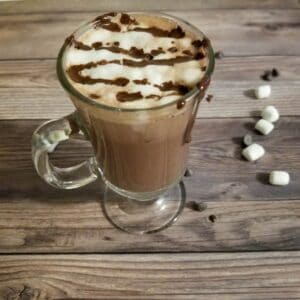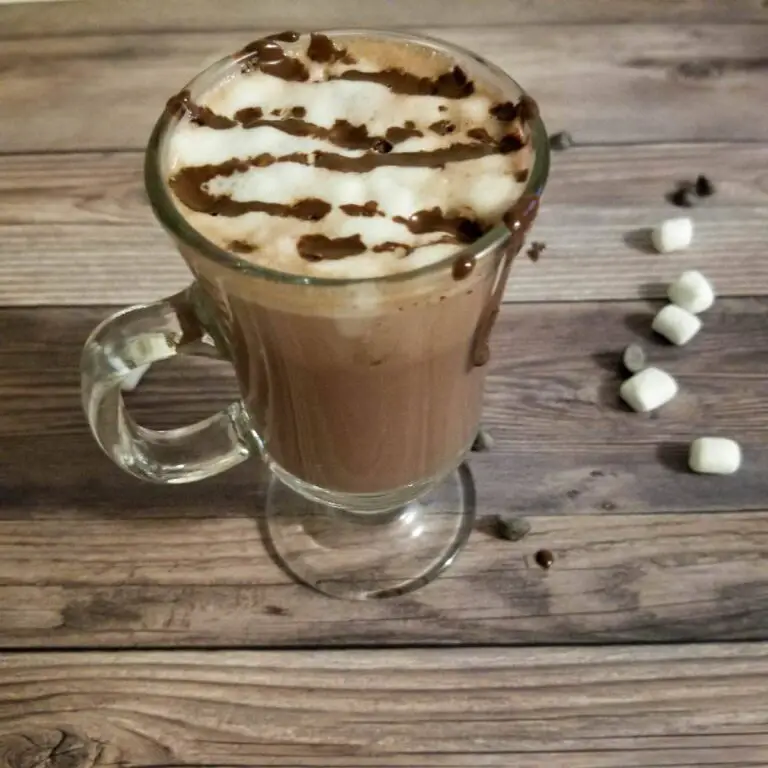 Homemade Hot Chocolate
Homemade hot chocolate is a great way to warm up when you come in from the cold! It is easy to make and very flavorful.
Ingredients  
1

cup

milk

1

tbsp

milk

¼

tsp

vanilla extract

1

tbsp

cocoa powder

unsweetened

1½

tbsp

sugar

⅛

tsp

espresso powder

optional but recommended

1

pinch

salt

see notes

1

tbsp

chocolate chips

heaping
Marshmallow froth
¼

cup

milk

⅓

cup

mini marshmallows
Instructions 
In a saucepan mix the cocoa powder, salt, sugar and espresso powder together. Stir in the tablespoon of milk and mix until it is a thick syrup.

Add in the vanilla extract and chocolate chips.

Over medium heat, melt the chocolate chips in your mix. Stir often so it doesn't burn or scorch.

Once smooth, add in the cup of milk and stir well.

Heat while stirring occasionally until it is heated through and the chocolate mix is combined well into the milk. I keep it on medium heat so it doesn't scorch and the milk doesn't boil over.
Marshmallow Froth
Add the milk and marshmallows into a microwave safe cup. I do this while the hot chocolate is heating up on the stove so they are ready together.

Microwave for 25-35 seconds, depending on your microwave. For a 1000 watt, microwave it for 30 seconds.

If you have a frother, use it to froth up the marshmallow and milk. If you do not have one, stir fast with a fork (almost like you are whipping it) to get it frothy.
Putting it Together
Once the mix is heated on the stove, pour into your favorite mug.

Once you have made your marshmallow froth, pour it on top of the hot chocolate.

Enjoy!
Notes
For salt: A pinch in this recipe is putting some salt in the palm of your hand.  Take your thumb and pointer finger and grab as much of a pinch of salt as you can (in one shot.)  
This can be easily doubled or even quadrupled in the same pot and divided equally among cups.  
Espresso powder is optional but we do recommend it if you have it or can get it.  It enhances the flavor, but can be left out.
The chocolate chips are best if it is a heaping tablespoon.  A few extra will not hurt!
Nutrition
Calories:
408
kcal
Carbohydrates:
60
g
Protein:
12
g
Fat:
15
g
Saturated Fat:
9
g
Cholesterol:
34
mg
Sodium:
201
mg
Potassium:
479
mg
Fiber:
2
g
Sugar:
53
g
Vitamin A:
494
IU
Calcium:
379
mg
Iron:
1
mg