If you are looking for something perfect for a busy night, these slow cooker cheesesteaks are the answer! We even like to bring these to family parties because everybody asks for them. They are made with a few simple ingredients like steak, peppers, onions and broth along with some spices. Toasting under the broiler is optional.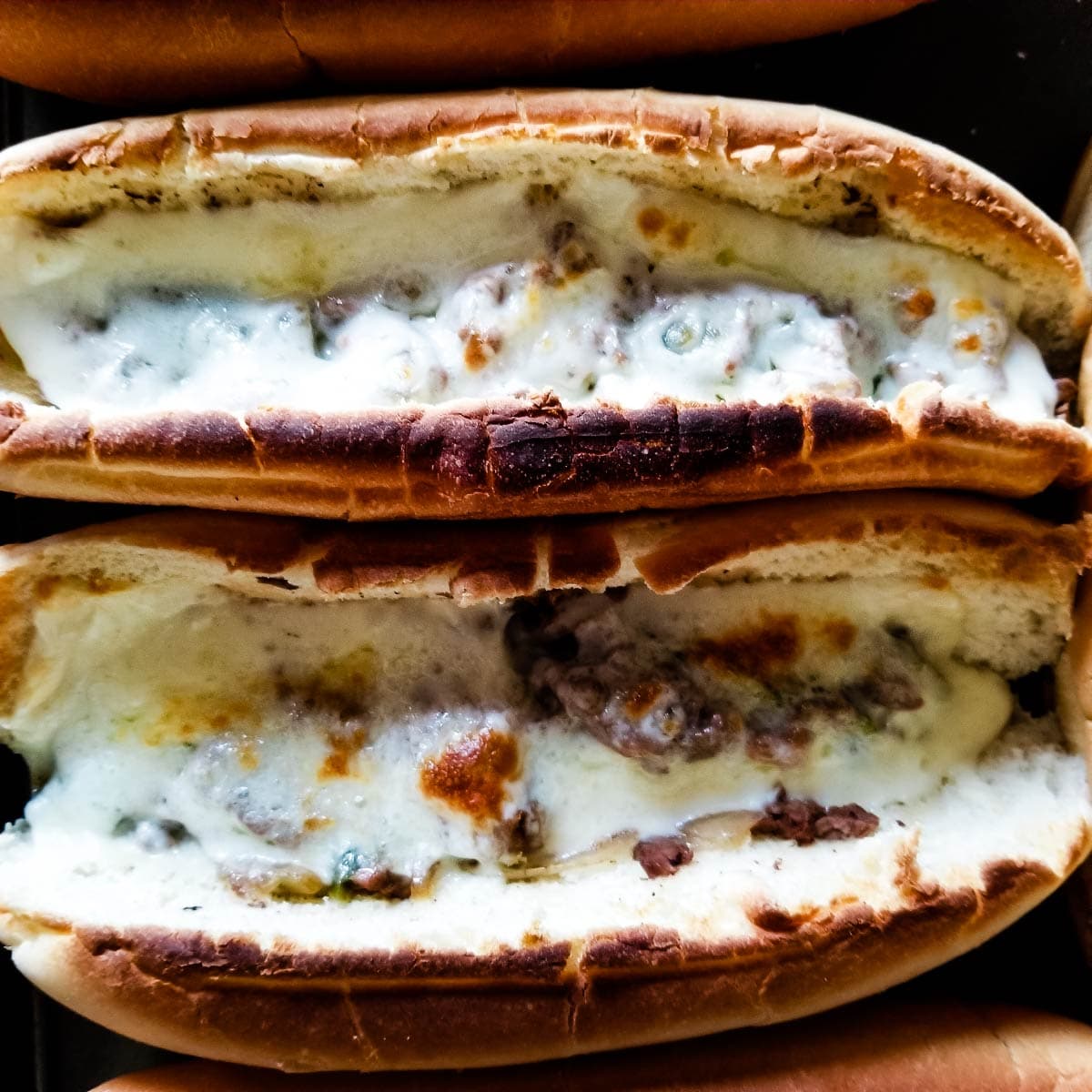 Tho we have enjoyed Philly cheesesteaks, these are not quite the same so I do not call them by that name. In Philly they don't always put peppers on them, they are cooked on the spot (not slow cooked) and they quite often use Cheez Whiz. We all prefer sliced mozzarella and provolone. This is your choice tho, use your favorite! And hey, if you like Cheez Whiz go for it.
When making the slow cooker cheesesteaks, we don't put any special sauce on them. They turn out tender and have plenty of juice with them. We do like homemade hot sauce, but otherwise we leave them as they are. Feel free to add anything of your choice tho to top! Some like ketchup, some like A1 steak sauce and some like a red sauce. I feel there is so much room for creativity to put on top of your sandwich.
Making slow cooker cheesesteaks
We like to use our Ninja Auto IQ multi cooker for this because I can sear the steak in the multi cooker and then slow cook it as well, but a slow cooker works as well. You will just sear the steak in a pan first. I find the steak more flavorful and easier to cut into thin strips after searing.
First you will sear the steak - we use london broil for this. London broil is best if it is slow cooked beyond being done. It breaks the fibers down and makes it more tender. To sear it you will want to cook it over a medium to medium high heat for about 1-2 minutes per side. Just enough to brown it on both sides.
Place the steak on a cutting board. Using a sharp knife (I use my filet knife for this), cut the steak across the grain into thin slices. Cut your green pepper and onion into thin slices as well and put it all in the slow cooker along with broth and spices. Cook for at least 6 hours. We do 7-8 usually.
Putting them in the broiler to melt the cheese and/or toast the rolls is completely optional. We never used to use it - I never used to use the broiler for anything. Some kind of fear of it I guess (worried I would start a fire if I burned something.) But once I tried it (seriously slow cooker cheesesteaks are what got me to turn my broiler on for the very first time ever), I was hooked! We put the steak mix into rolls and place on baking sheets. Place in the oven that has been set to broil for about 3-4 minutes to melt the cheese and toast the buns.
As a note:
You will have a bit of juice left over from these steak sandwiches. In order for the steak be tender, it needs to be fully submerged in liquid. We save the leftover juice and use it to make a beef rice.
London broil has always been my favorite to use here as it is a cheaper cut of meat but it does get tender when cooking for a long period of time. No need to use an expensive cut of meat here.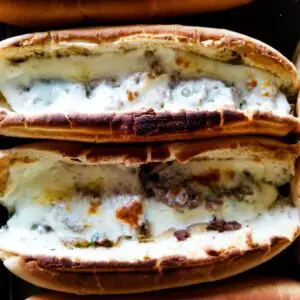 Slow Cooker Cheesesteaks
Perfect for a busy night or even to bring to a party, these cheesesteaks are easy to make with a few simple ingredients.
Ingredients
2½

lbs

London broil

3

tbsp

olive oil

1

yellow onion

1

green pepper

1

tsp

garlic powder

½

tsp

paprika

½

tsp

salt

see notes

1

tsp

Italian seasoning

¼

tsp

red pepper flakes

see notes

4

cups

beef broth

reduced sodium

6

rolls

hoagie or long rolls recommended

12

slices

cheese

see notes
Instructions
Heat oil in a pan over medium - medium high heat. Add steak and cook for about 1-2 minutes per side to brown on both sides. Remove from pan.

Using a sharp knife, slice the steak against the grain into thin slices.

Slice onion and pepper into thin slices.

Place sliced steak, peppers and onion into the slow cooker. Add broth, salt, pepper flakes, paprika, garlic powder and Italian seasoning. Stir well and be sure all the steak is submerged in broth.

Turn the slow cooker to low and cook for at least 6 hours, but 7-8 hours is preferred.

Slice the rolls and place steak mix into each roll. Top with cheese.

Optional but recommended - place the sandwiches on a baking pan. Place in the oven heated on broil for about 3-4 minutes until the cheese is melted and rolls are toasted.
Notes
Nutritional values are estimated.
There will be plenty of juice left from these sandwiches which can be saved and used for something else.  You do need to use enough broth to keep the meat from drying out so it is not recommended to decrease the amount.  You can add more steak as long as it is fully submerged.
For salt, it depends on the broth you use and how much salt you would like.  We used 1/2 teaspoon with reduced sodium broth (50% less sodium.)  Add to your desired level of sodium.
For pepper flakes - 1/4 teaspoon is child safe.  It isn't spicy but adds some flavor.  If everybody likes hot, get creative with more spice!
For cheese, use your favorite.  We use provolone and mozzarella but you may like others.  
Nutrition
Calories:
729
kcal
Carbohydrates:
37
g
Protein:
66
g
Fat:
34
g
Saturated Fat:
15
g
Cholesterol:
174
mg
Sodium:
1252
mg
Potassium:
1147
mg
Fiber:
2
g
Sugar:
6
g
Vitamin A:
754
IU
Vitamin C:
17
mg
Calcium:
463
mg
Iron:
15
mg