Slow cooker cheesesteaks are full of flavor and easy to make with just a few simple ingredients. They are perfect for busy days when you need dinner to be easy or even when entertaining. Guests always love eating them.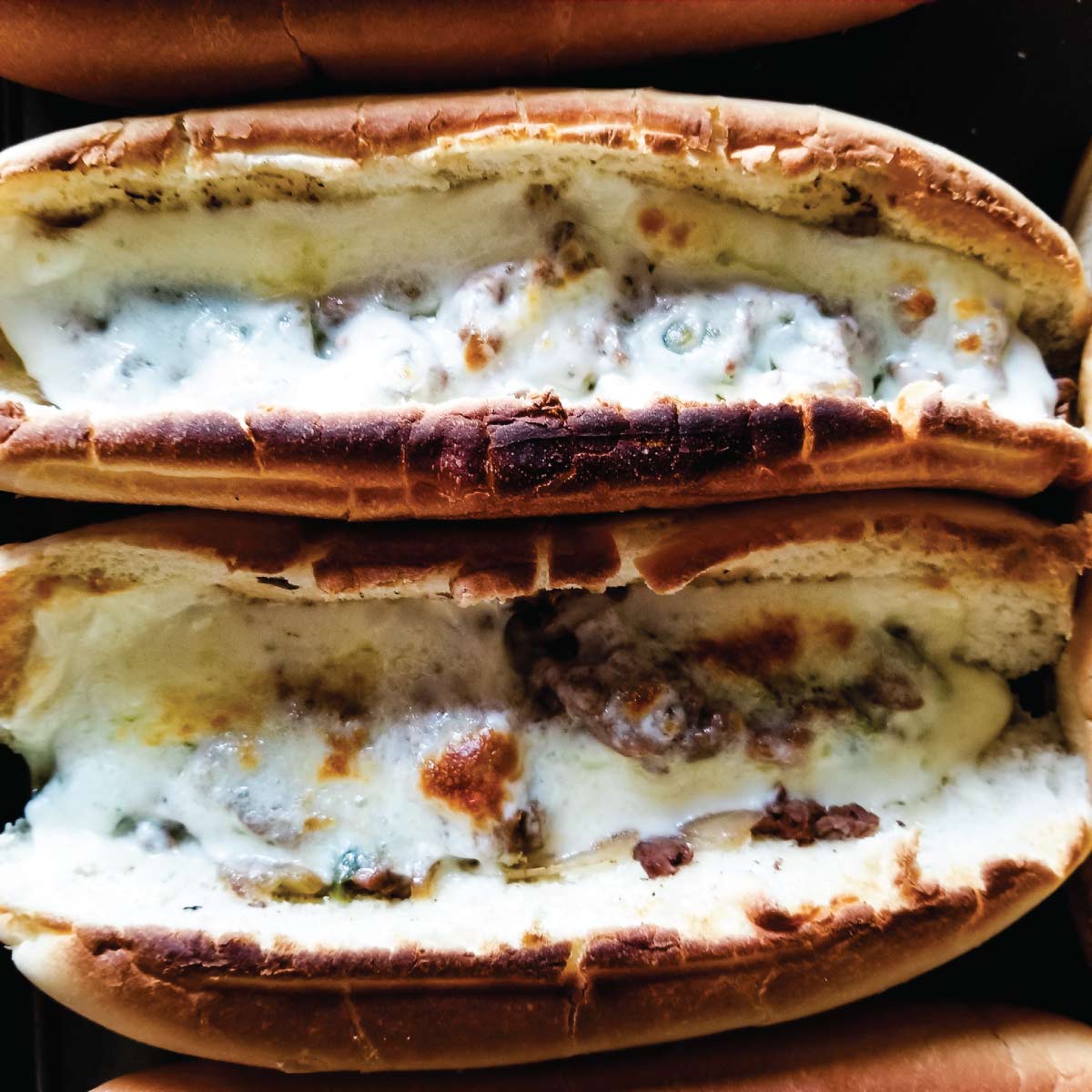 If you are looking for something perfect for a busy night, these slow cooker Philly cheesesteaks are the answer. They are quick to prep and cook all day so they are ready when you are to serve.
These are perfect for entertaining too. We get asked to make these for family get togethers often.
Toasting under the broiler is optional, but recommended! It melts the cheese perfectly and adds a slight crisp to the rolls.
When we bring them to a gathering we usually do not toast them. It is easier to leave them in the slow cooker and let people serve themselves.
Jump to:
Ingredients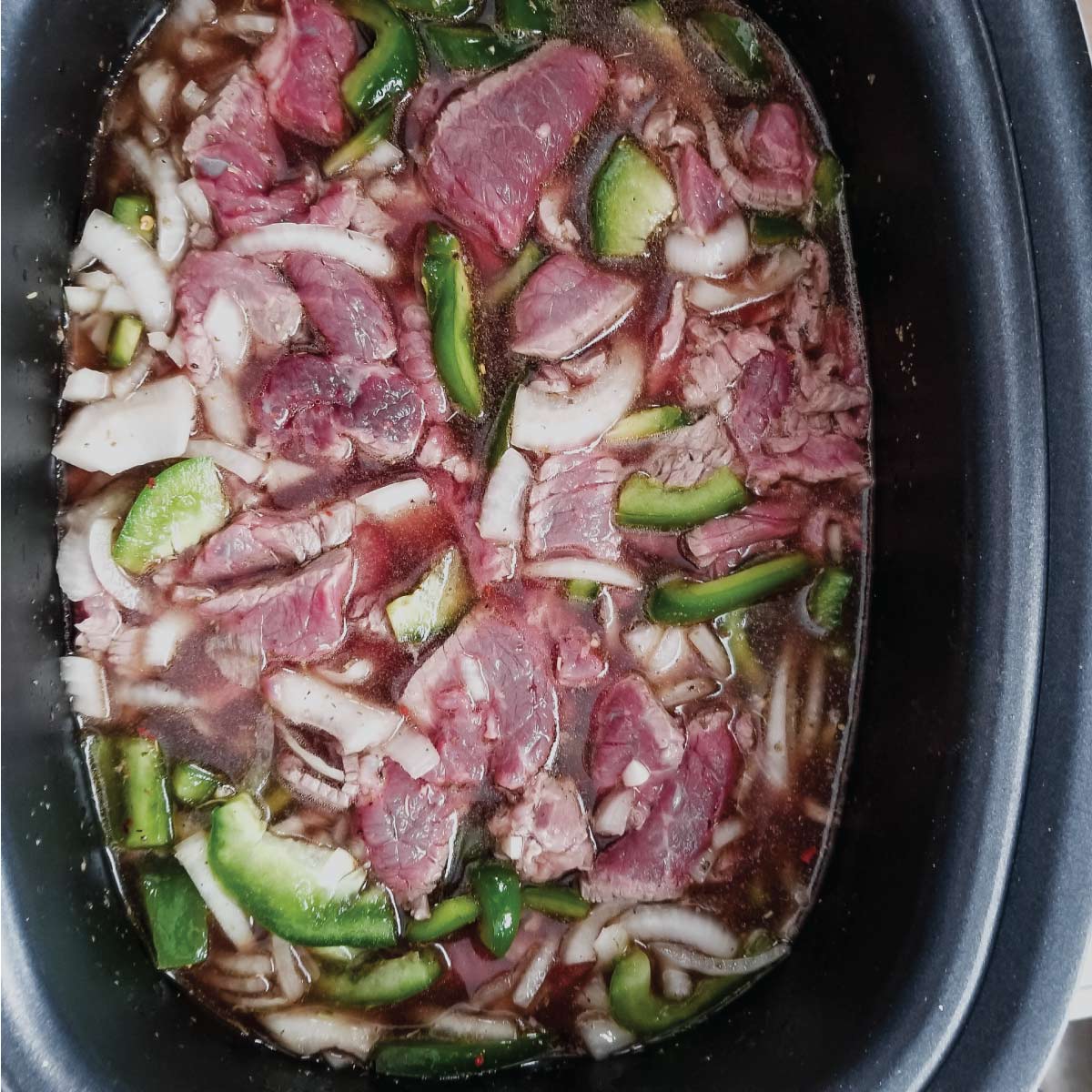 Steak - We use London broil for these slow cooker cheesesteaks, but you can use a rump or bottom round roast as well.
Oil - We use olive oil, but you can use your favorite oil for cooking. This is used for searing.
Onion - I recommend a yellow onion, but you can use a white or sweet onion in it's place.
Pepper - We prefer the taste of a green pepper in our sandwiches, but you can use the bell pepper of your choice. Note that other bell peppers are sweeter then green peppers.
Broth - We use reduced sodium beef broth. When we use unsalted broth, we increase the amount of salt used to 1 and a half teaspoons. If you use regular broth (full sodium), you may want to leave the salt out depending your taste.
Garlic - We use garlic powder, but you can substitute it with fresh garlic.
Paprika - Regular or smoked paprika is good here, we usually use regular for our cheesesteaks.
Salt - If you are using full sodium broth, you can leave the salt out.
Italian seasoning - You can substitute with one half of a teaspoon each - parsley, basil and oregano if you do not have Italian seasoning.
Red pepper flakes - Recommended to add a little flavor, but optional. If you want them to have a little spice, try adding some cayenne pepper!
Rolls - We usually get packaged hoagie rolls, but you can use your favorite.
Cheese - Mozzarella or provolone are the cheeses we prefer, but you can add your favorite cheese.
Making slow cooker cheesesteaks
We like to use our multi cooker for this because I can sear the steak in the multi cooker and then slow cook it as well, but a Crock-Pot works just as good.
If your slow cooker is not a multi-cooker, you can sear the steak in a pan first. I find the steak more flavorful and easier to cut into thin strips after searing.
Prepping the steak and vegetables
First you will sear the steak. To sear, add oil to a heated pan or multi-cooker with a stove-top feature. It is best if you hear sizzling when you add the steak to the pan.
As a note, if your steak did not sizzle when it went in the pan because the pan wasn't hot enough your steaks will still turn out good. This has happened to me before and they were still amazing!
Allow your steak to cook about 1-2 minutes on each side. Remove from pan and place on a cutting board. Using a sharp knife (I use my filet knife for this), cut the steak across the grain into thin slices.
For the pepper and onion - I slice them in half from top to bottom. Then slice the halves in half again. Slice into thin slices - you will now have thin slices that are about 2-3 inches long.
This does not have to be perfect, you can cut them how you like them. We prefer short strips for ours.
Cook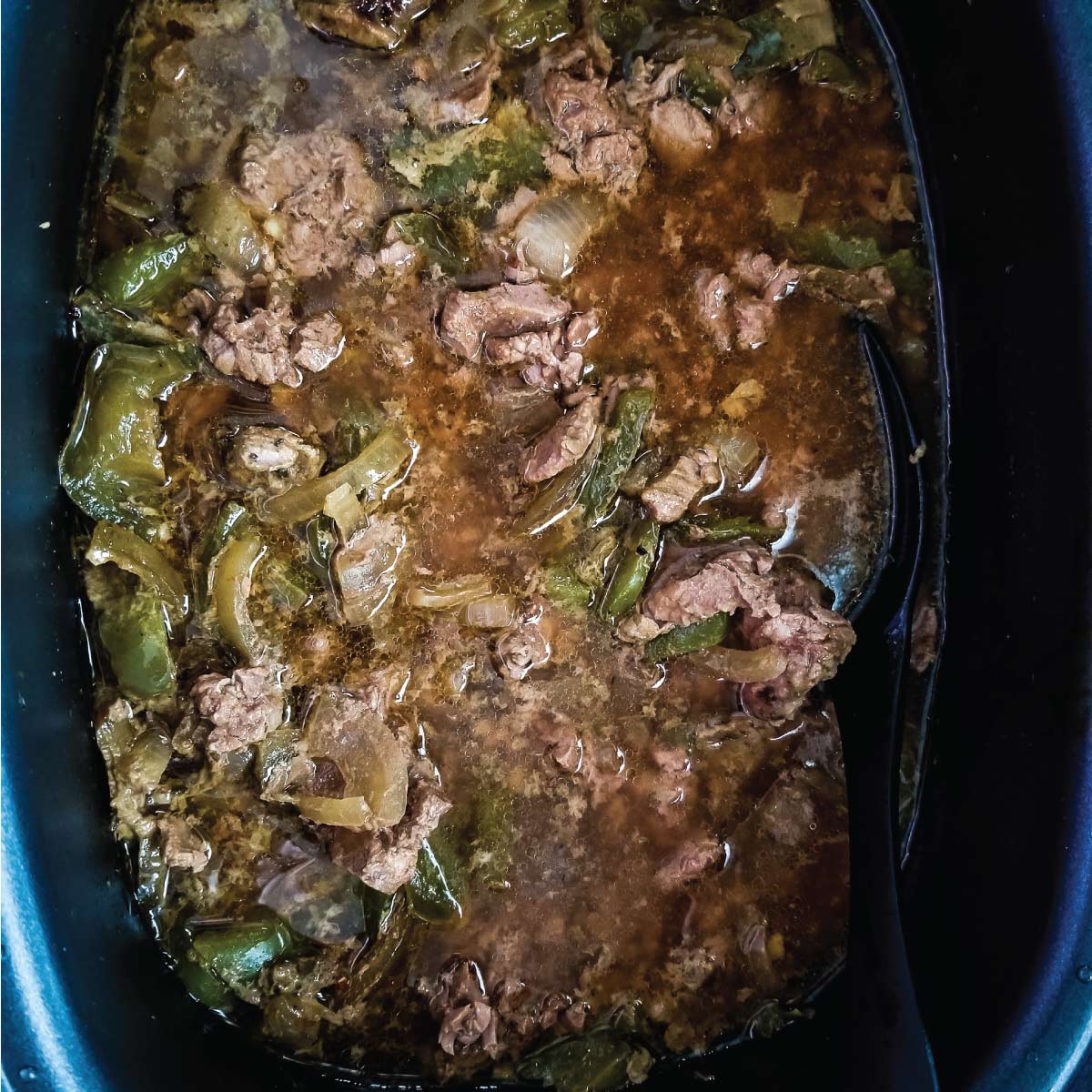 Add the thinly sliced steak, onions and peppers to your slow cooker. You don't have to layer them in any order, just put them all in together.
Add the Italian seasoning, garlic, paprika, salt and red pepper flakes on top. Pour the broth over and stir well to mix the seasonings in.
Be sure that the steak is fully submerged in the broth, push it down if needed to be submerged.
Place the lid on and cook your slow cooker Philly cheesesteaks for at least 6 hours on low. We do 7-8 hours usually. You want the steak fibers to break down so it is very tender meat on your sandwich.
Putting the cheesesteaks together
Once they are ready, give them a good stir. Use a slotted spoon, spoon out onto hoagie rolls.
Top with cheese and allow cheese to melt or for best results, place the assembled cheesesteaks on a foil lined baking tray. Broil for about 3-4 minutes, until the cheese is melted and bread is toasted to your liking.
Believe it or not, I never like using a broiler until I started making these. It was like a small fear of something catching on fire - but here I am using it often now!
Making slow cooker cheesesteaks for a get together
Rolls - If you are bringing these to a gathering, you may want to bring smaller sized rolls. Club rolls are perfect for a get together because there is going to be other foods.
Extra ingredients - You can add more meat, peppers and onions to these as well so it is more for the crowd. Just be sure that your meat is fully submerged in the broth for best texture. If you add more broth, add a little more seasoning - amounts vary based on how much broth you add.
Cheese - I try to add 3 different cheeses when cooking this for a crowd. Mozzarella, provolone and American are the common favorites on slow cooker Philly cheesesteaks.
Transporting - If you are transporting after it is finished cooking, you can turn it off and bring it as it is. If you have a carrying bag for your slow cooker, you can use that. We don't always use one so it's not required, but helpful.
If you are transporting it before it is finished cooking, no problem! Turn it off right before you leave and turn it back on when you get to your destination. If your destination was a half hour away or less, you won't lose any cook time.
If you are traveling further, I recommend cooking it for at least 4 hours before leaving. The meat should be mostly brown before transporting a longer distance. If it is still red, it is likely too cold in the slow cooker to travel a long distance and may cause bacteria.
When you reach your destination, turn it back on and continue to cook. Cook times when transporting will vary. The meat needs to be overcooked to be tender so you know it is ready when it is tender.
What goes good on cheesesteaks
There are many different things you can put on them! People like different toppings on their slow cooker cheesesteaks and they are completely customizable.
Some popular toppings are:
Hot sauce - I love homemade hot sauce on mine!
Hot peppers - Fresh or pickled from a jar.
Sweet peppers - Pickled sweet peppers like the ones from a deli are popular.
Cheez Whiz - This is popular if you go to Philly for cheesesteak. It may be cheaper locally.
Steak sauce - Your favorite steak sauce.
Ketchup - Some people love ketchup on their steak sandwiches.
BBQ sauce - This is another popular choice for some.
Frequently asked questions
Does it have to be London broil?
No it does not. You can really use any cut of beef, but we recommend a cheaper cut. Since you are technically overcooking the meat until the fibers break down, any cut will become tender.

I use either London broil, rump or bottom round roast - whichever is cheaper on sale for these.
Do I have to sear the steak first?
You do not have to sear the steak first. It is recommended for flavor and it helps to speed up the cook time, but you can skip it. I think it is also easier to cut thin when it is seared on both sides.
Why do I use so much broth when I have this much liquid leftover?
You need the meat to be fully covered while cooking to prevent it from drying out, especially since it is sliced. Yes you will have a bunch of liquid leftover, you can use it for another dish.

The juice can be frozen for up to 3-4 months to be used in another dish like stir fry or even a beef rice.
Some useful items
As an Amazon affiliate, we may earn a commission if you make a purchase through one of our links. This is at no extra cost to you and helps to keep the recipes free.
Multi-cooker - A multi-cooker is always great to have but not required. It's nice to sear and slow cook all in the same kitchen gadget!
Slow cooker - Cheaper then a multi-cooker and works great, but you cannot sear it directly in the slow cooker. This one has a locking lid (never cook with the lid locked down) for transporting. I have 2 Crock-Pots with locking lids and they are great for bringing out of the house.
Slotted spoon - This is a wooden one in case your multi-cooker/slow cooker is non stick. I don't like plastic for it, especially if the spoon will be sitting in the dish at a get together.
Recipe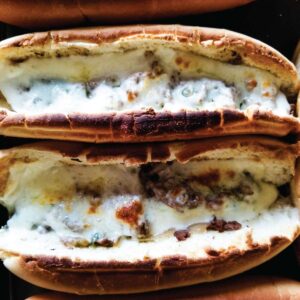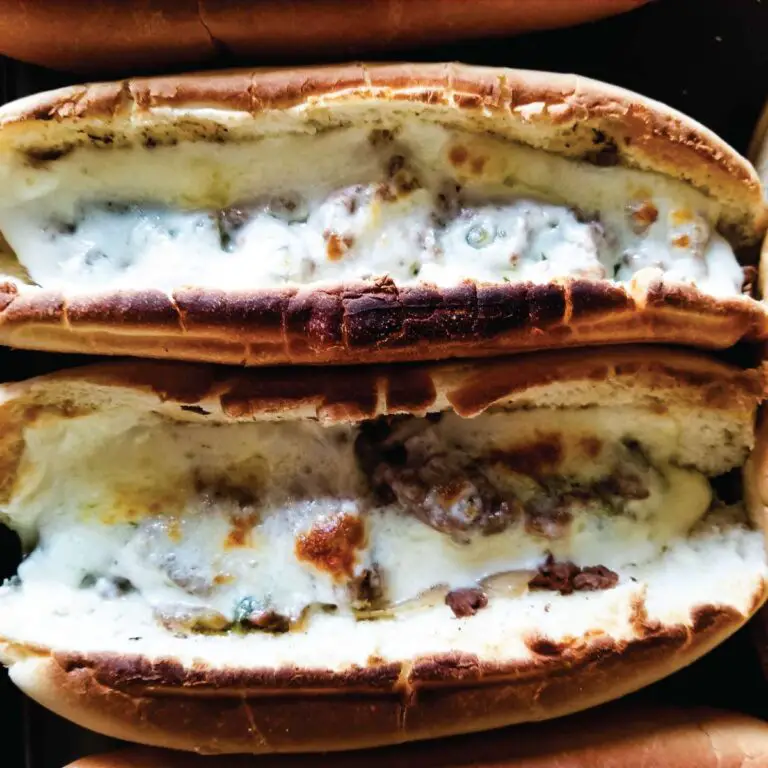 Slow Cooker Cheesesteaks
Slow cooker cheesesteaks are an easy Crock-Pot recipe to make! They are perfect for busy days, put them in and let them cook all day. They are great for entertaining too!
Ingredients  
2½

pounds

London broil

3

Tablespoons

olive oil

1

yellow onion

1

green pepper

4

cups

beef broth

see notes

1½

teaspoon

Italian seasoning

1

teaspoon

garlic powder

½

teaspoon

paprika

½

teaspoon

salt

see notes

¼

teaspoon

red pepper flakes

see notes

6

rolls

hoagie or long rolls recommended

12

slices

cheese

see notes
Instructions 
Heat oil in a pan over medium - medium high heat. Add steak and cook for about 1-2 minutes per side to brown on both sides. Remove from pan.

2½ pounds London broil,

3 Tablespoons olive oil

Using a sharp knife, slice the steak against the grain into thin slices.

Slice onion and pepper into thin slices.

1 yellow onion,

1 green pepper

Place sliced steak, peppers and onion into the slow cooker. Add broth, salt, pepper flakes, paprika, garlic powder and Italian seasoning. Stir well and be sure all the steak is submerged in broth.

1 teaspoon garlic powder,

½ teaspoon paprika,

½ teaspoon salt,

1½ teaspoon Italian seasoning,

¼ teaspoon red pepper flakes,

4 cups beef broth

Turn the slow cooker to low and cook for at least 6 hours, but 7-8 hours is preferred.

Slice the rolls and place steak mix into each roll. Top with cheese.

6 rolls,

12 slices cheese

Optional but recommended - place the sandwiches on a baking pan. Place in the oven heated on broil for about 3-4 minutes until the cheese is melted and rolls are toasted.
Notes
Nutritional values are estimated.
There will be plenty of juice left from these sandwiches which can be saved and used for something else.  The meat needs to be fully submerged into the broth for it to be tender.  You can add more steak or less broth as long as it is fully submerged.
For salt and broth - it depends on the broth you use and how much salt you would like.  We used 1/2 teaspoon salt with reduced sodium broth (50% less sodium.)  Add to your desired level of sodium.
For pepper flakes - 1/4 teaspoon is child safe.  It isn't spicy but adds some flavor.  If you prefer hot you can add more or even cayenne pepper!
For cheese, use your favorite.  We use provolone and mozzarella but you may like others.  
Nutrition
Calories:
729
kcal
Carbohydrates:
37
g
Protein:
66
g
Fat:
34
g
Saturated Fat:
15
g
Cholesterol:
174
mg
Sodium:
1252
mg
Potassium:
1147
mg
Fiber:
2
g
Sugar:
6
g
Vitamin A:
754
IU
Vitamin C:
17
mg
Calcium:
463
mg
Iron:
15
mg
For step by step slide - easy slow cooker cheesesteaks.