Easy to make, this Instant Pot pumpkin cheesecake is the perfect fall dessert! It combines the flavors of a classic cheesecake with pumpkin puree and pumpkin pie spices.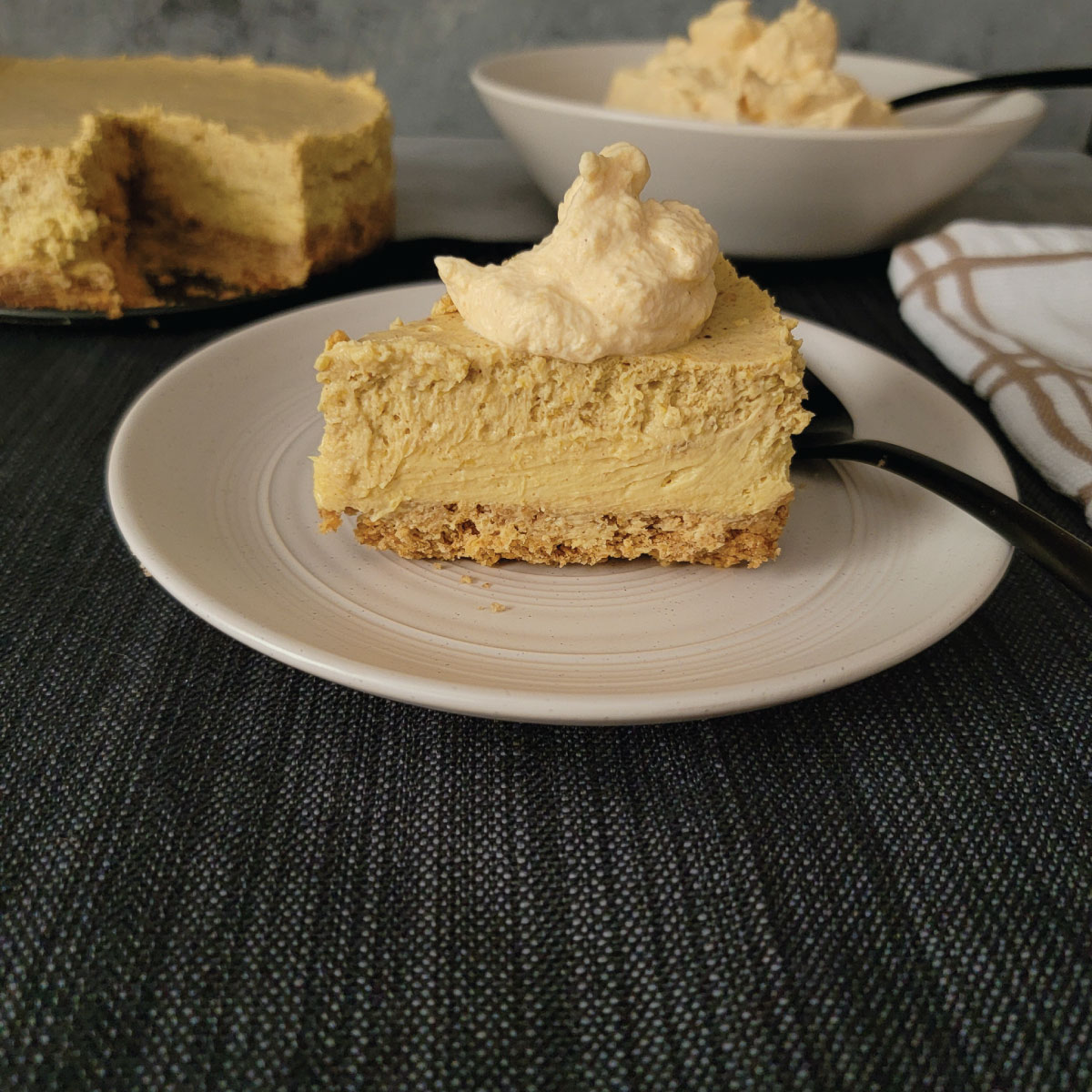 If you are like our house, you have been anxiously awaiting fall. The leaves will be changing soon, the cooler air and all the tastes of fall are here. This dessert is no exception! With pumpkin and pie spice, it is a great way to enjoy the end of a fall day.
We love to make pumpkin whipped cream to top our cake, but regular whipped cream is good too!
Jump to:
Ingredients
We broke the ingredients for the Instant Pot pumpkin cheesecake down into three parts - the crust, the cheesecake layer and the pumpkin layer. You can make a different crust if you choose, this is our favorite!
The Crust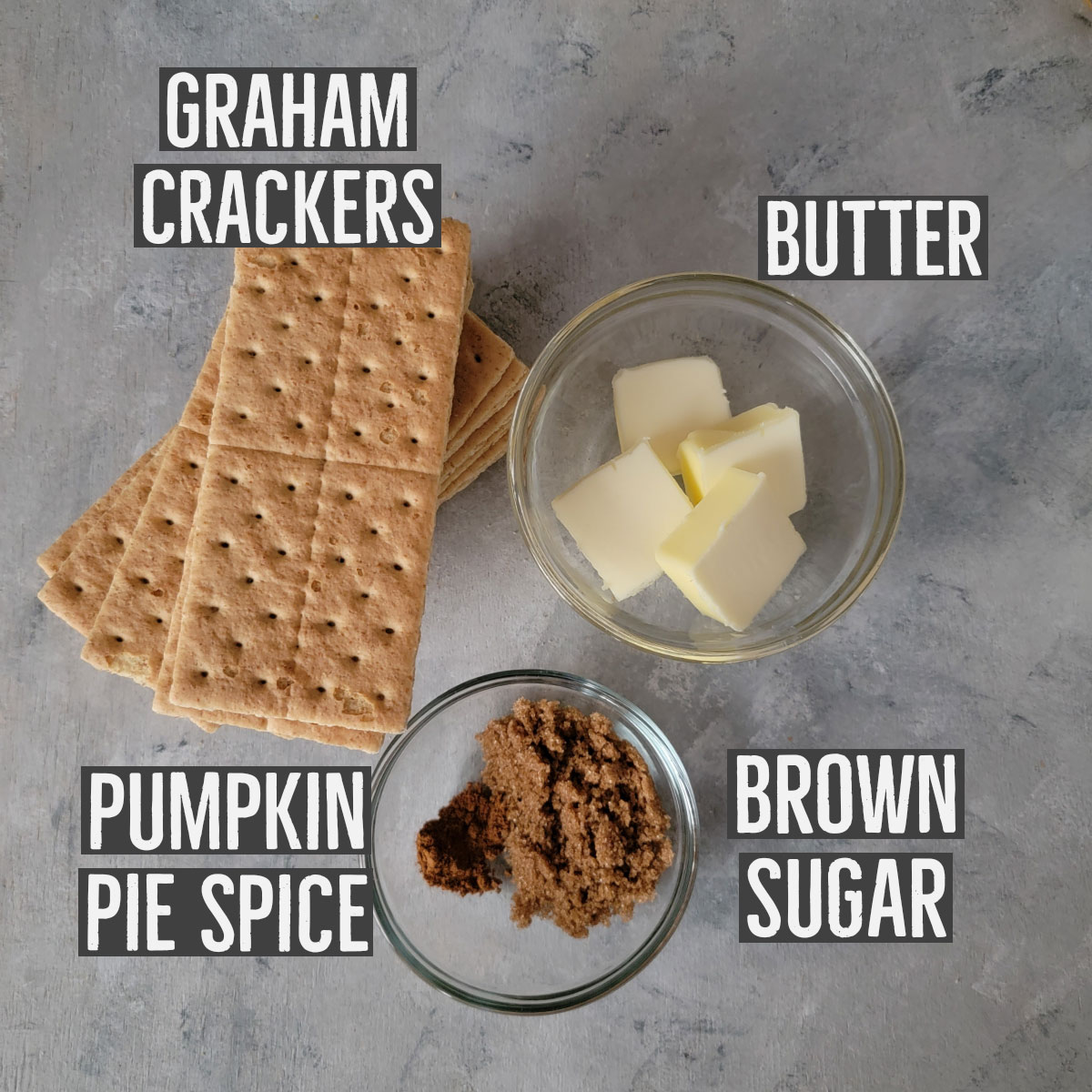 The crust is something that can be changed up a bit. You can make it a cookie crust if you rather, we prefer the graham cracker crust here.
Graham crackers - We use the cinnamon here but you can use chocolate, cinnamon or even honey!
Butter - We recommend butter but you can use margarine or oil here. Coconut and olive oil will work, just melt the coconut oil like you would the butter.
Brown sugar - Optional but highly recommended for some extra flavor.
Pumpkin pie spice - Optional but recommended for flavor.
The cheesecake layer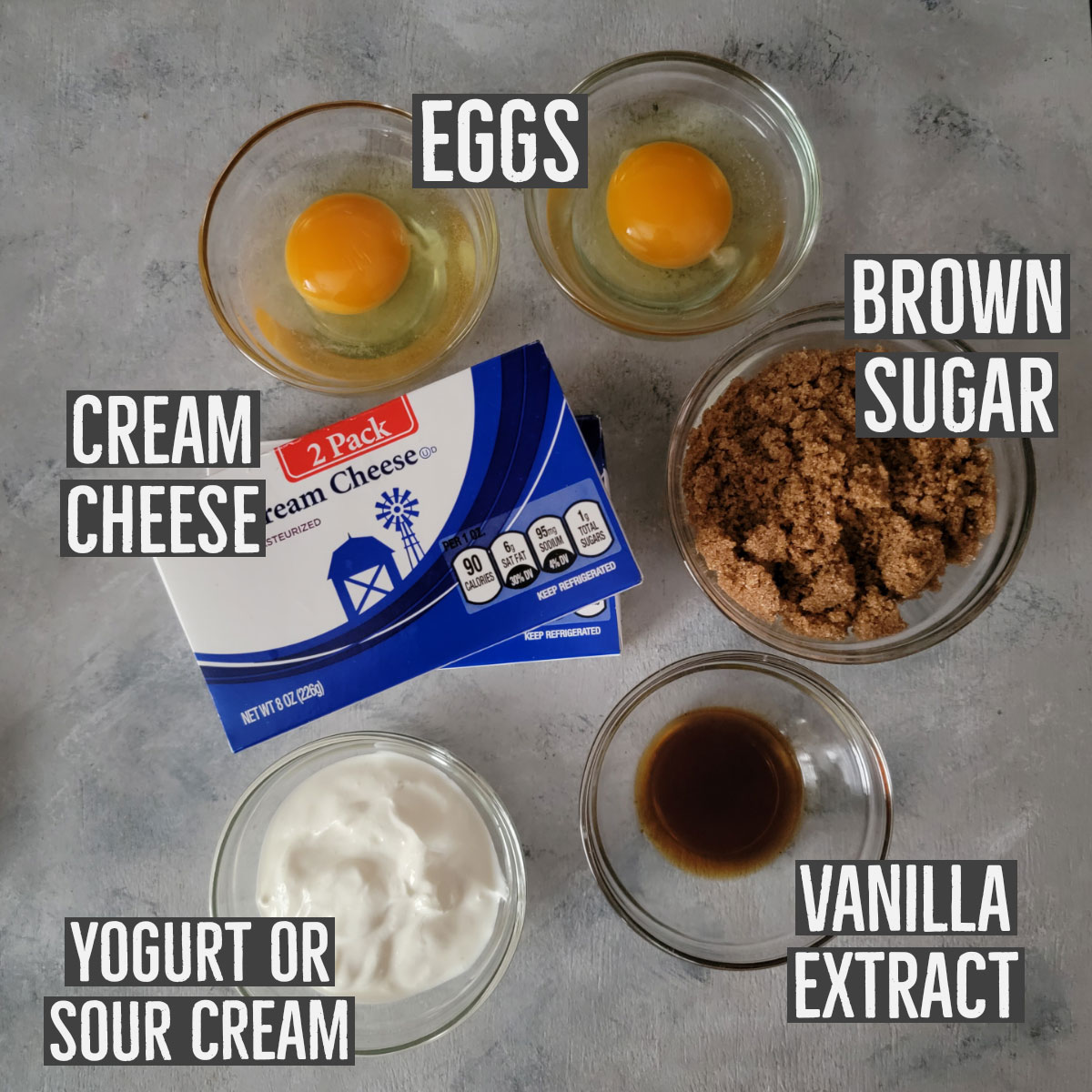 All of these ingredients should be close to room temperature before making. If not, the cream cheese will likely become lumpy.
Cream cheese - No recommended substitution, we have not tested it with any alternatives.
Brown sugar - Can use regular sugar instead, but dark brown sugar adds the best flavor.
Vanilla extract - No substitute recommended.
Yogurt - You can use plain yogurt or sour cream. We have tested the Instant Pot pumpkin cheesecake with both. They can be used interchangeably here.
Eggs - No substitutions recommended, hasn't been tested with any alternatives.
The pumpkin layer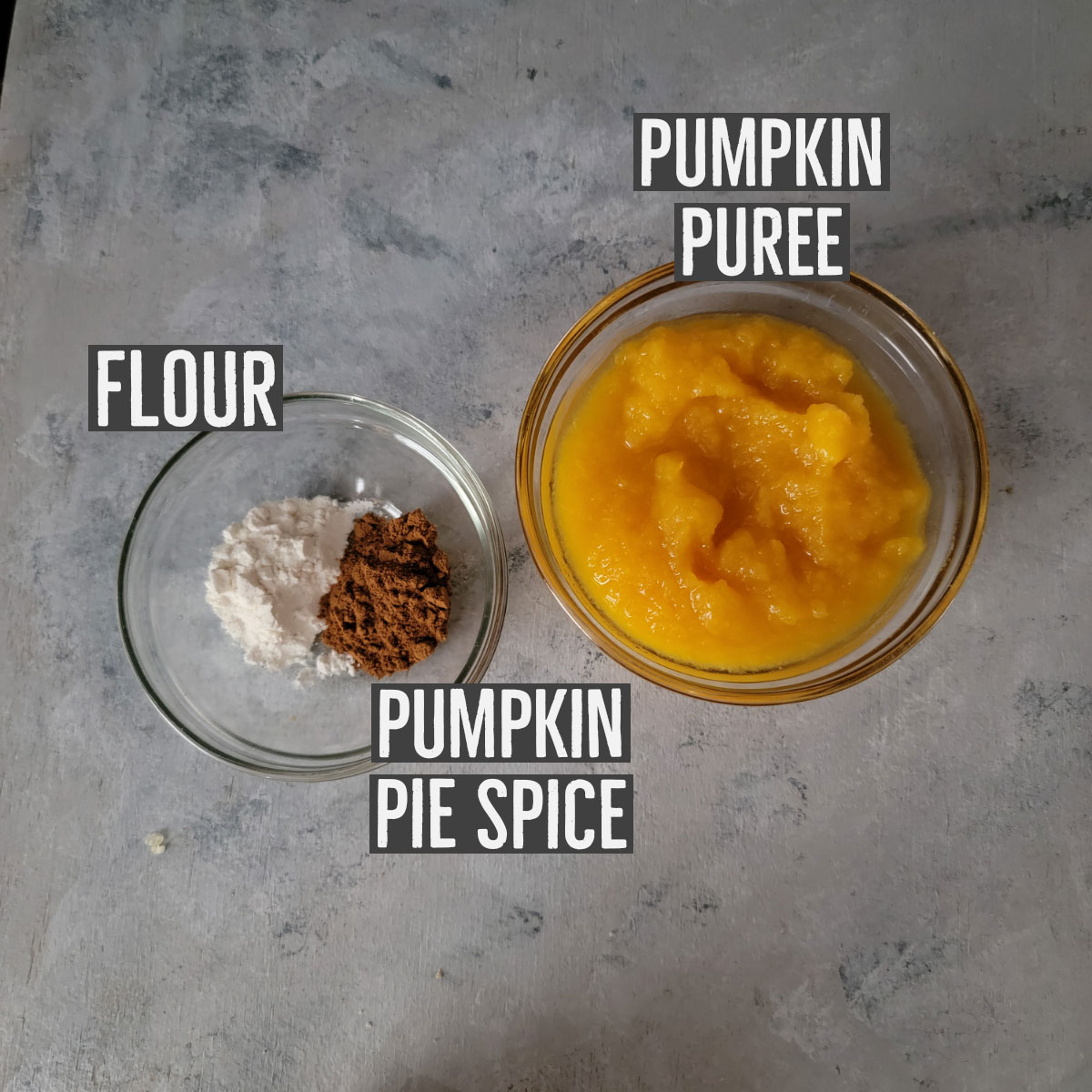 The pumpkin ingredients get mixed into about half of the cheesecake filling to create a separate layer.
Pumpkin puree - We like to use fresh pumpkin puree here, but you can certainly use canned too. If you want to use fresh pumpkin also, here are easy instructions for cooking your pie pumpkin - how to cook pumpkin in the Instant Pot.
Flour - You will need a little flour with fresh pumpkin puree, but if using canned pumpkin you can leave it out. Fresh pumpkin has more moisture then in the can.
Pumpkin pie spice - We like to use homemade pumpkin pie spice, but you can certainly buy it at the store as well.
Making Instant Pot pumpkin cheesecake
There are a few tips that I would like to point out for making a successful cheesecake before you scroll to the recipe. These are very important tho and I will make them quick.
Sit ingredients on counter for at least an hour
This is a very important step! You need to soften the cream cheese so there are no lumps when you mix it. The yogurt (or sour cream) and eggs also need to sit out to warm to room temperature. Eggs can be warmed up fairly quickly in a glass of slightly hot water, but yogurt should sit out. If you add these ingredients to the cream cheese while they are cold out of the fridge, you will get lumps as it will cool the cream cheese in spots.
Do not over whip the eggs
We add eggs 1 at a time and beat them for about 10 seconds each before turning off the mixer. We then take a spatula and gently stir the eggs in the rest of the way if needed.
Gently get out air bubbles
We use a fork or the spatula will work too for this. When you put the first layer on top of the crust, gently move a fork around through the layer (don't go deep or you will be lifting the crust.) You will get out some air bubbles that are in your mixture. Repeat with the second layer - again not too deep so you don't mix the layers. You don't need to be perfect here, but it just takes out a few of the bubbles. If you miss a couple, it will be ok.
Getting the right pan
We use a 6 quart Instant Pot for this recipe and a standard size pan won't fit in it. You need a smaller one like this 7 inch springform pan - this is the exact one we use and love it, you don't need an expensive one.
Getting a sling
One thing I highly recommend is getting a silicone sling as it will make your life so much easier! You will need to use a sling for this Instant Pot pumpkin cheesecake (along with any cheesecake you want to make), but you can also use foil. Pressure Cooking Today has a great tip for making one - Pressure Cooker Tip - Using a Foil Sling
If you use a silicone sling, you don't use the trivet that came with your IP, but you do need to use the trivet with a foil sling.
The mixer
Usually I would say to use a stand mixer as I absolutely love mine for many things, but for cheesecake I recommend a hand mixer. I feel like in a stand mixer you are more likely to let it over whip. With a stand mixer it is easy to do other things real quick (I say this from experience) while it is mixing and that can over whip your filling.
Frequently asked questions
Can I freeze the Instant Pot pumpkin cheesecake?
Yes you can! Be sure it is completely cooled down in the fridge before wrapping and freezing. Frozen cheesecake is hard to cut so you may want to slice it and freeze the slices unless you plan on using the whole cake at once. Wrap the cake slices in plastic wrap before wrapping in foil.

I would only freeze it for 1-2 months but no longer for best flavor and texture.
Can I make the layers stand out more?
Sure, I would use food coloring in the pumpkin layer if you are looking for a distinct layer contrast. Mix yellow and red food coloring into the layer using a ratio of 4 drops yellow to 1 drop red until desired color. It will change slightly during cooking.

It will only have a slight contrast without the food coloring.
What is the best size Instant Pot to use?
You can use either the 6 quart or the 8 quart for this cheesecake. We use the 6 quart, but the pan will fit into both.
Do I have to use flour?
If using fresh pumpkin puree, yes you should definitely use flour in the pumpkin layer to prevent excess moisture. If using canned pumpkin you can leave the flour out.
You may also like these great desserts
Recipe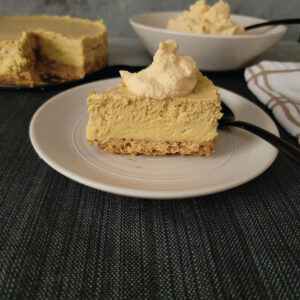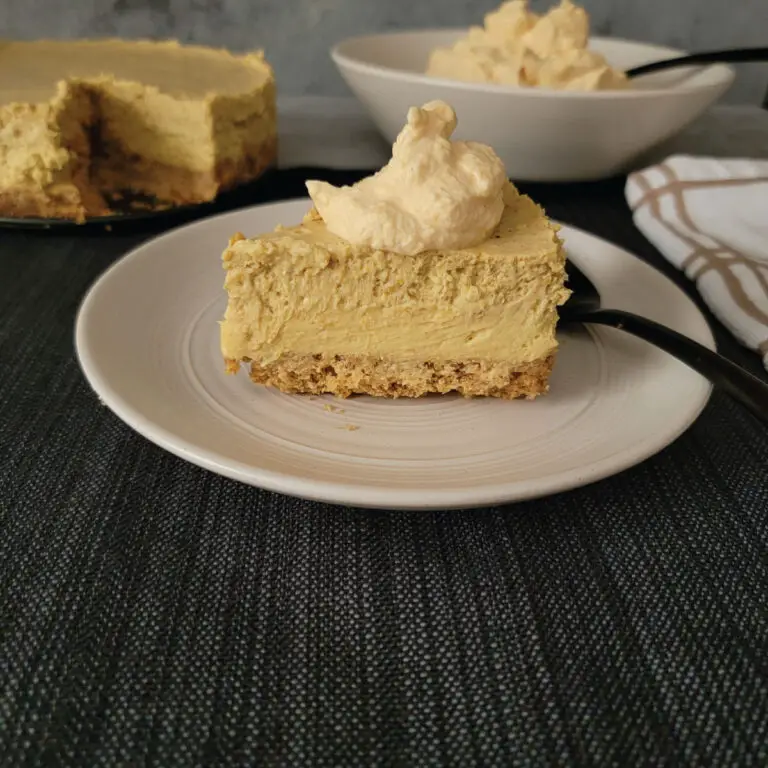 Instant Pot Pumpkin Cheesecake
Instant Pot Pumpkin Cheesecake is the perfect combination of a classic cheesecake with the tastes of fall like pumpkin and spices.
Ingredients  
The Crust
4

Tablespoons

butter

10

graham crackers

¼

teaspoon

pumpkin pie spice

1

Tablespoon

brown sugar
Filling
16

ounces

cream cheese

softened for at least an hour

¼

cup

plain yogurt

or sour cream, set out for about an hour

2

eggs

set out for about an hour

½

cup

brown sugar

loosely packed

1

teaspoon

vanilla extract
Pumpkin layer (to be added to half of the filling)
Instructions 
The Crust (optional or use your favorite crust)
Melt the butter and crush the graham crackers. You can use a food processor or even just put them in a gallon storage bag and use a rolling pin to crush them.

Add the ¼ teaspoon pumpkin pie spice and the 1 tablespoon brown sugar to the graham cracker crumbs. Pour the crumb mix into the melted butter and stir well.

Pack the graham cracker mix as tightly as you can into the bottom of the springform pan and set aside.
The Filling
Be sure your cream cheese, yogurt (or sour cream) and eggs have sat out at room temperature for at least an hour before mixing.

Cream the cream cheese for about 1 minute using a mixer (preferably a hand mixer) or until smooth.

Add in the brown sugar and beat again for about 1 minute.

Add in the vanilla and yogurt. Mix until incorporated, about 20-30 seconds.

Add in the eggs one at a time. Beat each egg in for about 10 seconds and scrape the sides of the bowl down before adding each one. Do not over whip the eggs. Take a spatula and gently stir the egg in if it needs more mixing.

Scoop 1½ cups of the cheesecake filling (about half) over the crust and smooth out evenly.
Pumpkin layer
Mix the pumpkin puree, pumpkin pie spice and flour together in a small bowl. Add into the remaining filling and gently stir with a spatula or spoon.

Pour the pumpkin layer on top of the first layer.
Cooking
Pour 1 cup of water into the Instant Pot. Place the springform pan into a silicone sling or make a foil sling.

If using a silicone sling, place it into the Instant Pot now. If using a foil sling, you need to put the trivet that came with your IP in first followed by the foil sling and your cake.

Cook on high pressure for 27 minutes and allow to do a natural release. As soon as it is done releasing, remove the cheesecake and blot any moisture that has accumulated on the top with a paper towel. Little drops are ok, but get any excess puddles of moisture off.

Cool on the counter for about 1 hour before placing in the fridge. Cool in the fridge for at least 3-4 hours before covering to prevent excess moisture. Then cover and allow it to cool in the fridge over night for best texture.
Notes
Nutritional values are estimated and so are the serving sizes.
Plain yogurt or plain sour cream work great, either can be used.
If freezing the cheesecake, allow to cool completely in the fridge and it is recommended to cut into slices before freezing.  Wrap in plastic before wrapping in foil and use within 1-2 months.
Nutrition
Calories:
540
kcal
Carbohydrates:
44
g
Protein:
9
g
Fat:
38
g
Saturated Fat:
20
g
Polyunsaturated Fat:
2
g
Monounsaturated Fat:
10
g
Trans Fat:
1
g
Cholesterol:
159
mg
Sodium:
496
mg
Potassium:
257
mg
Fiber:
1
g
Sugar:
29
g
Vitamin A:
4516
IU
Vitamin C:
1
mg
Calcium:
140
mg
Iron:
2
mg