Have you ever cut open a squash? Any kind whether it be spaghetti, acorn or any other kind. It's not easy to cut them open when they are raw! But if you cook squash in the Instant Pot, you cut it and deseed it after it is cooked. It is so much easier, because easy is what I am all about!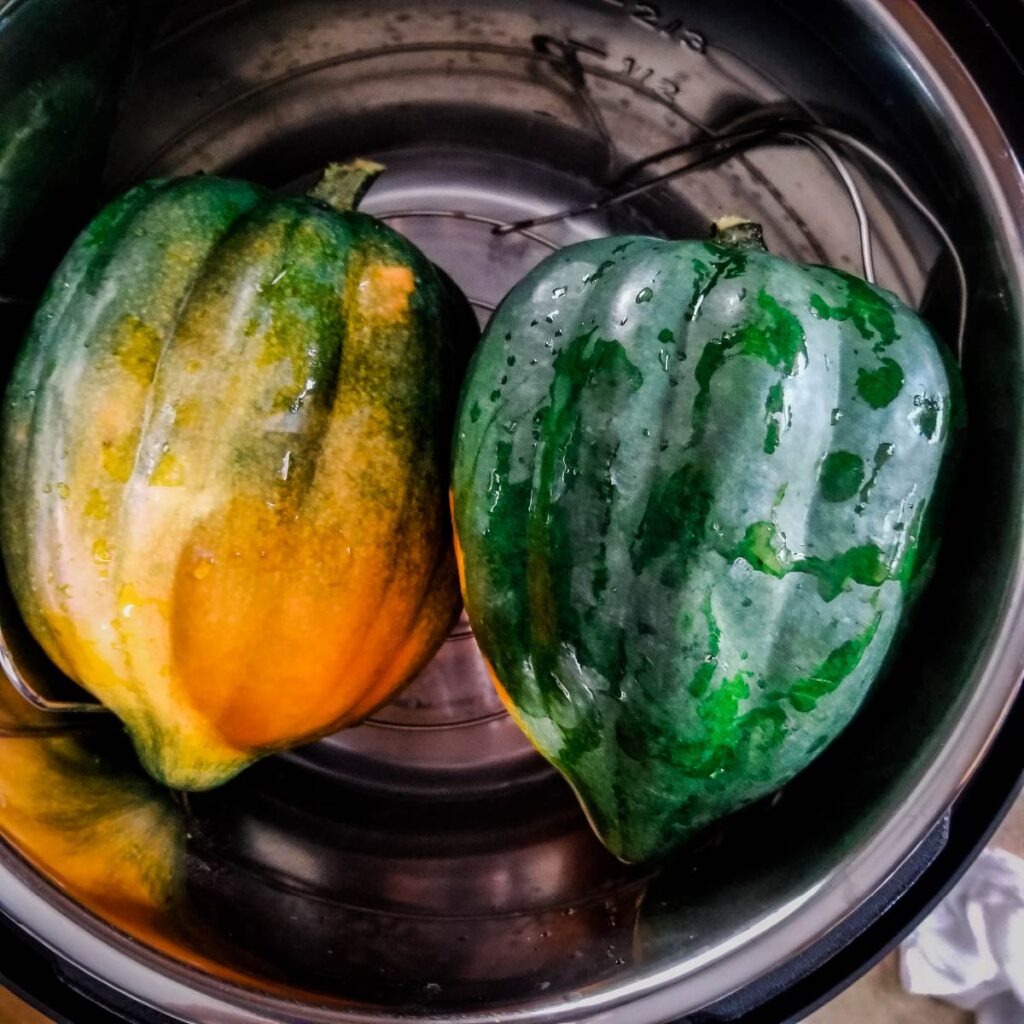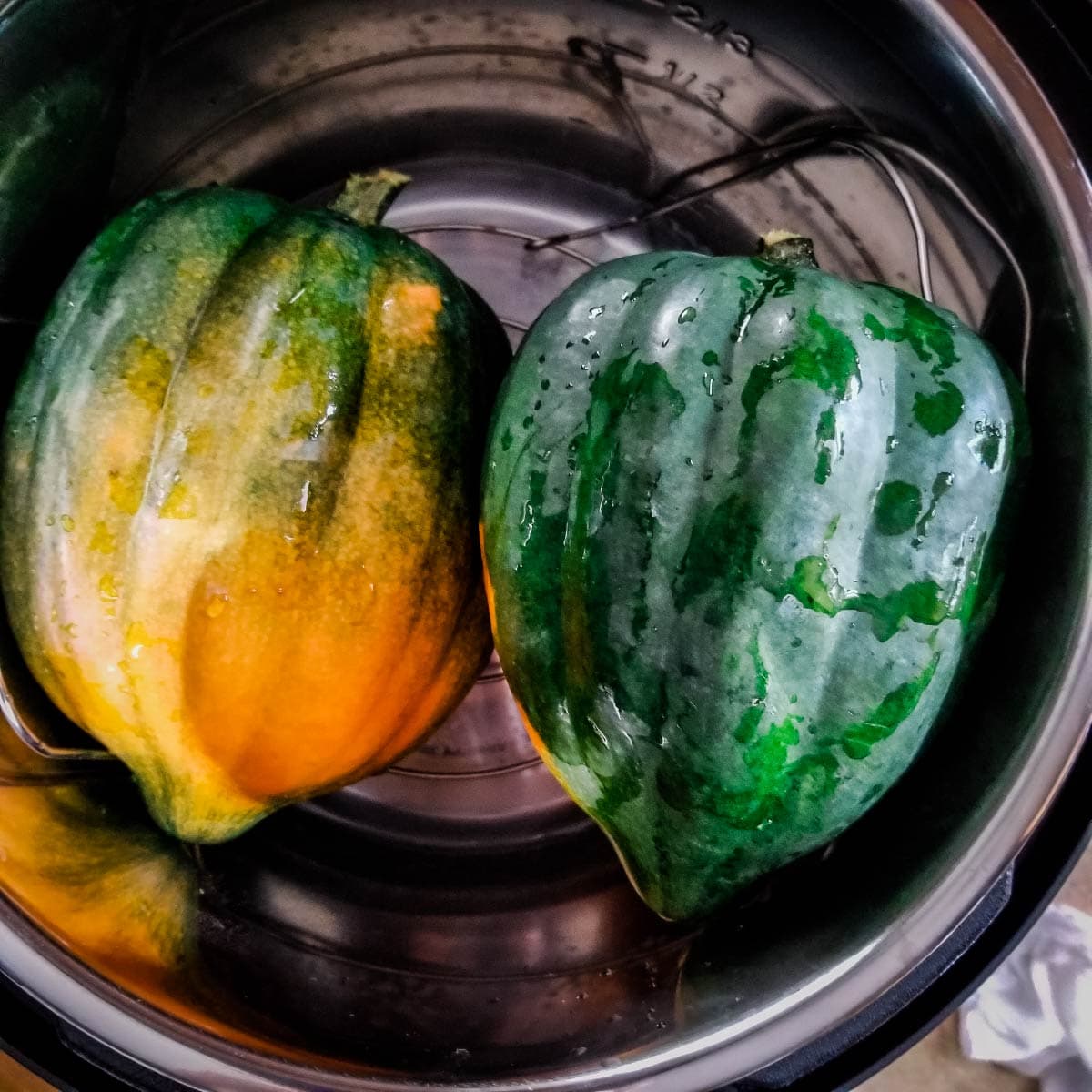 We still love our roasted sweet dumpling squash, but otherwise I prefer to use the Instant Pot for cooking our squash. I have been cooking a lot more squash lately now that I don't have to struggle cutting it and then cooking it in the oven. It freezes well after cooking and we have quite a bit of it in our freezer now. We use the quart storage bags and divide it into each bag in amounts we think we will use it in.
We will cover a couple of different squashes here, but pumpkin is here - how to cook pumpkin in the Instant Pot.
I prefer to use my 8 quart for this because sometimes they fit better, but most of them will fit in your 6 quart if that is what you have.
Cooking the squash
I have found that most of them are in two categories when it comes to cooking them in the IP. We have very seedy and very meaty. The very seedy ones take a little less time while the very meaty ones take a bit more time and sometimes don't cook as evenly. Very seedy means it has a bigger center with seeds like this red kuri.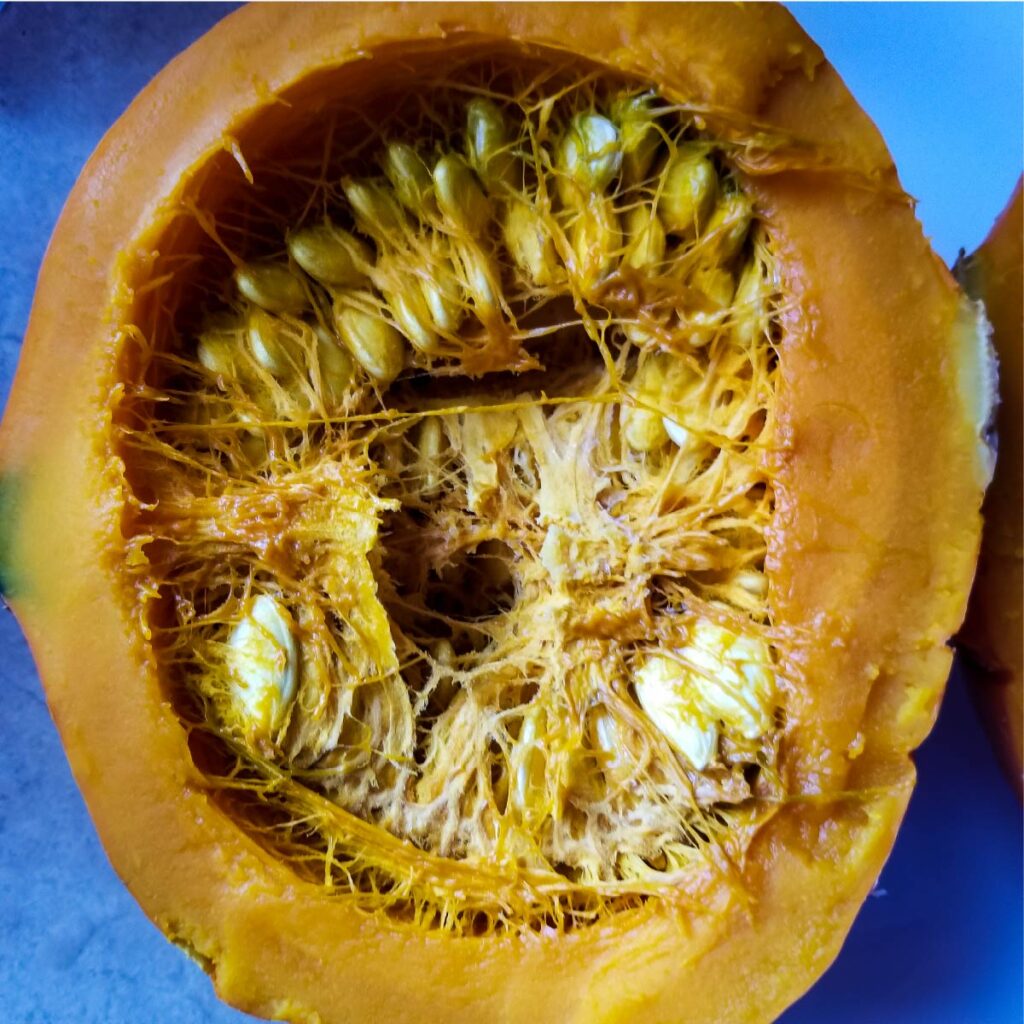 Very meaty is more like butternut squash where it only has seeds in the bump close to the end. The rest is all squash (or meat as you will often hear it called.)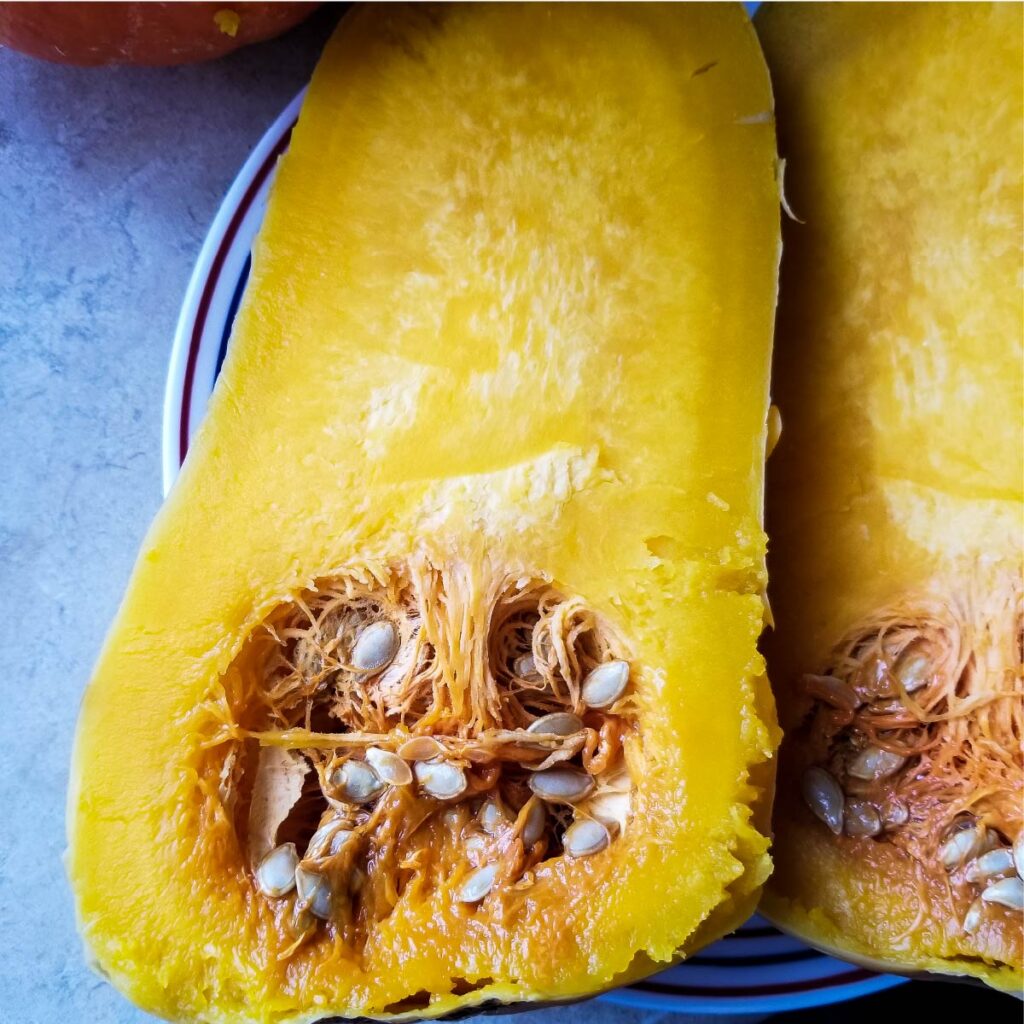 Red kuri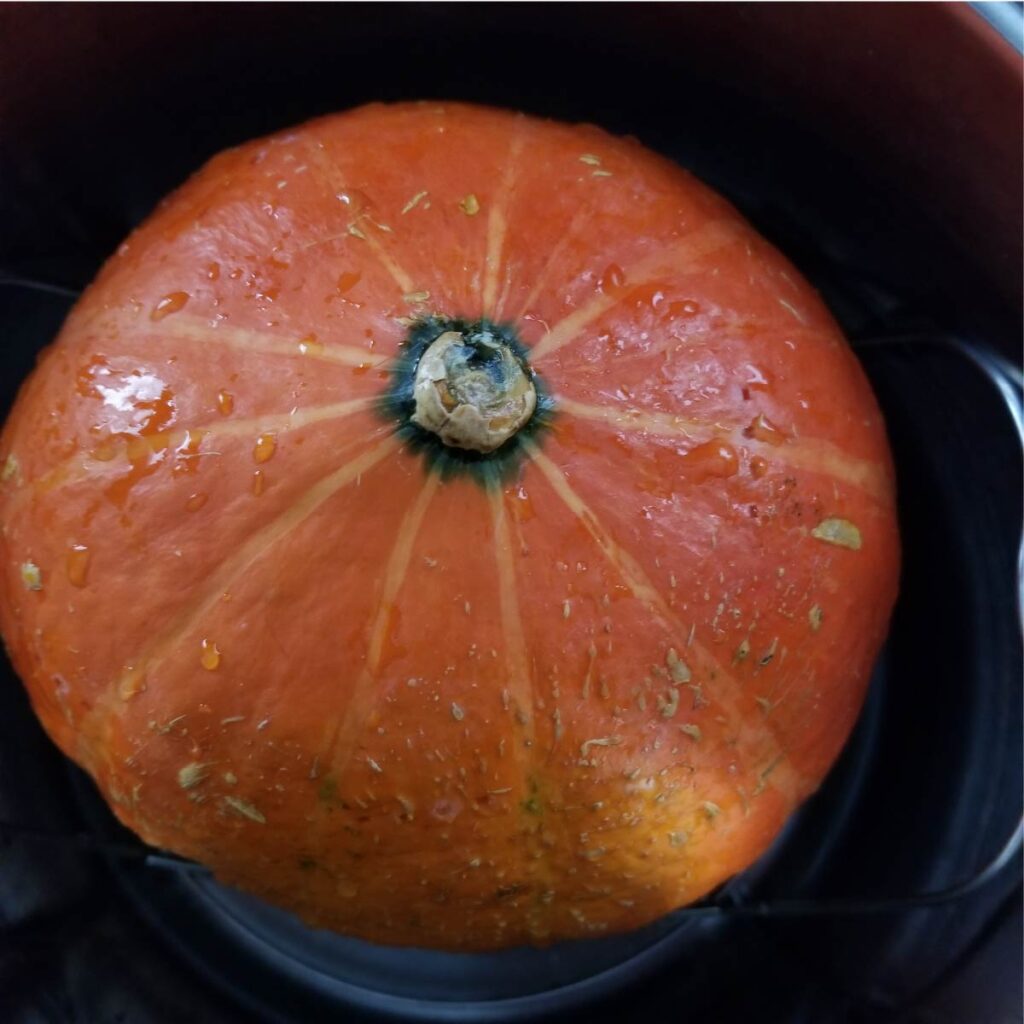 I have to admit that this year was the first time I have had red kuri squash. Usually being adventurous with food, I decided to try it when I saw it in the store. It had me curious and well, when I am curious it usually comes home so I can try it.
If you have never had it, it has a flavor that kind of reminds me of chestnuts. I think I will be using this in my stuffing this year instead of chestnuts since chestnuts don't seem to last as long from the store.
For cooking it, I wash it with some vinegar and rinse with water to get germs off. You can even use your dish sponge to wash it (I have) and rinse it well. Take a fork and poke some holes into the top of the squash - 4 pokes is good. You don't have to get it really deep, just through the skin a little bit.
Set it on the trivet (use the one that came with your IP) and add 1 cup of water for a 6 quart or 1 and a half cups water for an 8 quart. High pressure for 13 minutes and allow to naturally release when done. This is not a big squash and sometimes you can even do 12 minutes if it is a smaller one. They are very seedy.
Allow to cool slightly before carefully removing from IP when done. Cut open, deseed and enjoy!
Spaghetti squash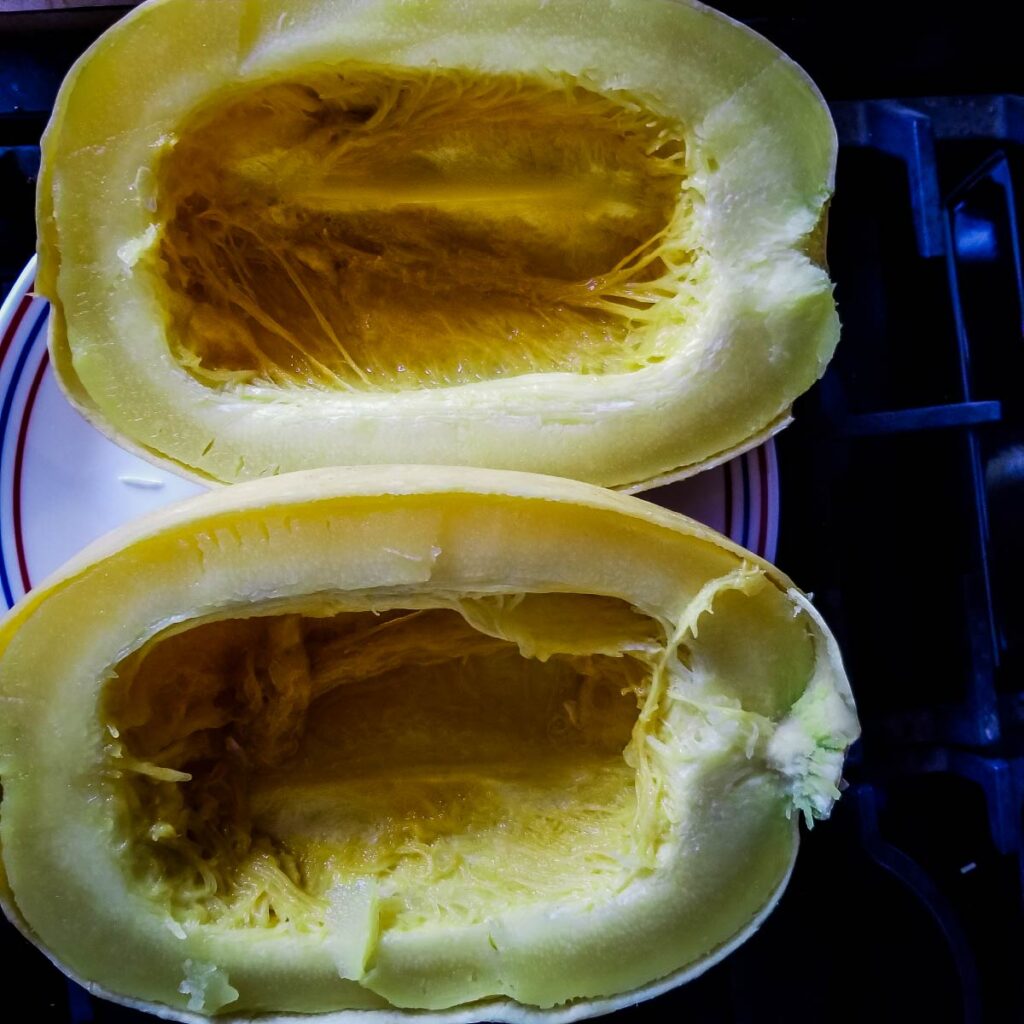 Oh the dreaded spaghetti squash. You know the one that we love to eat but hate to cut open? Yeah that one. Learn to enjoy it again 🙂
This is one that is very seedy as well. So it doesn't need to cook as long as if it was solid, but it is bigger and meatier then some of the other squashes so it needs a couple more minutes.
Wash your spaghetti squash off and poke holes in the top (the part that will be on top when it's in the Instant Pot) with a fork. Just 3-4 pokes will be good. Place on the trivet inside your IP. Now like with the red kuri, the spaghetti squash will need only 1 cup of water for the 6 quart and 1 and a half cups for the 8 quart.
Cook on high pressure for 15 minutes. If it is a huge spaghetti squash, increase cook time by 2 minutes. Allow to naturally release pressure and allow to cool before removing. It will cut open so easy now! I promise you, it will.
Butternut squash
This is one that is hard to get it perfect, but you will cook it most of the way which is perfect for freezing or you can add it to anything you are cooking to finish it.
It is a very meaty squash and so you will overcook the part with the seeds if you cook it long enough for the thick part to be soft. But it will cut easier and it is still my preferred way to cook it.
Take note that not all butternut squash is equal in size and there are some that are too big to fit even in my 8 quart. If you can use the trivet, perfect but if not it can be placed right into the inner pot without it. Try to place the seed end up if you are placing it directly on the bottom. The seed end is at the bottom and is the bump in the squash.
Poke the squash 4 times with your fork and place it in the IP. Add 1 cup of water for 6 quart or 1 and a half cup water for 8 quart. High pressure cook for 18 minutes and allow to naturally release. Allow to cool slightly before removing and cutting.
Please note that as mentioned above, the middle of the butternut may be a little firm yet. Freeze it or finish cooking it in your dish that you are using it in. It will cut so smoothly and be most of the way cooked.
Acorn Squash
Acorn is an easy squash when it comes to cooking in the IP. It is small enough that if you use the 8 quart, you can usually do 2 at a time! When doing 2, you use the same cook time as you would with 1.
You want to clean your squash before you cook it. Either using your dish sponge and rinse well or vinegar and rinse well. This will get any germs off.
Poke holes in the top with a fork. You only need to poke it 3-4 times with your fork. Place them on the trivet in the IP inner pot. For the 6 quart add 1 cup of water or add 1 and a half cups if using an 8 quart.
Cook on high pressure for 13 minutes and allow to release pressure naturally. Allow to cool a bit before carefully removing from the IP.
Frequently asked questions
Will it turn out mushy with these cook times?
When you follow our times above, it will be cooked but not falling apart mushy. If you want it to be a little mushy, add about 2 minutes to each cook time.
Can I freeze the squash?
Yes! We freeze ours in freezer bags and they last 6-8 months, tho we have had it still good after almost a year. Try to get extra air out of the bags before freezing and be sure to cool it completely before bagging it to freeze so you don't get excess moisture in the bag.
What if we are looking to cook a different squash in the Instant Pot that is not listed?
A good starting point for cook times is the size and if it is seedy. Most of them will cook in about 12-15 minutes. Experiment with different ones. If it isn't as cooked as you had hoped, it can still be cooked the rest of the way in the dish you are using it in.
Do I have to naturally release pressure?
Yes or you would have to adjust cook time. It gives it a little extra time as it releases pressure. Quite often it takes between 12-20 minutes to release pressure.
Do I have to use a trivet?
I do recommend using a trivet when you are able to. It keeps the bottom from sitting in the water and getting soggy. If you cannot fit it in the IP with the trivet, you can leave it out but you do risk the bottom getting soggy. Also it makes it easier to get the squash out once cooked.