One of our favorite dinners here is tacos. The whole family loves them! Taco pasta in the Instant Pot is a bit different then having the crunchy shells, but it is a delicious twist on a dinner classic. You can use our homemade taco seasoning or a packet of seasoning from the store.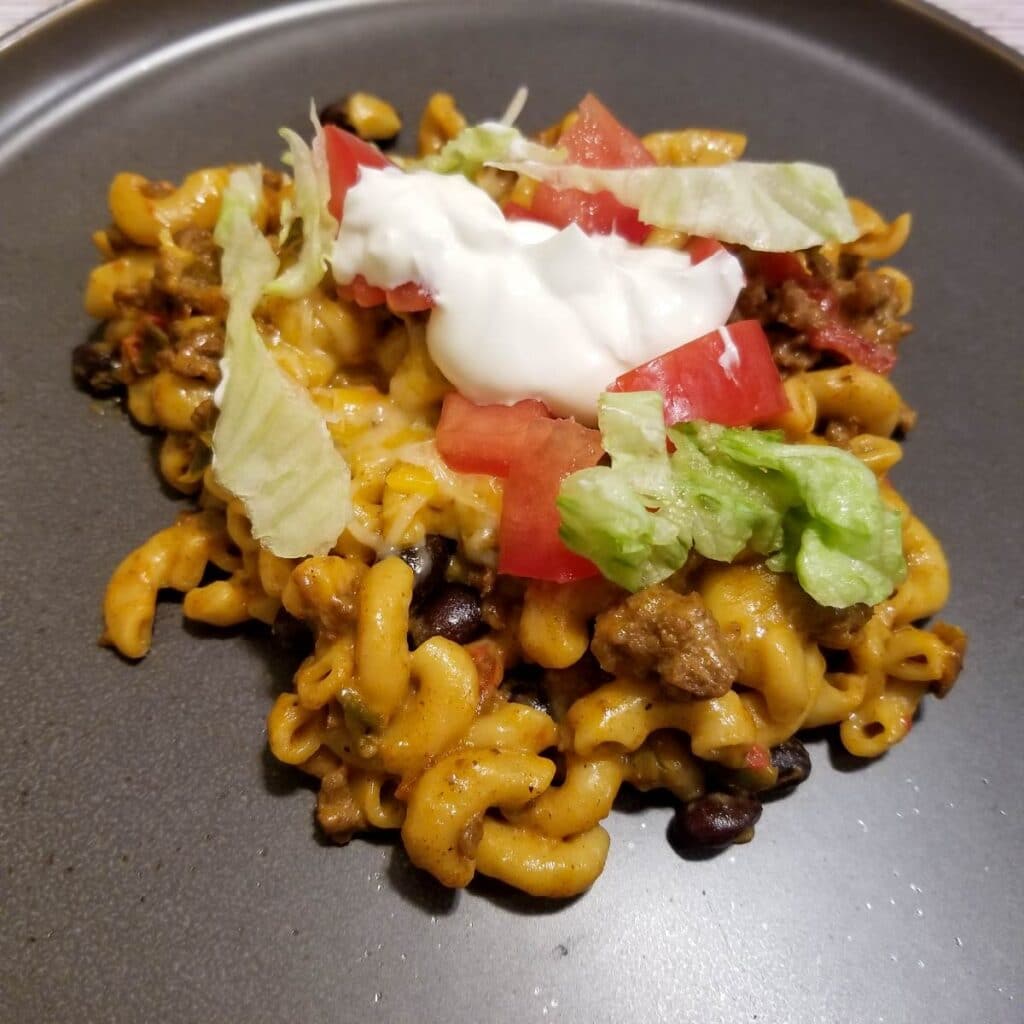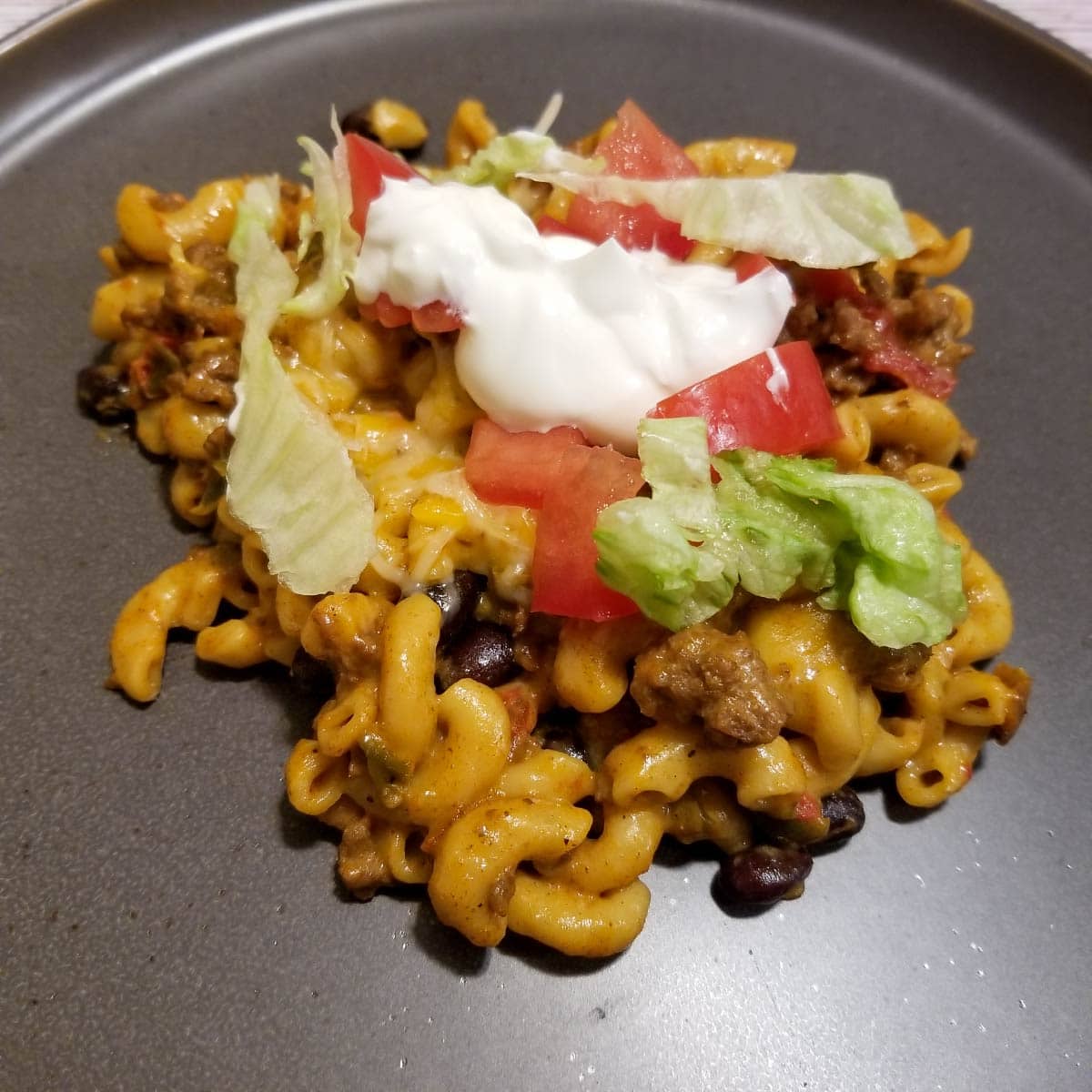 Besides browning the beef, this is a dump and go. It is a meal that I like to make simple with no chopping of veggies or anything - I know talking about being lazy! But seriously, it is simple and uses ingredients you probably already have. It uses a homemade seasoning, but if you use a store bought packet I won't judge.
I keep dried bell peppers in the house for this meal, but you can leave them out. Like I said, I love this for a minimal prep meal. When using dried peppers, I use a little bit of water along with the broth to give the peppers enough moisture. Fresh peppers do not taste the same in this so I don't recommend adding them if you want a taco taste.
Where to find dried bell peppers? You can probably find them at your local supermarket but if not, Amazon has them. I know Amazon has them as that is where we buy ours.
Making taco pasta in the Instant Pot
This is one of the easiest meals you can make in the Instant Pot. It is flexible as in you can leave things out that you don't like and add other things you want to try. Some of the stuff is best added after the pressure cooking, like dairy - that is added when it is done.
Homemade seasoning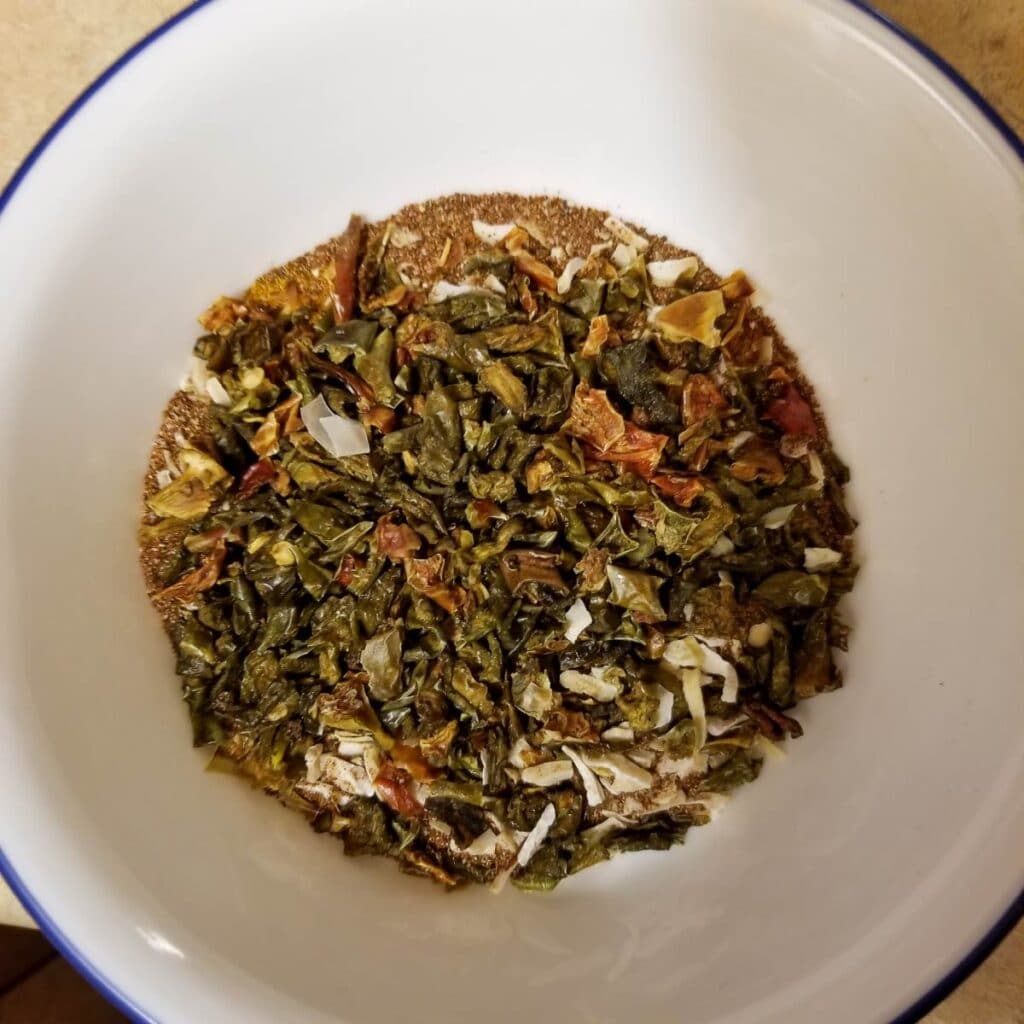 I make homemade seasoning here, but you can also use a packet of store bought. You see here in the picture I combine the seasoning and the dried peppers together in a bowl. Again, the dried peppers are optional but because we always have them we like to add them.
This is similar to how I make seasoning when making tacos with homemade seasoning for dinner, but just a little different. We actually add turmeric to ours, but I know it isn't something that is usually in the seasoning mixes.
Putting it together
First thing you want to do is to turn the Instant Pot to saute and heat it up. Once hot, add in the olive oil and ground beef. I like to use a lean beef for this so there is no draining. Brown the beef and use a little bit of the broth to deglaze if you need to - if there is brown residue anywhere on the bottom of the pan deglaze it.
Add in the broth along with the seasoning mix. If adding dried peppers, add in a half cup of water along with the broth. You only need the water for the peppers to rehydrate. Stir this together and then stir in the noodles. Pour the diced tomatoes on top and do not stir.
Place the lid on and be sure the vent is set to sealing. The amount of time for high pressure here depends on the pasta. Usually 5-6 minutes on high pressure is the correct amount. Take a look at the pasta package. Take the higher cook time and halve it. So if the boil time is 8-10 minutes, do your HP for 5 minutes. I have a detailed post on how to cook pasta in the Instant Pot.
Once it beeps, do a manual release. I let it release slowly so I don't make a mess of my kitchen. Just toggle the release switch to let it release slower and watch for splatters.
Now you are going to add the extras that are best added after the pressure cooking.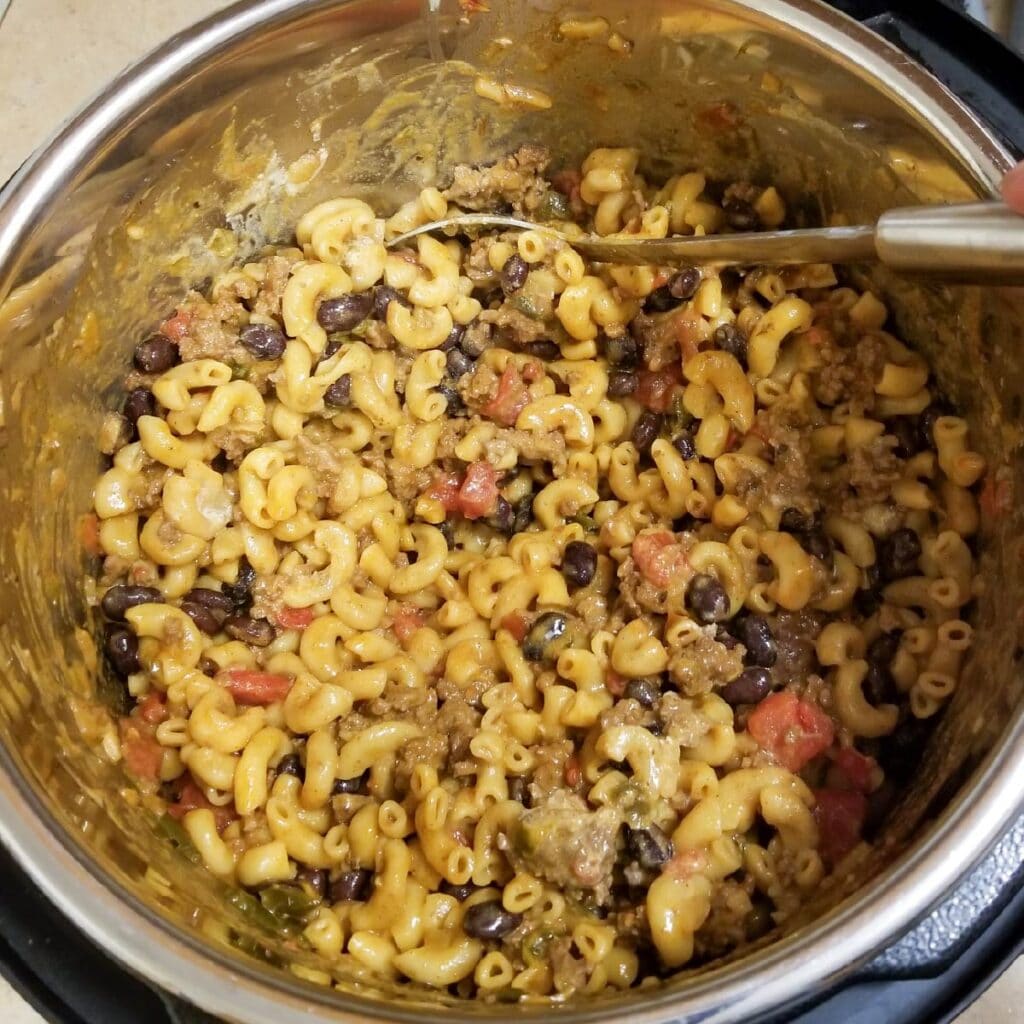 Drain the beans (I actually rinse my canned beans a little too) and add them to dinner. Stir gently. Add in the sour cream and cheese, stirring to combine.
The taco pasta in the Instant Pot is now ready to serve! I do cut up tomatoes to put on top, but this is optional. Sometimes we even add avocado on top of ours, but it is good without extras as well.
Looking for other good dinners in the Instant Pot?
Recipe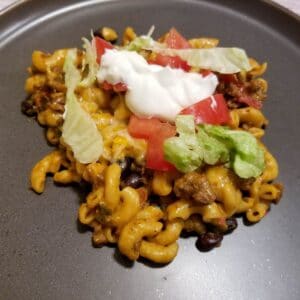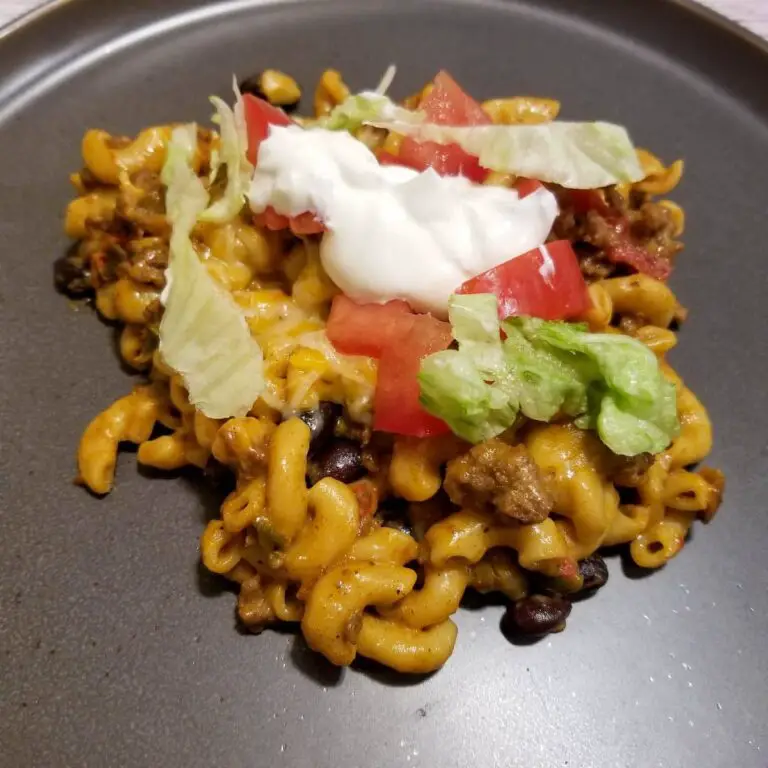 Instant Pot Taco Pasta
Taco pasta in the Instant Pot is a great way to enjoy the flavors of tacos, but with a twist! Made with homemade seasoning and it is very easy to make.
Ingredients  
2

tbsp

olive oil

if using lean beef

1

lb

lean ground beef

4

cups

beef broth

unsalted or low sodium

16

oz

pasta

4

tbsp

dried bell peppers

optional

½

cup

water

only if using dried peppers

14.5

oz

diced tomatoes

15.5

oz

black beans

drained, optional

1

cup

Mexican 4 cheese blend

plus more if desired for topping

½

cup

sour cream

plus more if desired for topping
Homemade seasoning (or you can use a packet of taco seasoning from store)
½

tsp

black pepper

2

tbsp

chili powder

½

tbsp

cumin

½

tsp

salt

see notes

1

tsp

garlic powder

2

tbsp

minced dried onion

½

tsp

onion powder

1

tsp

paprika

¼

tsp

cayenne

or red pepper flakes
Instructions 
Mix the seasoning into a small bowl along with the dried peppers if using them.

Press the saute button on the Instant Pot and heat up until it displays hot.

Add in the olive oil and ground beef. Saute until the beef is browned. We don't remove the grease here, but we use lean beef.

If you need to deglaze the pan (see notes), do it with a little bit of the broth now. Hit cancel and add the rest of the broth along with the seasoning/pepper mix. Stir to mix well.

Stir in the pasta and pour the whole can of tomatoes on top.

Place the lid on and set the vent to sealing. Hit the pressure/manual button and set the time. To figure out the time, take the highest number in the cook time of your pasta (if it says boil 8-10 minutes use the 10) and divide in half. That is your pressure cook time. For most pasta, 5 minutes works but go by half of the boil time.

Once it beeps that it is done, carefully release pressure. I like to stay close and slowly release it by toggling the valve so it doesn't get too messy. People have told me they put a towel over the vent, but I prefer to slowly release the pressure.

Stir in the beans (optional.) Now add in the sour cream and cheese, stirring just to combine.

It is now ready to serve, enjoy!
Notes
Nutritional values and serving sizes are estimated.  
For salt, adjust depending on the other ingredients.  We use no salt added tomatoes, low sodium black beans and unsalted beef broth so we actually use a teaspoon with a lower sodium diet.  I put 1/2 teaspoon in recipe for if you use regular beans, regular tomatoes and salted broth.  
Black beans add a nice flavor to it, but they are completely optional.
Dried peppers add a nice flavor but fresh bell peppers are not quite the same in this dish.  If you don't use the dried peppers, fresh peppers will give it a more powerful pepper flavor.
Deglazing - If the pan has a little bit of browning on it after browning the meat, pour a little bit of broth into the pot.  As it is sizzling, gently scrape a wooded spoon along the bottom of the pot.  This will get the gunk off the bottom of the pot.  You may get a burn warning on your meals (not just this one) if you do not deglaze the pot when it has gunk on the bottom.
Nutrition
Calories:
666
kcal
Carbohydrates:
80
g
Protein:
41
g
Fat:
20
g
Saturated Fat:
9
g
Cholesterol:
74
mg
Sodium:
712
mg
Potassium:
1269
mg
Fiber:
11
g
Sugar:
5
g
Vitamin A:
1528
IU
Vitamin C:
14
mg
Calcium:
239
mg
Iron:
6
mg