Soft beef tacos are a always a favorite here, but you can also use this recipe for crispy beef tacos if you prefer to use a corn shell. They have an easy homemade seasoning, ground beef, and we serve them with homemade flour tortillas for the perfect Taco Tuesday (or any day really!)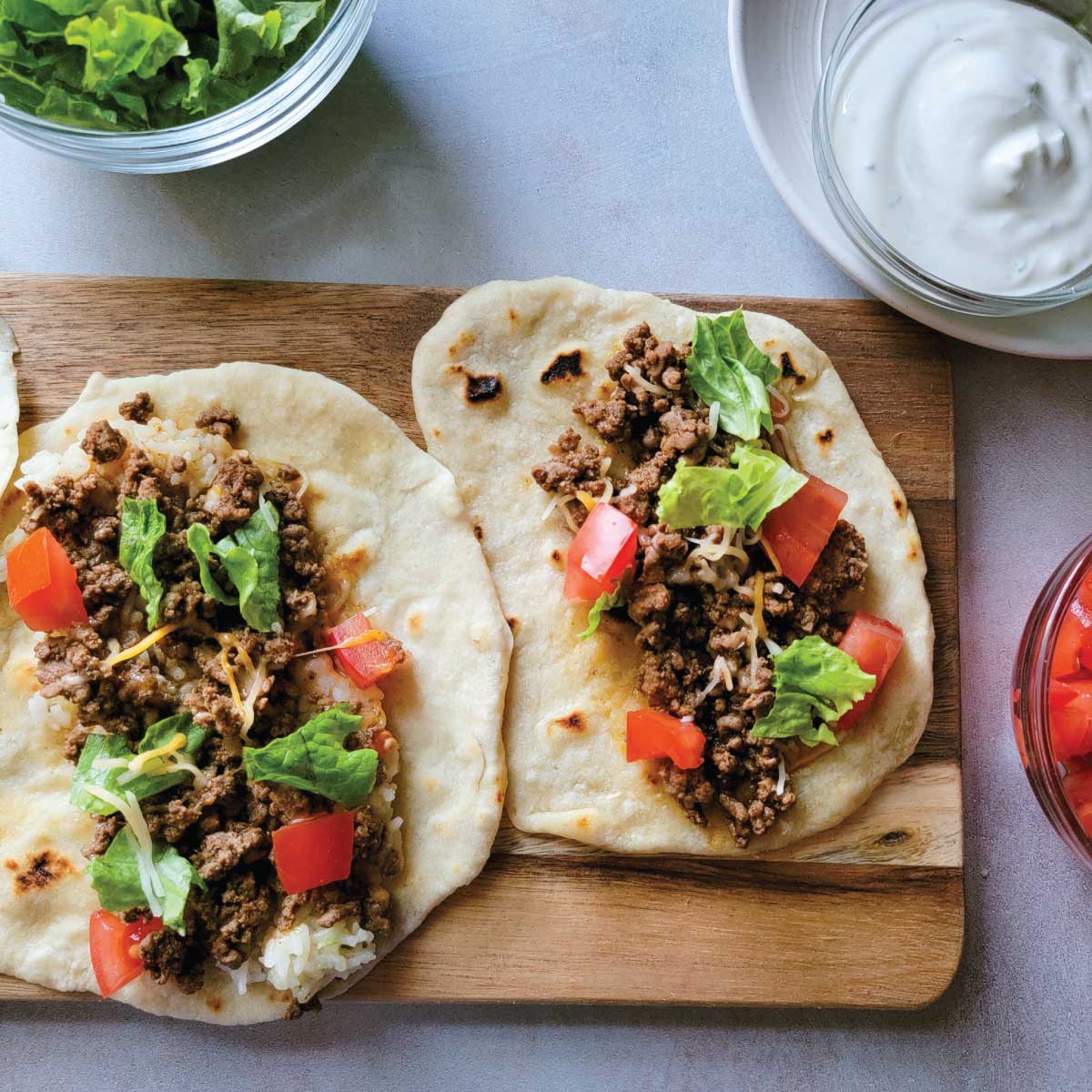 Soft beef tacos are one of the most often requested dinners here in our house. We used to buy the crunchy corn shells and the soft tortillas from the store. We then realized how easy the tortillas are to make and no longer buy them.
I always make a sour cream sauce for tacos to go with them. It is the perfect mix of sour cream with cilantro, lime and salt. I also make it when making our easy chicken fajitas too, it is a topping that transforms sour cream into an amazing topping!
We like to serve ours with cilantro lime rice and quite often I heat a can of black beans too. But they are optional, we make it like a taco bar with toppings and many things to add - yummy!
But one thing that is best about making them is that you can be creative and add anything you want to the top of them. What do you love on them?
Jump to:
Ingredients
Ground beef - We often use a 90% lean beef if using regular beef or Wagyu ground beef tacos are amazing too! Wagyu is delicious but sometimes harder for us to get.
Taco shells you prefer - Homemade flour tortillas recipe included but you can use your favorites.
Toppings of your choice - See below for some great ideas for toppings!
The seasoning
For the seasoning we use common cabinet spices. They are all dried and there are no substitutions recommended for them in order to get the amazing flavor you expect from the seasoning.
Chili powder
Ground cumin
Onion powder
Dried minced onion
Paprika
Garlic powder
Crushed red pepper flakes - recommended but you can also add more or even some cayenne pepper if you prefer spicy beef tacos. I like to put sliced jalapeno peppers on top of mine.
Oregano
Salt
Flour - optional but recommended to help the seasoning thicken and stick to the ground beef. You are only using a half a teaspoon.
The homemade tortillas
You can use your favorite if you already make homemade tortillas for your soft beef tacos, or you can buy the tortillas if you prefer. We recently started to make them and wow are they amazing compared to buying them. As a note, they are a bit thicker then store bought.
Flour - We used all purpose flour
Baking powder
Salt
Water
Oil - We used olive oil and recommend either olive oil or an oil with a light taste like avocado oil.
How to cook ground beef for tacos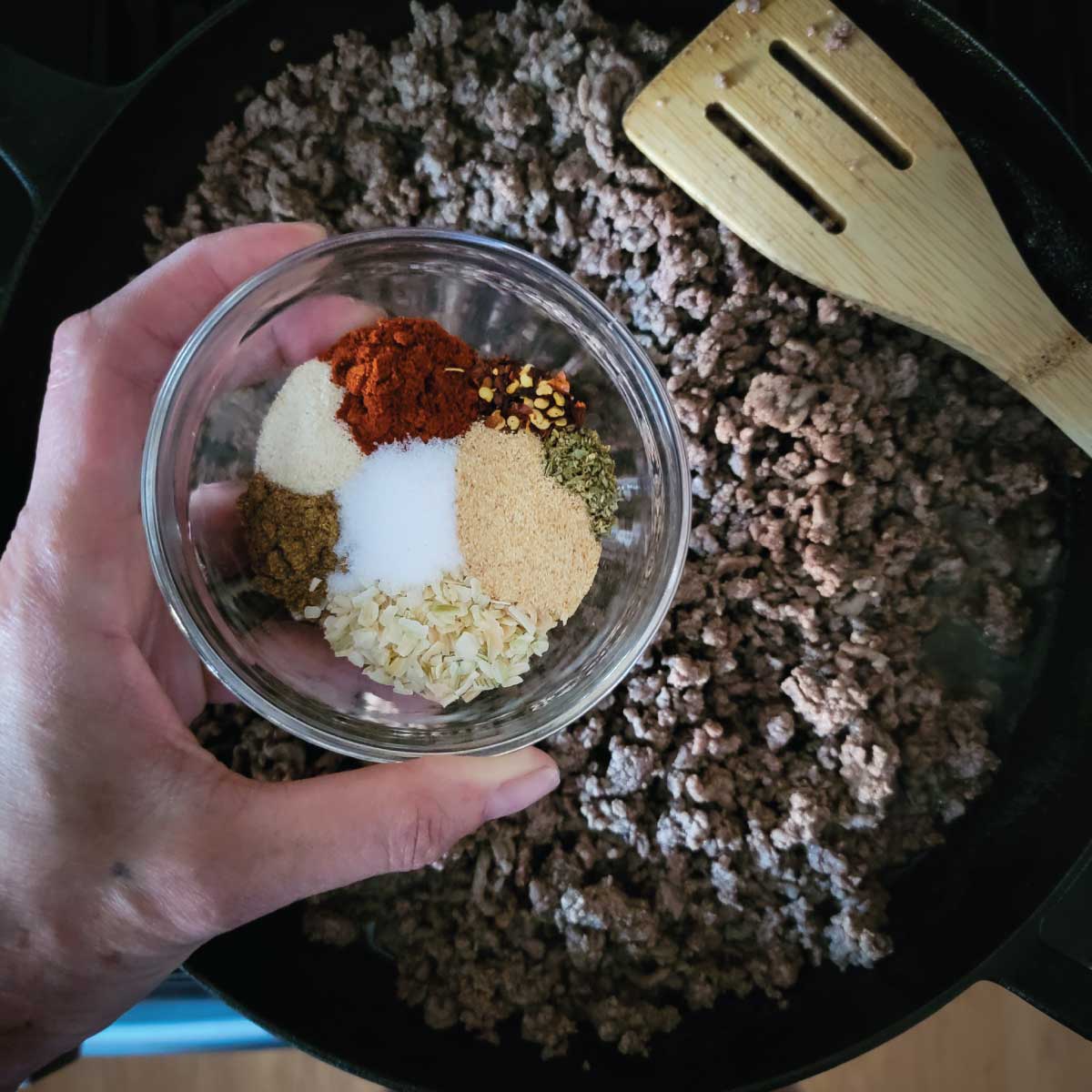 First I like to start with adding all the seasonings into a small prep bowl so that when the ground beef is ready, the seasoning is too.
My favorite pan to make soft beef tacos in is our cast iron pan, but you can make them in your favorite frying pan. I am just mildly obsessed with my cast iron pan - not even kidding.
For tacos, you want the ground beef to be broken into smaller pieces. When I first add it to the pan I break it up with a spatula. As it is cooking, every time I stir it I break it up some more.
You want to cook it until it is browned and broken up into small pieces. Once it is browned, you can drain the grease if you choose to. We do if there is a lot but usually leave it in there for flavor if there isn't a lot of grease. Wagyu beef may need to be drained slightly if you are using it depending on the amount of fat - it is a fatty beef with a lot of marbling but delicious.
Once the ground beef is browned, pour in the water and seasoning. Cook for about 3 minutes over medium low until most of the liquid is gone and you are left with perfectly seasoned beef.
Homemade flour tortillas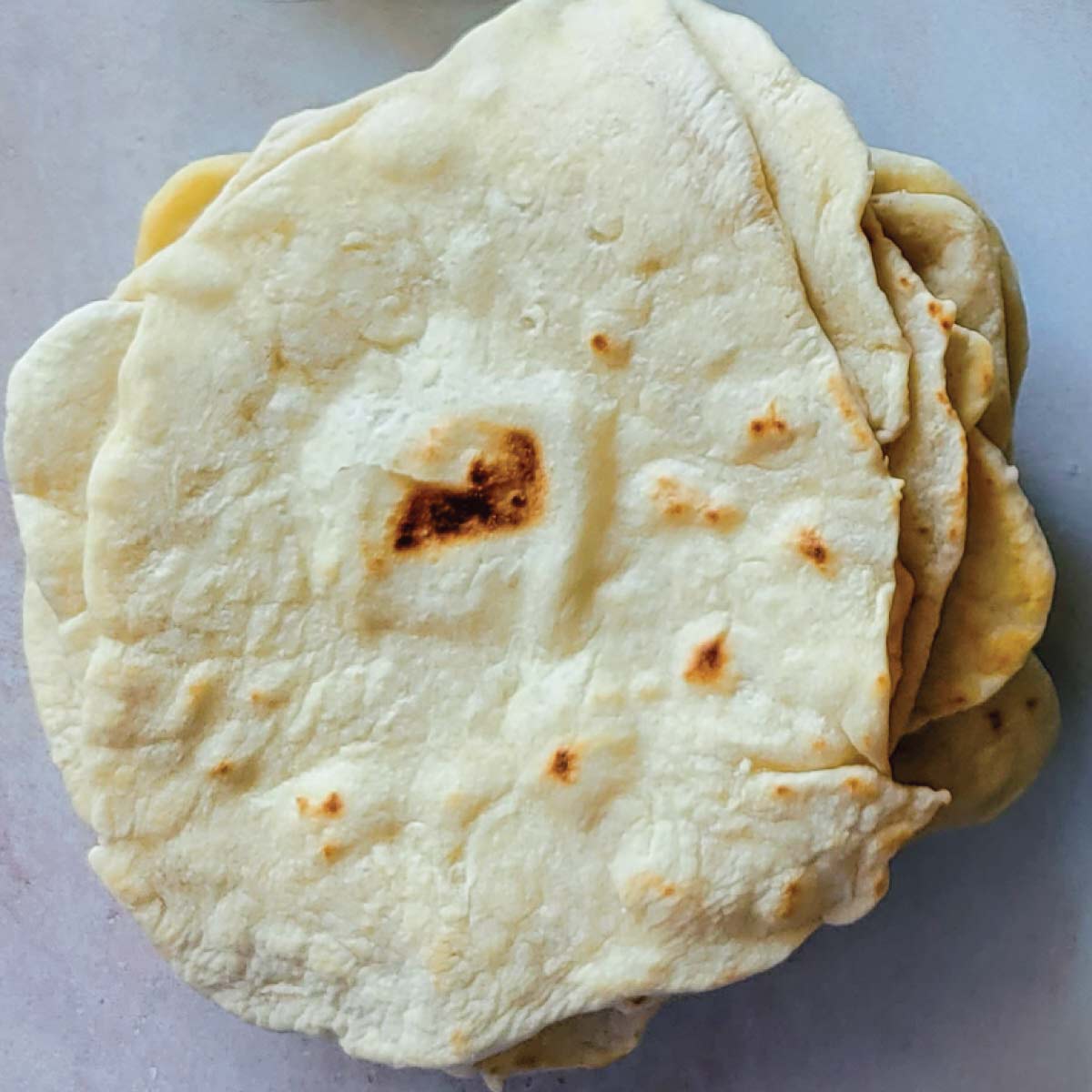 These are pretty simple and we hope you love them for your soft beef tacos as much as we do! There are a few recipes out there and some use baking powder while some do not. We added some baking powder to ours and love them, they are slightly thicker then store bought.
As you can tell in the picture, I am not perfect at making them a perfect round circle but they taste good being imperfect. These are best used right away so we make them right before making the beef.
Add flour, baking powder and salt to a mixing bowl. Mix together and create a well in the middle of the flour mix.
Pour water and oil into the well and mix with a sturdy spoon, we like to use a nice wood spoon for this. Mix until dough is smooth, about 1-2 minutes.
Place dough on a flour surface and knead by hand about 5-6 times.
Divide dough into 12 equal sections for slightly thicker tortillas or 16 for thinner tortillas. Allow dough sections to sit for at least 10 minutes.
Shape each section into a ball and then roll it out into a circle about 6 inches in diameter - perfect shape not required as you can see by mine. Do NOT stack uncooked tortillas on top of each other, they will stick and become one.
Heat a lightly greased frying pan over medium heat - we use cast iron for this too but not required.
Once the pan is hot, add a tortilla to the pan (you cook them one at a time.) Cook for about 1 minute until there are a few brown spots on the bottom. The top will look slightly bubbly. Flip and cook for about 20-30 seconds.
I like to stack the cooked tortillas on a plate and keep covered with a paper towel until they are all cooked and the beef for the soft beef tacos is ready. This will keep them warm and soft until ready.
What goes good on tacos?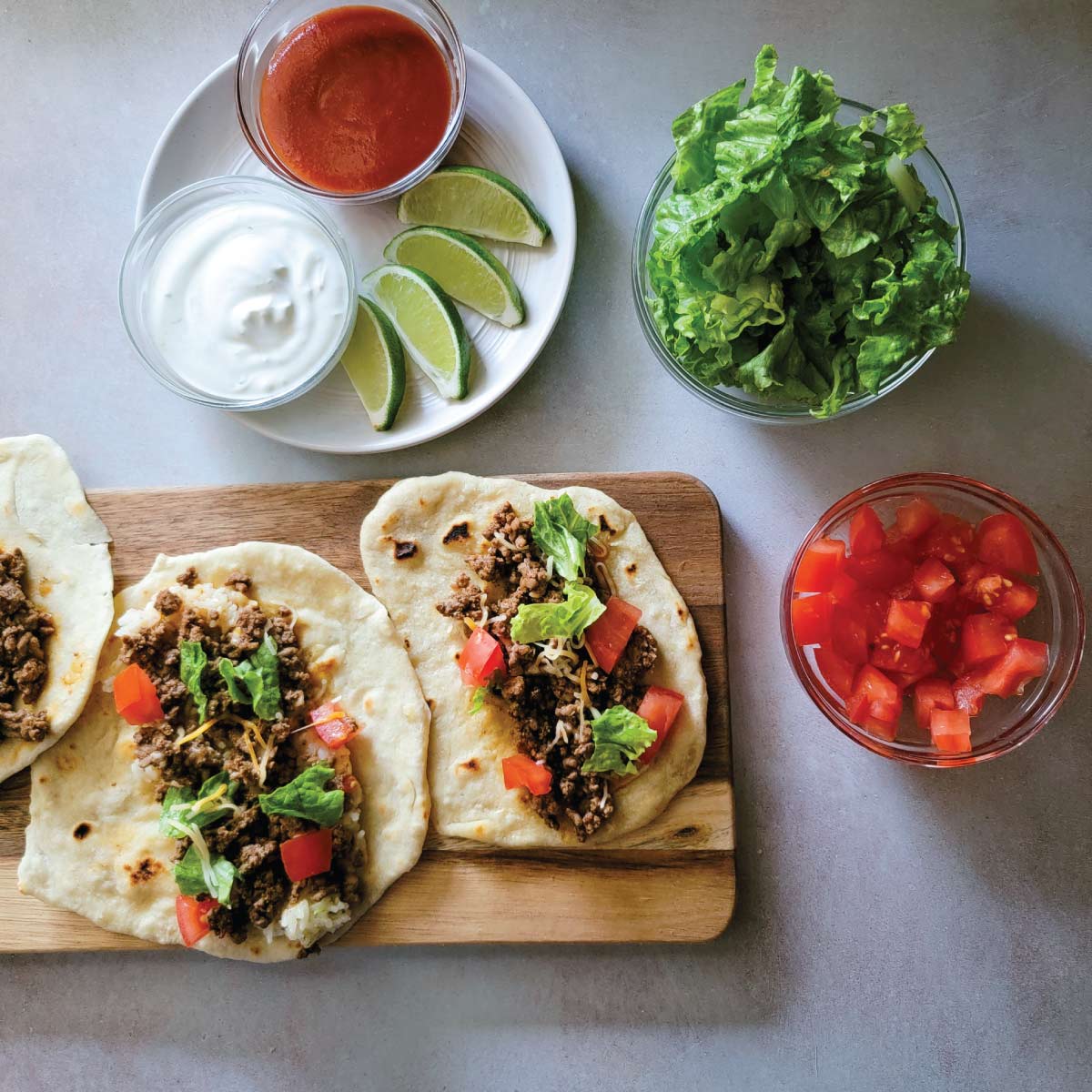 When we make soft beef tacos, we make ours like a taco bar with a lot of stuff to add. We all like different things and there are a few options! You can always add anything you like, these are some of our favorites.
Cilantro lime sour cream - plain sour cream is good too.
Cilantro lime rice - optional but it adds a nice flavor and some of us love rice on them!
Lettuce - I prefer leaf lettuce or a spring mix, but us your favorite.
Tomatoes - Tomatoes are delicious on almost anything, they are one of my favorite veggies.
Avocado - You can make guacamole or even chop up avocado plain. If using it plain, wait until the rest of the food is ready. Avocado browns quickly.
Jalapenos - I love to slice up some fresh jalapenos to put on mine. The jarred pickled hot peppers are always good too.
Black beans - Be sure they are either canned or fully cooked if they are dried beans.
Refried beans
Cheese - A must have here for our soft beef tacos! I think the best cheese is a 4 cheese Mexican blend if using already shredded. If shredding your own, a mix of cheddar and Monterey Jack cheese is always a good option.
Chopped onion - If you are serving with a chopped onion, I recommend using a red onion.
Frequently asked questions
Do you drain ground beef before adding taco seasoning?
We usually do not drain it unless there is a lot of grease. A little bit helps to add a great flavor but too much can be too greasy. If you use a 90% ground beef, you can skip draining. If you use 73% (not recommended), you will need to drain a bit of the grease.
When do you add taco seasoning to beef?
We add it once the ground beef has been fully cooked. If you need to drain the beef (if there is too much grease), you want to drain it before adding any seasoning.
How much ground beef per person for tacos?
This will vary depending on who is eating the tacos and how many toppings you have - little kids will not eat much while some adults and teens have a bigger appetite. But I would count on about one third of a pound of ground beef per person.
Recipe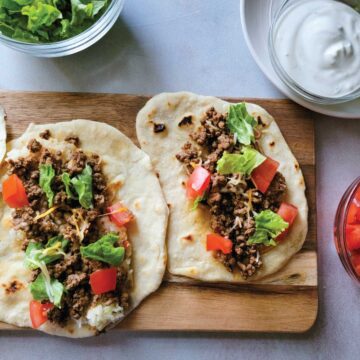 Soft Beef Tacos (Homemade Tortillas)
Soft beef tacos are a delicious dinner to bring the family together! These are easy to make, have a homemade seasoning and are put on homemade tortillas for the best tasting Taco Tuesday.
Ingredients  
2

pounds

ground beef

lean

⅔

cup

water

your favorite toppings
Taco Seasoning
1½

Tablespoons

chili powder

½

Tablespoon

cumin

1

Tablespoon

dried minced onion

1

teaspoon

onion powder

1

teaspoon

paprika

1

teaspoon

garlic powder

1

teaspoon

salt

see notes

½

teaspoon

flour

¼

teaspoon

crushed red pepper flakes

or to taste

¼

teaspoon

oregano
Homemade tortillas
3

cups

flour

all purpose

1

cup

warm water

⅓

cup

oil

olive or avocado recommended

1

teaspoon

baking powder

1

teaspoon

salt

see notes
Instructions 
Homemade tortillas - make first
Pour flour, baking powder and salt into a mixing bowl and stir with a large sturdy spoon like a wood spoon. Create a well in the middle.

3 cups flour,

1 teaspoon baking powder,

1 teaspoon salt

Pour the water and oil into the well in the flour mixture. Stir well until the dough is smooth, about 1-2 minutes.

1 cup warm water,

⅓ cup oil

Remove from bowl and knead about 5-6 times on a floured surface.

Divide into 12 (for thicker) or 16 (for thinner) equal pieces. Allow dough sections to rest at least 10 minutes.

Take each piece of dough and shape into a ball then roll out to a circle that is about 6 inches. You can place parchment paper between them or roll a couple a time, do not stack uncooked tortillas on top of each other.

Heat a lightly greased pan over medium heat. Cook one tortilla at a time. Add the tortilla to the heated pan and cook about 45 seconds to a minute, until the top is bubbly and the bottom has a few brown spots forming.

Flip and cook another 20-30 seconds - the bottom will have a few brown spots.

Remove from heat and stack cooked ones on a plate covered with a paper towel until beef is ready.
Making the tacos
Mix seasoning together in a small prep bowl.

1½ Tablespoons chili powder,

½ Tablespoon cumin,

1 Tablespoon dried minced onion,

1 teaspoon onion powder,

1 teaspoon paprika,

1 teaspoon garlic powder,

1 teaspoon salt,

½ teaspoon flour,

¼ teaspoon crushed red pepper flakes,

¼ teaspoon oregano

Cook the ground beef in a frying pan until it is browned, breaking into small pieces while cooking. If there is a lot of grease, drain some but leave a little bit. We don't drain 90% for tacos.

Stir in the water and seasoning mix. Cook stirring often until the liquid is mostly gone, about 3 minutes over medium.

Serve with your favorite toppings!
Notes
The nutrition facts are estimated and may vary based on many things like the ingredients you use for toppings.
Flour - It gets added to slightly thicken up the seasoning so it sticks better to the ground beef.  You can leave it out if needed.
Salt - Adjust to taste.  In the tortillas, you can use up to a teaspoon of salt or as little as half a teaspoon to keep the sodium down.  
Nutrition
Calories:
737
kcal
Carbohydrates:
51
g
Protein:
33
g
Fat:
44
g
Saturated Fat:
13
g
Polyunsaturated Fat:
5
g
Monounsaturated Fat:
21
g
Trans Fat:
2
g
Cholesterol:
107
mg
Sodium:
918
mg
Potassium:
623
mg
Fiber:
3
g
Sugar:
1
g
Vitamin A:
788
IU
Vitamin C:
1
mg
Calcium:
84
mg
Iron:
7
mg