I have an amazing relationship with my cast iron pans so this is my go to for pan fried chicken, but you can also do it in your favorite pan. Of course the kids always love seeing mom with her cast iron pan out for dinner because they know mom will clean it - one less dish for them! This is similar to our chicken parmesan that is often served with pasta.
We enjoy having this on busy nights or stressful days because it is easy to prep and coat the chicken then throw in the pan. Why on stressful days? Well you will see in the preparation below (hint it has to do with prepping the chicken) 🙂
A lot of times we make Instant Pot baby potatoes with it and sometimes we make Instant Pot mashed potatoes with it.
Making the fried chicken
Ok, so remember how I said that we make this on busy nights? Yup so you guessed it, this is easy to make and have dinner on the table.
Prepping
You are probably wondering why I said this was great to make on stressful days. Without further suspense, here it is! You are going to pound the chicken down to flatten it. There are a few ways I have done this and it gets the same results.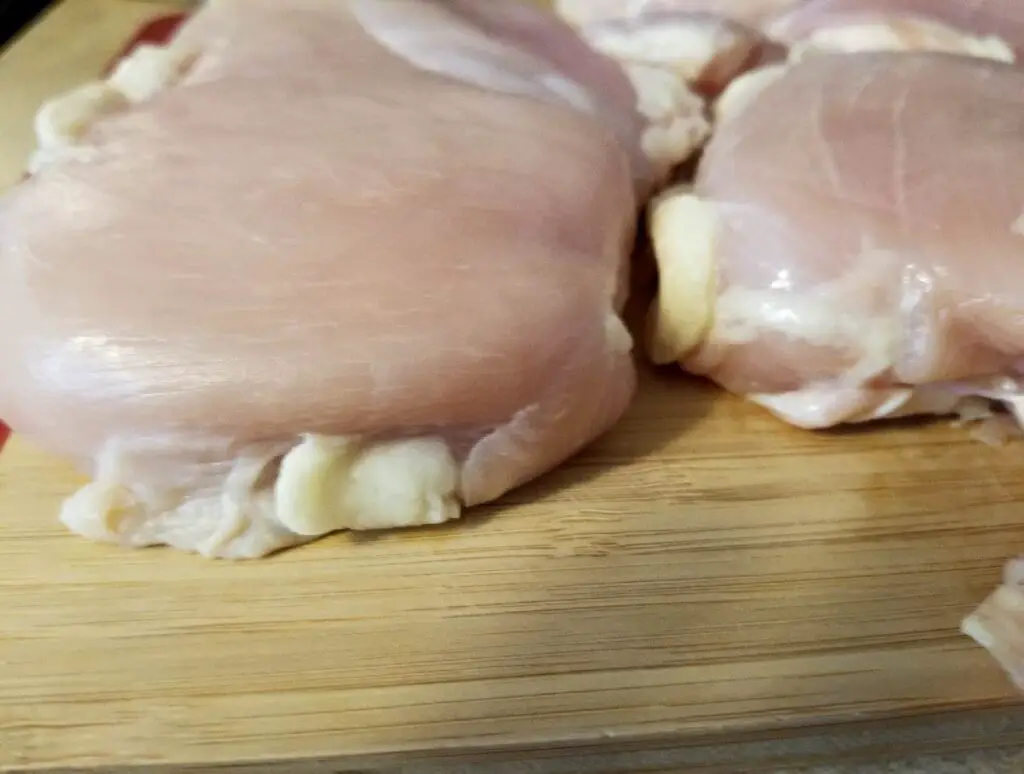 Place the chicken on a cutting board and place a sheet of wax paper on top (or you can put chicken in a storage bag.) Take a pan, pot, rolling pin or anything you think will work and pound that chicken down to flatten it. It is best to have them the same thickness throughout the whole piece. Chicken breasts should always be brought to the same thickness in order to cook properly all the way through. This is recommended whether you bake, grill or even make fried chicken. And it is great stress relief!
The coating
Here is where gallon storage bags come in handy. Growing up we used to use 2 bowls - one for the eggs and one for the breading. Now I use one bowl for the eggs and a storage bag for the breading - less mess!
Mix the eggs and water/milk (your choice here) in a bowl that is large enough to fit a chicken breast in. Now take your gallon storage bag (or 2nd bowl if you are up for more dishes) and mix together the bread crumbs, parmesan cheese, garlic, salt, pepper, Italian seasoning (if your bread crumbs do not have it) and optional cayenne pepper.
Take the flatten chicken breasts one at a time and coat them with the egg mixture, followed by shaking them in the bag of breading. They should be nice and evenly coated. Let them sit on a plate or a dish for about 15 minutes before cooking. Important step - you need to let meats sit out for a little bit so they cook evenly.
Frying the chicken
If you are using a cast iron pan, turn your burner onto medium for about a minute. Stainless steel you can add your oil right away and same with non-stick. Now please note that I don't use non stick so I am not as familiar with cooking times in it, you might need to adjust times slightly. Stainless steel should be pretty much the same times as cast iron.
Keeping your burner at medium to medium low (see notes), add in your oil - we have used coconut and olive oil (not at the same time) and they both add a great flavor. About 3-4 tablespoons is generally enough. It just needs to layer the bottom of the pan. IMPORTANT: You are not deep frying, please never deep fry or cook at high temperatures with either one of these oils - they have a lower smoking point and can be dangerous at high temperatures. Do not cook above medium temperature.
The oil should be ready in about a minute, coconut oil will start smoking any longer then that. Add in the chicken. It should sizzle when you add it in. Place a piece of foil loosely over the pan and cook for about 8 minutes. With cast iron and stainless steel, you will know it is ready to flip when it comes up easily (not sticking to the bottom.) Flip and cover again loosely. Cook for another 8 minutes.
Check the internal temperature of the chicken, it should register 165. Remove and place on serving dish, allow to rest at least 5 minutes so the juices get back into the fibers.
Important notes:
All stoves differ from one to the next. The first time I made this fried chicken was on our old gas stove and now we have a new gas stove, they both varied with preheat times. If you find your stove often cooks faster then others based on other recipes, you might want to go down just one notch from medium so it doesn't cook too fast on the outside. Also this sometimes splatters. You will be ok with the foil over it, but do be careful when flipping it.
As another reminder, olive oil and coconut oil can be used in this recipe at no higher then medium heat. Coconut oil will smoke if you wait longer then a minute to put the chicken in and cooking with either oil at higher temperatures can be dangerous. By using only a 3-4 tablespoons of oil and by adding the chicken in, it will keep the temperature down a bit but never deep fry with these oils.
Parmesan Pan Fried Chicken
Pan fried chicken is easy to prepare and have on the table on a busy weeknight. It goes well with any side dish and is made with a simple list of ingredients.
Ingredients
4

chicken breasts

boneless

4

tbsp

olive oil

see notes

2

eggs

whisked

1

tbsp

water

or milk

½

cup

bread crumbs

⅓

cup

parmesan cheese

grated

½

tsp

garlic powder

½

tsp

salt

¼

tsp

black pepper

⅛

tsp

cayenne pepper

optional or more if you like it spicy

1

tbsp

Italian seasoning

if your bread crumbs do not already have it added
Instructions
Pound down the chicken breasts to flatten so they are the same size throughout.

Whisk the egg with the water/milk (whichever you prefer) in a bowl large enough for the chicken breasts to fit in.

Mix the dry ingredients in a storage bag or another bowl

Dip the chicken one piece at a time in the egg mix. Toss it in the storage bag and shake to coat. Or roll it around in the breading in a bowl and coat well. Set aside for 15 minutes.

For cast iron, heat the pan on medium for about a minute before adding oil - see notes about oil. Other cookware you can add the oil right away. Allow the oil to heat for a minute before adding the chicken. It should sizzle when the chicken goes in the pan. Keep the burner on medium, do not increase temperature.

Cover loosely with a piece of foil and cook for about 8 minutes. Flip the chicken over and cover loosely. Cook for another 8 minutes. Use a meat thermometer to be sure it is cooked. Chicken needs to be at 165 to be safe to eat.

Remove from pan and allow to rest for at least 5 minutes before serving to allow the juices back into the fibers.
Notes
Important note: You can also use coconut oil but be careful when frying with either coconut or olive oil.  They can be safely used but never at a high temperature.  You are not deep frying and the amount of oil used is enough to coat the bottom of the pan.  Both oils have a lower smoking point, but coconut oil is a lower smoking point out of the two.  You can however use the oil of your choice, but be aware of it's smoking point when pan frying.  DO NOT turn heat above medium for this chicken.
Stoves all cook differently, so you might find that you need to adjust the cooking times slightly.
Nutrition
Calories:
504
kcal
Carbohydrates:
11
g
Protein:
56
g
Fat:
25
g
Saturated Fat:
5
g
Cholesterol:
232
mg
Sodium:
817
mg
Potassium:
909
mg
Fiber:
1
g
Sugar:
1
g
Vitamin A:
296
IU
Vitamin C:
3
mg
Calcium:
167
mg
Iron:
2
mg