There's something so refreshing about a simple salad that combines fresh, crisp vegetables with an easy homemade dressing. And when it comes to a quick and easy salad that's packed with flavor, it's hard to beat the classic combination of cucumber, onion, and tomato. Whether you're looking for a side dish to serve with dinner or a healthy lunch option, this cucumber, onion, and tomato salad with homemade dressing is sure to satisfy.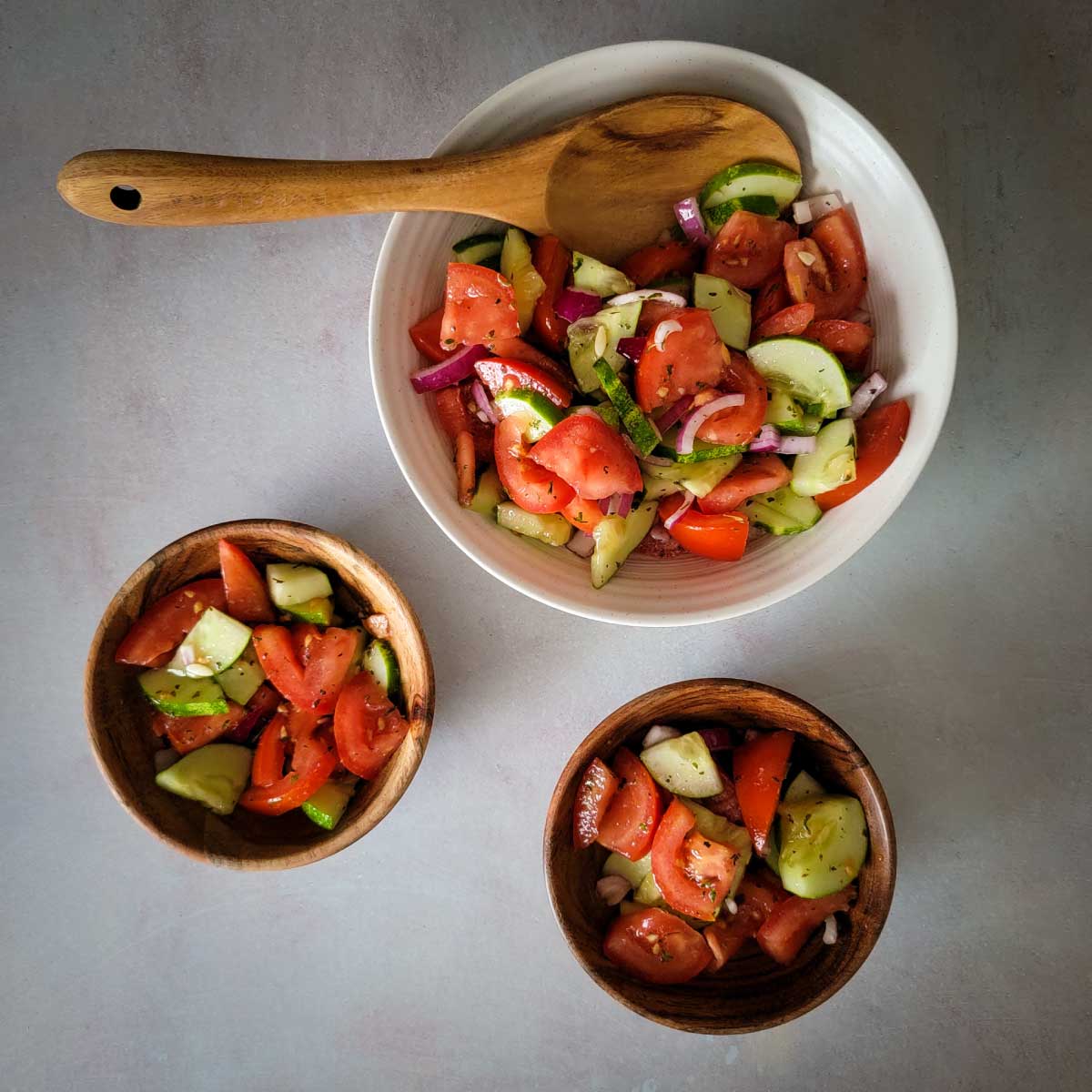 This cucumber, onion and tomato salad is the perfect side dish when you want something quick. And even better, there is no cooking so it's perfect on a hot summer day when you don't want to turn the stove on!
Usually I serve this with grilled dishes like grilled T-bone steaks, but it also makes a great lunch or snack too. If you are looking to add another side dish, our ranch pasta salad goes great with it too!
We make a homemade dressing for this salad, but you can also pour some store bought Italian dressing over the vegetables if you prefer.
Jump to:
Ingredients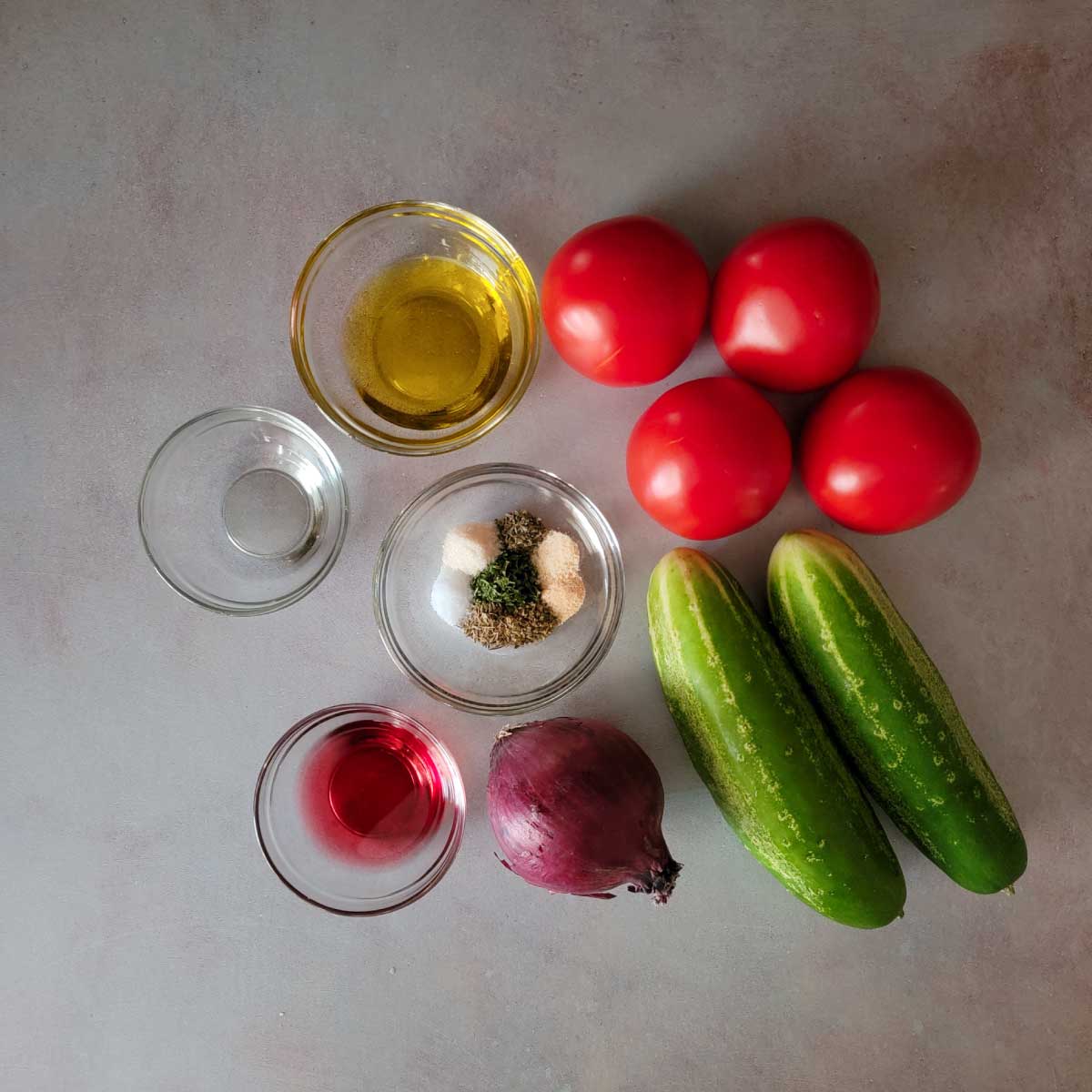 Tomatoes - Use your favorite tomatoes, we usually use tomatoes on the vine if using store bought tomatoes.
Cucumbers - Use your favorite cucumbers. If you are using a long cucumber like Japanese or English cucumbers, you will only need 1 instead of 2.
Red onion - Small to medium in size. This is a personal preference, you can add the amount you like. I don't recommend using a yellow, white or sweet onion here as they have too strong of a flavor to put raw in the salad, especially if children will be eating it. You can use scallions or leeks tho!
Water - for the dressing.
Oil - I recommend using olive oil, but you can use your favorite. You will noticed the flavor of the oil so be sure to use an oil with a flavor you like.
Vinegar - Can use either red wine vinegar or balsamic vinegar, we have made it with both and it is delicious either way.
The Spices
We use dried herbs here for the dressing. The flavors come together better in the dressing with dried herbs.
Garlic - we use garlic powder for this cucumber, onion and tomato salad. It is better then fresh here.
Onion powder
Oregano
Parsley
Basil
Thyme
Sugar
Salt - you will want to add to taste, we give a rough amount but we all have our own preferences with salt!
Making the Cucumber Onion Tomato Salad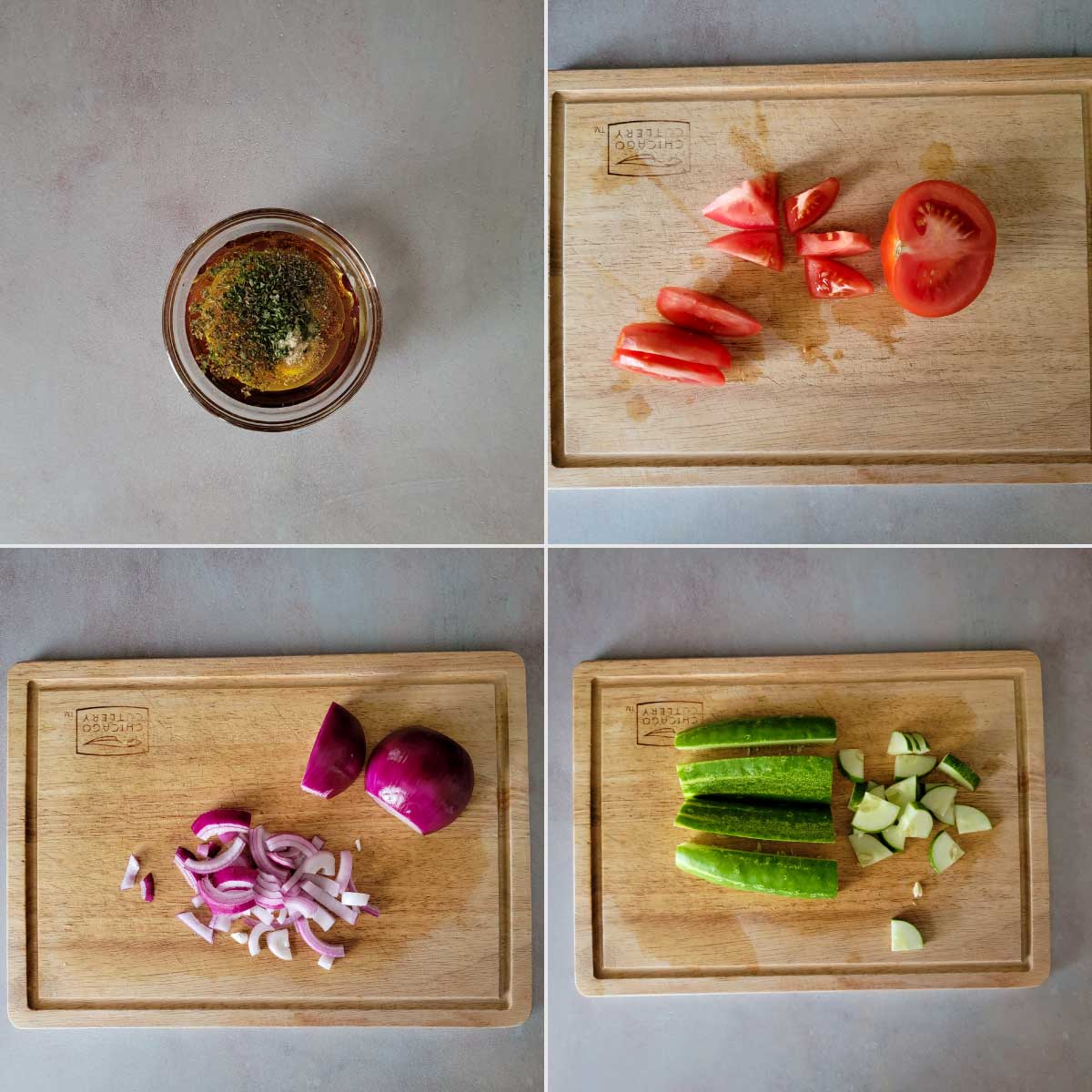 This is a super easy salad to put together! It takes about 15 minutes to prepare and is best served after mixing. Leftovers need to be stored in the fridge, but the tomatoes will start to lose flavor and get soft in the fridge. While leftovers are still delicious, it does taste best served before going into the fridge.
The dressing
The dressing should be mixed together before you start to cut any vegetables. This gives the spices time to flavor the oil and vinegar.
Mix all the spices together in a prep bowl - salt, parsley, sugar, oregano, onion powder, garlic powder, basil and thyme.
Mix together the oil, water and vinegar in a bowl. Pour the spice mixture into the oil mix and stir well. Set aside to let the flavors combine.
Cutting the veggies
Slice the cucumbers in half lengthwise and then slice them into triangle slices. They don't have to be a perfect size, you just want them to be bite sized to make the salad easier to eat.
Chop your tomatoes into bite size pieces. You don't have to have them a perfect size, just bite sized so everybody can eat them easily.
For the onion I like to make small slices. Usually I cut the onion in half and then cut the halves in half again. This will give you a shorter slice when you slice them. BUT you can slice them or dice them how you like here.
If you are using scallions or leeks, just slice them into thin slices and you can add some of the green from them as well.
Put it together and serve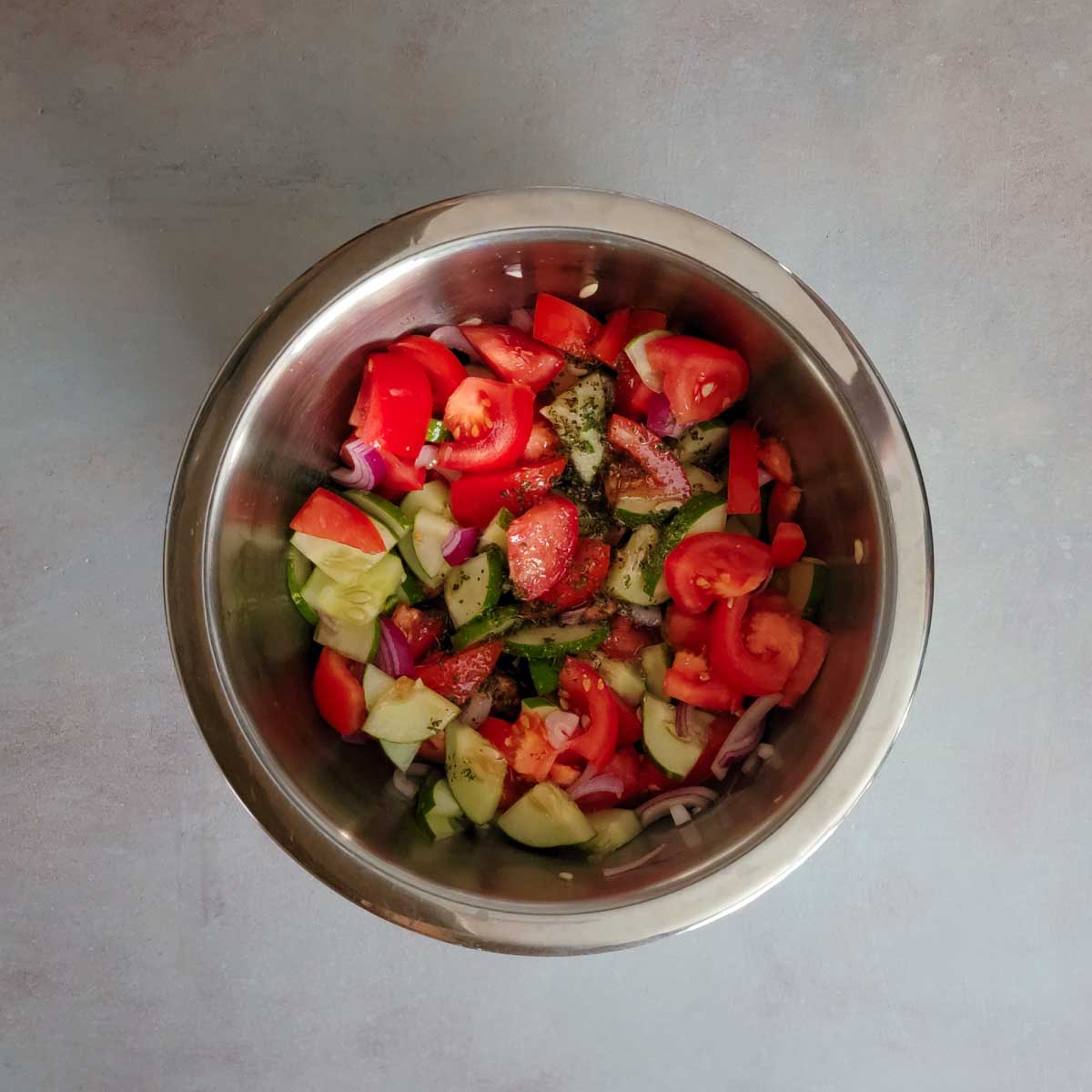 Add the vegetables to a large mixing bowl. Stir them well.
Pour the dressing mixture over top of the vegetables and mix well.
Serve right away or shortly after mixing together. Do not make this too far ahead, it is best before being refrigerated.
Recipe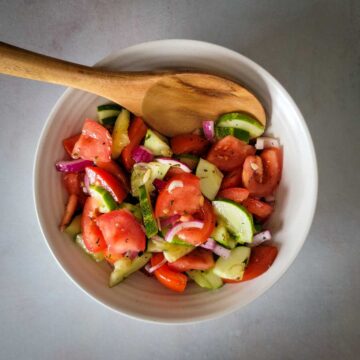 Cucumber, Onion and Tomato Salad
Looking for a refreshing salad that's quick and easy to make? Try our recipe for cucumber onion and tomato salad with homemade dressing. Perfect for a healthy lunch or a side dish at dinner.
Ingredients  
2

cucumbers

see notes

4

tomatoes

see notes

1

small red onion

see notes
The Dressing
3

Tablespoons

olive oil

or your favorite oil

2

Tablespoons

red wine vinegar

or balsamic

1

Tablespoon

water

1

teaspoon

parsley

½

teaspoon

oregano

½

teaspoon

salt

adjust to taste

½

teaspoon

sugar

can reduce if desired

¼

teaspoon

garlic powder

¼

teaspoon

onion powder

¼

teaspoon

basil

¼

teaspoon

thyme
Instructions 
In a prep bowl mix together the oil, water and vinegar.

3 Tablespoons olive oil,

2 Tablespoons red wine vinegar,

1 Tablespoon water

Mix together the spices in a small prep bowl and stir into the oil mixture. Set aside. It is important to mix the dressing first to let the spices flavor the oil mixture.

1 teaspoon parsley,

½ teaspoon oregano,

½ teaspoon salt,

½ teaspoon sugar,

¼ teaspoon garlic powder,

¼ teaspoon onion powder,

¼ teaspoon basil,

¼ teaspoon thyme

Slice the cucumbers into 4 slices lengthwise. Now slice them into bite size pieces.

Chop your tomatoes into bite size pieces.

Slice red onion into small slices or you can chop into chunks.

2 cucumbers,

4 tomatoes,

1 small red onion

Mix the vegetables together in a large mixing bowl. Pour the dressing over the vegetables and mix well.

This salad is best served immediately or shortly after preparing, the tomatoes will lose some flavor if they are in the fridge. You do need to refrigerate leftovers tho.
Notes
The nutrition facts are estimated and so are the serving sizes.
Cucumbers and tomatoes - They all vary in size and this will also depend on how much you need to make.  It is a very flexible salad with amounts.  I use 3-4 medium sized tomatoes on the vine (not a large tomato) and 2 regular sized cucumbers.  If I use an English or Japanese cucumber (long cucumbers), I only use 1.  Adjust as you like here.
Onion - We use a small to medium size onion.  I do NOT recommend using a white, sweet or yellow in place of the red.  You can use leeks or scallions in place of a red onion tho.
Vinegar - We have made this with red wine vinegar and also with balsamic vinegar.  They are both a great salad vinegar and you can use whichever you prefer, they are both delicious here.
The reason you do not refrigerate before serving is because nothing in it needs to be refrigerated right away.  Tomatoes lose flavor and some texture when in the fridge.  But do refrigerate any leftovers after your meal.
Nutrition
Calories:
99
kcal
Carbohydrates:
8
g
Protein:
2
g
Fat:
7
g
Saturated Fat:
1
g
Polyunsaturated Fat:
1
g
Monounsaturated Fat:
5
g
Sodium:
201
mg
Potassium:
364
mg
Fiber:
2
g
Sugar:
5
g
Vitamin A:
764
IU
Vitamin C:
16
mg
Calcium:
30
mg
Iron:
1
mg