The slow cooker used to be my go to for cooking stews, especially with meats that need to cook a bit longer to be tender. It is great, but takes all day and usually about 10-12 hours. That is getting up pretty early just to get it together. Who has time for that? Instant Pot beef stew is much quicker and you cook it all in the same pot - no separate pan for frying the stew meat.
Don't get me wrong, I still love my slow cooker just not for beef stew anymore.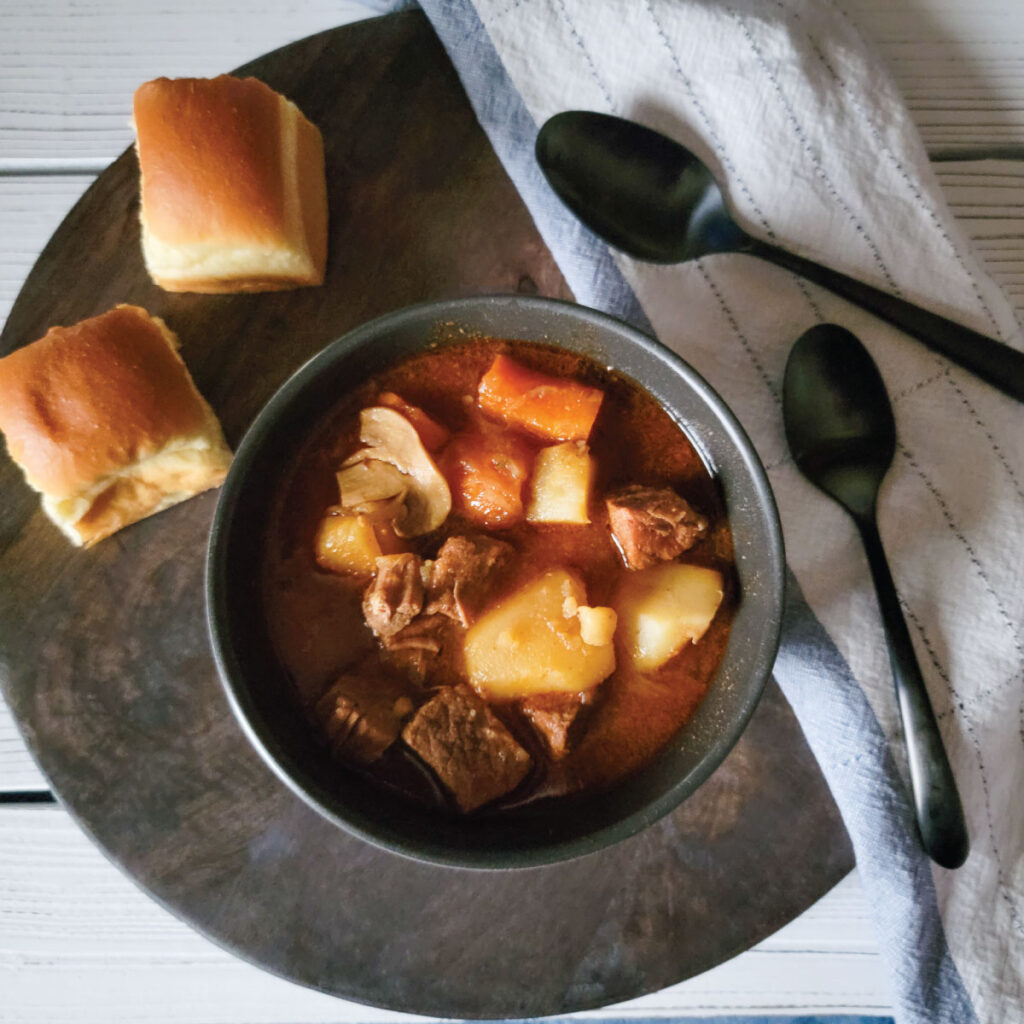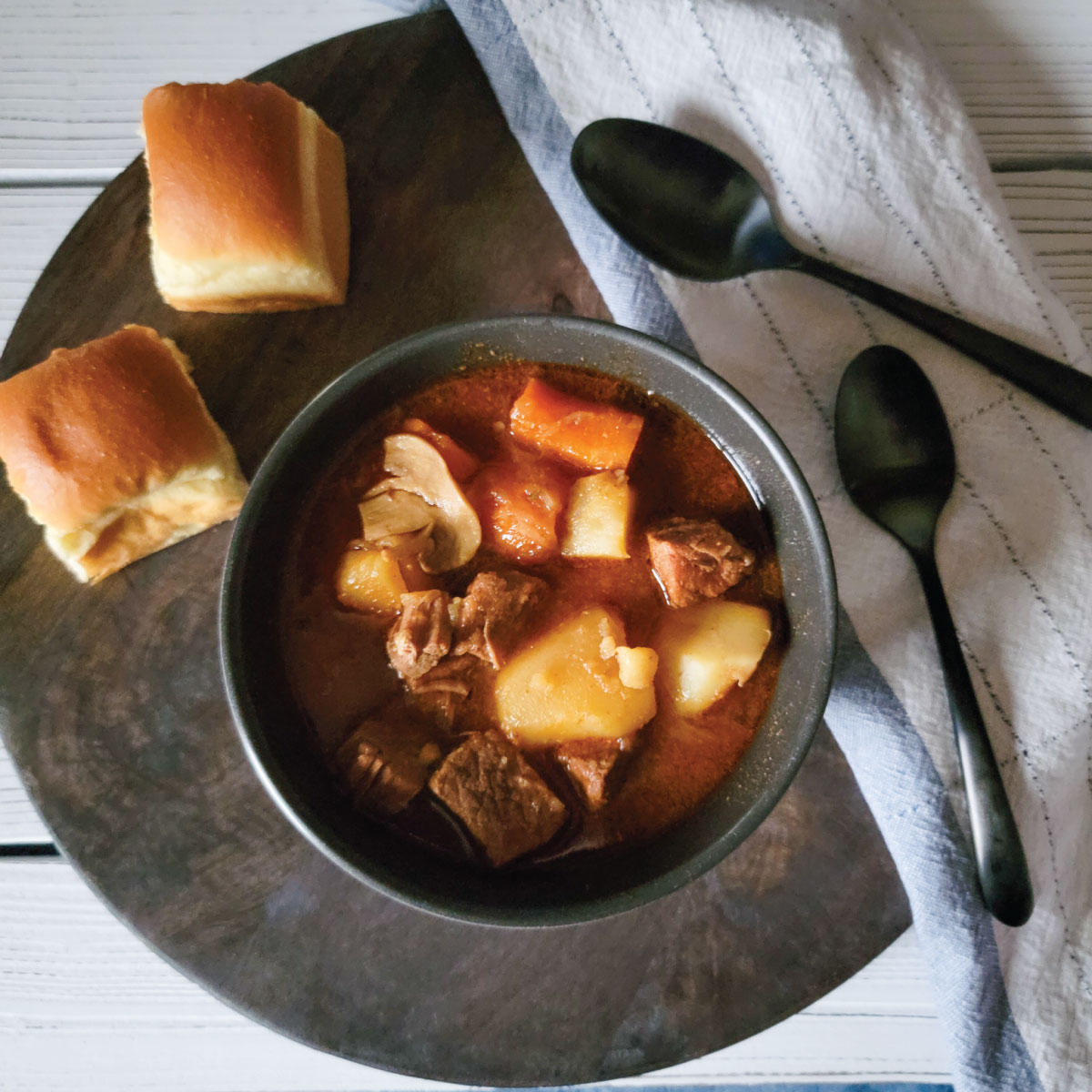 You will love how easy this is and I am sure it will be your go to for an easy stew!
It does still take some time, but not all day by far. From start to finish, it should take you about about an hour and a half. No more 5 AM just to have dinner on the table by 6 🙂
Tips for making Instant Pot beef stew
It's a very flexible dish, like most of my recipes. It is very easy to make and below I want to give you some tips that make it even easier.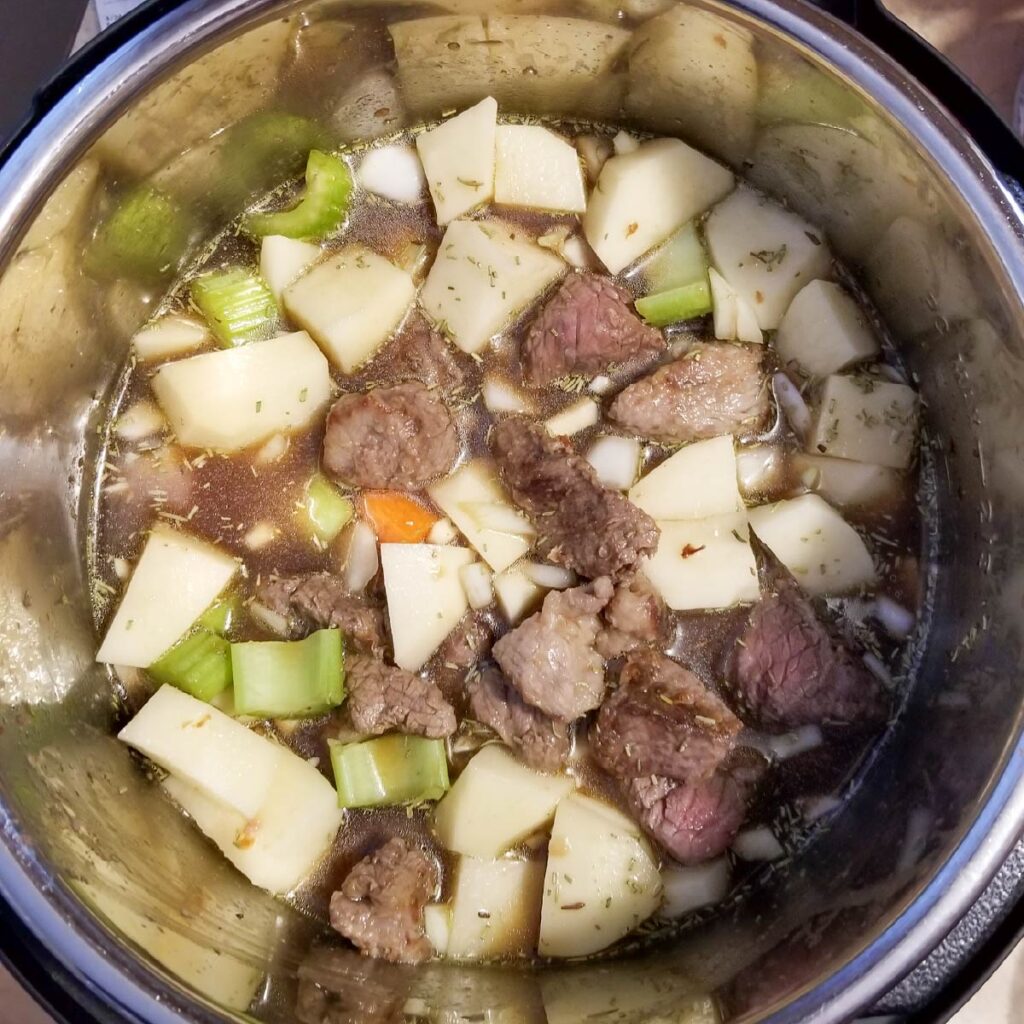 I used Jack Daniel's in it, but you can use red wine or even just the broth to deglaze the pot. The alcohol does add to tenderizing the beef - wine or Jack is the best I think. But neither of them are required.
Why did I decide to add Jack Daniel's to beef stew?
I cook with wine a lot and occasionally vodka, but being we are not really drinkers (ok I only drink red wine) I don't usually have a lot of other alcohol around. A bottle of Jack Daniel's was left at our house after somebody had a couple shots of it and told us to use it. It sat in the back of the cabinet for about a year and a half. No joke, we seriously don't drink it.
I was cleaning out and seeing what we could get rid of up in the cabinet and saw the bottle sitting up there. Forgot all about it! We can't send it home with anybody, it's an open bottle. But I can see about cooking with it!
And so that is how it came into our stew. I also used it to make the perfect steaks, but more on that in a future post. As you can see, it deglazes the inner pot nicely here: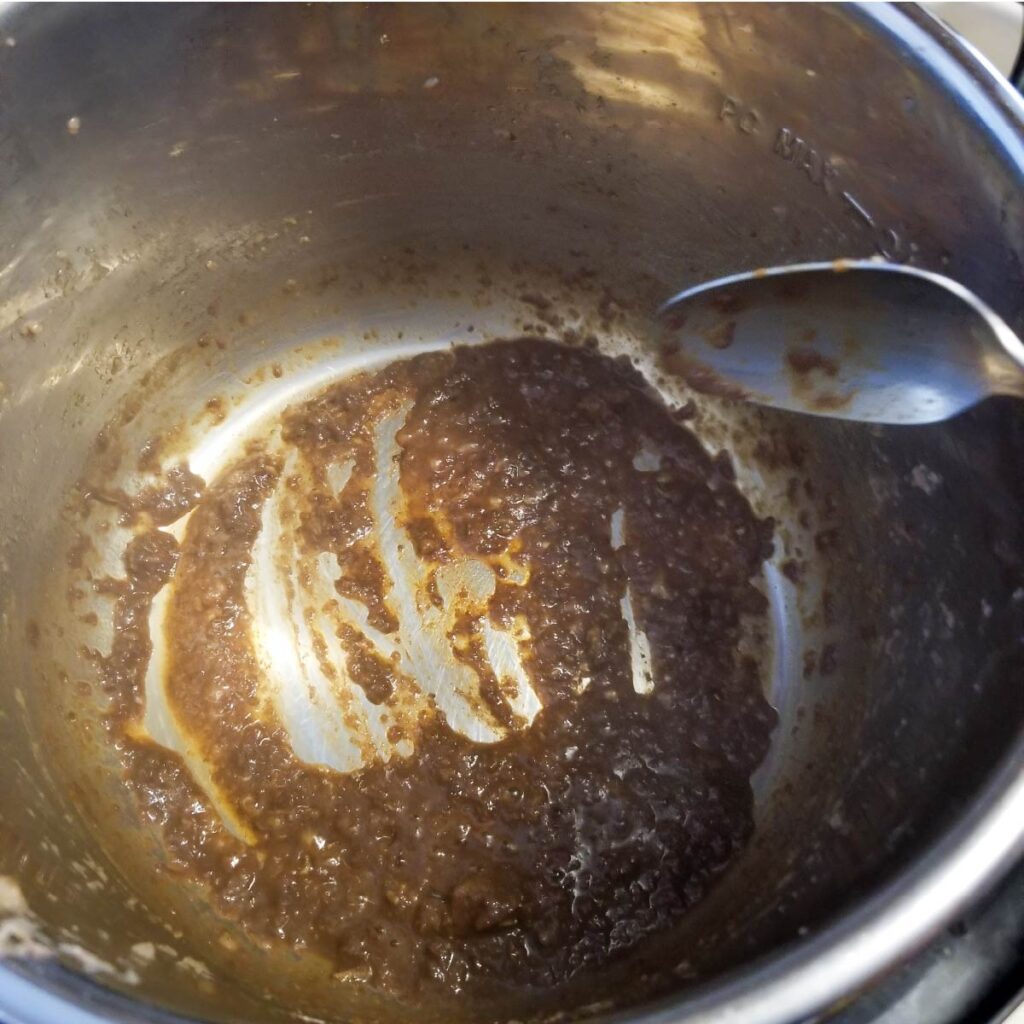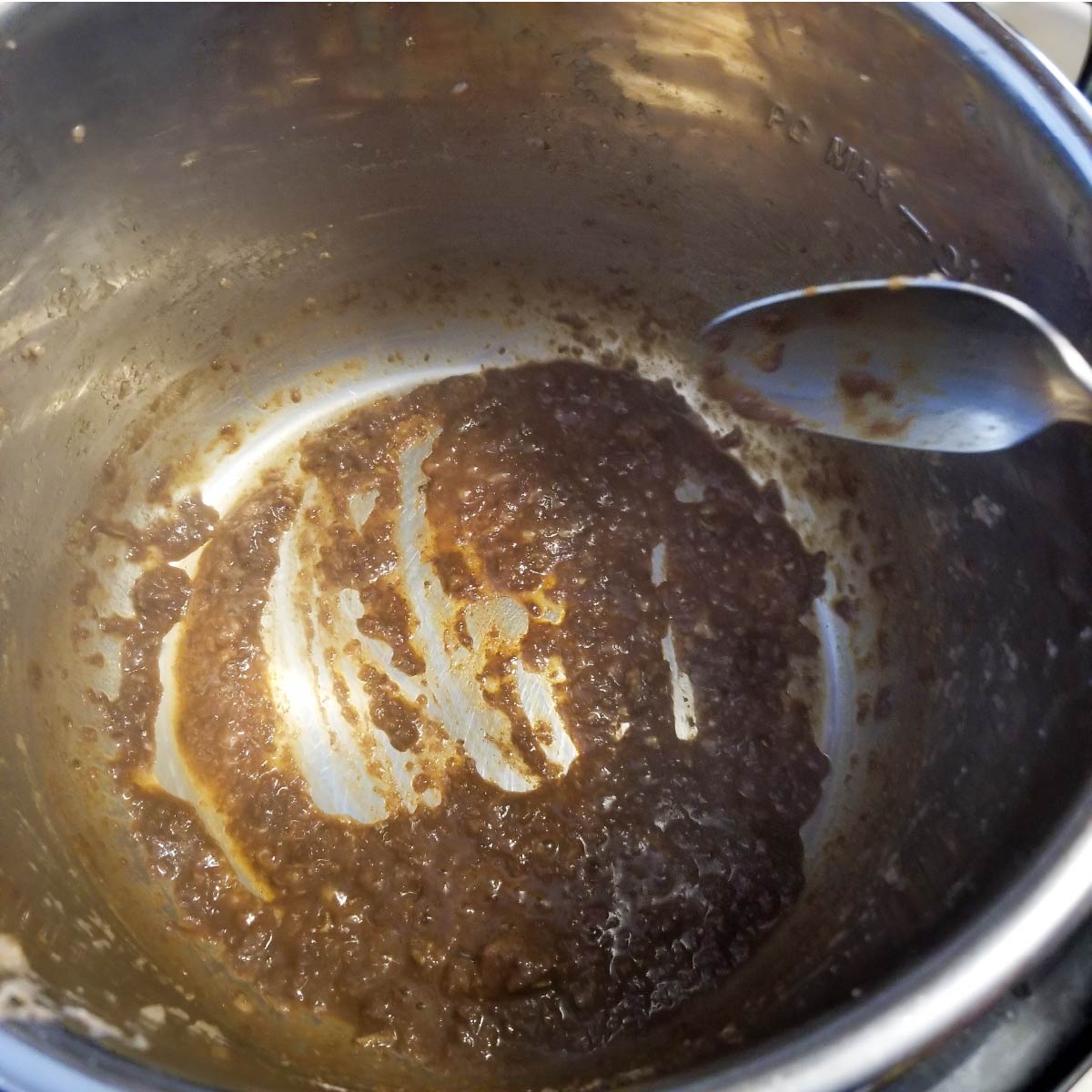 Don't know to deglaze your Instant Pot?
It's ok, it is simple and it is helpful in other dishes too. You know the dreaded burn warning? Tho some dishes will give you this warning because of other reasons, sometimes just deglazing your pot prevents it. You will see when you make this Instant Pot beef stew that after sauteing the beef, you are left with a mess on the bottom. If you layered stuff in and hit high pressure, you would have a burn notice with all the gunk on the bottom of the pan.
To deglaze:
Be sure to have the liquid ready before removing the beef. You will only need between 1/3 to 1/2 cup for this, start with 1/3 first and just a little more if needed. Remove the beef and place aside. Keep the Instant Pot on saute and quickly add the liquid you are using (whether it be the whiskey, wine or even just broth.) Be sure to stir along the bottom of the pan as you are pouring it in. It should lift the gunk right off the bottom and the bottom of your pot should look like the picture above. Hit cancel. Add all of your ingredients and you are ready to go. Keep the stuff from the bottom in the pan you just don't want it stuck on the bottom.
Thickening the beef stew
When making this Instant Pot beef stew, you will find it might turn out a little too thin. We prefer to add a little slurry after cooking to make it to the consistency we want. We have got burn warnings when adding too much thickeners before cooking.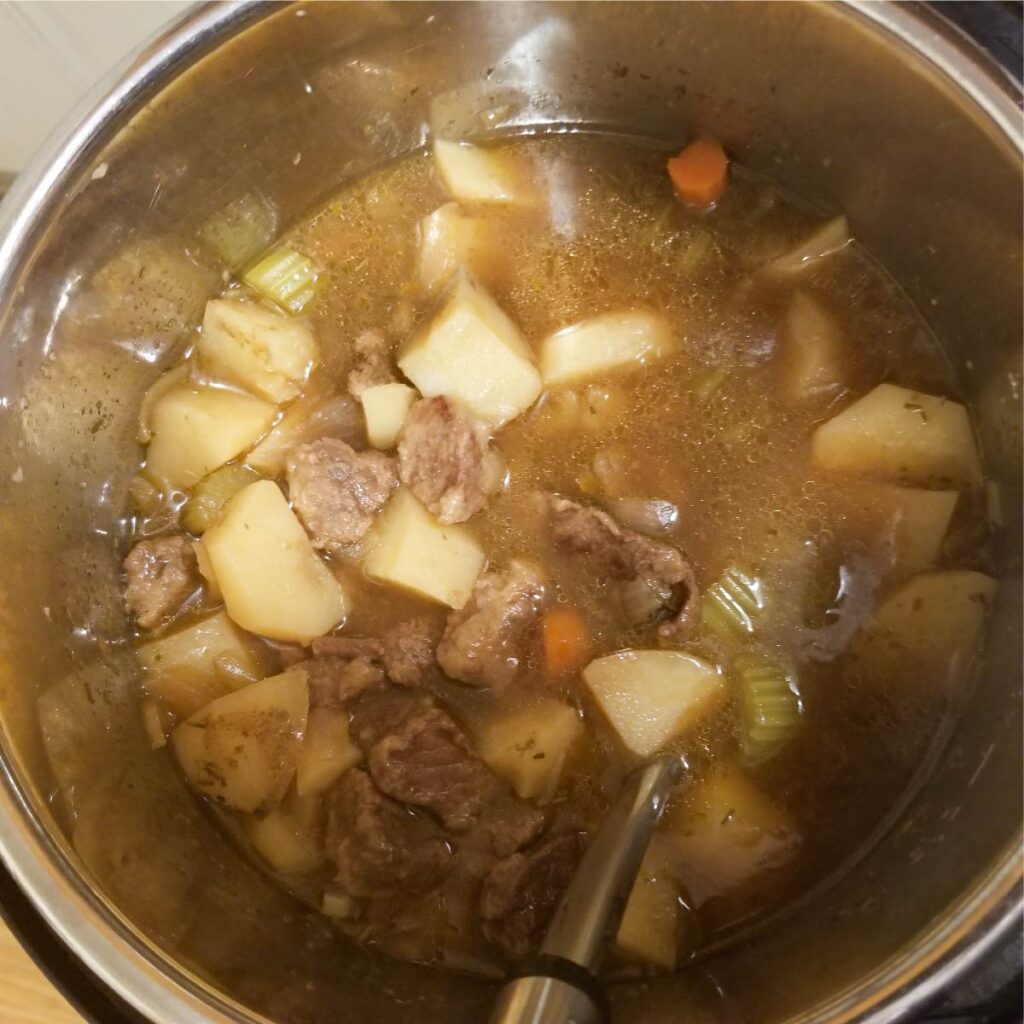 Now my family would be ok with it just as shown above, but to me it is more like a soup here. Still amazing, but not a thick stew like I had growing up.
That is where a little bit of a slurry comes in. Once the Instant Pot depressurizes, carefully remove the lid. We like to use corn starch here, but flour works as well. Add about 2 tablespoons of cornstarch to about 2 tablespoons of water and mix well. Turn your Instant Pot onto saute and after about 1 minute, slowly stir in the slurry you made. It will thicken up quickly. Hit the cancel button when it is to your desired thickness.
We serve with dinner rolls or quite often we whip up a quick batch of cheesy garlic biscuits. I have never had leftover biscuits any time I made them - we have leftover rolls usually but never biscuits.
Frequently asked questions
While Instant Pot beef stew is quite easy to make, I am sure you have questions.
Do I have to do a natural release?
We do a natural release for at least 15 minutes, after that time you can do a manual release to finish. Tho you don't have to, I highly recommend it. I haven't done a quick release with this, but I did once with Instant Pot pot roast and the beef turned out tougher.
What is the difference between natural and quick release?
It is when you let the Instant Pot depressurize on it's own. Once it is done cooking, it beeps and then starts the depressurizing. A quick release is when you switch the vent to release pressure - it is quicker but not recommended for all dishes.
Do I have to sear the meat first?
No, but it is highly recommended. Technically you could throw it all in and cook, but the meat won't be as tender. The flavor won't be the same either. It is done in one pot so please don't skip this step, your stew does depend on it.
Do I have to thicken it?
No this is your preference. If you prefer it more like a soup, that is ok too!
Can I freeze it?
Yes you can freeze it. We have never kept it for longer then 3 months in the freezer so I cannot recommend beyond that time frame. But it is good for at least 3 months.
How long does it last in the fridge?
It should be used within 4 days to be safe.
Are there any other good soups in the Instant Pot you recommend?
Yes! We make a couple along with the beef stew: Instant Pot Stuffed Pepper Soup and Instant Pot Kielbasa Soup
Recipe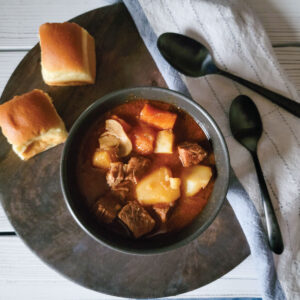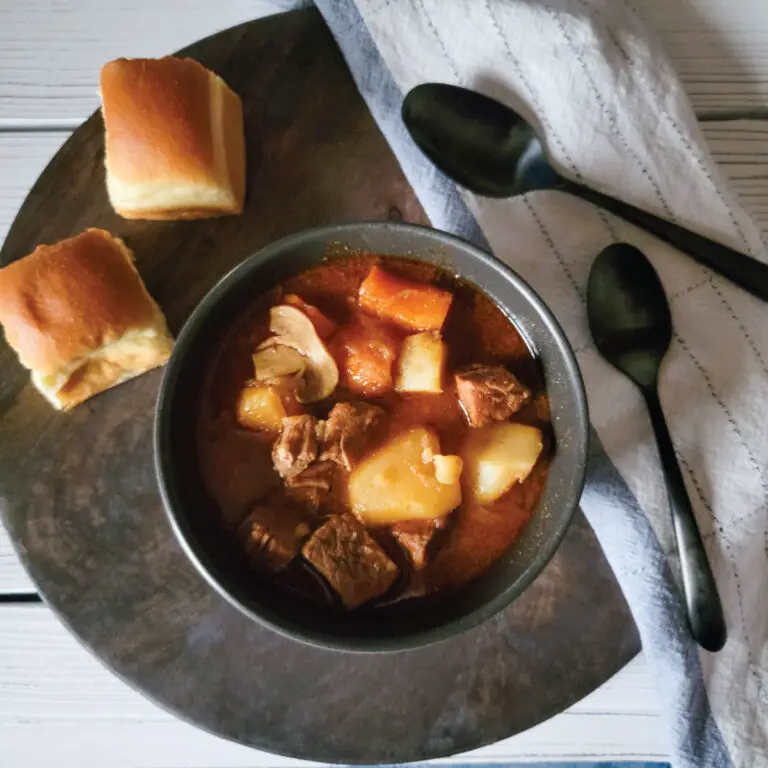 Instant Pot Beef Stew
Instant Pot beef stew is easy and delicious! It is quicker then slow cooking it but tastes just as good.
Ingredients  
1½

lbs

beef stew meat

⅓

cup

Jack Daniel's

or red wine, optional - see notes

3

tbsp

olive oil

3

carrots

sliced

3

celery sticks

sliced

1½

lbs

potatoes

cut into large bite size chunks

1

yellow onion

chopped

3

garlic cloves

minced

4

cups

broth

beef, unsalted or low sodium recommended

1

tsp

rosemary

1

tsp

salt

see notes
coating for beef
¼

cup

flour

¼

tsp

salt

¼

tsp

black pepper

ground
Instructions 
Mix the coating in a bag or a bowl that you will use for coating. Coat the beef pieces.

Hit the saute button on the Instant Pot. Pour the wine or Jack Daniel's into a measuring cup to have it ready. If you are using broth, pour ⅓ cup and set aside.

Once hot is displayed on the IP, add in the oil and the coated beef. Brown each side of the beef, but you are not cooking it all the way through.

Remove the beef and set aside for a moment. Quickly and carefully add the ⅓ cup liquid (wine, broth or whiskey) you have ready. As you are adding it, stir with a long spoon so you are deglazing the bottom of the pot.

Hit cancel.

Add the onions, carrots and celery to the bottom. Do not wipe the gunk out of the bottom of the pot, this is for flavor and will help to thicken the stew.

Add in the broth, garlic, salt and rosemary. Stir well. Add in the beef followed by the potatoes.

Make sure the silicone seal is in the lid and place the lid on the Instant Pot. Make sure that your vent is set to seal (if your model has this, some automatically seal.)

Press the manual/pressure cook button and adjust it to 30 minutes.

When it beeps, allow it to naturally release for at least 15 minutes before doing a manual release. You can let it release naturally the whole time.

Once the pin drops, carefully remove the lid. If it is too thin, make a slurry to thicken.

You can use either flour or cornstarch to thicken.
To Thicken
Press the saute button on the IP. If using cornstarch, mix even parts of cornstarch with water in a cup - stir it well. We use 2 tablespoons of cornstarch but you might find you want it thicker.

Slowly stir the mix into the stew. You will see it start to thicken in a 1-2 minutes.

If using flour you still need the IP on saute. Add together 3 tablespoons of flour with about a cup of the hot liquid from the stew in a cup. Mix well and slowly pour into the stew while stirring. It will start to thicken quickly.

We recommend the cornstarch method, but flour works also when you don't have cornstarch.
Notes
The nutritional values are estimated and so are serving sizes.
Using Jack Daniel's or red wine is optional and we feel it adds a great flavor and helps with the texture of the meat, but it isn't required.  When I cook with wine, I use red drinking wine not cooking wine.
Adding salt is to your own taste.  If you use regular broth (not low salt or unsalted), you probably won't want to add any salt.  We use unsalted broth here.
Nutrition
Calories:
284
kcal
Carbohydrates:
10
g
Protein:
29
g
Fat:
13
g
Saturated Fat:
3
g
Cholesterol:
70
mg
Sodium:
866
mg
Potassium:
854
mg
Fiber:
1
g
Sugar:
2
g
Vitamin A:
5104
IU
Vitamin C:
4
mg
Calcium:
39
mg
Iron:
3
mg