This easy breakfast casserole is a great way to start your morning! It has the perfect combination of eggs, potatoes, spices, cheese, sausage and peppers.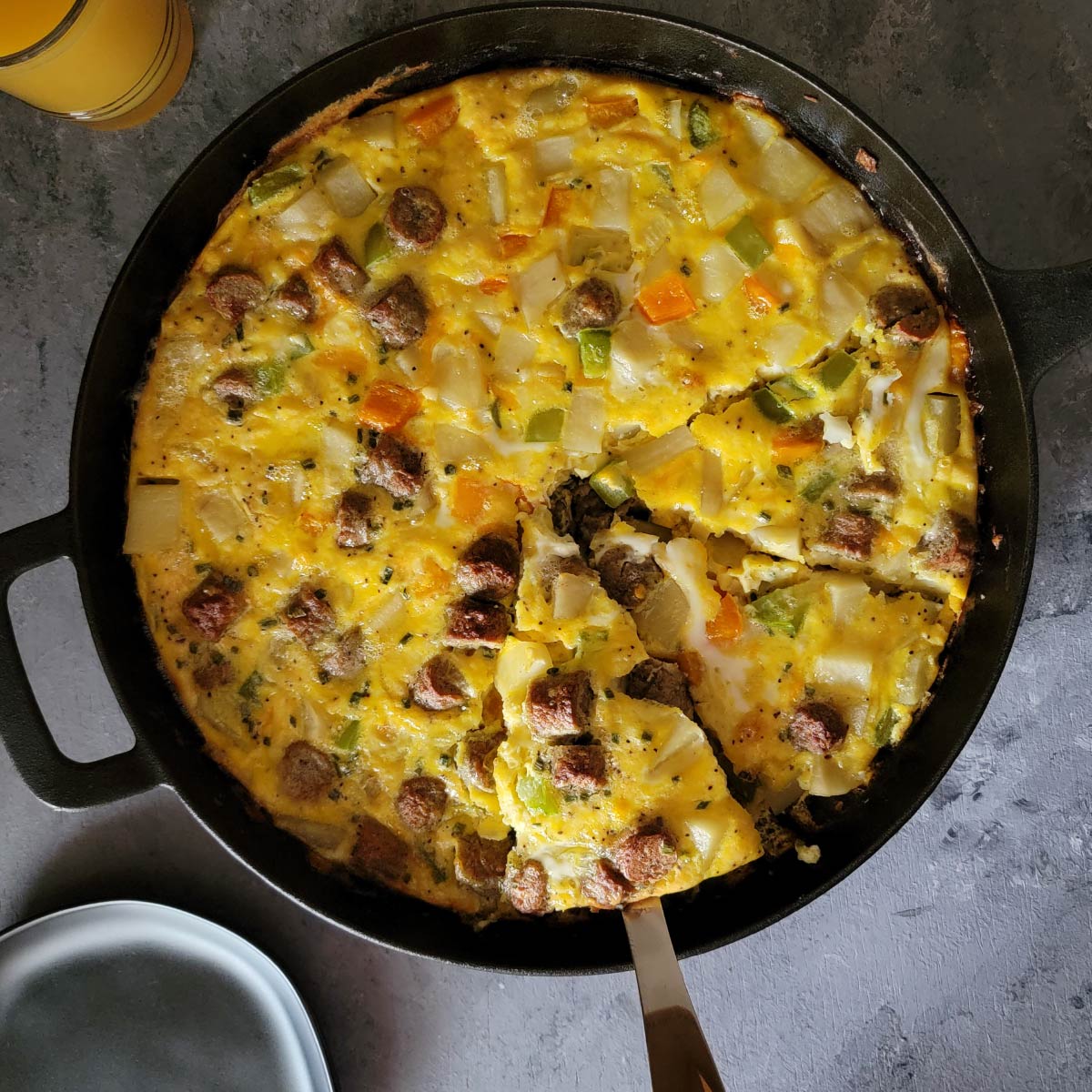 We serve with toast and coffee, but it goes well with fruit and juice too. Coffee is a must have in our house in the morning! I will admit that I am not a fully functioning human without it.
Cast iron makes this a one dish meal and is my favorite for making this, but it isn't required. You will want a well seasoned pan and if it is fairly new, be sure to use an extra tablespoon of oil when cooking the vegetables.
Jump to:
Ingredients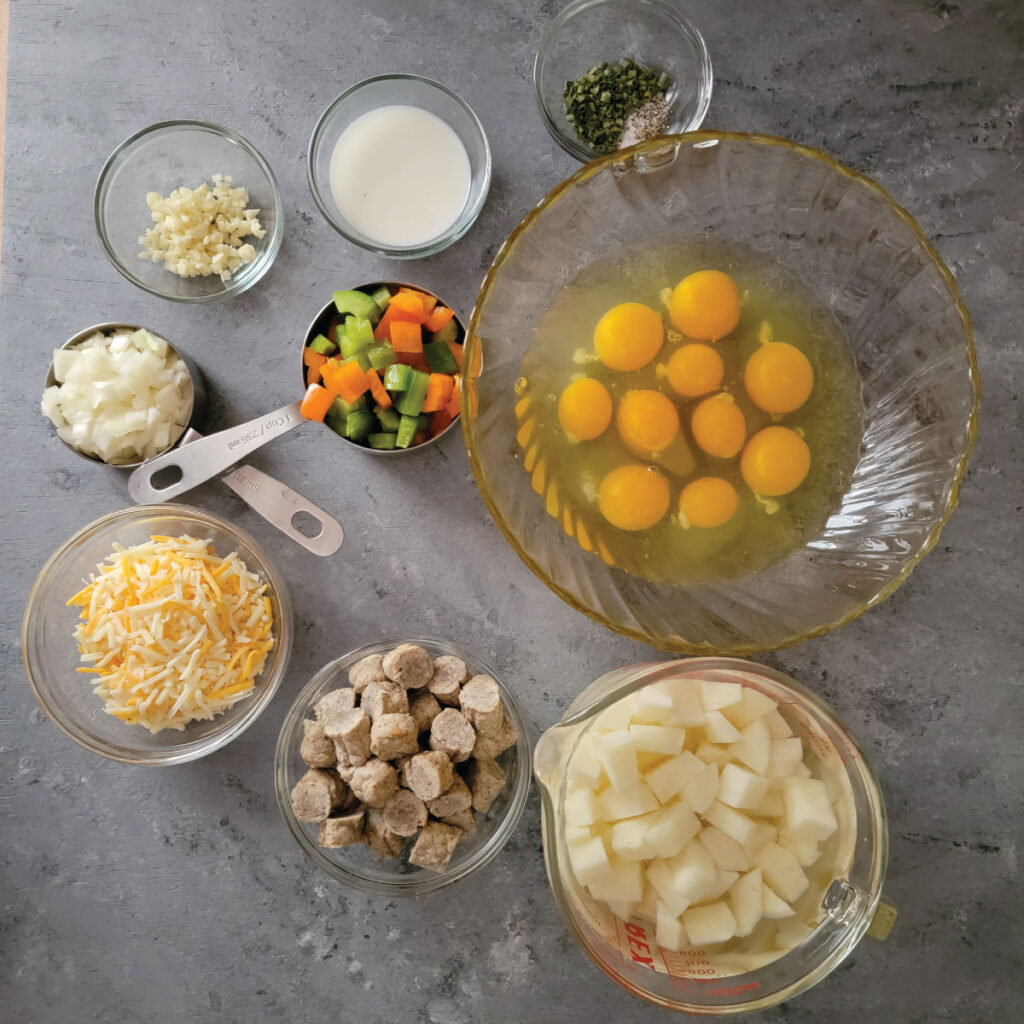 Oil - We use olive oil, but you can use your favorite here.
Eggs - We use large eggs here.
Milk - The milk helps with the texture of the eggs, you can use water in it's place. We prefer milk in our eggs here.
Chives - Optional for flavor but recommended. We used dried chives.
Salt - Optional and is used to bring out all the flavors in the dish. Add your desired amount.
Black pepper - Fresh cracked peppercorns are always best, but ground black pepper adds a bit of flavor too.
Onion - Yellow onion or white onion is best here. Can substitute with dried minced onion, but the flavor is better with fresh. If using dried minced onion, add it to the eggs instead of frying it with the potatoes. Use about 1 tablespoon if using dried minced onion.
Garlic - Fresh chopped cloves are recommended for the best flavor. But you can substitute with garlic powder. If using garlic powder, add it to the eggs instead of frying it. I would use about half a teaspoon of powder.
Peppers - Use your favorite! We used green and orange here, but we use whatever peppers we have in the house.
Cheese - We like to use a mix of white and yellow cheddar, but 4 cheese Mexican is delicious too! You can use your favorite cheese.
Sausage - We like the brown and serve for this easy breakfast casserole, but you can use fresh sausage too.
Potatoes - Russets are the potatoes we used here, they are a favorite for me to cook with. They do not get waxy like some potatoes! You can use your favorite potatoes in place of russet potatoes.
Important tips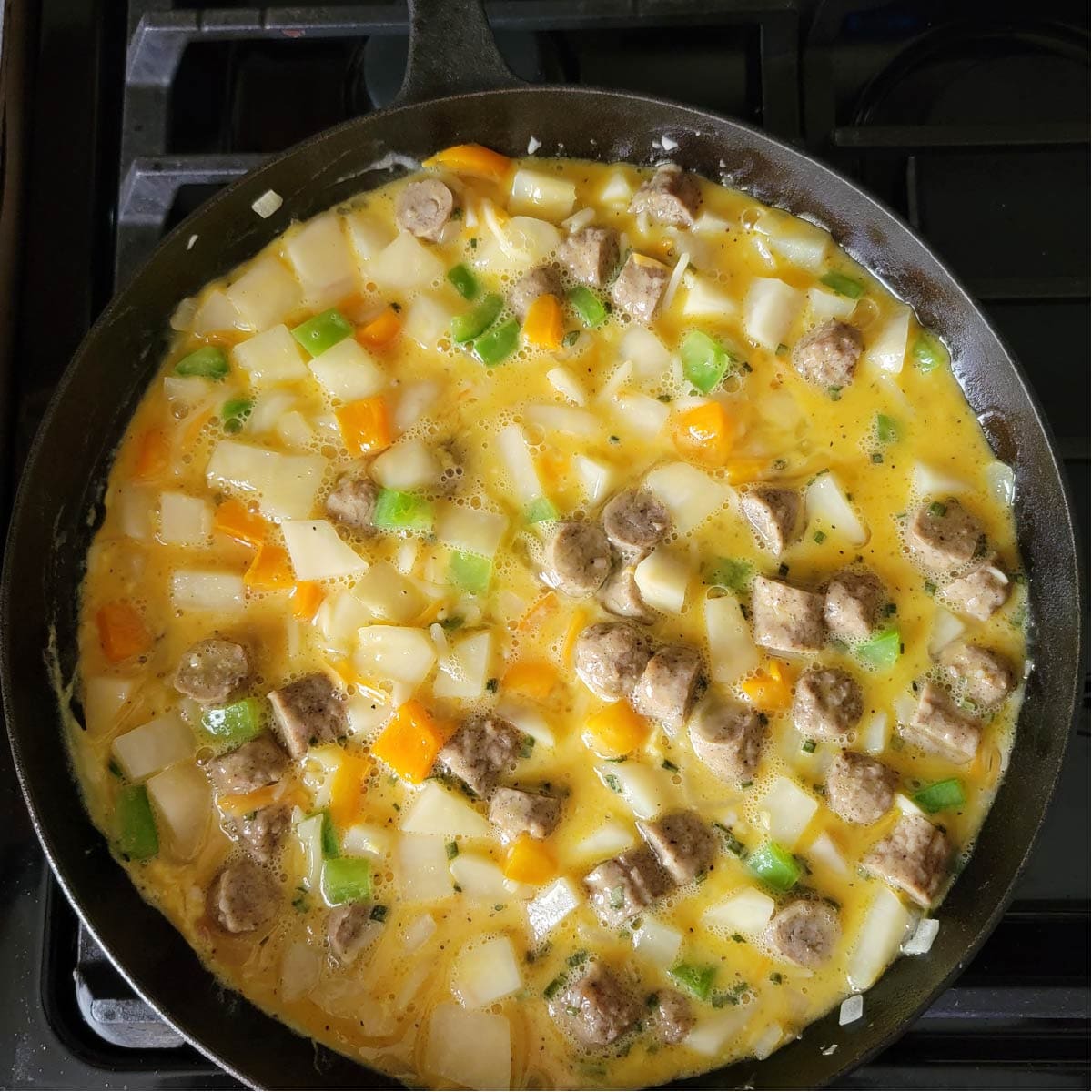 Be sure to turn the burner off just before you add the eggs. You want them to cook in the oven to get the perfect casserole. If you leave the burner on, they will cook rather quickly in the pan.
If you are using any kind of fresh sausage instead of the brown and serve, make sure the sausage is fully cooked or at least most of the way cooked before adding the eggs. You do not want to keep it in the oven beyond when the eggs or done or the eggs will be overcooked. By making sure the sausage (or any added meat) is most of the way cooked, you know it will be cooked when the eggs are done.
I like to have this scrubbing pad made for cast iron on hand for tough jobs and you shouldn't need it for this dish, but there is always a chance of eggs sticking. This is not a sponge to use all the time, but it is perfect in a pinch if you have a tough mess.
For this easy breakfast casserole with sausage, I only have ever needed to use the brush to clean my pan. But my pan is a very well seasoned pan. I do like to be prepared with the scrubbing pad tho just in case there was ever a big mess!
For a step by step guide check out easy breakfast bake where we created a slide of pictures showing each step.
What else can I add to my breakfast casserole?
You can add other veggies or even meats! We have made this with so many different things, I like to add what veggies we have on hand at the time.
Mushrooms - These are always a favorite here to add in when we have them. They go pretty good with eggs! Add them in with the onions.
Broccoli - Something you may not think to add to a breakfast bake, but broccoli actually goes pretty good with eggs. You would add it with the peppers, garlic and sausage.
Spinach - I love the taste of spinach and eggs together! I add it quite often when we have it. Any leafy veggie should be added shortly before the eggs. Cook it with the peppers, sausage and garlic. It just needs to be wilted before adding the eggs.
Tomatoes - Yes tomatoes! They go rather well with everything here but do not put a lot in. The reason being they are full of liquid. I would add them just before adding the egg. They don't need to cook long and will cook nicely in the oven.
Bacon - This is something that goes great with many things! You do want to make sure it is fully cooked before adding tho. I would cook separate, but you can cook it in the same pan before cooking everything else and use some of the bacon grease (not all) to cook everything.
Ham - Diced ham is great in the easy breakfast casserole instead of sausage. Cured ham is fully cooked so you would just dice it up and add it with the peppers and garlic. Cured ham is the traditional pink ham we buy.
Frequently asked questions
Do I have to sauté the vegetables first?
Yes, it helps enhance the flavors but more importantly it partially cooks them before baking. When using fresh potatoes, they would need more liquid and cook time if you did not sauté them first. You would have crunchy potatoes.
Can I substitute fresh potatoes for frozen hashbrowns?
Yes you can use either one. Fresh potatoes are recommended and do require a pan fry first. Frozen hashbrowns can be used instead and added right before the eggs.
Can I make this ahead?
This easy breakfast casserole cannot be prepared ahead of time to be cooked later. The potatoes do require a pan fry first and the onions are recommended to be fried first as well.
Do I have to use cast iron?
No you do not! You can pan fry the vegetables and add them to the eggs in a lightly greased baking dish. We use cast iron for the ease of one dish.
How do you know when the breakfast casserole is done?
The eggs will be set and appear firm. There will be no runny egg on top and the temperature should be about 160.
Other great breakfast recipes
A breakfast bake is not the only thing we like here, we do eat a lot of pancakes as well!
Recipe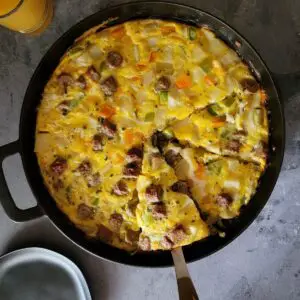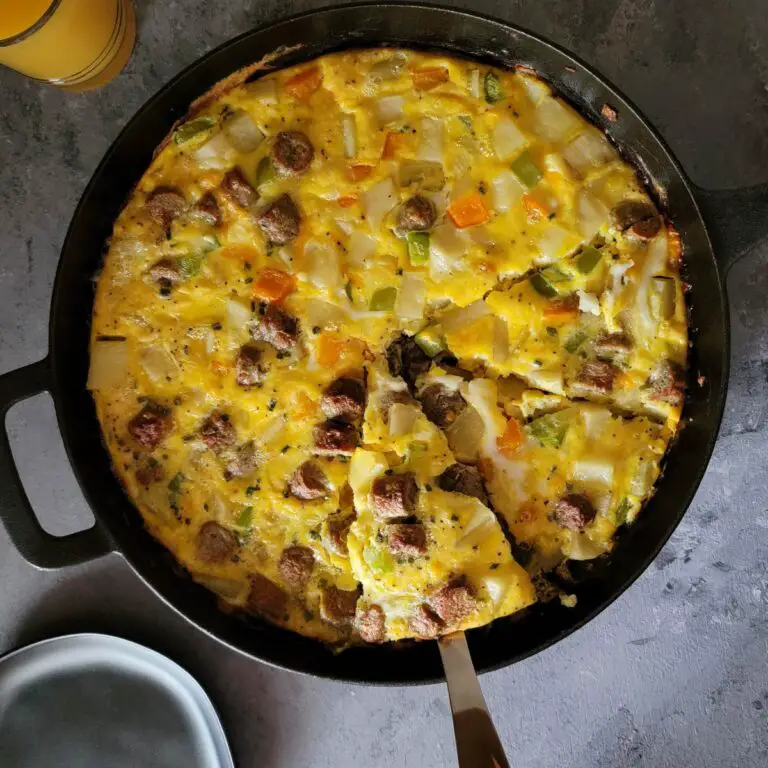 Easy Breakfast Casserole with Sausage
An easy breakfast casserole with the perfect combination of eggs, potatoes, cheese, sausage and spices.
Ingredients  
3

cups

diced potatoes

about 1¼ pound before cutting

3

tablespoons

olive oil

enough to coat the bottom of pan

1

small yellow onion

about ½ cup chopped

3

cloves garlic

chopped

1

cup

bell pepper

chopped

10

breakfast sausage links

sliced into bites sized pieces

9

large eggs

1

tablespoon

milk

½

tablespoon

chives

¼

teaspoon

black pepper

¼

teaspoon

salt

⅔

cup

shredded cheese

cheddar recommended
Instructions 
Peel and chop the potatoes into bite size pieces - about 1 inch cubes. Rinse and allow them to sit in cold water for 5-10 minutes.

Whisk together eggs, milk, salt, pepper and chives. Stir in the shredded cheese.

In a heated pan add olive oil, potatoes and onions. Sauté for 5 minutes

Add the garlic, peppers and sausage. Cook for another 2-3 minutes. See notes

Add in the egg mix and stir well. Place in center of oven and bake at 350°F for 30-35 minutes until eggs are completely set.
Notes
Nutritional values are estimated.
We use brown and serve sausage that is cooked and just needs to be reheated.  If using fresh sausage links, you can add the sausage with the potatoes and onions.  You want the sausage to be fully cooked or close to fully cooked before adding eggs.
If using cast iron, turn heat off to the burner before adding the eggs.  The cast iron can go right from the stove to oven.
If using a baking dish, pour the sausage/veggie mix into the baking dish.  Pour eggs over and stir.  Bake as directed.
The casserole will be done when eggs are completely set with no runny egg on top.
Nutrition
Calories:
449
kcal
Carbohydrates:
22
g
Protein:
23
g
Fat:
29
g
Saturated Fat:
9
g
Trans Fat:
1
g
Cholesterol:
377
mg
Sodium:
584
mg
Potassium:
708
mg
Fiber:
2
g
Sugar:
4
g
Vitamin A:
1552
IU
Vitamin C:
46
mg
Calcium:
150
mg
Iron:
3
mg