Spiralized beets are easy to make and can be done on the grill right along side of other dishes. They are a 3 ingredient dish but the flavor is absolutely amazing!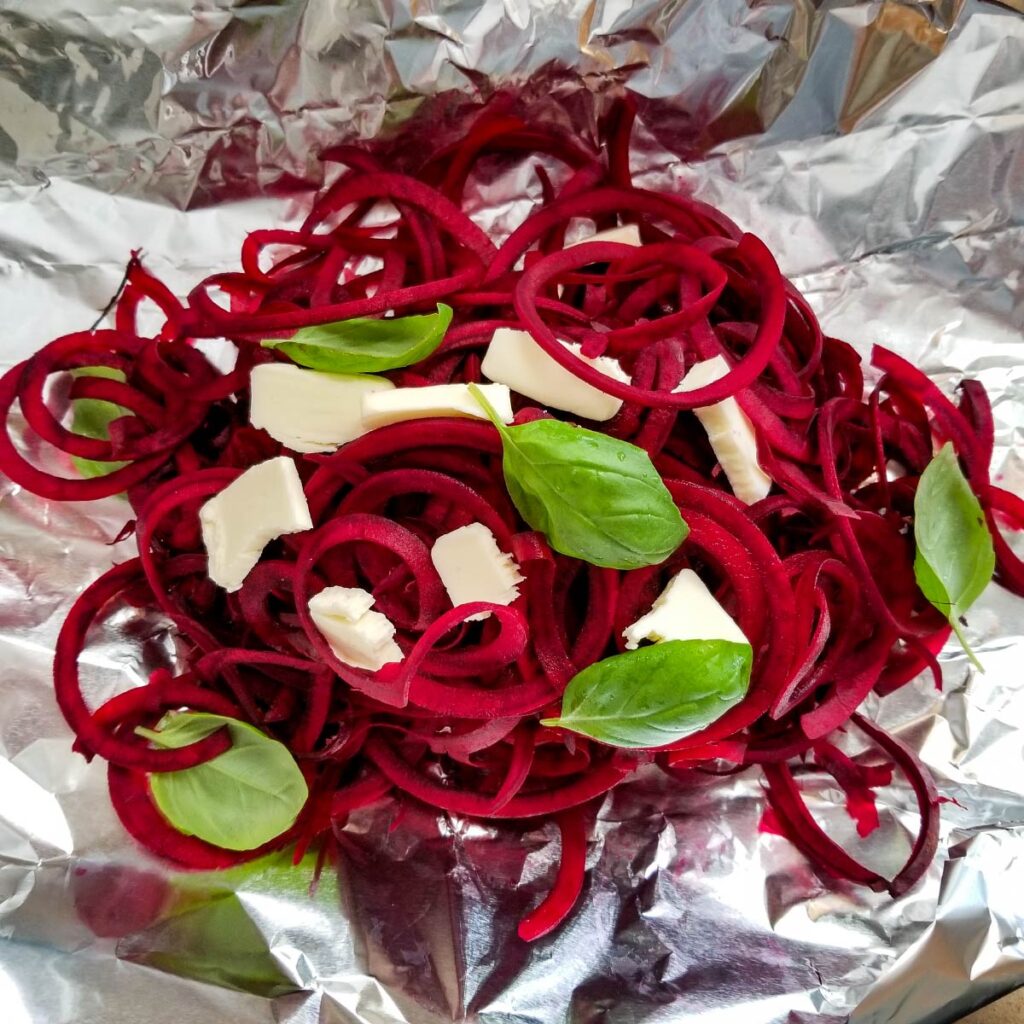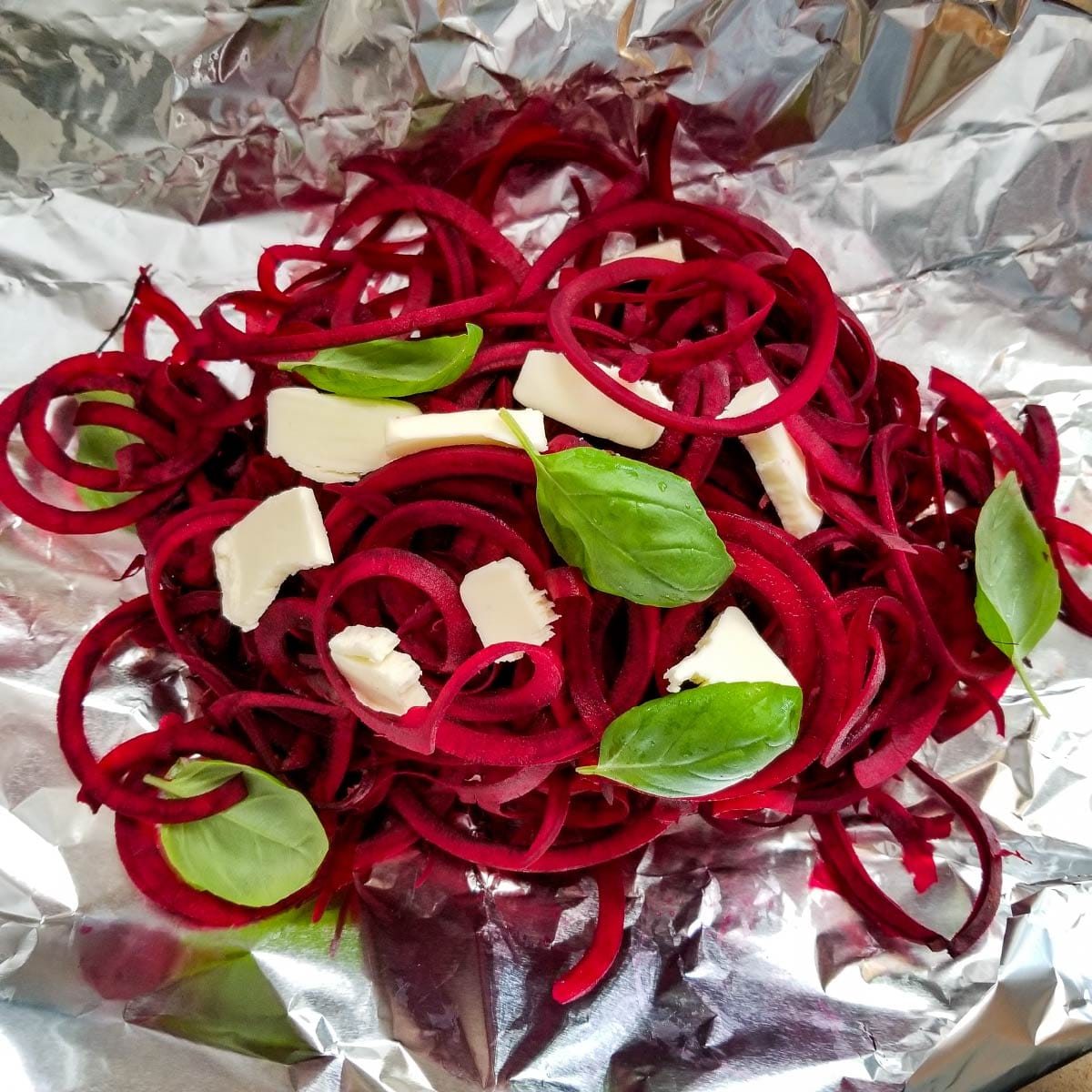 We were deciding on what to make to go with our burgers the other night. I had zucchini, squash and beets to use up so I made some foil packets for the beets. We also made some veggie noodles with garlic sauce (tho we are going to do these in a foil pack one day soon too.)
The spiralizer we use is a KitchenAid attachment, it goes right onto the front of our mixer. There are many other spiralizers out there as well that don't require a mixer or any other equipment to run.
To spiralize the beets, please follow the instructions on the spiralizer you have. Or many times you can even buy vegetables that have been spiralized already in the produce department at your local supermarket.
Cooking the spiralized beets in foil packets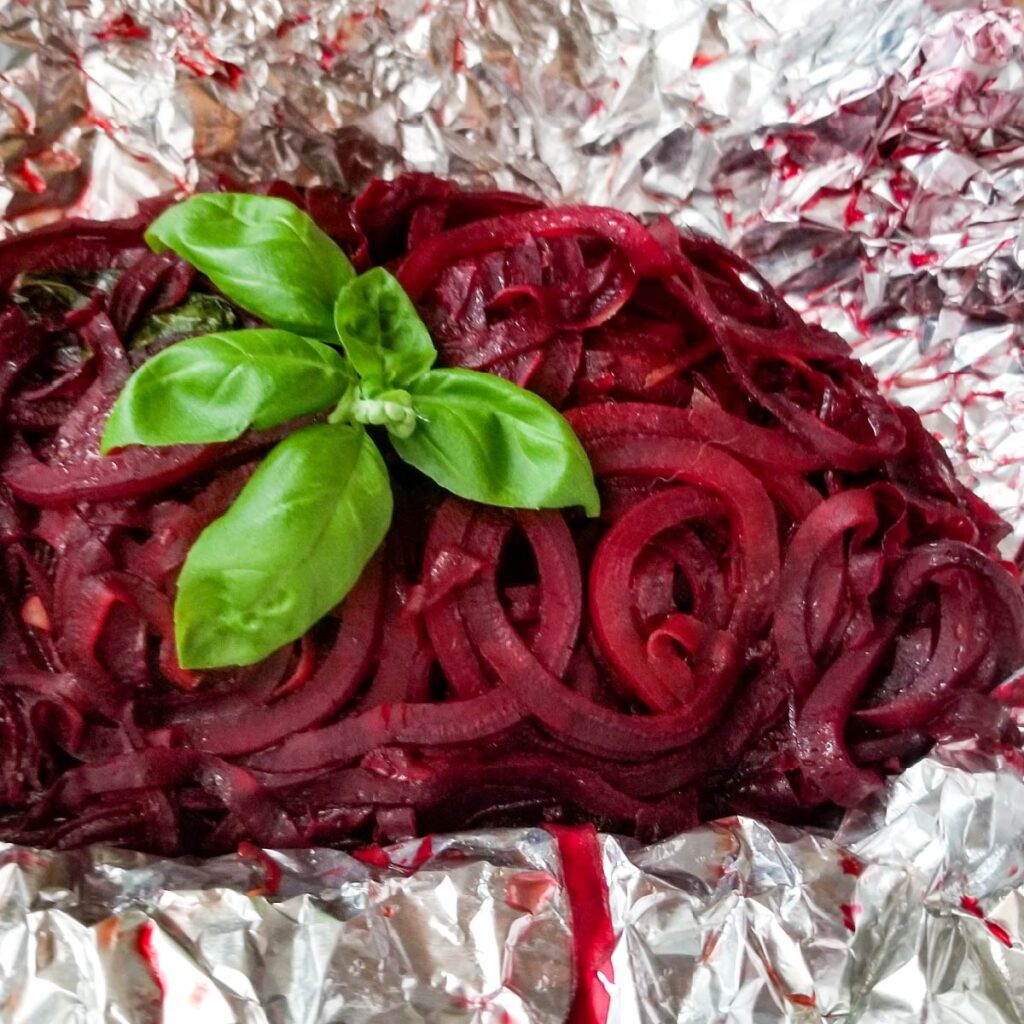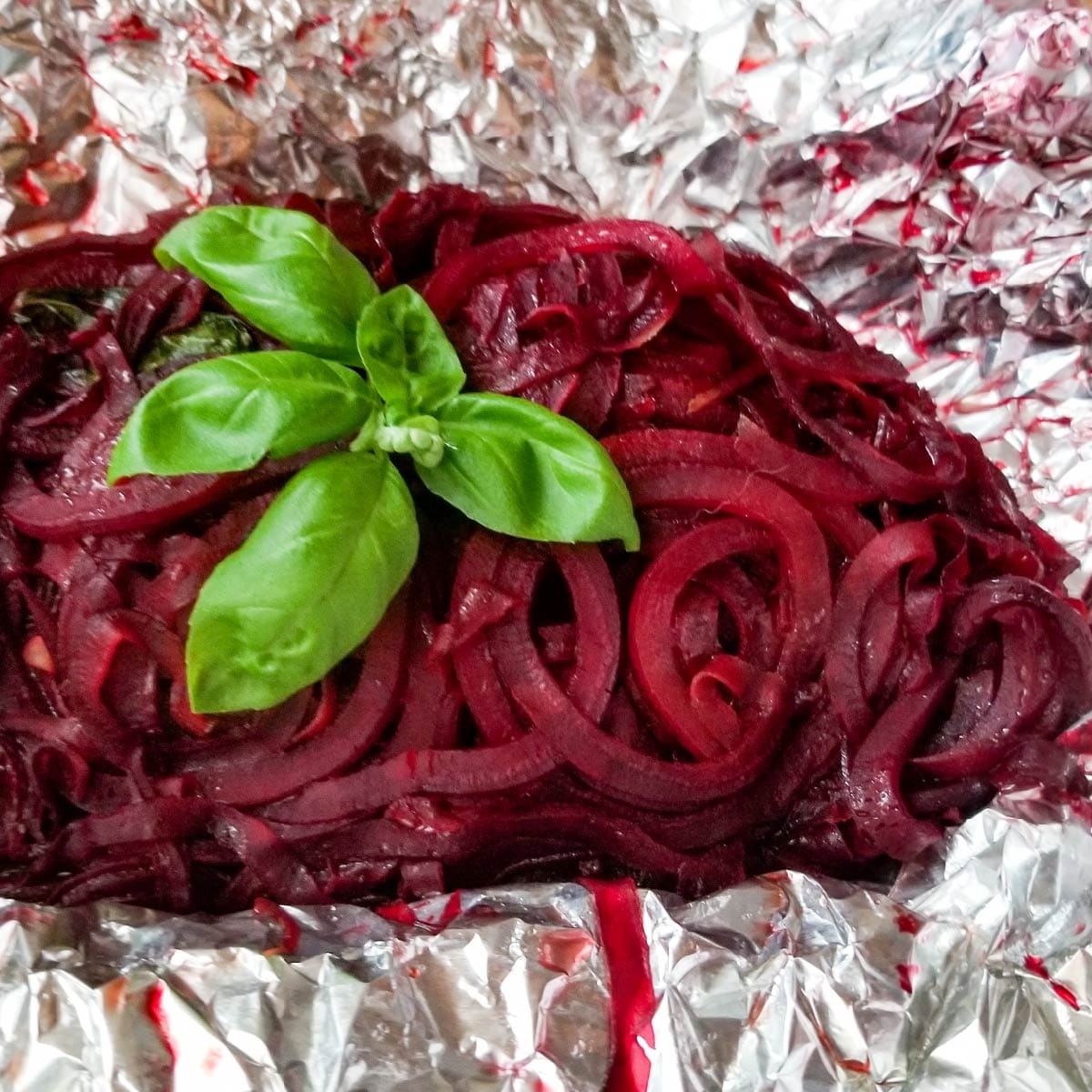 This is so simple and even the kids said "mom, do not change this at all." I would love to try them with mint one day too.
One fresh beet spiralized is usually enough for a family to have as a side. If you do more then 1, only 1 should be in each packet.
Butter and basil are the only 2 ingredients here besides the beet. Slice the butter into thin slices to place over the beets so it melts evenly. We highly recommend fresh basil leaves, but you can use dried basil as well - tho we have only used fresh.
To close the foil packets - place the ingredients in the middle of the foil. Fold opposite ends over toward the middle and then fold the other opposite ends over to meet. Seal them together with a quick fold on the top.
The beets can be cooked on direct heat if burners are on low or even indirect heat. The cook time does vary based on where you place them on the grill. Direct heat is about 7-10 minutes while indirect heat is closer to 20 minutes. They will be cooked to desired tenderness as they are safe to eat raw and do not need to be cooked to a certain temperature to be safe.
Other great grilled dishes
Recipe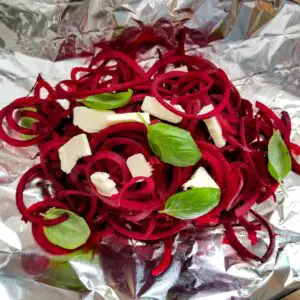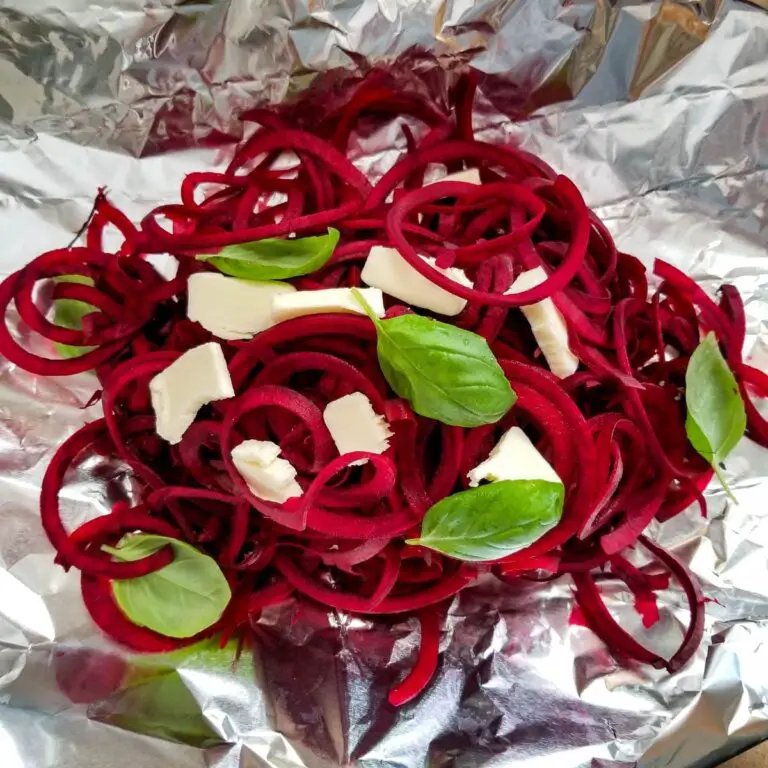 Spiralized Beets in a Foil Packet
These spiralized beets can be placed on the grill along side other dishes. They are easy to make and have just 3 ingredients.
Ingredients  
1

beet

spiralized

2

tbsp

butter

8

basil leaves

see notes
Instructions 
Preheat grill over medium heat or as needed for other foods cooking with the beets.

Place the spiralized beets on a large piece of foil.

Slice the butter into thin slices and place them across the top of the beets, spread out so it melts evenly.

Place basil leaves on top spread across.

Close up the foil packet by folding opposite ends together and repeating for other ends. Put a fold in the top of the second set of ends to seal it off.

Cook on the heated grill for about 7-10 minutes if on direct heat (burners on low) or about 20 minutes if indirect heat. see notes

Enjoy!
Notes
Nutritional values are estimated.
We have only used fresh basil for this, but you can substitute dried basil - about 1/2 tsp
Beets can be eaten raw so you will be cooking until desired consistency, not a required temperature.  Depending on how hot the grill is inside, you might need to adjust the time for indirect heat.
We calculated this as 4 servings since they are usually a side vegetable and not a regular side dish.  You could stretch it to 5-6 servings for a side vegetable.
1 beet makes a bit so we do recommend only 1 beet per foil packet if you are making more.
Nutrition
Calories:
60
kcal
Carbohydrates:
2
g
Protein:
1
g
Fat:
6
g
Saturated Fat:
4
g
Cholesterol:
15
mg
Sodium:
67
mg
Potassium:
67
mg
Fiber:
1
g
Sugar:
1
g
Vitamin A:
220
IU
Vitamin C:
1
mg
Calcium:
3
mg
Iron:
1
mg