Cooking with a slow cooker can be an incredibly convenient and satisfying way to make delicious meals without spending hours in the kitchen. With the help of a slow cooker, you'll be able to take pleasure in coming home from work every night to a finished meal that has been slowly simmering away all day.
But before you pick out your ideal appliance, there are a few important factors that you need to consider when selecting the right one for your kitchen. Read on to find out what these key components are so you can choose the perfect slow cooker!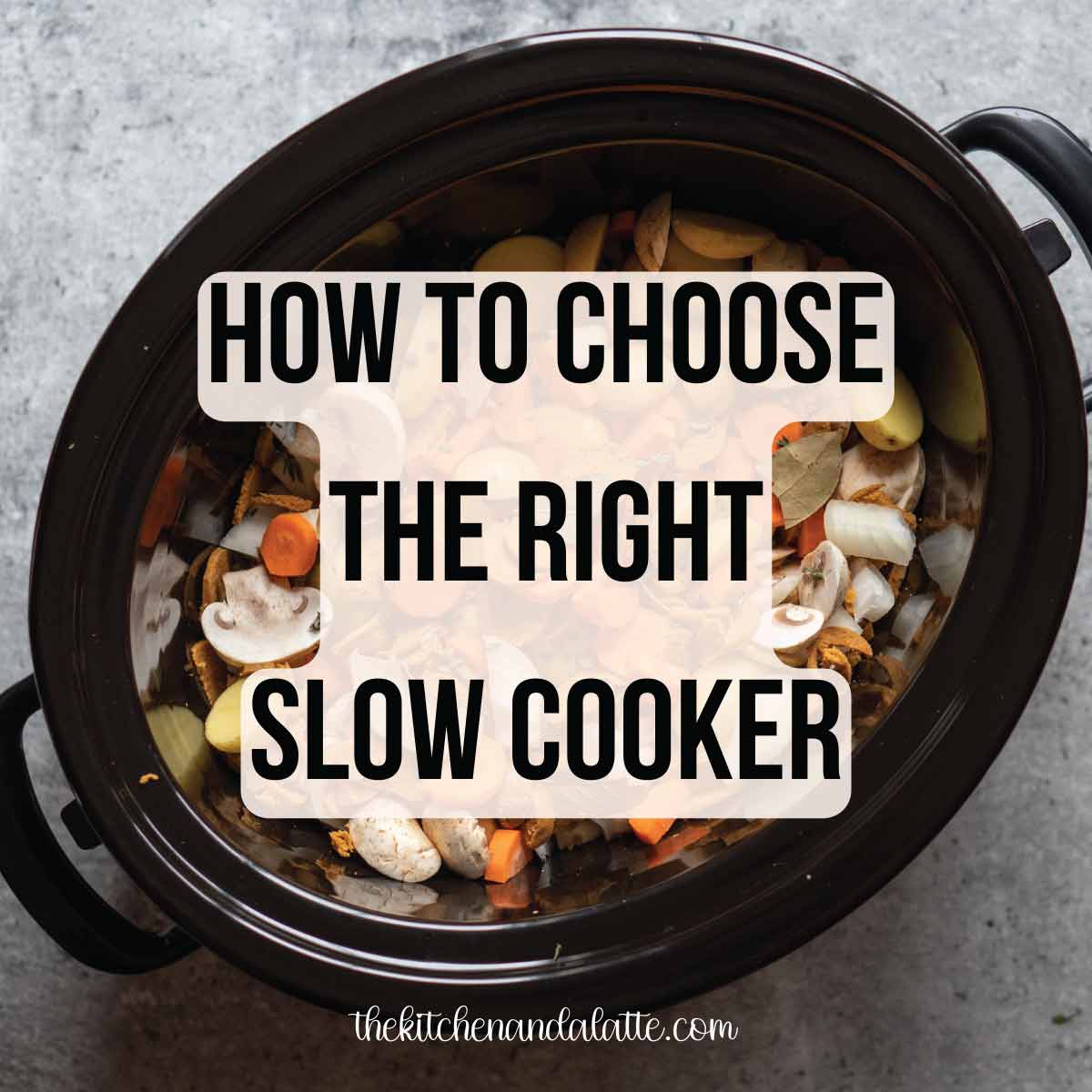 If you already have one - start with any slow cooker you currently have and see if you can make it work for your household. See if you like the dishes it creates and if slow cooking works well for you and your family.
If it does and you're ready to shop for a new model, use the tips below to guide you in your purchasing decision. You may even decide that you don't need a new one yet! One of mine was over 20 years old when I got rid of it (it got dropped or it probably would have been going strong still.)
Jump to:
Slow Cooker Sizes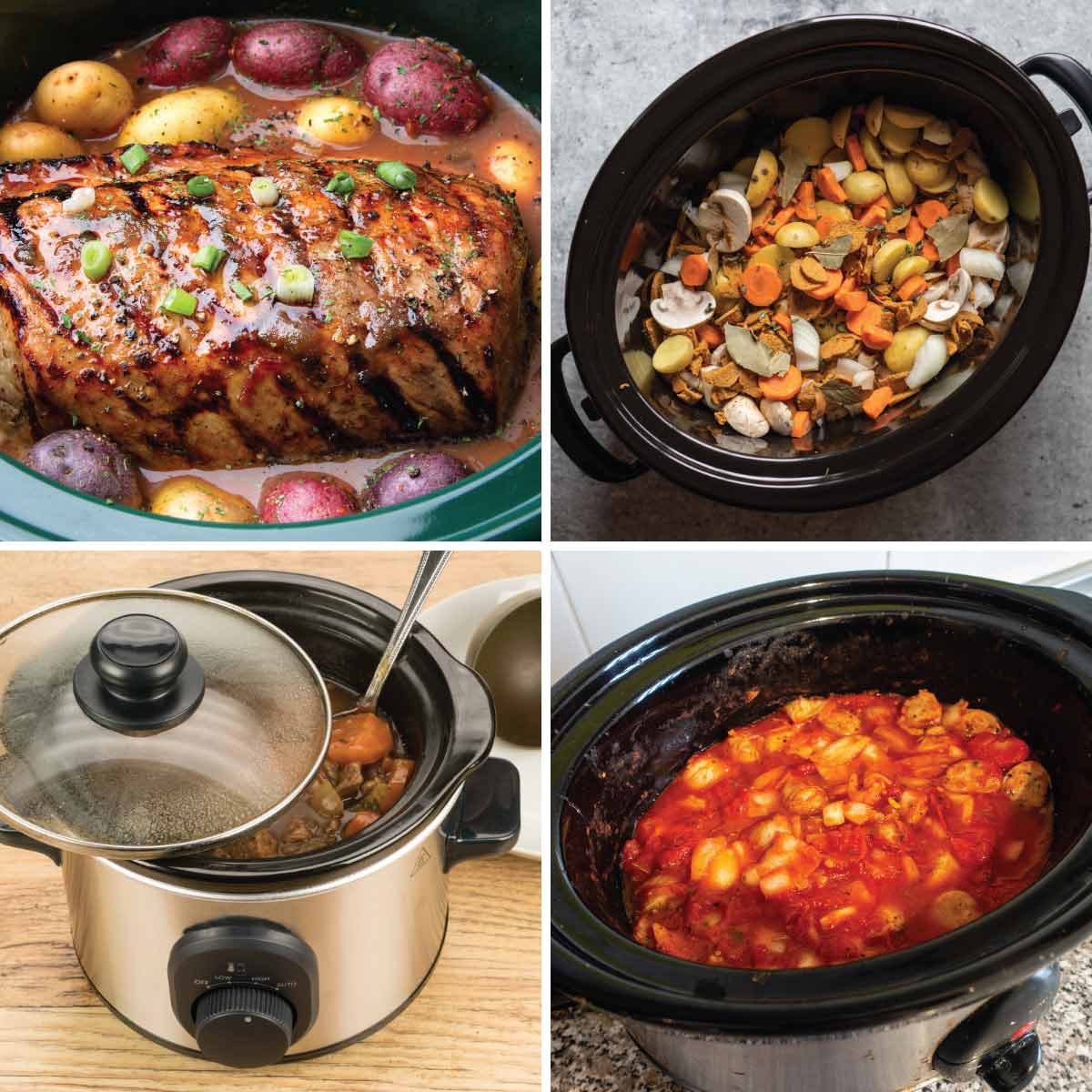 There are many different sized slow cookers. I have 3 different ones - a 7 quart, a 6 quart (used most often) and a casserole (13x9.) My 7 quart is usually for when we go to get togethers while my 6 quart gets used for most meals, including our slow cooker cheesesteaks. Our casserole Crock-Pot is used for dishes like slow cooker lasagna - yum!
Think about how many people are you feeding and the meals you plan to prepare most often. If you are planning on making mostly main meals, soups and stews for a family of four to six people, a six quart model will be your best bet. If you're doing a lot of cooking for crowds (church potluck anyone?), you may want to go with a bigger model. And if you're cooking for two, or only plan to make side dishes and desserts in the slow cooker, a four quart one will suffice.
If you're not sure what to get, stick with the standard six quart version. Now if you want to make casseroles in it, the casserole slow cooker is great to have too! But note that it is best for casseroles, not all dishes.
Popular Brands
There are quite a few different brands out there that make quality slow cookers. Favorites include Crock-Pot (of course…), Hamilton Beach, Cuisinart, and Kitchen-Aid. Sticking with a popular brand not only guarantees you'll get a quality product, it also makes it easier to find parts down the road, should for example the lid fall and break.
I have had to replace parts to mine before. I can tell you that Crock-Pot is good about stocking replacement parts (like lids that I have broken.) While Kitchen-Aid is a great company with great customer service (and quality products - I have a lot of their other products), I have never had one of their slow cookers.
The 2 brands we have here are Crock-Pot (my 7 quart and casserole) and Ninja (my 6 quart multi-cooker.) Ninja no longer makes the multi/slow cooker we have.
Used or New?
One question we haven't addressed yet is if you need to buy a new slow cooker at all. As mentioned earlier, start with what you got if you have one. After that, it's perfectly fine to look for a used model. I had one that was 20+ years old working perfectly until I dropped it.
Quite often you can find one pretty cheap at a thrift store. You may even have a friend or family member who will give you theirs. So many people have a slow cooker sitting in the back of their kitchen cabinet and never use it. Ask around, you may get lucky and find somebody who is looking to get rid of theirs.
I used to have more then I do now (used to make a lot of food for gatherings) and I donated a couple when I wasn't using them anymore.
What Bells And Whistles Do You Really Need?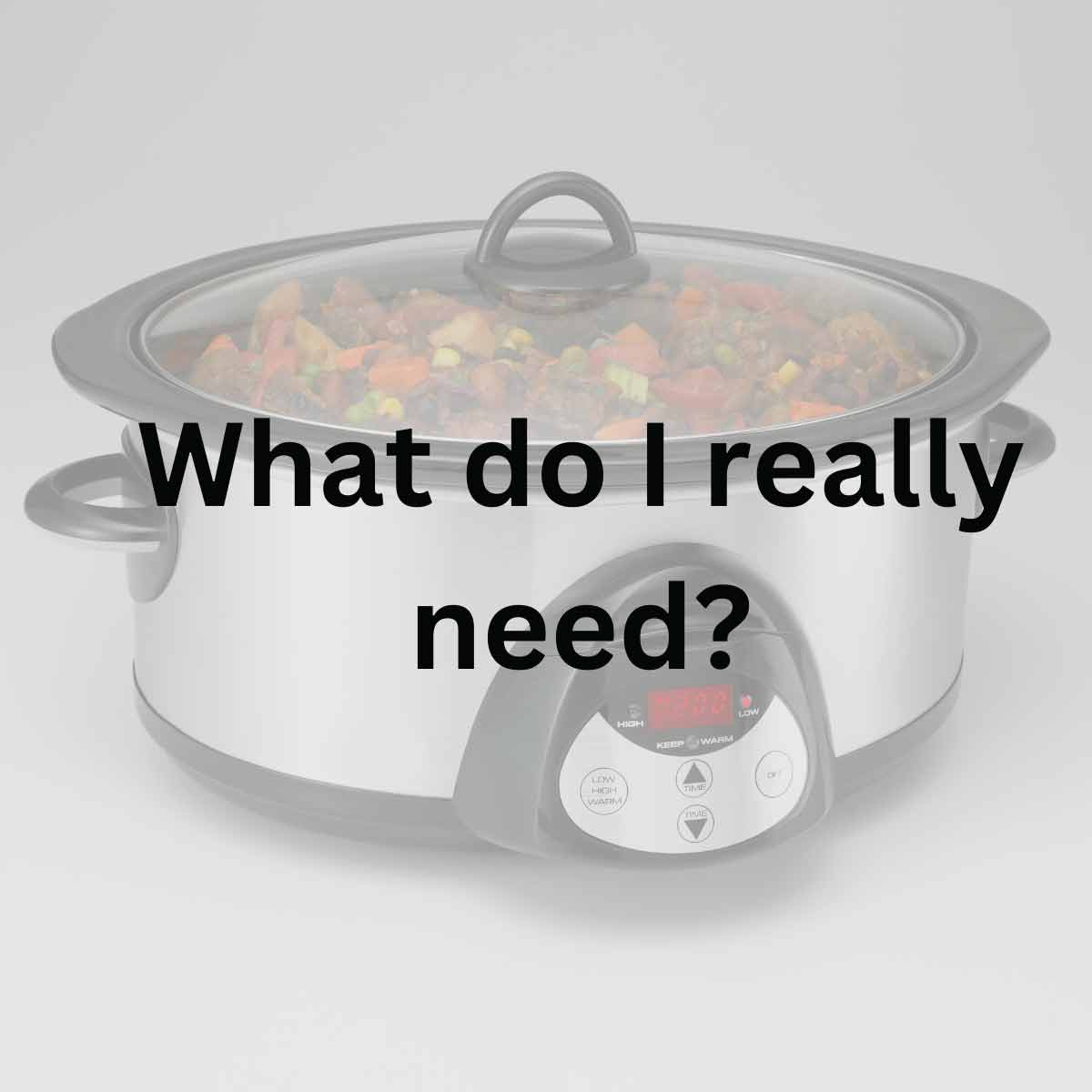 There are some fancy slow cooker models on the market today. And there are some budget-friendly basic models that function with no more than a high and low cooking feature. The basic slow cookers may do everything you need your slow cooker to do!
If you are new to slow cooking
I recommend you start with a simple one that has high and low settings (all of them do this.) A keep warm cooking feature is great but may not be needed if you are going to be home at the time dinner is done. I honestly used my keep warm setting more when I cooked for a gathering then I do at home for the family dinner.
A basic slow cooker is likely going to get the job done in your kitchen. Upgrade later if you feel you want more features. Over 20 years of slow cooking and 2 of my slow cookers still only have low, high and keep warm on a dial to turn. My other is a multi-cooker that I did upgrade to (and yes I love) but I only upgraded because it was a Christmas gift, not because my others didn't work.
While slow cooking is amazing, it's not for everybody. It is best to try out a cheaper model and then add more (or upgrade) later after you know you love it.
You can always add more later
Having more than one slow cooker is definitely not out of the question (I have 3) if you enjoy this way of cooking. You can fix pulled pork on one, and still have room for Mac and cheese or a squash casserole to cook away in the second one as a side dish.
And smaller models come in handy for hot dips, appetizers and desserts. Multiple slow cookers really come in handy around the holidays when you're fixing a variety of different casseroles and the likes. If you can prepare a few of them in your slow cookers, you don't have to worry about using up precious oven time. And it's one more thing you can set and forget.
So it's ok to start basic and add as you go!
If you are looking to upgrade
Think about what functions you really need. Retractable cords are nice, but it's not a required feature. Having a "keep warm" feature is helpful but maybe you don't need it if you will be home by the time dinner is ready.
Do you need a programmable timer so the chili can start cooking itself even if you're out running errands or just getting back to the office after a quick lunch? Or maybe you want to be able to set the time for 8 hours and have it switch to keep warm automatically after it's done.
If you travel to gatherings with your slow cooker, you may even want a locking lid. This is to keep it in place while moving the slow cooker. A locking lid is not to be used during cooking so if you are not traveling with it, you won't need a locking lid.
Take a look at what's on the market and decide what you can and can't live without. Then you can decide which slow cooker you really want and need.
Consider the price
I know that price can be a barrier for many people. If it is, I totally understand! It's a tough time (at the time of writing this the economy was in rough shape.) BUT I personally would go with a cheaper model from a reputable company then a fancy one by a brand you never heard of.
While all the bells and whistles may be nice, they are not required to make a great meal. Pick a reputable company, one that stands behind their products. A basic Crock-Pot model will slow cook your food just as good as their more expensive fancy models.
My 7 quart slow cooker is a basic model - has a dial to switch between off, low, high and keep warm. That's it! Same with my casserole slow cooker.
Research different models
This section contains affiliate links. As an Amazon associate, I earn a commission (at no extra cost to you) when you make a qualifying purchase through any of my links. Thank you for your support!
Head on over to look at slow cookers on Amazon or take a walk through the small appliance section of your local super store. See what your options and price ranges are.
Take a look at the reviews on Amazon, Walmart or other big stores. Take a look at what people like and don't like about the models. Then make an informed decision and get your first slow cooker.
The ones that I have (slightly different models now since some of mine are a bit older):
7 quart Crock-Pot brand slow cooker - A classic with just the basic low, high and keep warm functions on a dial with no digital screen.
Casserole Crock-Pot brand slow cooker - At the time of writing this, there were 3 options at this link. We have the basic turn dial that has low, high and keep warm. You may even find it in a local store, but if you can't it's ok. You can make most casseroles (even our lasagna) in a regular slow cooker if needed.
Ninja 6 quart multi-cooker - unfortunately I cannot find what we have now or even anything like it. It is a few years old and as much as I love Ninja, they change their products often.
Conclusion
Now that we've gone over the basics of slow cookers, you should have a better idea of what to look for when purchasing one. If you are new to slow cooking, start out with a basic model and see how you like it. Once you've gotten some experience, you can then evaluate the features of the more advanced models to see if they are worth the extra money.
Do you have any questions about slow cookers that we didn't cover? Let us know in the comments and we will do our best to answer them.