Looking for a great and easy vegetable to go with your dinner? Instant Pot corn on the cob is the easiest way to make corn and you don't watch the pot boil!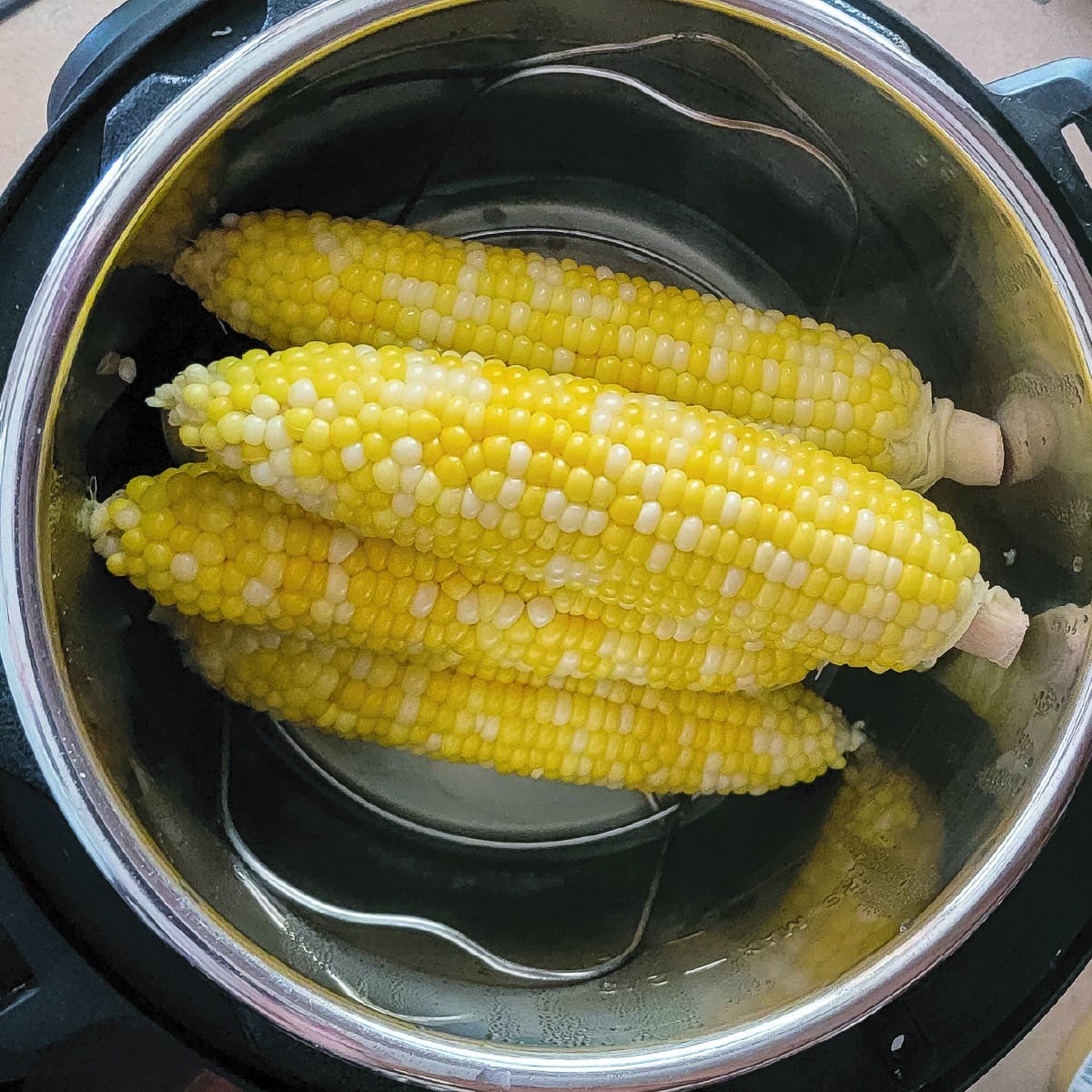 Being a born and raised Jersey girl, I love my corn on the cob! It is something that most of us here in New Jersey look forward to every summer - Jersey sweet corn.
Growing up we always boiled corn on the cob with a little bit of milk, a little bit of sugar and a whole pot of water. It does taste amazing this way, it is all I knew growing up! It wasn't until my 40s when I ventured into pressuring cooking it.
Who knew that Instant Pot corn on the cob would taste so good that even a Jersey girl would love it? Well it turns out that it is quite amazing!
Which Instant Pot should you use? This depends on how many ears of corn and how big the corn is. We like to leave our corn whole, but you can cut it in half as well. We use a 6 quart for up to 6 ears of corn, otherwise you will want an 8 quart or 10 quart. As long as the corn fits, you can use that size. You can always use the bigger IP but you can only fit so many ears in the 6 quart.
Why cook corn on the cob in the Instant Pot?
Mainly for how easy it is! If you have ever boiled corn, you know it takes some time and then if you put too much milk in you have to watch out for a mess. If it boils over, it's really hard to clean off the stove. We won't talk about how I know this!
On the stove you have to wait for the water mix to boil to time the corn. If you accidentally go too long, your corn is overcooked. With the Instant Pot corn on the cob, you put it in and set the timer. It's best to do a manual release, but if you don't do it right away it won't be devastating like over boiling the corn.
I have actually had success with (dare I say it) supermarket corn when cooking it in the IP. I am not a big fan of supermarket corn, but tried it to make sure of times for it as well. Here is the supermarket corn, it turned out pretty darn good for not being fresh corn: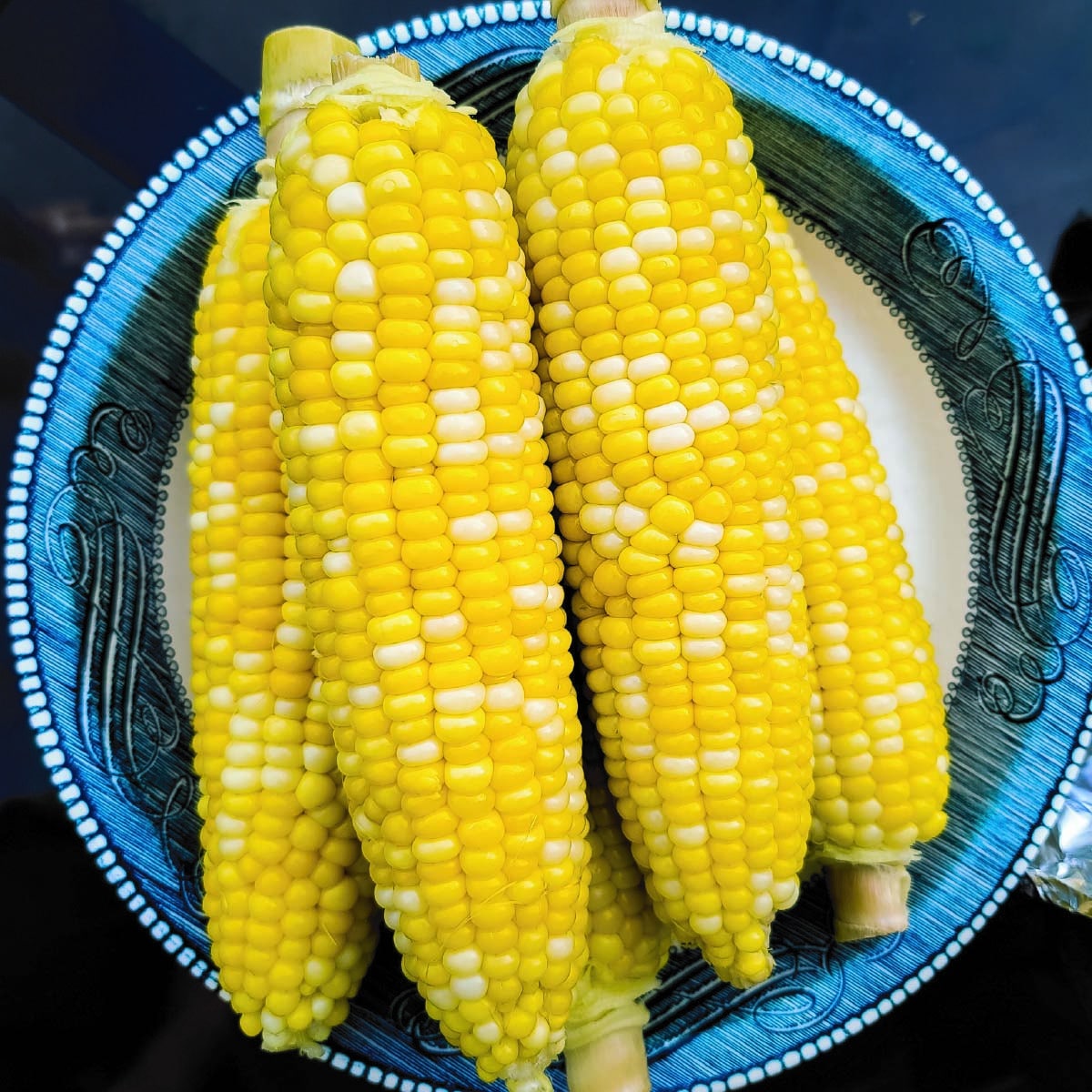 Pressure cooking makes a lot of things easier. Learn how to cook squash in the Instant Pot and how to cook pumpkin in the Instant Pot to see how much easier it is! It isn't the best for everything, but some things are so much easier in it then traditional cooking methods.
Frequently asked questions
Is supermarket corn on the cob the same as fresh corn?
No not quite. Usually supermarket corn on the cob comes around at the start of the season and it isn't corn that sat on the shelf for months (it wouldn't last that long), but it is not usually picked the same day you are buying it.

Fresh corn on the cob is corn that is picked that morning. When you buy corn from a local farm stand, it is usually picked early that morning. Try to pick farm stands that use umbrellas (if the corn is in the back of a pickup) or some form of shade so your corn isn't in the sun all day after picking.
What do you put on corn on the cob?
There are many toppings that go well with corn! I like the basic butter, salt and pepper here personally. Other great things are parmesan cheese, chipotle and garlic - there are many good things to add!
Can I put butter on my Instant Pot corn on the cob before cooking?
Yes you can add a couple of slices to the top of the ears of corn before cooking on high pressure. We do not do this because we love the dripping butter on ours so we put the butter on the corn just before eating.

In the summer we have a stick of butter just for corn - one that you can smear all over your corn at the table. It makes a mess of the butter when you do this, but it is totally worth the fresh butter taste!
Why do you leave the little part of the stalk on it?
We don't always use the corn holders here. I do break most of it off, but I like to leave a little piece to hold onto. It is just how our family has been doing it since I was a little kid.
You may also enjoy:
Recipe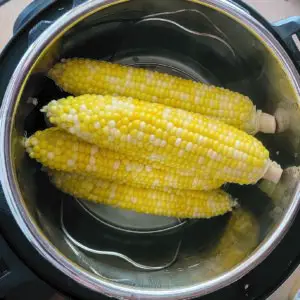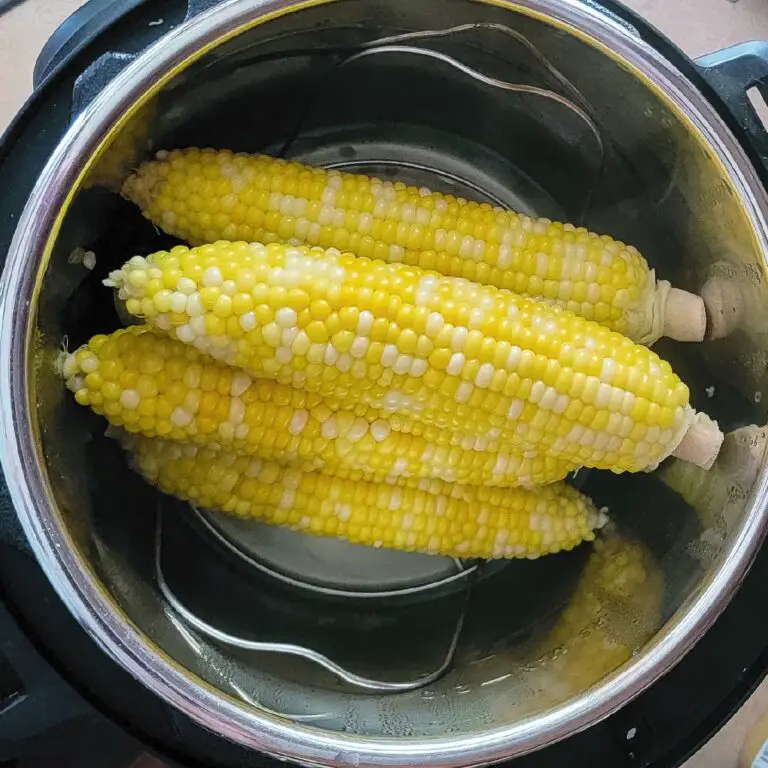 Instant Pot Corn on the Cob
Instant Pot corn on the cob is the easiest way to cook corn! You will never boil them again once you try it.
Ingredients  
6

ears of corn

or as many as you can fit

⅔

cup

water

see notes
Instructions 
Shuck the corn and remove as much of the silky hairs as possible. Break the piece of stalk off to a little piece or all the way off.

Place the trivet in the bottom of the inner pot of your Instant Pot. Add water to bottom.

Add the corn and place the lid with the vent to sealing. Cook on high pressure (manual) for 2 minutes.

Release pressure manually with a quick release. Carefully remove corn from the pot, it will be hot, and enjoy!

Top with your favorite corn toppings - we love butter, salt and pepper.
Notes
Nutritional values are estimated and based on corn with no toppings.
You can make as many ears of corn as you want that will fit, the cook time will stay the same.  
For 6 quart we us two thirds cup water, 8 quart we use 1 cup and for 10 quart I would use 1 and 1 third cup water.
If you are using supermarket corn, add 1 minute to cook time.  
Nutrition
Calories:
77
kcal
Carbohydrates:
17
g
Protein:
3
g
Fat:
1
g
Saturated Fat:
1
g
Trans Fat:
1
g
Sodium:
15
mg
Potassium:
243
mg
Fiber:
2
g
Sugar:
6
g
Vitamin A:
168
IU
Vitamin C:
6
mg
Calcium:
3
mg
Iron:
1
mg