An easy and delicious dish that your family will love on a busy night! The Instant Pot taco rice has the flavors of a taco bowl and will be done in about 35 minutes.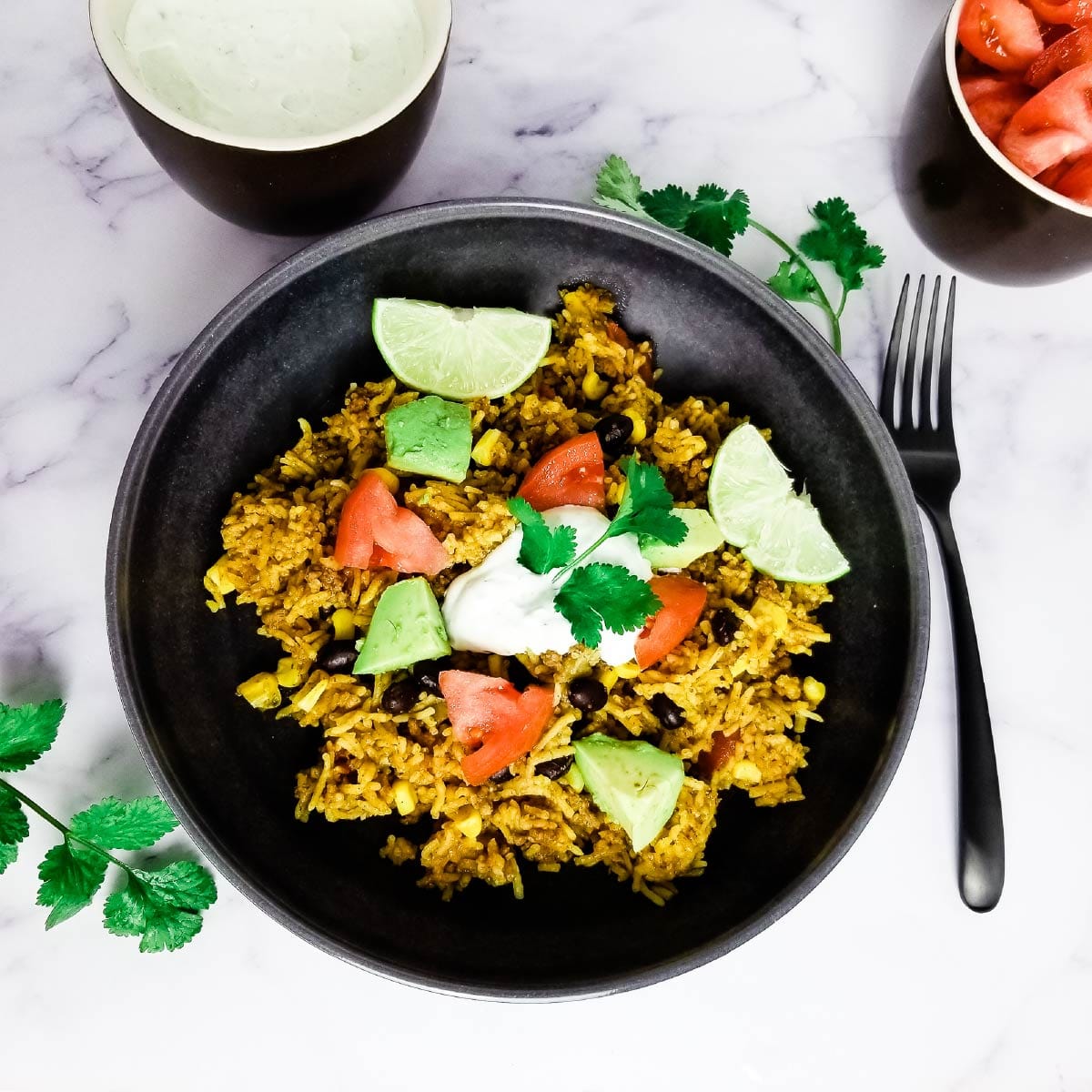 Have you ever wanted a taco bowl but you don't want to dirty several dishes to do so? We have the rice, the beef, the beans, the corn and then the toppings... That can be a lot of dishes!
That's what is great about making the taco rice in the Instant Pot! One dish for all the cooking and then just a couple bowls for the toppings, depending on what you want the toppings to be.
We add a sour cream topping to ours and we share with you how to make it. If you have a mortar and pestle, the flavor will be the best. It can be made without as well. I use them in our house almost every night, it is well worth the small investment (usually around $30 or less) if you don't have it!
How do you make taco rice from scratch?
Pretty easy really! In our recipe we don't use a taco seasoning packet. We use spices that we also put together when making tacos. So when we say it is from scratch here, it is!
You pick out the rice you want to use, we prefer basmati for this but others are good too. You will need to adjust your cook times if you use any rice other then basmati.
If you are using meat (it is optional but is how we make it), you pick out the meat you want to add. We recommend either beef or chicken here, but you can use your favorite. Typically we use beef for anything tacos here and it is how it is written. Feel free change it up!
Broth is better then water here for flavor. If you are making the Instant Pot taco rice with ground beef, use beef broth. You can use chicken or beef broth if using chicken. Vegetable broth works well for a meatless meal.
Grab a can of diced tomatoes, a can of corn and a can of black beans to finish it off in the pot.
Lastly you will need to pick your favorite toppings - this is optional but we love it served with tomato chunks, avocado and a sour cream mix for ours. Get creative with this, it is a fun dish to make!
How long does rice take in the Instant Pot?
This really depends on the rice you are using. Just like boiling rice, the times for each rice varies.
Basmati rice takes about 6 minutes with a 10 minute natural release. This is our favorite rice for making a rice dish like this. We don't recommend it for soup in the Instant Pot (it absorbs all extra liquid), but for a dish it is a nice textured rice.
Brown rice takes 23 minutes with a 10 minute natural release. Tho you can use brown rice for this dish, we have done it a few times before, the texture isn't as perfect as the jasmine or basmati. Brown rice is better for soups in the IP.
Jasmine rice takes 4 minutes on high pressure with a natural release of 10 minutes. This is another great everyday with any meal kind of rice. Tho we usually prefer jasmine rice with a more simple approach (a side dish or to be topped with stir fry.)
Simply recipes has a great post about cooking rice (especially for the white rice) How to Cook Instant Pot Rice. We don't use long grain white rice much here so this article we think is more helpful to you about using it then what we can provide.
Other great dishes:
Instant Pot Taco Rice
An easy dinner recipe with the flavors of a taco bowl but all in one dish! Pick your favorite toppings to make it a family favorite.
Ingredients  
1

pound

ground beef

lean preferred

1

medium onion

chopped - yellow or white is best

2½

cups

basmati rice

rinsed until water is clear, see notes

4

cups

beef broth

no salt or low sodium - see notes

14.5

ounces

diced tomatoes

15

ounces

black beans

canned, drained

15.5

ounces

corn

canned, drained
Seasoning
1½

Tablespoons

chili powder

½

Tablespoon

cumin

1

teaspoon

paprika

½

teaspoon

turmeric

¼

teaspoon

cayenne

more if you want it spicy

1

teaspoon

garlic powder

1½

teaspoons

salt

we like sea salt, but regular is good too

¼

teaspoon

black pepper
Recommended toppings
1

tomato

cut into small chunks

1

cup

shredded cheese

estimated - we use more

1

avocado

cut into chunks
Instructions 
In a small bowl, combine seasoning ingredients.

Rinse rice and chop onion.

Turn the Instant Pot onto saute and heat up.

Once hot, cook the ground beef for about 3 minutes stirring well to break it into small pieces.

Add the onions and saute for another 3 minutes.

Hit cancel

Add the broth, rice, seasoning mix and diced tomatoes to the Instant Pot.

Stir well and set to high pressure for 6 minutes.

After it is done, allow to naturally release for 10 minutes before manually releasing the remaining pressure.

Once the pin drops, carefully remove lid. Stir in the corn and black beans.

Allow to sit for about 5 minutes before serving to let the corn and beans heat through.
Toppings
Serve with toppings of your choice at the table. We recommend tomatoes, avocado, cheese and the sour cream topping.

Enjoy!
Notes
Nutritional values are estimated and so are the servings.
We recommend basmati rice and if you use a different rice, you will need to adjust cooking times.  Jasmine would be 4 minutes high pressure and brown rice would be 23 minutes high pressure.
For best cooking results, the rice should be rinsed until water runs clear.  Brown rice should be soaked for about 10 minutes before cooking.
If using regular full salt broth, you may want to reduce the amount of salt added or even leave it out and add it at the table.  This was cooked with no salt beef stock here. 
Nutrition
Calories:
847
kcal
Carbohydrates:
105
g
Protein:
37
g
Fat:
33
g
Saturated Fat:
13
g
Cholesterol:
83
mg
Sodium:
1214
mg
Potassium:
1521
mg
Fiber:
13
g
Sugar:
8
g
Vitamin A:
1770
IU
Vitamin C:
20
mg
Calcium:
227
mg
Iron:
6
mg