Instant Pot taco rice is the perfect dinner for a busy night, it's easy to make and will be done in about 35 minutes! Add your favorite toppings to this one pot meal to make it a delicious taco bowl.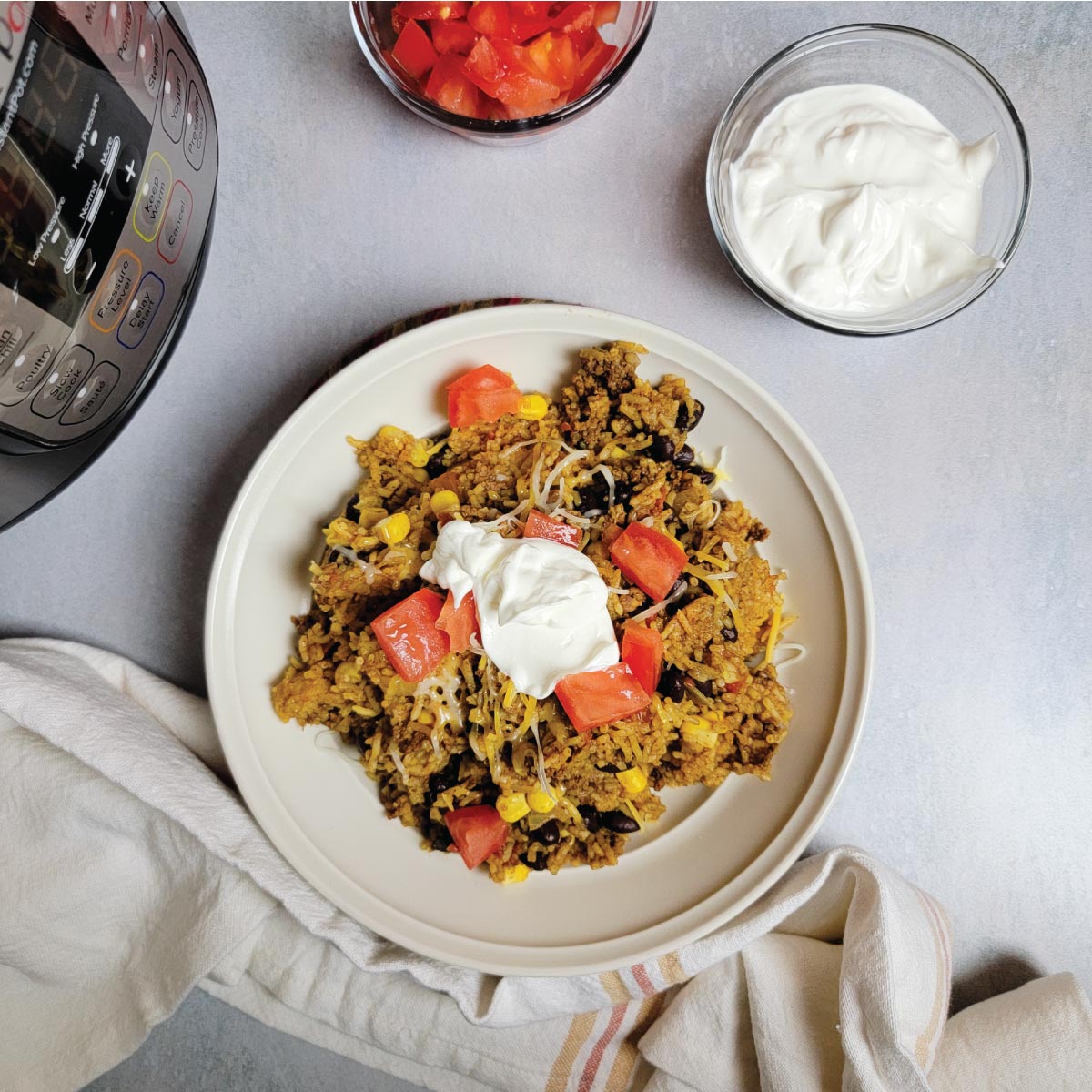 Have you ever wanted a taco bowl but you don't want to dirty several dishes to do so? We have the rice, the beef, the beans, the corn and then the toppings... That can be a lot of dishes! And really who wants a lot of dishes on a busy night?
That's what is great about making the taco rice in the Instant Pot! One dish for all the cooking and then just a couple bowls for the toppings, depending on what you want the toppings to be. Makes for an easy cleanup.
We add a lime cilantro sour cream as a topping to this, but that is optional. It is really delicious on taco pie and Instant Pot taco pasta too! I really think you will enjoy the flavor it adds and it's made with only 4 ingredients - sour cream, lime, salt and cilantro.
Jump to:
Ingredients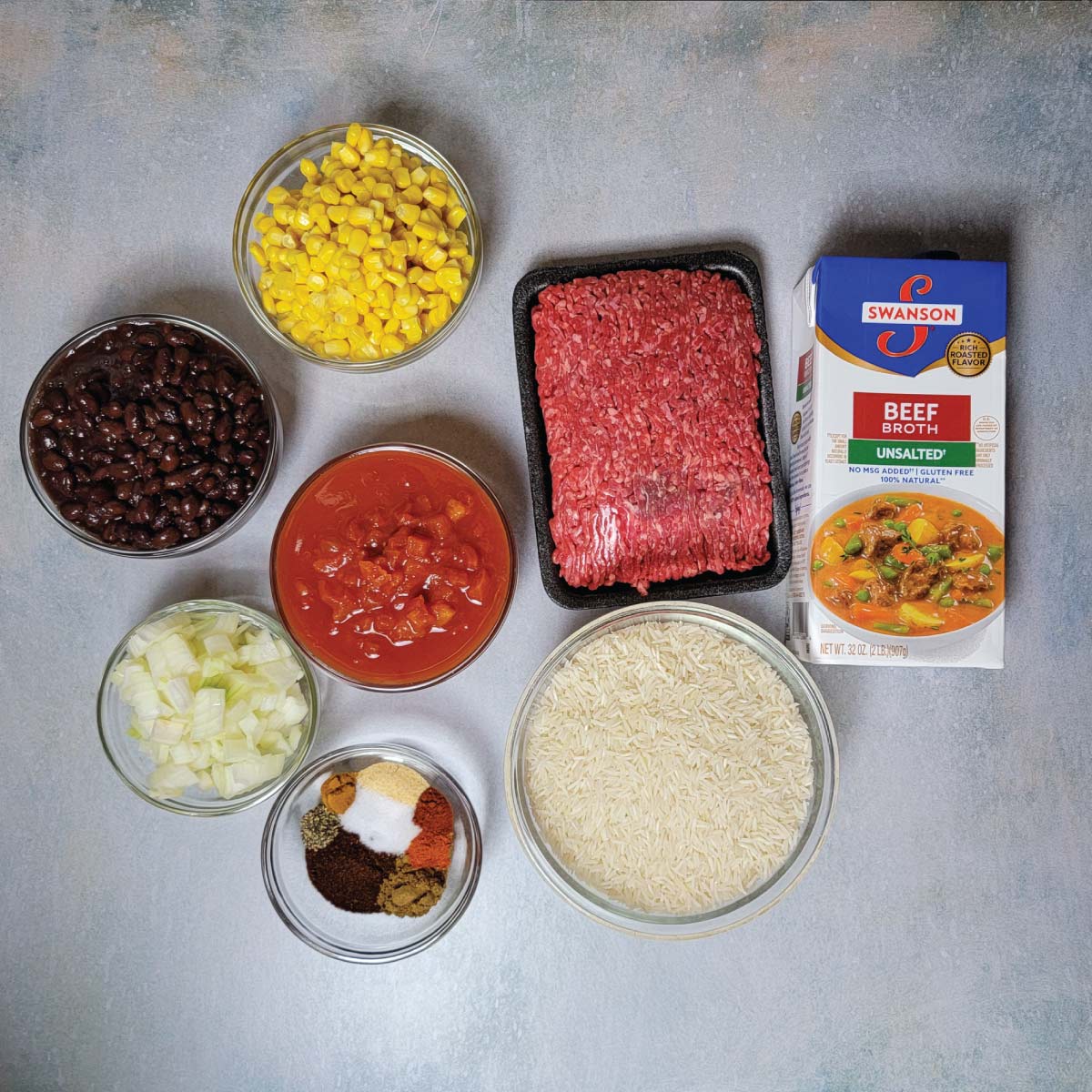 Ground beef - We use ground beef and prefer a lean beef here so we don't have to drain it. You can use ground turkey or chicken in it's place if you prefer. Please note that you will want to use some oil if you are using chicken or turkey as they tend to be more lean and more likely to stick to the bottom while sautéing.
Broth - We use unsalted beef broth here. If you use regular salted broth, you will want to reduce the amount of salt you add.
Rice - We use basmati but you can use Jasmine as well.
Tomatoes - You can use store bought or your own canned tomatoes. We prefer to use unsalted but the regular salted is ok too.
Corn - Canned corn works best for this Instant Pot taco rice. You add it at the end instead of cooking it in the dish. If using frozen, you will want to cook it before adding it.
Black beans - Canned is best but if you are using dried beans, be sure to cook them fully before adding.
Onion - We use yellow onion but you can use a sweet onion in it's place.
The spices
There are no recommended substitutions for the spices individually, but you can use a packet of taco seasoning from the store.
Chili powder
Cumin
Salt
Garlic Powder
Paprika
Turmeric (optional but recommended)
Cayenne pepper
Ground black pepper
Making the Instant Pot taco rice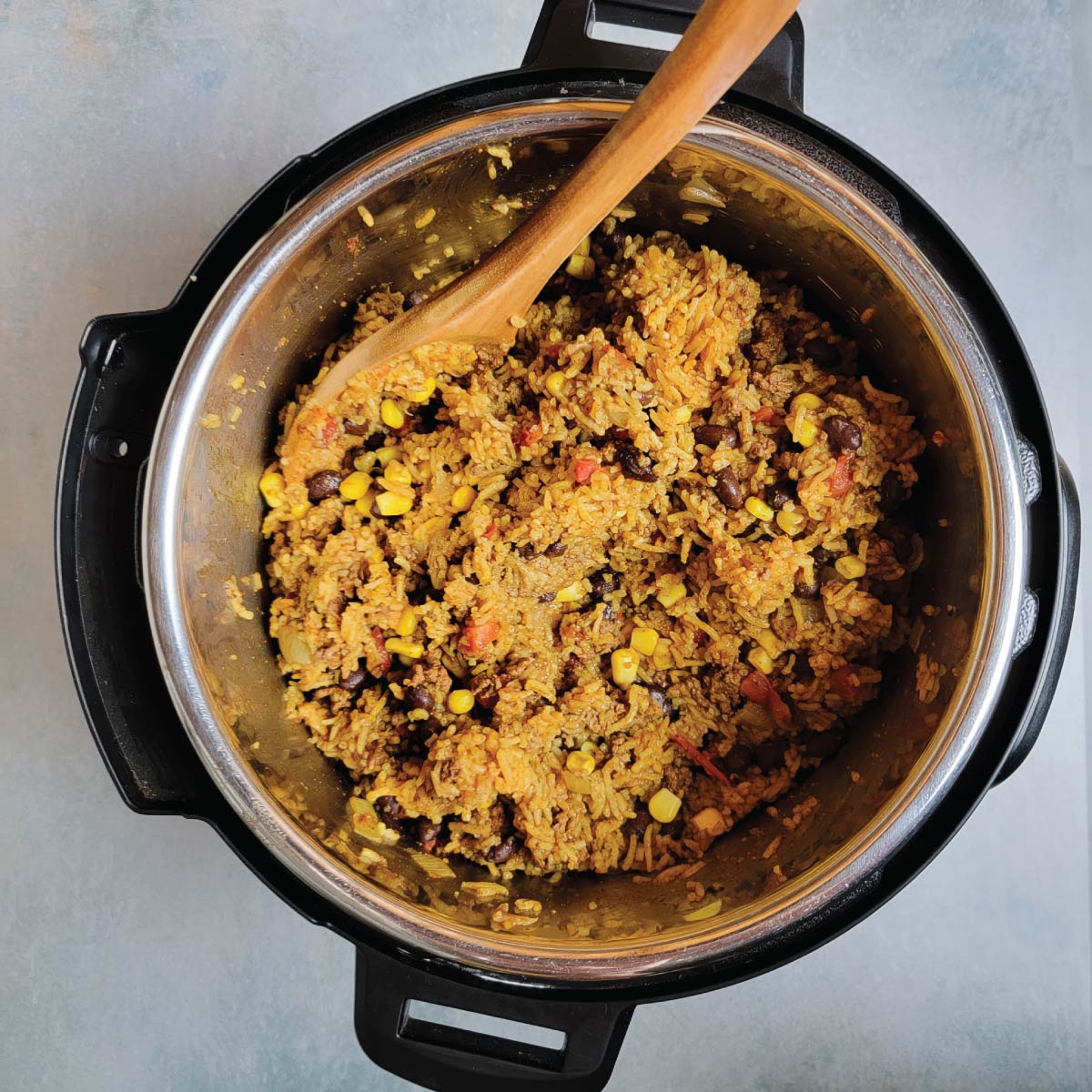 It is best if you saute the ground beef and onions first. This is for flavor and also better texture with the ground beef. It breaks up better while sautéing.
Turn your Instant Pot on to sauté. Add in the ground beef once the Instant Pot reads hot. Cook for about 2 minutes breaking it apart while cooking. Add in the onion and cook for another 3 minutes until beef is browned.
If your inner pot has anything stuck to the bottom, deglaze it now by pouring a little bit of broth in the hot pot. Use a spoon to gently scrape anything off the bottom. Hit cancel. Deglazing is important so you do not get a burn notice while cooking your Instant Pot taco rice.
Add in the rest of the broth, rice, tomatoes and all the spices. Stir well to mix it all together.
Place the lid on and the vent to seal. Cook on high pressure/manual for 6 minutes (see below for different rice.) Do a natural release for about 10 minutes before manually releasing the rest of the pressure.
Carefully remove the lid once the pin drops. Stir in the black beans and corn. Cover and allow it to sit for about 1-2 minutes for the beans and corn to heat through.
Stir again and enjoy!
Cook times for different rice
We typically use either basmati or jasmine rice in our Instant Pot taco rice, but you can use brown rice as well.
Basmati rice takes about 6 minutes with a 10 minute natural release. This is our favorite rice for making a rice dish like this. We don't recommend it for soup in the Instant Pot (it absorbs all extra liquid), but for a dish it is a nice textured rice.
Brown rice takes 23 minutes with a 10 minute natural release. Tho you can use brown rice for this dish, we have done it a few times before, the texture isn't as perfect as the jasmine or basmati. Brown rice is better for soups in the IP.
Jasmine rice takes 4 minutes on high pressure with a natural release of 10 minutes. This is another great everyday with any meal kind of rice.
Important note about the liquid ratio
You can adjust the amount of liquid going into your Instant Pot taco rice based on the texture you like and if you rinse your rice before cooking. When I say rinsing your rice, I mean rinsing until the water runs clear.
You can use anywhere from 3 and a quarter cups to 4 cups:
If you rinse your rice, you can decrease the amount of liquid by a quarter cup. Rinsing rice takes away from the amount of liquid needed to cook it.
This is a soft cooked rice, if you prefer your rice more firm then you want to decrease the liquid about half a cup as well. You can decrease the amount of broth down to 3 and a quarter cups all together if you rinsed your rice and want a more firm rice.
Rinsed rice usually cooks in a 1 to 1 ratio with liquid in the Instant Pot. With the added beef, but with the added beef and spices it's best to have at least 3 and a quarter cups of broth.
The rice will absorb all the liquid regardless of the amount you add so you adjust the liquid amount to your preferred texture in rice.
What toppings are good on the taco rice?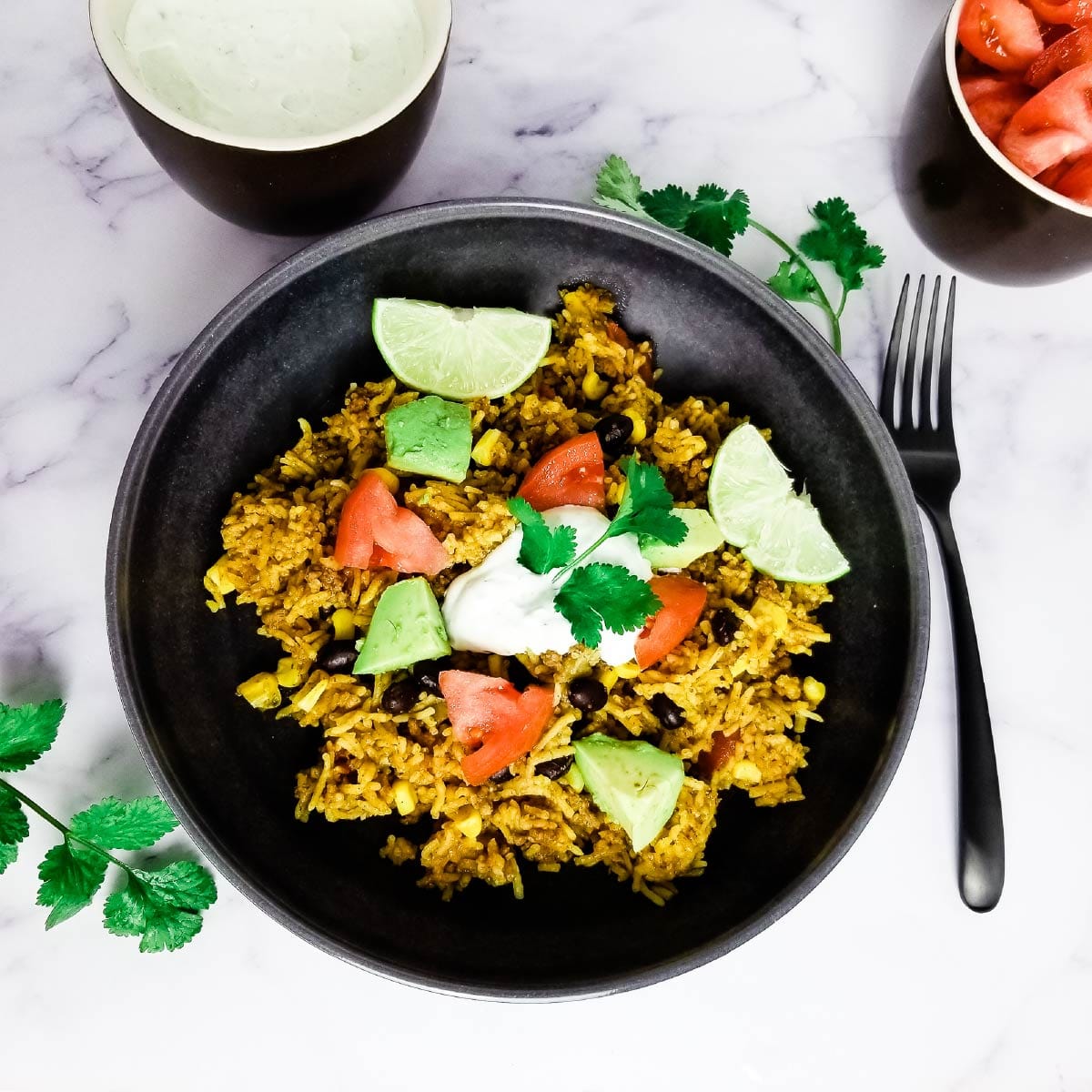 We usually add our favorite taco toppings to our Instant Pot taco rice. These are some of the toppings we recommend but of course you can add any of your favorites! Get creative, it's like a taco bowl.
Shredded cheese
Avocado chunks
Lime cilantro sour cream (or plain sour cream)
Chopped tomatoes
Lettuce
Salsa
Lime juice can be drizzled over if you like (it is good!)
Jalapenos
Frequently asked questions
Can I add frozen corn before pressure cooking?
We don't recommend it for the best flavor and texture. Flavors blend together in the Instant Pot so the corn will add a sweetness to the overall taste of your taco rice.

If you use frozen corn instead of canned corn, cook it separately before adding for best results.
How long does the Instant Pot taco rice last?
If stored in the fridge promptly, it will last about 4 days. The flavors will be more enhanced the next day and the rice will have a more firm texture, but it will be delicious still.
Can I use long grain white rice?
You can if you know the cook times for it. I have never had much luck with long grain white rice turning out on the stove or in the Instant Pot honestly so I can not safely give a cook time for it - sorry!
Other great dishes:
Recipe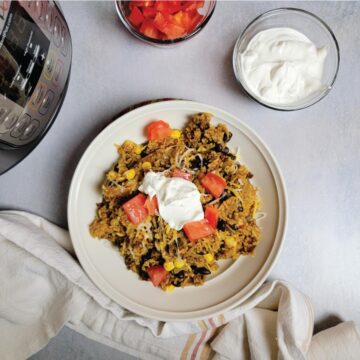 Instant Pot Taco Rice
An easy dinner recipe with the flavors of a taco bowl but all in one dish! Pick your favorite toppings to make it a family favorite.
Ingredients  
1

pound

ground beef

lean preferred

1

medium yellow onion

chopped

2½

cups

basmati rice

4

cups

beef broth

no salt or low sodium - see notes

14.5

ounces

diced tomatoes

15

ounces

black beans

canned, drained

15.5

ounces

corn

drained, see notes
Seasoning - can substitute with a taco seasoning packet
1½

Tablespoons

chili powder

1½

teaspoons

cumin

1½

teaspoons

salt

1

teaspoon

garlic powder

1

teaspoon

paprika

½

teaspoon

turmeric

¼

teaspoon

cayenne

more if you want it spicy

¼

teaspoon

black pepper
Our favorite toppings
1

tomato

cut into small chunks

1

cup

shredded cheese

estimated - we use more

1

avocado

cut into chunks
Instructions 
In a small bowl, combine seasoning ingredients.

1½ Tablespoons chili powder,

1½ teaspoons cumin,

1½ teaspoons salt,

1 teaspoon garlic powder,

1 teaspoon paprika,

½ teaspoon turmeric,

¼ teaspoon cayenne,

¼ teaspoon black pepper

Turn the Instant Pot onto sauté and heat up.

Once hot, cook the ground beef for about 2 minutes stirring well to break it into small pieces.

Add the onions and sauté for another 3 minutes.

1 pound ground beef,

1 medium yellow onion

If the bottom of the inner pot has any pieces of beef or onion stuck to it, deglaze it by adding a little broth and gently scraping the bottom of the pot with a wood spoon to release anything stuck on it.

Add the broth, rice, seasoning mix and diced tomatoes to the Instant Pot.

Stir well and set to high pressure for 6 minutes (see notes if not using basmati rice.)

2½ cups basmati rice,

4 cups beef broth,

14.5 ounces diced tomatoes

After it is done, allow to naturally release for 10 minutes before manually releasing the remaining pressure.

Once the pin drops, carefully remove lid. Stir in the corn and black beans.

Allow to sit for about 5 minutes before serving to let the corn and beans heat through.

15 ounces black beans,

15.5 ounces corn

Serve with toppings of your choice at the table. We recommend tomatoes, avocado, cheese and the sour cream topping.

Enjoy!
Notes
Nutritional values are estimated and so are the servings.  
We recommend basmati rice and if you use a different rice, you will need to adjust cooking times.  Jasmine would be 4 minutes high pressure and brown rice would be 23 minutes high pressure.
You can use a yellow, white or sweet onion.  We prefer the yellow onion.
For the broth - If using regular full salt broth, you may want to reduce the amount of salt added or even leave it out and add it at the table.  This was cooked with no salt beef broth here. 
If you rinse your rice, you can decrease the amount of broth by a quarter cup.  If you prefer a firm rice, decrease your broth by half a cup.  This is a soft textures cooked rice that wasn't rinsed as written.  Here are the suggested modifications:
Rinsed rice - 3 and 3 quarters cups broth.
Firm rice without rinsing - 3 and a half cups of broth.
Rinsed rice with a firm texture - 3 and 1 quarter cups broth.
For the corn - You are using 1 can of corn drained.  Some cans of corn are more or less then 15.5 ounces, but you want it to be close.  If you use frozen corn, cook it separately before adding.  For best flavor, do not add the corn before pressure cooking.
Nutrition
Calories:
847
kcal
Carbohydrates:
105
g
Protein:
37
g
Fat:
33
g
Saturated Fat:
13
g
Cholesterol:
83
mg
Sodium:
1214
mg
Potassium:
1521
mg
Fiber:
13
g
Sugar:
8
g
Vitamin A:
1770
IU
Vitamin C:
20
mg
Calcium:
227
mg
Iron:
6
mg