Meal planning can help you save money and time! This weeks meal plan is all about slow cooker dinner recipes. I love my slow cooker because it makes dinner so easy and easy on busy days is perfect for me.
We started these weekly plans in hopes to inspire you to try new foods and keep your stress about cooking down. In case you missed week 3, it was a budget meal plan.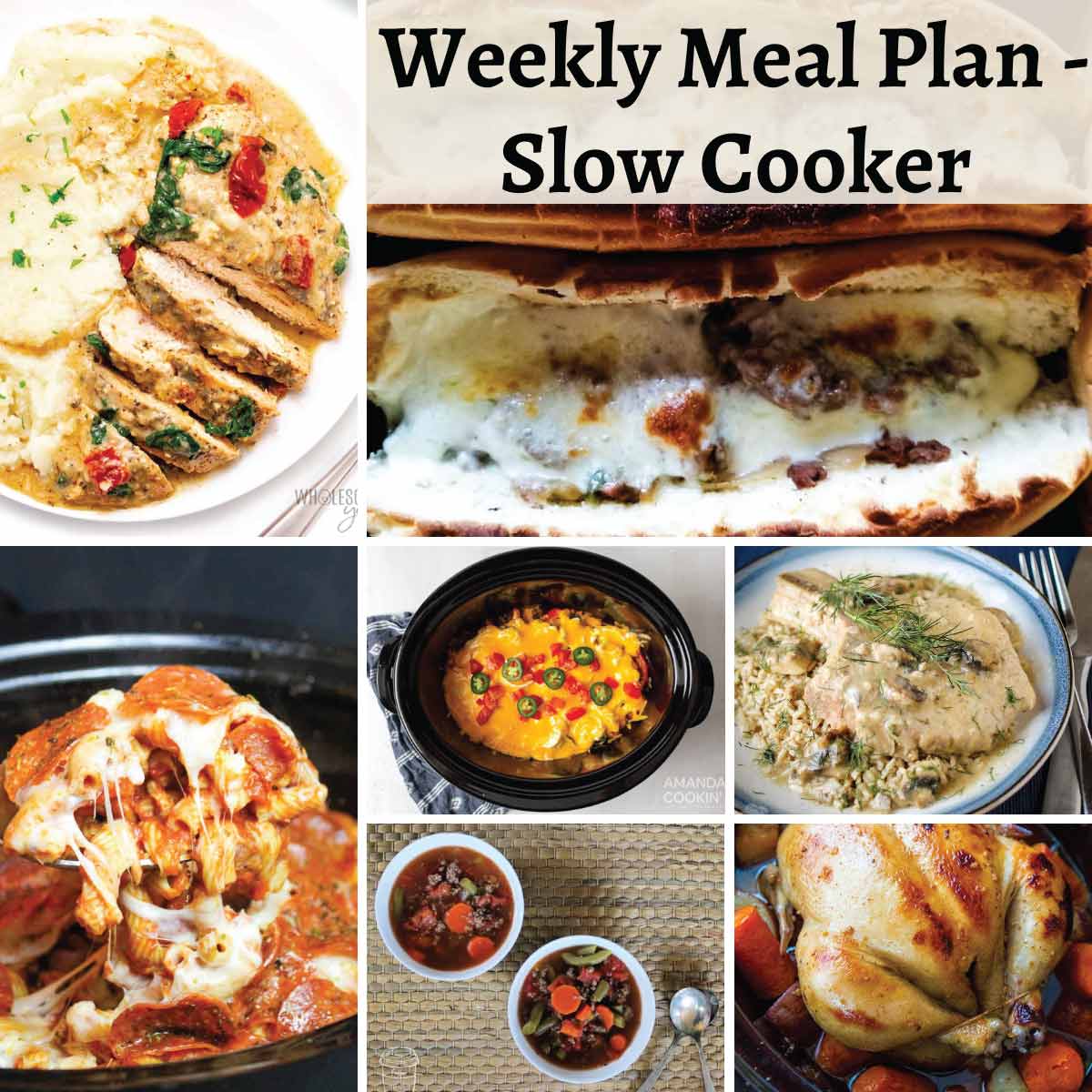 If you are new here, it is pretty simple! We have 7 meals picked out for you and we create an editable shopping list that is prefilled with the ingredients from the week's meals.
Most of the time we have meals from other bloggers, not just our own. Please check out each of their recipes before heading to the store in case you want to (or need to) substitute ingredients.
Here is the shopping list for week 4! It is a PDF and the link takes you to the file on OneDrive. You do not need a Microsoft account to download the PDF. Once you download it, you should be able to edit the ingredients if you need to.
Jump to:
Sunday - Slow Cooker Cheesesteaks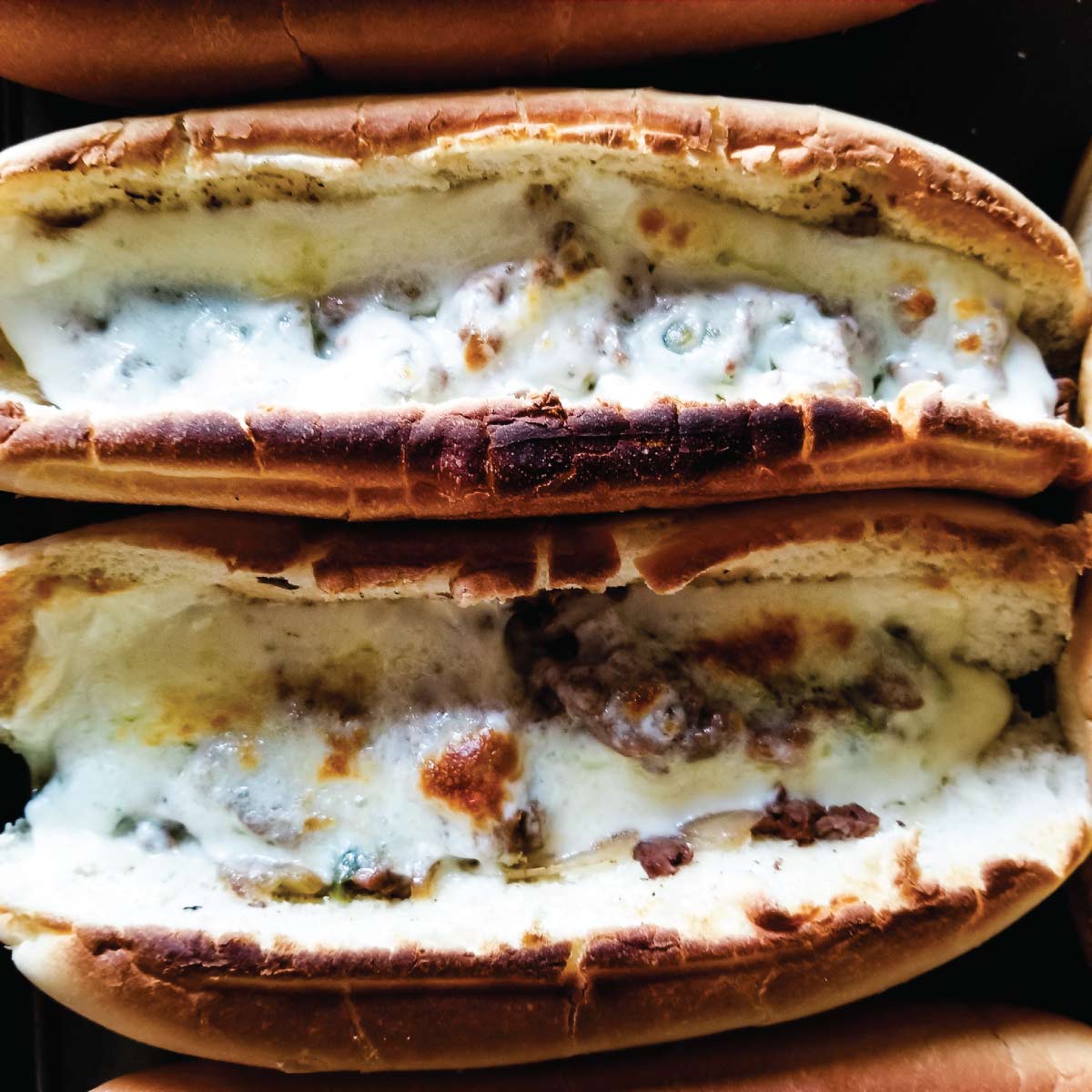 A delicious way to start a Sunday is with slow cooker cheesesteaks! This is one of the most requested slow cooker meals in our house. Broiling is optional at the end, but it is highly recommended.
When we make these, we usually serve them with French fries or chips. Sometimes we have a simple pasta salad with them, but French fries are our first choice (and the one we added to the shopping list.) You can make them homemade or even grab a bag of frozen fries to make it a bit easier on you.
Monday - Slow Cooker Honey Garlic Chicken
Slow cooker honey garlic chicken by The Kitchen Magpie is the perfect slow cooker meal for a Monday. This chicken is so delicious I am sure you and the family will love it! The chicken is juicy and the whole meal is full of flavor. Comfort food after a busy day.
It is easy to prepare and can cook on low all day so it's ready when you get home. Mondays can be stressful enough, don't let dinner stress you out too. We had to add this to our slow cooker meal plan, it is total comfort food after a busy day!
Tuesday - Slow Cooker John Wayne Casserole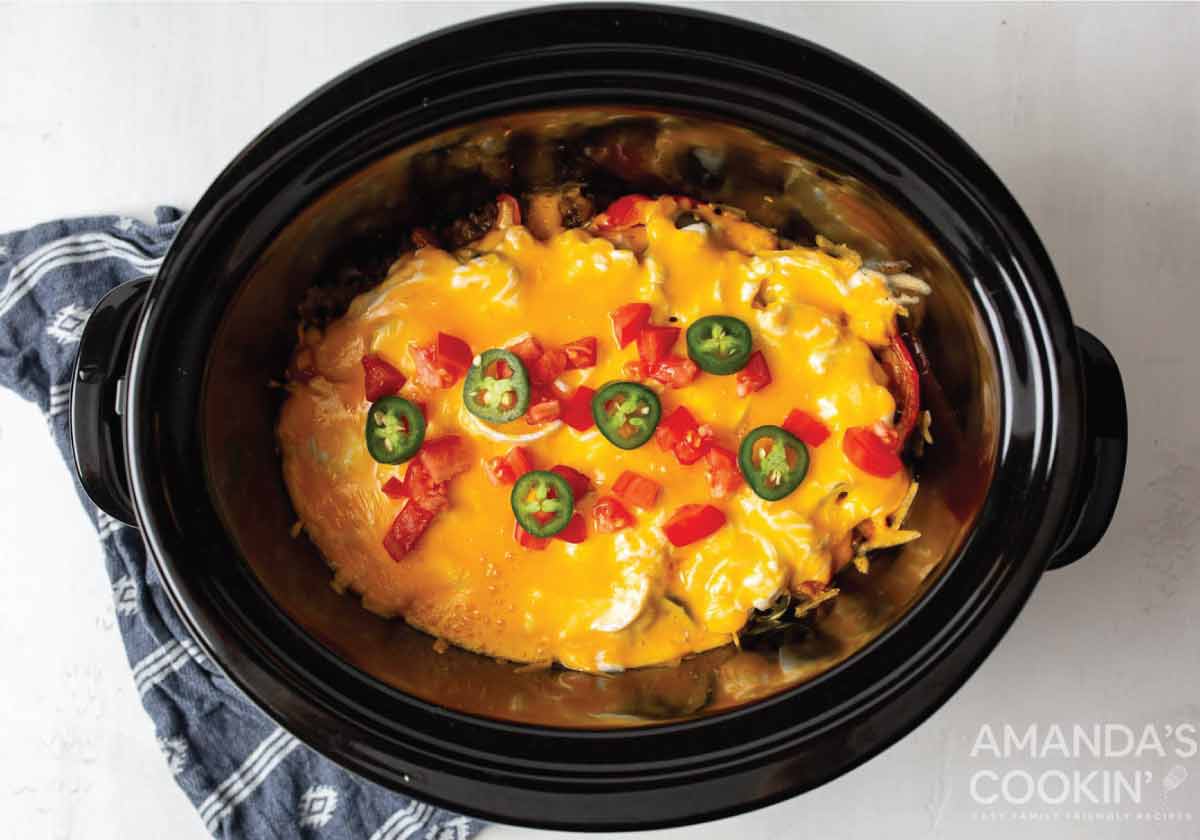 While this is not quite a taco, it is made with taco seasoning making it perfect for Tuesday on this slow cooker meal plan! Slow cooker John Wayne casserole by Amanda's Cookin' is sure to be a hit at your house, your family will love it.
This is delicious as is or you can serve with biscuits! We didn't add biscuits to the shopping list but they go really good with this casserole. The shopping list is editable if you choose to add them.
Quite often we make cheddar garlic biscuits with it but store bought ones are good too!
Wednesday - Crock Pot Tuscan Garlic Chicken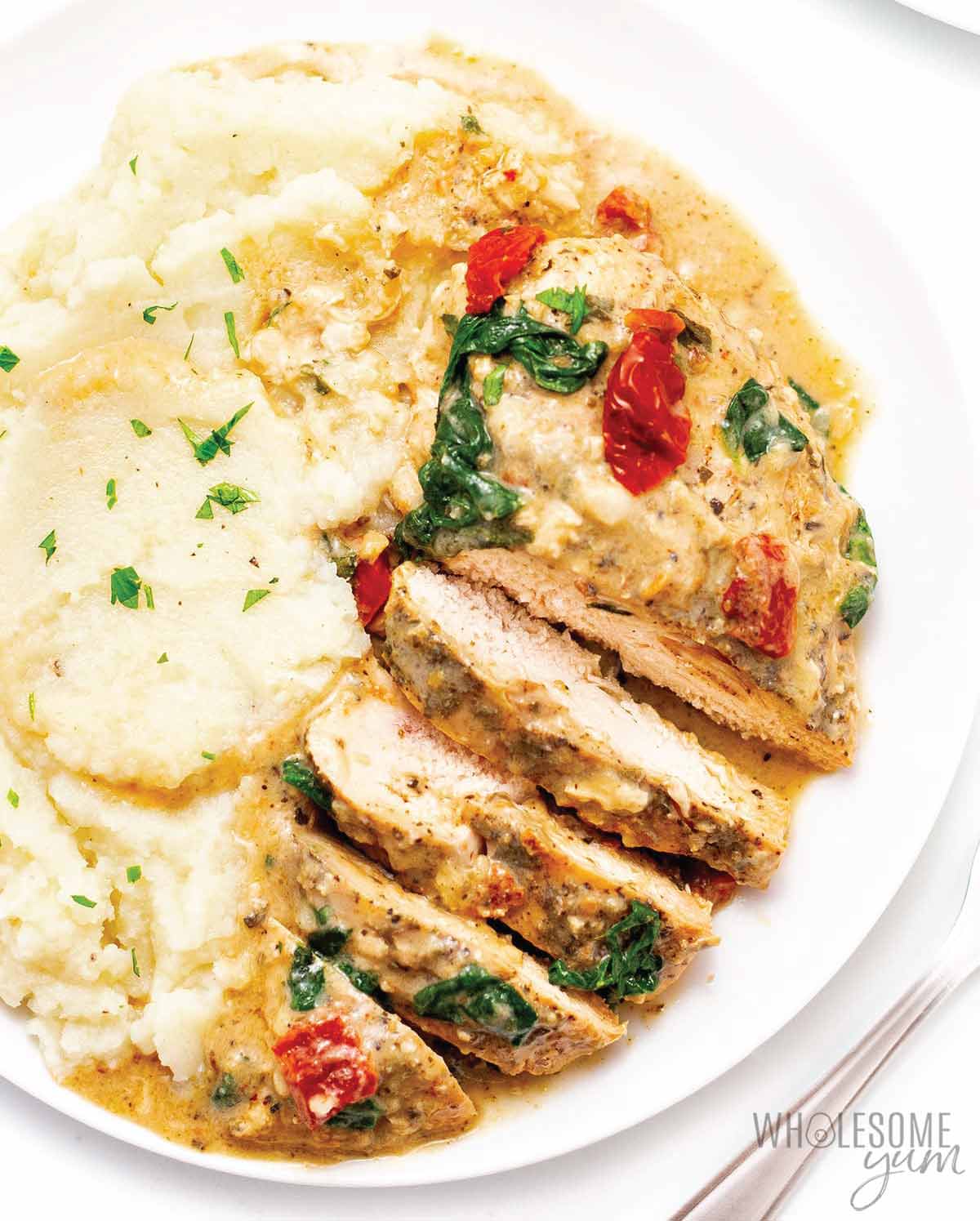 I love the combination of the flavors here in this Crock Pot Tuscan garlic chicken by Wholesome Yum. The first time I ever made Tuscan chicken was this recipe and I absolutely loved it!
I add this delicious slow cooker meal to our meal plan at home quite often because the whole family enjoys it. I am sure your family will love it too.
We love it over Instant Pot mashed potatoes, but you can serve it over rice or even pasta if you like. I added potatoes to the shopping list but didn't add milk or butter (for mashing them) because we all have our own way of making them and you didn't need the ingredients for other meals.
Thursday - Slow Cooker Hamburger Vegetable Soup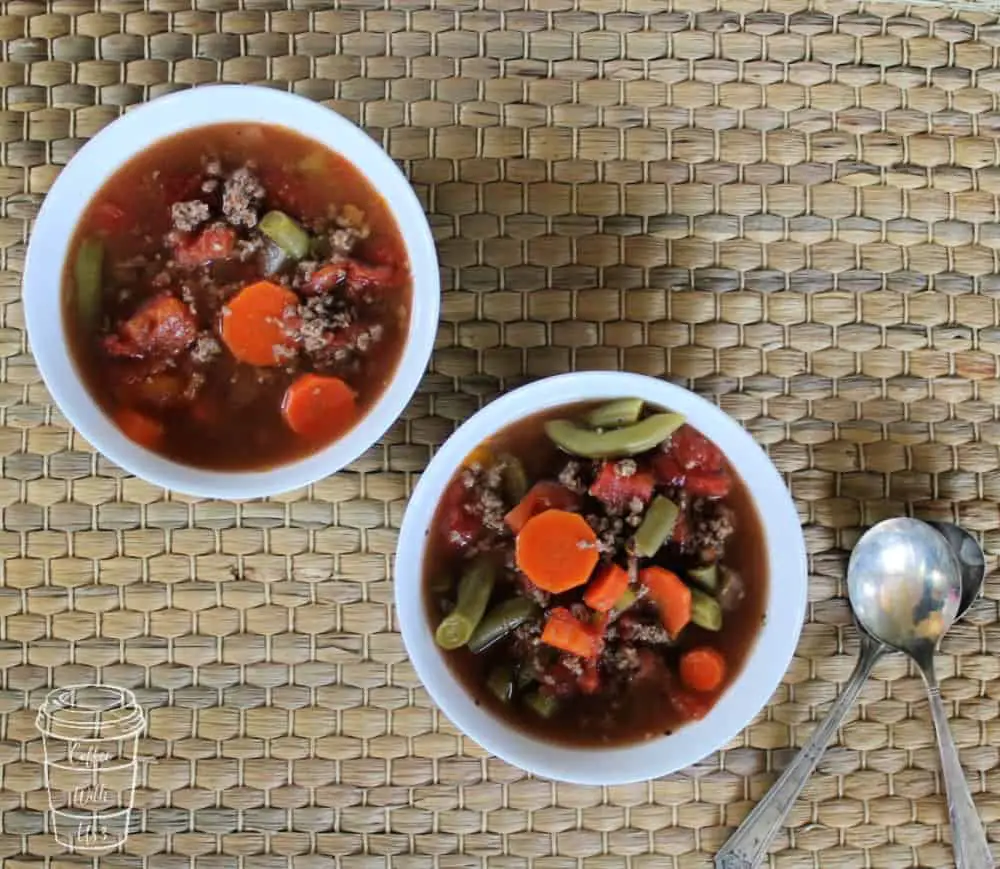 Soup is one of my all time favorite comfort foods and so this meal plan wouldn't be complete without one! This slow cooker hamburger vegetable soup by Coffee With Us 3 is perfect for a busy day and is Whole30 too.
This soup is easy to make, delicious and will be ready waiting for you at the end of your busy day. We like to serve with either Saltine crackers or rolls. We did not add them to the shopping list because everybody likes something different with their soup. Don't forget to add it to the list before printing!
Friday - Slow Cooker Pork Chops with Mushrooms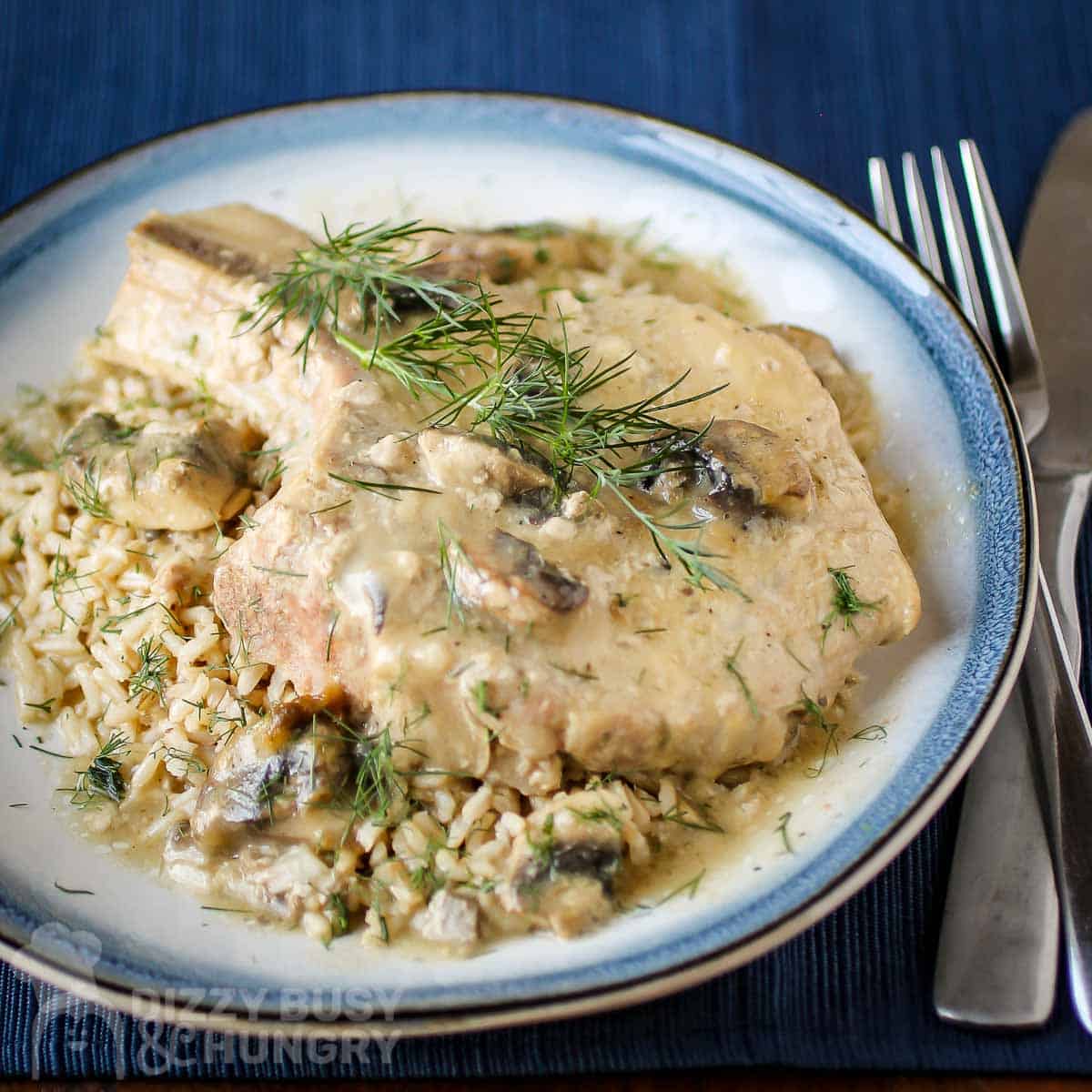 Fridays should be easy after having a busy week, I am usually pretty rough by Friday night myself! These slow cooker pork chops with mushroom soup by Dizzy Busy and Hungry are perfect for a Friday.
They are easy to make and full of flavor with only 5 ingredients. We serve it over rice, but we did not add it to the shopping list because you may choose to serve it over potatoes or noodles. Be sure to add your favorite side to the list before printing out!
Saturday - Slow Cooker Pepperoni Pizza Pasta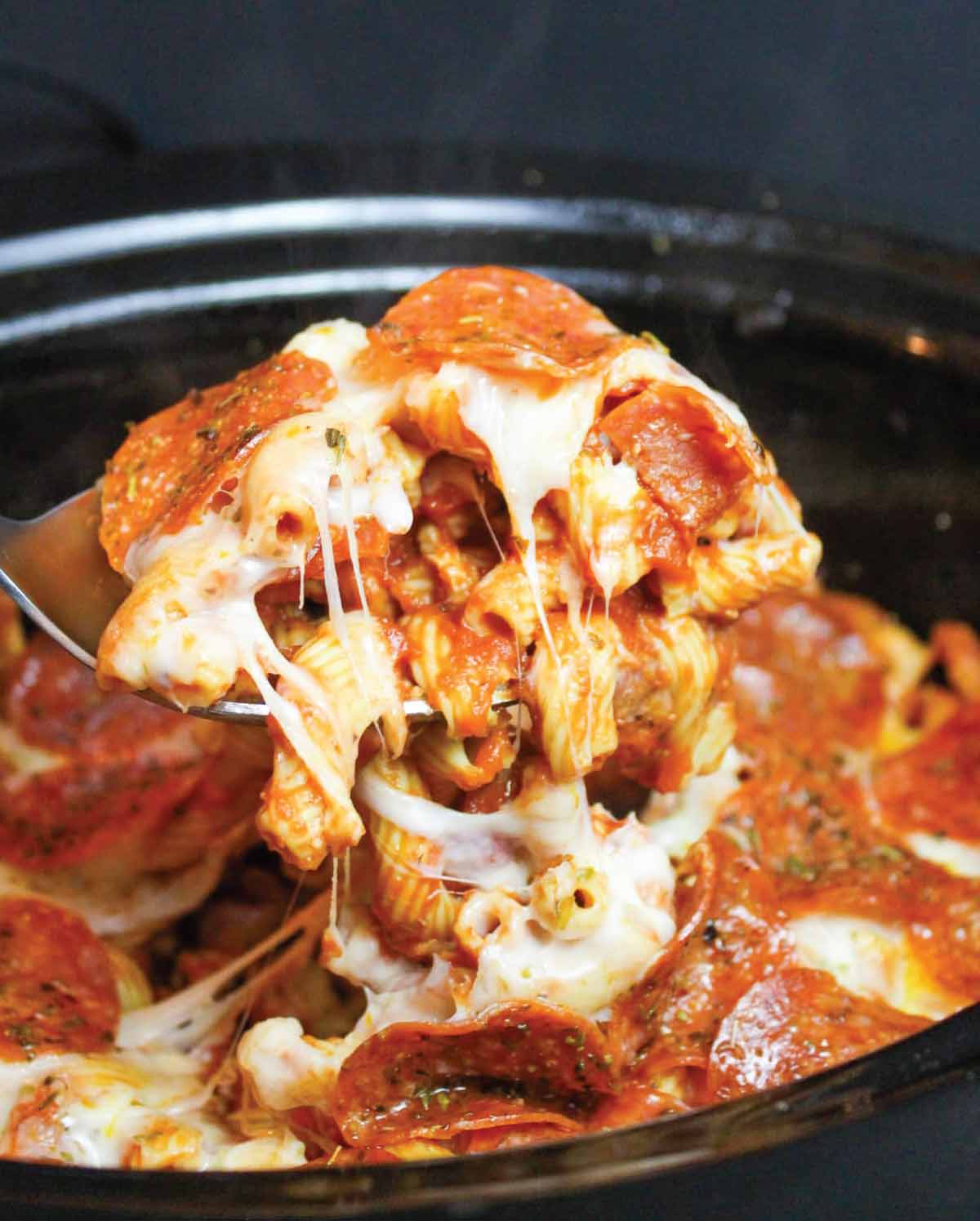 Looking for a delicious twist on pizza night? This slow cooker pepperoni pizza pasta casserole by Cheese Curd in Paradise will wow you and your family! It is easy to make and so delicious.
This one is perfect for a Saturday because it only takes about 2 hours to make and mostly hands off - very little prep. If you had a busy day, you can throw the ingredients in the Crock Pot and within 2 hours have a delicious meal that your kids will love!
Conclusion
We can all save a little bit of time and money by planning out our meals! We try to pick a variety so there is something for everybody in this slow cooker meal plan. You can change the days up how you like or take a meal out if it isn't something you like. Just be sure to remove ingredients from the list before going to the store!
Which is your favorite out of these delicious slow cooker meals? Let us know in the comments below!